With more than 30 easy Chicken Recipes here to choose from, you're bound to find at least a few new favorites. There is no protein more versatile than chicken and these easy chicken recipes prove just that! So many options here including skillet dinners, stir fry recipes, chicken casseroles, slow cooker chicken recipes and so much more! Check out these favorites: 20 Minute Skillet Chicken and Spinach Parmesan, The BEST Chicken Marinade Recipe, and Cheesy Chicken Broccoli and Rice Casserole!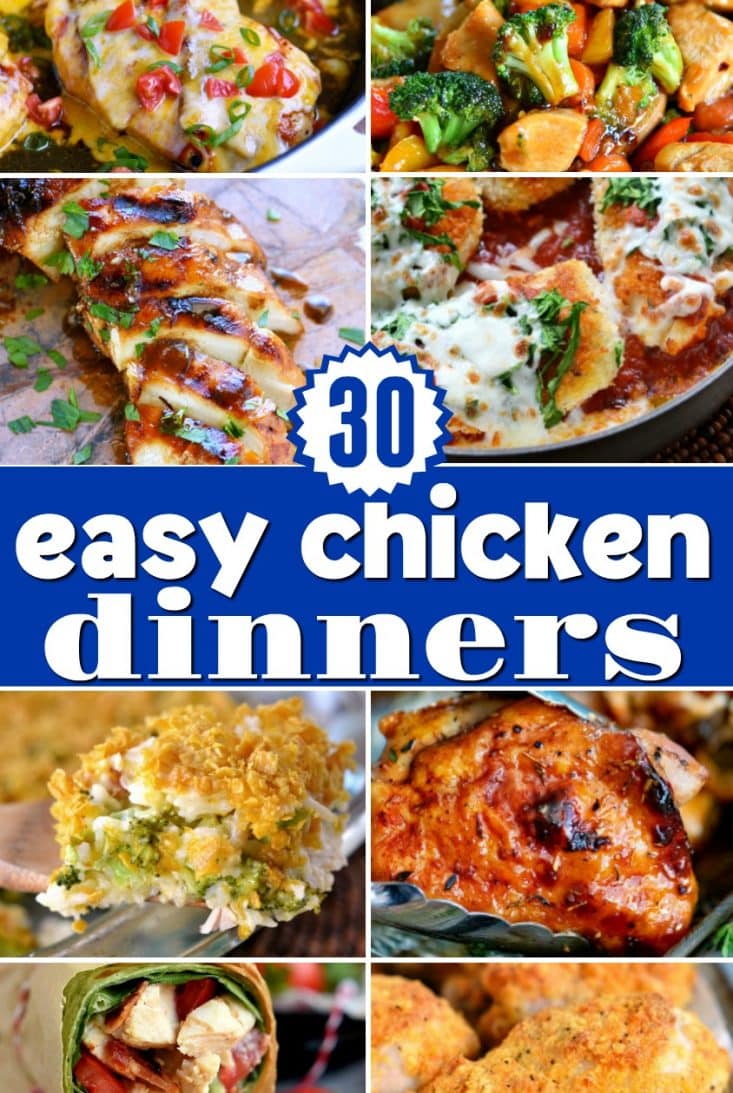 Chicken Recipes
Chicken is our favorite and this fantastic collection of recipes prove it 🙂 We eat chicken A LOT, at least three times a week so it's important that I have a lot of easy chicken recipes on hand to whip up on busy weeknights.
We frequently turn to chicken stir fry recipes, chicken casseroles, oven fried chicken, chicken strips and other easy chicken recipes that make whipping up dinner a no brainer on busy weeknights.
Chicken Stir Fry Recipes
Stir fry is one of the easiest dinners to make and it's a great way to make sure the kids are getting their veggies. Here are some of our favorites:
This easy Chicken Stir Fry recipe is loaded with fresh veggies and the most delicious sauce made with honey, soy sauce, and toasted sesame oil! This healthy recipe takes 20 minutes to make and will wow your family with it's amazing flavor!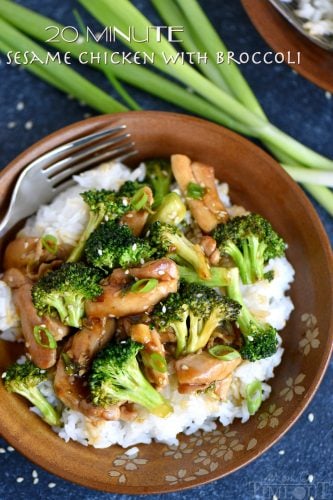 This easy 20 Minute Sesame Chicken with Broccoli is going to quickly become your favorite go-to easy dinner! Serve over white or brown rice for a perfect meal! So much better than takeout!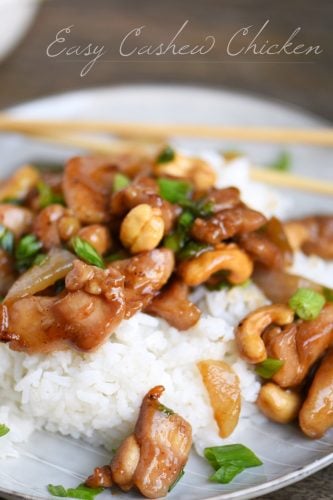 Love quick and easy chicken recipes? This one is for you! This Easy Cashew Chicken takes less than 30 minutes to make and is way better than takeout! Add it to your menu this week!
Skillet Chicken Recipes
I have a number of skillet recipes that are in constant rotation in our house. They are easy to make and the flavors are phenomenal. My kids love these chicken recipes!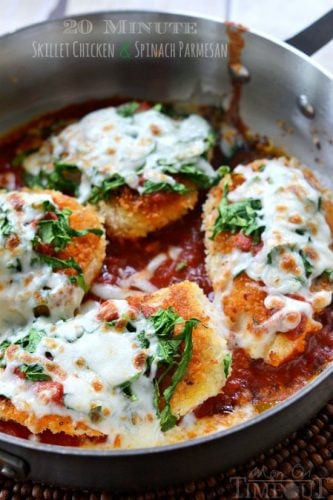 Busy nights? No problem! I've got you covered with this 20 Minute Skillet Chicken and Spinach Parmesan! The easiest and most delicious dinner EVER! One that the whole family will enjoy!
Got 20 minutes? This 20 Minute Skillet Monterey Chicken is just what you want to make for dinner tonight…trust me! Chicken, barbecue sauce, bacon, and glorious cheese come together in this delightful yet simple dish. Sure to become a regular request at your home!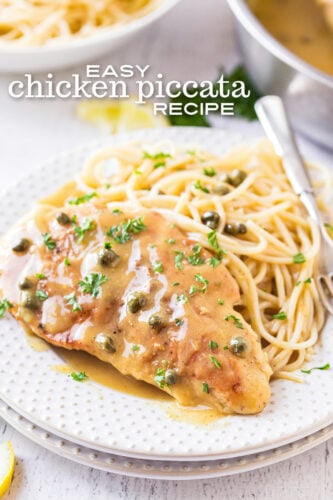 This easy Chicken Piccata recipe is a family favorite! Tender chicken is pan fried until golden and served with a tantalizing sauce made with lemon juice, white wine or stock, and capers. Truly phenomenal and incredibly quick and easy to make! Ready to go in less than 20 minutes!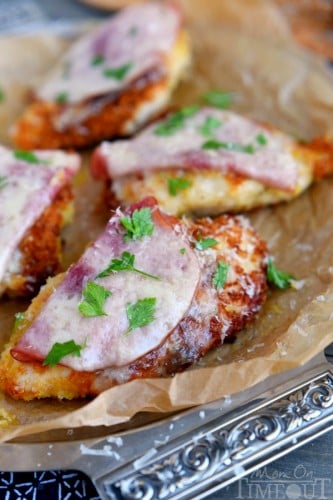 This 20 Minute Skillet Chicken Cordon Bleu recipe is the perfect quick and easy dinner! Crunchy panko breading, ham, Swiss cheese and wine – no one will know you didn't slave for hours!
Chicken Casseroles
I'm a huge fan of casseroles, especially chicken casseroles. They are one of the quickest chicken recipes to throw together. Everything gets dumped in a dish and then just popped in an oven. Doesn't get easier than that!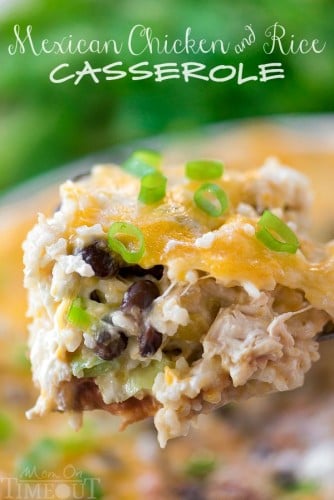 Mexican Chicken and Rice Casserole is loaded with classic Mexican flavors in an easy weeknight package! Beans, rice, chicken, and cheese combine for a kid-friendly dinner that the whole family will love!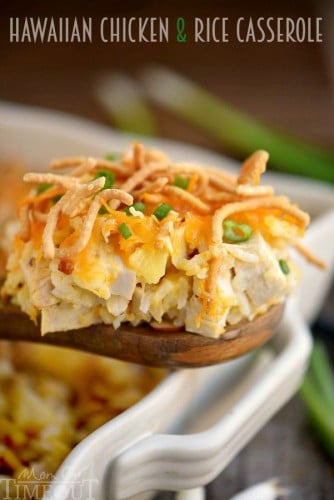 Get ready for a new favorite – Hawaiian Chicken and Rice Casserole! An easy weeknight dinner that uses ingredients you probably already have in your pantry!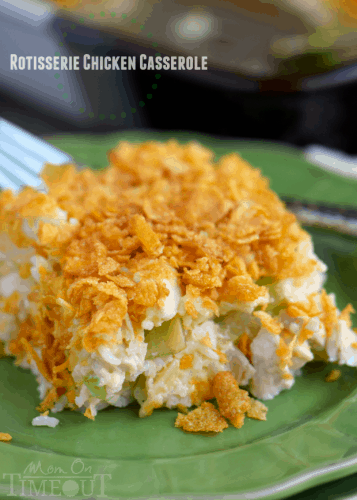 Rotisserie Chicken Casserole is a family-favorite recipe that I have been making for years! So easy to prepare and my family just loves it!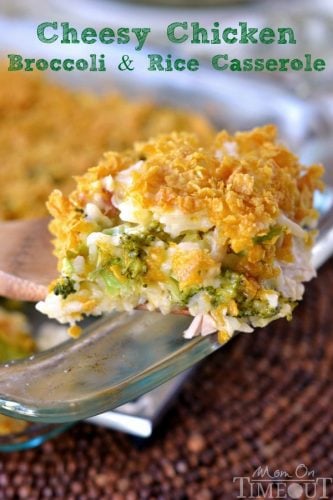 This Cheesy Chicken Broccoli and Rice Casserole is sure to become a new family favorite! Made with rotisserie chicken, this time-saving recipe is perfect for weeknights!
And here are even more delicious chicken recipes to try!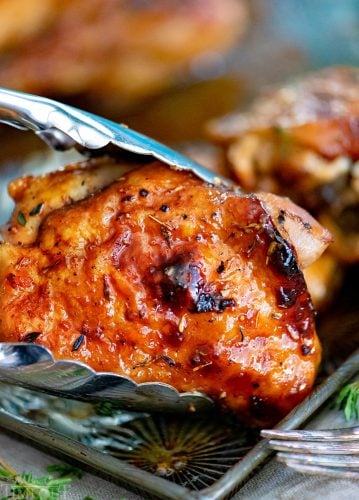 Easy Glazed Honey Balsamic Chicken is your 4 ingredient answer to busy weeknights. Tender, juicy chicken coated with a simple and delicious honey balsamic glaze that is ready to go in just about 20 minutes. It just doesn't get any better or easier than this. Serve with my Nana's Green Beans and Ambrosia Salad for a truly memorable meal.
Amazing Pulled Chicken Sandwiches tossed with a glorious barbecue sauce made with root beer and molasses are sure to delight friends and family/ Chicken thighs are generously seasoned with a simple 4 ingredient rub recipe, grilled, and then tossed with an easy from-scratch barbecue sauce that will have you licking your fingers in delight.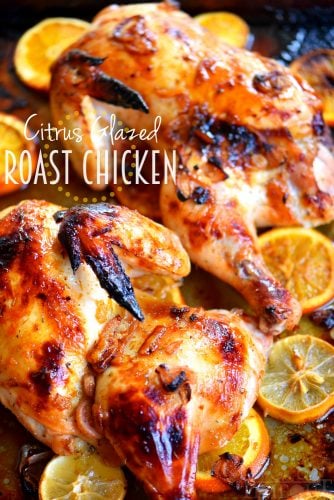 This Citrus Glazed Roast Chicken boasts robust citrus flavors and the juiciest, most tender meat possible! Easy to prepare, only 45 minutes in the oven, and an incredible marinade is what sets this chicken apart from the rest!
Look no further for the Best Chicken Marinade recipe ever! This marinade produces so much flavor and keeps the chicken incredibly moist and outrageously delicious – try it today!This easy chicken marinade recipe is going to quickly become your favorite go-to marinade! Make sure to try my steak marinade the next time you're grilling!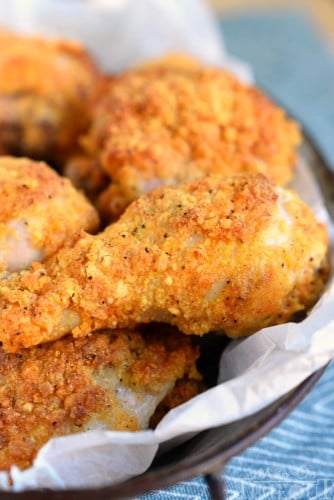 This Buttermilk Ranch Oven Fried Chicken is bound to become a new family favorite! This recipe is perfect for a quick and easy dinner any night of the week! The chicken comes out so juicy and moist on the inside and crunchy on the outside – just the way we like it!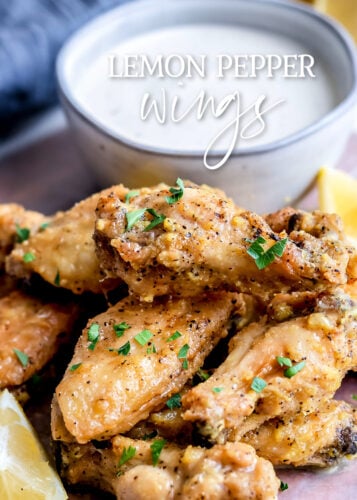 Lemon Pepper Baked Chicken Wings are a game day staple that are great for dinner too! These Lemon Pepper Wings are baked until golden and crispy and then brushed with a mouthwatering lemon pepper butter sauce that will have your friends and family fighting over the last one – so good!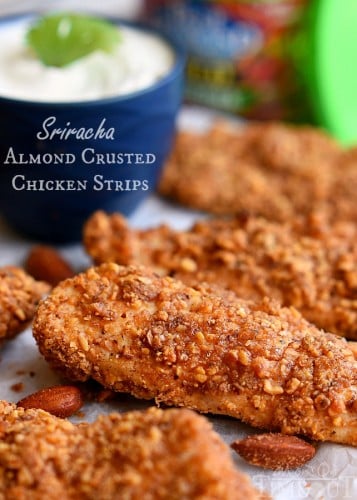 These Sriracha Almond Crusted Chicken Strips are the perfect recipe to spice things up for dinner tonight! Easy and so delicious, the whole family will love this healthy take on a family favorite! Perfect for game day appetizers too!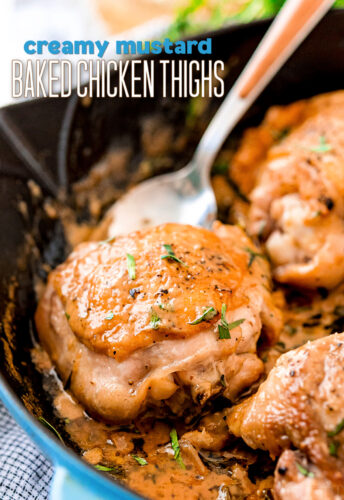 These Creamy Mustard Baked Chicken Thighs are easy enough for a weeknight dinner and exciting enough for a special occasion!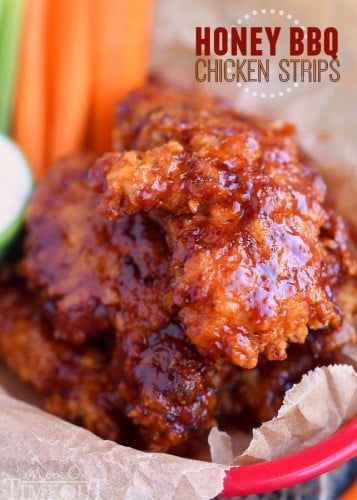 Sticky, sweet Honey BBQ Chicken Strips are perfect for dinner or game day! Marinated in buttermilk and perfectly seasoned, these strips are hard to resist!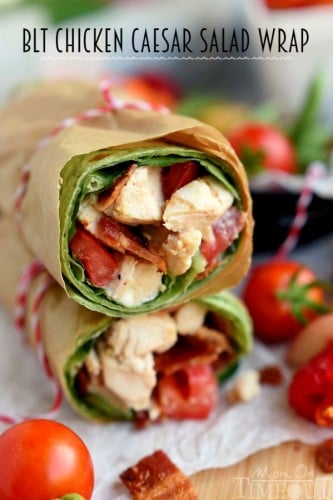 This BLT Chicken Caesar Salad Wrap has all the makings to become your new go-to recipe! Chicken, bacon, Caesar dressing, and tomato are wrapped up in an easy-to-make meal that is perfect for a light dinner or lunch.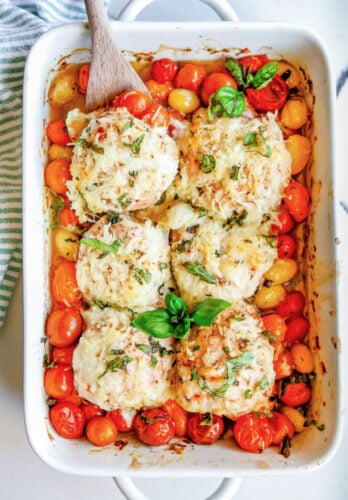 Tomato Basil Baked Chicken is fresh and light and so easy to make! Marinated chicken breasts are topped with mozzarella cheese and baked to perfection. Fresh or canned tomatoes can be used in this easy chicken breast recipe that is packed with flavor!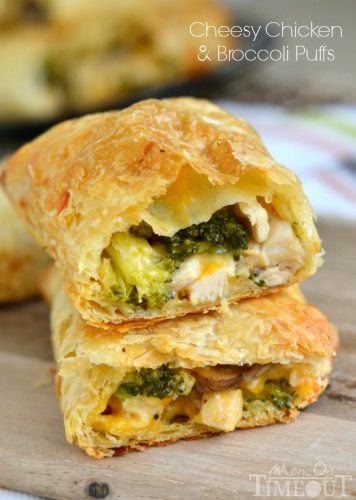 Cheesy Chicken and Broccoli Puffs for the dinner win! Made with rotisserie chicken and puff pastry, these puffs are delightfully easy to make and are a cheesy favorite with the family!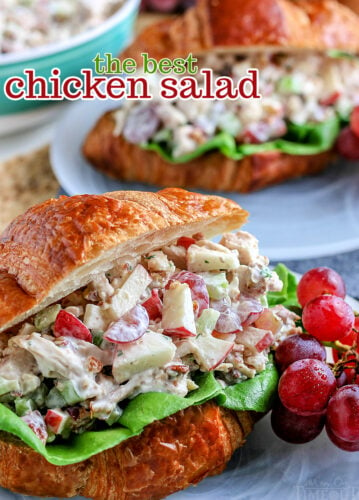 This easy Chicken Salad is always a favorite no matter how it's served! Delicious on its own, this easy recipe can also be enjoyed on a croissant, in a wrap, or served in a lettuce cup. You seriously can't go wrong! Chicken, apples, grapes, pecans and celery are tossed in a flavorful, creamy dressing that takes just minutes to prepare!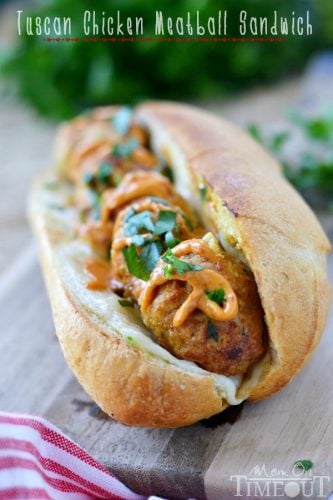 Enjoy the amazing flavors of Tuscany with these family-friendly Tuscan Chicken Meatball Sandwiches! We love these for game day too!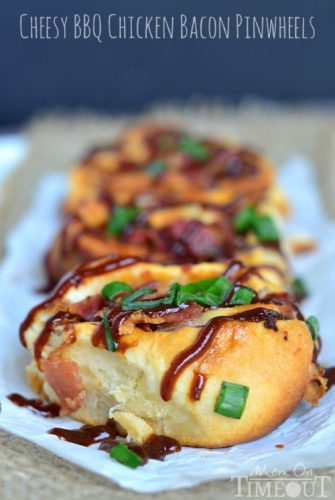 Cheesy BBQ Chicken Bacon Pinwheels make an amazing dinner OR appetizer any night of the week!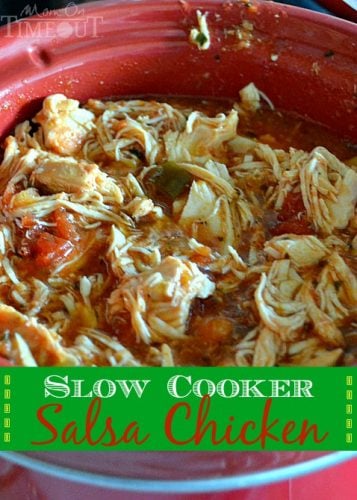 Slow Cooker Salsa Chicken is perfect for nachos, burritos, tacos, quesadillas and more!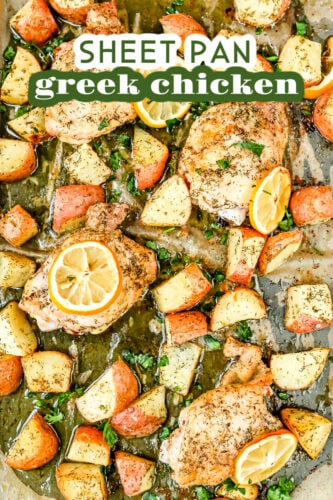 This easy Greek Chicken recipe is loaded with authentic Greek flavors in an easy to make weeknight dinner! A lovely Greek marinade made with olive oil, lemon juice, oregano and garlic provides an abundance of bright, fresh flavor to chicken thighs and potatoes.
These Bacon Wrapped Chicken Teriyaki Bites are sure to be a huge hit on game day! Sweet and savory, packed full of flavor, and just 5 ingredients! Sure to be your new favorite appetizer! Score!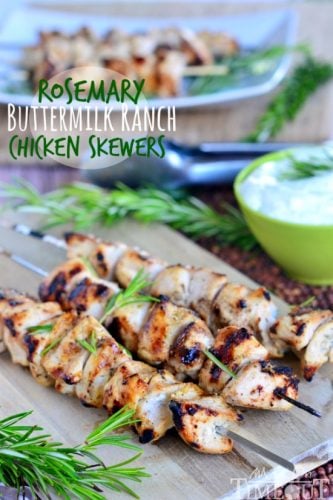 Crank up the heat on your grill and get ready to impress your family with these mouthwatering Rosemary Buttermilk Ranch Chicken Skewers!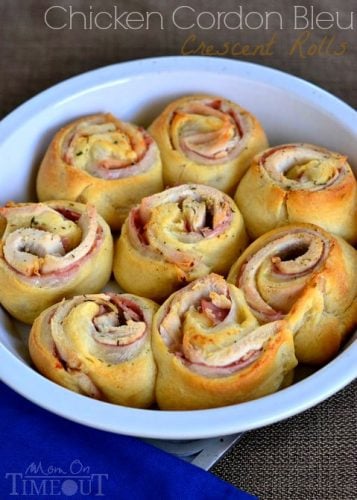 Make dinner easy and your family happy with these delicious Chicken Cordon Bleu Crescent Rolls! Just a handful of ingredients and about 20 minutes, and you've got a fantastic and satisfying meal on the table!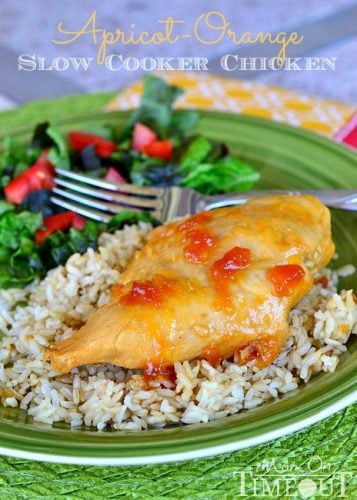 Apricot-Orange Slow Cooker Chicken is so simple to prepare and is perfectly delicious! Enjoy this lovely, light meal on busy weeknights!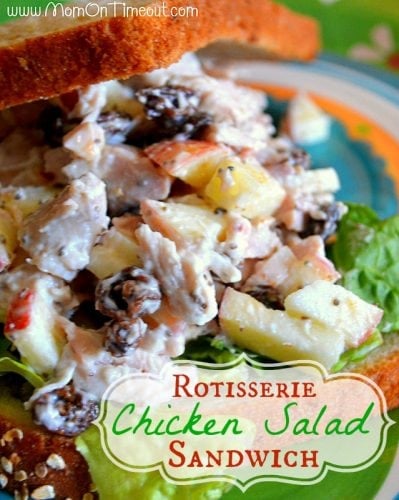 Rotisserie Chicken Salad Sandwich recipe that utilizes the delicious and convenient flavors of a rotisserie chicken! Made with apples and raisins for amazing flavor and crunch! Don't forget the secret ingredient!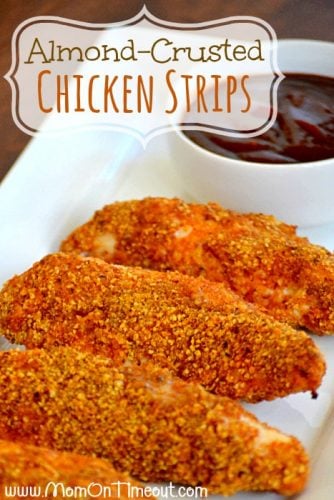 These Almond Crusted Chicken Strips are the perfect protein-packed dinner or snack. Baked in the oven, these chicken strips are supremely crunchy on the outside and so tender on the inside. Dip in ranch or BBQ sauce for a kid-friendly meal!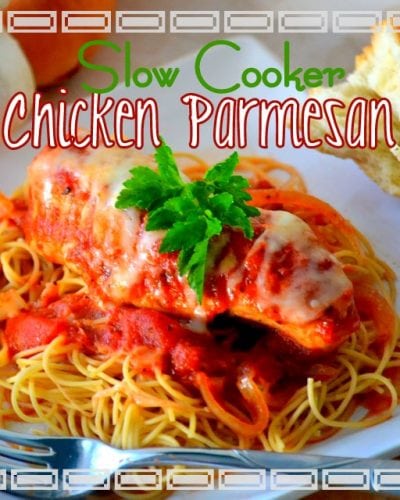 Easy, cheesy, Slow Cooker Chicken Parmesan! Like all my favorite slow cooker recipes, this one is marvelously simple, totally delicious and perfect for busy weeknights!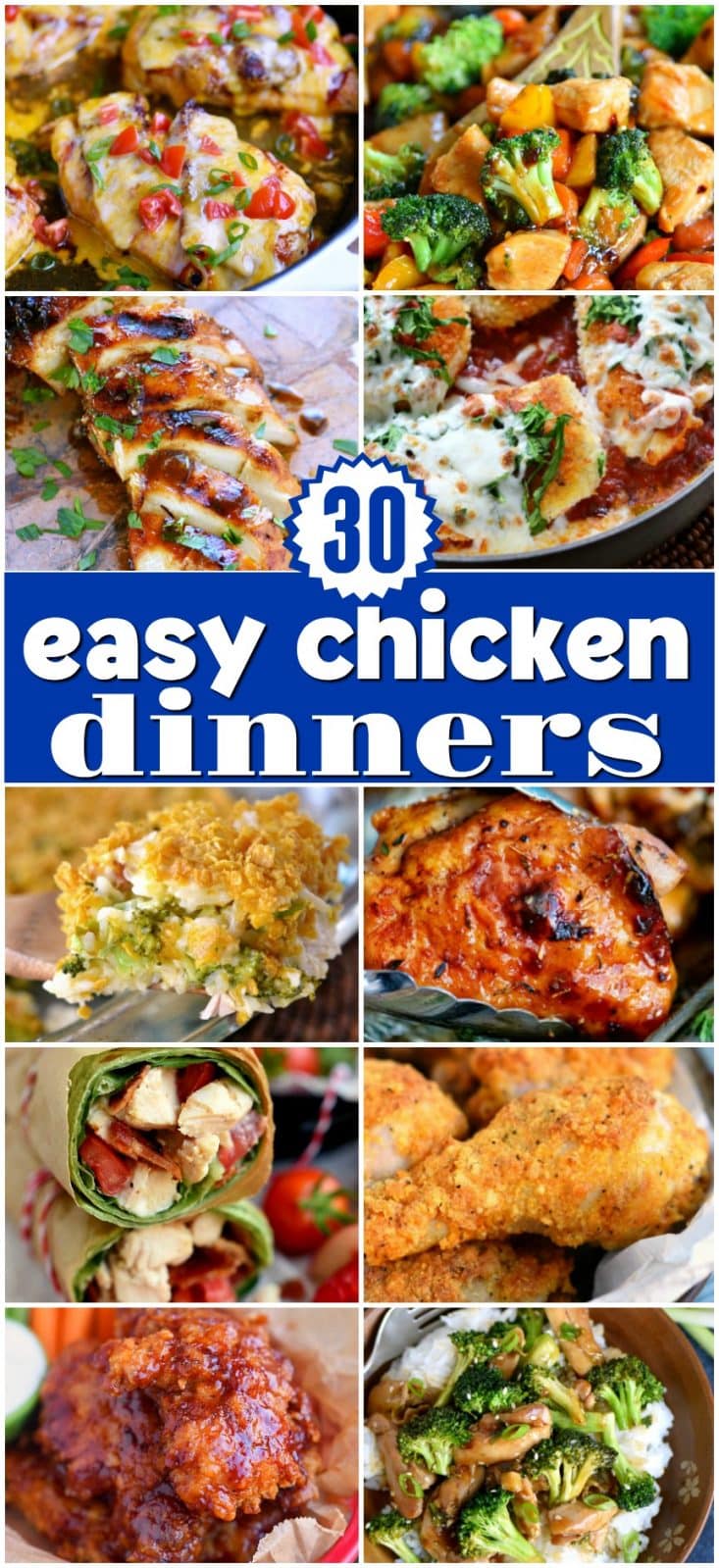 For all appetizer recipes, go HERE.
For all dessert recipes, go HERE.
Sign up to get emails when I post new recipes!
For even more great ideas follow me on Facebook – Pinterest – Instagram – Twitter – Bloglovin'.
Have a great day!