My Nana's Famous Green Bean recipe! Made with just a handful of ingredients including bacon, this easy green bean recipe make a delicious addition to any meal! One of the most requested recipes from my family – year-round! Enjoy these tasty green beans with the ultimate Chicken Fried Steak and the BEST  dinner rolls for a family dinner you won't forget!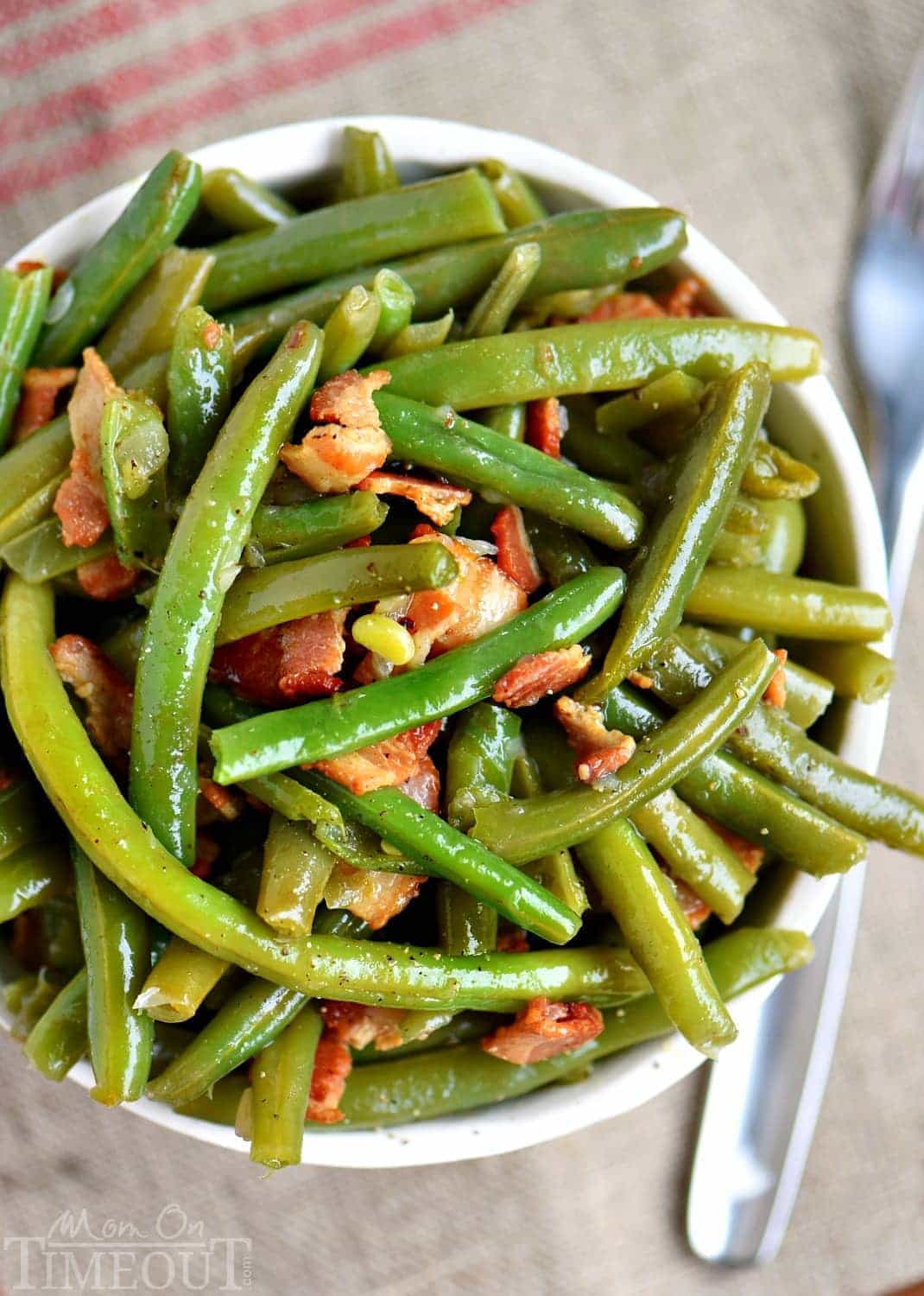 Green Bean Recipe
Growing up, my Nana was my biggest supporter of my efforts in the kitchen. Almost every day after school I would go to her house and we would make something. Usually involving chocolate. My Nana had a sweet tooth just like me.
Green Beans with Bacon
So much of my time is spent developing new recipes that I often forget to share family recipes that totally rock my world. I've shared my Nana's To-Die-For Carrot Cake, her Chocolate Covered Peanut Butter Crunch Balls and her Sausage Gravy and I just couldn't wait another day to share this one with you all.
One of my Nana's recipes that is near and dear to my heart is Nana's famous green beans. My Nana would serve up these mouth-watering green beans for all sorts of special occasions.
What my Nana never realized was how much more special each of those occasions became with the addition of her famous green beans to the menu.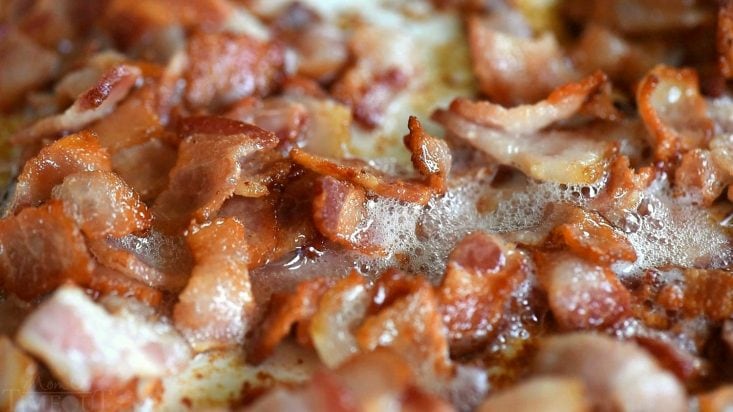 Fresh Green Bean Recipes
I'm always on this lookout for fresh green bean recipes or string beans recipe because that is one of my favorites to grow in the garden each summer.
We love to make these green beans in the slow cooker too.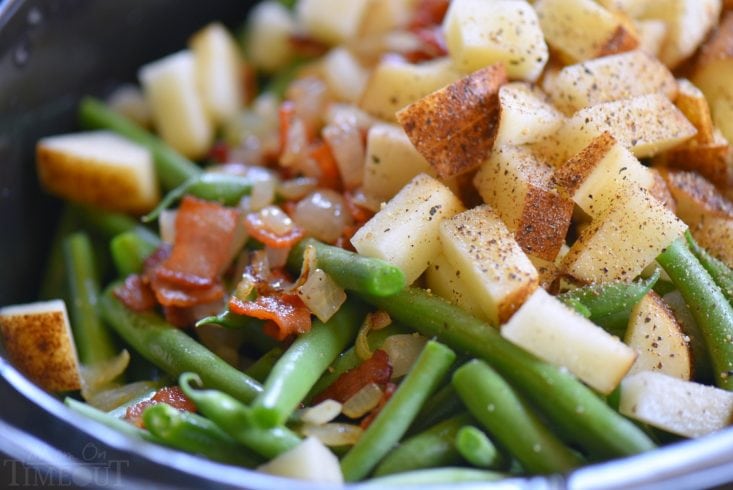 Can I Add Potato?
You'll notice that in my slow cooker version of this recipe above, I have potatoes in with the green beans. That's something that my Nana would do on occasion and I love the additional flavor and texture the potatoes add to this side dish.
They also help to stretch it when needed.
You can absolutely add potatoes to this dish – you really only need one russet, diced. Stir it in with the green beans.
Green Bean Recipe Ingredients
Four ingredients you guys. That's it. Each plays a critical role so don't leave any of them out!
Fresh green beans – canned green beans can also be "doctored" up using this recipe
Bacon
Onion
Chicken broth or water (use the broth os stock if you can)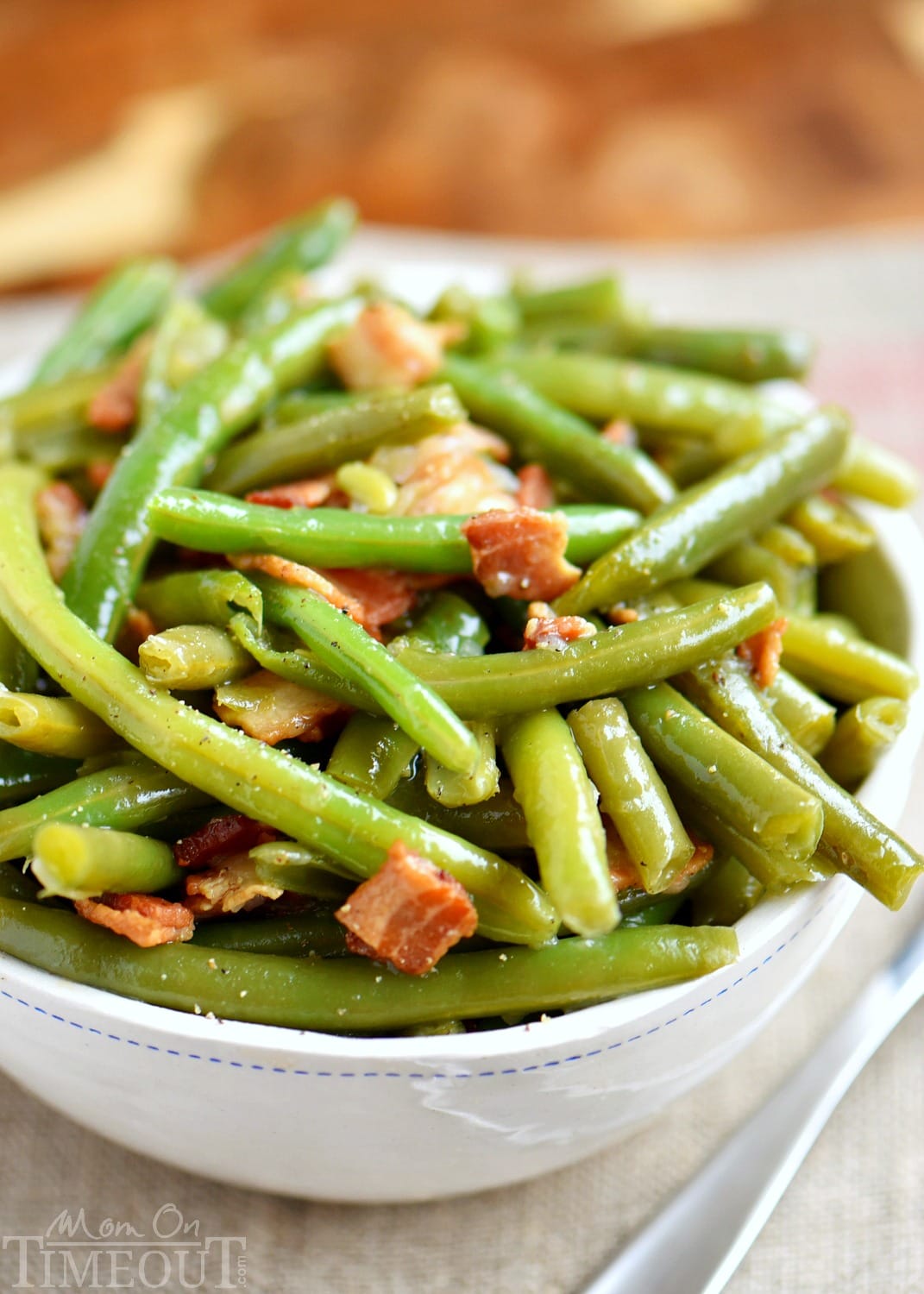 To this day, they are frequently requested and often enjoyed throughout the year by my family. They never fail to make it to my sister's birthday dinner, our Thanksgiving and Christmas dinners, and any other time we have fresh green beans available.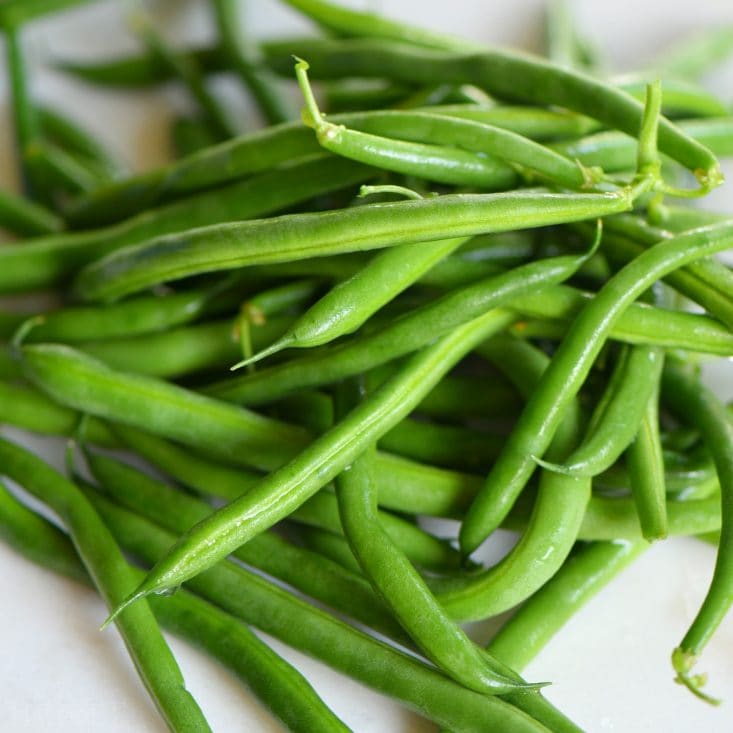 What Makes These Green Beans the Best?
The beans are cooked with bacon and onions for as long as possible until they become so tender and flavorful that it's hard to resist snatching one or two each time you check on them. Green bean recipes with bacon are the BEST because the smokiness of the bacon adds so much flavor to the dish.
We frequently serve a "real" vegetable or salad with these green beans because they are just too good to count. My Nana's Green Beans will be served at our Thanksgiving meal and again at Christmas this year, and every year.
Enjoy!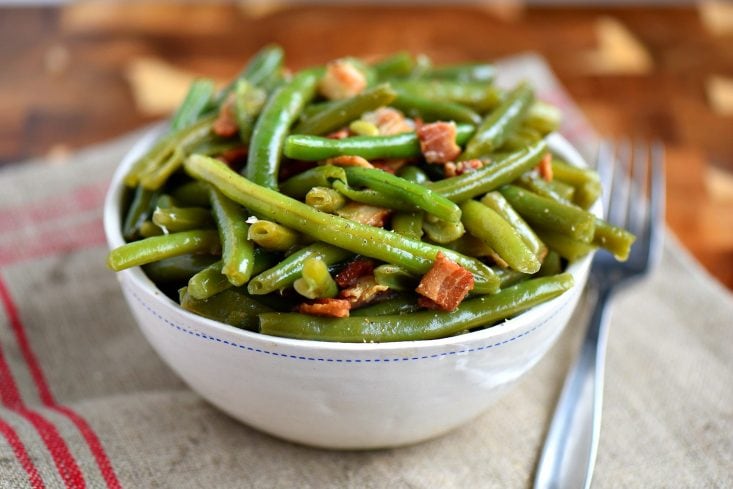 More Must Make Side Dishes
How To Make The Best Green Beans
My Nana's Famous Green Beans
My Nana's Famous Green Beans! One of the most requested recipes from my family - year-round! Made with just a handful of ingredients, this easy green bean recipe make a delicious addition to any meal!
Ingredients
6

slices

of bacon

2

pounds

of rinsed and trimmed fresh green beans

1/2

cup

diced yellow onion

1 1/2

cups

chicken broth or water

salt and pepper to taste

I usually don't add salt because the bacon is plenty salty
Instructions
Cut the bacon into small pieces and cook over medium heat in a heavy 3 qt saucepan until the bacon is fully rendered.

DO NOT remove any of the bacon grease - it's what makes these green beans so amazing!

Add the onions and saute with bacon until transparent.

Add green beans and pepper and stir making sure the bacon drippings are getting mixed in well.

Add chicken broth and reduce heat to low.

Cover and continue cooking the green beans for 30 minutes up to two hours, stirring occasionally. Make sure there is liquid in the bottom of your pot so that the beans don't get scorched.

Check for seasoning levels and add salt and pepper if necessary.

Enjoy!
Nutrition
Calories:
146
kcal
|
Carbohydrates:
12
g
|
Protein:
5
g
|
Fat:
9
g
|
Saturated Fat:
3
g
|
Cholesterol:
14
mg
|
Sodium:
370
mg
|
Potassium:
429
mg
|
Fiber:
4
g
|
Sugar:
5
g
|
Vitamin A:
1045
IU
|
Vitamin C:
23.5
mg
|
Calcium:
63
mg
|
Iron:
1.8
mg
Originally published November 22, 2013.

For all appetizer recipes, go HERE.
For all dessert recipes, go HERE.
Sign up to get emails when I post new recipes!
For even more great ideas follow me on Facebook – Pinterest – Instagram – Twitter – Bloglovin'.
Have a great day!