The BEST Cream Cheese Mints you'll ever try! This incredibly easy recipe yields the most delicious, luscious, melt-in-your-mouth cream cheese mints around! Make them in any color you like! Perfect for Easter, baby showers, weddings, and more!
Let's be friends! Sign up to get my new recipes in your inbox! Follow me on Facebook and Instagram too!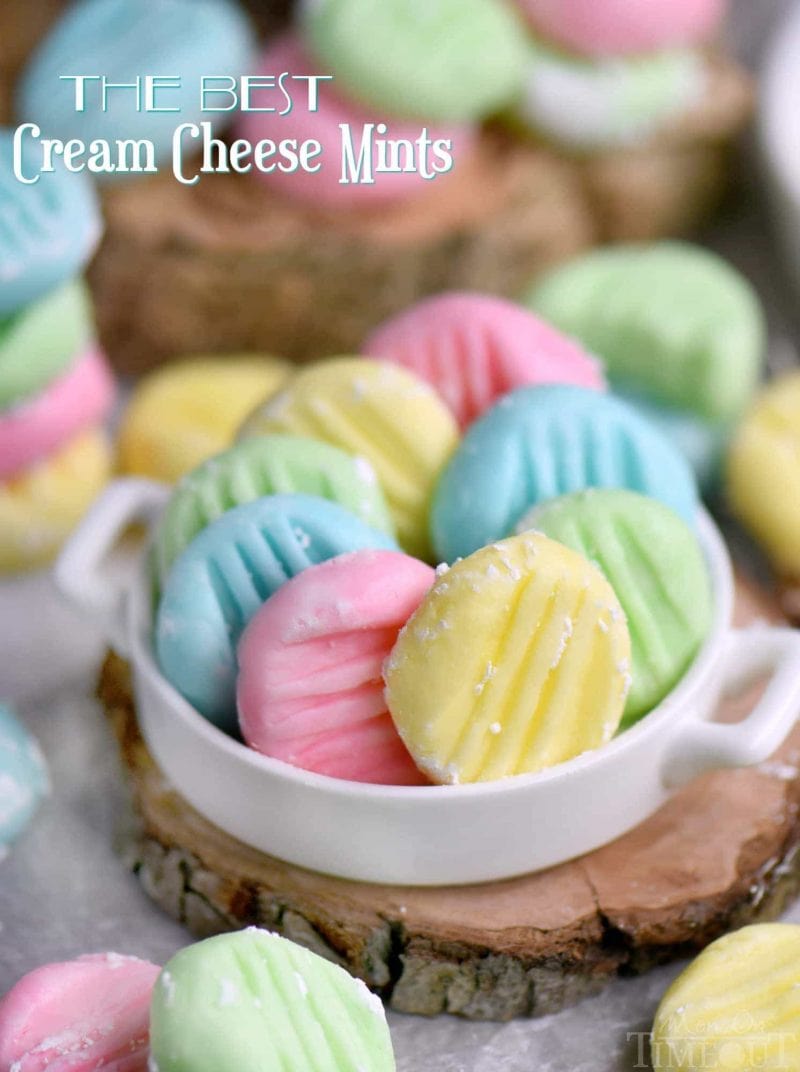 The recipe that you guys have been asking for for YEARS! Yup, I'm super prompt like that… 🙂 Whoops! Okay so let's get right to it. Many of you have called these cream cheese butter mints, wedding mints, baby shower mints, and it's true, they go by many names. I have always called them cream cheese mints because in my recipe, cream cheese is the prominent ingredient.
There are lots of recipes out there for these mints that call for only 3 or 4 ounces of cream cheese. I use an entire brick. The reason? These candies will literally melt in your mouth they're so creamy and delicious. That's what makes them the BEST Cream Cheese Mints around!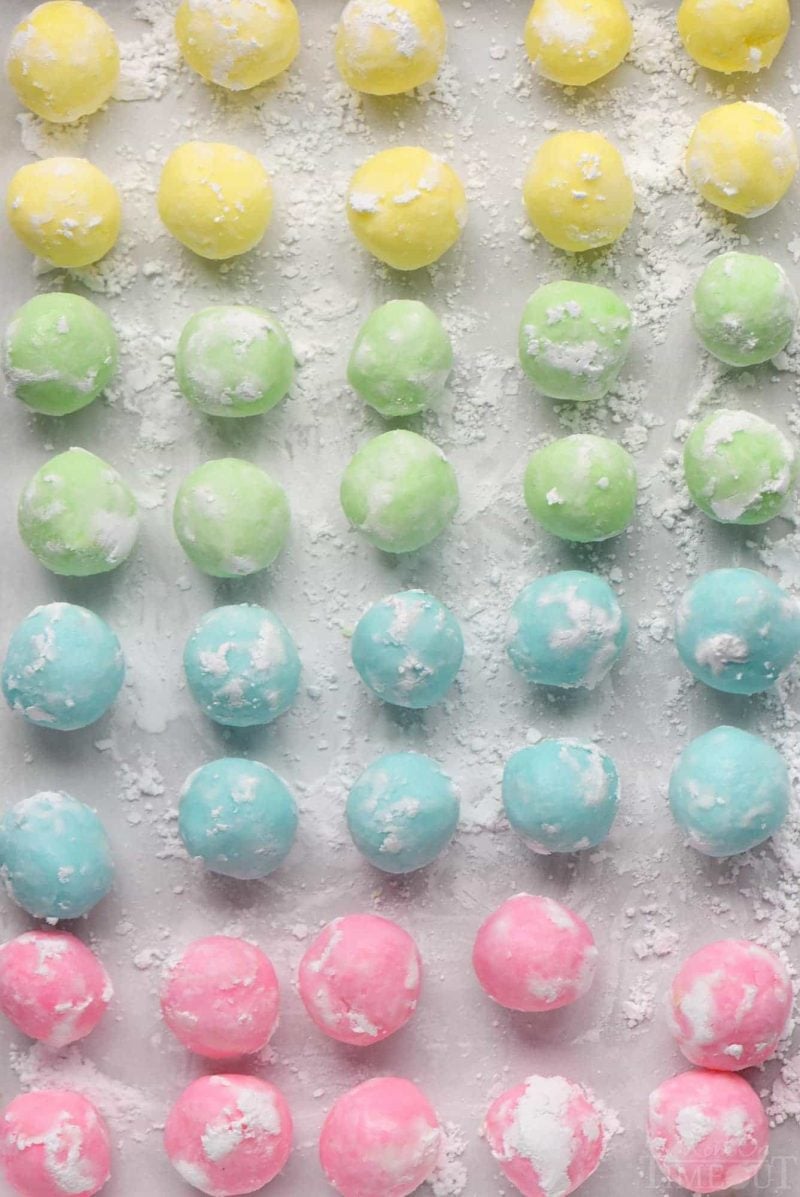 I don't know why, but these little balls of cream cheese goodness make me incredibly happy 🙂
We love making these cream cheese mints for Easter and Christmas, but also they are fantastic for baby showers, weddings, and just parties in general. They're so easy to make and since you can make them ahead of time… well, let's just say that's awesome.
When you're making a recipe that calls for just a few ingredients, it's important to use high quality ingredients. I used Challenge Butter and cream cheese for this recipe because they're the brand I've used and trusted for years and years. Made with 100% real cream, it's my butter of choice.
I used Challenge cream cheese for these luscious mints because it is extra creamy and delicious! As a Challenge ambassador, I love sharing their amazing, high quality products with you. I've been using Challenge butter forEVER and their cream cheese is just as fantastic!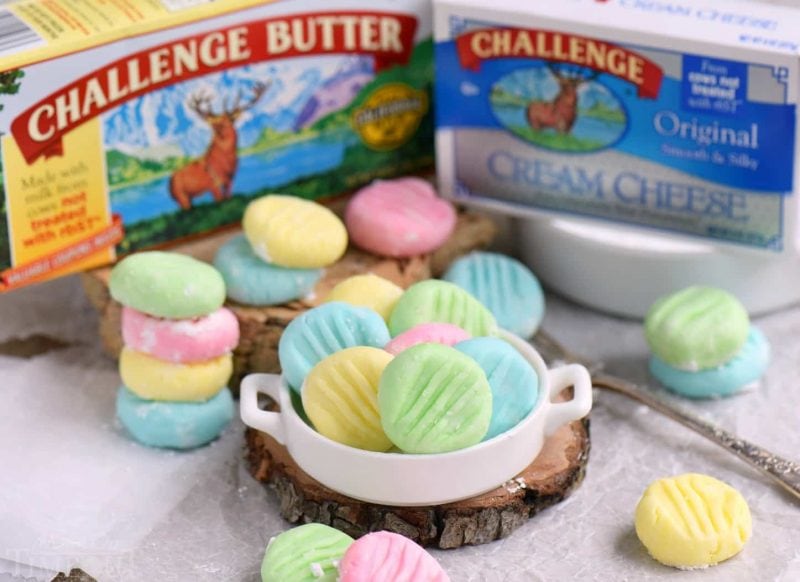 I'm going to answer another question that I know is going to come up as well – do I use peppermint or mint extract in the recipe? I used mint – as in spearmint. Many of you prefer peppermint and trust me, they're good that way too. In fact, last month when I shared the Chocolate Mint Cream Cheese Buttons, so many of you made it with peppermint extract instead of mint and said it was the best thing you'd ever had! So, bottom line, use whichever you prefer.
And while we're on that subject… you could use ANY FLAVOR OF EXTRACT you want. Cherry, root beer, lemon, orange – any flavor you want!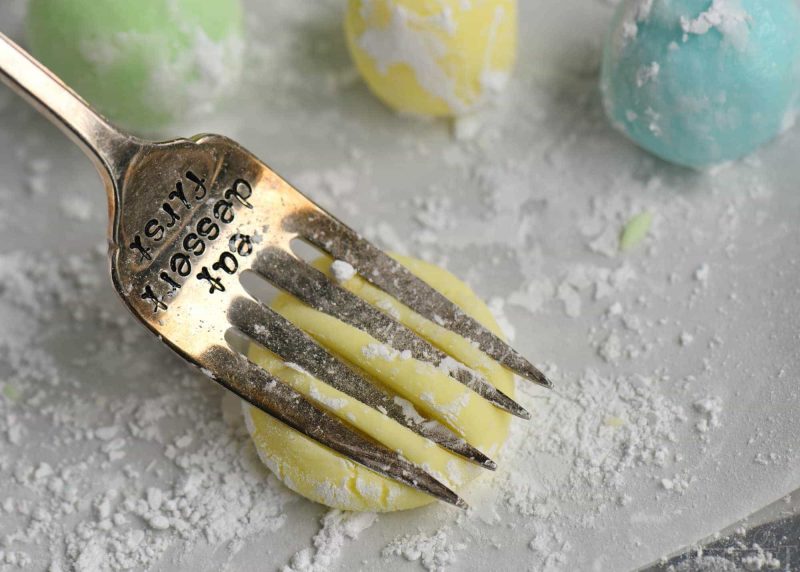 Flatten the balls with the bottom of a glass dipped in powdered sugar (a shot glass works great for this!) or flatten with the tines of a fork. You can also roll into a log, and cut into little squares – like butter mints. You can also put into candy molds if you'd like – super versatile!
And then you end up with this awesomeness.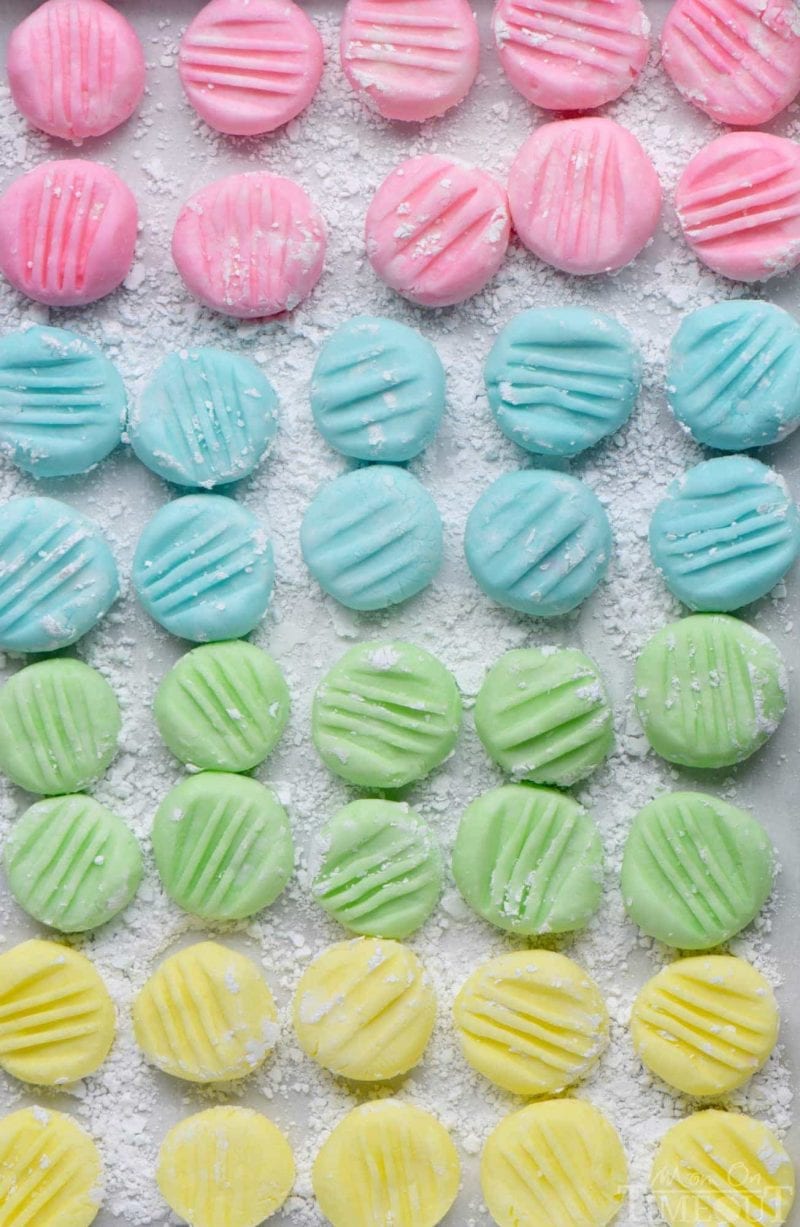 The candies need to dry to harden. So you'll want to make at least 1 day in advance.The powdered sugar that they are rolled in will absorb into the mint – so don't worry about the white. The cream cheese mints can be frozen or refrigerated if you'd like to make well in advance.
Trish – how did you get those pretty pastel colors? Easy! I used these Wilton gel food colors – they're my favorite!
I hope I've answered most, if not all, of your questions 🙂 Let me know in the comments section if I missed anything! Enjoy!
The BEST Cream Cheese Mints
The BEST Cream Cheese Mints you'll ever try! This incredibly easy recipe yields the most delicious, luscious, melt-in-your-mouth cream cheese mints around! Make them in any color you like! Perfect for Easter, baby showers, weddings, and more!
Instructions
Combine cream cheese and butter in a large mixing bowl and mix until smooth.

Add 1 cup of powdered sugar and mix until smooth.

Add the mint extract and mix until combined.

Gradually, add the remaining powdered sugar until smooth and consistent. You can do this with a

stand mixer

,

food processor

, or by hand.

Separate the mixture into four separate bowls, or however many different colors you want.

Add a small amount of food color to each bowl and stir in until the color is uniform.

Cover and refrigerate for 2 hours or until firm enough to handle. You don't want it sticking to your hands.

Line 2

quarter sheet pans

with parchment paper and liberally dust with powdered sugar. Set aside.

Pinch off small amounts of the dough and form into a 1-inch balls.

Roll each ball in powdered sugar and place on prepared sheet pans.

Gently press the tines of a fork into the top of each ball. (You can also use the bottom of a shot glass if you don't want the lines. Just dip the bottom of the glass into powdered sugar to keep it from sticking.)

Let stand, uncovered, for at least 4 hours or until the mints are firm. If the bottoms have any moisture, flip over and let stand again until the bottoms of the mints are also firm.

Store in an airtight container, separating layers with parchment or waxed paper, for up to 2 weeks at room temperature.

Mints can be refrigerated or frozen if desired.

More Easter treats!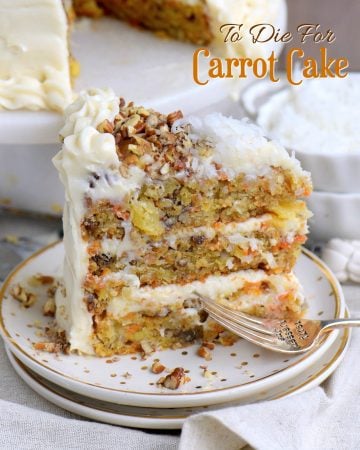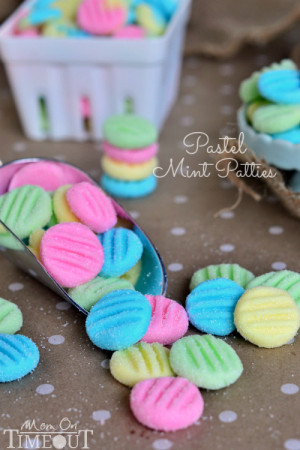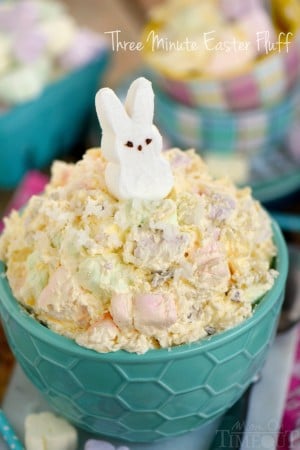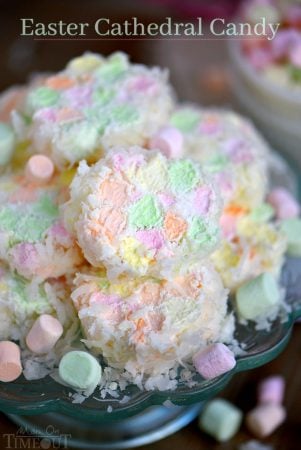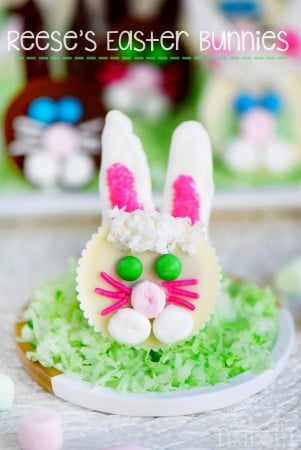 For all Easter ideas, go HERE.
For all dessert recipes, go HERE.
Sign up to get emails when I post new recipes!
For even more great ideas follow me on Facebook – Pinterest – Instagram – Twitter – Bloglovin'.
Have a great day!
Disclosure: As an Ambassador for Challenge, I was provided product and compensation for this post by Challenge Butter, but all opinions are, as always 100% my own. I LOVE Challenge Butter!