The Best Key Lime Pie recipe EVER! And so darn easy too! You won't be able to stop at just one slice!
Let's be friends! Sign up to get my new recipes in your inbox! Follow me on Facebook and Instagram too!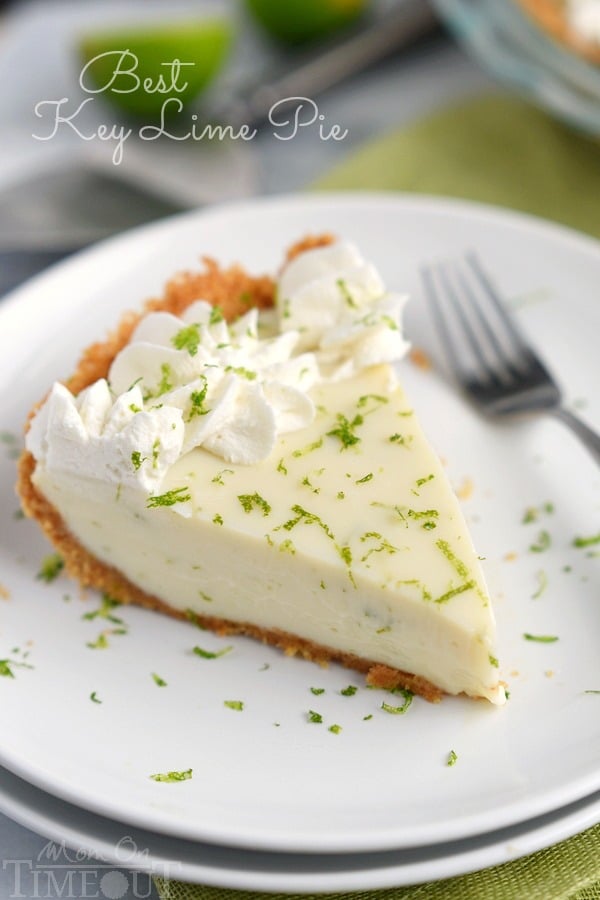 I'm, admittedly, not much of a pie person. But this, this Key Lime Pie, has changed my life.

MY LATEST VIDEOS
So, confession time. I didn't use key limes for this pie. I used regular ole limes that you can find anywhere. I meant to use key limes but after three stores I gave up. Ain't nobody got time for that.
So here's the skinny on the key lime pie sitch, you don't have to use key limes. They may, may make the pie a teensy bit better but goodness gracious I was so happy not to have squeeze 20+ key limes for this pie. It was a blessing in disguise fo sho!
After all of that, Happy Pi Day! With an electrical engineering degree you can bet I've had my fill of pi. But never, NEVER will I have my fill of this pie.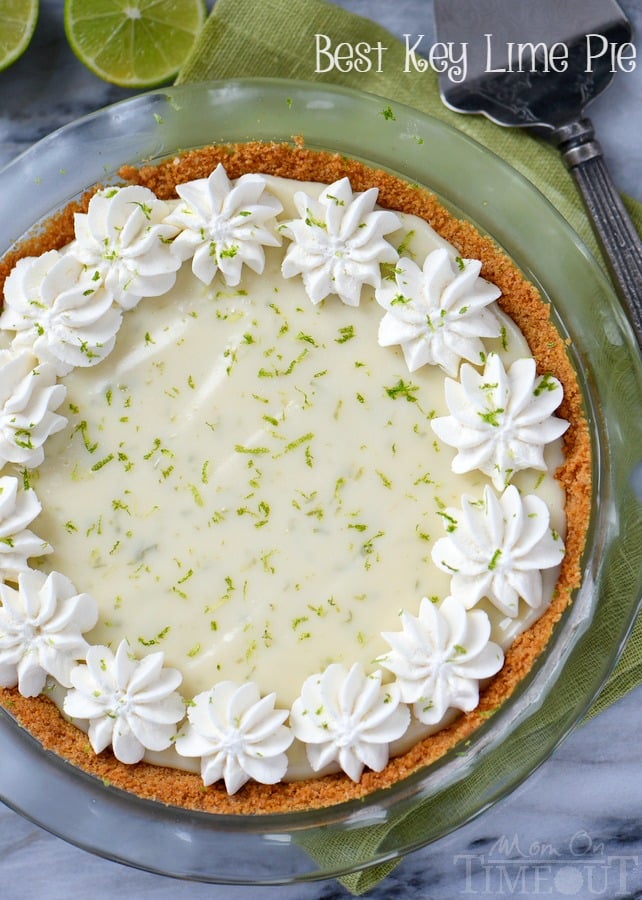 So this "key" lime pie recipe is crazy easy. And I mean cray-zee.  So easy, you may find yourself making one a week, like I plan to, for the rest of my life.
The pie starts with a graham cracker crust. I am terrible at crusts but gosh darnit, a homemade graham cracker crust tastes WAY better than a store bought one and it's pretty simple to make. Just some graham cracker crumbs, sugar and butter will do it.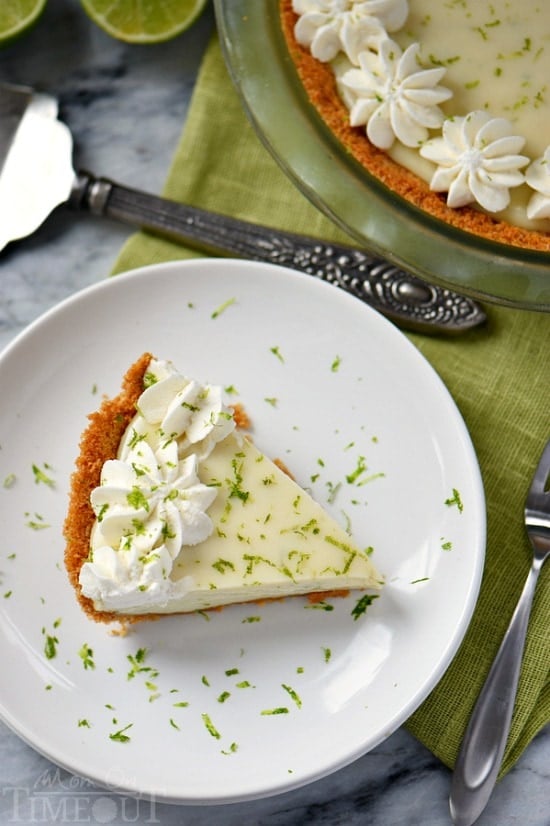 Now let's get to the filling. It's a whole lotta lime juice, lime zest, sour cream and a couple cans of sweetened condensed milk (a.k.a. nectar of the gods). You just whisk it all together, pour it into your pie shell, bake for 10 minutes and voila – you've got a key lime pie that will blow your family and friends away.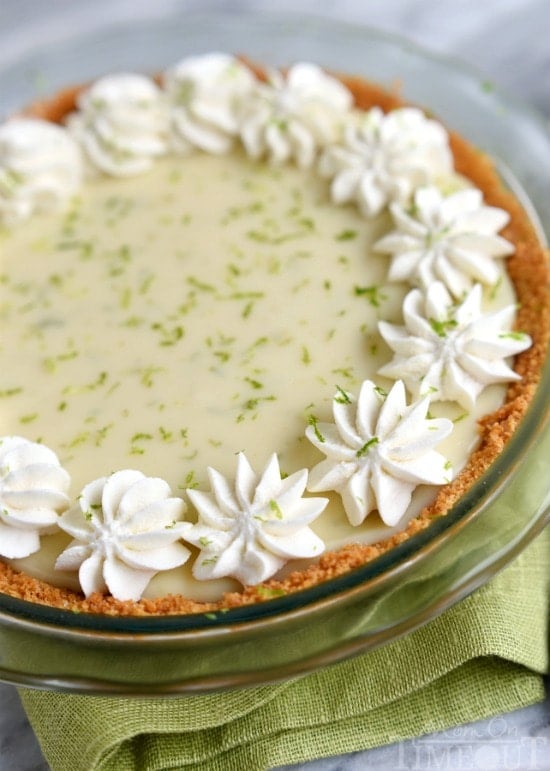 The truth is, I'm not much of a decorator when it comes to pies and cakes. I'm all about simple, easy, get-it-in-my-mouth-as-quick-as-possible. You too? Good. Then you'll like my no-nonsense whipped cream topping.
If you are in a hurry, and I mean, a BIG HURRY, I would perhaps allow you to use a store bought pie crust and a can of whipped cream.  This pie would still be heavenly. No doubt.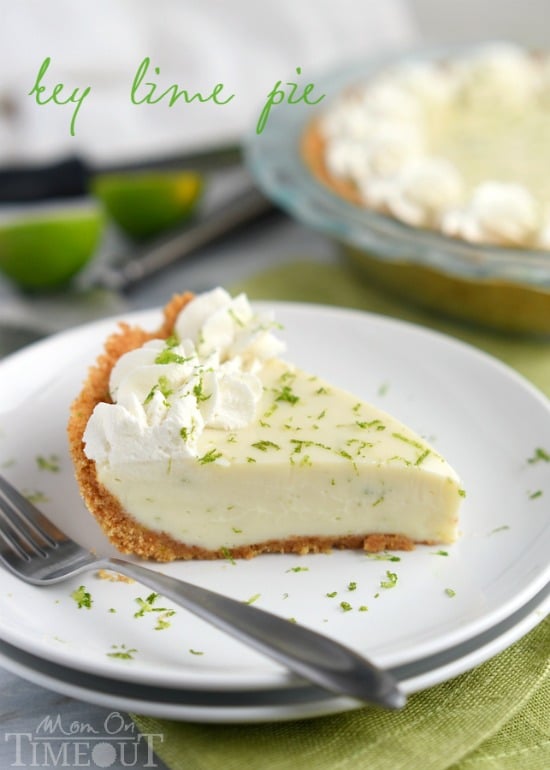 Best Key Lime Pie
Author:
Trish - Mom On Timeout
Ingredients
Graham cracker crust
1½ cups ground graham crackers
⅓ cup granulated sugar
6 tbsp butter, melted
Key Lime Filling
2 14 oz cans sweetened condensed milk
½ cup light sour cream
¾ cup lime juice OR key lime juice
zest from 2 regular limes or 4 key limes
Whipped Cream Topping
1 cup heavy whipping cream
½ cup powdered sugar
1 tsp vanilla extract
Instructions
Graham cracker crust
Preheat oven to 375F.
Mix graham cracker crumbs, sugar, and butter in a small bowl. Press the crumb mixture into an 8" - 9.5" pie pan. Bake for 7 minutes. Cool for at least 30 minutes.
Key Lime Filling
Preheat oven to 350F
Whisk together sweetened condensed milk, sour cream, lime juice, and lime zest in a medium bowl. Pour into prepared graham cracker crust and bake for 10 minutes.
Let pie cool slightly before chilling. Chill for at least 3 hours.
Whipped Cream Topping
Beat heavy cream and sugar together in a mixer until stiff peaks form. Beat in vanilla. Spread or pipe the whipped cream on top of the cooled pie. Top with additional lime zest if desired.
Notes
Recipe adapted from
here
.

Celebrating Pi Day too? Check out these pies from my friends:
Chocolate Mousse Pie – Very Culinary
Mini Magic Bar Pies – Crazy for Crust
And more pies, just for fun!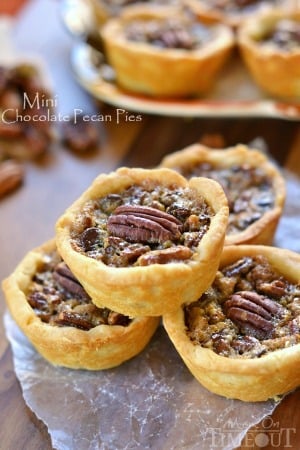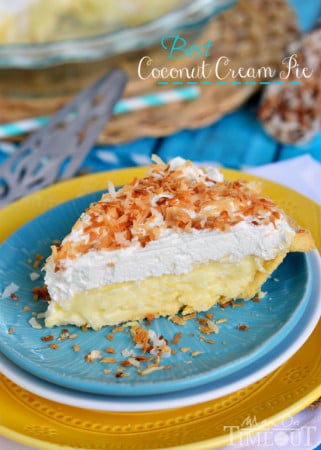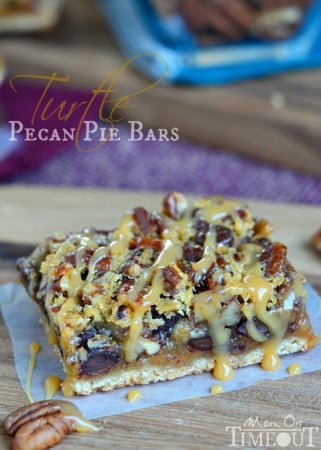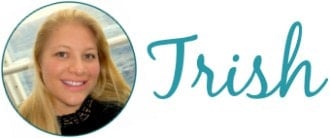 For all cake recipes, go HERE.
For all dessert recipes, go HERE.
Sign up to get emails when I post new recipes!
For even more great ideas follow me on Facebook – Pinterest – Instagram – Twitter – Bloglovin'.
Have a great day!