Get ready for the BEST Steak Marinade ever! Turn an every day meal into a special occasion with this quick and easy marinade! Tender, juicy, flavorful steaks that are impossible to resist! Grilling? Make sure to try my famous Chicken Marinade and these Pulled Chicken Sandwiches with Root Beer BBQ Sauce!
Steak Marinade
Hard to believe that Father's Day is just around the corner! The kids are officially done with school and summer has BEGUN! We're celebrating with a whirlwind trip to Disney World and lots of BBQ. On the menu is steak, lots of lots of steak and I'm using the BEST steak marinade to really amp up the flavor.
The Gift of A Good Steak
Father's Day. It can be a frustrating day. I want my dad to know how important he is to me and how thankful I am for him but every year I struggle with finding the perfect gift. My dad is super hard to buy for. In fact, I think dads in general are notoriously hard to buy for. I'm not really sure he needs yet another hammer or drill and the gift card thing has kind of run its course.
This year I've found the perfect way to say "Thanks Dad" for all the fathering he's had to do over the years. You'd think at 37 I'd be able to handle my own life pretty well yet I still rely on him for so many things in and around the house. And honestly, I'm most thankful for the amazing Grandpa that he is to my two boys. He lives almost 2 hours away and still manages to make it to most of their swim meets, soccer games, and basketball games each year. Thank you Dad!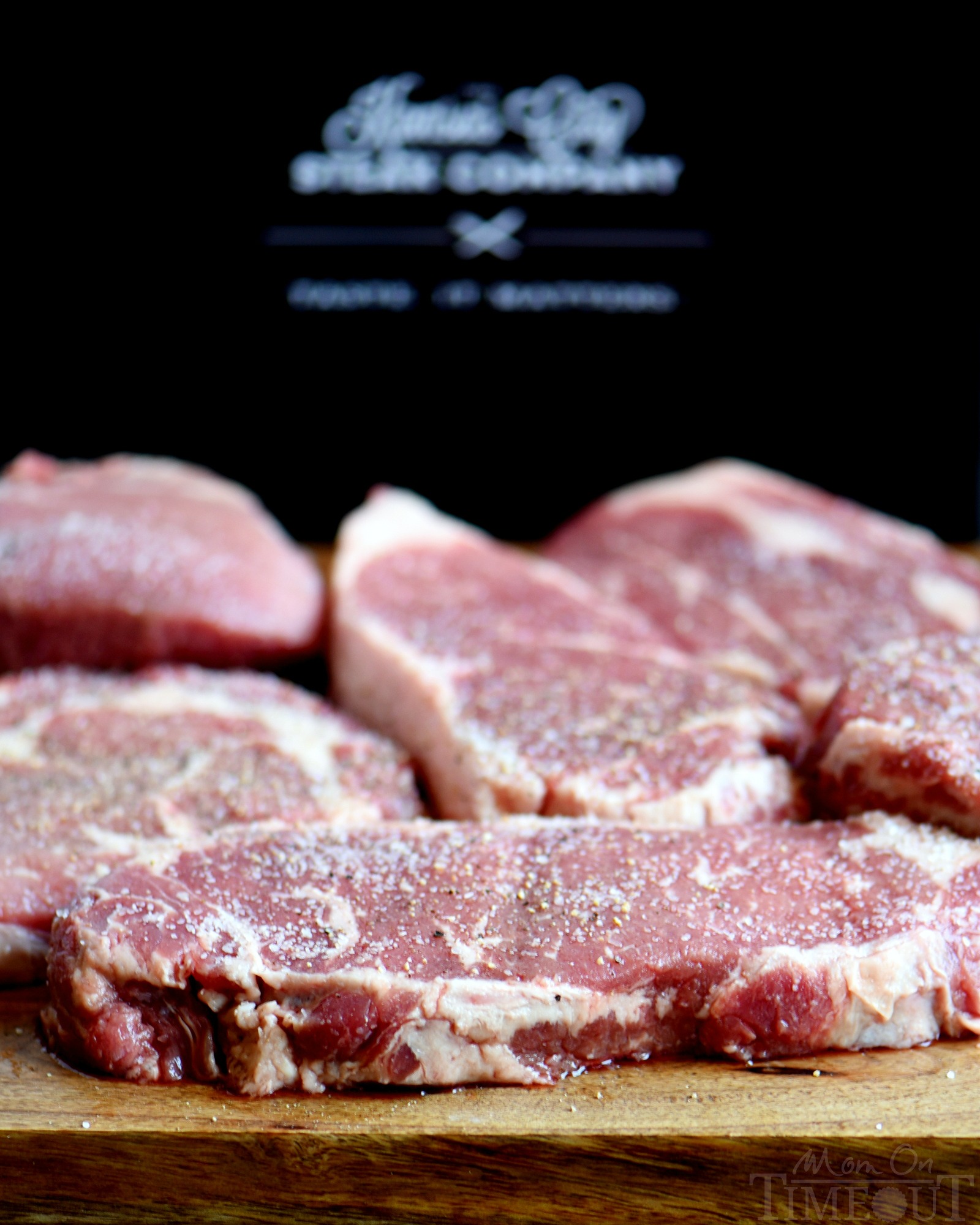 This year I've found the perfect way to say "Thanks Dad" for, well, pretty much everything. And I'm saying it in the best way I know how – with meat. You know that old saying "a way to a man's heart is through his stomach"? 100% true people.
And it's especially true with dads.
What's In The Best Steak Marinade?
This quick steak marinade is super easy to pull together and you probably have most, if not all, of these ingredients in your pantry:
extra virgin olive oil
balsamic vinegar
low sodium soy sauce
Worcestershire sauce
pineapple juice
brown sugar
Dijon mustard
ground black pepper
garlic powder
Please not the low sodium soy sauce. It's really important that you use this type of soy sauce otherwise the steaks will be way too salty.
How Long Should I Let My Steak Marinate
I talk about this a bit in my chicken marinade post and it's true for steaks as well.
I recommend 4 to 24 hours for maximum flavor and tenderness but if you only have 60 minutes, you will still get great results.
Tools Needed
A handful of tools make this marinade a breeze to pull together: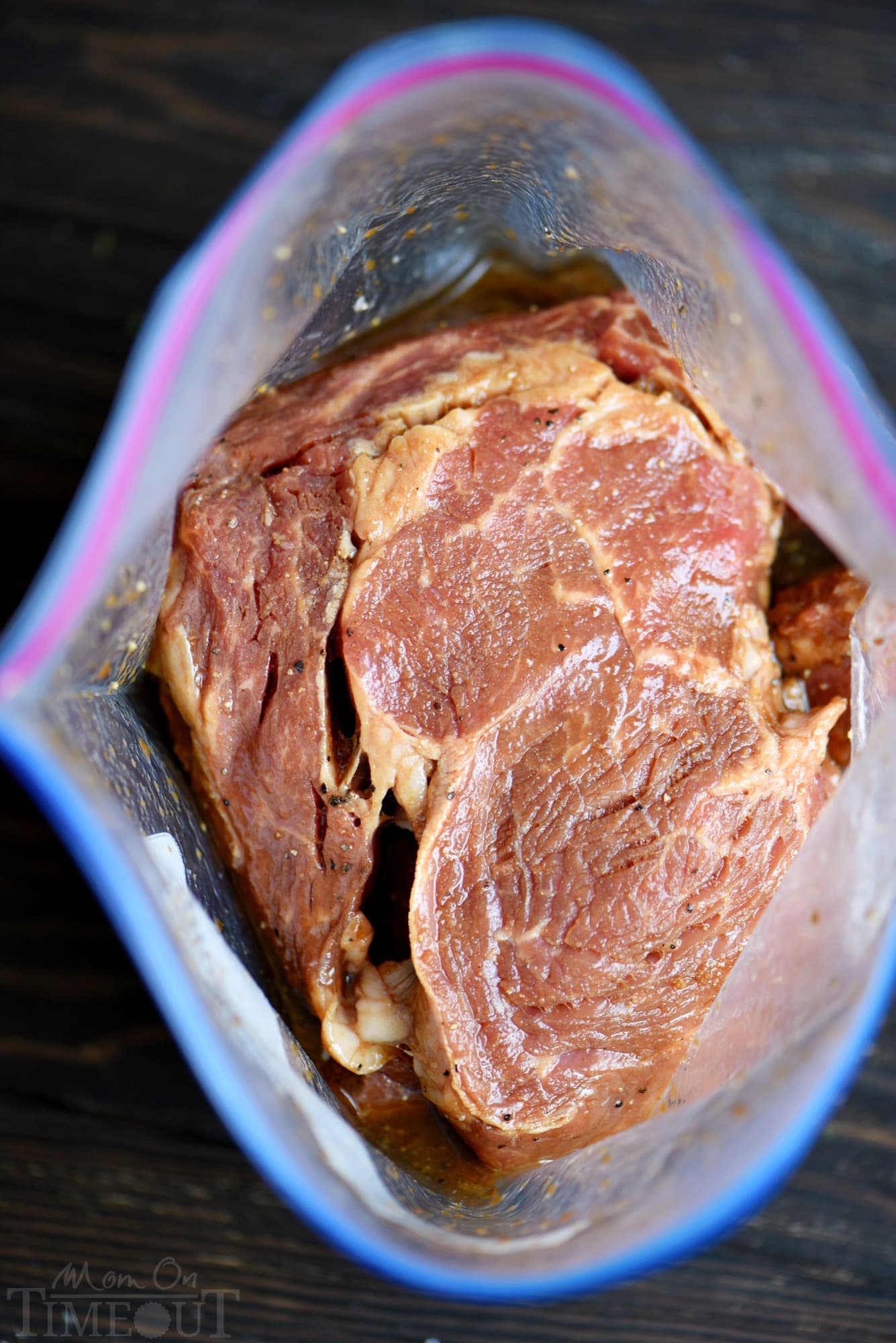 What Type of Steaks Should I Use?
When I was testing this recipe, I wanted to make sure this easy steak marinade would work on all types of steak.
Not even kidding you guys. I've tried this marinade on:
ribeye
filet mignon
strip
sirloin
flank
I went from one to the other to the next trying to determine which was my favorite… Impossible. They were all SO good. Chris was in heaven. The meat was so tender, so juicy, and had unbelievable flavor. I have tried so many steak marinade recipes in the past that have left me less than satisfied. I've been working on an amazing and versatile steak marinade for the longest time and I finally have it.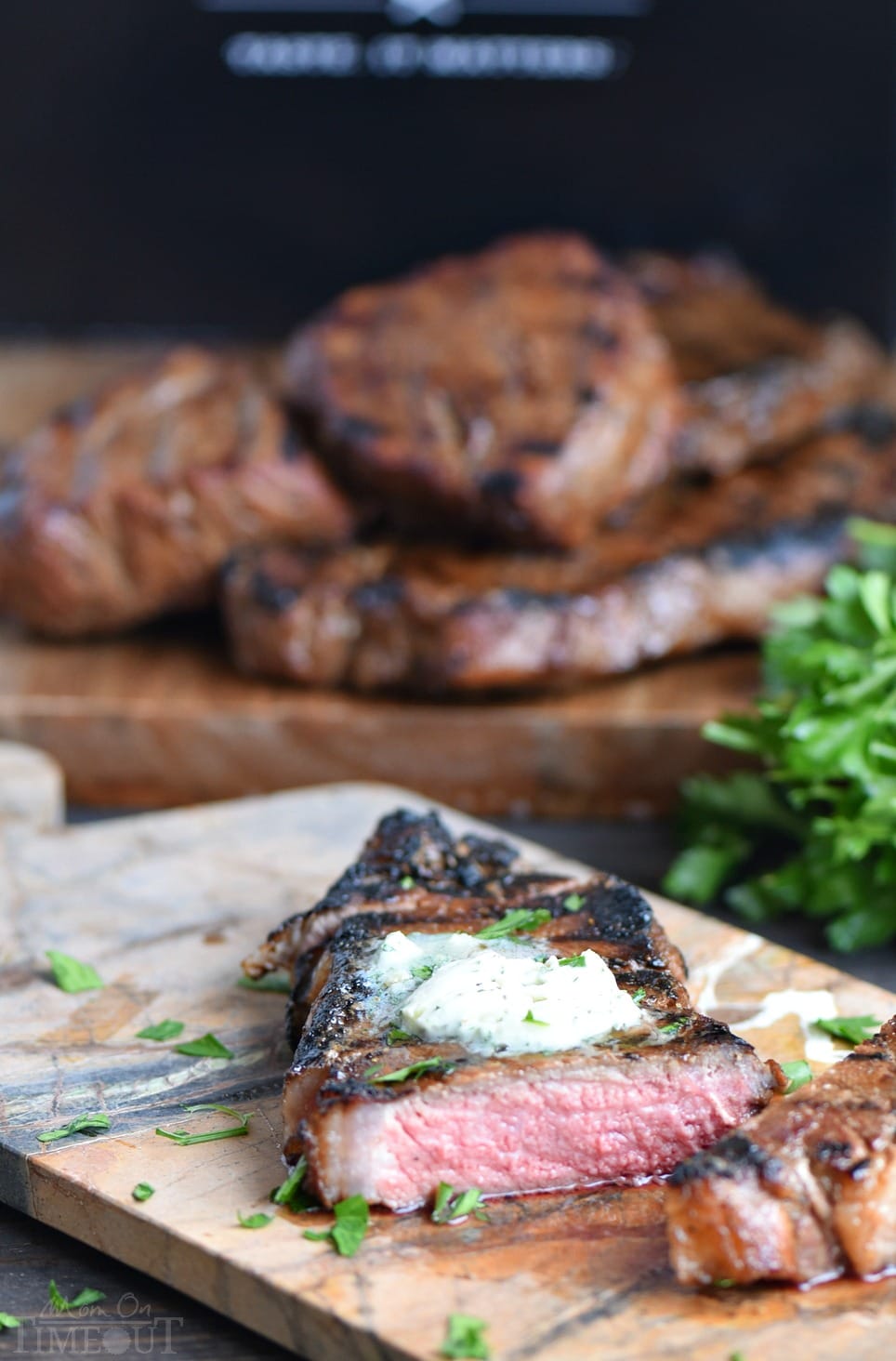 Best Sides for Steak
How To Make the Best Steak Marinade
The BEST Steak Marinade
Get ready for The BEST Steak Marinade ever! Turn an every day meal into a special occasion with this easy marinade! Tender, juicy, flavorful steaks that are impossible to resist!
Ingredients
1/2

cup

extra virgin olive oil

1/2

cup

balsamic vinegar

1/4

cup

low sodium soy sauce

1/4

cup

Worcestershire sauce

1/4

cup

pineapple juice

2

tbsp

brown sugar

2

tbsp

Dijon mustard

1

tsp

ground black pepper

2

tsp

garlic powder

3 to 4

lbs

steak

ribeye, strip, sirloin, filet mignon, etc.
Instructions
Combine all ingredients in a large Pyrex measuring cup or mixing bowl and whisk together.

Place steak in a large, ziploc bag and pour marinade over the top. Close securely.

Marinate for at least 4 hours and up to 24 hours. (A bare minimum of an hour.)
To grill
Preheat grill to medium high heat and lightly oil the grates.

Remove the steak from the marinade and pat dry.

Grill steak to desired doneness.

Remove steaks from grill and tent with foil. Let rest for at least 5 minutes before serving.
Nutrition
Calories:
519
kcal
|
Carbohydrates:
10
g
|
Protein:
35
g
|
Fat:
38
g
|
Saturated Fat:
13
g
|
Cholesterol:
104
mg
|
Sodium:
486
mg
|
Potassium:
581
mg
|
Fiber:
1
g
|
Sugar:
7
g
|
Vitamin A:
32
IU
|
Vitamin C:
2
mg
|
Calcium:
31
mg
|
Iron:
4
mg
Originally published June 1, 2017.