The BEST Christmas Cookies for your holiday entertaining needs! Nothing shouts Christmas fun like a tray full of delicious Christmas cookies and these cookie recipes are some of the best out there! I wish I had time to make them all! Check out these favorites: Peanut Butter Blossoms, Snickerdoodles, and Almond Joy Cookies!
Hard to believe that Christmas is less than two weeks away! If you're still working out your holiday entertaining menu, I've got the cookies covered here. Perfectly festive cookies to delight friends and family this Christmas.
Peppermint, chocolate, ginger and more! All the fabulous flavors of the holiday season!
I've broken up the Christmas cookie recipes into categories but many of the cookies fall into multiple categories so make sure to scroll through to see them all!
Short on time? You can find more than 30 Last Minute Christmas Treats HERE.
Colorful Christmas Cookies
These Christmas cookies will pop on any dessert table or cookie tray! The red, white, and green colors are sure to put friends and family in the holiday spirt!
Whipped Shortbread Cookies are so easy to make with just 5 ingredients and taste amazing!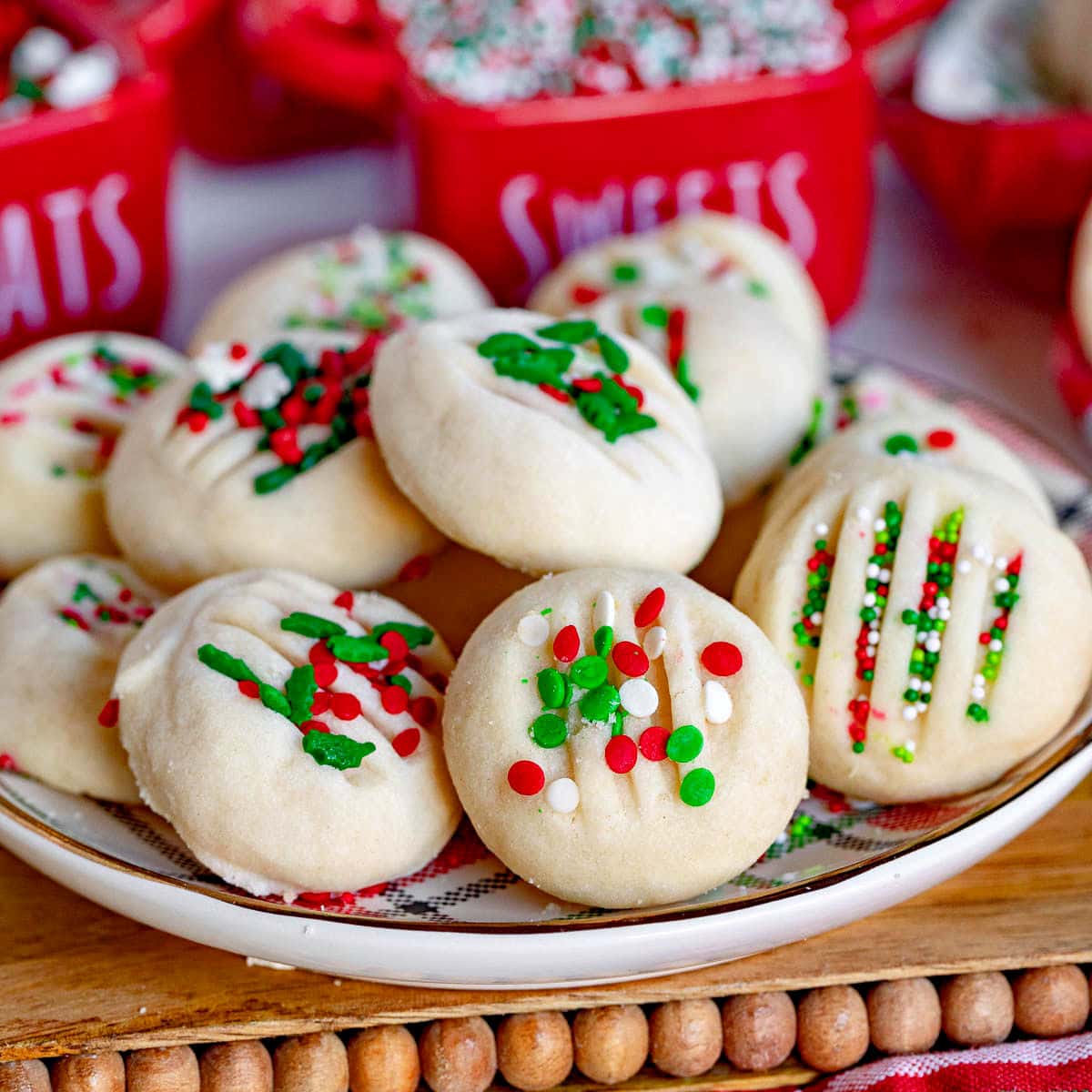 Easy Grinch Cookies are guaranteed to steal the hearts of all your friends and family this Christmas season!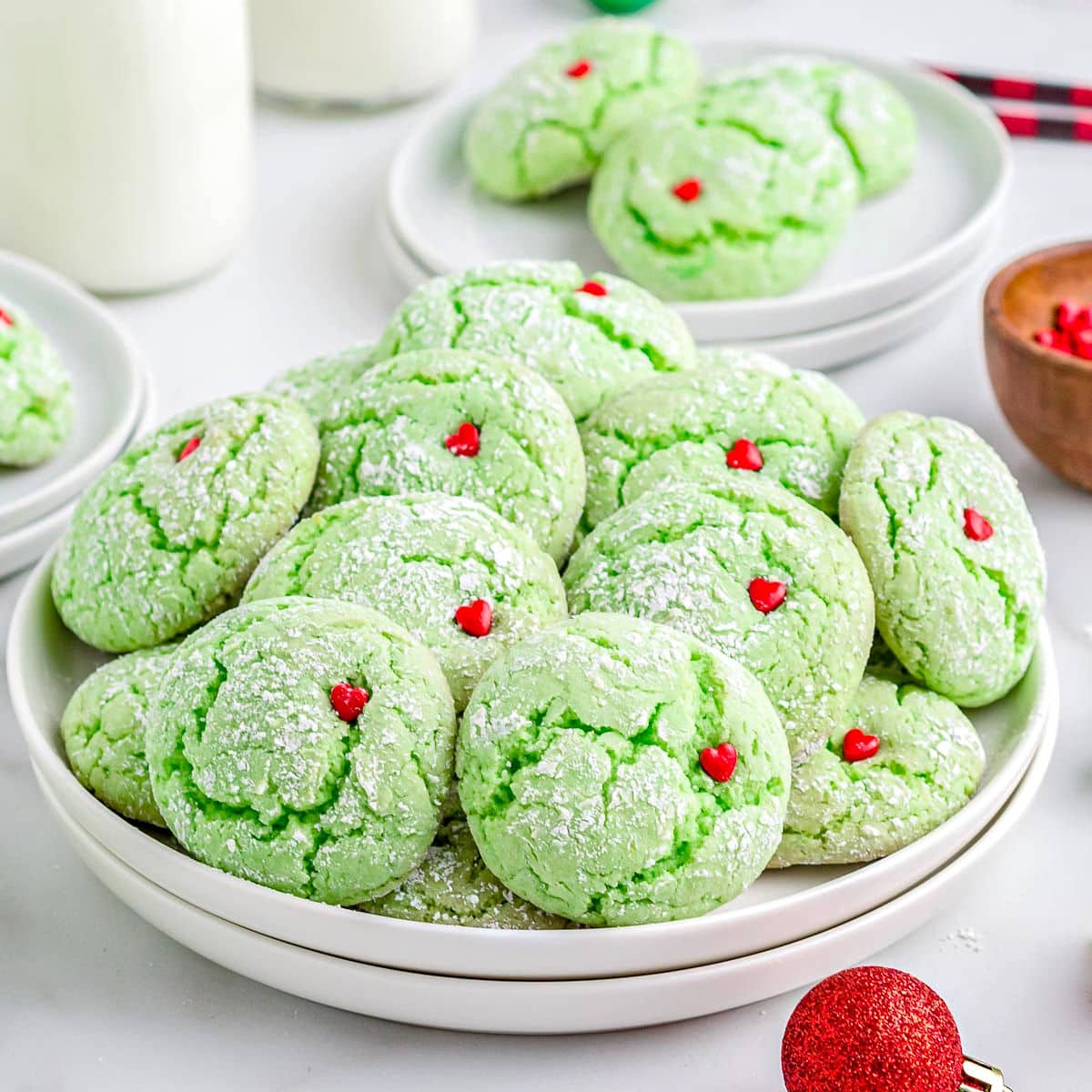 Soft and flavorful, easy to cut out and keep their shape beautifully! This is the only sugar cookie recipe you'll ever need!
These Peppermint Snowball Cookies are everything a Christmas cookie should be! Easy, beautiful, and packed with flavor! A double dusting of powdered sugar gives these easy snowball cookies an extra sweet finish.
These Hot Cocoa Cookies are chewy, chocolaty and oh so delicious! Topped with colorful, festive sprinkles, they are a Christmas cookie favorite!
Nothing prettier than Spritz Cookies! This classic buttery sugar cookie recipe is specifically designed to used with a spritz cookie press. Love the snowflakes and pretty colors!
Melt in your mouth Mint Chocolate Chip Snowball Cookies are a treat you won't be able to resist! They are so easy to make and packed with mint and chocolate flavor – no one can eat just one!
These cookies are tiny, fun, and kids love them! Cute, festive and delicious, these Sprinkle Cookie Bites are the perfect way to kick off the holiday baking season!
These Holiday Dipped Oreos make an inexpensive and festive gift for Christmas! Follow my easy how-to instructions and tips and you'll be churning out gourmet chocolate dipped Oreos in no time!
Extra cute Reindeer Cookie Bars are fun, festive and fabulous! These easy to make Christmas cookie bars are the perfect addition to your holiday festivities and look amazing on cookie trays and dessert tables!
Christmas Classics
These cookies all fall into the "classic" category because they are favorites that your family will love to make year after year. Most of these should be familiar to you but try to find some new recipes to make too!
These delicious Peanut Butter Blossoms are a holiday favorite! Soft and chewy peanut butter cookies rolled in sugar and topped with a kiss!
These soft and chewy Ginger Molasses Cookies are just what your holiday season has been waiting for! Delightfully chewy with a crisp sugar coated exterior and plenty of spice and warmth, these molasses cookies are impossible to resist!
Chocolate Crinkle Cookies are so moist and fudgy, just like a brownie! Chocolate Crinkles make a beautiful and delicious addition to any occasion and are just so festive and fun for cookie plates and dessert tables!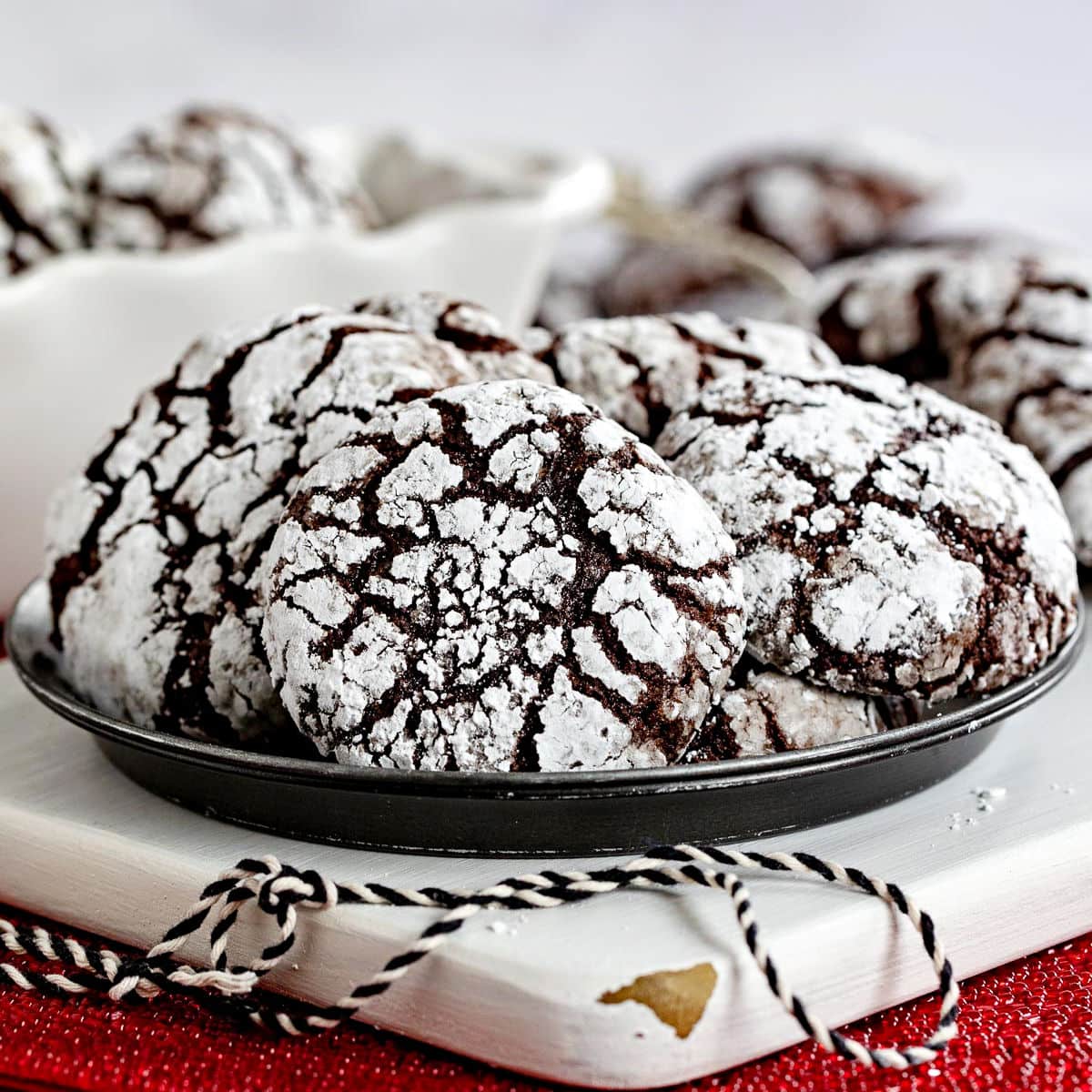 Kolaczki (Polish Cookies) are the perfect tea time treat and lovely addition to a Christmas cookie plate. The delicious flaky pastry comes together with 4 simple ingredients and pairs beautifully with sweet and tart jewel-toned, jam fillings. A sprinkle of powdered sugar makes these cookies a show-stopper!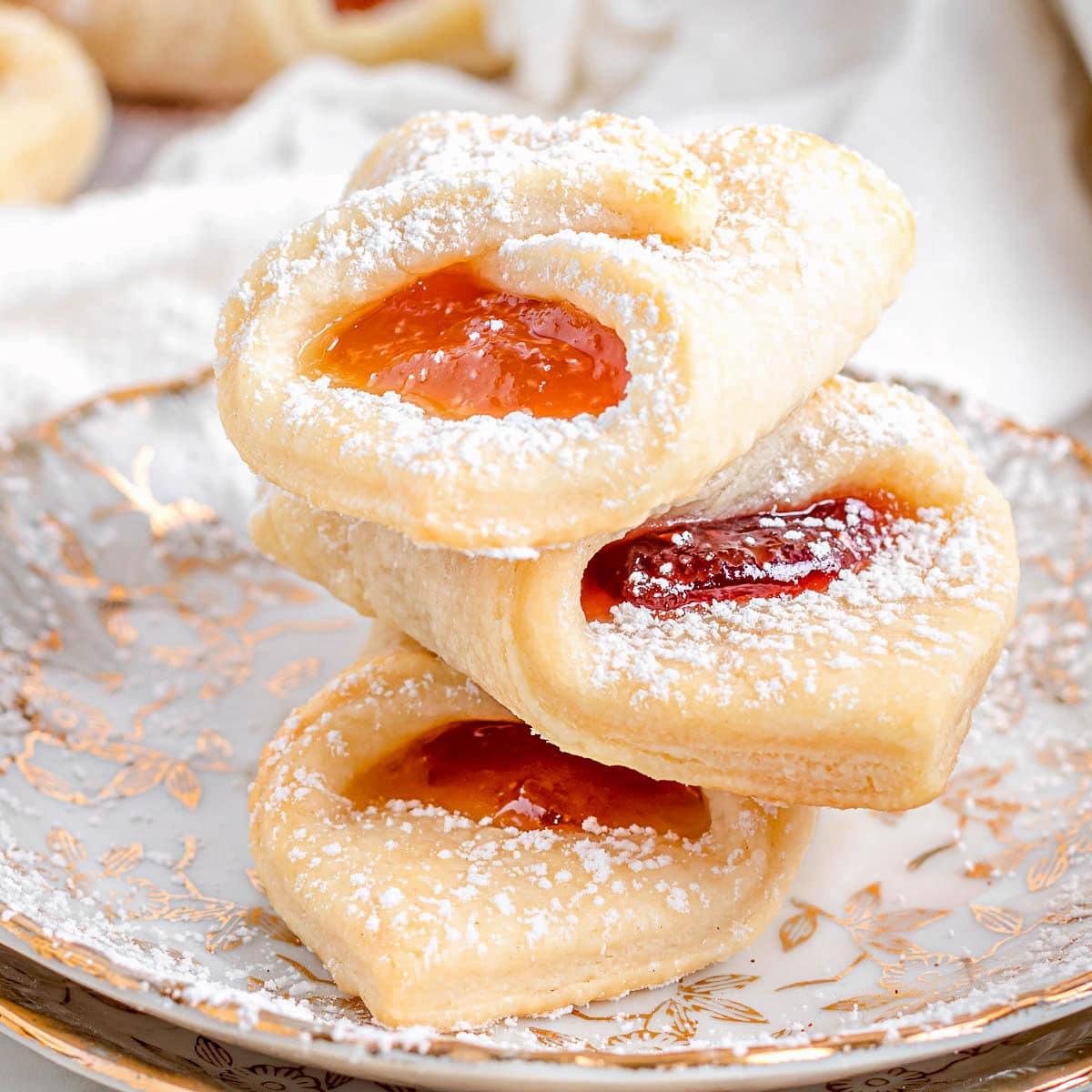 A cousin to Peanut Butter Blossoms, these cookies are a cross between macaroons and blossoms. These easy Coconut Macaroon Blossoms combine a timeless classic with CHOCOLATE! A match made in heaven!
The BEST Coconut Macaroons for the true coconut lovers out there! These easy macaroons are made without sweetened condensed milk so the delicate, sweet flavor of coconut really shines through.
These Gingerbread Cookies are everything a Christmas cookie should be! Perfectly spiced and flavored with molasses and brown sugar, this easy gingerbread cookie recipe is perfect for cutout cookies and decorating!
This easy Snickerdoodle recipe makes the best soft and chewy snickerdoodle cookies you've ever had! No one can resist that cinnamon-sugar exterior!
These Dipped Coconut Macaroons are unbelievable! Rich, chewy coconut cookies, just like you'd find in a high end bakery!
Get ready to impress with this easy Turtle Thumbprint Cookies recipe! Decadent chocolate cookies rolled in pecans and filled with soft caramel make any cookie tray look extra special!
Chocolate and Peanut Butter Cookies
These classic cookies are a must make for Christmas! No one can resist chocolate or peanut butter cookies and when the two are combined? Yes, please!
The BEST Chocolate Chip Cookies of your life! Soft and chewy and bursting with chocolate goodness, this easy chocolate chip cookie recipe is life changing. Made in one bowl without a mixer, this recipe delivers soft, thick, chewy cookies every single time! Add some red and green M&Ms for a festive touch!
These Maple Cinnamon Glazed Peanut Butter Cookies are going to rock your world with their sweet maple and warm cinnamon flavors.
These delicious Chocolate Cookies feature a decadent chocolate glaze that adds amazing chocolate flavor to this quick and easy chocolate cookie recipe! Add festive sprinkles for any occasion!
This festive and delicious Chocolate Peppermint Biscotti recipe is perfect to add to your holiday baking list!
Nothing beats these classic No Bake Cookies for a quick and tasty chocolate peanut butter treat! With just a few staple ingredients and no flour or eggs, these easy peanut butter no bake cookies are ready to enjoy in 30 minutes!
Peppermint and Mint Cookies
Peppermint is the flavor of the season and it's such a delicious cookie flavor too! You'll love the bright, bold refreshing flavor in this yummy Christmas cookies!
These festive Peppermint Shortbread Cookies are the perfect addition to your holiday cookie trays this year!With only five ingredients, they are quick and easy to make and look so gosh darn pretty!
Dark Chocolate Peppermint Sugar Cookie Cups! These festive cookie cups are perfect for your holiday celebrations!
A yummy twist on the after dinner mint – these Mint Chocolate Chip Cookies are so incredibly scrumptious and gloriously green! This easy recipe gets a head start with a sugar cookie mix!
Fabulously festive and perfectly pepperminty, this White Chocolate Peppermint Sugar Cookie Bark is the perfect way to celebrate the season! Perfect for cookie trays, teacher gifts, and all of your holiday entertaining needs!
These Peppermint Chocolate Truffle Cookie Cups are filled with a peppermint chocolate ganache for a truly decadent holiday experience!
These soft and chewy Chocolate Peppermint Cookies have the perfect amount of peppermint flavor to make them bright and festive! The perfect addition to your holiday cookie trays!
Shortbread Cookies
I am such a big fan of shortbread cookies – especially for the holiday season! These yummy and easy cookies are a must make for Christmas!
Cranberry Orange Shortbread Cookies combine two of my favorite holiday flavors in one easy to make cookie that will wow friends and family this year! A delightfully easy cookie recipe that yields sensational results!
These melt in your mouth Butterscotch Shortbread Cookies are everything shortbread should be: buttery, crumbly, lightly sweetened, and totally delicious. This batch makes a bunch so be prepared to share with friends and family.
Delightfully easy Chocolate Dipped Mint Shortbread Cookies are perfect for the holidays!
More Christmas Favorites
These cookies belong in a class all of their own and are definitely worthy of a spot on your Christmas dessert table. Take a look!
These Cookie Empanadas are light, flaky and entirely irresistible. Pretty as a picture and super simple to make, these cookies will make a beautiful addition to your holiday cookie trays this year.
These Lemon Cookies are perfect for a party! Super easy to make with just a handful of ingredients, these bright yellow cookies are a standout on cookie platters!
The prettiest green cookies EVER! Super soft and chewy, these Pistachio and White Chocolate Pudding Cookies are perfect for Christmas!
These delightful Cranberry Pecan Pinwheel Cookies are bound to become a new favorite for your family! These cookies are so easy to make and packed with the refreshing flavors of cranberries, orange, and pecans!
These easy Almond Joy Cookies take just four ingredients and don't even require a mixer! No beating, no chilling, just mix 'em up and throw 'em in the oven EASY!
Wonderfully easy and festive, these Pineapple Pinwheel Cookies are the showstoppers you've been looking for!
I hope you've found some amazing and delicious Christmas cookie recipes here to help you make your holiday extra special this year!
Originally published December 12, 2014.