Today we're taking peanut butter cookies to a whole new level.  These Maple Cinnamon Glazed Peanut Butter Cookies are going to rock your world with their sweet maple and warm cinnamon flavors.  Thanks to Skippy Peanut Butter for inviting me to me a part of their holiday YIPPEE campaign!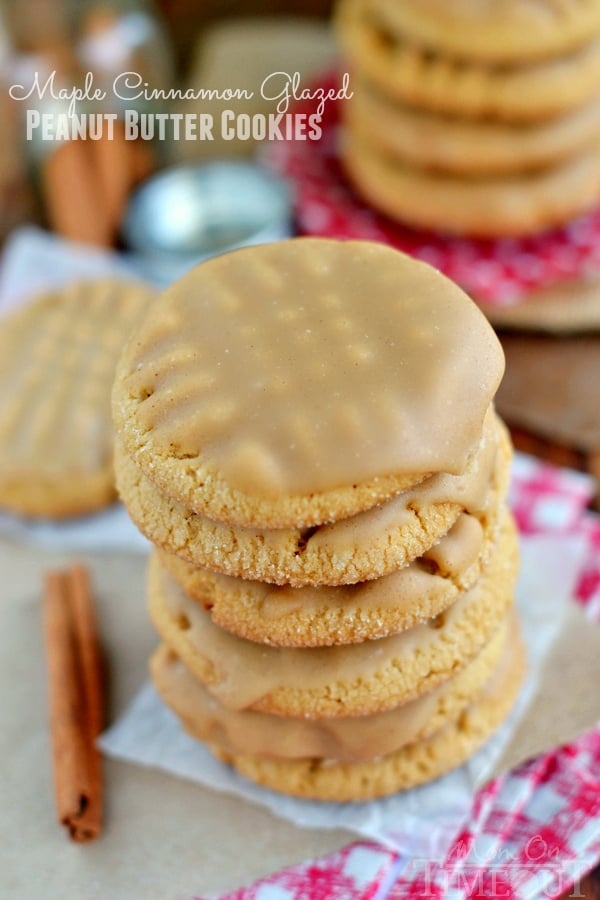 Baking has been a part of our holiday preparations and celebrations for as long as I can remember. I come from a family of exceptional bakers and cooks.  I grew up in the kitchen working right along side them and developed a love and passion for making and baking.  Sound familiar?
This passion and desire only gets more intensfied during the holiday season, or, as my sister aptly names it, "baking season".
Yes folks, baking season is upon us and to that I say YIPPEE! Nothing is better than getting my family in the kitchen with me, making yummy treats for us all to enjoy. Nothing.
We had our first Thanksgiving meal yesterday and I was in charge of dessert.  It had came to my attention a short time ago that I have never shared a peanut butter cookie recipe here at Mom On Timeout…for shame! I'm not quite sure how that happened considering my family lives off of peanut butter. We eat it for breakfast,  lunch, and for dinner.  And, of course, for dessert!
Time to remedy that situation.  Stat.
I used my very favorite peanut butter, Skippy Naturals to get the ultimate peanut butter flavor in these cookies.  I used creamy but crunchy peanut butter would work too. Skippy Peanut Butter is my go-to peanut butter for all my baking and it just happens to be my family's favorite peanut butter. Period.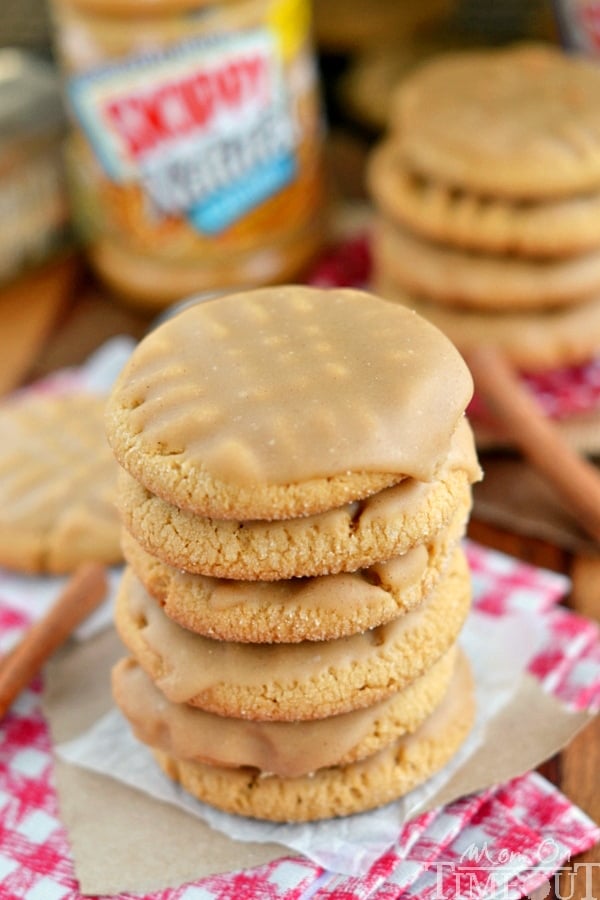 There's not much better in life than a peanut butter cookie, or a peanut butter ccokie with chocolate. Or, so I thought.
I've always been a huge fan of maple, like HUGE. So, it occurred to me, maple and peanut butter would acutally go pretty well together. Why not make a maple glazed peanut butter cookie! Since it's the holiday season I added a touch of cinnamon to the glaze.
The maple cinnamon glaze did exactly what I wanted it to do, providing a depth of flavor and sweetness and a little punch of seasonal warmth from the cinnamon.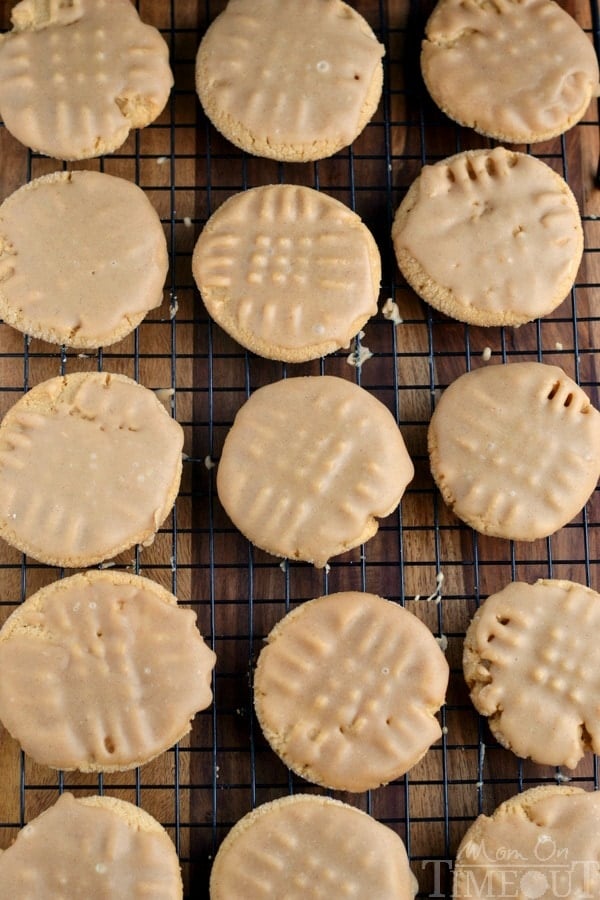 Total success.  My brother-in-law said, and I quote,"Trish, these are the first peanut butter cookies I have ever eaten that aren't dry!"  Mmmhhmm. Yes, you'e welcome.  The maple cinnamon glaze is a special holiday touch for sure! YIPPEE!
Maple Cinnamon Glazed Peanut Butter Cookies
Ingredients
1 cup creamy peanut butter (I used Skippy Naturals)
½ cup unsalted butter, softened
⅓ cup granulated sugar
¾ cup brown sugar
1 egg, room temperature
1 Tbls milk
2 tsp vanilla extract
1⅓ cup flour
1 tsp corn starch
¾ tsp baking soda
½ tsp baking powder
¼ tsp salt
¼ cup granulated sugar
Maple Cinnamon Glaze
¼ cup butter
¼ cup maple syrup
1 tsp maple extract
1¼ cup powdered sugar
2 Tbls milk
½ tsp ground cinnamon
Instructions
Cream peanut butter, butter, and sugars together in a mixing bowl.
Beat in egg, vanilla, and milk and continue mixing until well combined.
In a separate bowl, whisk together flour, corn starch, baking soda, baking powder, and salt.
Gradually add flour mixture to peanut butter mixture, mixing until dough comes together.
Refrigerate for at least 2 hours.
Preheat oven to 350F.
Scoop out dough using a cookie scoop. (You want about two tablespoons of dough.) Use your hands to form into a ball.
Roll balls in remaining ¼ cup of sugar and place on parchment line cookie sheet. Use a fork to press down on the cookie, flattening it slightly.
Bake for 9-12 minutes, just until cookie is set. I like mine slightly underdone but you can go the fulll 12 minutes if you like.
Remove cookies and cool for 5 minutes on cookie sheet before moving to a cooling rack. Let cookies cool completely.
Maple Cinnamon Glaze
Heat butter and maple syrup together in a small saucepan until butter is melted and ingredients are fully combined.
Stir in maple extract and cinnamon.
Whisk in powdered sugar ⅓ cup at a time until full incorporated. Add milk one teaspoon at a time until desired consistency is achieved.
Dip cooled cookies in glaze and return to cooling rack.
Let glaze set and then serve.
Store cookies in an airtight container for up to three days.

I want you to be saying YIPPEE all season long too! The holiday baking season is upon us! Enter the#SkippyYIPPEECookies Sweepstakes for a chance to win nutterific peanut butter and supplies for the ultimate peanut butter-filled holiday.
What you need to do:
Follow SKIPPY brand on Pinterest.
Create a new board called #SkippyYIPPEECookies Sweepstakes
Pin three (3) SKIPPY cookie pins from this board to your #SkippyYIPPEECookies Sweepstakes board
Pin at least three (3) other holiday pins (ingredients, holiday themed décor) to your #SkippyYIPPEECookies Sweepstakes board for a total of six (6) pins to complete your perfect YIPPEE holiday. Official rules here.
Need some ideas?  Try this, this, or this or anything from HERE!
Now let's talk prizes:
Week 1: Ultimate kitchen baking kit  (including a year supply of SKIPPY peanut butter, a kitchen utensil set, a set of mixing bowls, and a hand blender)
Week 2: $1,000
Week 3: $1,000
Week 4: Lifetime supply of SKIPPY peanut butter
 A "lifetime supply" of peanut butter is considered 600 jars (12 jars a year for up to 50 years). This prize will be rewarded as a year supply of SKIPPY peanut butter (12 jars) and a cash gift card for the remaining "588" jars. 
Yeah. I totally need to win. Which is why I'm entering too! Check out my board for some great pins for your board!
 More peanut butter awesomeness!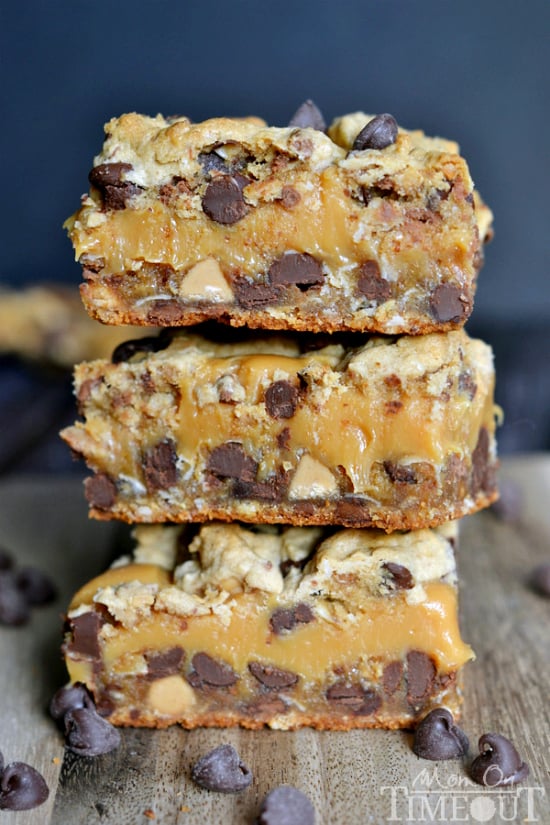 Peanut Butter Caramel Toffee Chocolate Chip Cookie Bars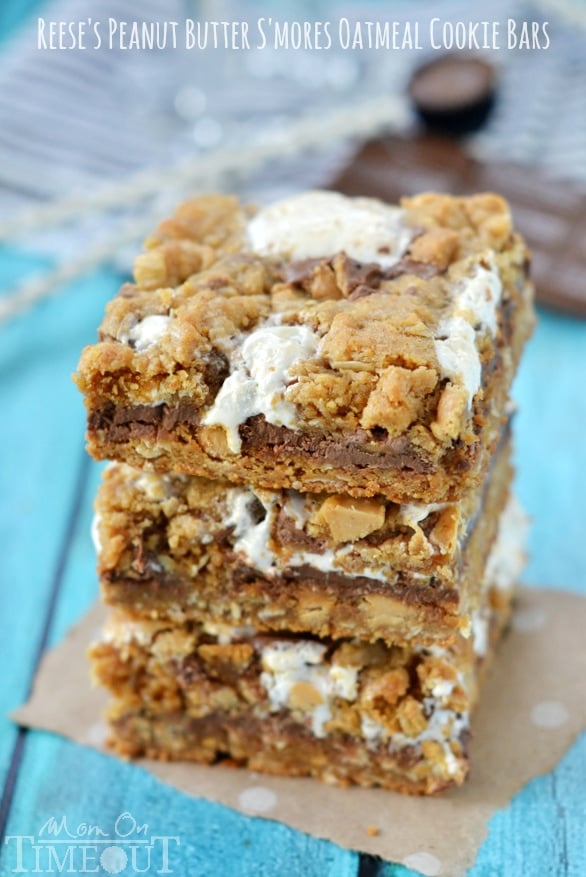 Reese's Peanut Butter S'mores Oatmeal Cookie Bars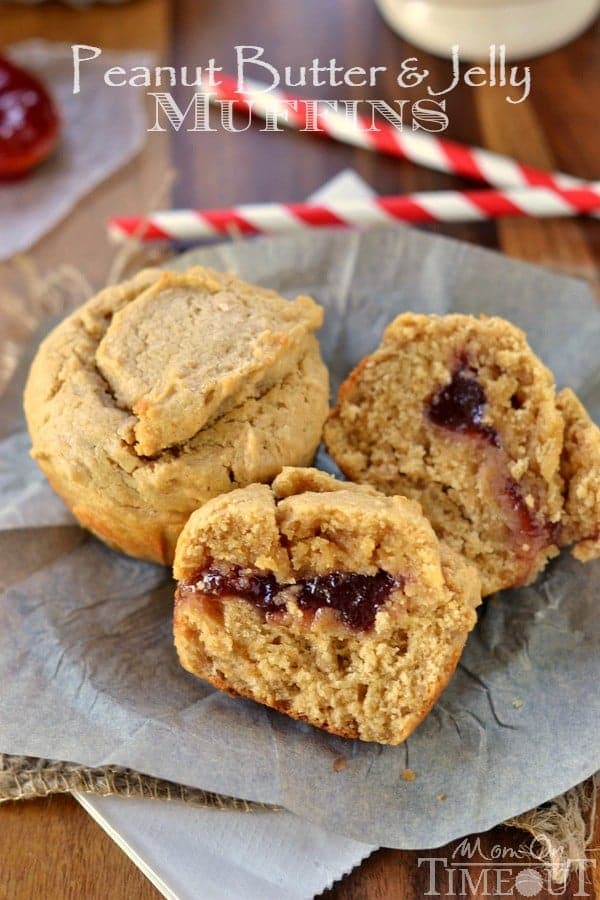 Peanut Butter and Jelly Muffins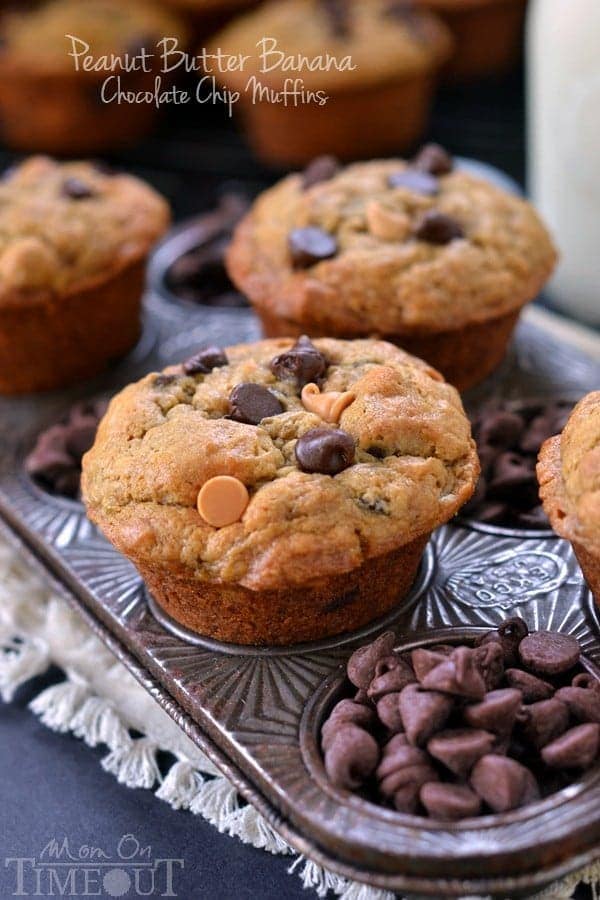 Peanut Butter Banana Chocolate Chip Muffins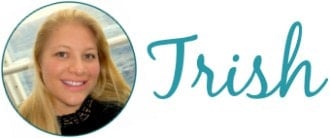 Connect with me!
 Linking up at some of these parties.
Disclosure: This post has been sponsored by Skippy Peanut Butter. All opinions are, always, 100% my own. Skippy Peanut Butter really is our favorite peanut butter!