These delicious Peanut Butter Blossoms are a holiday favorite! Soft and chewy peanut butter cookies rolled in sugar and topped with a kiss! There is nothing better than peanut butter and chocolate together and these cookies are proof!
More Christmas cookie favorites to try: Cranberry Orange Shortbread Cookies, Mint Chocolate Chip Snowball Cookies and Snickerdoodles!
Classic Peanut Butter Blossom Cookies
There are few recipes I love more than Peanut Butter Blossoms. As you all know, I am obsessed with chocolate and peanut butter treats in any shape and form and there is nothing more classic – or delicious! – than Peanut Butter Blossom cookies.
These cookies are simple enough to make any day of the week, yet special enough to deserve a place on our holiday cookie trays. In fact, I would guess that of all the cookies we make each year, these blossoms are amongst the top three all time favorites of our family and friends.
I make at least 6 batches of these cookies each holiday season.
More Peanut Butter Recipes
Can't get enough peanut butter? Me either. Check out these favorites:
Perfect Peanut Butter Blossom Cookies
I tested this recipe very thoroughly about 2 years ago. So thoroughly in fact, that I felt I had missed the Christmas season entirely and opted to wait a year to post it. Well, last year came and went, and well, it never happened, lol.
This year I'm barely getting it up in time but it's finally happening! This recipe has been tweaked and updated probably a dozen times until I had what I consider to be the perfect Peanut Butter Blossom recipe. I kid you not, I easily made in excess of 30 batches of these cookies during testing. It was a delicious endeavor 🙂
The classic recipe always turns out a little dry to me with hardly any peanut butter flavor. And don't even get me started on the shortening! I wanted a butter based cookie with all that delicious butter flavor!
As a true peanut butter lover, I wanted my cookies to be more moist and have definitive peanut butter flavor. After playing around with the flour and peanut butter ratio for weeks, I nailed the amounts of each that result in a perfect Peanut Butter Blossom.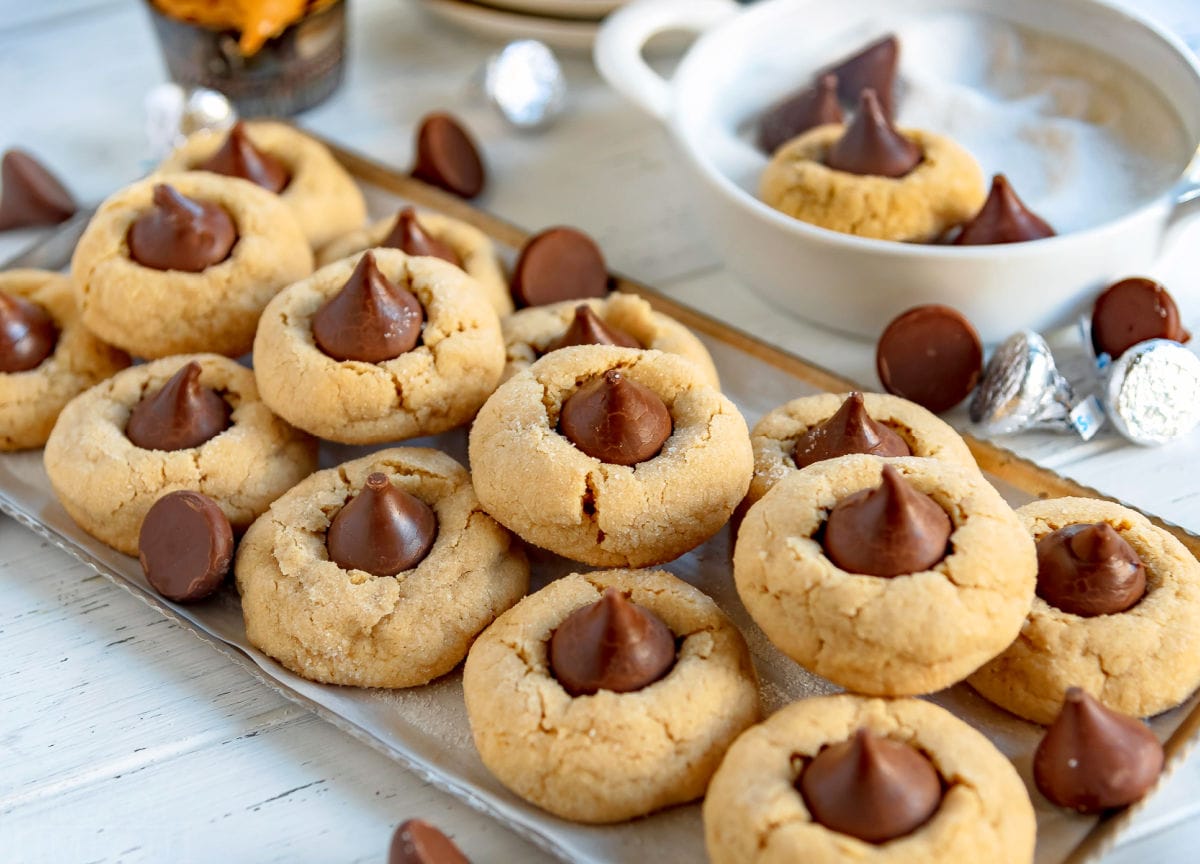 Peanut Butter Blossoms Recipe Ingredients
These cookies are a breeze to make and don't require any special ingredients with the exception of the kisses. You can find the full, printable recipe below, with the amounts needed of each ingredients. Let's take a look at what you'll need:
all-purpose flour – make sure to spoon and level for an accurate measurement.
baking soda – the leavening agent in this recipe.
salt – for flavor.
unsalted butter – make sure the butter is at room temperature but not so soft that it's mushy.
peanut butter – the star of this cookie recipe! Use creamy peanut butter for best results.
granulated sugar and brown sugar – for flavor, sweetness, and the brown sugar makes the cookies soft and moist. Additional granulated sugar to roll the cookie dough in before baking.
egg and milk – just a tablespoon of milk but these ingredients help bind the dough and make it soft.
vanilla extract – a must for amazing cookie flavor!
Hershey's Kisses – I like to have these unwrapped and ready to go before the cookies come out of the oven so I can get them pressed into the cookies quickly.
How To Make Peanut Butter Blossom Cookies
This peanut butter blossom cookie recipe is incredibly easy to make and I know you're going to love it! Here's a quick look at how to make the recipe:

Whisk together dry ingredients. This is the flour, salt, and baking soda.
Beat butter and peanut butter together. You're looking for a nice and smooth, homogenous mixture.
Add sugars. Beat in granulated and brown sugar until smooth.
Beat in egg, then vanilla and milk. The egg first, until completely combined, then add the vanilla and milk.
Mix in dry ingredients. Just until combined.
Chill dough. Cover and chill for at least 1 hour.
Preheat oven and line baking sheets. I prefer silicone baking mats but parchment paper is a close second.
Scoop dough and roll in sugar. You want just about 1 tablespoon of dough. I use a small cookie scoop for these cookies.
Bake and then add Hershey's Kiss. These cookies only need about 8 to 10 minutes in the oven. Gently press in the kiss a few minutes after removing the cookies from the oven. Let the cookies cool completely before storing OR eat when warm – yum!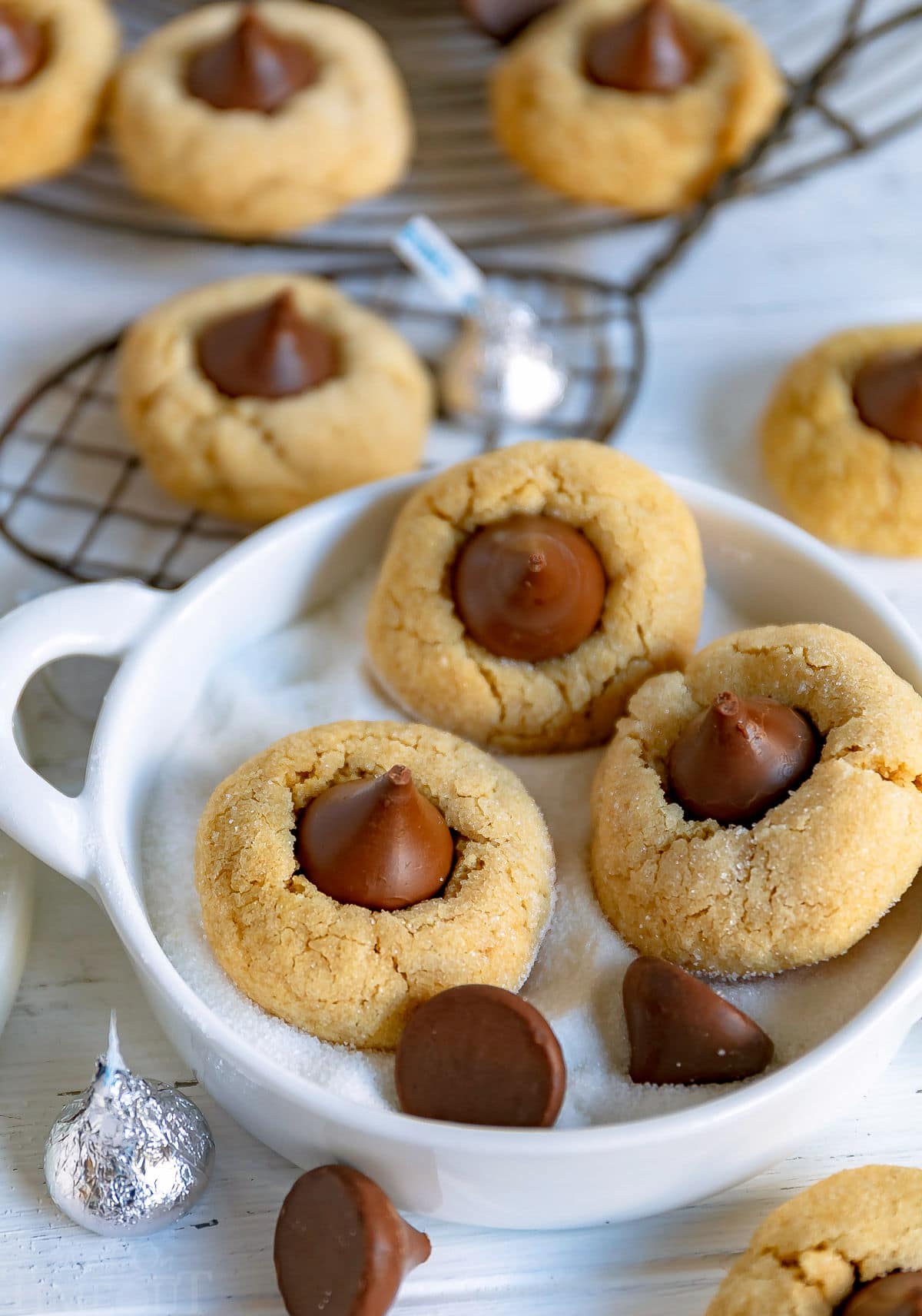 Peanut Butter Blossoms FAQs
Can you freeze Peanut Butter Blossoms?
You sure can!
To freeze baked cookies: Make sure the cookies have cooled completely (the kisses need to be hard and solid). Place cookies in a freezer safe, airtight container in layers separated by parchment or wax paper. Cookies can be frozen for up to 2 months.
To freeze cookie dough: Scoop the cookie dough and roll into balls – but not the sugar! Place on a parchment lined baking sheet and flash freeze for about 30 to 60 minutes. Transfer frozen cookie dough balls to a freezer safe bag. When you're ready to bake, thaw overnight in the refrigerator and then proceed with the recipe or bake from frozen, simply add a minute or two to the cooking time. Cookie dough can be frozen for up to 3 months.
Can this recipe be doubled?
Not only can it be doubled, it can be halved as well. I frequently double the recipe if I am doing batch baking for an event or preparing my holiday cookie trays. Please note that this recipe makes approximately 3 dozen cookies.
Can I use natural peanut butter in this recipe?
To be safe, I would recommend using regular peanut butter. But, in all fairness, I make these cookies almost exclusively with Skippy Naturals, creamy of course, and I think the peanut butter flavor is better than with the regular creamy peanut butter. Use your favorite brand of peanut butter but don't use any natural peanut butter unless it is Skippy Naturals.
Can these cookies be made ahead of time?
This Peanut Butter Blossoms recipe can be made several days in advance. Store in an airtight container at room temperature for up to 4 days. I notice a distinct decline in texture after that period of time. You can also prepare the cookie dough and chill it for up to 48 hours before using. Let it sit out for a good 30 minutes before proceeding with the recipe.
Tips and Tricks for the Best Cookies
Don't skip the chill time. These cookies are made with butter, not shortening, so they will spread some while baking. We are able to control the spread by chilling the dough. Nicely chilled dough will result in thicker cookies (and better flavor!). That being said, if you like your cookies really thin, feel free to bake without chilling the dough first.
A lot of recipes recommend freezing the kisses or at least refrigerating them. I have never needed to do this but you can if you want. What you do need to do, is do not disturb the cookies after the kisses have been pressed into the top. The chocolate will look solid, but trust me, it isn't. The chocolate needs at least 2 hours to firm back up.
When placing the baking sheet in the oven, do so carefully so that the cookie dough balls don't roll all over. I speak from experience.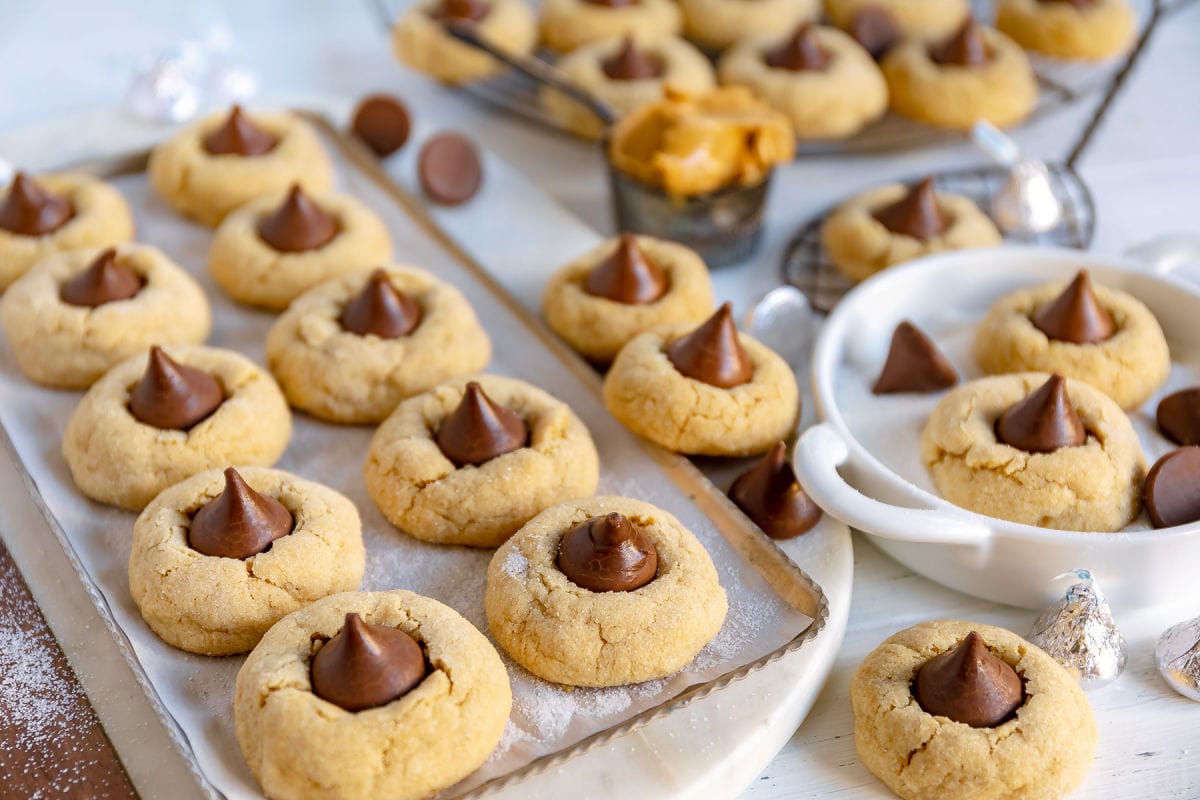 Try These Variations
Instead of rolling the cookie balls in granulated sugar, choose a colored sugar instead! The cookies look so festive this way!
Pick a different flavor Hershey's kiss. There are so many great options to choose from and I've probably tried them all over the years. I will always have a soft spot for the classic but it's always fun to try different flavors!
More Must Make Christmas Cookies
Peanut Butter Blossoms
These delicious Peanut Butter Blossoms are a holiday favorite! Soft and chewy peanut butter cookies rolled in sugar and topped with a kiss! There is nothing better than peanut butter and chocolate together and these cookies are proof!
Ingredients
1 ½

cups

all-purpose flour

spooned and leveled

¾

teaspoon

baking soda

½

teaspoon

salt

½

cup

unsalted butter

room temperature

⅔

cup

creamy peanut butter

¼

cup

granulated sugar

½

cup

packed light brown sugar

1

egg

room temperature

1

teaspoon

vanilla extract

1

tablespoon

milk

30 to 36

Hershey's Kisses
Sugar Coating
½

cup

granulated sugar

to roll cookies in
Instructions
In a medium bowl, whisk together the flour, baking soda, and salt together. Set aside.

1 ½ cups all-purpose flour,

¾ teaspoon baking soda,

½ teaspoon salt

Using a hand mixer or stand mixer, beat the butter and peanut butter together until creamy, about 1 to 2 minutes.

½ cup unsalted butter,

⅔ cup creamy peanut butter

Add brown sugar and 1/4 cup granulated sugar and mix on medium speed until creamy and smooth, scraping down the sides of the bowl as needed.

¼ cup granulated sugar,

½ cup packed light brown sugar

Add the egg and beat on high until completely combined and incorporated.

Add the vanilla extract and milk and mix until combined.

1 teaspoon vanilla extract,

1 tablespoon milk

Add the dry ingredients to the wet ingredients and mix on low just until combined.

Cover and chill the dough for 1 hour. (If you need to chill the dough for longer, you may need to let the dough sit at room temperature for 15 minutes or so until the dough softens enough that it can be scooped.)

Preheat the oven to 350°F. Line two large baking sheets (half sheets) with silicone baking mats or parchment paper and set aside. Place remaining 1/2 cup of granulated sugar in a small bowl.

Use a small cookie scoop or spoon to scoop about 1 tablespoon of cookie dough and roll into a ball with the palms of your hands.

Roll the ball in the sugar and place on the prepared baking sheet about 2 inches apart. Repeat with remaining cookie dough.

Bake for 8 to 10 minutes or until the tops of the cookies begin to shows small cracks. The cookies should not brown at all. Remove cookies from the oven and allow to cool for 5 minutes.

Gently press a kiss into the center of each cookie. Let cookies sit on baking sheet for another 5 to 10 minutes before carefully moving to a wire rack to cool.

30 to 36 Hershey's Kisses
Nutrition
Calories:
136
kcal
|
Carbohydrates:
16
g
|
Protein:
3
g
|
Fat:
8
g
|
Saturated Fat:
3
g
|
Cholesterol:
15
mg
|
Sodium:
100
mg
|
Potassium:
51
mg
|
Fiber:
1
g
|
Sugar:
10
g
|
Vitamin A:
102
IU
|
Calcium:
18
mg
|
Iron:
1
mg