These Cookie Empanadas are light, flaky and entirely irresistible. Pretty as a picture and super simple to make, these cookies will make a beautiful addition to your holiday cookie trays this year. Topped with a sweet, almond glaze, these cookies are pure perfection. Cookies are EVERYTHING. Make sure to try these Pineapple Pinwheel Cookies, Almond Joy Cookies, and Cranberry Orange Shortbread Cookies!
This post is sponsored by Friendship Dairies cottage cheese.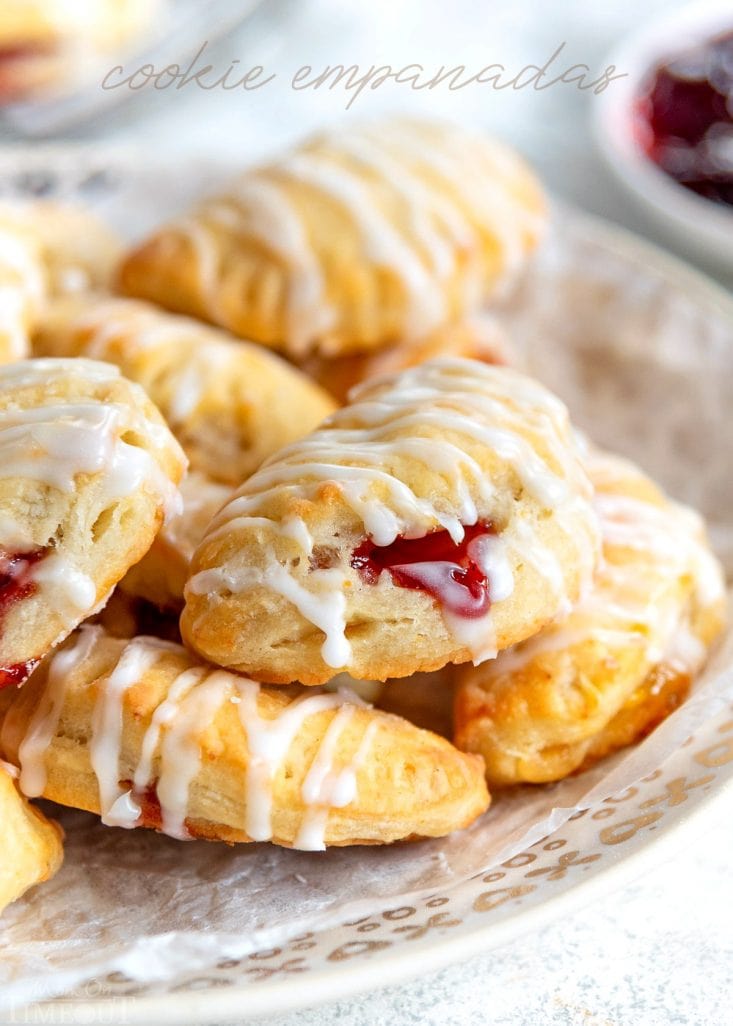 Cookie Empanadas
If there is one universally loved and appreciated dessert, it has to be the cookie. It can take many forms and many flavors, but it's hard for anyone to resist a plate of cookies. Particularly at this time of year. Today I've got a new cookie favorite that is going to wow with you with it's flavor and ingredient list. More on that later 🙂
We love cookies any way we can get them and we've recently added these Cookie Empanadas to our Christmas "must make" list. Trust me, that is saying A LOT when it comes from my family. We eat our fair share of cookies around in the name of recipe testing. It's all for you 😉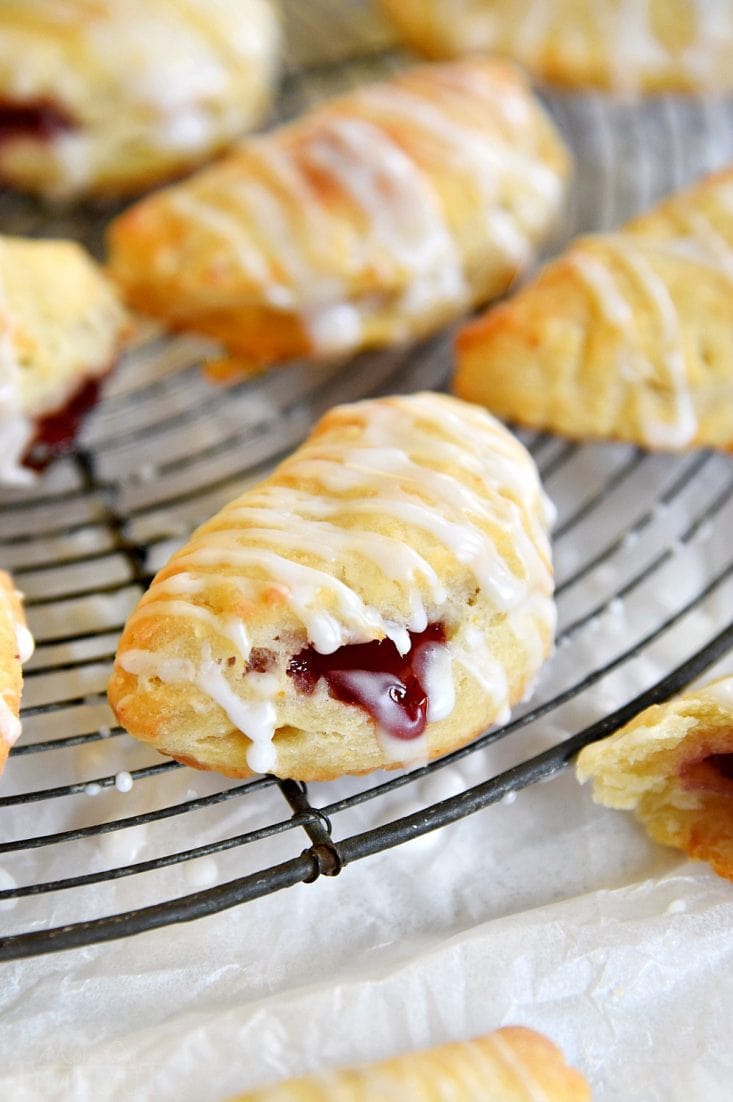 Now many of you might question the use of the term "empanada". Empanadas are traditionally pastries with a savory filling. My Peruvian mother in law makes the most amazing empanadas with sausage and peas and I could literally eat a dozen in one sitting.
My husband took one look at these cookies and was like, "They're little empanadas!" So, that's what we're going with. The name isn't going to matter one little bit once you bite into this delicate, flaky cookie.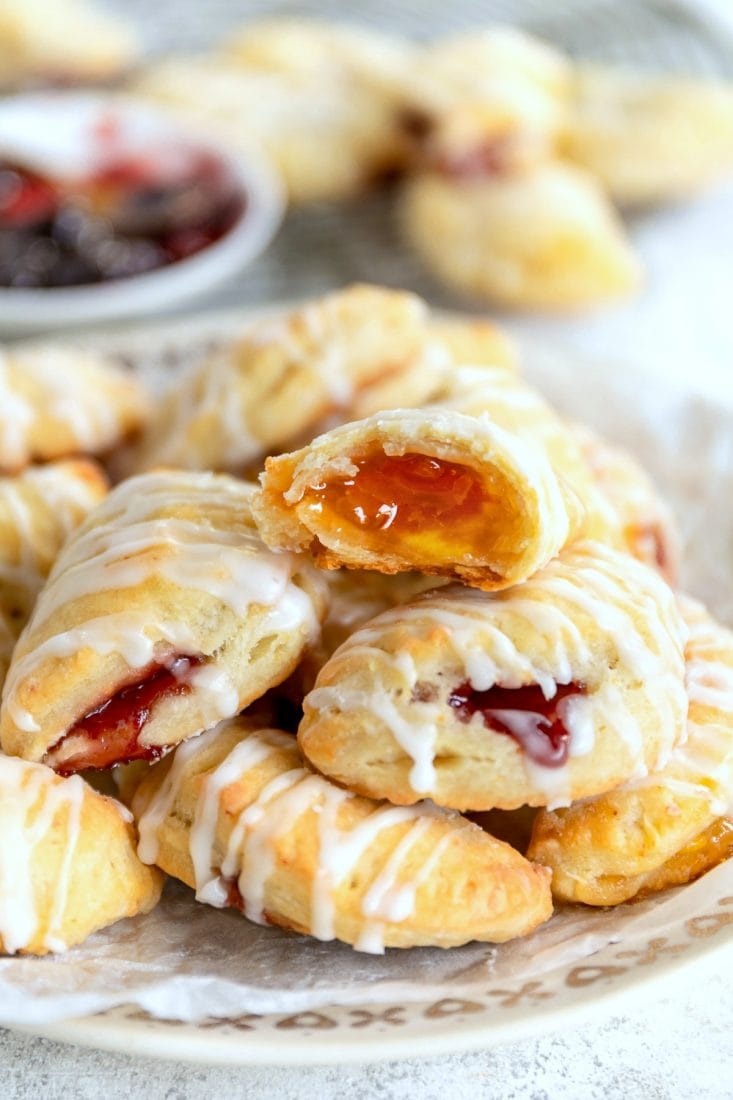 This cookie dough is made in the food processor so it's a matter of zip-zip-zip and you're done. The dough does need to be chilled for about an hour which is the perfect amount of time for you to decide what flavors you'd like for the filling.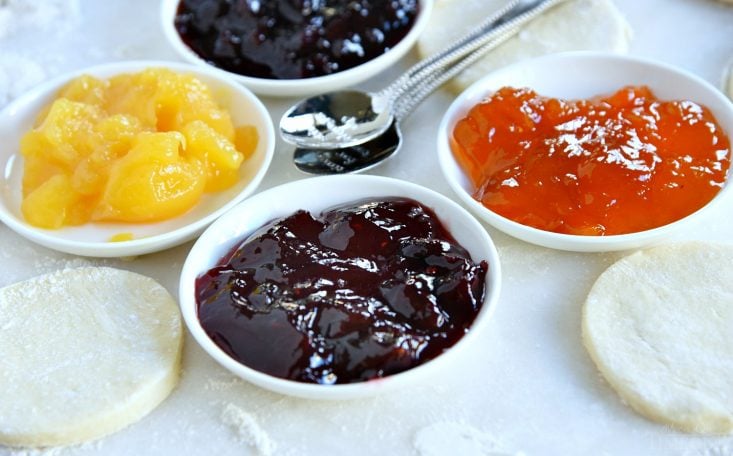 What Flavors Can I Use For the Filling?
I decided on apricot and cherry preserves, raspberry jam and, at the suggestion of my little sister, Ashley, added lemon curd to the mix. Good call there. You could use all one flavor, like strawberry jam, or mix it up like I did here. There is no wrong way to do this.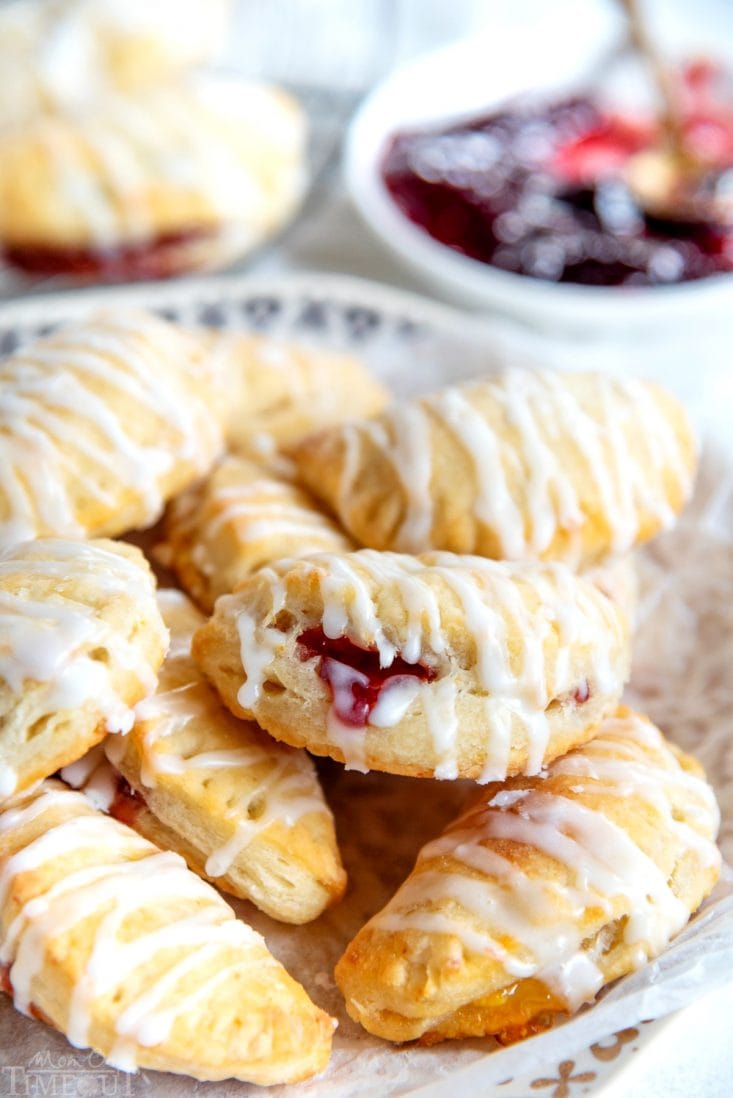 I take that back.
You only need about a quarter teaspoon of filling for each cookie. Maaaaybe up to half a teaspoon of you're feeling adventurous. The dough is rolled out and then cut with a round cutter. Add the filling, moisten the edges and fold over. I use a fork to seal them shut.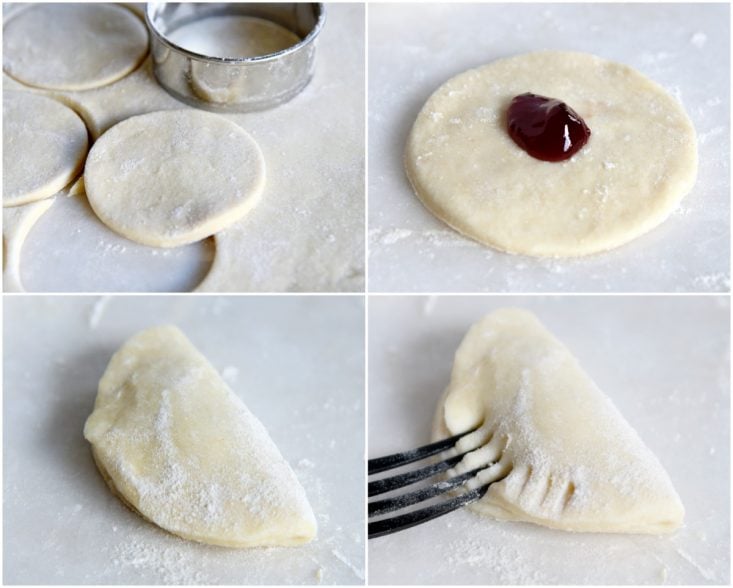 What Do I Need For The Dough?
The dough is very simple to make, and as I mentioned earlier, comes together quickly with the help of a food processor. The cookie dough is made out of a few of the usual suspects:
flour
butter
sugar (only 1/3 cup!)
salt
vanilla extract
And then one surprise ingredient makes an appearance that no one would ever suspect: cottage cheese.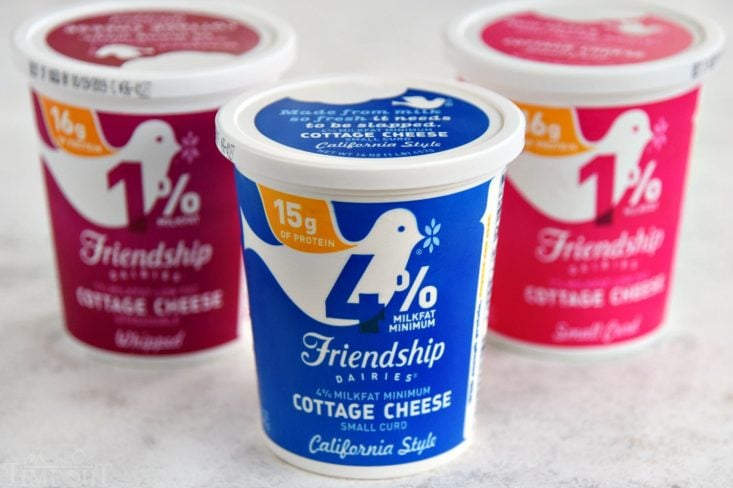 Yep. You read that right, cottage cheese. I am a huge fan of cottage cheese and enjoy it almost daily. It's what I use in my Easy Lazy Day Lasagna, this Tropical Orange Jello Salad, and in my Dad's all time favorite Lemon Lime Jello Salad.
I used Friendship Dairies Cottage Cheese for this recipe because the quality of the cottage cheese is amazing and the flavor just right. In case you were wondering how good Friendship Dairies cottage cheese is… They were recently voted #1 in a cottage cheese taste test by Epicurious. Kinda a big deal.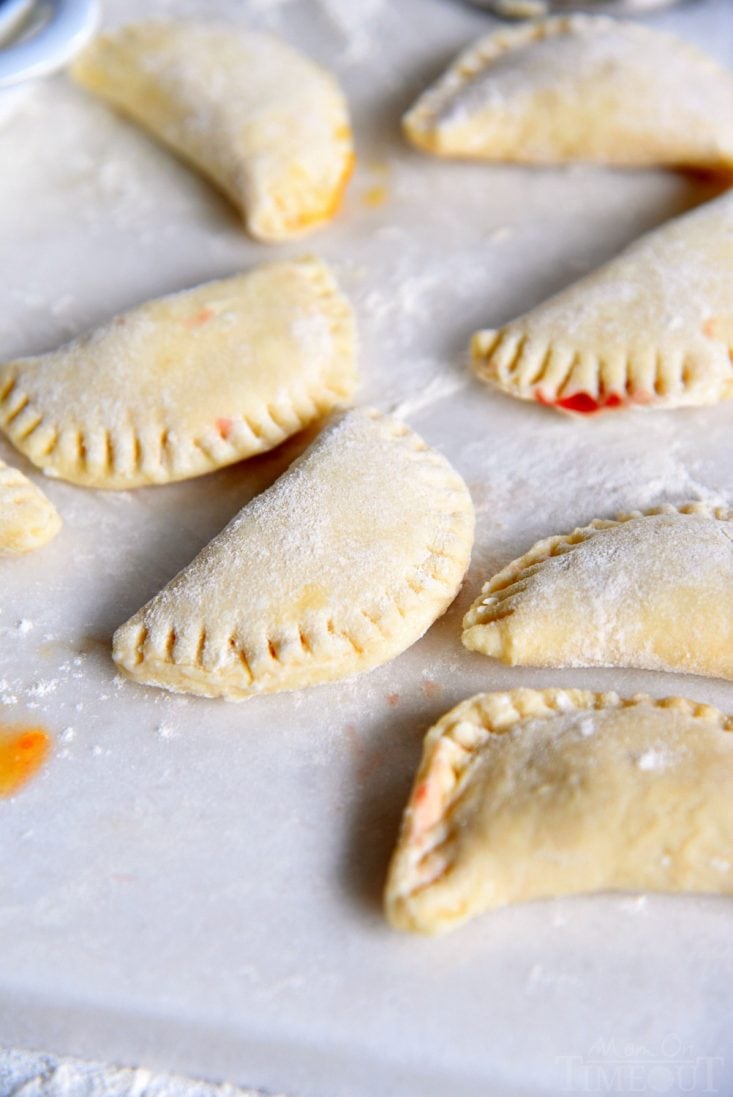 I used the small curd, 4% milkfat, California Style for these cookies. This recipe is actually adapted from a cookie recipe that I make that uses ricotta and I was pleased to discover I actually prefer them when made with cottage cheese.
I think we are all comfortable baking with other dairy products such as cream cheese, butter, Greek yogurt, sour cream, etc. But for some reason, cottage cheese has been on the back burner when it comes to baking.
Once you try these cookies, you'll be convinced, cottage cheese deserves to be included in that list. Consider it a bonus that you're getting some protein in your cookies – I know I do!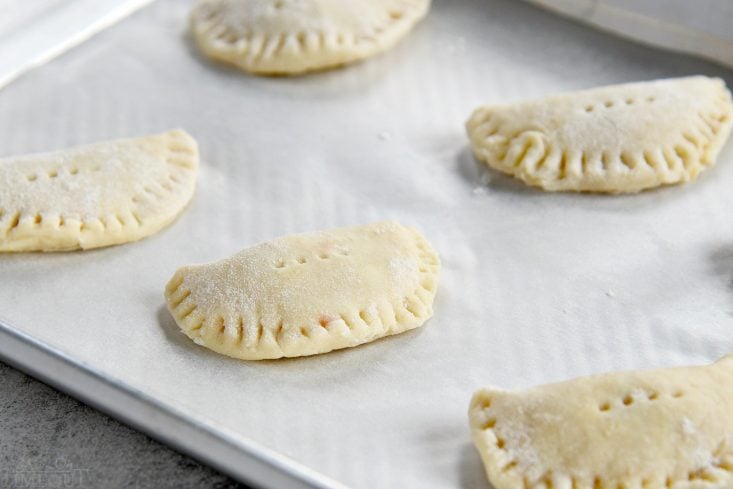 The cookies are topped with a simple almond glaze that. You could sprinkle on some sliced almonds if you like. That would be amazing with the raspberry filling for sure.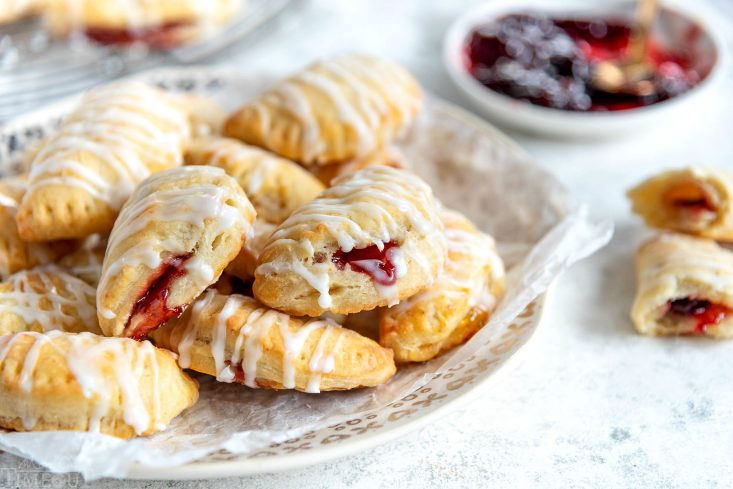 I sure hope you give these amazing Cookie Empanadas a try this holiday season and remember to grab some Friendship Dairies cottage cheese on your next shopping trip!
More Cookies To Make
How To Make Cookie Empanadas
Cookie Empanadas
These Cookie Empanadas are light, flaky and entirely irresistible. Pretty as a picture and super simple to make, these delicious cookies will make a beautiful addition to your holiday cookie trays this year. Topped with a sweet, almond glaze, these cookies are pure perfection.
Ingredients
2

cups

all purpose flour

sifted

1

cup

butter

cold and cubed

1/3

cup

granulated sugar

1/4

tsp

salt

1

cup

plus 2 tablespoons cottage cheese

1/2

tsp

vanilla extract

1/4

cup

jam or preserves - any flavor
Almond Glaze
1

cup

powdered sugar

1/4

tsp

almond extract

2 to 3

tbsp

milk

as needed
Instructions
Combine flour and butter in a large process and pulse until combined and only small, pea size pieces of butter remain.

Add sugar, salt, cottage cheese, and vanilla extract. Pulse until combined and the dough forms a ball.

Wrap the dough in plastic wrap and chill for at least one hour.

Preheat oven to 400F. Line a large baking sheet with parchment paper and set aside.

Place dough on a generously floured surface and sprinkle additional flour on top of the dough.

Roll out to 1/8 inch thickness and cut into 3-inch circles using a cookie cutter.

Place a small amount of preserves or jam in the center of each circle, about 1/4 teaspoon.

Moisten the edges of the circle with water and fold in half. Use the tines of a fork to seal the empanadas. I like to flip the empanada over and seal on both sides.

Place the empanadas on the prepared baking sheet and prick the tops with a fork. Bake for 15 minutes or until just lightly browned. Let cool on a rack.
Almond Glaze
In a small bowl, whisk together powdered sugar, almond extract and just enough milk to make the glaze the preferred consistency for drizzling.

Drizzle glaze over cooled cookies and let set up.

Store in an airtight container for up to 4 days.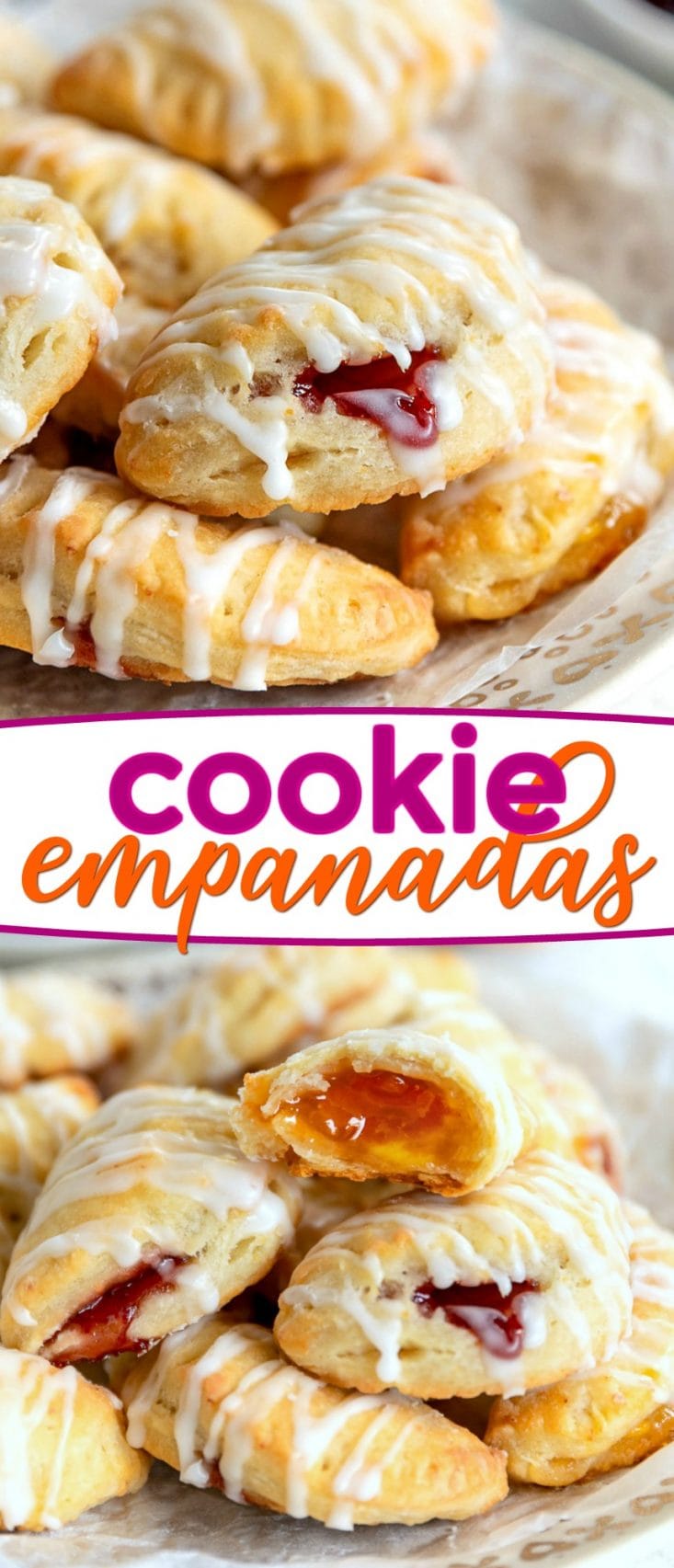 For all appetizer recipes, go HERE.
For all dessert recipes, go HERE.
Sign up to get emails when I post new recipes!
For even more great ideas follow me on Facebook – Pinterest – Instagram – Twitter – Bloglovin'.
Have a great day!