Over 60 amazing apple recipes including pies, cakes, brownies, bars and more!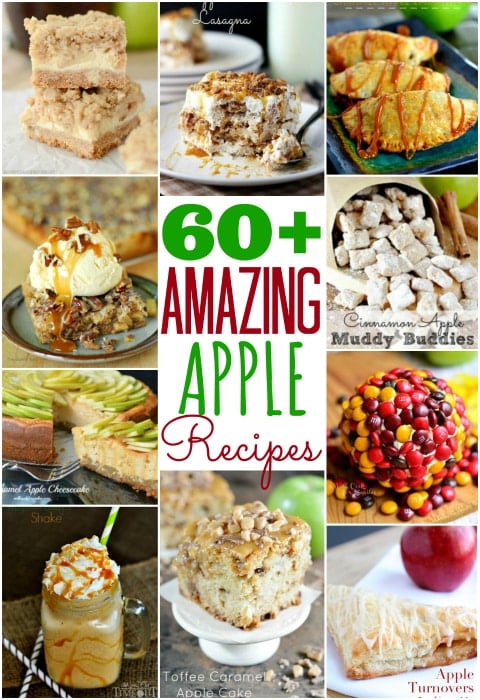 It is most definitely apple season and to celebrate this glorious time I've rounded up more than SIXTY amazing apple recipes for you to peruse and enjoy! Here you'll find bars, brownies, cakes, pies, cookies and more! I know there is a lot to love here so if you'd like to pin some of these recipes PLEASE click on the link and pin from the source! You can of course pin the entire collection using the collage at the top of the post 🙂  Enjoy all these apple-icious recipes!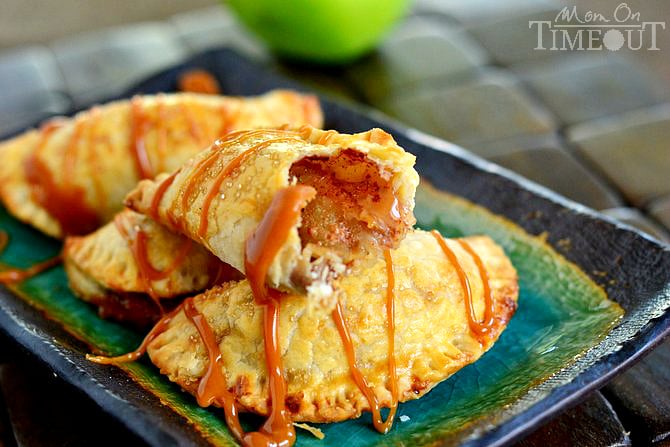 Caramel Apple Monkey Bread | Cinnamon Apple Muddy Buddies| Classic Apple Strudel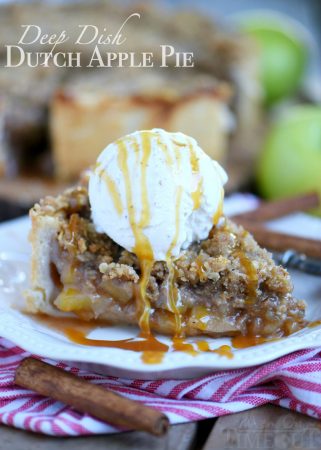 Slow Cooker Apple Cider Maple Meatballs | Caramel Apple Oat Bars | Peanut Butter Apple Cinnamon Sushi Rolls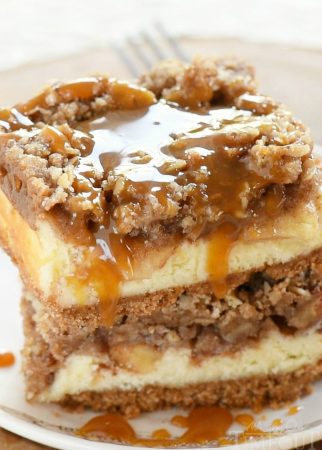 Dutch Apple Pie Cheesecake Bars
Apple Pie Milkshake | Flourless Apple Brownies
 Apple Bars with Pecans| Apple Cheesecake Bars | Apple Pie Lasagna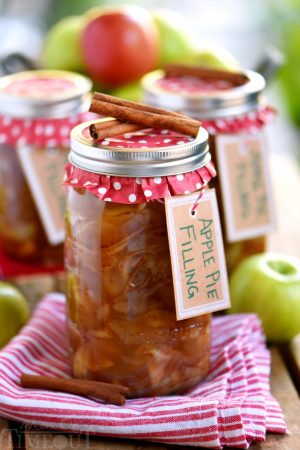 The BEST Homemade Apple Pie Filling
Apple Cake Crumble | Apple Streusel Pizza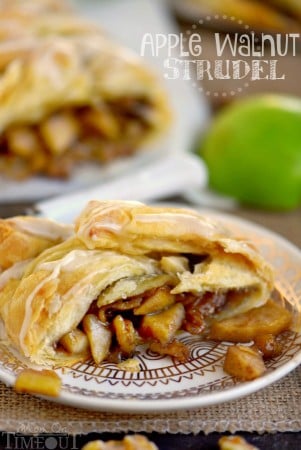 Caramel Apple Cinnamon Roll | Caramel Apple Sticky Buns
M and M Apple Caramel Cheese Ball | Toffee Caramel Apple Cake | Cheesecake Apple Pie
Carrot Zucchini Apple Bread | Caramel Apple Cheesecake
Apple Pie Muddy Buddies | Apple Snickers Cake | Cinnamon Buttermilk Caramel Syrup for Apples
Caramel Apple Cider Shake | Toffee Apple Pie Cookies
Apple Bars | Apple Cinnamon Crumb Cake
Apple Pie Bars | Spiced Pumpkin Apple Dump Cake | Apple Dulce de Leche Tart
 Apple Cinnamon Blondies | Applesauce Cake with Pomegranate Glaze
Apple Butter Pie Bars | Apple Pie Pull-Apart Bread | Caramel Apple Cinna-Minis
Braeburn Apple and Almond Tart | Blackberry-Apple Cornmeal Crumble
Apple Pie Fudge | Apple Pie Dip | Apple Pie Pancakes
 Apple Pie Danish | Cinnamon Apple Chips with Salted Caramel Dip
Caramel Apple Spice Cake | Caramel Apple Spice Cookies | Easy Apple Cake
Deep Fried Apple Pie Bites | Brown Butter Cream Cheese Jewish Apple Cake
Long and Slow Apples | Nut & Berry Stuffed Baked Apples
Fried Apples with Apple Caramel Sauce | Classic Homemade Applesauce | Uncle Bob's Apple Cake
Mulled Apple Cider Doughnuts| Sourdough Apple Bread
Apple Pies in Jars | Skillet Apple Pie | Single Serving Skinny Apple Pie
Apple Sheet Cake w/ Salted Caramel Frosting | Biscoff Butterscotch Apple Pie |  Caramel Apple Muffins
I hope you found one (or 10!) apple recipes that caught your eye!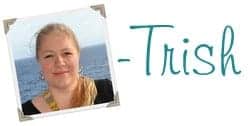 Connect with me!








 Linking up at some of these parties.