This easy Apple Strudel is the BEST way to wake up this fall! Perfect for breakfast, brunch or even dessert, this sweet treat is impossible to resist!
Easy Apple Strudel
Reece had his first soccer tournament EVER this past weekend. It was brutal. Not for me…no. I actually enjoying sitting there and watching my little boy play. It was brutal for the boys. They had two games on Saturday and one on Sunday which made for a pretty easy tournament. No, that wasn't the problem.
The two games on Saturday were so tough that Reece declared he never wanted to play soccer again. In fact, at halftime of the second game, he stayed on the field, in the goalie box with his arms crossed, crying, refusing to leave the field. I just wanted to give him a hug.
Reece plays goalie. He plays the first half as goalie and then switches to another position for the second half. He loves playing goalie and is really REALLY good at it. The problem was that the team they played against on Saturday OBLITERATED them. It was sad. It was brutal. And I wasn't sure Reece was ever going to want to play again. He left muddy, knees stained with dirt, his uniform completely trashed and his ego seriously bruised.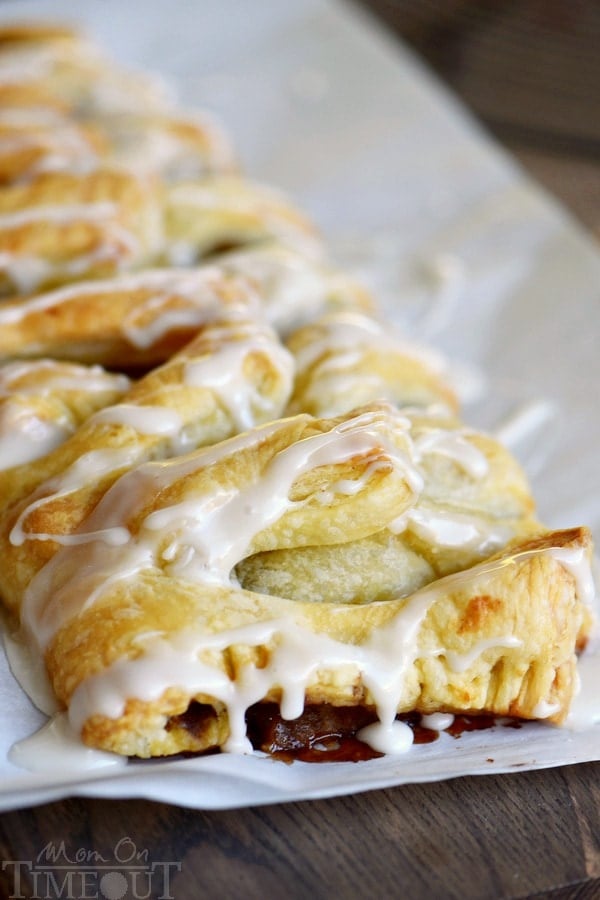 But, he sucked it up and went out to the game on Sunday and did GREAT. They didn't win, but it was close, and he left in high spirits. That's all I could ask for.
We went out to Mexican for lunch (his favorite) and then he went home and showered and then played video games for a couple of hours. All well deserved in my opinion. I think all in all it was a good experience for the boys, we were missing some of our players and that was hard, but, I think it really helped them to bond as a team. It was so sweet to watch the rest of Reece's team giving him high fives and consoling him when he was feeling down.
Made me want to give them all a treat. Like this apple strudel. But I can't, so I'm sharing it with all of you.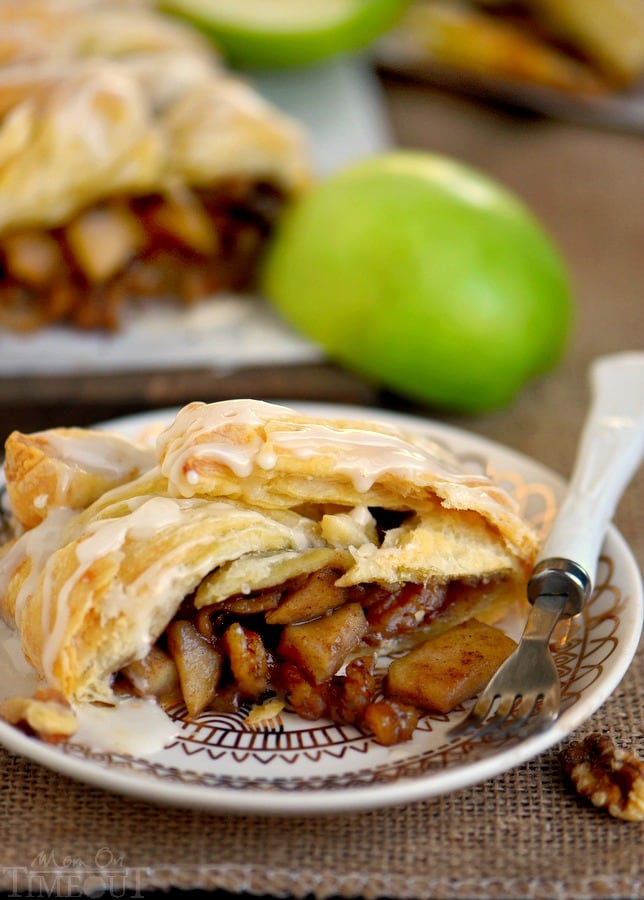 I am still making my way through the 50 pounds of apples I have from Apple Hill and this may be my most favorite recipe yet. Why? Cause it's super easy, looks crazy impressive, and man oh man is it delicious!
I used Granny Smith apples but please, feel free to use whatever you have on hand. The apples are sauteed in butter for a short time before brown sugar, walnuts, and a bit of orange zest are stirred in. The apples are spread down the center of a sheet of puff pastry that I had cut slits into on the sides.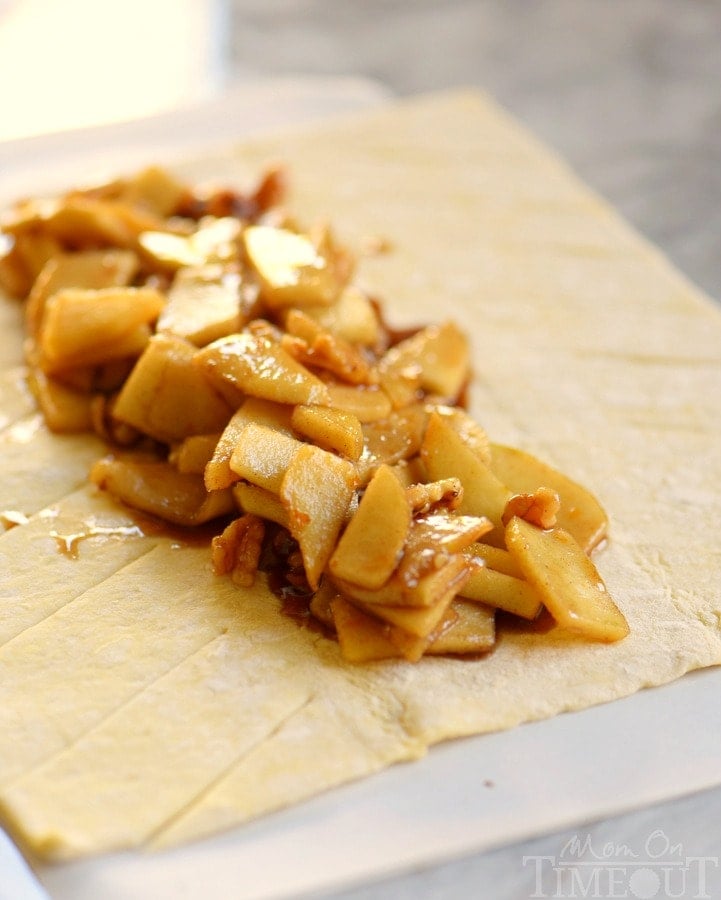 Then it's just a matter of folding up the cut sides one at a time in a criss-cross pattern and baking for about 25 minutes. It's easy you guys. And this recipes makes TWO. Perfect for you and some guests.
This strudel is ideal for breakfast or served as a dessert – whatever works for you!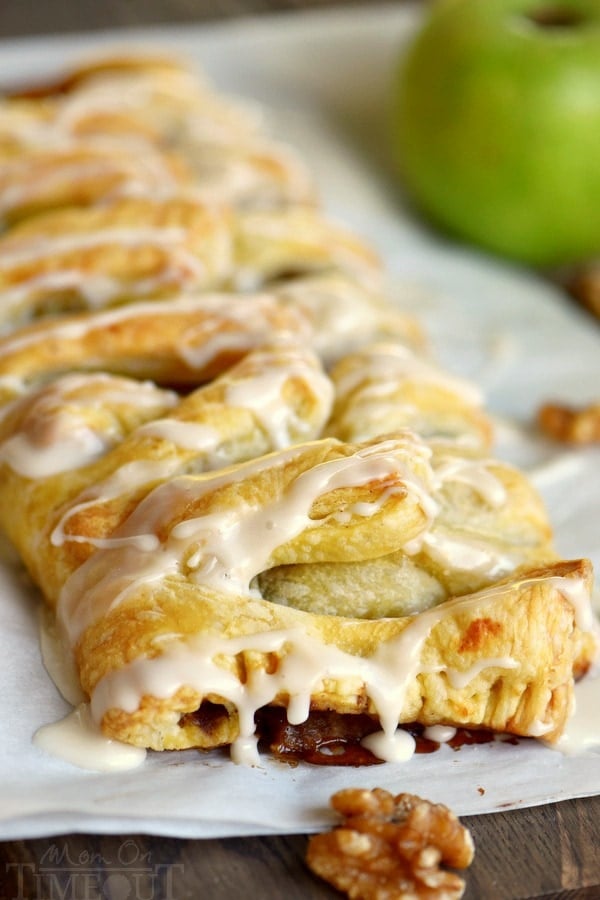 Favorite Apple Recipes
How To Make Apple Strudel
Apple Walnut Strudel
This easy Apple Walnut Strudel is the BEST way to wake up this fall! Perfect for breakfast, brunch or even dessert, this sweet treat is impossible to resist!
Ingredients
Strudel
5

Granny Smith apples

peeled, cored, thinly sliced

2

sheets of puff pastry

2

tbsp

butter

1

tsp

apple pie spice

1/2

cup

brown sugar

firmly packed

1

tsp

orange zest

1/4

cup

chopped walnuts

or any nut you prefer
Glaze
3/4

cups

powdered sugar

1

tbsp

milk

1/4

tsp

vanilla extract

or orange extract
Instructions
Strudel
Preheat oven to 375F.

Melt butter over medium heat in a large saute pan.

Add the apple slices and cook until almost tender, 7-8 minutes.

Stir in the brown sugar, orange zest, and walnuts until the sugar has dissolved.

Line a large cookie sheet with parchment paper.

Unfold the puff pastry onto the parchment paper. Along each long side of the puff pastry, cut angled slits, one inch apart, to about half an inch from the fold mark.

Spread half of the apple mixture down the center. Fold the cut sides over the top in a criss-cross pattern, pinching the ends closed.

Repeat for the second strudel.

Bake for 25-30 minutes or until golden brown.
Glaze
Combine powdered sugar, milk, and vanilla in a small bowl and whisk together until completely blended.

Drizzle over the top of the warm strudel.
Nutrition
Calories:
435
kcal
|
Carbohydrates:
55
g
|
Protein:
4
g
|
Fat:
23
g
|
Saturated Fat:
6
g
|
Cholesterol:
6
mg
|
Sodium:
147
mg
|
Potassium:
155
mg
|
Fiber:
3
g
|
Sugar:
29
g
|
Vitamin A:
120
IU
|
Vitamin C:
4
mg
|
Calcium:
24
mg
|
Iron:
2
mg