This Crockpot Turkey Breast recipe is hands down, the most amazing turkey you will ever eat! Juicy, tender, succulent and bursting with flavor, this easy recipe is a necessary addition to your holiday feast! Complete your meal with this incredible Turkey Gravy, Cranberry Sauce, Twice Baked Potato Casserole, Dinner Rolls and yummy Pecan Pie!!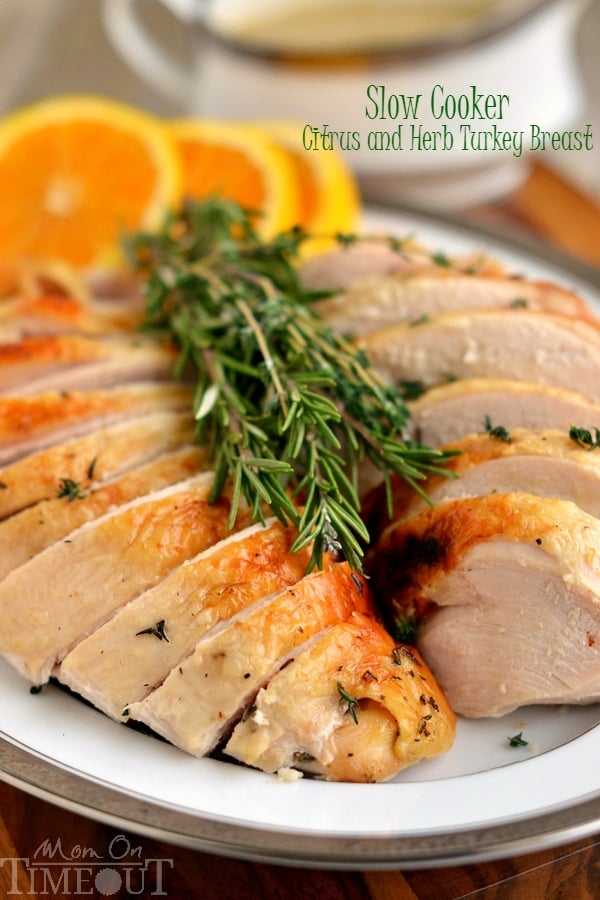 Crockpot Turkey Breast
I'm just going to come right out and say this…this crockpot turkey breast recipe will produce THE BEST turkey you've ever eaten in your life. Like EVER. I wish I could hand each of you a slice of this turkey right now so you could experience how moist and delicious it is for yourself.
So here's the deal with turkey, most families make it once a year. We're not most families 🙂 I love turkey, like really really love it.
This recipe is one I adapted from my favorite roast turkey recipe. I love a good brine and the one I use every Thanksgiving is incredible: oranges and lemons, brown sugar, and fresh herbs – divine! I wanted the results of a brine without the fuss and this slow cooker turkey breast version was born.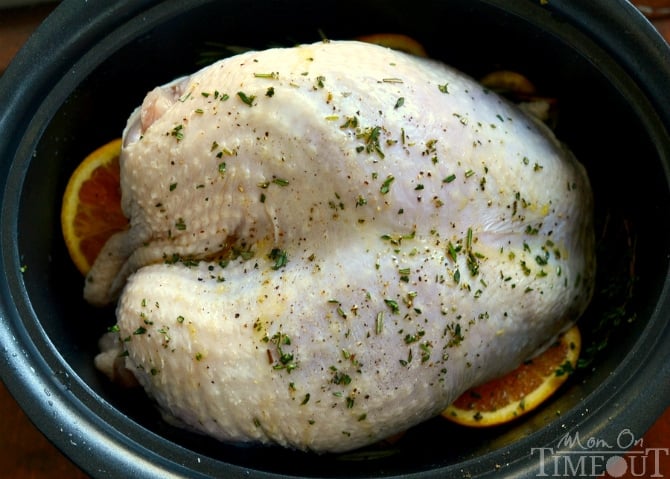 If you don't have a slow cooker and want to make a recipe that will have similar flavor, try my roast turkey breast recipe – it's amazing!
Do I Need To Brine My Turkey?
There is no brine in this recipe – thank goodness! The slow cooker does all the work that the brine normally would, keeping this turkey breast incredibly moist and flavorful.
The oranges and herbs hold the turkey in place while providing incredible aromatics to the meat. It takes all of three minutes to get the turkey into the slow cooker, turn it on, and walk away. Now that is definitely cause for celebration.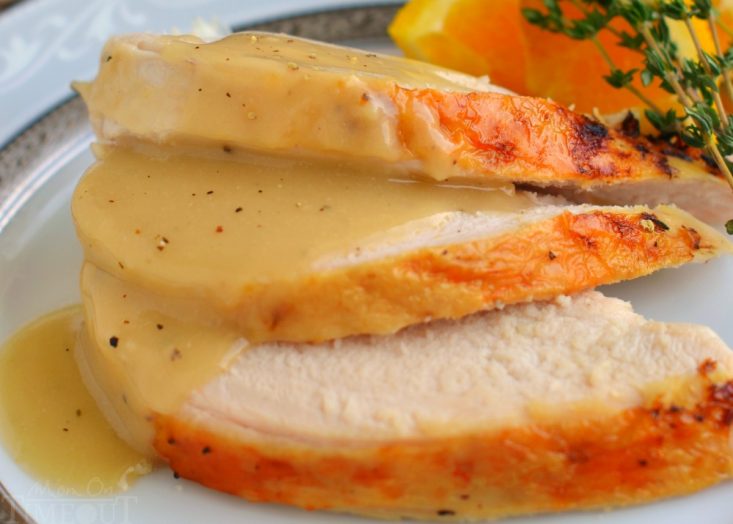 What Do I Need to Make a Crockpot Turkey Breast?
A slow cooker to start 🙂 It really depends on the size of your turkey breast but I've found a 6 or 7 quart, oval shaped slow cooker really works best.
Ingredients Needed:
I'm guessing you have half of this in your pantry right this very second…
turkey breast
oranges
fresh thyme
fresh rosemary
olive oil
salt and pepper
low-sodium chicken broth or chicken stock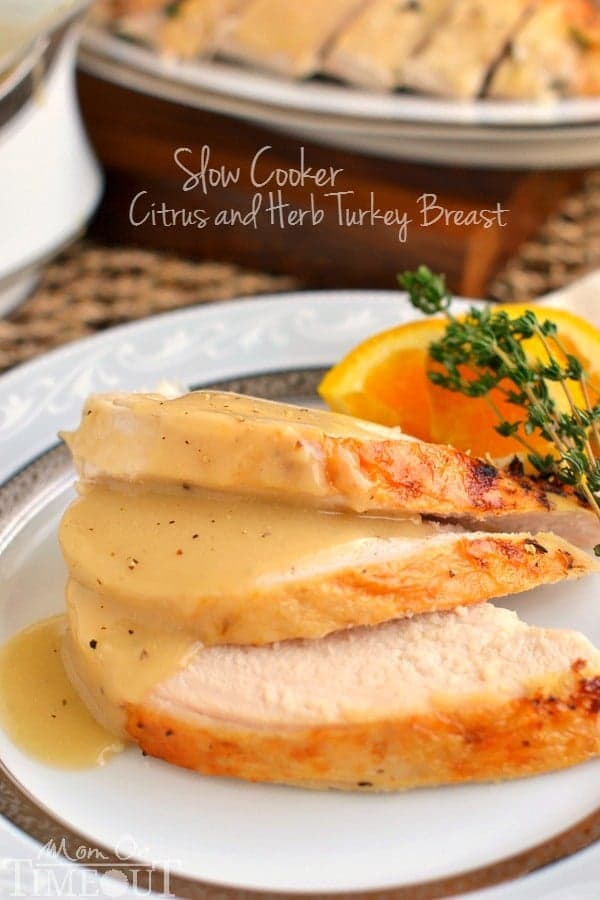 How Many People Will a Slow Cooker Turkey Breast Feed?
This easy slow cooker turkey breast is great for small gatherings or family dinners. It feeds about 8 to 10 people give or take. It also is the perfect way to add extra turkey to your big family gatherings on Thanksgiving and Christmas. I've never had luck roasting those giant turkeys – NEVER. I try to keep my whole turkeys below 15 pounds.
Tips for the BEST Crockpot Turkey Breast
Make sure to safely thaw your frozen turkey.
thaw the turkey breast in the refrigerator – this is my preferred method. Make sure to allow at least 24 hours of thaw time in the refrigerator for every 4 to 5 pounds of turkey. So about two days for a turkey breast.
thaw the turkey in cold water  – if you're in a hurry, this is what you're going to do. You'll need to allow for 30 minutes for each pound of turkey. You have to make sure the turkey is completely submerged in very cold water, changing out the water every 30 minutes. The turkey breast will need to be cooked immediately after thawing.
I like to use a bone-in, skin-on turkey breast because it's much harder for the meat to dry out. (You can a boneless skinless turkey breast if that's what you have on hand.) Also, I toss the turkey breast under the broiler for a few minutes after it's done and crisp up the skin before serving. So good!
Use a food thermometer to determine when the turkey is done. Check the thickest part of the turkey breast for best results. You're looking for 160 – 165 degrees F. Remember that you will have carry-over cooking after you remove the turkey so definitely aim for 160F.
Let the turkey breast rest for a good 10 minutes before carving. You can tent the turkey with foil to keep it warm.
Don't forget the gravy! This is the BEST turkey gravy recipe and I provide lots of great tips so you have the very best results. Crockpot turkey breast and gravy is where it's AT this holiday season!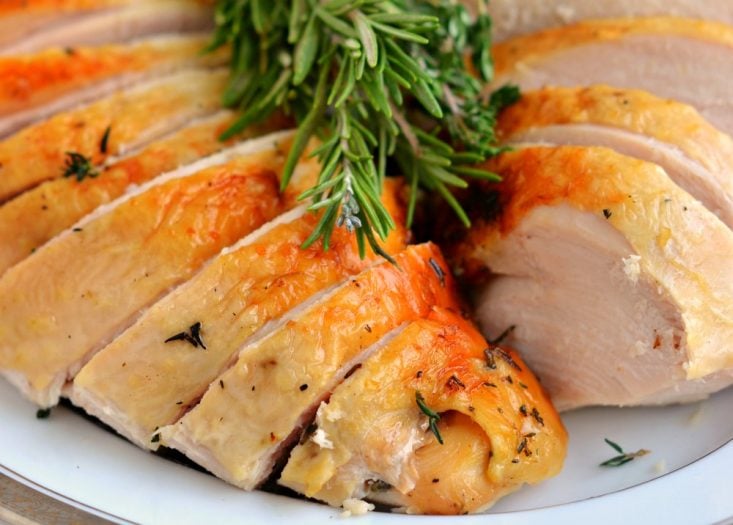 More Holiday Favorites
How To Make a Crockpot Turkey Breast
Crockpot Turkey Breast with Herbs
This Crockpot Turkey Breast with Citrus and Herbs is, hands down, the most amazing turkey you will ever eat! Juicy, tender, succulent and bursting with flavor, this recipe is a necessary addition to your holiday feast! /
Ingredients
6-7

pound

bone-in turkey breast

skin intact

2

oranges

quartered

4

sprigs of fresh thyme

4

sprigs of fresh rosemary

1

tbls

olive oil

1

tbls

chopped fresh thyme

1

tbls

chopped fresh rosemary

salt and pepper to taste

1

cup

low-sodium chicken broth or chicken stock
Instructions
Rinse the turkey breast and pat dry.

Place quartered oranges and sprigs of fresh thyme and rosemary into the bottom of a large slow cooker.

Drizzle olive oil over turkey breast and sprinkle with chopped thyme, rosemary, and salt and pepper to taste. Rub into the skin.

Place turkey breast into slow cooker and pour chicken broth around the turkey.

Place lid on slow cooker and cook on low for 5-7 hours or until turkey reaches 165 degrees with an instant-read thermometer.

Remove turkey from slow cooker and tent with foil for 20 minutes.

To brown skin, place under broiler for 3-5 minutes or until golden brown and then tent with foil.

Slice and serve.
Nutrition
Calories:
457
kcal
|
Carbohydrates:
3
g
|
Protein:
60
g
|
Fat:
20
g
|
Saturated Fat:
5
g
|
Cholesterol:
176
mg
|
Sodium:
167
mg
|
Potassium:
816
mg
|
Sugar:
2
g
|
Vitamin A:
105
IU
|
Vitamin C:
14.7
mg
|
Calcium:
49
mg
|
Iron:
3.4
mg
Originally published November 13, 2014.

Yummy appetizer recipes!
More dinner recipes!
Sign up to get emails when I post new recipes!
For even more great ideas follow me on Facebook – Pinterest – Instagram – Twitter – Bloglovin'.
Have a great day!