These easy Chocolate Pecan Pie Bars NEED to make it onto your holiday table this year! Rich and dreamy, these bars are the perfect treat for a crowd!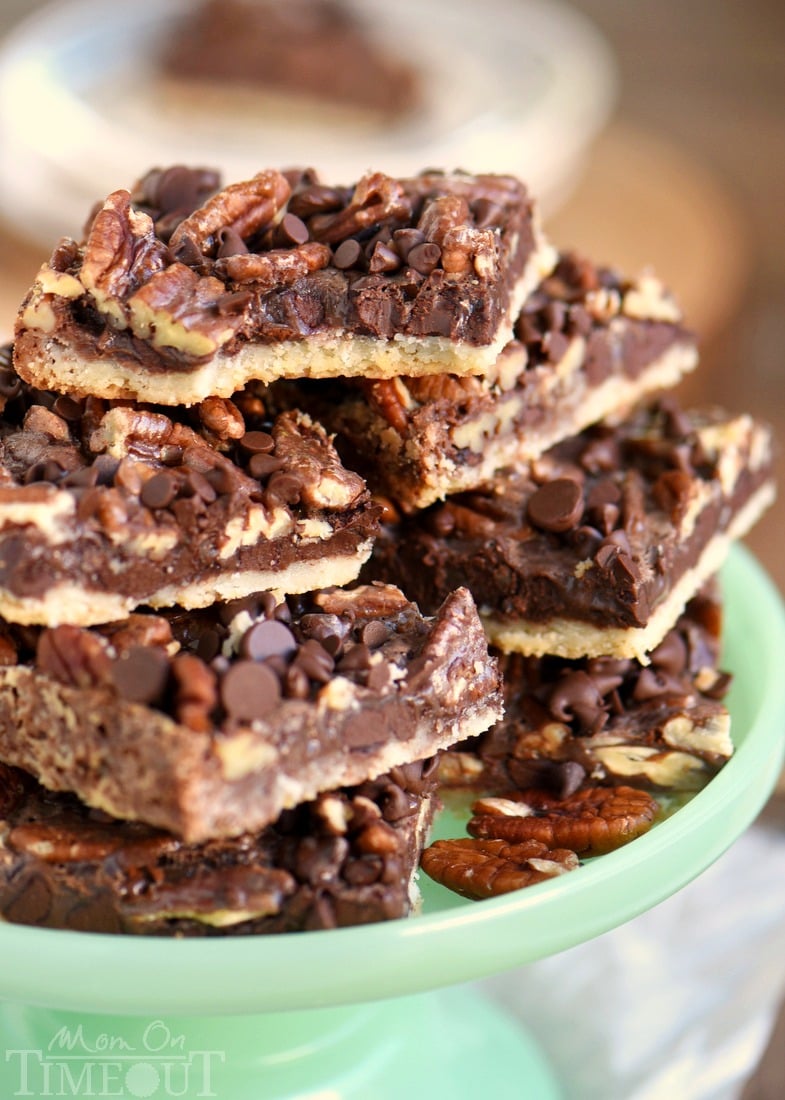 Today is two for one day at Mom On Timeout! I'm sharing chocolate AND pie – just in time for the holiday season! What's even better is that these are pie BARS so they are infinitely easier than making an actual pie and perfect for those of us (me!) who can not crimp a perfect pie crust to save their lives.
I'm especially excited to be sharing this amazing recipe with you today BECAUSE….it's from my friend Stephanie's new book – Blondies, Brownies, and Bars! I have been eagerly awaiting her book since I first found out about it because I just knew it was going to be AMAZING! And you know what? It totally is! This is the perfect book to buy those bakers and treat lovers for Christmas this year so go order one NOW!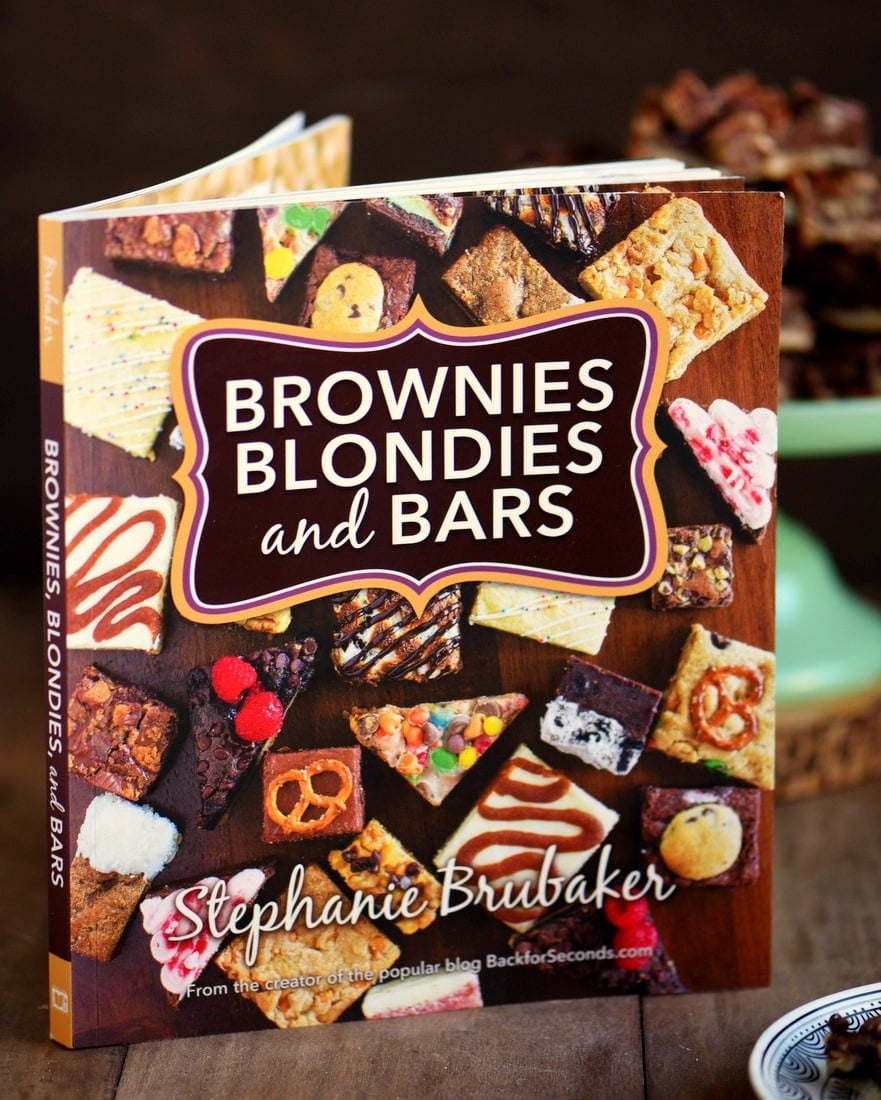 The book is filled with amazing brownies, blondies, and, you guessed it, BARS! There is definitely something in here for everyone. Recipes like Fluffernutter Chocolate Chip Blondies, No Bake Oreo Peanut Butter Cheesecake Bars, and what I'm making tomorrow – Hot Fudge Peanut Butter Cup Cheesecake Brownies.
I had so much fun looking through her book and in the end I totally couldn't decide…so I let the boys help me out! They couldn't resist the layers in these pie bars and I agreed!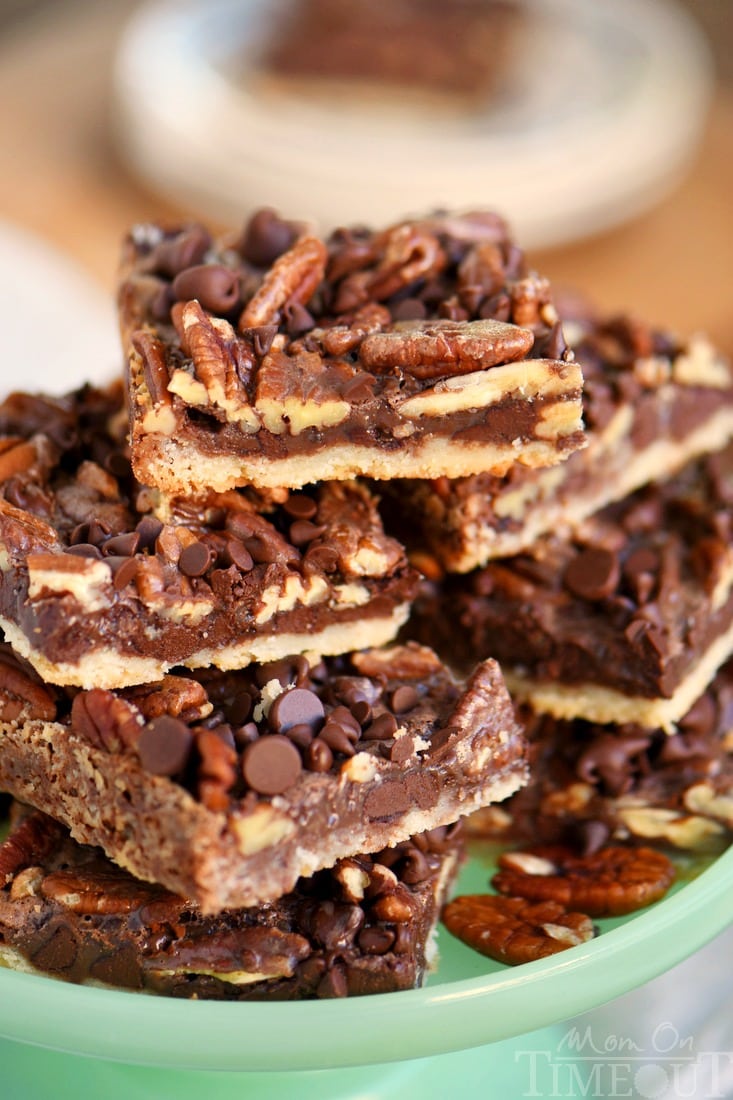 These bars are the ultimate decadent treat and WILL be making an appearance at our table this holiday season. SO SO easy to make and truly a treat that no one can resist!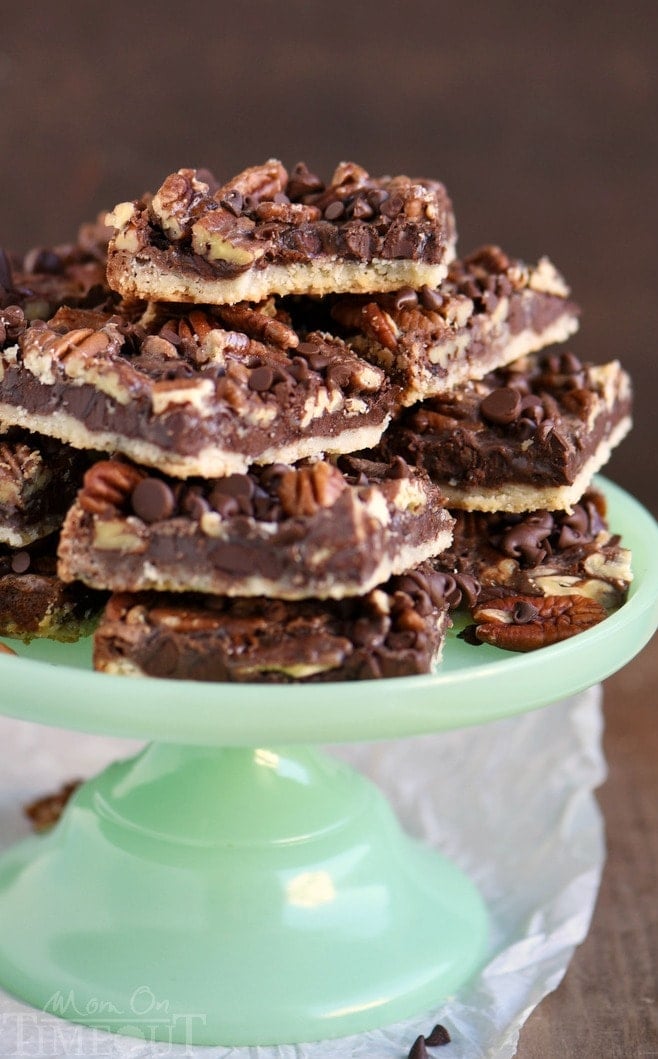 Please go check out my Brownies, Blondies, and Bars and buy a copy for yourself and everyone you know! You won't regret it! And don't forget to order a copy of my book while you're there 😉
Chocolate Pecan Pie Bars
These easy Chocolate Pecan Pie Bars need to make it onto your holiday table this year! Rich and dreamy, these bars are the perfect treat for a crowd!
Author:
Trish - Mom On Timeout
Ingredients
1 cup (2 sticks) unsalted butter, cold and cubed
⅓ cup powdered sugar
1¼ cups all-purpose flour
1 14 oz can sweetened condensed milk
3 tbsp unsweetened cocoa powder
2 cups (1 12 oz bag) semi-sweet chocolate chips
1 8 oz bag pecan halves
⅓ cup mini chocolate chips
Instructions
Preheat oven to 350F.
Line a 9 x 13 baking pan with foil and spray lightly with cooking spray. Make sure your foil extends over two edges of the pan for easy removal!
In a large bowl, use a pastry cutter or fork to cut the butter, sugar and flour together until crumbly.
Press the crust into the prepared pan and bake for 12 minutes.
Meanwhile, combine sweetened condensed milk and cocoa powder in a small bowl and set aside.
Once the crust has finished baking, remove from the oven and sprinkle with 2 cups of semi-sweet chocolate chips and the pecans.
Pour the chocolate condensed milk mixture evenly over the top. Return the pan to the oven and bake for another 15 to 18 minutes.
Immediately sprinkle with mini chocolate chips.
Cool bars on a wire rack before cutting into bars. Store in an airtight container.

More treats for my brownies, blondies, and bars loving friends!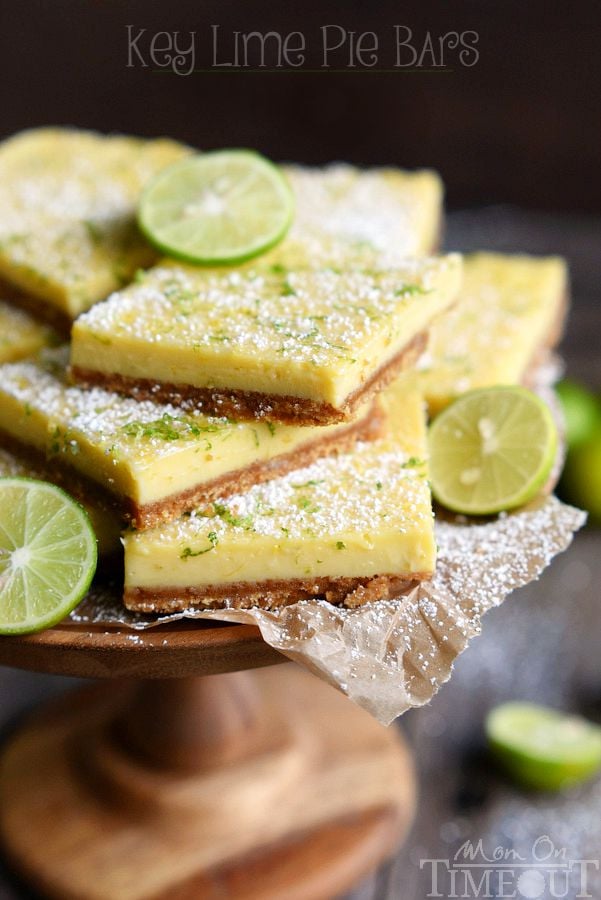 Irresistible Key Lime Pie Bars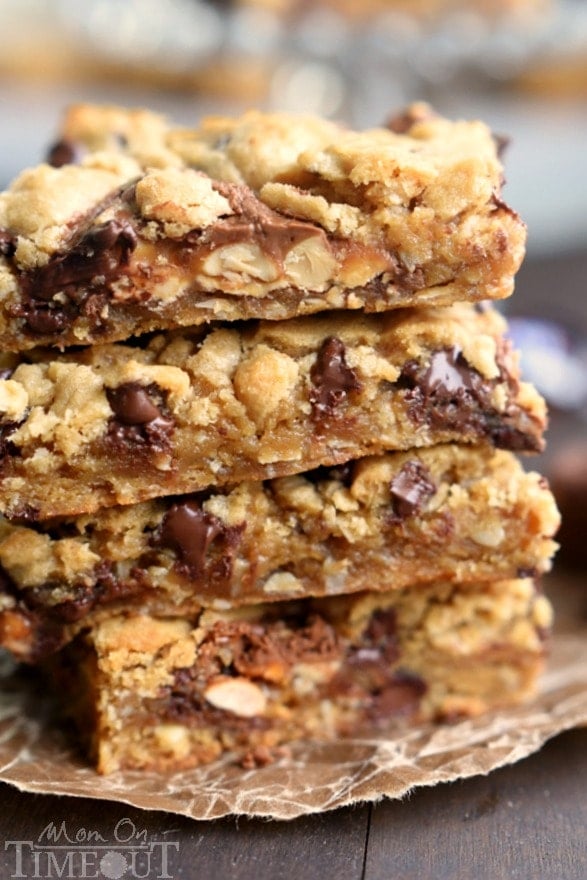 Peanut Butter Snickers Cookie Bars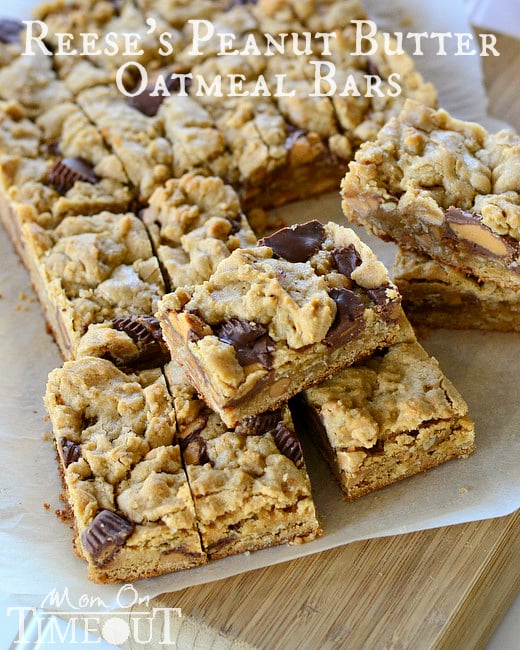 Reese's Peanut Butter Oatmeal Cookie Bars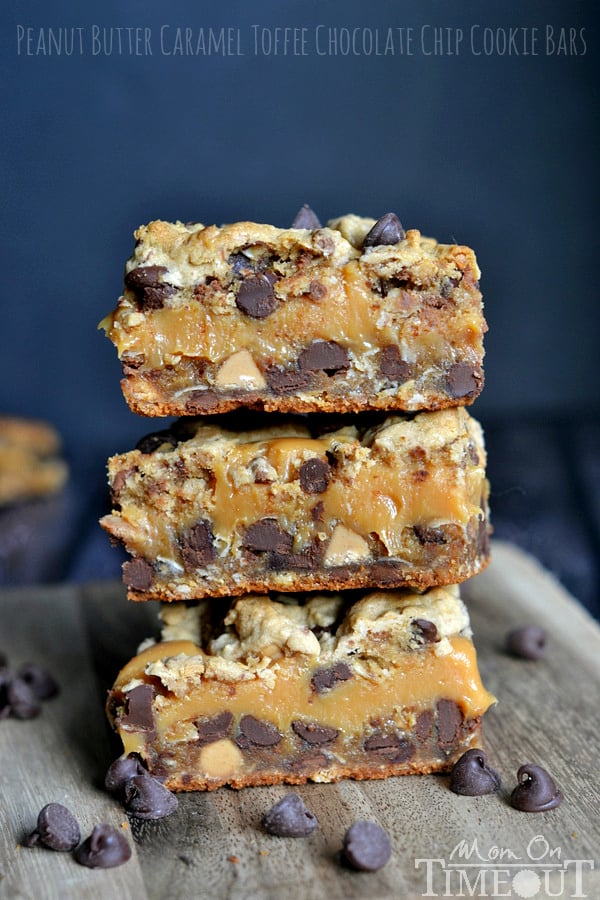 Peanut Butter Caramel Toffee Chocolate Chip Cookie Bars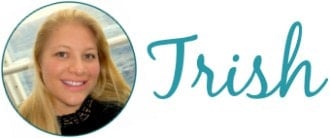 Connect with me!