Reese's Peanut Butter Oatmeal Cookie Bars are perfect for the peanut butter lover in your life!  Serve with an ice cold glass of milk for extreme satisfaction!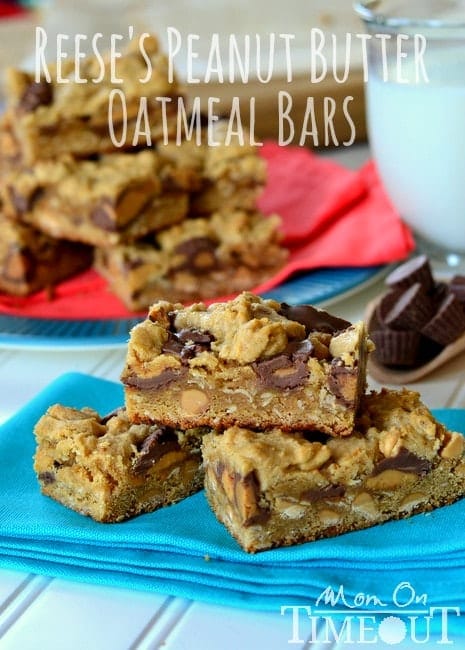 Reese's: My favorite candy.
Peanut Butter: Makes everything better.
Oatmeal:  Now it's healthy!
Cookie Bars: Easy to eat, easy to make.
Do you see where this is going?  I've been on a bar kick lately that started with my Raspberry Coconut Magic Bars and then more recently the Coconut Toffee Chocolate Chip Cookie Bars.  I thought I'd mix it up a little today and bring my favorite candy EVER to the table – Reese's Peanut Butter Cups.  I pulled out all the stops today with Reese's miniatures AND minis and also used Reese's peanut butter baking chips in the dough.
Oh.  And don't think that these are "peanut butter" bars exclusively due to the Reese's.  No.  There is peanut butter in this recipe as well.    Not only are these bars delicious but they are really filling as well.  The center is perfectly soft and chewy and of course the sweet Reese's surprise makes it even more drool-worthy.  Now I'm wondering why I sent that big plate of them to work with Chris…
This is one of those desserts that you can whip together in no time and that will have everyone asking for the recipe.  Trust me.  To make sure the Reese's are nicely distributed I put down a layer of dough first and then sprinkle the yumminess on top.  Next some dollops of the remaining dough top it off making a peanut butter oatmeal cookie sandwich with a Reese's filling.  Not a bad way to go I'm thinking.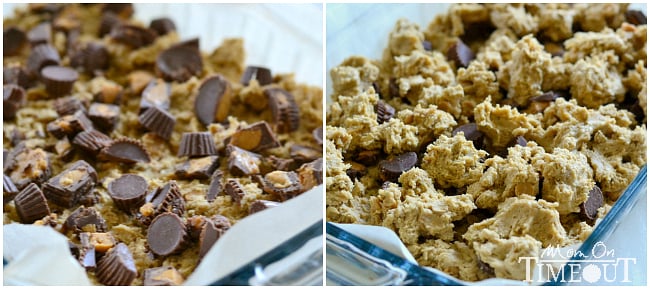 They bake up so beautifully and I love seeing the Reese's peeking out from the bars!  I cut these into 16 bars for the pictures but you'll want to cut these in half for a party.  If you're by yourself and no one is there to judge…eat a whole bar.  You deserve it.  I know I did!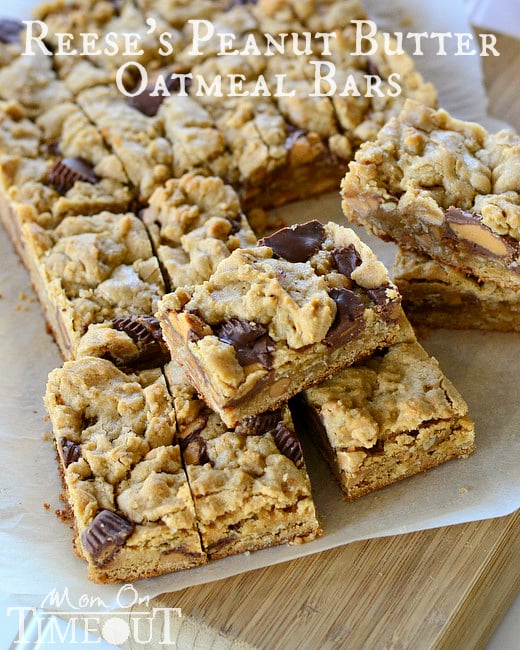 Reese's Peanut Butter Oatmeal Cookie Bars
Ingredients
1½ sticks unsalted butter
2 c light brown sugar
½ c creamy peanut butter
2 eggs, room temperature
1 Tbls vanilla
2 c flour
1 c old fashioned oats
2½ tsp baking powder
¼ tsp salt
1 c Reese's peanut butter baking chips
2 cups Reese's minatures, chopped or Reese's minis
Instructions
Preheat oven to 350 degrees.
Line a 9x13 inch baking dish with parchment paper.
Cream butter and sugar together in a large mixing bowl. Add peanut butter and continue mixing.
Add eggs one at a time, mixing well after each egg. Add in vanilla.
Combine flour, oats, baking powder, and salt in a small mixing bowl.
Add the flour mixture slowly stirring until well combined.
Stir in the peanut butter chips.
Spread ⅔ of the dough on the bottom of the pan. Top with Reese's minis or chopped miniatures.
Drop the remaining dough on top by the teaspoon. It doesn't have to be perfect and it won't cover all the Reese's.
Bake for about 30 minutes. Let cool completely and then cut into bars.

Reese's treats from friends:
Reese's Fudge from Crazy for Crust
Chocolate Peanut Butter Cup Popcorn from The Gunny Sack
Reese's Rocky Road Brownies from Inside BruCrew Life
More Reese's love: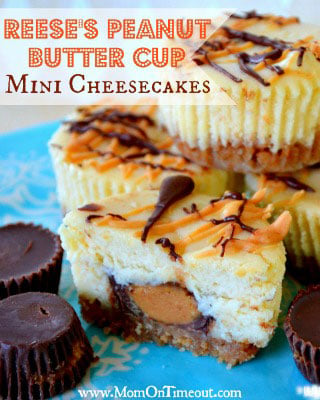 Reese's Peanut Butter Cup Mini Cheesecakes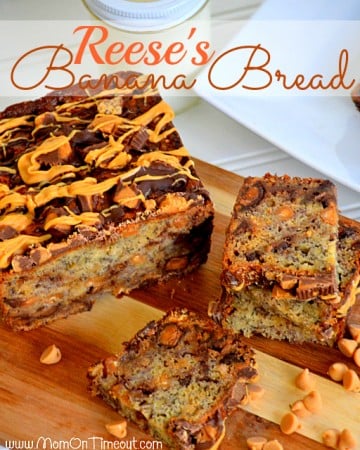 Reese's Freezer-Friendly Oatmeal Cookies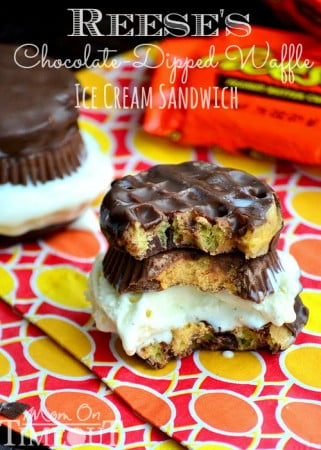 Reese's Chocolate Dipped Waffle Ice Cream Sandwich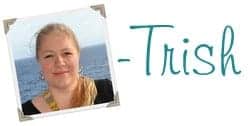 Connect with me!
 Linking up here, Home Stories A2Z, Savvy Southern Style, and My Repurposed Life.