This Slow Cooker Spaghetti Sauce is the perfect dinner solution for busy weeknights! Made with garden fresh tomatoes, you can taste the freshness in every bite. Make it with or without meat – your choice!
Let's be friends! Sign up to get my new recipes in your inbox! Follow me on Facebook and Instagram too!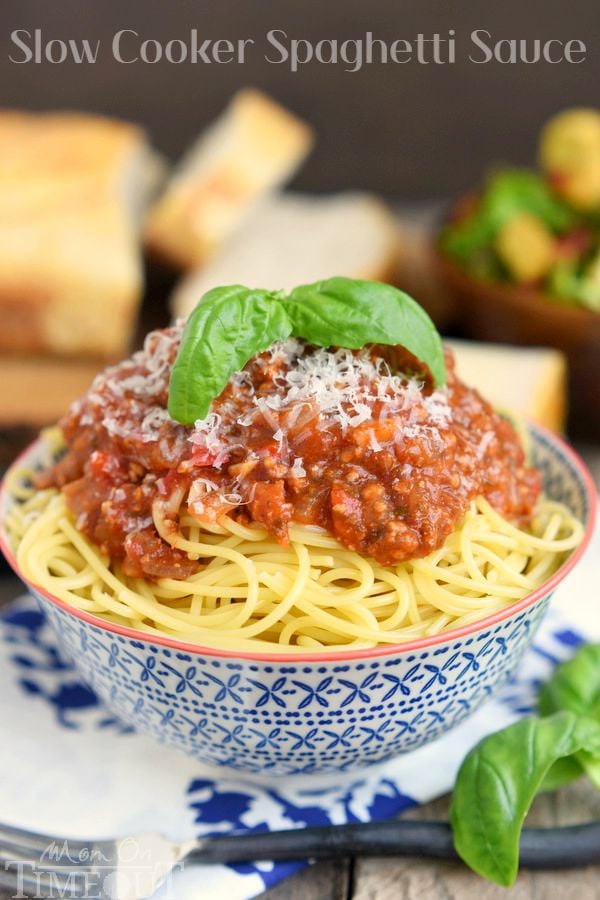 I'm really excited to be sharing a garden update with you guys today! I am so stinking proud of my garden so you'll have to forgive me bragging a bit.
This is what I am bringing in from my garden on a daily basis.  I have picked HUNDREDS of tomatoes this summer and have happily supplied friends and family with with fresh produce from my garden all summer long. My tomato plants are a gift that keep on giving. Typically by this time each summer, my plants have died off and so has my interest in gardening.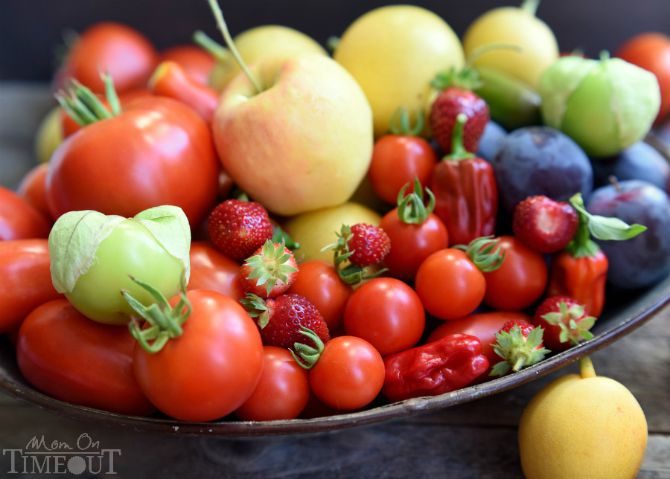 Not so this year. Seeing the abundance of produce that my garden is providing my family and the amazing condition that my plants are in has spurred me forward this season.
And it's been so incredibly EASY. Awhile back I shared how I was using Miracle-Gro® LiquaFeed® to feed my plants this summer.  I was so impressed back then with the growth that I was seeing that I continued to use it. It's kind of a no-brainer. Seriously.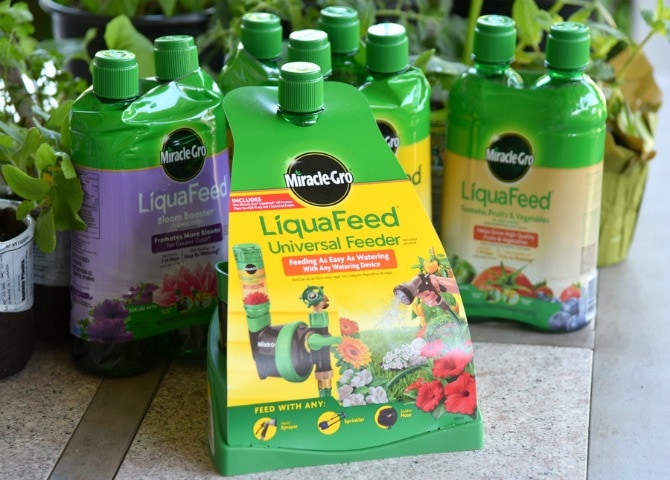 You simply connect the Miracle-Gro® LiquaFeed® Universal Feeder to a water supply, flip the switch to feed and you're ready to go. To keep myself on a schedule, I've been feeding every two weeks.  How do I remember to feed my plants?  Easy. We grill every weekend. So every other weekend while my grill is busy, I'm busy watering and feeding my plants. What can I say, I like to multi-task 🙂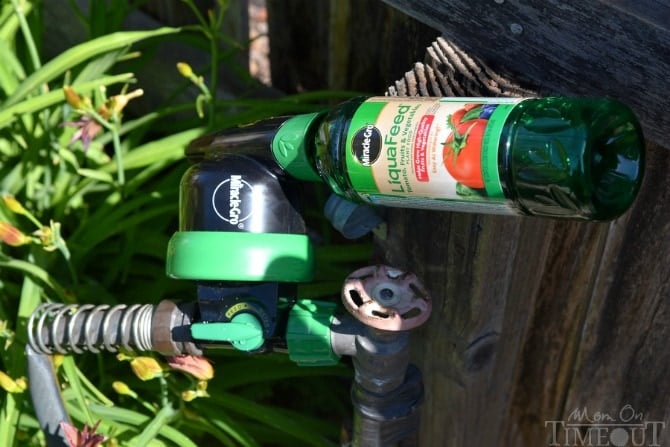 I wanted to give you an idea of what one of my planters has looked like over the past 2 months. You can see I started with seedlings.  The green beans were just barely poking up out of the ground and the melons were just starting to take off.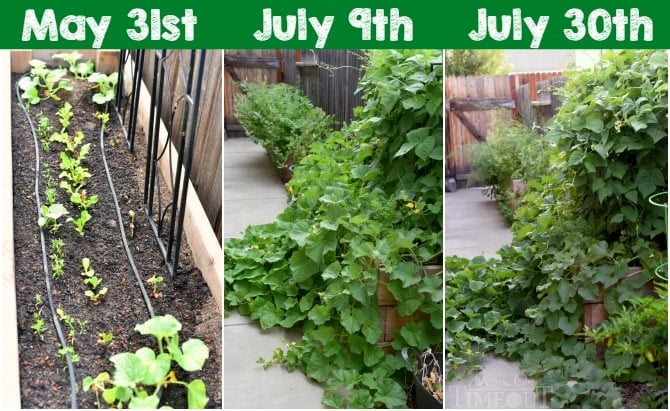 Fast forward to July 9th. The green beans have grown up and filled in the trellises and the vines from the melons have filled in the planter and grown up, over and across the sidewalk.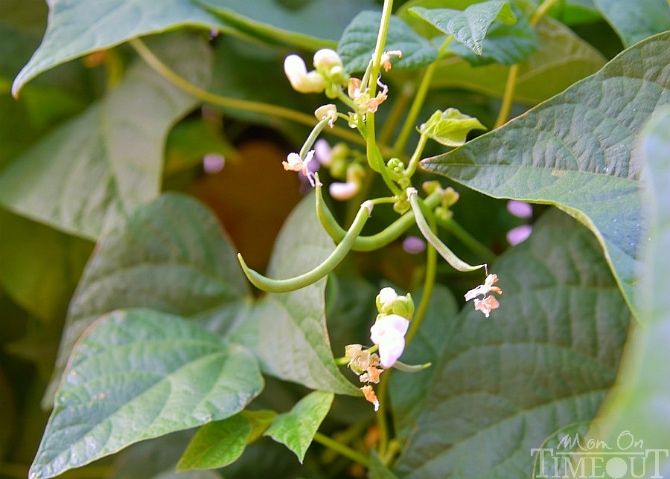 Today. I literally have to take a running jump to get over the vines that cover the sidewalk. I have dozens of green beans that are days away from being ready to eat and I have a dozen melons that are getting bigger every day.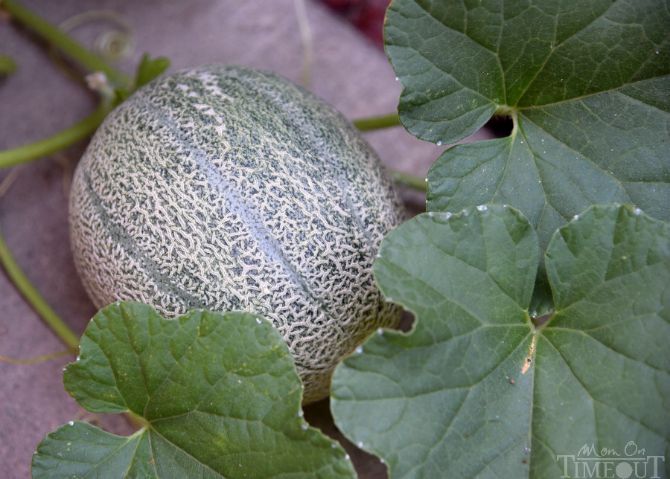 Here's a little secret…I have NEVER successfully grown melons before and I have tried every single year for the past 10 years. Not one melon. This year? A dozen. Easy. And they are still putting on blossoms and setting.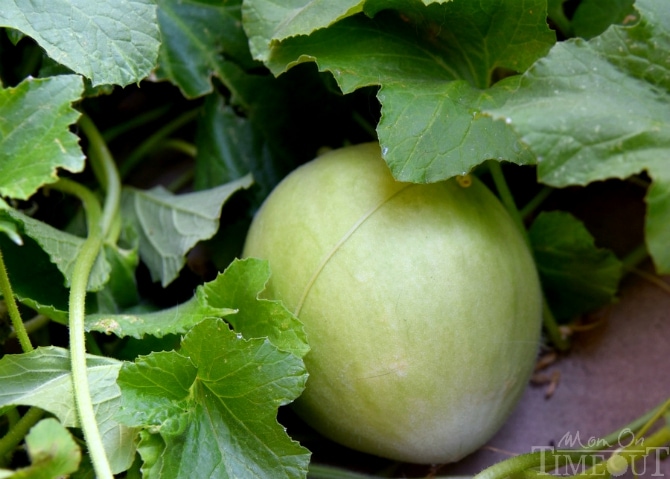 I am CRAZY excited to slice into these melons and I already have BIG plans for my garden next year…now that I know the secret 🙂 Without a doubt, feeding my plants has helped my plants to thrive all summer long.
Now do you want to see something sad? Like really, REALLY sad? To see for myself what kind of difference the Miracle-Gro® LiquaFeed® had, I stopped feeding one of my planters. I know. It was hard. But I wanted to prove to myself and to YOU what the difference really was. I know for a fact tht just watering my plants during the hot summer months is simply NOT ENOUGH. You have to feed your plants for optimal results.  Here's the before and after.
You can see the top image shows really healthy, vibrant, dark green plants. That's back when I was feeding the planter with Miracle-Gro LiquaFeed. The bottom image you'll notice how most of the plants are still alive but are definitely not thriving. Yellow leaves, dying plants, it's just not looking good at all. I am still watering this planter but no longer feeding it.
Sad.
The good news is I have more than enough produce from my side garden…more than I know what to do with most days! We are enjoying batch after batch of my Easy Garden Blender Salsa and my spaghetti-loving family has been going crazy for this Slow Cooker Spaghetti Sauce.
I used 5 pounds of garden-fresh tomatoes in this recipe but you could easily halve the recipe for your family.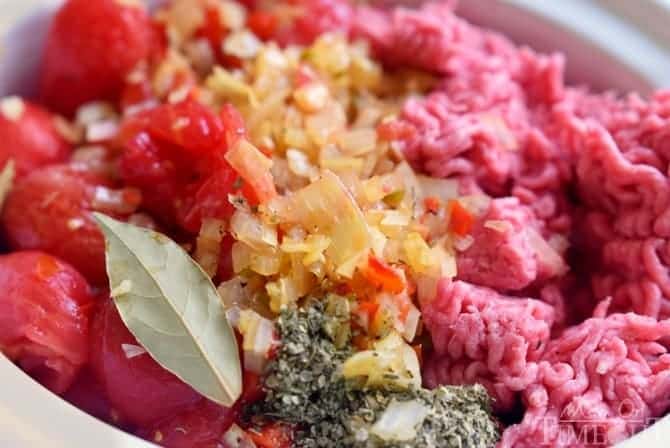 The recipe yields about 4 quarts of spaghetti sauce that is ready to use or freeze. To freeze, cool the sauce in the fridge and then transfer to freezer quart-size bags. Lay flat on a small cookie sheet and freeze. Once the bag is frozen, remove the cookie sheet and stack the bags on top of each other for easy storage.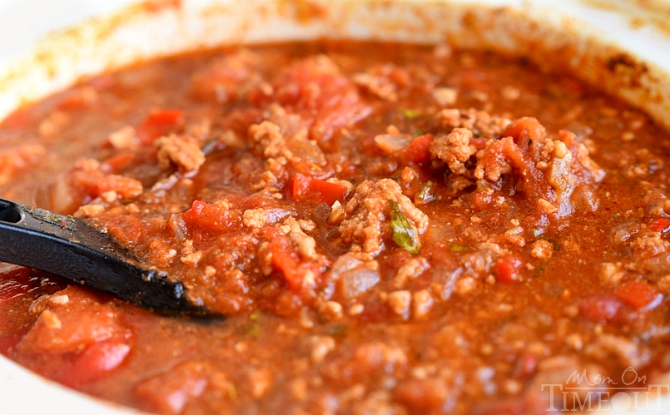 I used a very lean hamburger meat for this batch but ground turkey, Italian sausage or a combination of these is EXCELLENT. The meat does not need to be cooked before hand so use the leanest meat you can find.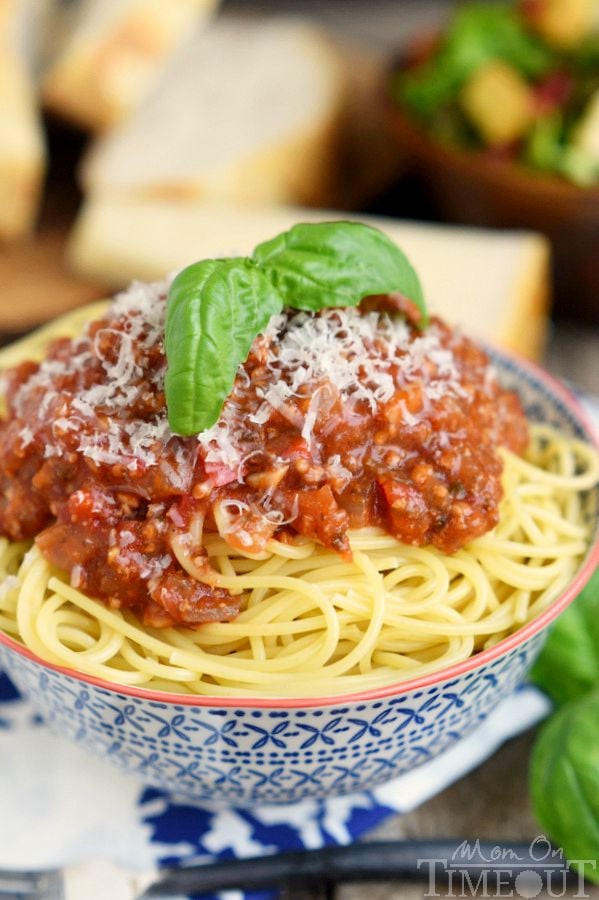 You can also completely omit the meat from the recipe – it's your choice!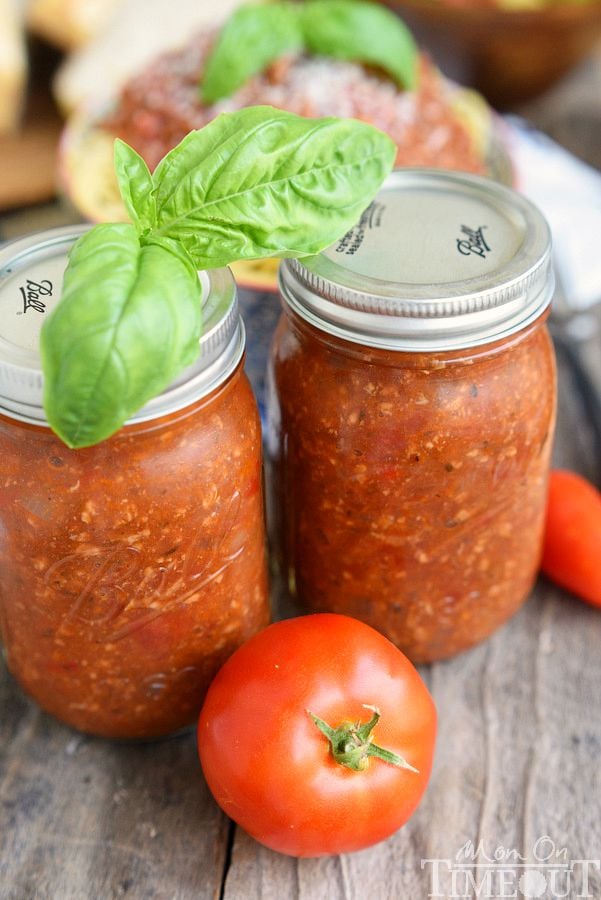 I have been telling everyone I know about how amazing my garden is this year and it's all thanks to Miracle-Gro® LiquaFeed®. I am so excited to be feeding me family fresh fruits and veggies on a daily basis and plan to try winter gardening this year for the first time. Winter veggies here I come!
Slow Cooker Spaghetti Sauce
This Slow Cooker Spaghetti Sauce is the perfect dinner solution for busy weeknights! Made with garden fresh tomatoes, you can taste the freshness in every bite. Make it with or without meat - your choice!
Author:
Trish - Mom On Timeout
Ingredients
5 lbs fresh tomatoes
2 tbsp extra virgin olive oil
1 large yellow onion, diced
1 red bell pepper, diced
1 jalapeno, diced (optional)
3 cloves of garlic, minced
1 tsp salt
½ tsp pepper
1 tbsp Worcestershire sauce
6 oz jar tomato paste
2 tbsp chopped fresh basil
2 bay leaves
2 tbsp Italian seasoning
1 tbsp sugar
1 to 2 pounds of lean ground beef, turkey, or Italian sausage
Instructions
Bring a large pot of water to a boil.
Fill a large bowl with ice water.
Drop tomatoes 5-6 at a time into the boiling for about 45 seconds. Transfer to the ice bath. Repeat with all tomatoes.
Peel skin off of tomatoes and squeeze out excess liquid and seeds. (The skin should very easily just peel off.)
Heat olive oil in a medium saute pan. Add onion and peppers and saute for 4 to 5 minutes until onions are translucent. Sir in garlic, salt, and pepper and cook for an additional minute.
Combine tomatoes, onion mixture, Worcestershire sauce, tomato paste, basil, bay leaves, Italian seasoning and sugar in a large slow cooker and stir to combine.
If you are making a meat sauce, stir in meat now.
Place a folded paper towel between the lid and the insert of the slow cooker and cook on low for 6 to 8 hours or on high for 3 to 4 hours.

More recipes straight from the garden!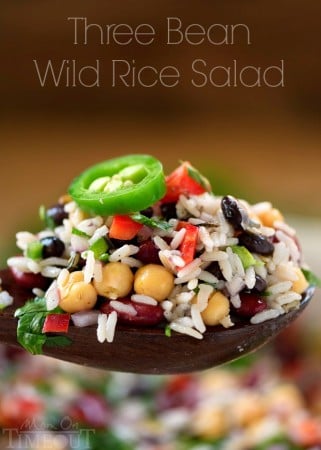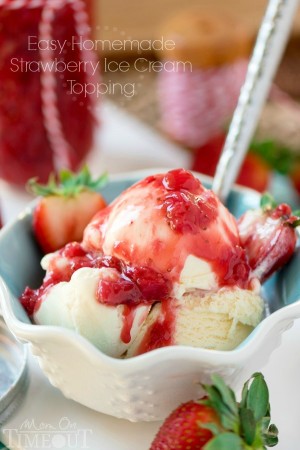 Homemade Strawberry Ice Cream Topping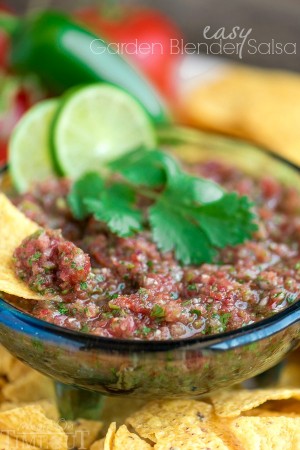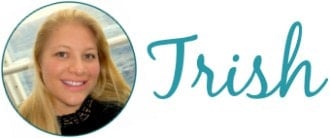 Connect with me!
If it waters, now it feeds with Miracle-Gro® LiquaFeed® Universal Feeder. It's a great tool to help you reach your gardening goals by providing the essential nutrients your plants need to thrive all season long.
This is a sponsored conversation written by me on behalf of Miracle-Gro. The opinions and text are all mine.