This easy homemade Spaghetti Sauce recipe is perfect for busy weeknights! Made in the slow cooker, this delicious spaghetti sauce is full of flavor and makes a large batch which is great for freezing. Enjoy with your family tonight!
Let's be friends! Sign up to get my new recipes in your inbox! Follow me on Facebook and Instagram too!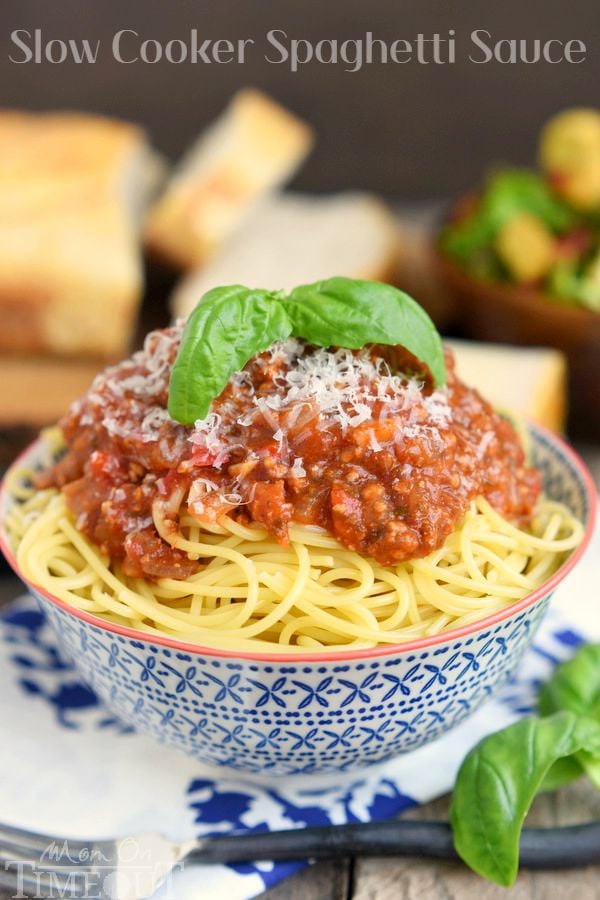 Spaghetti Sauce
I'm really excited to be sharing this amazing spaghetti sauce recipe with you guys today! It's super easy to make and is a great way to use up garden fresh tomatoes. I love making homemade spaghetti sauce for my family because it just tastes so. darn. good. I mean, you can really taste the difference.
I used some of my favorite seasonings in this sauce but you can adjust according to your likes and dislikes.
I made this spaghetti sauce in the slow cooker and I love how the flavors just meld together to create the most delicious spaghetti sauce ever. Serve alongside this Cheesy Bacon Ranch Bread and Best Ever Broccoli Salad for a winning dinner the whole family will love.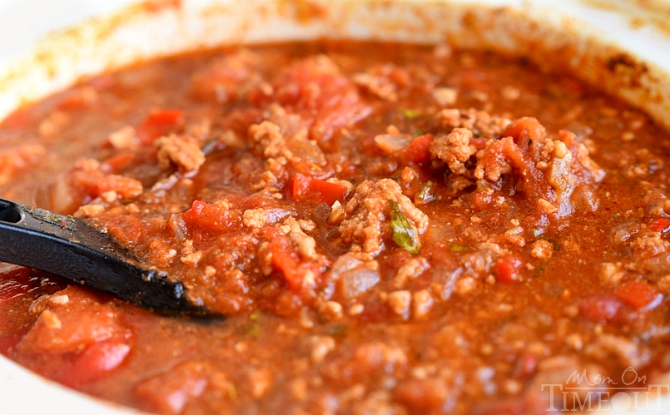 This spaghetti meat sauce is one of my favorite recipes because it uses up a lot of my garden produce and it makes a nice big batch which is great for freezing.
This is what I am bringing in from my garden on a daily basis.  I have picked HUNDREDS of tomatoes this summer and have happily supplied friends and family with with fresh produce from my garden all summer long. My tomato plants are a gift that keep on giving. Typically by this time each summer, my plants have died off and so has my interest in gardening.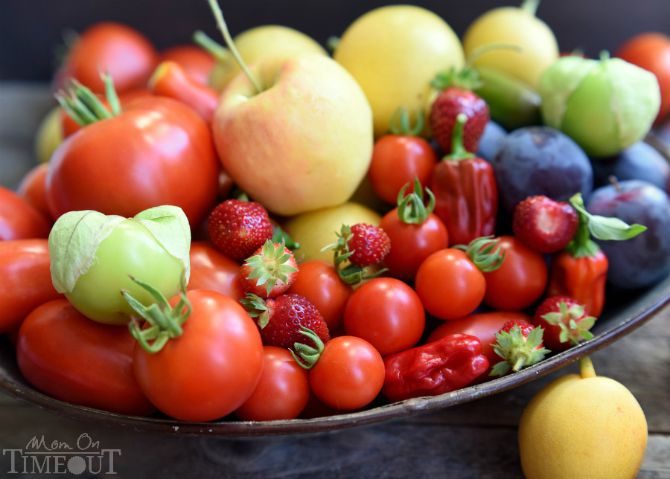 Not so this year. Seeing the abundance of produce that my garden is providing my family and the amazing condition that my plants are in has spurred me forward this season.
I literally have to take a running jump to get over the vines that cover the sidewalk. I have dozens of green beans that are days away from being ready to eat and I have a dozen melons that are getting bigger every day.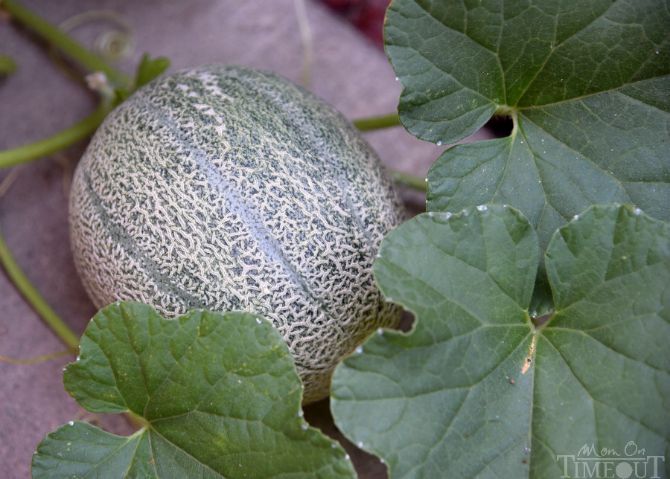 The good news is I have more than enough produce from my side garden…more than I know what to do with most days! We are enjoying batch after batch of my Easy Garden Blender Salsa and my spaghetti-loving family has been going crazy for this spaghetti sauce recipe.
I used 5 pounds of garden-fresh tomatoes in this recipe but you could easily halve the recipe for your family.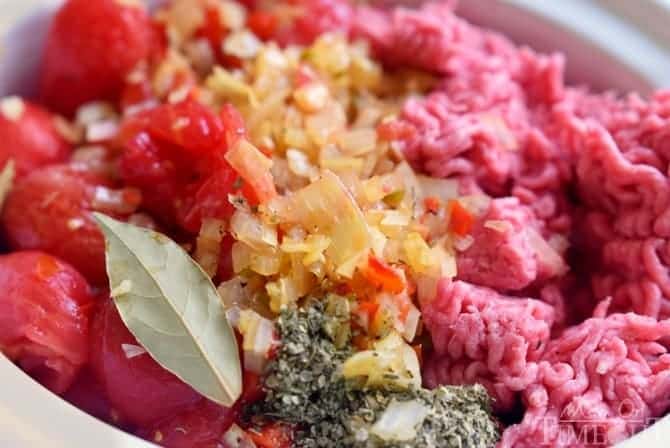 The recipe yields about 4 quarts of spaghetti sauce that is ready to use or freeze. To freeze, cool the sauce in the fridge and then transfer to freezer quart-size bags. Lay flat on a small cookie sheet and freeze. Once the bag is frozen, remove the cookie sheet and stack the bags on top of each other for easy storage.
I used a very lean hamburger meat for this batch but ground turkey, Italian sausage or a combination of these is EXCELLENT. The meat does not need to be cooked before hand so use the leanest meat you can find.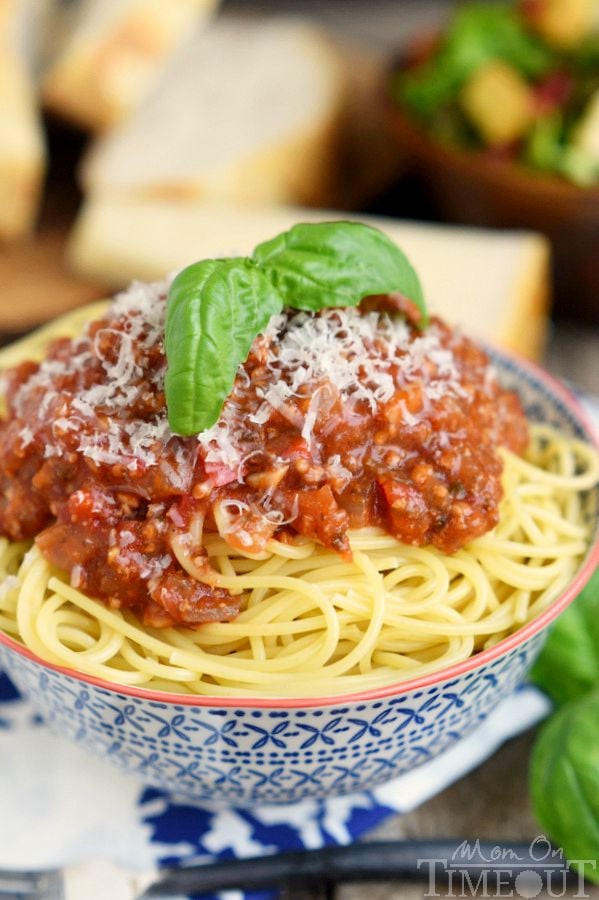 Tips for the Best Spaghetti Sauce
This spaghetti sauce recipe uses fresh tomatoes so it's important to not skip the first 4 steps of the recipe below. You will be tempted, but really, it's very quick and easy, I promise.
Don't have access to fresh tomatoes? No problem. Use three 28 oz cans of crushed or diced tomatoes – or a combination of both.
Feel free to season according to your family's preferences. You can increase the garlic, omit the jalapeno, whatever you prefer. Since the spaghetti sauce isn't being canned, you don't need to worry about acid ratios or anything technical like that.
This spaghetti sauce is freezer-friendly. To freeze, cool the sauce in the fridge and then transfer to freezer quart-size bags or larger bags if you prefer. Lay the bags flat on a small cookie sheet and freeze until solid. Once the bag is frozen, remove the cookie sheet and stack the bags on top of each other.
I used very lean ground beef in this recipe but feel free to use Italian sausage or ground turkey instead. Please buy the leanest possible meat so you don't have a lot of extra fat in the sauce. The meat gets cooked in the slow cooker so the fat that comes with the meat, stays in the sauce.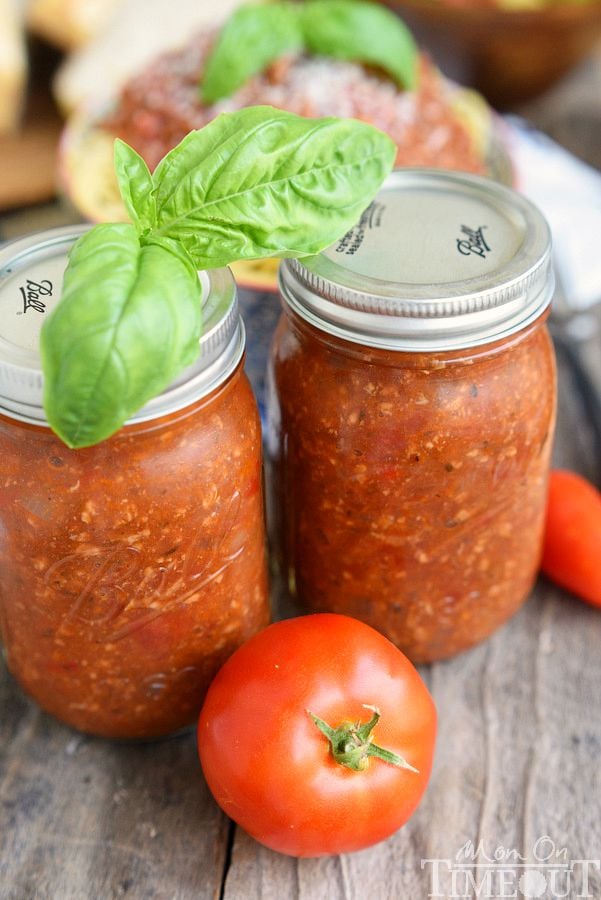 Keep out the meat and use this spaghetti sauce recipe with this 20 Minute Skillet Chicken and Spinach Parmesan or in this Lazy Day Lasagna << a family favorite!
How to Make Spaghetti Sauce
Slow Cooker Spaghetti Sauce
This Slow Cooker Spaghetti Sauce is the perfect dinner solution for busy weeknights! Made with garden fresh tomatoes, you can taste the freshness in every bite. Make it with or without meat - your choice!
Total Time
8
hours
15
minutes
Ingredients
5

lbs

fresh tomatoes

(see note below for using canned tomatoes)

2

tbsp

extra virgin olive oil

1

large yellow onion

diced

1

red bell pepper

diced

1

jalapeno

diced (optional)

3

cloves

of garlic

minced

1

tsp

salt

1/2

tsp

pepper

1

tbsp

Worcestershire sauce

6

oz

jar tomato paste

2

tbsp

chopped fresh basil

2

bay leaves

2

tbsp

Italian seasoning

1

tbsp

sugar

1 to 2

pounds

of lean ground beef

turkey, or Italian sausage
Instructions
Bring a large pot of water to a boil.

Fill a large bowl with ice water.

Drop tomatoes 5-6 at a time into the boiling for about 45 seconds. Transfer to the ice bath. Repeat with all tomatoes.

Peel skin off of tomatoes and squeeze out excess liquid and seeds. (The skin should very easily just peel off.)

Heat olive oil in a medium saute pan. Add onion and peppers and saute for 4 to 5 minutes until onions are translucent. Sir in garlic, salt, and pepper and cook for an additional minute.

Combine tomatoes, onion mixture, Worcestershire sauce, tomato paste, basil, bay leaves, Italian seasoning and sugar in a large slow cooker and stir to combine.

If you are making a meat sauce, stir in meat now.

Place a folded paper towel between the lid and the insert of the slow cooker and cook on low for 6 to 8 hours or on high for 3 to 4 hours.
Notes
Don't have access to fresh tomatoes? No problem. Use (3) 28 oz cans of crushed or diced tomatoes - or a combination of both.
Original recipe posted July 30, 2015, updated February 20, 2018.

More recipes straight from the garden!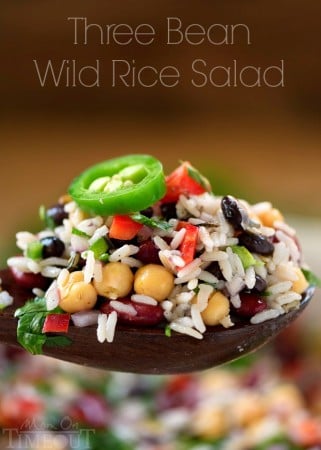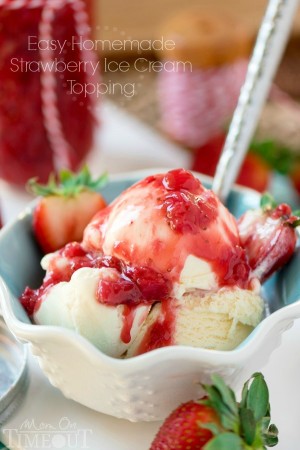 Homemade Strawberry Ice Cream Topping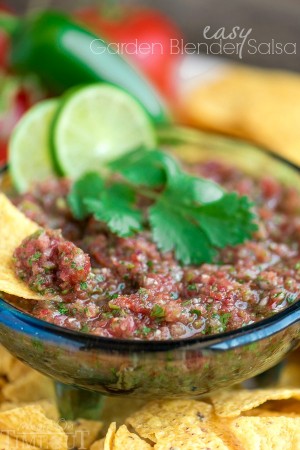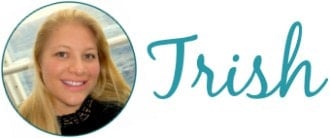 For all dinner recipes, go HERE.
For all dessert recipes, go HERE.
Sign up to get emails when I post new recipes!
For even more great ideas follow me on Facebook – Pinterest – Instagram – Twitter – Bloglovin'.
Have a great day!
If it waters, now it feeds with Miracle-Gro® LiquaFeed® Universal Feeder. It's a great tool to help you reach your gardening goals by providing the essential nutrients your plants need to thrive all season long.
This is a sponsored conversation written by me on behalf of Miracle-Gro. The opinions and text are all mine.