A collection of amazing cake recipes that will fill all your entertaining needs. So many great options to choose from including bundt cakes, sheet cakes, and layered cakes. Chocolate, peanut butter, carrot, zucchini, lemon, orange, strawberry and so much more!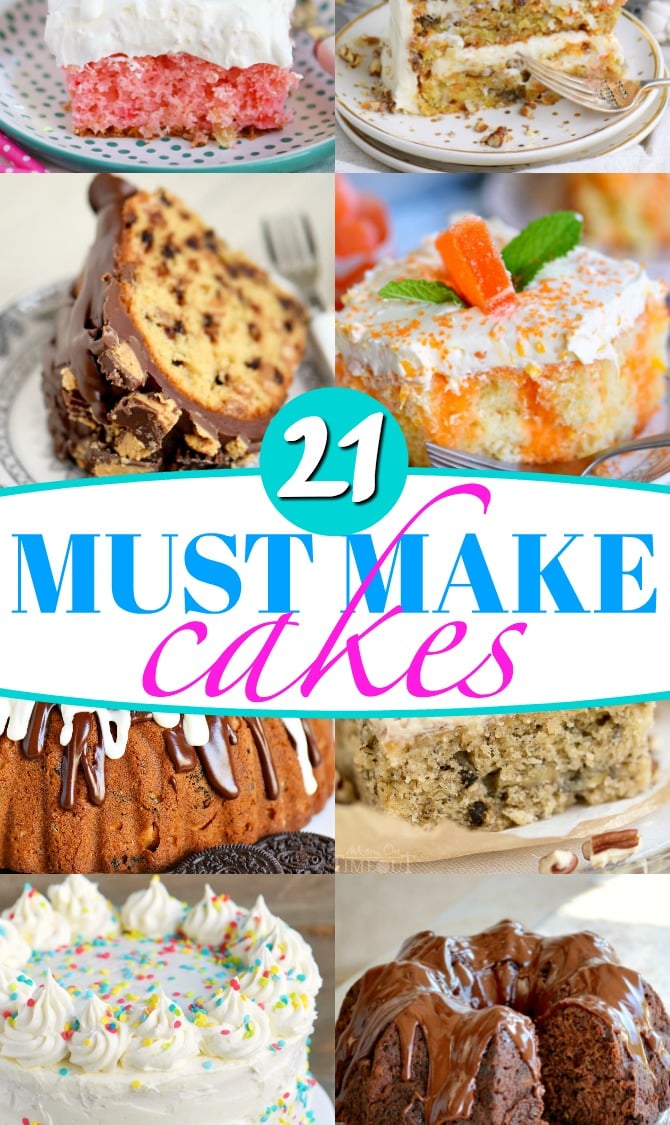 Everybody loves a good cake! I love making cakes for all occasions. They are perfect for entertaining and there are just so many flavors to choose from! Here is a wonderful selection of cakes to choose from. I'm sure you'll find one to make for your next party.
The most popular cake on my blog, this To Die For Carrot Cake is my Nana's recipe. It's loaded with all the good stuff and receives rave reviews for it's unbelievable moistness and delicious flavor! Truly the BEST CARROT CAKE you'll ever try! So easy to make and as an added bonus, there's no oil or butter. I know this cake will quickly become a family favorite!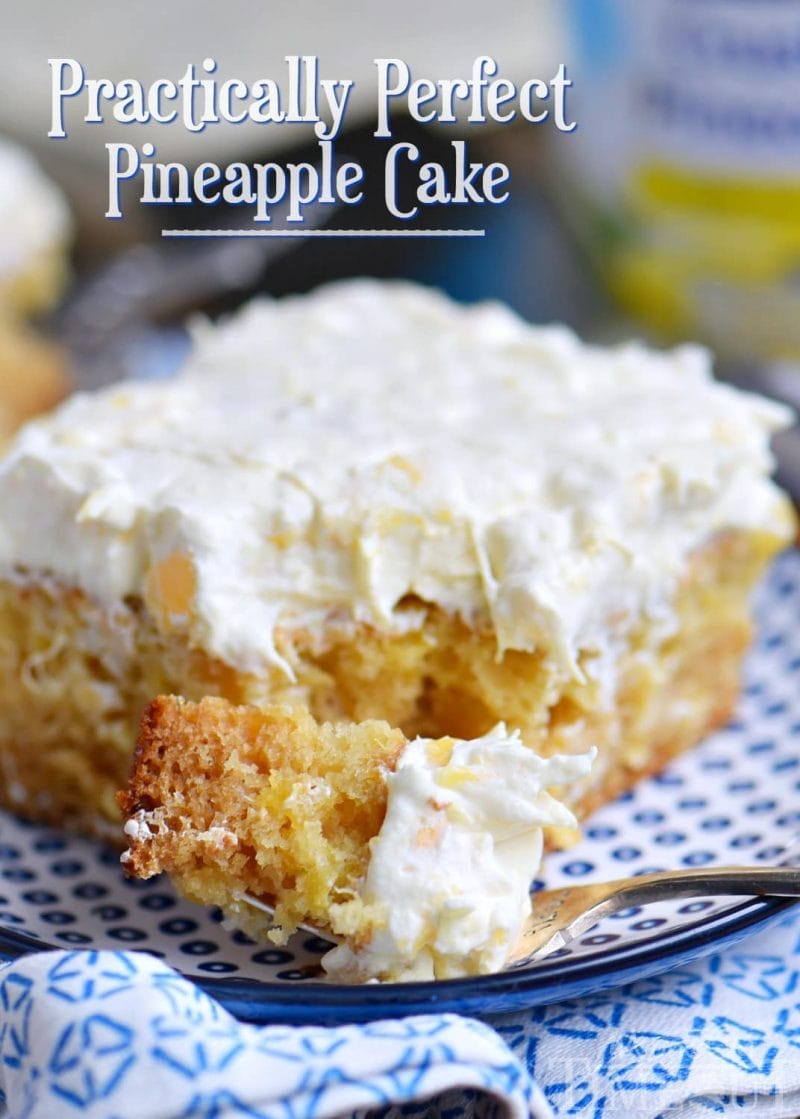 This Practically Perfect Pineapple Cake is loaded with pineapple flavor! Made without butter or oil, it's incredibly moist and topped with a delicious pineapple fluff frosting! This is one of the easiest cakes to make and the frosting is great for all sorts of cake recipes.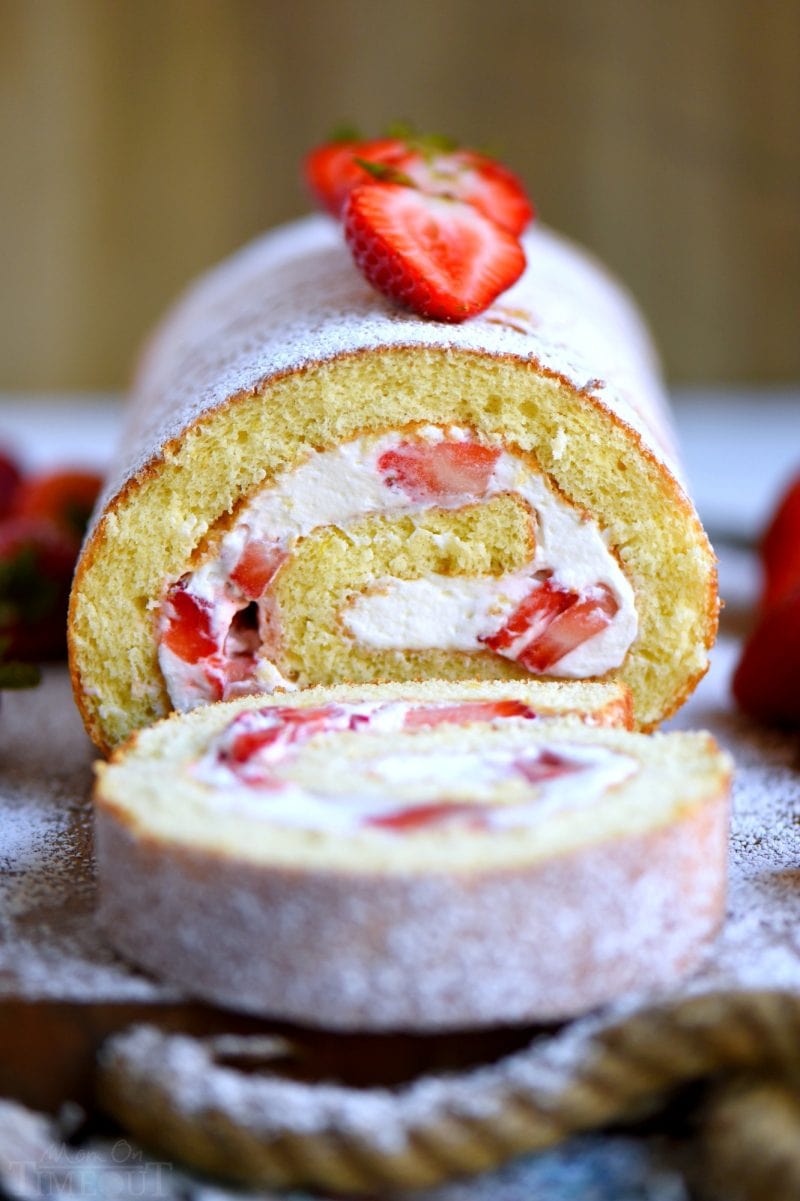 If you've never made a cake roll or roulade before, this Strawberry Shortcake Roulade is the perfect place to start. This recipe is extra special in that you don't even have to roll the cake while it's still warm so you really can't mess it up. The light and airy cake wrapped around a sweet whipped cream and fresh strawberry filling is entirely irresistible!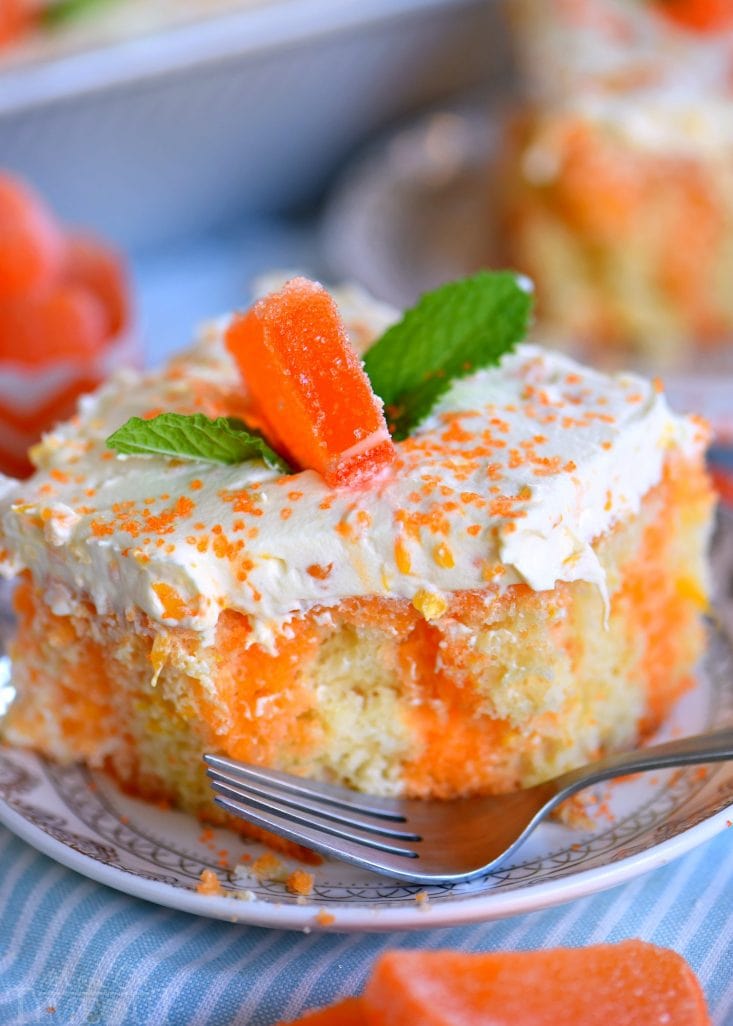 This easy Orange Creamsicle Poke Cake is a wonderful addition to all your parties! A lovely vanilla cake that is bursting with orange flavor and topped with a fluffy orange and vanilla frosting that no one will be able to resist. The kids go crazy for the frosting and if you can find those candy orange slices, they make a nice touch. Delicious!
Get ready to delight friends and family with this stunning No Bake Banana Cream Pudding Cheesecake! A fabulous cookie crust, rich cheesecake, fresh bananas, creamy pudding and fresh whipped cream create an explosion of flavors and textures in your mouth. Each bite is better than the last!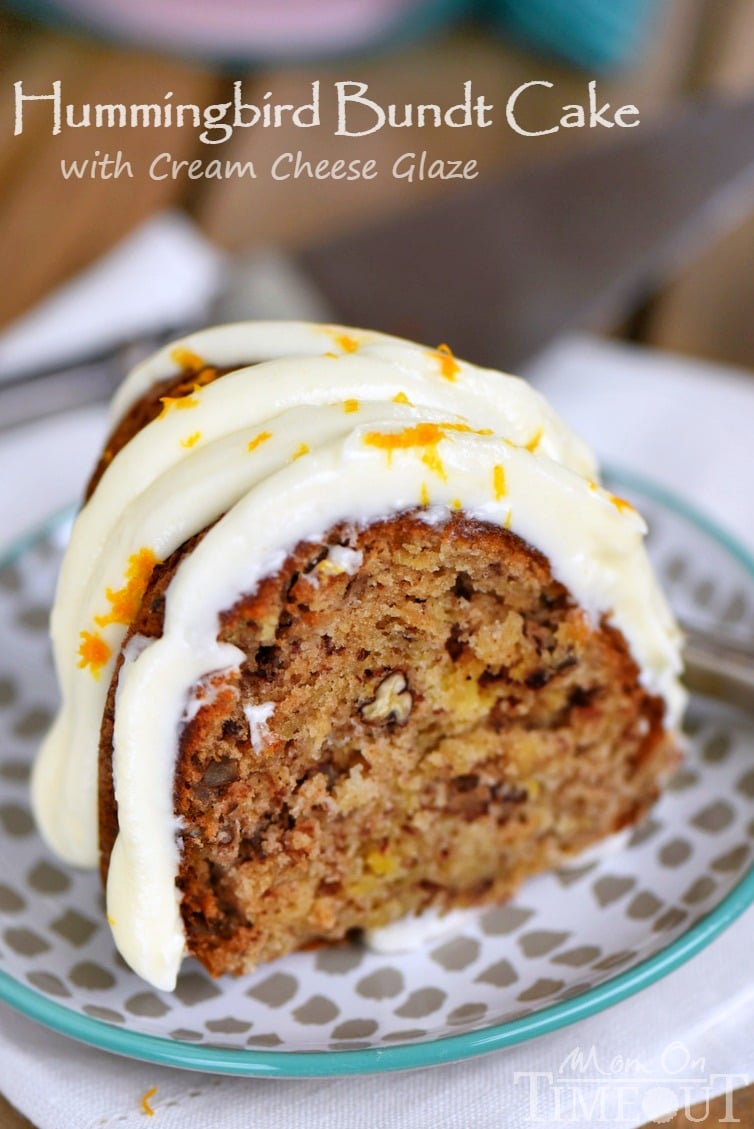 This delightful Hummingbird Bundt Cake with Cream Cheese Glaze will be the star of the show! Made with bananas, pineapple, pecans and spiced with cinnamon, cloves and nutmeg – every bite of this easy cake is pure bliss!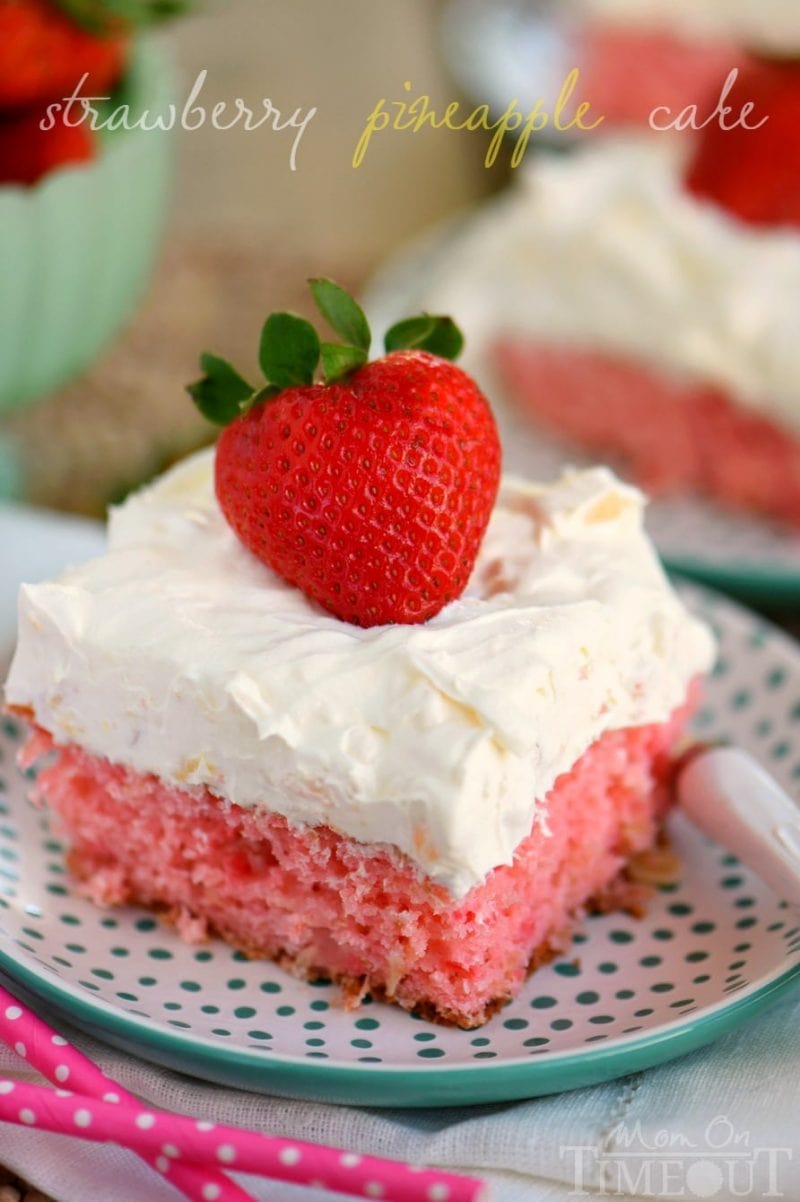 This Easy Strawberry Pineapple Cake recipe is perfect for all Spring and Summer festivities! Delightfully easy to make and topped with the creamiest pineapple fluff frosting, this cake will quickly become your go-to dessert recipe!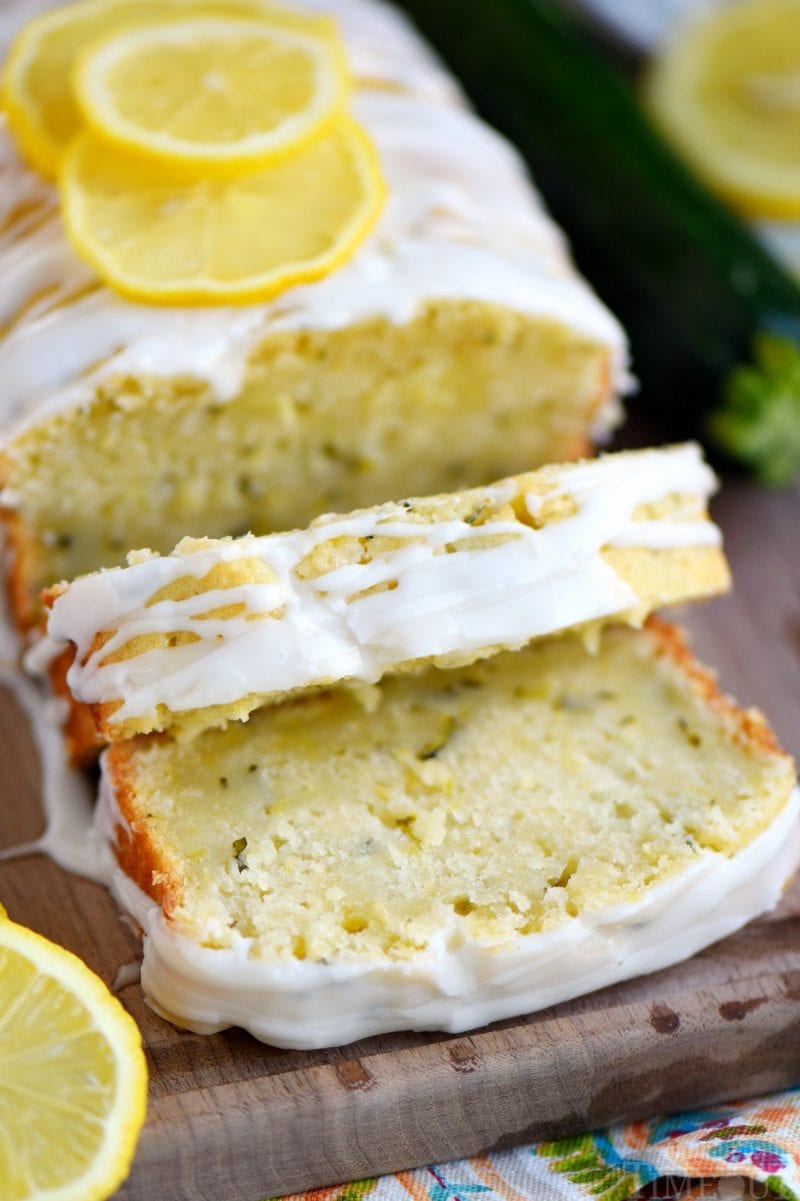 This Lemon Zucchini Cake is definitive proof that lemon and zucchini belong together! Beautifully moist and undeniably delicious, this easy cake is topped with a lemon glaze that will keep you coming back for one more slice. An excellent way to use up that zucchini from your garden!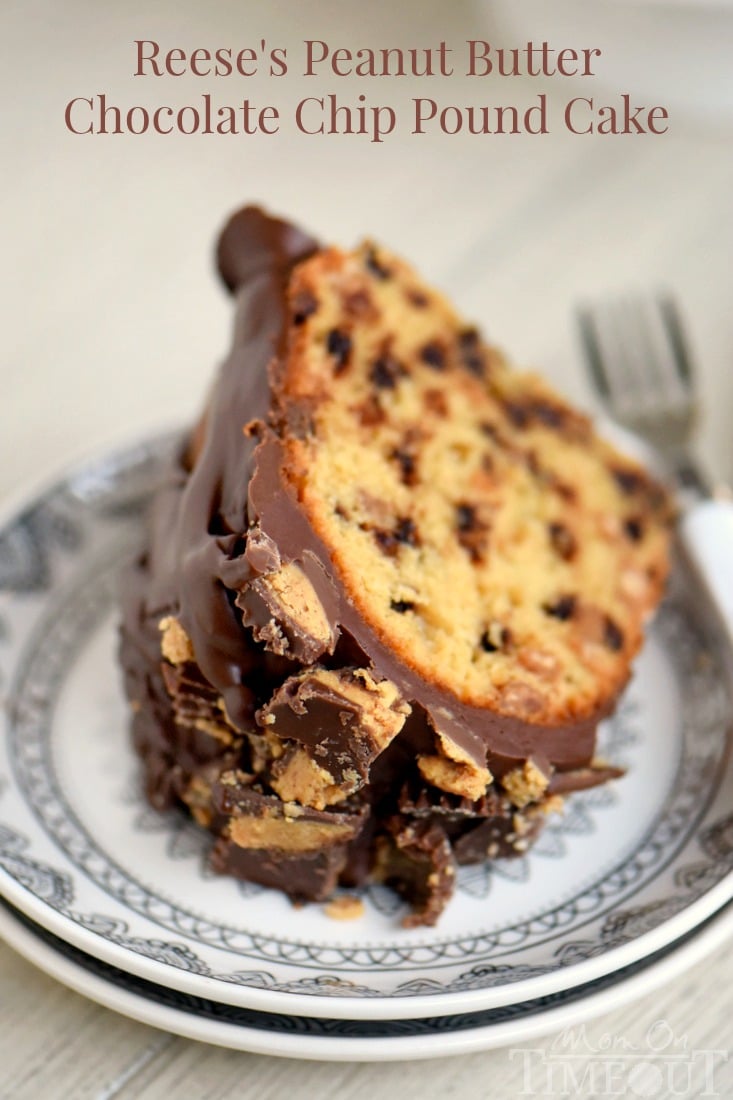 This amazingly easy and outrageously decadent Reese's Peanut Butter Chocolate Chip Pound Cake is a dream come true! So moist and delicious and topped with an incredible peanut butter chocolate glaze – no one will be able to resist!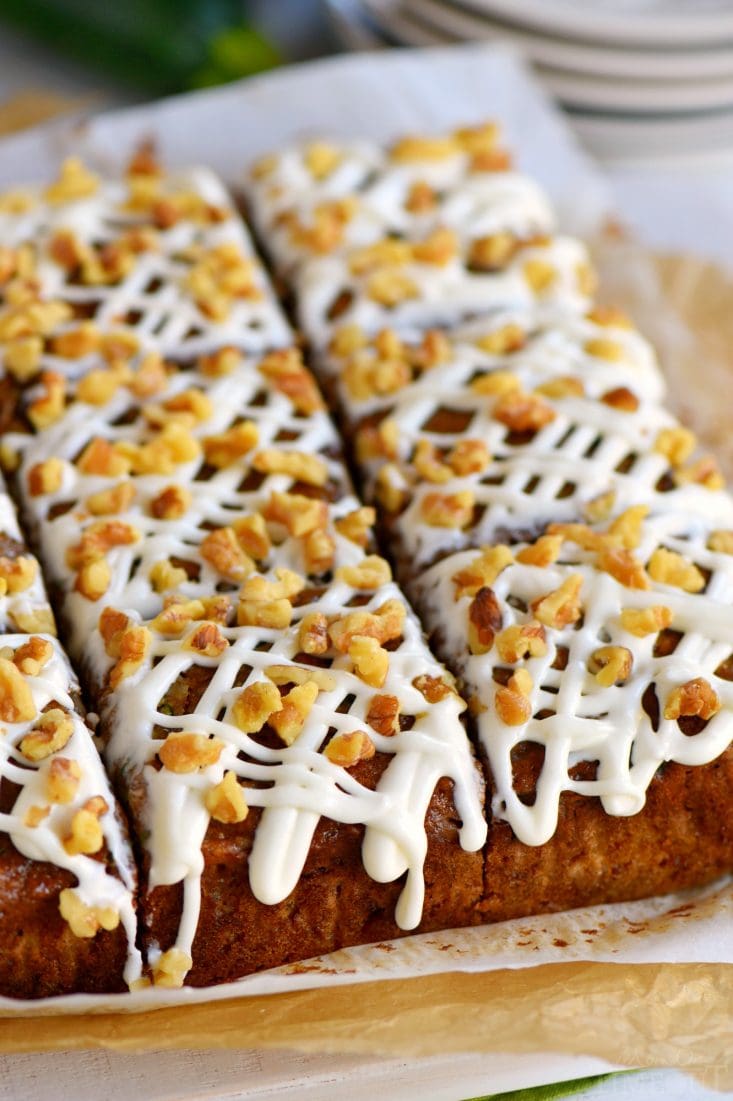 My new favorite zucchini cake recipe! This simple, made from scratch, Zucchini Spice Cake is loaded with spices and topped with a sweet cream cheese icing. Applesauce and zucchini make this easy snack cake extra moist and totally delicious. No butter or oil!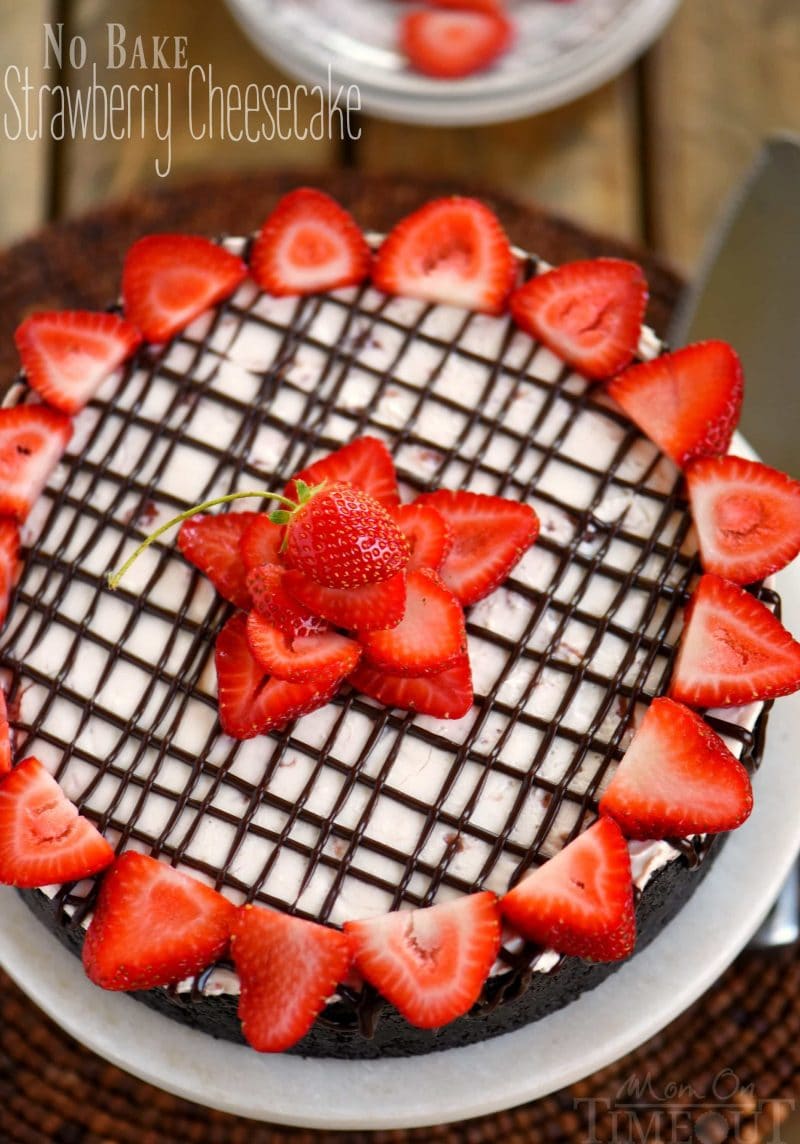 This gorgeous No Bake Strawberry Cheesecake comes complete with an OREO cookie crust, a thick layer of chocolate ganache, and decadent cheesecake filling. This cheesecake is designed to impress without a lot of work – my favorite kind of recipe!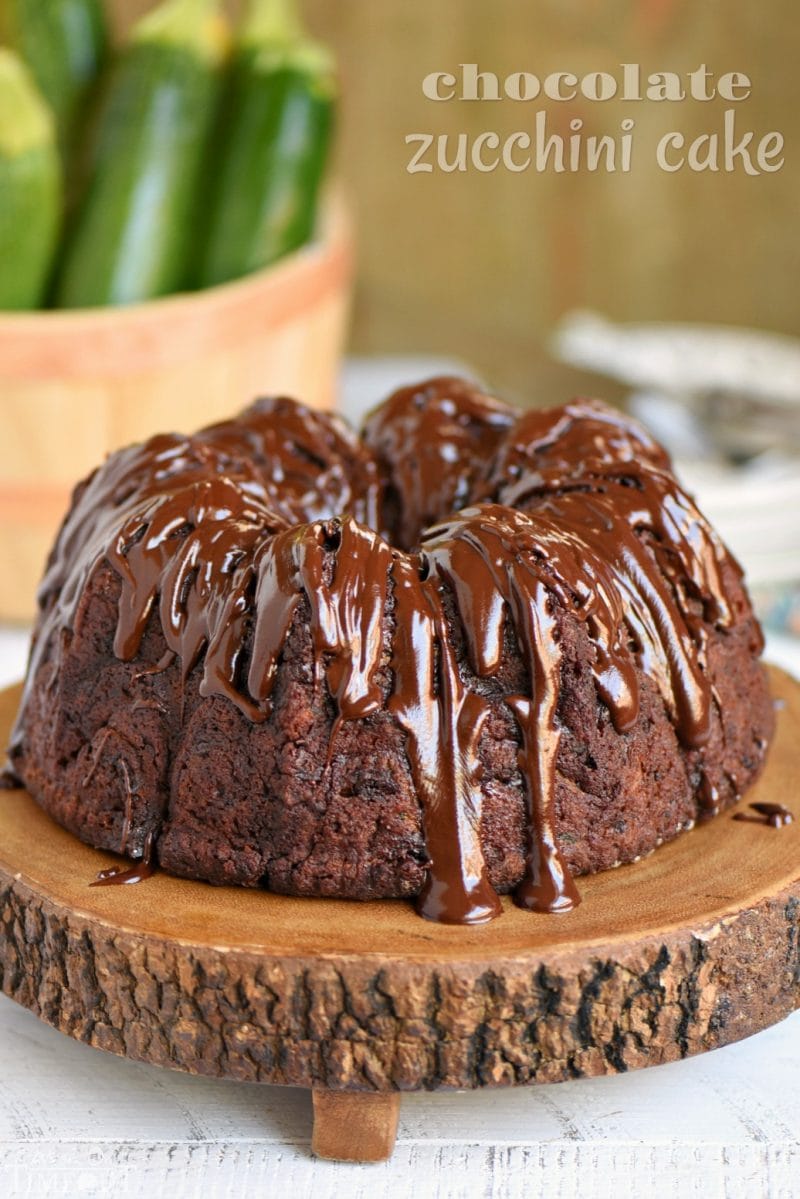 This Chocolate Zucchini Cake is bound to be a new favorite for chocolate lovers! Fabulously moist, decadently rich, and impossible to resist! The perfect way to enjoy the summer bounty!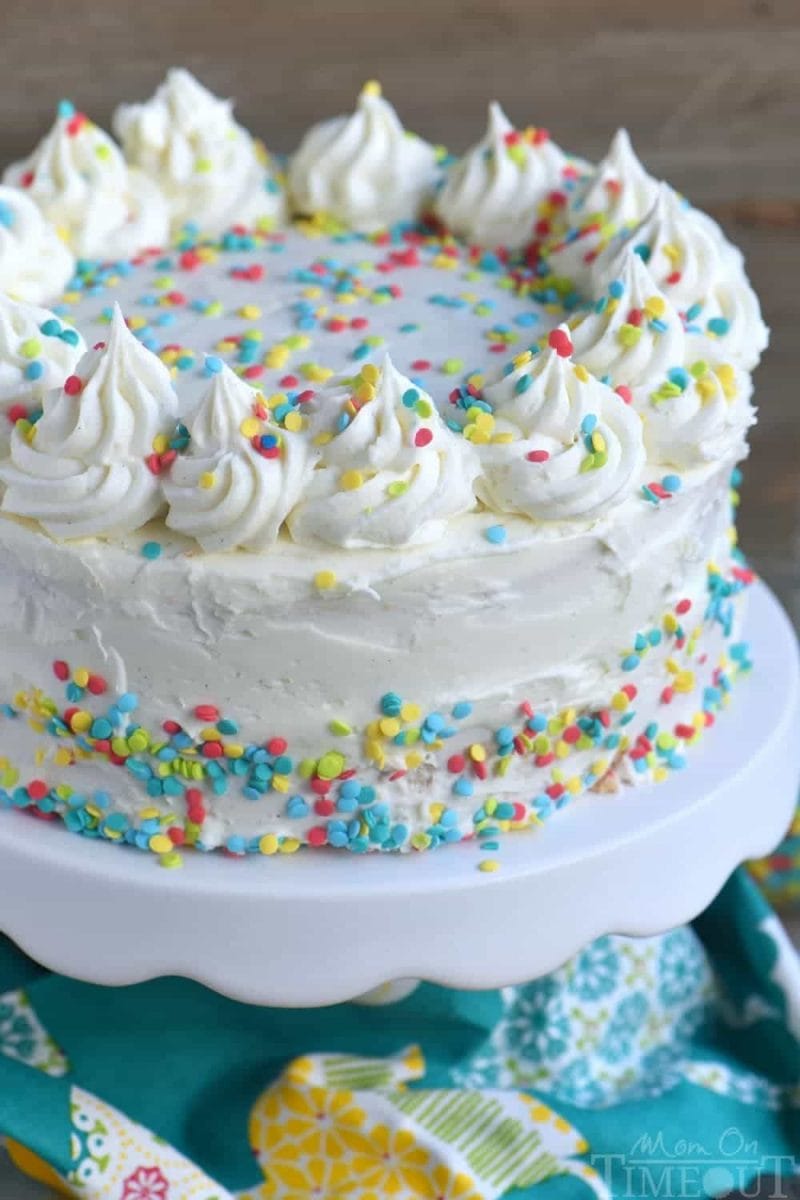 This Very Vanilla Cake is bursting with sweet vanilla flavor! Top with fresh fruit, sprinkles or white chocolate curls for a beautiful finish! Can be made dairy-free too!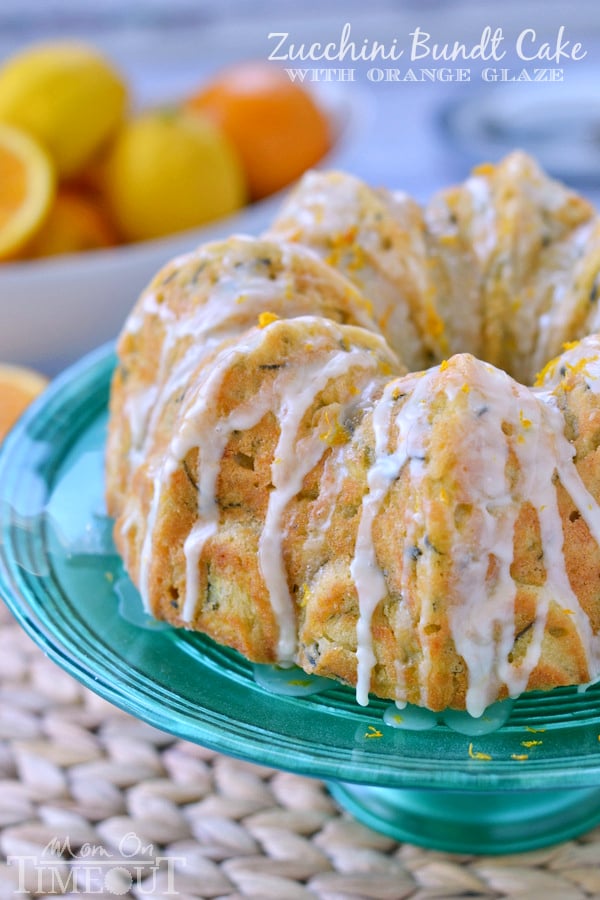 This perfectly moist Zucchini Bundt Cake with Orange Glaze will make a beautiful addition to any meal!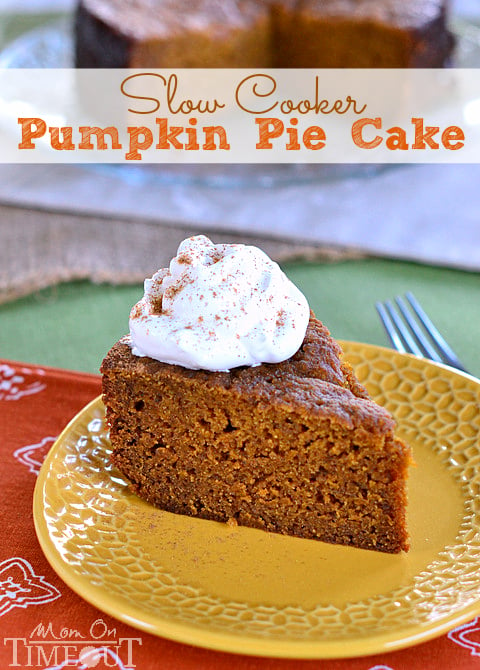 This Slow Cooker Pumpkin Pie Cake is sure to quickly become a family favorite. Moist, delicious and so wonderfully easy to prepare!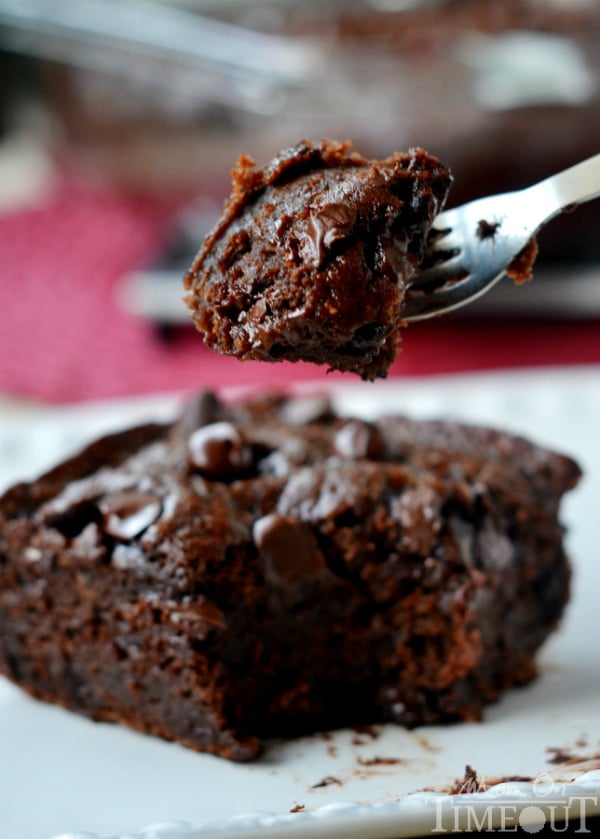 This one-bowl Chocolate Banana Applesauce Cake is made without oil or butter and is perfect for snacking! Beautifully moist and perfectly decadent, you won't even miss the frosting!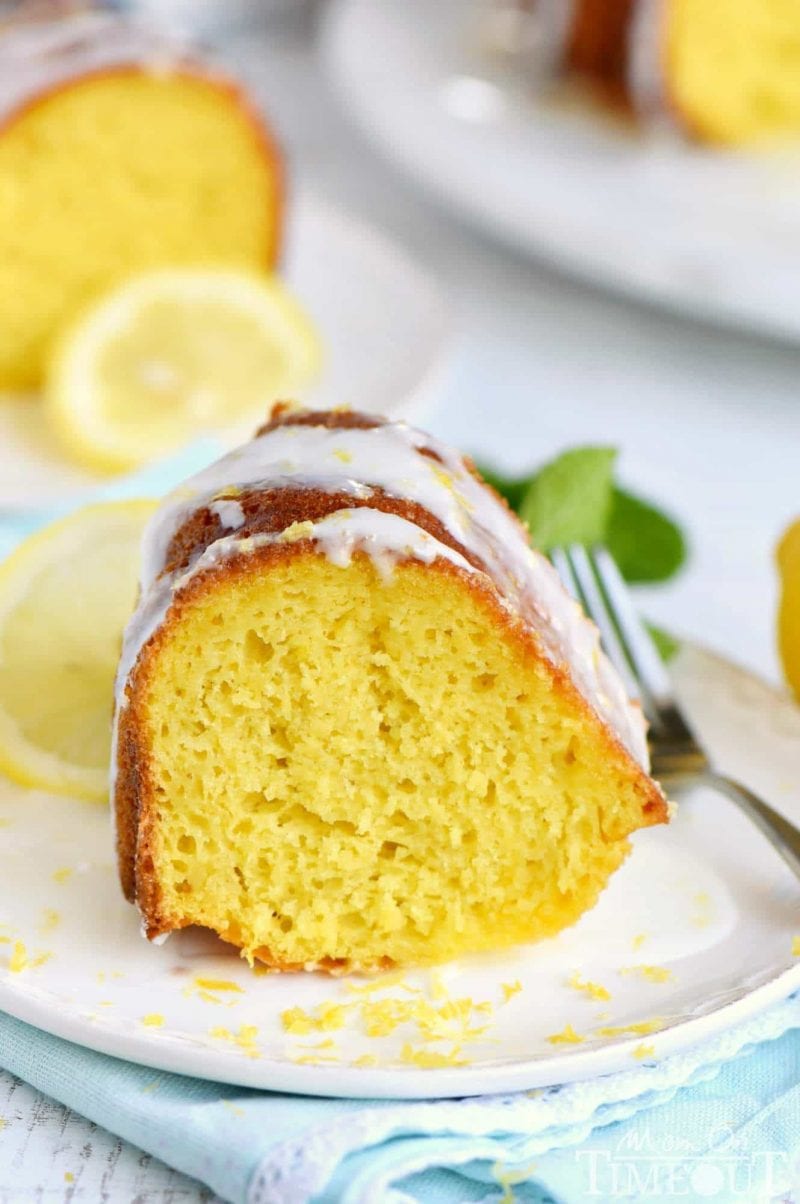 Looking for an easy lemon dessert recipe that is going to WOW your friends and family? This Easy Lemon Bundt Cake is the answer! A breeze to make and loaded with bright lemon flavor, this easy cake recipe is also figure-friendly which makes it perfect for summer!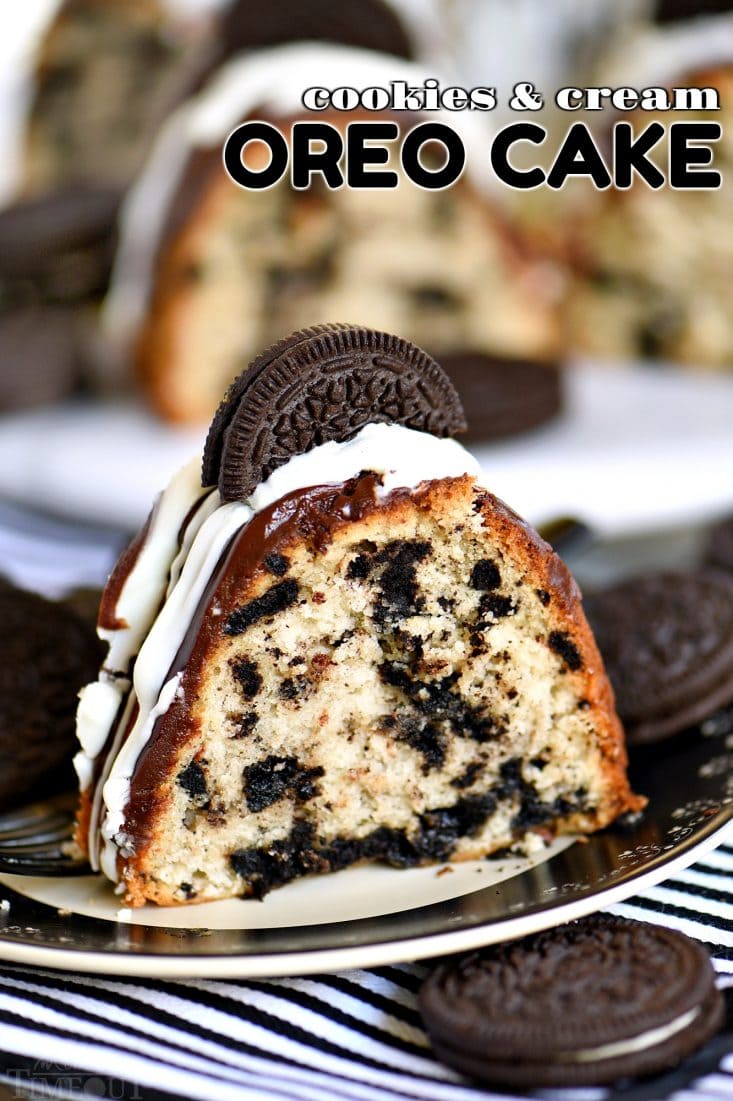 This easy Cookies and Cream OREO Cake is sure to delight the entire family! Extra delicious and wonderfully easy, this showstopper of a cake will be a welcome addition to any gathering!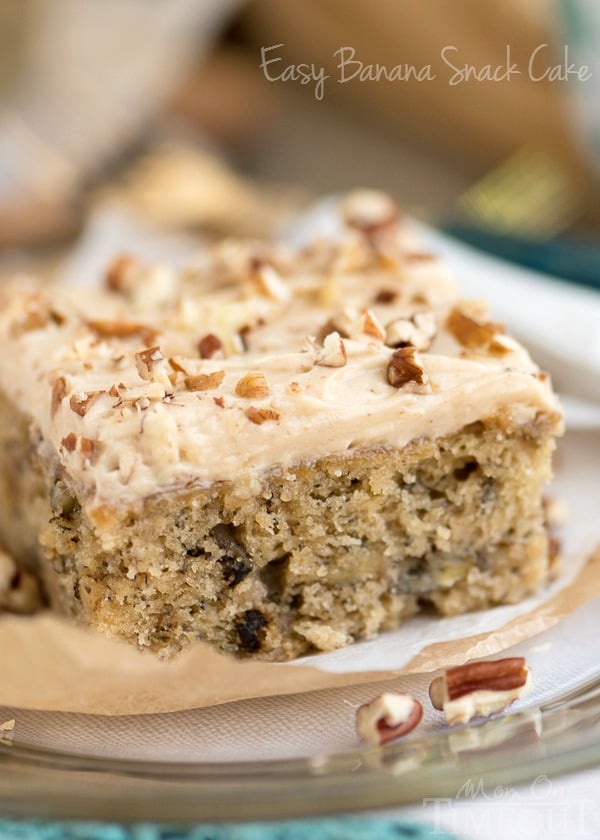 Easy Banana Snack Cake with Brown Butter Maple Cream Cheese Frosting – just the recipe you were looking for to use up those ripe bananas!
This Slow Cooker Carrot Cake with Cream Cheese Frosting is going to change your life! Free up the oven and get the moistest carrot cake you've ever had – right from your slow cooker! Made without oil or butter and loaded with coconut, pineapple and pecans!