This Practically Perfect Pineapple Cake is loaded with pineapple flavor! Made without butter or oil, it's incredibly moist and topped with a delicious pineapple fluff frosting!
Let's be friends! Sign up to get my new recipes in your inbox! Follow me on Facebook and Instagram too!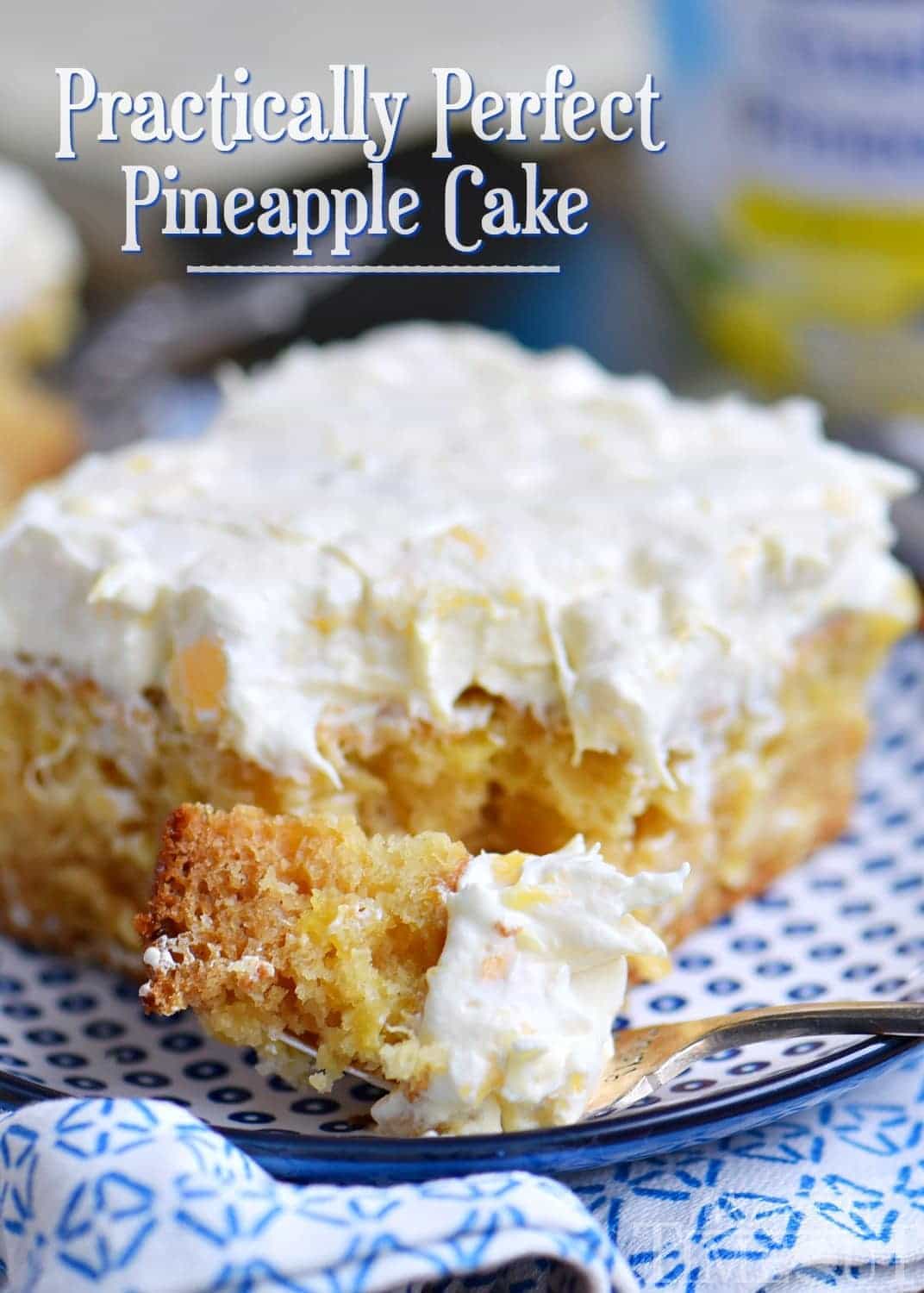 California is officially out of a drought. I can confirm that personally. The rain has been quite literally non-stop for daaaaayz. Where is the California sunshine we're so well known for?? I don't know, but, what I do know is that, despite the clouds and near-constant rain, I am starting to get the spring-time itch.
Me and my pluerry (plum + cherry = pluerry) tree which is budding right now…..??? I seriously don't get that, but, whatever. Ha! Spring will come!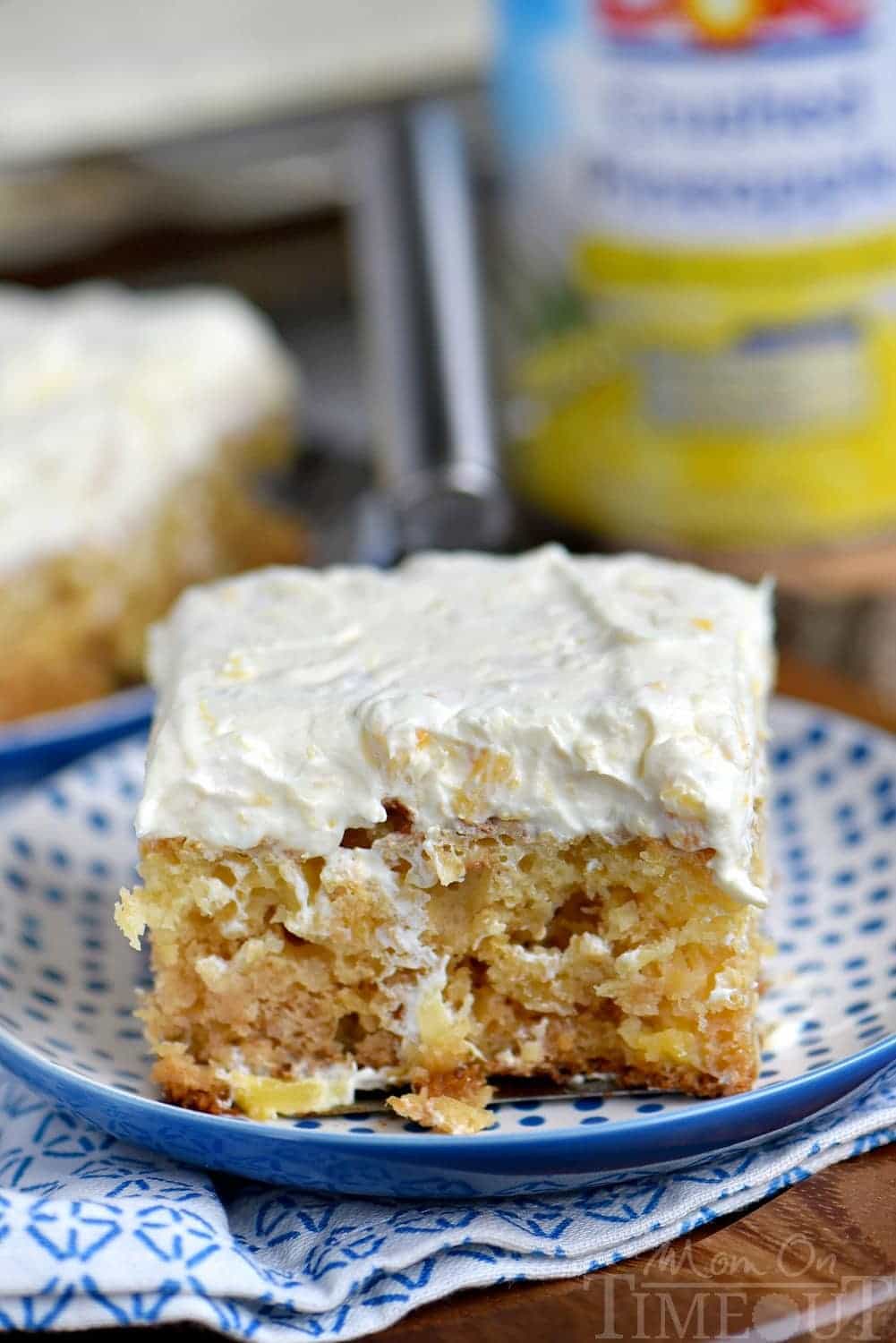 I'm making spring happen in my kitchen. Today, I've got a delightful cake recipe for you that is guaranteed to make you think of spring and summer. Lots and lots of Dole pineapple will do that to ya! It reminds me a little of an upside down pineapple cake but lots easier.
I used Dole crushed pineapple in 100% juice. Dole has been a trusted brand that my family has used for as long as I can remember. I totally rely on Dole to feed my family healthy, wholesome fruits and veggies year-round, regardless of the season. See, this cake can be spectacular even in the dead of winter! Which, in California, is a lot like spring for many of you 🙂
I love that this recipe uses both the juice and pineapple from the can – nothing goes to waste! And knowing that Dole packaged foods are made with the highest quality, non-GMO fruits and vegetables and packaged with care makes me a happy lady.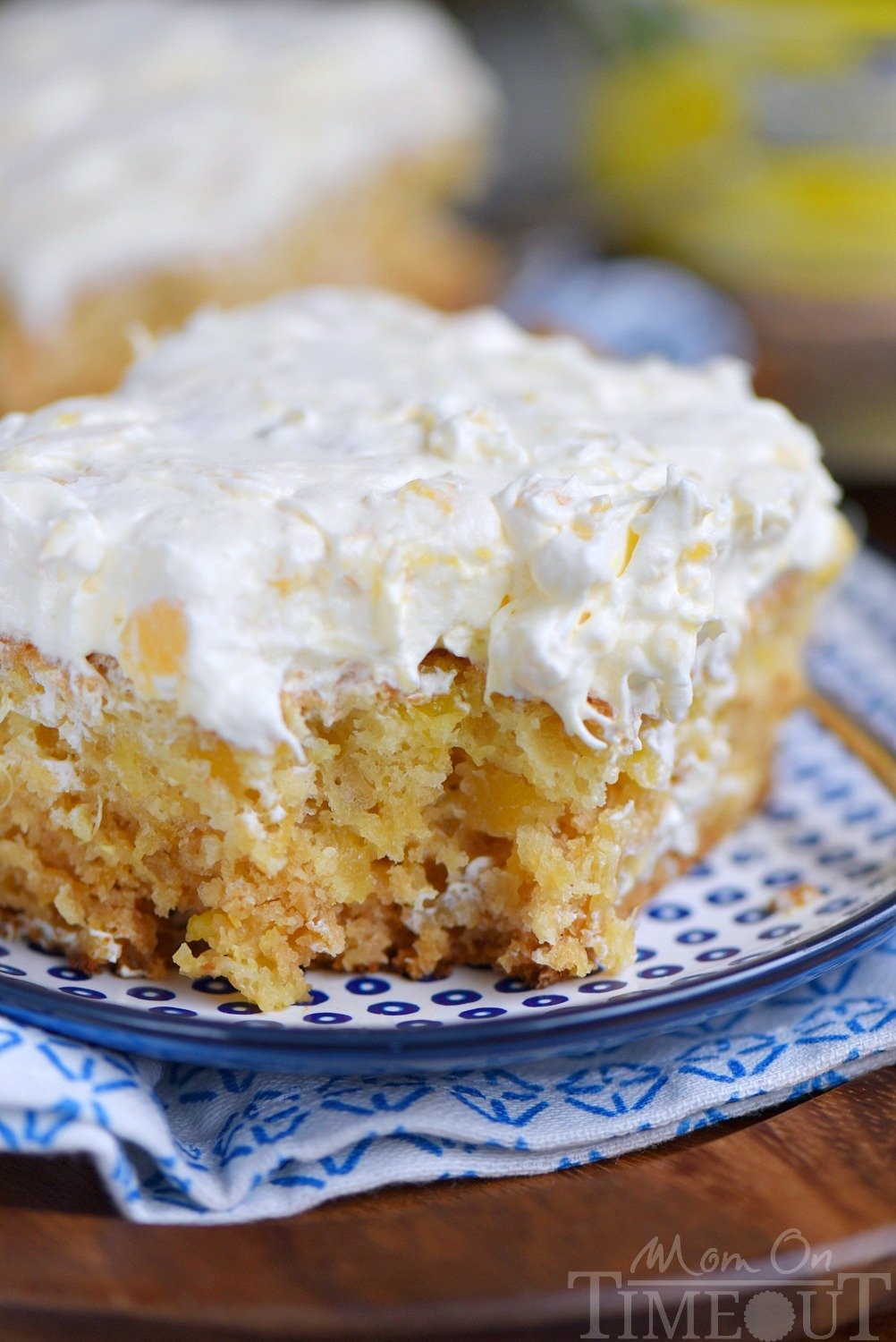 This cake is extra easy so you've got absolutely no excuse not to make it. It really would be perfect for Easter!
I made this a sheet cake because layers are way too much work when you want to be outside playing. You're going to be amazed with how moist the cake is, even more so because there is no oil or butter in this cake – none!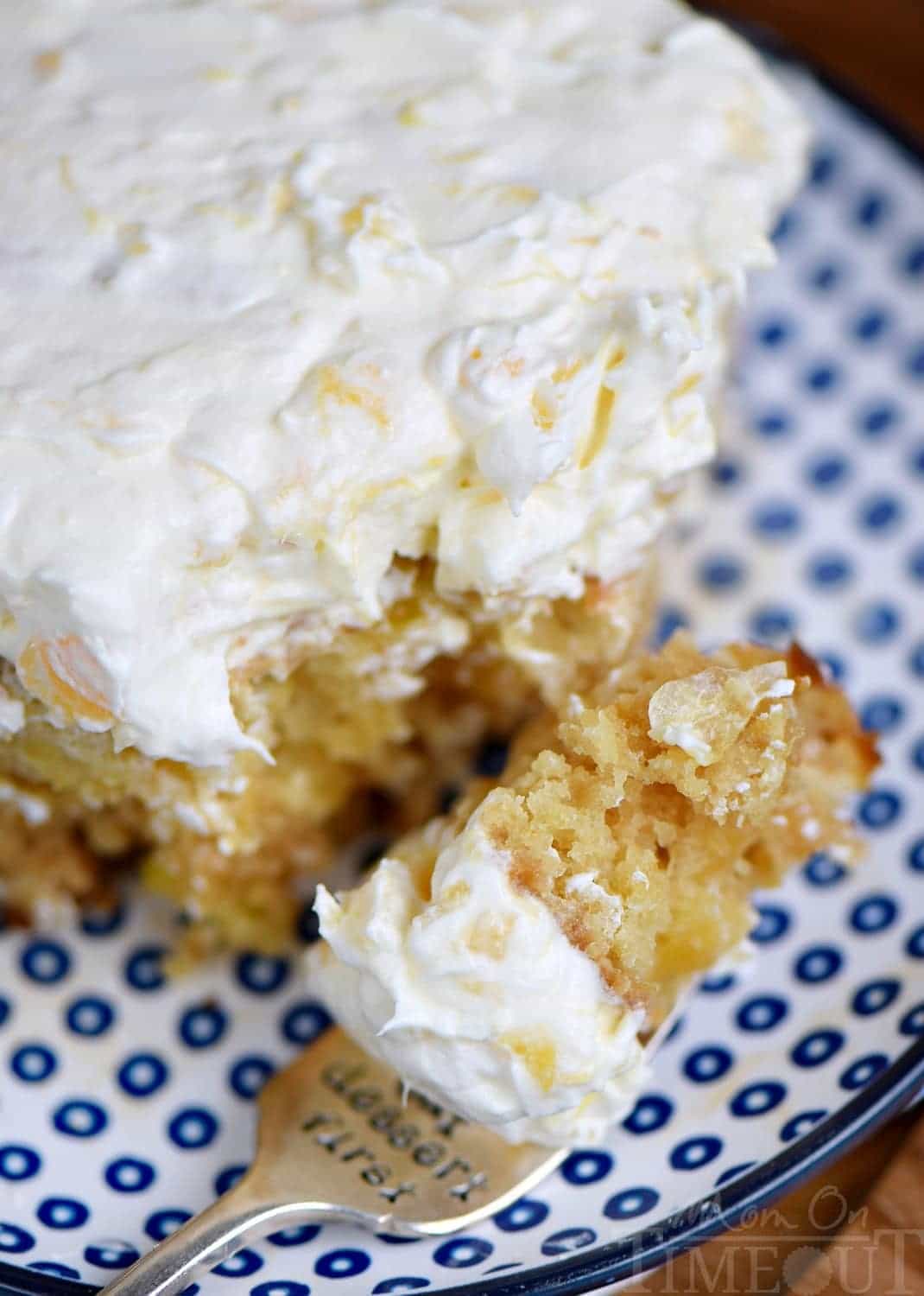 I frosted it with even more pineapple, because, well, duh. That's what we do when we're making a Practically Perfect Pineapple Cake, am I right?
I was torn between a pineapple cream cheese frosting and the easy fluff frosting I used on my Strawberry Pineapple Cake and decided on the fluff frosting – it doesn't even require a mixer, so, well, #winning.
Every bite is swoon-worthy, trust me, I ate my fair share 🙂 Thank goodness for kids and hungry husbands! I do so hope you give this cake a try. I think I'm going to add some coconut into this recipe the next time I make it, I've got a thing for pina colada recipes.
Enjoy!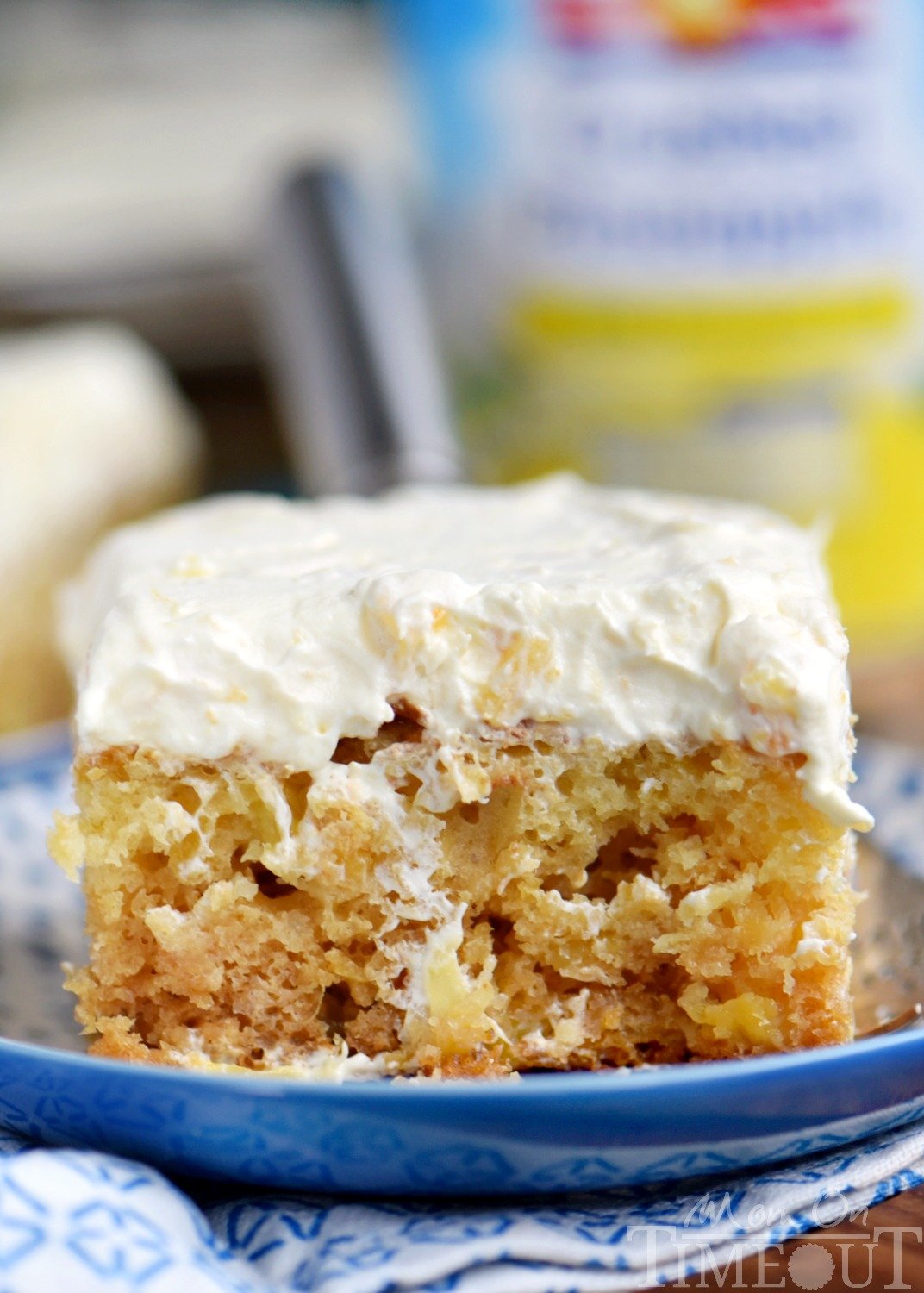 Practically Perfect Pineapple Cake
This Practically Perfect Pineapple Cake is loaded with pineapple flavor! Made without butter or oil, it's incredibly moist and topped with a delicious pineapple fluff frosting!
Author:
Trish - Mom On Timeout
Ingredients
Cake
2¼ cups all-purpose flour
1¼ cup granulated sugar
2 tsp baking soda
1 tsp vanilla extract
1 20 oz can Dole crushed pineapple in 100% juice (do not drain)
2 eggs
Frosting
1 3.5 oz package vanilla instant pudding mix
1 20 oz can crushed pineapple (do not drain)
12 oz Cool Whip or 1 cup heavy whipped cream, whipped
Instructions
Cake
Preheat the oven to 350 degrees.
Grease and flour a 9x13 baking dish.
In a large bowl, whisk together flour, sugar, and baking soda.
Mix in vanilla extract, crushed pineapple, and eggs until combined.
Pour into prepared baking dish and bake for 25 to 30 minutes or until an inserted toothpick comes out clean.
Let cool completely.
Fluff Frosting
Whisk pineapple and pudding mix together until combined.
Gently fold in the Cool Whip or whipped cream until incorporated.
Spread on cooled cake.
Refrigerate for at least 30 minutes before serving.

Cake time!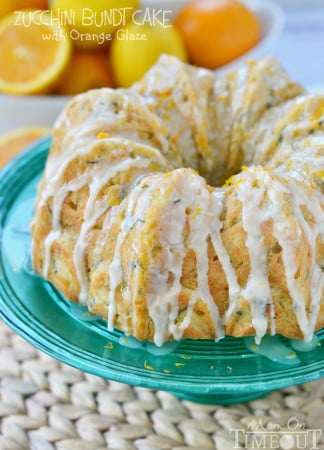 Zucchini Bundt Cake with Orange Glaze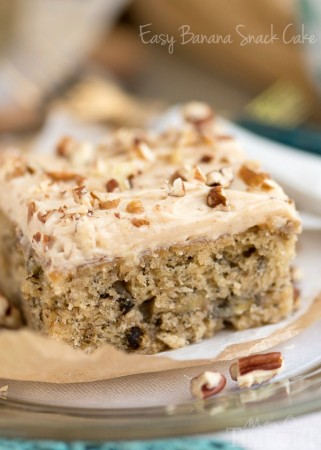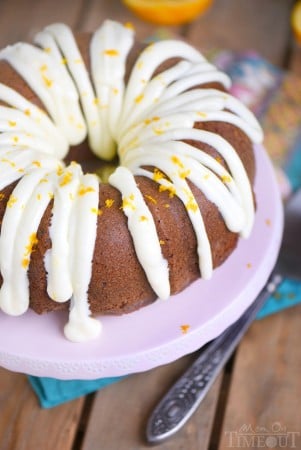 No Bake Banana Cream Pudding Cheesecake

For all appetizer recipes, go HERE.
For all dessert recipes, go HERE.
Sign up to get emails when I post new recipes!
For even more great ideas follow me on Facebook – Pinterest – Instagram – Twitter – Bloglovin'.
Have a great day!
Disclosure: Dole has provided me with the products used within this project. I was compensated for this blog post. Thank you for supporting the brands that make Mom On Timeout possible!