This Slow Cooker Pumpkin Pie Cake is sure to quickly become a family favorite. Moist, delicious and so wonderfully easy to prepare!
Let's be friends! Sign up to get my new recipes in your inbox! Follow me on Facebook and Instagram too!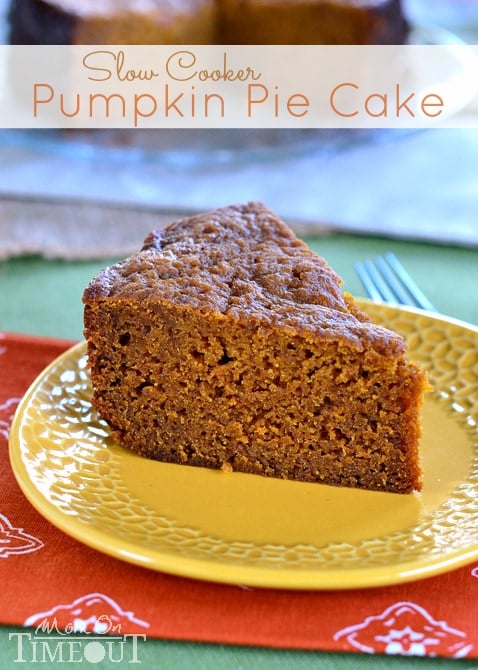 I'm back with yet another pumpkin recipe! You're not sick of them yet right? I sure hope not 🙂  I am SO excited to share this recipe with you because it is an absolute lifesaver for the holidays! A couple weeks back I shared my Slow Cooker Sante Fe Meatloaf. I showed you how to make a collar and sling for your slow cooker to make cooking things like cake and meatloaf  possible in the slow cooker.
Quick review:
The collar helps distribute heat from the back of your slow cooker (most often the hottest point) to avoid burning. The sling allows you to lift out casseroles, cakes, and other "solid" items in one step, keeping them whole. (See this post for more details.)
People! I have never in my life had a cake as moist as this one. Cooking it in the slow cooker is almost like it's being steamed. The cake comes out so beautiful – you'd never guess it was made in a slow cooker! One piece of advice, when you remove the lid – do it quickly! You don't want the condensation from the lid dropping onto your cake 🙂
The simplest way to serve it is with a dollop of whipped cream or Cool Whip and a sprinkle of pumpkin pie spice or cinnamon. This cake would also be fabulous with some vanilla ice cream – yum! This cake takes approximately three hours in the slow cooker. Check it around two hours to see how it's doing. If it's looking a little dark around the edges, and the cake is already set up, you can use the sling to "rotate" the cake inside the slow cooker. Put the lid back on and let it roll.
If it's looking like it's cooking evenly- just leave it alone and thank your lucky stars you have a good slow cooker 😉  I totally forgot that one of my slow cookers is crappy and cooks mega-unevenly and of course that was the one I chose to make the cake in. You can see how perfect it turned out though – it just needed a little mid-cooking adjustment 😉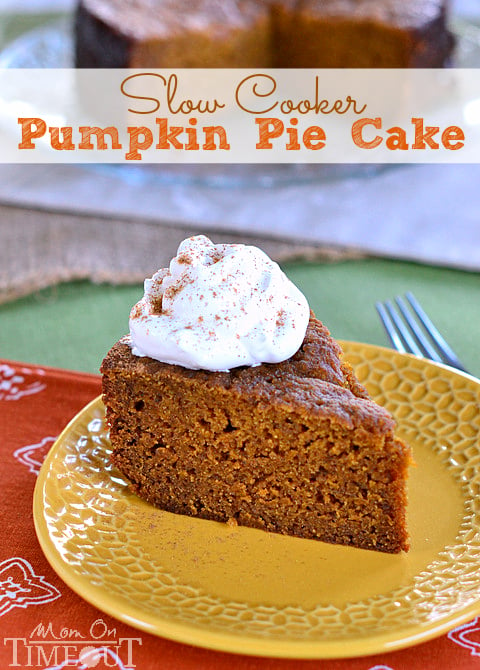 This cake is so perfect for those days when all the burners are on and the oven is packed with other goodness – it also makes the house smell amazing!
Slow Cooker Pumpkin Pie Cake
This Slow Cooker Pumpkin Pie Cake is sure to quickly become a family favorite. Moist, delicious and so wonderfully easy to prepare - straight from your slow cooker!
Ingredients
1/2

cup

unsalted butter

softened

2

cups

brown sugar

packed

3

eggs

room temperature

15

oz

pure pumpkin

not pumpkin pie filling Make your own!

1 1/2

cups

all-purpose flour

1 1/2

tsp

baking powder

1 1/2

tsp

baking soda

1/2

tsp

ground cinnamon

1/2

tsp

pumpkin pie spice

1/8

tsp

ground cloves

1/2

tsp

salt
Instructions
Line slow cooker with foil collar and sling. Spray with cooking spray.

Cream together brown sugar and butter.

Beat in eggs one at a time until thoroughly combined.

Beat in pumpkin.

Combine flour, baking powder, baking soda, spices, and salt.

Gradually stir in flour mixture.

Pour into prepared slow cooker.

Cover and cook on high for 3 hours or until a toothpick inserted into the center comes out clean.

Check at 2 hours and rotate if necessary.

Use the sling to lift cake from the slow cooker and let cool for 15 minutes before serving.

Top with whipped cream or serve with ice cream.
Nutrition
Calories:
293
kcal
|
Carbohydrates:
51
g
|
Protein:
4
g
|
Fat:
9
g
|
Saturated Fat:
5
g
|
Cholesterol:
61
mg
|
Sodium:
284
mg
|
Potassium:
217
mg
|
Fiber:
2
g
|
Sugar:
37
g
|
Vitamin A:
5811
IU
|
Vitamin C:
1
mg
|
Calcium:
79
mg
|
Iron:
2
mg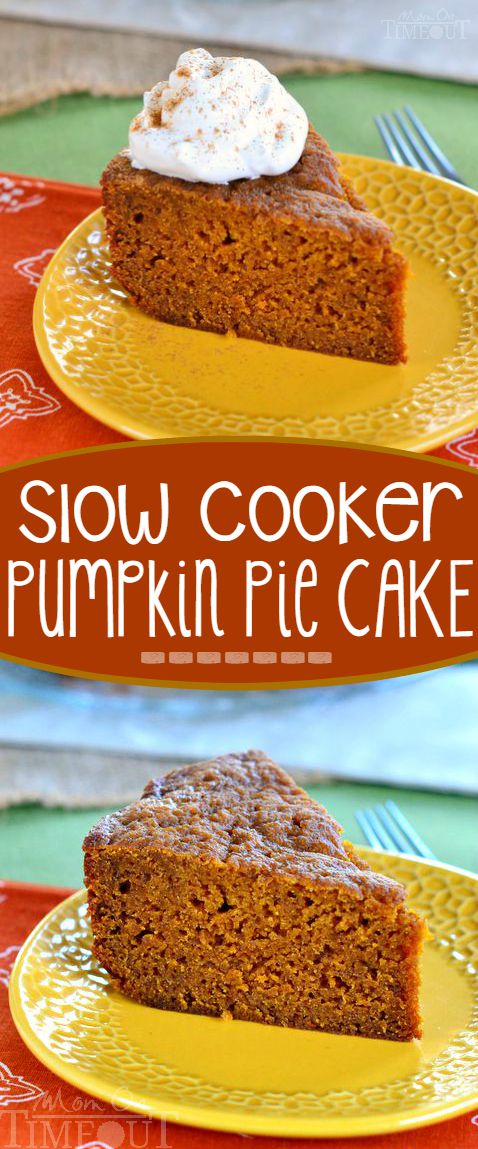 Tips:
Keep the foil sling as smooth as possible for a "perfect" looking cake.
Use 2-4 pieces of foil to create a sling that covers the entire bottom surface of your slow cooker.
Check the cake at 2 hours to make sure it is cooking evenly.
Let the cake rest.
Pumpkin awesomeness from friends:
Pumpkin Oreo Muddy Buddies from Something Swanky
Pumpkin Caramel Bars from The Plaid and Paisley Kitchen
Pumpkin Apple Cider Doughnuts from Heather's French Press
More pumpkin favorites: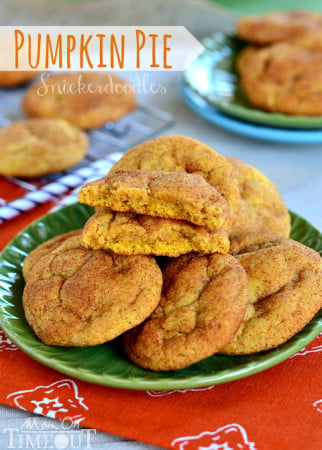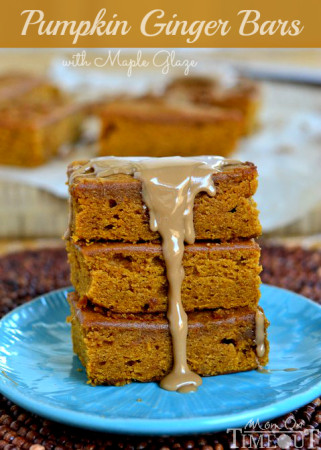 Pumpkin Ginger Bars with Maple Glaze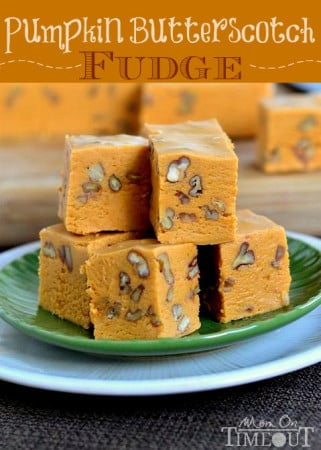 For all cookie recipes, go HERE.
For all dessert recipes, go HERE.
Sign up to get emails when I post new recipes!
For even more great ideas follow me on Facebook – Pinterest – Instagram – Twitter – Bloglovin'.
Have a great day!