Take the stress out of dinner time with these Slow Cooker Philly Cheesesteaks!  A delicious meal that is so easy to make any night of the week!
Let's be friends! Sign up to get my new recipes in your inbox! Follow me on Facebook too!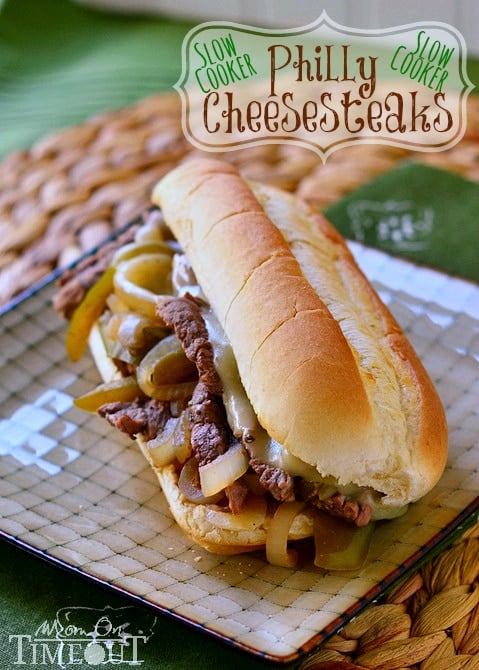 I've always been a HUGE fan of Philly Cheesesteaks.  Cheese, steak, peppers and onions – what's not to love???   We have ONE restaurant here in the Sacramento area that serves amazing Philly Cheesesteaks and I wish it was just a little bit closer to us…like, a block away would be perfect 🙂
I don't get by there nearly as often as I'd like to so sometimes it's necessary to make Slow Cooker Philly Cheesesteaks at home.  This recipe is a great for weeknights and couldn't be simpler to prepare.  You know me – I love my slow cooker recipes 🙂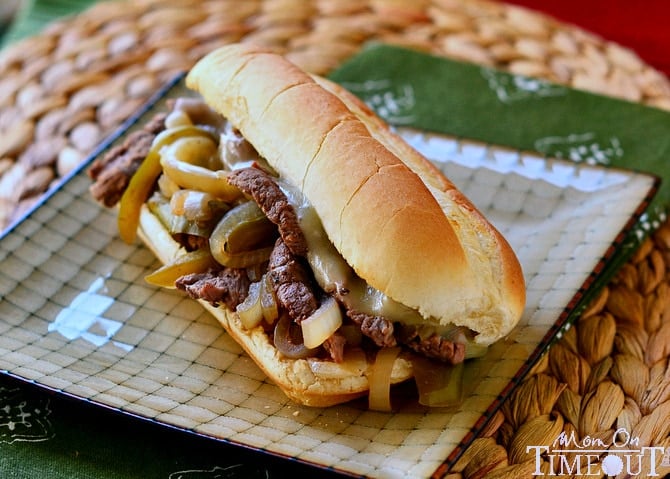 My boys are a tad particular when it comes to steak.  Unless the meat is super tender – they refuse to eat it.  Cooking the steak in the slow cooker is a great way to ensure optimal tenderness.  I can even use less expensive cuts that still result in Reece-approved tenderness.  The meat is just braising away in the broth, getting more flavorful by the minute!
I LOVE recipes that require only a few ingredients and this one fits the bill.  Serving up these Philly Cheesesteaks with some homemade french fries and a green salad makes the whole family feel like we're eating out but from the convenience of our home.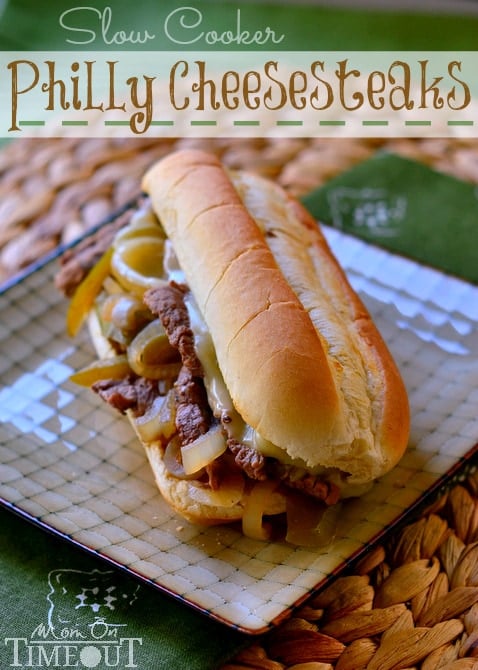 What are your favorite recipes to make in the slow cooker?  Do you find yourself using it more as the weather cools?  As I'm writing this I've got two slow cookers going  – one with chili and one with cornbread – so I guess I'm using mine A LOT right now!
Slow Cooker Philly Cheesesteaks
Author:
Trish - Mom On Timeout
Ingredients
1.5 to 2 lbs round steak, thinly sliced (the more thinly they are sliced, the less cooking time is required)
½ tsp pepper
½ tsp garlic powder
1 onion, sliced
1 bell pepper, sliced
32 oz low-sodium beef broth
6 French rolls
12 slices of Provolone, American, or other cheese
Instructions
Rub the steak with pepper and garlic powder. Place in the slow cooker.
Add onion, bell pepper and beef broth.
Stir to mix.
Cook on low for 5-7 hours or until meat is tender.
Preheat oven to 350F.
Toast open rolls for several minutes until slightly crusty.
Lay a piece of cheese on both sides of the roll.
Use tongs to remove meat, onions and bell pepper from slow cooker (letting juices drip off) and pile on top of rolls.
Return to the oven to melt cheese.
Serve hot!
 More slow cooker recipes we love: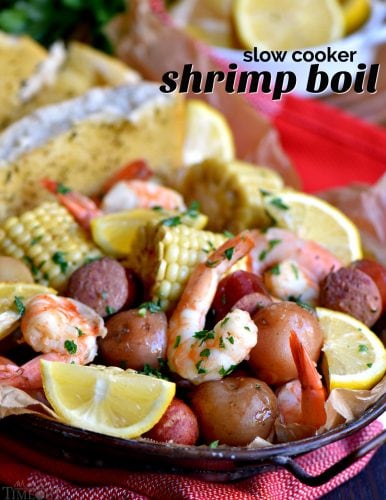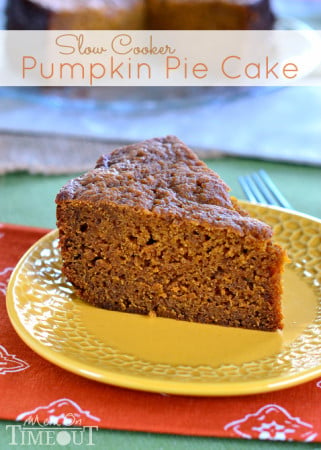 Apricot-Orange Slow Cooker Chicken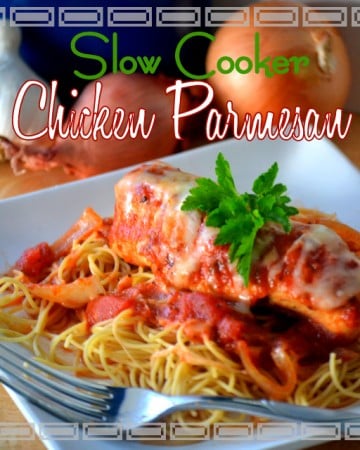 For all dinner recipes, go HERE.
For all dessert recipes, go HERE.
Sign up to get emails when I post new recipes!
For even more great ideas follow me on Facebook – Pinterest – Instagram – Twitter – Bloglovin'.
Have a great day!