This Slow Cooker Sante Fe Meatloaf recipe is a fantastic way to get a delicious meal on the table without all the stress!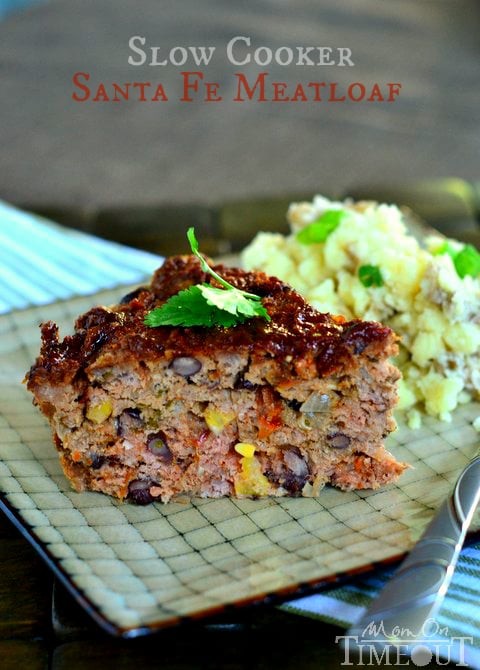 Last week I shared my Slow Cooker Garlic Buttermilk Mashed Potatoes recipe with you and it's kind of like my favorite way to make potatoes 🙂  Today I wanted to share another slow cooker recipe that goes perfectly with those potatoes – Slow Cooker Santa Fe Meatloaf. Meatloaf and potatoes is kind of like peanut butter and chocolate – they were MADE for each other.
I think I've mentioned once or twice how much our family relies on slow cooker meals year round. Whether it's swimming or soccer practice, it's awfully nice to have dinner ready when we get home and I'm already totally exhausted and not really interested in preparing a hot, fabulous meal for my family.
I have several slow cookers (okay, maybe 5…) and I use all of them! They are great for holidays and parties and nights like these when I want to make both the side and the main dish in advance. There is definitely a technique to making meatloafs in the slow cooker but it's really very simple!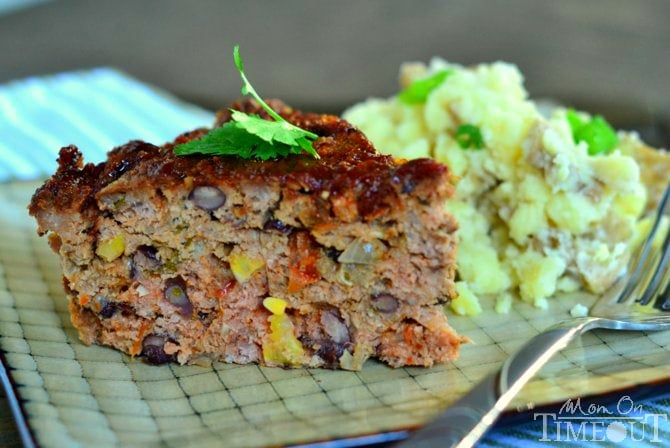 The first thing you should know is that all slow cookers (at least every.single.one I have) cooks unevenly. They are usually hottest in the back. This really doesn't ever matter unless you are trying to make a meatloaf, casserole, lasagna or a similar dish in your slow cooker.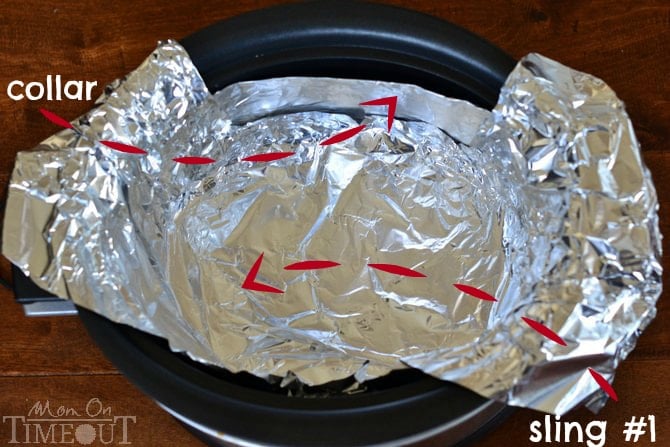 It's really easy to rectify the situation, all you need is to place a foil collar (folded piece of foil) along the back of your slow cooker. This helps distribute the heat and keeps your meatloaf from burning. You can also see the first step to the sling that you will create with foil so that you can easily lift your meatloaf out. It also is a great way to keep the juices in the slow cooker and not with your meatloaf when you're ready to eat.
Because my directions are so masterfully unclear, I created this handy dandy illustration in the upper right hand corner. Please tell me this isn't more confusing!! Basically you're laying down a piece of foil perpendicular to each other making sure there is enough foil that it hangs over the edges of the slow cooker. These will be your handles later.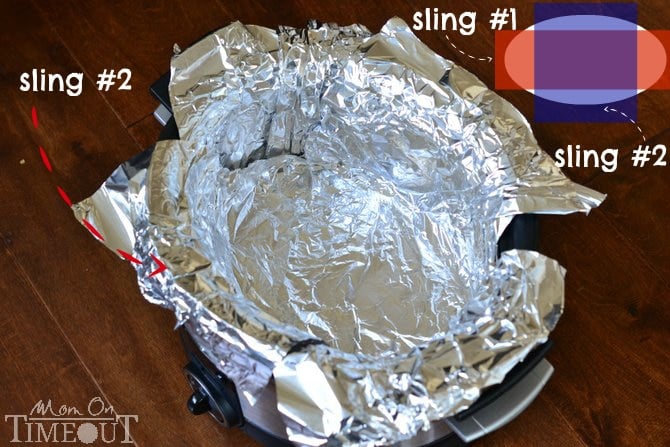 Then all you have to do it put it all together and voila! I love all the colors in this meatloaf from the corn, black beans, cilantro green chiles, and red bell pepper – YUM!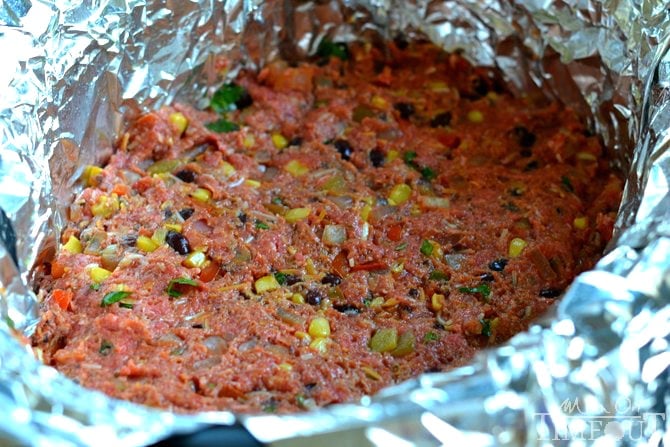 Slow Cooker Sante Fe Meatloaf
This Slow Cooker Sante Fe Meatloaf recipe is a fantastic way to get a delicious meal on the table without all the stress!


Ingredients
2

tbsp

olive oil

1

cup

onion

diced

1

cup

red bell pepper

diced

5

garlic cloves

minced

1

tbsp

tomato paste

1/2

tsp

cumin

1

tsp

dried oregano

1/2

tbsp

chili powder

15

oz

black beans

1 can - rinsed and drained

3

slices

white

or wheat if that's what you have on hand sandwich bread, torn into small pieces

1/2

cup

milk

2

lbs

lean ground beef

1

cup

Mexican blend shredded cheese

3/4

cup

frozen corn

2

large eggs

lightly beaten

2

oz

diced green chiles

half of 4 oz can

2

tbsp

fresh cilantro

chopped

1

tsp

salt

1/2

tsp

pepper

1/2

cup

barbeque sauce

divided
Instructions
Line slow cooker with foil collar and sling. Spray with cooking spray.

Saute onion and bell pepper in vegetable oil for 3-4 minutes. Add garlic and continue cooking for 1-2 more minutes.

Stir in tomato paste, cumin, oregano and chili powder and continue cooking for 2 minutes more.

Mash bread, beans, and milk together in a large bowl using your hands.

Combine bread mixture and onion mixture with ground beef, cheese, corn, eggs, green chiles, cilantro, salt and pepper using your hands.

Press mixture into an even layer in slow cooker.

Brush with 1/4 cup of barbecue sauce.

Cover and cook on low for 4 hours or until meatloaf is tender and cooked through.

Heat broiler. Transfer meatloaf, using foil sling, to a rimmed baking sheet. Let juices drain into the slow cooker.

Push foil away from meatloaf and brush with remaining 1/4 cup barbeque sauce.

Broil for 3-5 minutes until sauce is bubbling and beginning to caramelize.

Let meatloaf rest for 15 minutes before serving.
Nutrition
Calories:
320
kcal
|
Carbohydrates:
23
g
|
Protein:
28
g
|
Fat:
12
g
|
Saturated Fat:
5
g
|
Cholesterol:
101
mg
|
Sodium:
558
mg
|
Potassium:
668
mg
|
Fiber:
5
g
|
Sugar:
7
g
|
Vitamin A:
795
IU
|
Vitamin C:
23
mg
|
Calcium:
129
mg
|
Iron:
4
mg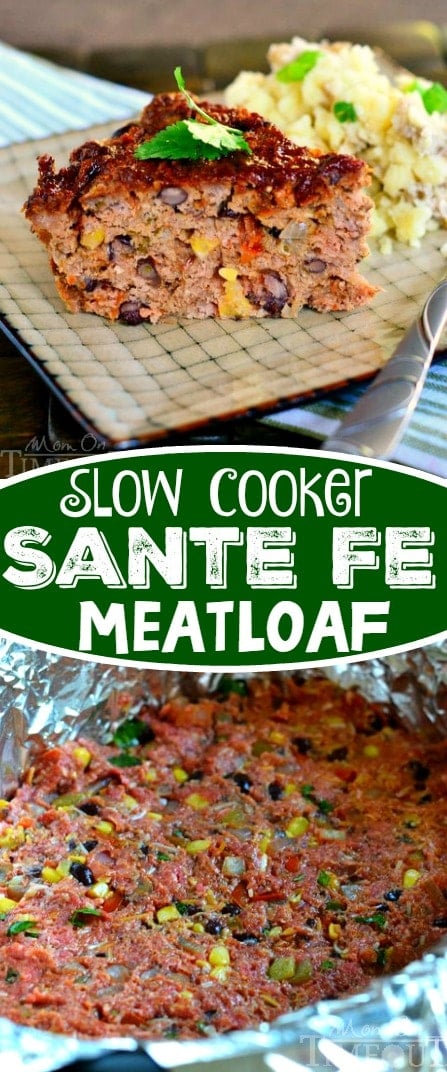 Do you love your slow cooker as much as I do?? Here are more slow cooker recipes we love: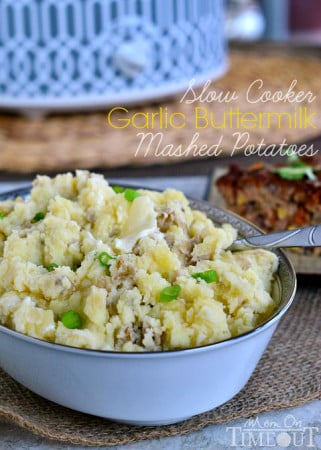 Slow Cooker Garlic Buttermilk Mashed Potatoes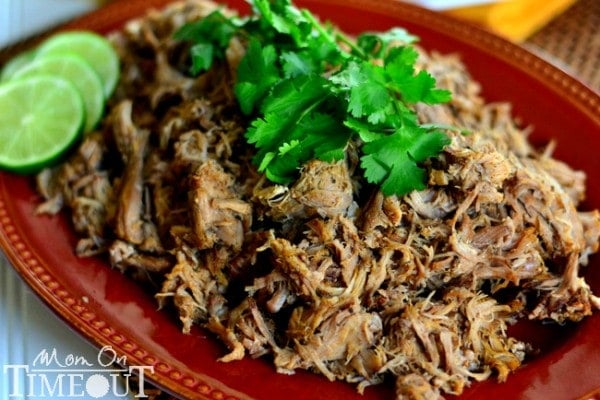 Muy Bueno Slow Cooker Carnitas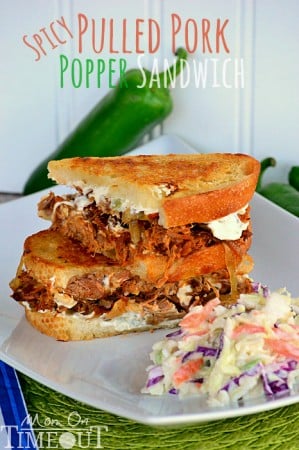 Spicy Pulled Pork Popper Sandwich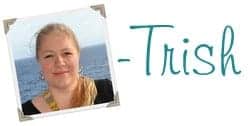 Connect with me!








 Linking up at some of these parties.