Soft, chewy, buttery, and perfectly spiced, these Pumpkin Spice Caramels are impossible to resist. A fabulous addition to your holiday festivities!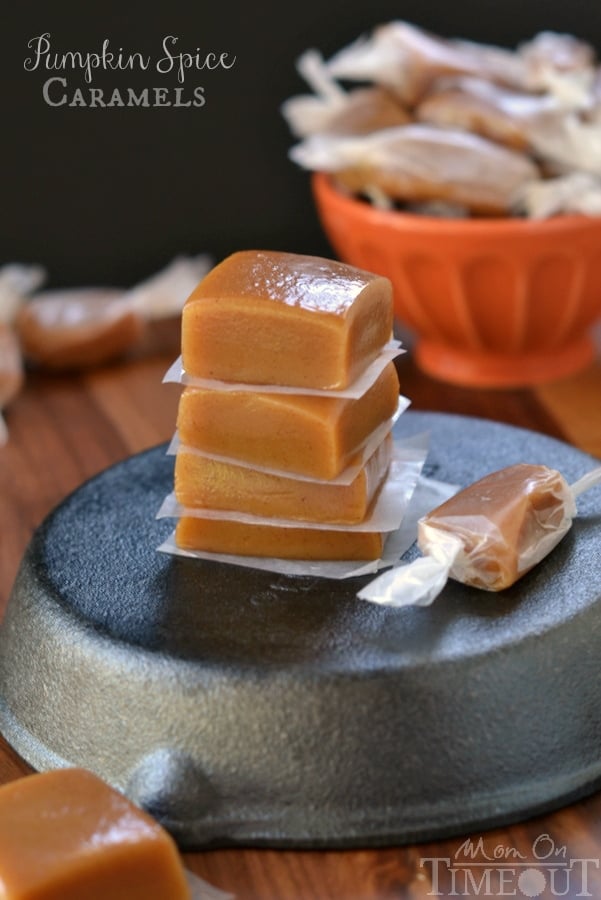 And here I am with another "pumpkin" recipe that doesn't actually contain any pumpkin…#donthateme. Trust me, these caramels will have you thinking "pumpkin pie" anyways. It's kind of funny how recipes that have pumpkin pie spice in them totally make you think of pumpkin – without any pumpkin being used. It's tricky like that.
So you guys may have noticed that the photos look a little different, totally not my style, I get that. I thought I would try something a little different, outside my comfort zone. If you hate them – no problem. Just lie to me in the comments telling me you like it. That works for me. I don't deal with criticism very well.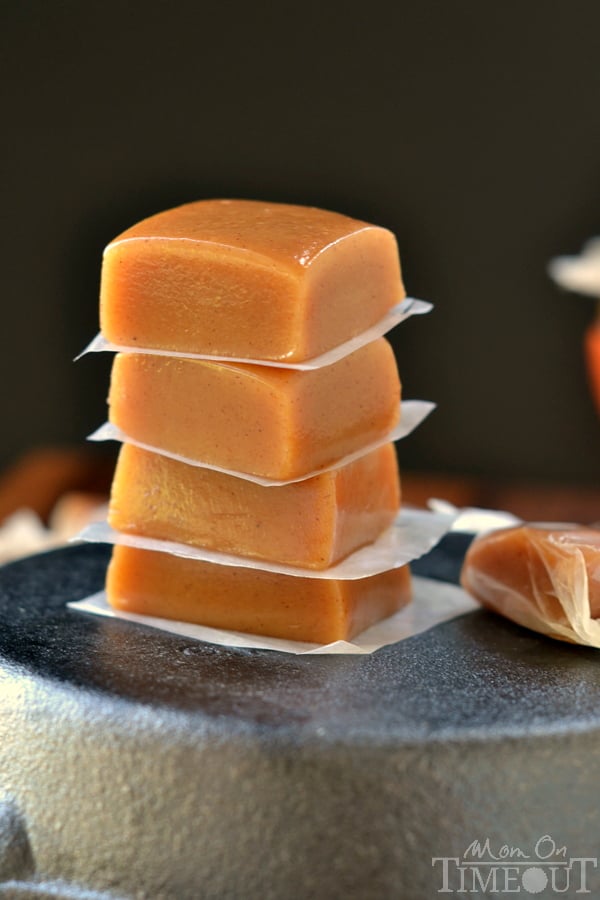 So one of the questions that I think most people have about caramels is – are they hard or soft? And the answer to that question is – it's up to you! It depends on the temperature that you cook them to. I make my caramels soft. I think they taste better, are easier to eat, and definitely easier to wrap up. I like being able to smush them in my fingers and so do the boys.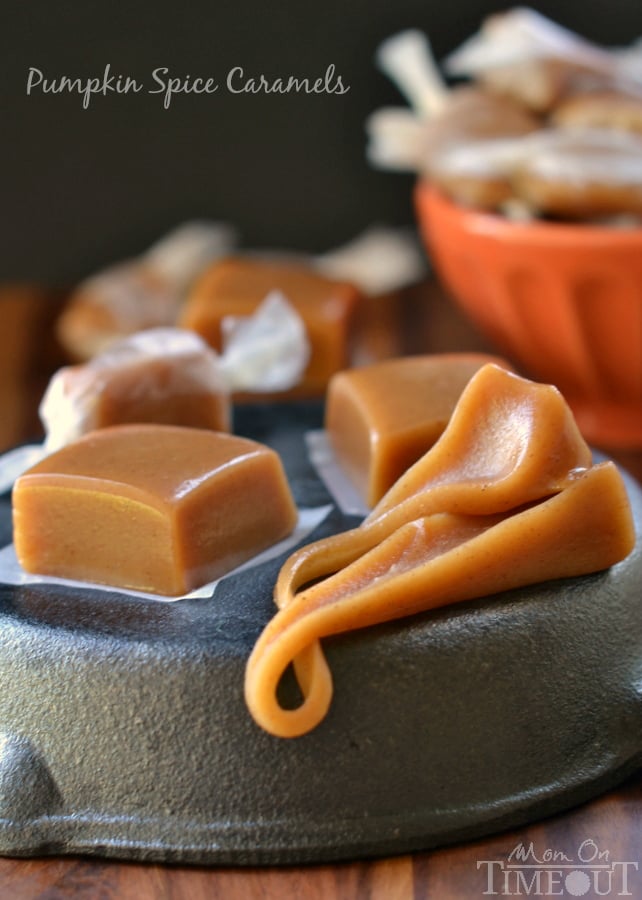 So that may be my favorite shot above. I love how you an see all the spice in the caramels and see how wonderfully soft and gooey the caramels are. Love. These babies just melt in your mouth
One thing to note about these caramels is that it's super important to test your candy thermometer before you get started. You're looking for that magic 248 °F. Make sure you let the caramel rest for at least 12 hours, 24 is even better, before cutting into pieces.
You can cut into squares or logs or whatever shape you desire. Wrap them up in waxed paper and hand out to your friends and family. The good news is that this recipe makes LOTS of caramels so you can make a lot of people very happy.
How To Make Pumpkin Spice Caramels
Pumpkin Spice Caramels
Soft, chewy, buttery, and perfectly spiced, these Pumpkin Spice Caramels are impossible to resist.
Ingredients
8

tablespoons

unsalted butter

2

cups

heavy whipping cream

1

cup

light corn syrup

2

cups

granulated sugar

¾

teaspoon

salt

1

tablespoon

pumpkin pie spice
Instructions
Lightly spray 8x8 baking dish with cooking spray and line with parchment paper. Leave an overhang so you can pull the caramel out easily. Set aside.

Combine first four ingredients in a large heavy bottomed pot. Go bigger than you think you need.

Bring to a boil over medium-high heat, stirring occasionally to dissolve the sugar. It's super important to scrape off all the sugar from the sides of the pot - all of it.

Reduce heat to medium and continue cooking WITHOUT stirring until it reaches 248 °F. This can take anywhere for 20 minutes to an hour, just be patient. (Make sure you check the accuracy of your candy thermometer beforehand.)

Remove from heat and stir in salt and pumpkin pie spice.

Pour mixture into prepared baking dish. Let it rest for 12-24 hours before cutting into pieces.

Wrap caramels in waxed paper to store. Can be stored in the fridge or at room temperature.
Nutrition
Calories:
79
kcal
|
Carbohydrates:
11
g
|
Protein:
1
g
|
Fat:
4
g
|
Saturated Fat:
3
g
|
Cholesterol:
14
mg
|
Sodium:
34
mg
|
Potassium:
7
mg
|
Fiber:
1
g
|
Sugar:
10
g
|
Vitamin A:
156
IU
|
Vitamin C:
1
mg
|
Calcium:
8
mg
|
Iron:
1
mg

More pumpkin treats: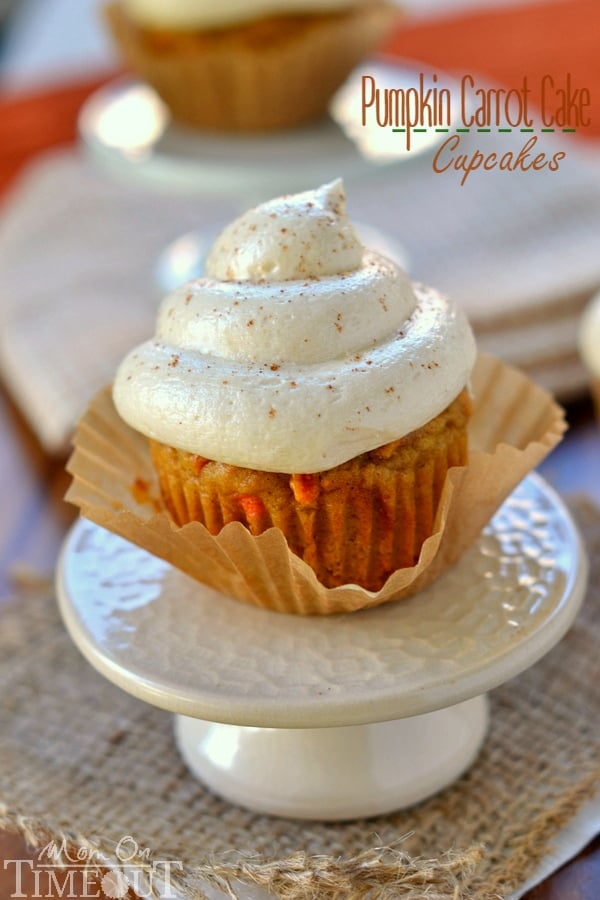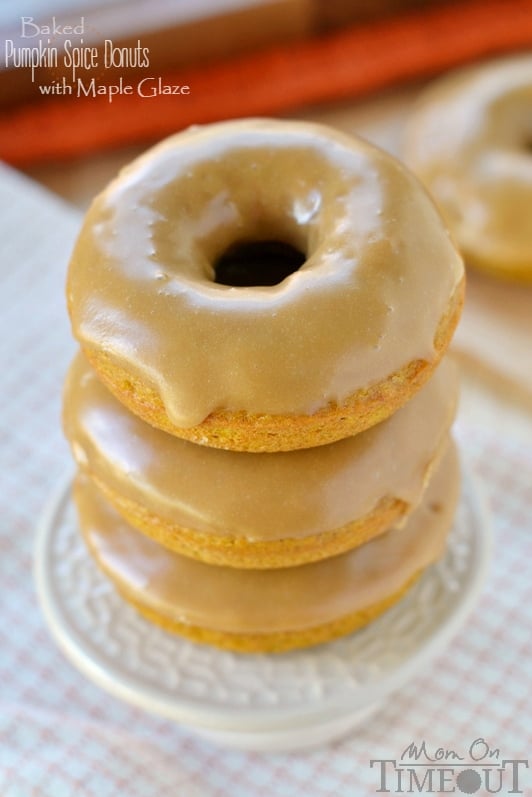 Baked Pumpkin Spice Donuts with Maple Glaze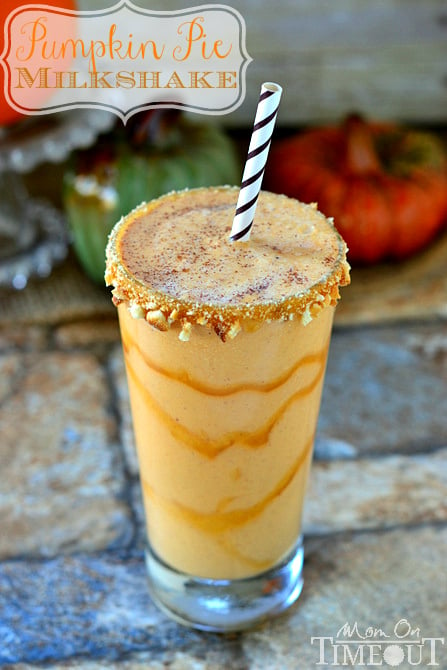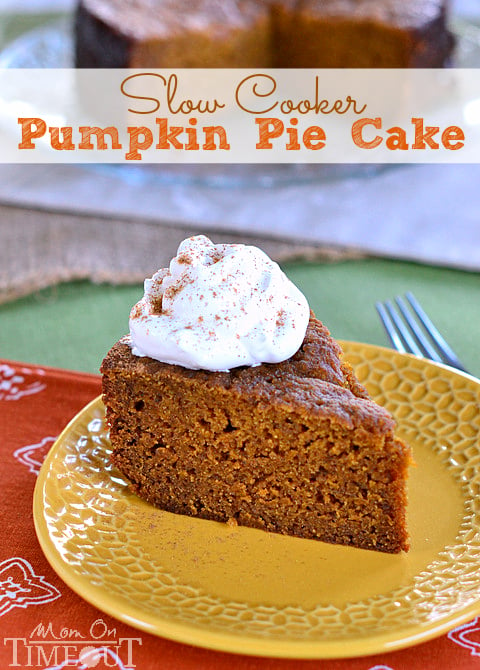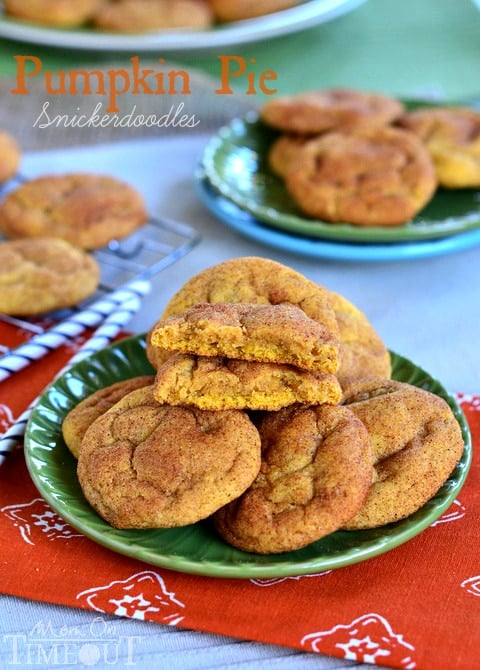 For all pumpkin recipes, go HERE.
For all dessert recipes, go HERE.
Sign up to get emails when I post new recipes!
For even more great ideas follow me on Facebook – Pinterest – Instagram – Twitter – Bloglovin'.
Have a great day!