The incredible flavors of cinnamon, nutmeg, and cardamom spice up this wonderfully creamy and rich white hot chocolate.  There's nothing better than this Slow Cooker Spiced White Hot Chocolate on a cool morning!
Let's be friends! Sign up to get my new recipes in your inbox! Follow me on Facebook and Instagram too!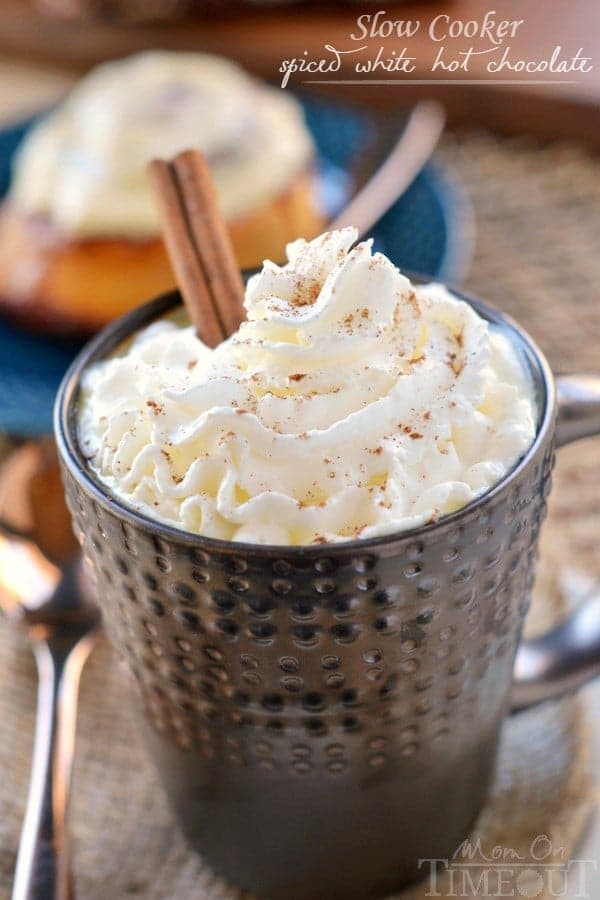 After a crazy week last week, we had an even crazier Saturday. Two soccer games, one home and one away, lots of shopping, house cleaning, and a checklist a mile long.  I rolled into bed just happy to be able to shut my eyes.
Sunday morning dawned and our plans to go to Apple Hill for the day seemed a bit daunting.  All I wanted to do was be lazy and rest – for once! I got up to make the boys some breakfast and was feeling generally uninspired. I was going to suggest cereal when I remembered we had a box of the new Pillsbury Cinnabon Bakery Inspired Cinnamon Rolls – score!
Because the boys weren't quite ready for breakfast I decided to make this meal one of pure indulgence.  And what goes better with ooey-gooey cinnamon rolls than chocolate milk?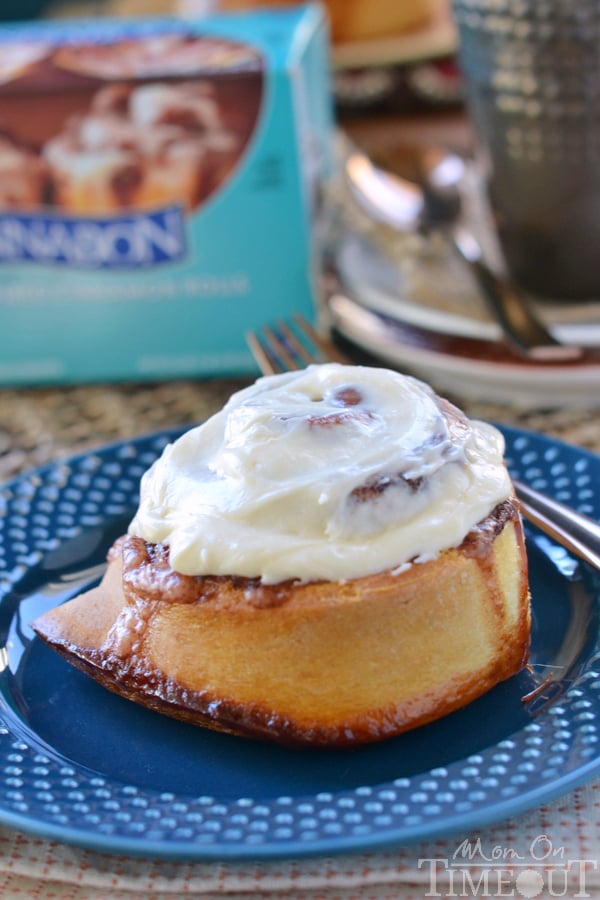 I decided to get a little creative and pulled out the slow cooker.  I wanted some chocolate milk that would go perfectly with the cinnamon rolls and the thought of that thick, rich frosting had me thinking white – white chocolate! White chocolate with spice – cinnamon, of course, and nutmeg and cardamom…. sooo good!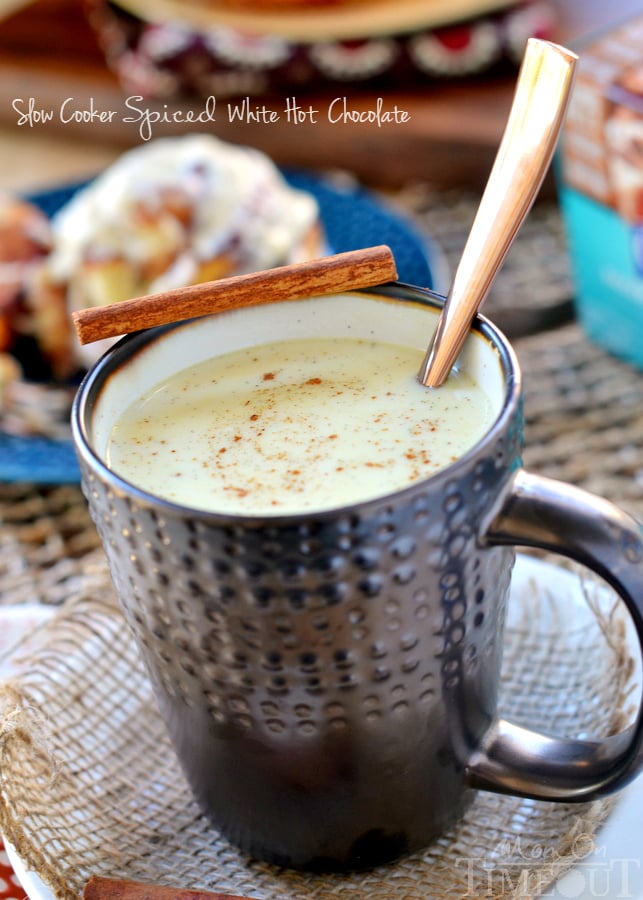 Because the theme of the morning was most definitely indulgence, I made the chocolate milk with the marshmallows already inside.  A tub of marshmallow creme makes this drink so smooth and creamy and utterly amazing! Totally worthy of our indulgent breakfast.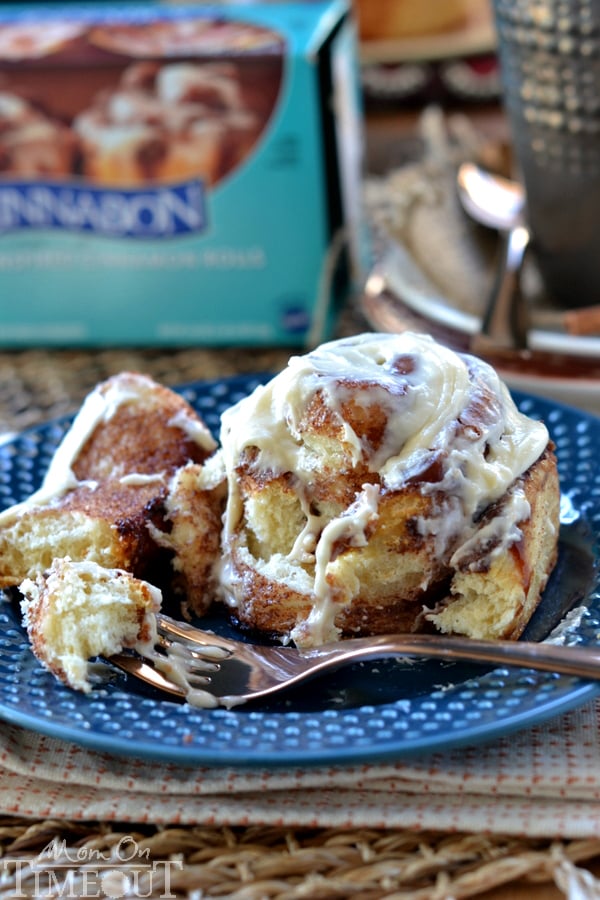 The cinnamon rolls baked up beautifully while the chocolate slowly melted in the slow cooker and by the time everyone was ready to eat, I had the most amazing breakfast ready to go with hardly any effort – exactly what this mama needed.  Jumbo cinnamon rolls topped with the most amazing cinnamon glaze and frosted with extra rich, thick frosting.  I thought the boys would maybe split one of these but no, they devoured one a piece in just minutes.
And that spiced hot white chocolate? Glorious! The perfect match for these amazing cinnamon rolls!
Slow Cooker Spiced White Hot Chocolate
Ingredients
8 oz white chocolate, broken into small pieces
4 cups half and half
2 cups milk
14 oz can sweetened condensed milk
7 oz jar marshmallow creme
4 sticks of cinnamon
1 vanilla bean, split and scraped OR 2 tsp vanilla extract
½ tsp ground cardamom OR 4 cardamom pods
½ tsp ground nutmeg OR 1 whole nutmeg
Instructions
Place all ingredients in a slow cooker and cook on low for 2½ - 3½ hours, stirring occasionally.
Remove cinnamon sticks, pods and nutmeg before serving.


For all cookie recipes, go HERE.
For all dessert recipes, go HERE.
Sign up to get emails when I post new recipes!
For even more great ideas follow me on Facebook – Pinterest – Instagram – Twitter – Bloglovin'.
Have a great day!