An excellent recipe for using up leftover candy and the perfect way to satisfy your sweet tooth –  you simply must try this Peanut Butter Candy Bar Fudge!
Let's be friends! Sign up to get my new recipes in your inbox! Follow me on Facebook and Instagram too!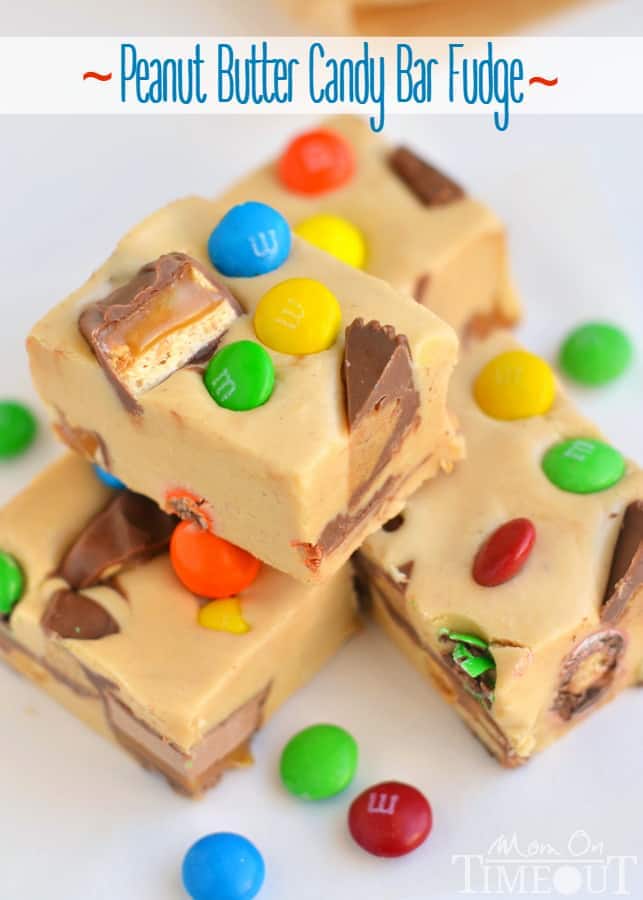 Wondering what to do with all that leftover candy?  My solution: make fudge.

MY LATEST VIDEOS
The boys did quite well on Halloween. That was after our neighbor dropped by with what would be considered a pretty good haul for both of the boys because she was going to her friends house. Snickers, Milky Ways, Reese's, you name it. All the good stuff.
I jokingly snatched the two bags and was like great, these are mine. Then, not so jokingly, made fudge with their candy while they were at school.
Good news – they loved it!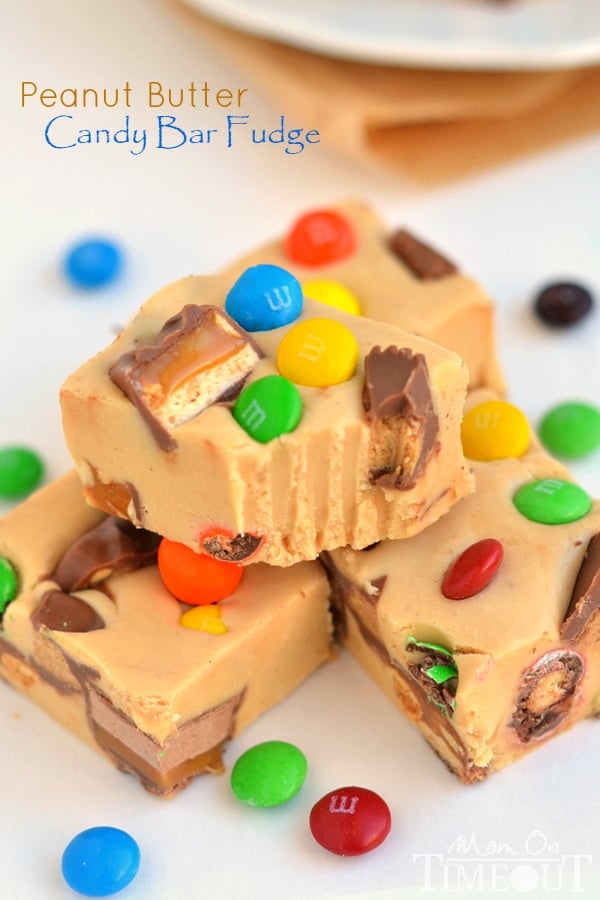 And seriously, how could you not? The peanut butter base to this fudge pairs perfectly with all kinds of candy. I used M&Ms, Peanut M&Ms, Snickers, Reese's, and Milky Ways.
I made the second easiest kind of fudge (the first being sweetened condensed milk + chocolate chips).  I find the marshmallow creme version so much creamier and more candy shop fudge like. In fact, this batch of fudge just made it to number one on my list of favorite fudges.
You would think that this fudge would be overpoweringly sweet but somehow the peanut butter mellows it out quite a bit. Still, a small piece does quite a nice job of satisfying my sweet tooth.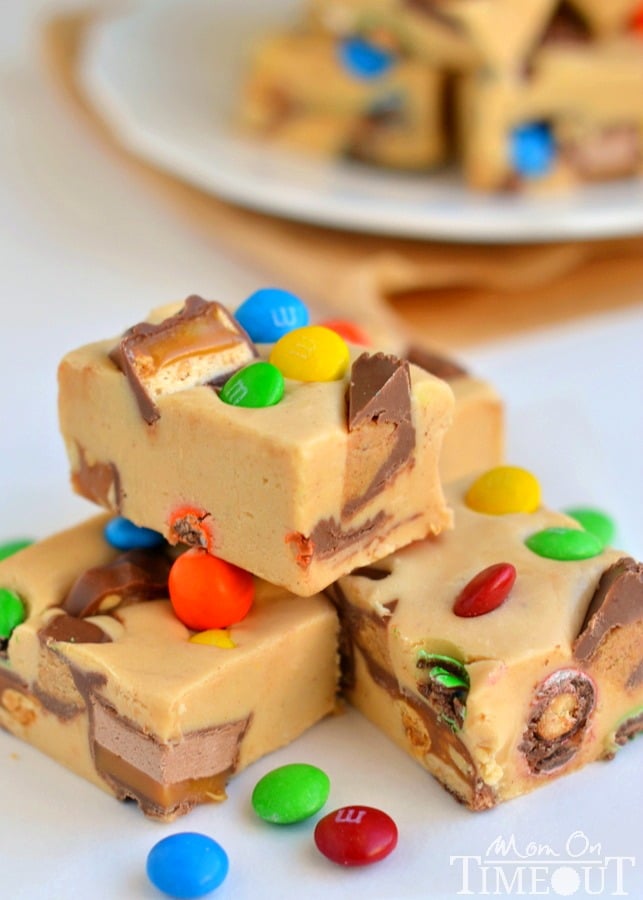 This fudge would be absolutely adorable on your Christmas cookie trays. Just use Christmas colored M&Ms for a festive look!
Peanut Butter Candy Bar Fudge
An excellent recipe for using up leftover candy and the perfect way to satisfy your sweet tooth - you simply must try this easy Peanut Butter Candy Bar Fudge recipe!
Author:
Trish - Mom On Timeout
Ingredients
¾ cup butter
3 cups granulated sugar
⅔ cup evaporated milk
1¾ cups Reese's peanut butter chips, coarsely chopped
7 oz jar marshmallow creme
1 tsp vanilla extract.
2 cups assorted candy, chopped or whole
Instructions
Spray a 9x13 baking dish with cooking spray. Line with parchment paper.
Combine butter, sugar, and evaporated milk in a heavy bottomed saucepan.
Bring to a boil over medium heat, stirring frequently.
Once at a full boil, continue boiling for 5 minutes, stirring continuously.
Remove from heat and stir in peanut butter chips. (I use a whisk to get out all the lumps.)
Stir in marshmallow creme and vanilla extract.
Sprinkle ⅓ of the assorted candies onto the bottom of the baking dish.
Pour half of the hot mixture over the candies.
Sprinkle another third of the candies over the top.
Pour the remaining hot mixture over the top.
Sprinkle the remaining third of the candies over the top of the fudge and let cool at room temperature.
Cut into squares and serve.
Not feeling like fudge? Check out my post on
13 Uses for Leftover Halloween Candy
.

More fudge we love:
White Chocolate Cranberry Fudge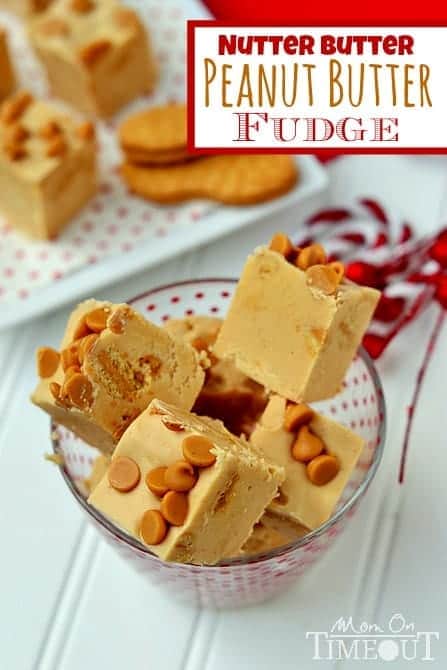 Nutter Butter Peanut Butter Fudge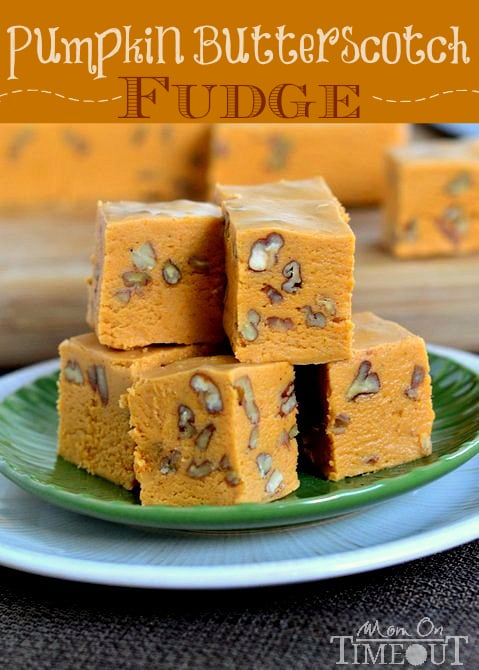 For all dinner recipes, go HERE.
For all dessert recipes, go HERE.
Sign up to get emails when I post new recipes!
For even more great ideas follow me on Facebook – Pinterest – Instagram – Twitter – Bloglovin'.
Have a great day!