Wow your tastebuds with the BEST Peanut Butter Brownies EVER. Made without flour, this easy brownie recipe yields the most decadent, fudgy, rich, and chewy brownies you could ask for. A layer of ganache takes them over the top and ensures victory over the strongest of chocolate cravings. These from-scratch brownies are naturally gluten-free and don't even require a mixer. You're welcome.
Sign up to get my new recipes in your inbox! Follow me on Facebook  and Instagram! 
This recipe is sponsored by Safeway.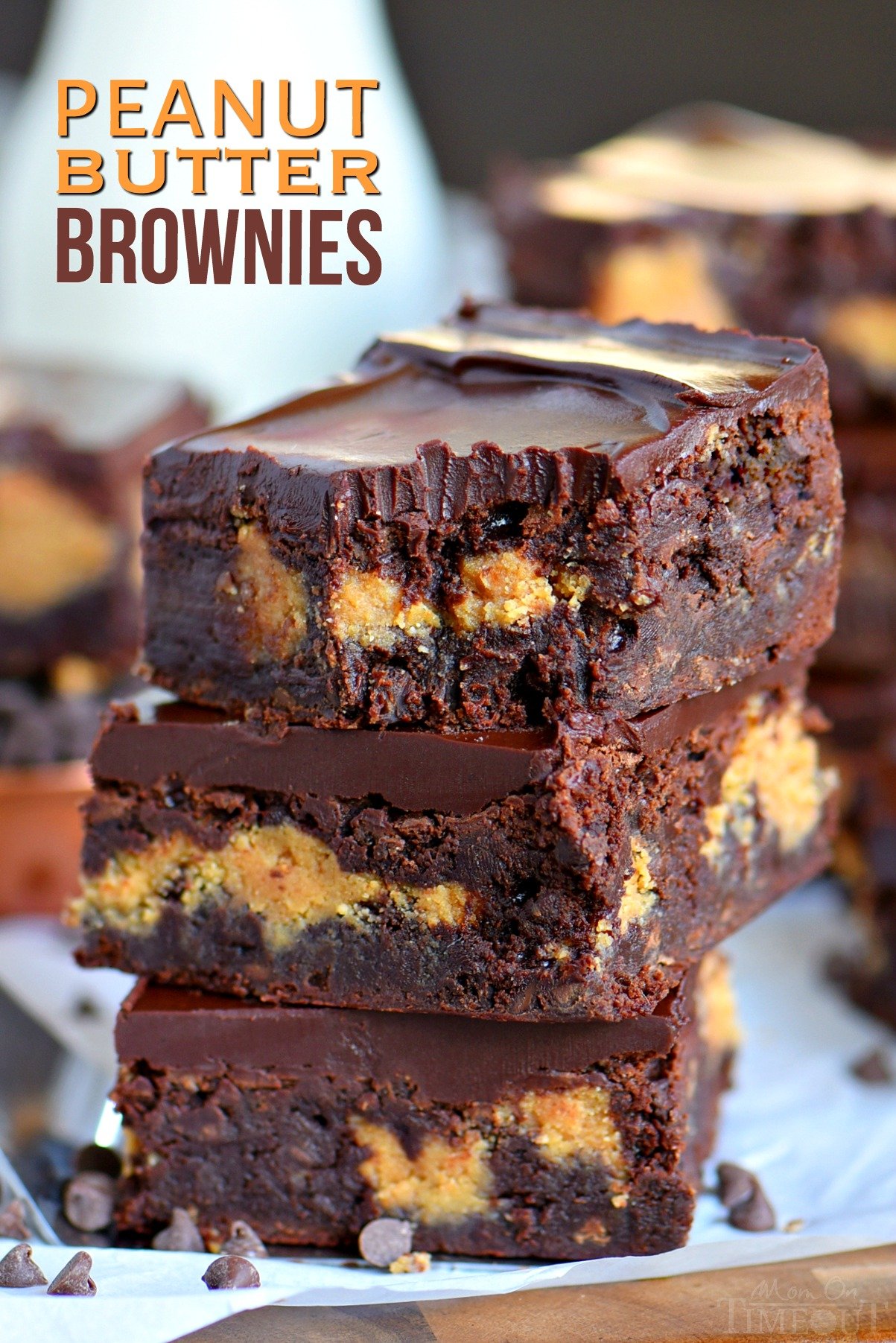 Peanut Butter Brownies
Brownies. Man, when you're craving chocolate, there's nothing else that delivers on that front more than a rich, chewy, fudgy, decadent brownie. Nothing. I had a chocolate craving hit my family hard this past week. And my boys, being children of a food blogger, knew just what to ask for: brownies.
I instantly went to my favorite brownie recipe, Fudgy Toffee Flourless Brownies, and was just going to whip them up. I mean, they are SUPER simple and truly, they are ridiculously good.
BUT, I am a food blogger so, naturally, this seemed like the perfect time to wow you with something new and amazing. And when I think chocolate, I think peanut butter. Just ask my son, Reece.
Now, I've had peanut butter swirled brownies before and they just don't deliver that powerful and delicious peanut butter + chocolate punch that I'm looking for. I decided to dive a little deeper…into the brownie that is, with chunks of peanut butter goodness.
Goodness gracious.
I think I have outdone myself this time. This fudgy brownie recipe delivers on all fronts: decadence, richness, chewy, and of course, fudgy. I couldn't help myself and when ahead and topped the whole thing with chocolate ganache. Cause, why not?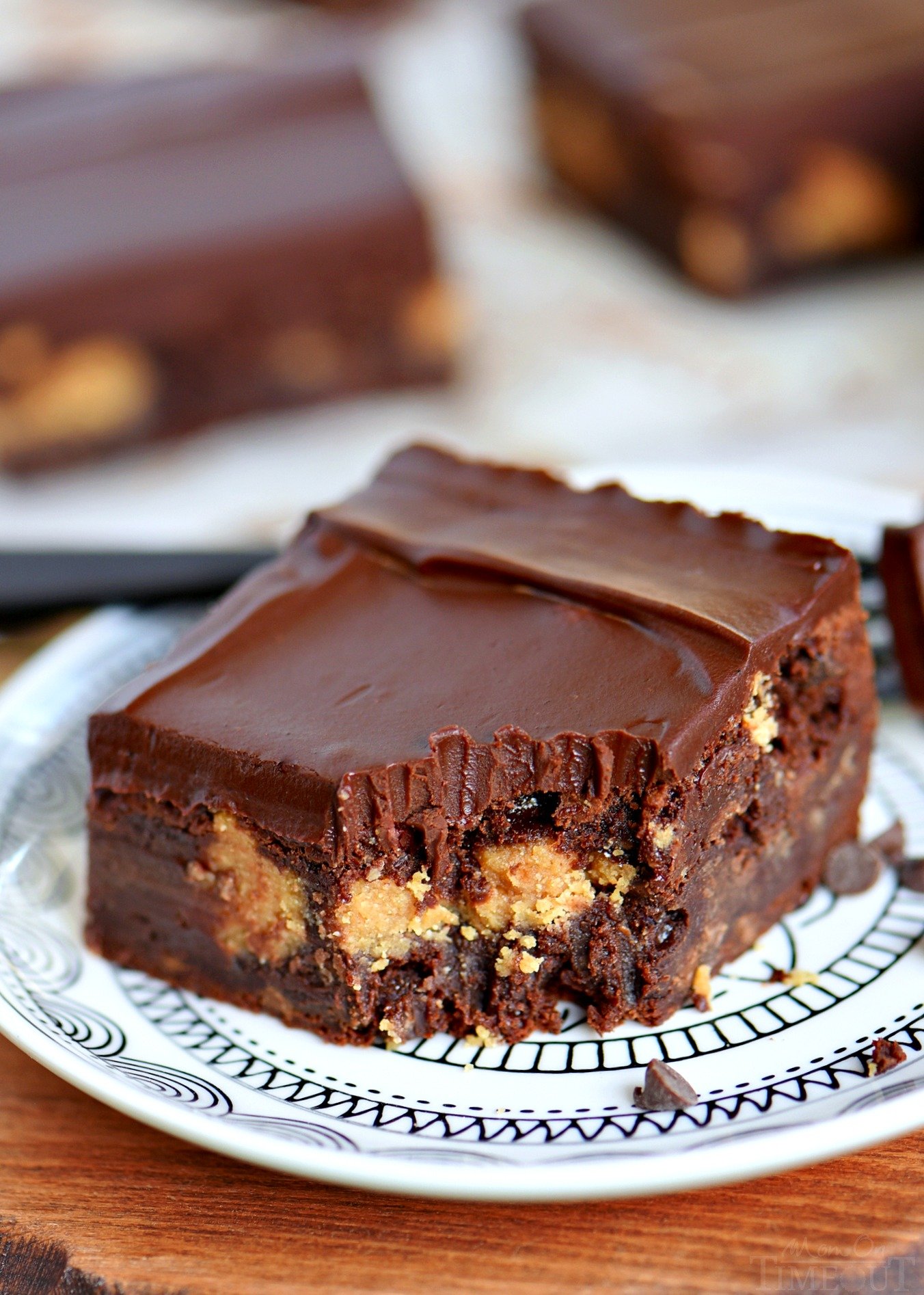 Once I knew what I wanted to make, I headed out to Safeway to buy everything I needed. Having recently been to one of Safeway's incredible blogger events (top notch you guys), I was super excited to incorporate their incredible line of Open Nature products into my brownies.
I recently shared this Zucchini Quiche with Bacon and Hash Brown Crust that I had made with Open Nature products and you guys, I'm hooked. I have yet to be disappointed in the quality and value of any product from this amazing line.
I used some of my very favorite Open Nature® products available in my area exclusively at my local stores:
Open Nature Old Fashioned Creamy Peanut Butter << we've been eating this stuff with a spoon lately. Also, preeeety amazing on an English muffin and truly the star of these brownies.
Open Nature Cage Free Eggs << only the best for my family! We go through A LOT of eggs in our house and these eggs really shine, just delicious! Great value and quality which y'all know I love.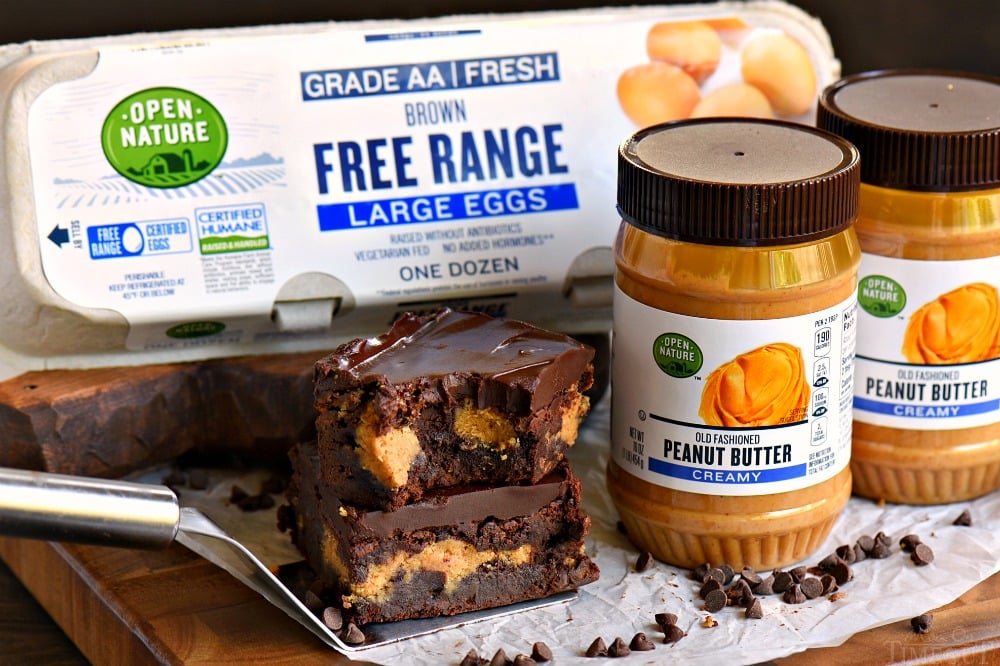 I love this line of products because it embodies all that I want for my family – clean, high quality, minimally processed, no artificial ingredients, colors, flavors, sweeteners or preservatives. Open Nature offers over 400 products that go a long way in making me feel better about what I feed my family. Especially when I'm feeding them brownies.
I buy my Open Nature products at my local Safeway, and you can also find them exclusively at all of the Albertsons Companies family of stores, including Albertsons, ACME Markets, Jewel-Osco, Vons, Pavilions, Randalls, Tom Thumb, Shaw's, Star Market, and Carrs/Safeway. Visit Safeway.com to find a store near you and discover more meal prep tips and recipe ideas.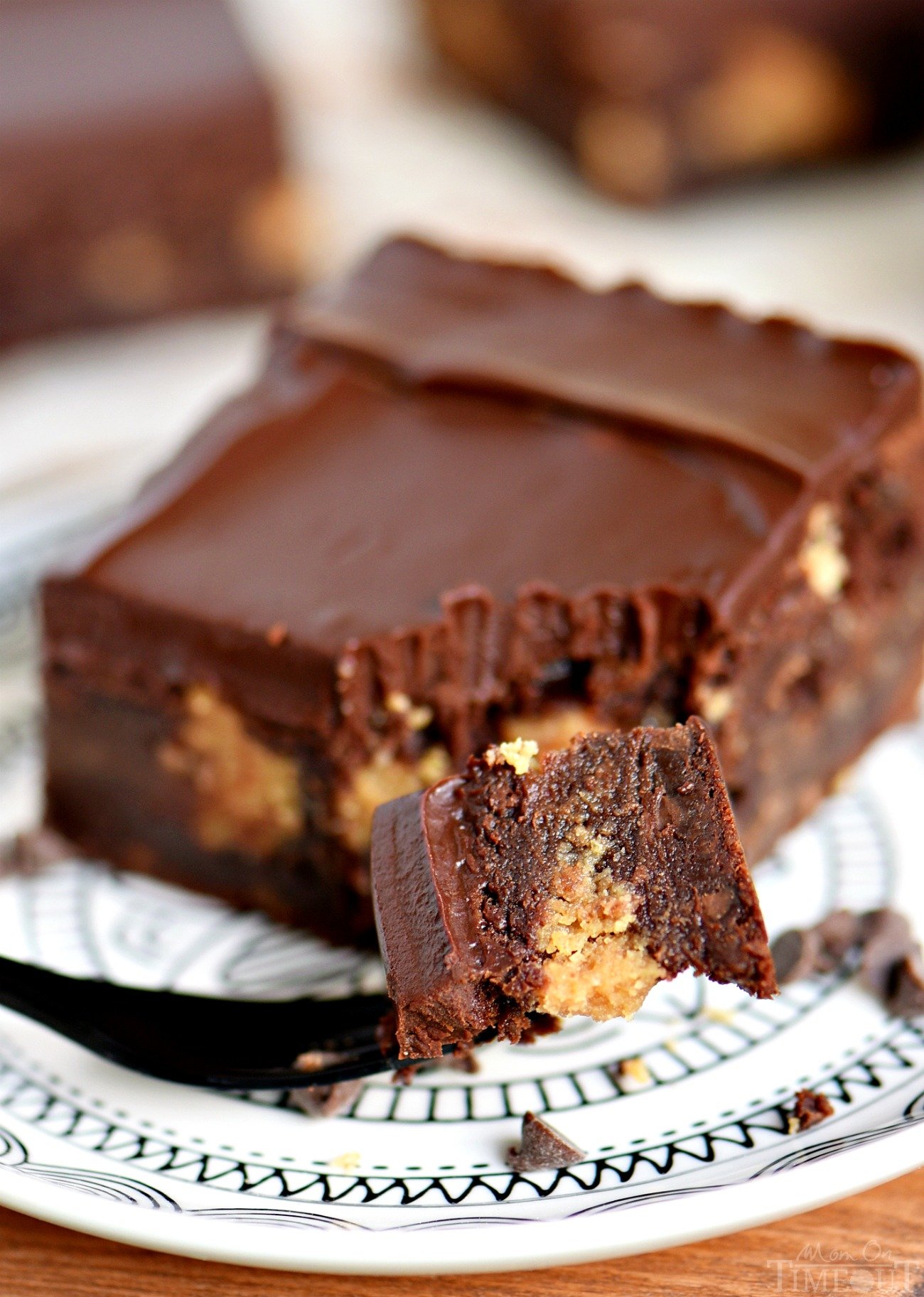 Tips for the Best Peanut Butter Brownies
Do.Not.Overbake. Rule #1 with brownies. Please note in my instructions that the baking time is an estimate, you really do need to watch your brownies closely to get the perfect brownie. I rely on my toothpick. And unlike cake, you're not looking for a clean toothpick when you pull it out. You want moist crumbs stuck all over that toothpick. And I tend to check from the side of the pan. It cooks faster there and if you don't pull the brownies out soon enough, you'll have dry edges. Uncool.
You'll notice there isn't any flour in this recipe. Nada.  Not even gluten-free flour. I used cornstarch instead and it it acts as the gluten in this recipe, adding chewiness and overall structure to the brownies. What it also does, is deliver a more pure chocolate flavor. It's pretty incredible actually.
Let's talk peanut butter. The peanut butter is an important part of this recipe and it helps to really cut the overall richness and sweetness of this easy brownie recipe. It adds that salty component that all desserts should have. I used Open Nature Peanut Butter and it's a natural peanut butter. Like all natural peanut butters, please make sure to give it a good stir, incorporating all the natural oils into the peanut butter before using. And then just try resisting a spoonful. Good luck.
I used a 9 inch baking pan for these fudgy brownies. I like my brownies thick but not insanely so. This size baking dish is really perfect and if you're in the market for a new one, I love this one because of it's straight sides and even baking. You can use an 8-inch baking pan or even a 9 x 13 if you want. You will just need to add or subtract a little time depending on which way you go.
And finally, ENJOY every decadent bite. Don't forget the milk!
How To Make Peanut Butter Brownies

Peanut Butter Brownies
Wow your tastebuds with the BEST Peanut Butter Brownies EVER. Made without flour, this easy brownie recipe yields the most decadent, fudgy, rich, and chewy brownie you could ask for. A layer of ganache takes them over the top and ensures victory over the strongest of chocolate cravings. These from-scratch brownies are naturally gluten-free and don't even require a mixer. You're welcome.
Ingredients
Peanut Butter Filling
3/4

cup

peanut butter

1/2

cup

granulated sugar

1

egg, room temperature
Brownies
12

oz

semi-sweet or bittersweet chocolate chips

6

tbsp

unsalted butter, cut into small cubes

3/4

cup

granulated sugar

1

tsp

vanilla extract

3

eggs, room temperature

1/4

cup

unsweetened cocoa powder

1/3

cup

cornstarch

1/2

tsp

salt

1

cup

mini semi-sweet chocolate chips
Gancahe
10

oz

bittersweet chocolate, chopped

1/2

cup

heavy whipping cream
Instructions
Preheat oven to 350F.

Lightly spray an 9-inch square baking pan with cooking spray. Line with parchment paper leaving an overhang for easy removal. Set aside.
Peanut Butter Filling
In a medium bowl, combine peanut butter, sugar, and egg. Mix until throughly combined. Set aside.
Brownies
In a large bowl, combine chocolate chips and butter. Melt in 30-second increments, on high heat in the microwave, stirring in between.

Stir in sugar and vanilla until completely combined.

Add eggs one a time, stirring in between until combined.

In a small bowl, whisk together cocoa powder, cornstarch, and salt.

Add dry mixture to wet mixture and stir vigorously until the mixture is smooth and begins to pull away from the sides of the bowl. This will take one or two minutes.

Stir in the mini chocolate chips.

Pour two-thirds of the brownie batter into the prepared pan and smooth the top with a spatula.

Drop small spoonfuls of the peanut butter mixture on top of the brownie batter.

Spoon on remaining brownie batter and smooth with the back of a spoon or offset spatula. It doesn't have to be perfect.

Bake for 33-37 minutes or until an inserted toothpick comes out with a few moist crumbs. (Watch the brownies closely after 30 minutes. Don't rely on the time so much as the inserted toothpick.)

Let brownies cool completely on a cooling rack or in the fridge.
Ganache
Place bittersweet chocolate in a heat-proof bowl.

Heat whipping cream until scalding hot and pour over the top of the chocolate.

Let sit for 5 minutes and then stir until smooth. (If chocolate hasn't melted all the way, heat on high heat in 15 second intervals in the microwave, stirring in between, until chocolate is fully melted.)

Pour mixture over the top of the cooled brownies and use an offset spatula to spread over the top until smooth. Refrigerate until the ganache has completely set up.

Cut into bars and serve.

Store in an airtight container in the refrigerator.

Use the parchment paper overhang to pull the brownies out and cut into squares.

Store in an airtight container for up to 3 days.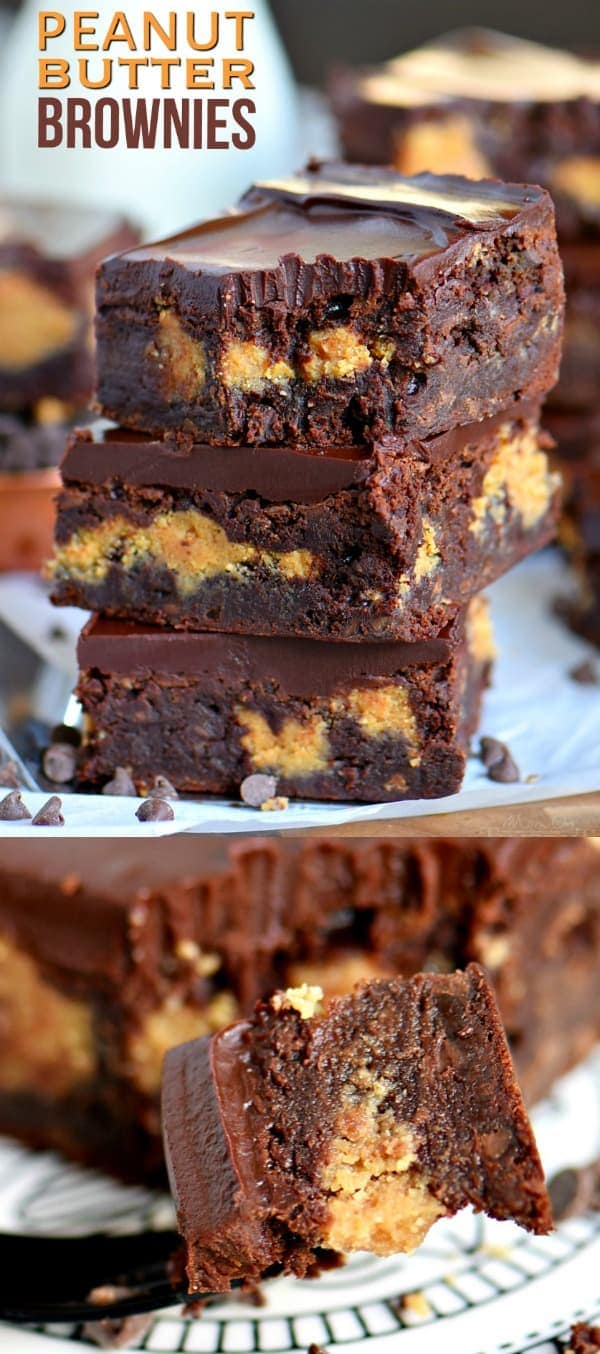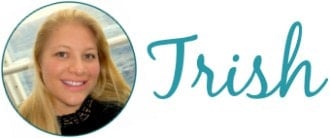 For all breakfast recipes, go HERE.
For all dinner recipes, go HERE.
Sign up to get emails when I post new recipes!
For even more great ideas follow me on Facebook – Pinterest – Instagram – Twitter – Bloglovin'.
Have a great day!
Disclosure: This recipe is sponsored by Safeway. Thank you for supporting the brands that make Mom On Timeout possible!