Welcome to your new favorite breakfast. Peanut Butter Stuffed French Toast.
Thanks to the National Peanut Board for sponsoring this post.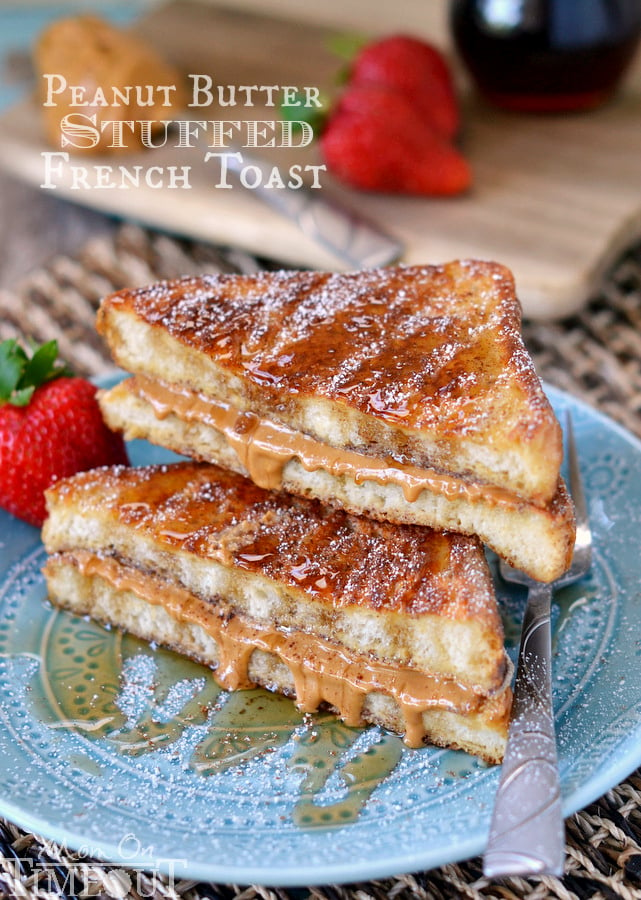 There's nothing more satisfying than peanut butter for breakfast. I don't care whether it's slathered on top of waffles, baked inside of banana bread, or blended up in a smoothie – we LOVE the flavor and versatility of peanut butter around here.
I'm guessing my love of peanut butter is genetic (or just a matter of good taste) because this particular recipe was my dad's specialty. I remember the first time I served my husband Peanut Butter Stuffed French Toast and he looked at me like I was crazy.
Yeah.
Crazy awesome.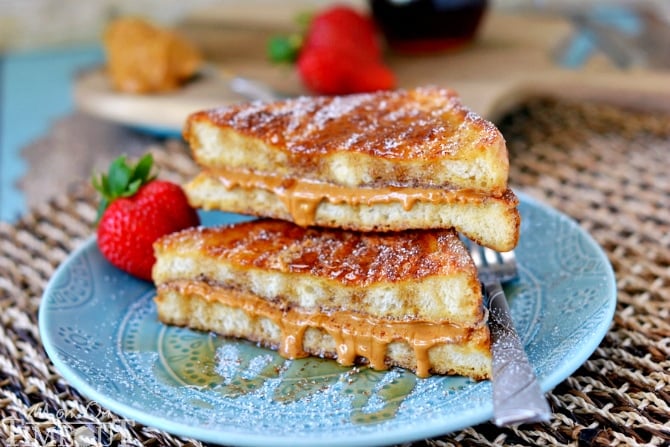 Something very magical happens when peanut butter is slathered on hot French toast. It starts to melt and mix with the rich maple syrup that has been liberally poured over the top of the stack of French toast.
Don't forget the syrup.
In fact, I'll let you in on a little secret. As good as this French toast is with maple syrup, I double dare you to drizzle on a little light corn syrup. Heaven in your mouth – guaranteed. That's how my dad takes his peanut butter stuffed French toast all day long.
No matter how you slice it  (pun intended) this Peanut Butter Stuffed French Toast is going to blow your mind. In the best way possible, of course.
This certainly looks and feels like a weekend breakfast but the best part about this breakfast is it's fast. Like we're talking under 10 minutes from start to finish and you've got the nutritious power of peanut butter on your side and a quick and easy serving of protein.
So whether you're sauntering into the kitchen at 10 a.m. on Sunday, or your kids just woke you up at 6 a.m. and are demanding breakfast, treat yourself and your family to what's bound to become a new family favorite.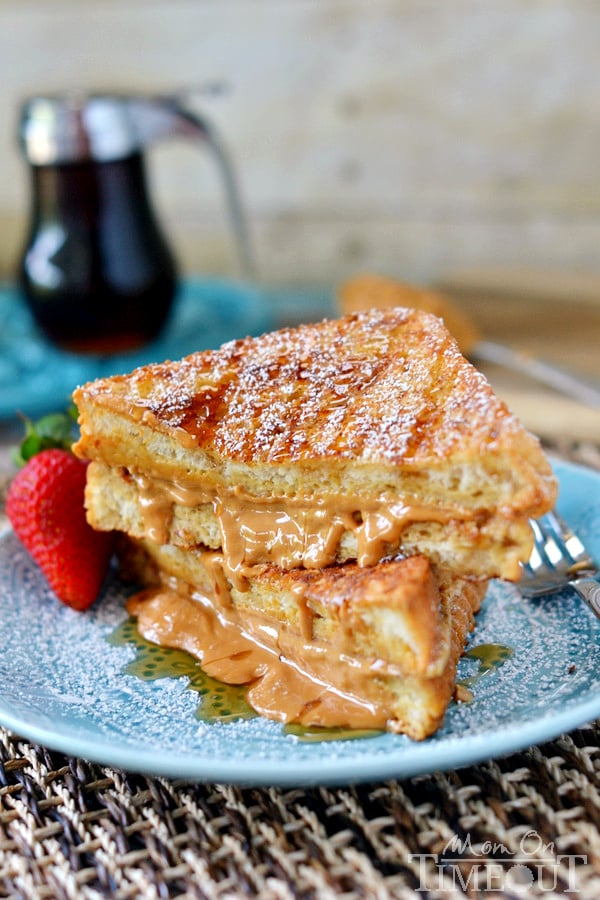 Peanut butter is a smart choice for breakfast. One serving contains eight grams of protein, 30 essential nutrients and phytonutrients, and is high in fiber. Yeah, you totally knew all that which is part of the reason you love peanut butter as much as I do, right?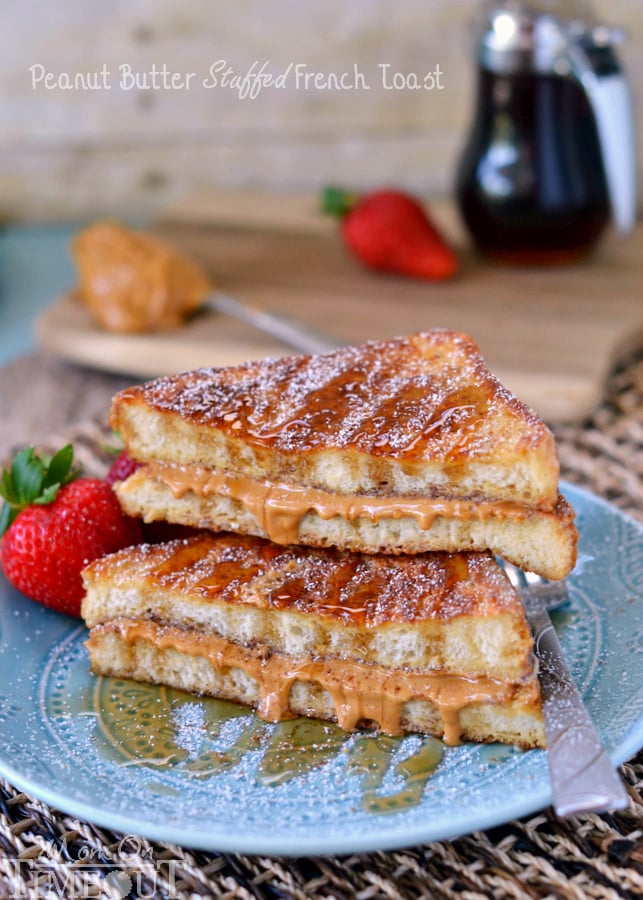 Peanut Butter Stuffed French Toast
Welcome to your new favorite breakfast. Peanut Butter Stuffed French Toast
Ingredients
1

cup

whole milk

1/4

cup

all-purpose flour

4

eggs

2

tsp

vanilla extract

1

tsp

ground cinnamon

1/2

tsp

ground nutmeg

1/4

tsp

salt

1

tbsp

sugar

12

thick slices bread

such as Texas toast

12

tbsp

creamy or crunchy peanut butter

maple syrup

optional

powdered sugar

optional
Instructions
Heat a griddle or frying pan over medium heat.

Whisk flour and milk together in a medium bowl until smooth.

Whisk in eggs, vanilla, cinnamon, nutmeg and salt. Pour into a shallow pan or bowl that is wide enough for your bread.

Lightly oil or butter the hot griddle.

Dip bread slices in egg mixture letting sit for a 15-30 seconds until mixture is absorbed.

Carefully transfer to griddle, letting excess egg mixture drip off.

Cook bread on each side until golden brown.

Spread a tablespoon of peanut butter on each slice of bread. Serve as single slices or as a sandwich.

Drizzle with maple syrup and dust with powdered sugar if desired.
Nutrition
Calories:
568
kcal
|
Carbohydrates:
49
g
|
Protein:
20
g
|
Fat:
34
g
|
Saturated Fat:
9
g
|
Cholesterol:
113
mg
|
Sodium:
722
mg
|
Potassium:
302
mg
|
Fiber:
4
g
|
Sugar:
11
g
|
Vitamin A:
224
IU
|
Calcium:
80
mg
|
Iron:
13
mg
 Peanut butter for breakfast? Yes, please!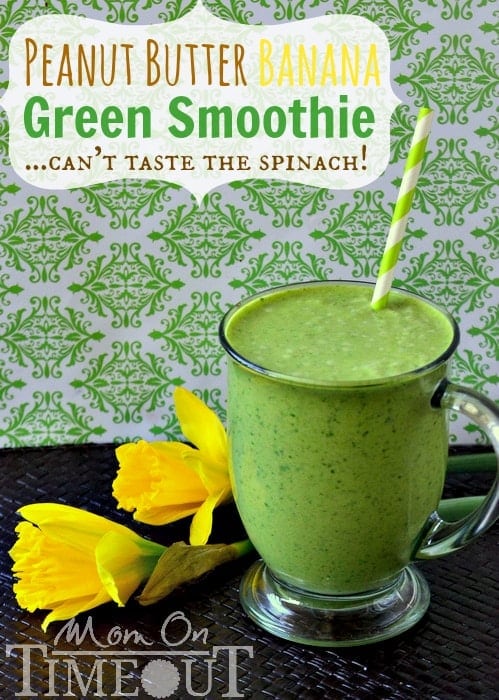 Peanut Butter Banana Green Smoothie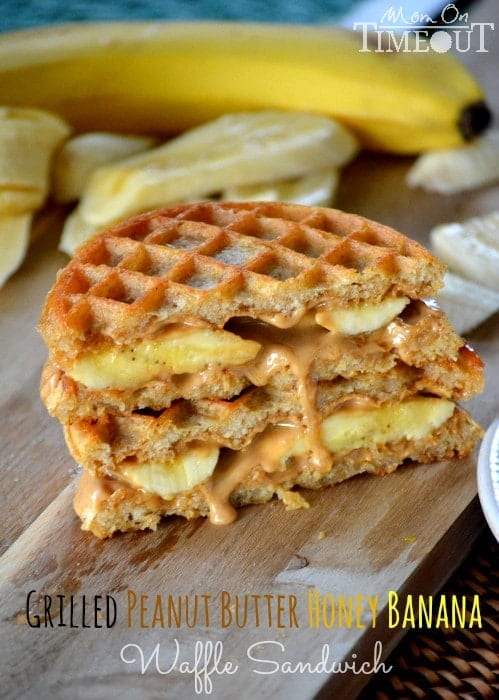 Grilled Peanut Butter Honey Banana Waffle Sandwich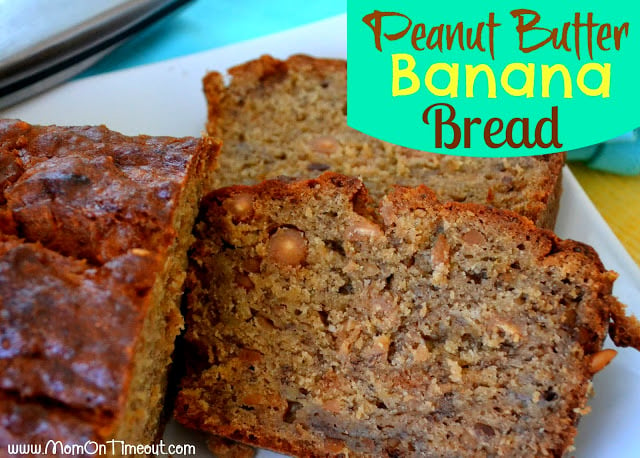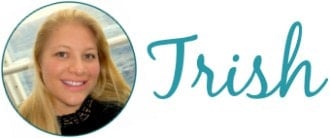 For all lunch recipes, go HERE.
For all dessert recipes, go HERE.
Sign up to get emails when I post new recipes!
For even more great ideas follow me on Facebook – Pinterest – Instagram – Twitter – Bloglovin'.
Have a great day!