These Homemade Dog Treats are made with peanut butter and pumpkin and are sure to be a hit! This easy recipe is made in one bowl with just 5 ingredients – simple and delicious! Don't forget the humans! Try these peanut butter treats: Reese's Peanut Butter Fluff, Peanut Butter Icebox Cake, and The BEST Peanut Butter Brownies!
This post is sponsored by Mirum, but opinions expressed are my own.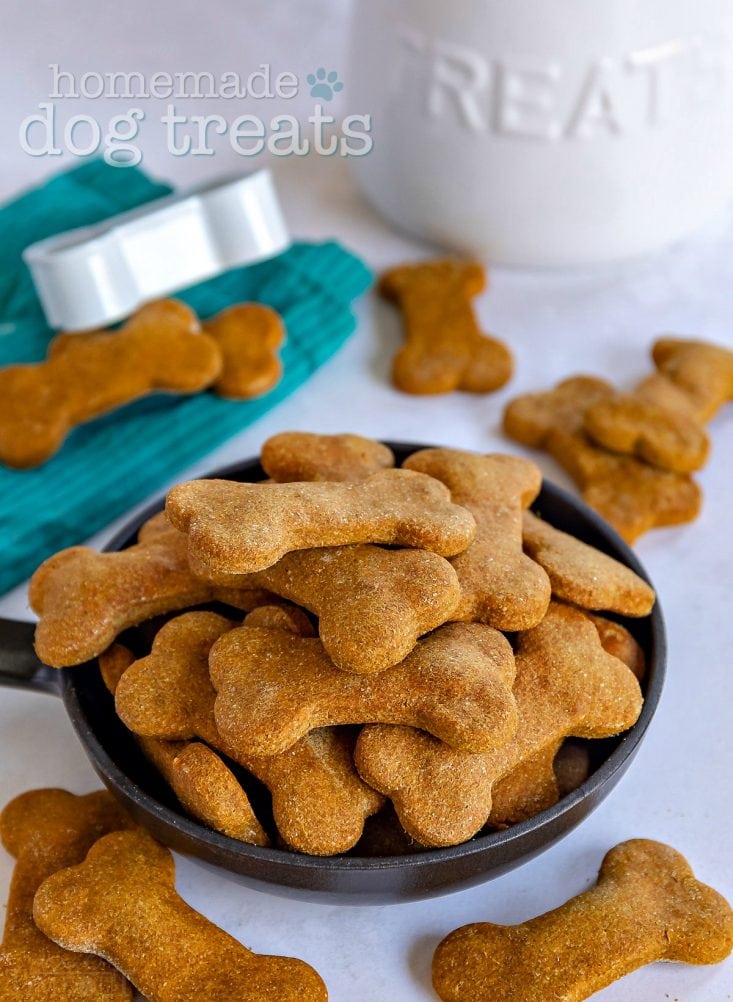 Homemade Dog Treats
My son Bryce has always been super obsessed with Beagles. He has approximately 9,261 stuffed beagles but about 5 years ago, he started asking for a "real" puppy. Every time we would pass a dog, he would squeal with delight and get so excited it just made my heart melt.
But Chris, the hubby, was not on board. He didn't grow up with dogs and pretty much thought our life would be over if we got one.
It took years of begging, negotiating, and tears to get my husband to agree to it. We got our Beagle puppy, Copper, almost exactly one year ago today.
Puppy Problems
The first few months were insanity, as all you dog owners can relate, I'm sure. It was like having a newborn in the house again. There were many days that I was outright crying because it seemed like we would never get him potty trained.
All that seems like a distant memory now and we laugh about how we thought we couldn't be good dog parents.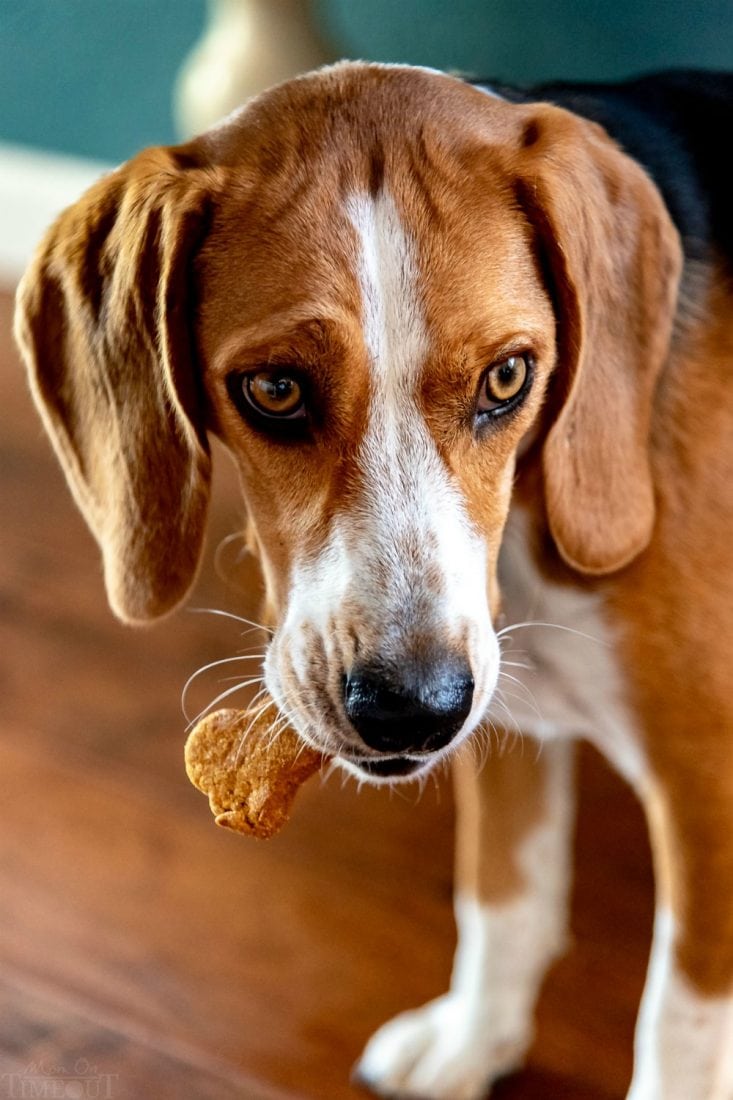 Copper has changed all our lives in so many ways. He literally is a member of our family and we now question how we ever lived without him. He is constantly getting into trouble, as Beagles are well known for, but we even love that about him. We always say he's "naughty by nature".
We love his little snores and his constant need for belly rubs. His super soft ears are where the boys turn to when they need a little comfort after a hard day and Chris…. well, let's just say that if Copper had to pick one parent over the other, it'd be daddy for sure.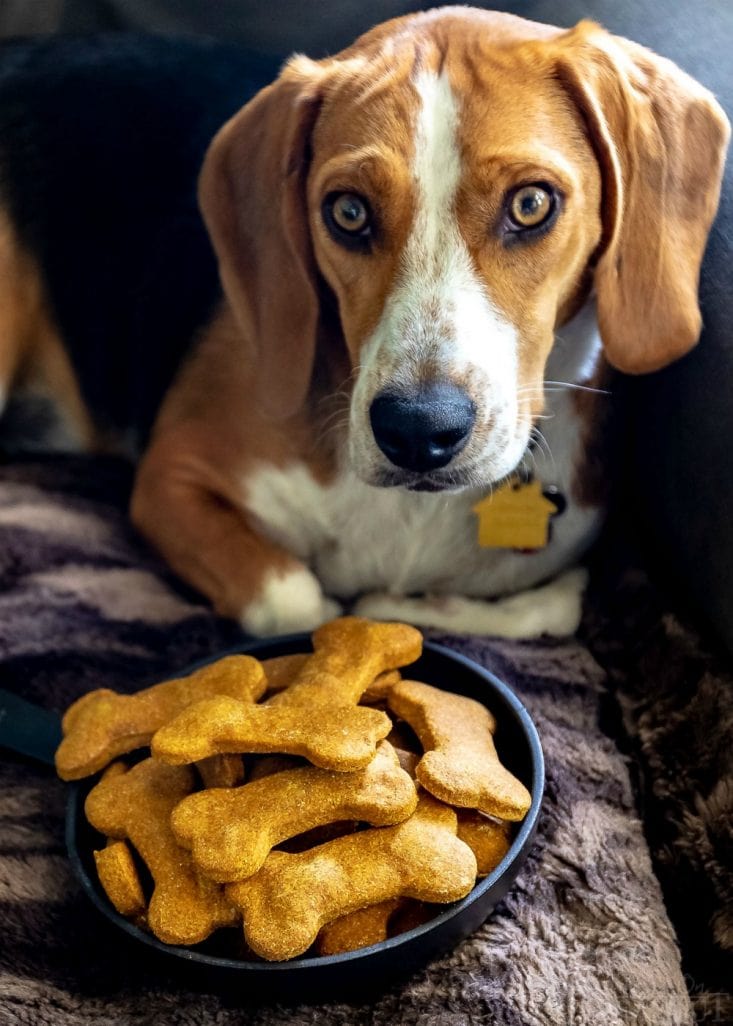 Every night he curls up on Chris' lap to sleep, follows him around constantly during the day and knows he's a sucker for puppy dog eyes. It's the cutest thing EVER.
It's Okay To Spoil Your Pet
We spoil him rotten and love every minute of it. He's a terror with toys – ripping out the "heart" aka squeaker of the toys, usually within minutes of getting it and then prancing around showing off his handiwork while we pick up the stuffing strewn about the house.
One of the ways that we show our love to Copper is with homemade dog treats. They are super simple to make and he loves them so much!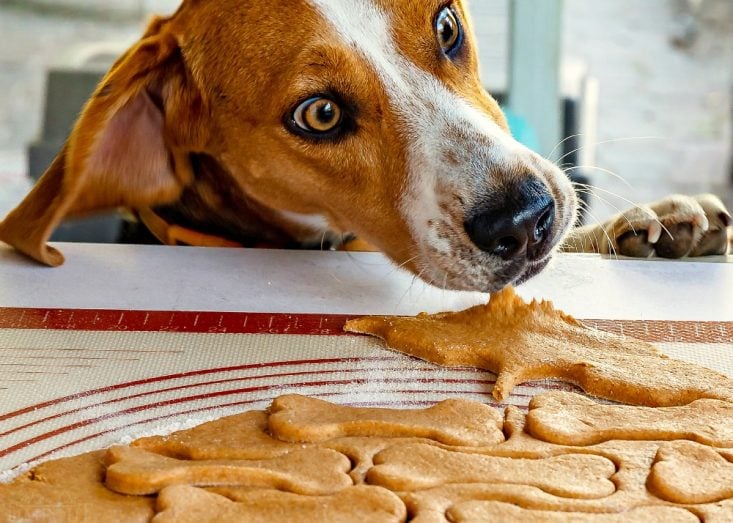 We have tried several different variations and make sure to switch things up now and again because like his mama, he's a total foodie and gets bored lol!
What's In These Dog Treats?
This particular dog treat recipe features his all-time favorite, peanut butter, and a new favorite that is perfect for fall, pumpkin! I wasn't sure how he was going to feel about the pumpkin. I knew it was good for him though and thought I'd give it a try. He LOVES it!
It's just 5 ingredients total (including one optional!):
pumpkin puree
peanut butter* (see note below)
eggs
whole wheat flour
cinnamon or pumpkin pie spice (optional, make your own pumpkin pie spice and omit the nutmeg as it can be toxic to some dogs)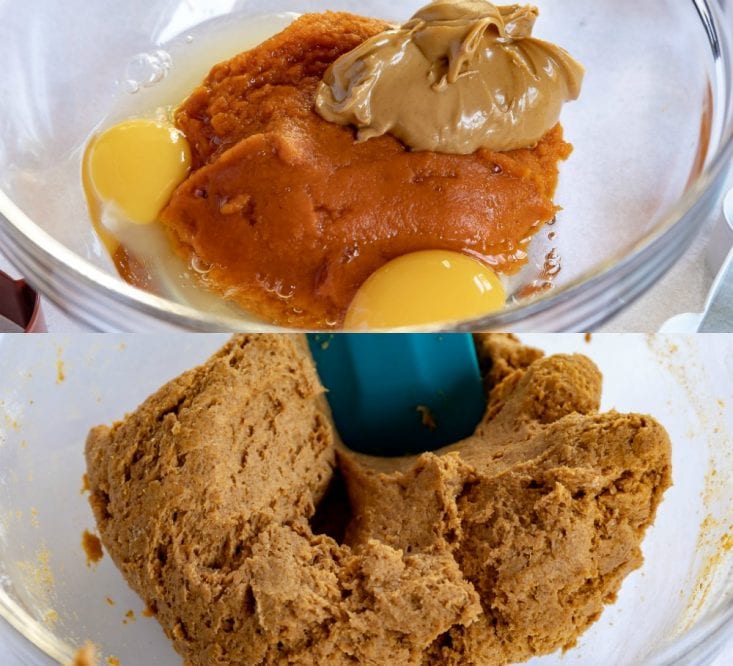 Dog Treat Recipes
There are so many options for dog treats out there and I love giving them a try to see which ones Copper likes. We use a variation of this recipe a lot that includes applesauce and oats and that one is always a big hit too.
I worked on this recipe tirelessly trying to pack in as much peanut butter and pumpkin flavor while using as little flour as possible and still have a manageable dough.
How To Make Dog Treats
These dog biscuits are made much like sugar cookies. The dough is stiff and a little sticky. You will need to roll it out with a rolling pin and cut out shapes with cookie cutters or even a shot glass would work. I used the dog bone cutter from this set for this post but we also like to use circles, stars, trees (for Christmas), pumpkins (for Halloween) – you get the idea.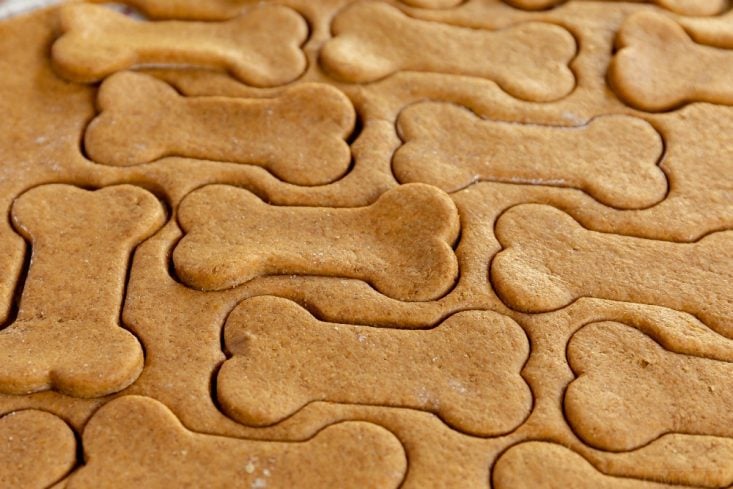 Make the dog treats as big or little as you like – whatever your pup prefers. Place the treats on a silicone baking mat or parchment paper and bake until the treat is as crunchy as you like.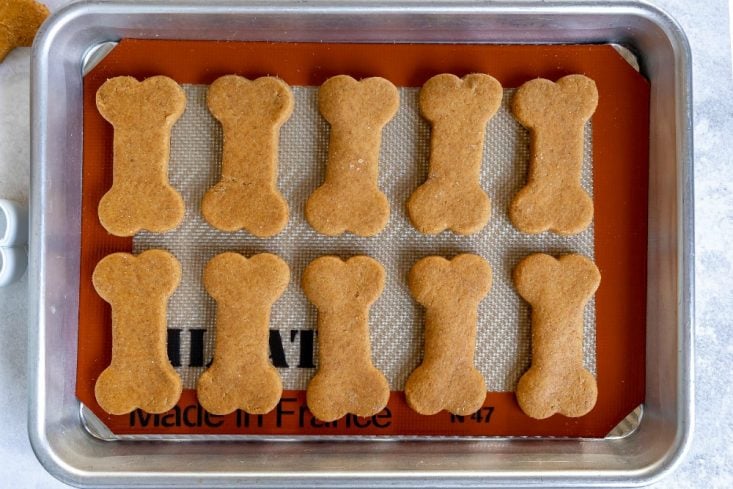 We found the sweet spot for Copper to be about 35 minutes. The peanut butter dog treats are fully baked at 20 minutes and just get crunchier the longer they bake. They also get crunchier after they've cooled so keep that in mind.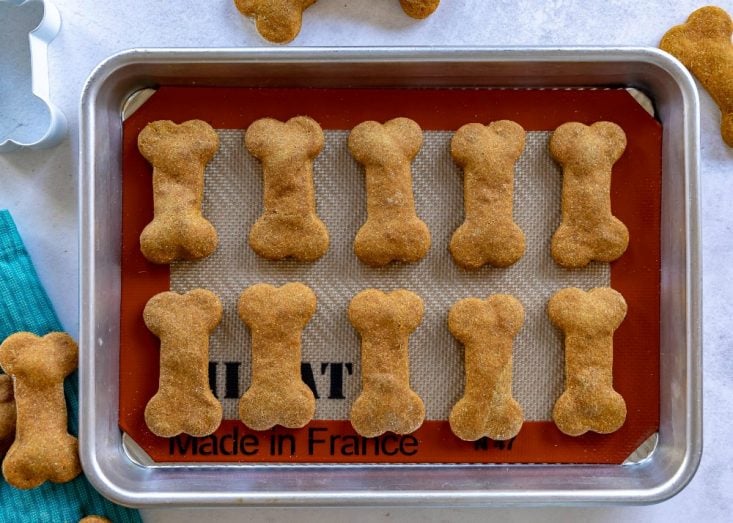 How To Store Dog Treats
These dog treats should be stored just like cookies, in an airtight container for up to two weeks, or in the refrigerator, for up to 1 month.
Can Dog Treats Be Frozen?
Yep. After they have cooled, place in a freezer safe container and freeze for up to 6 months.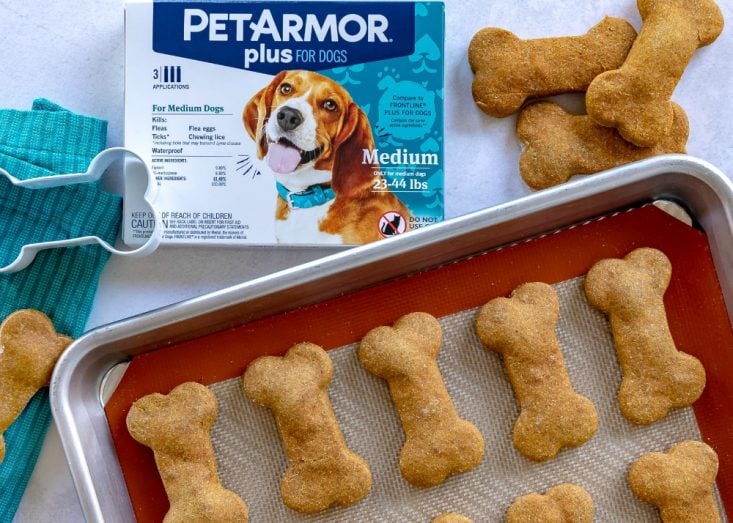 Let's Talk Peanut Butter
Now, peanut butter is one of those things that almost ALL dogs love. But please be aware that you need to use natural peanut butter in this recipe or at least make sure that the peanut butter doesn't contain Xylitol.
You can find more about peanut butter and dogs here.
Keeping Your Dog Safe
Just like it's important to take care of you pets nutritional needs and be aware of any allergies they have, it's also important to take make sure they are protected against fleas and ticks.
We rely on PetArmor Plus (along with 1 million other pet owners) to keep Copper free of fleas and ticks. We make sure to pick it up at Walmart when we're there doing our everyday shopping and the price is great too! Pet Armor makes it is SO easy to protect your dog from fleas and ticks – vet quality for less!
We have so many other things to worry and stress about like is he:
eating the right amount
getting enough exercise
getting socialized enough
etc., etc., etc.
It's nice to put a big fat check next to flea and tick prevention with the help of PetArmor Plus and Walmart.
Peace of Mind is Priceless
We love to travel and are so thankful that my dad and brother are available to take care of Copper when we are off galavanting around (usually to Disneyland!). We call their house his "mountain retreat" and he LOVES it.
Copper loves his Uncle Cliff and Grandpa so much and enjoys being able to run off leash around their acreage up in the mountains. He always comes home exhausted but happy, living his very best life in the mountains 🙂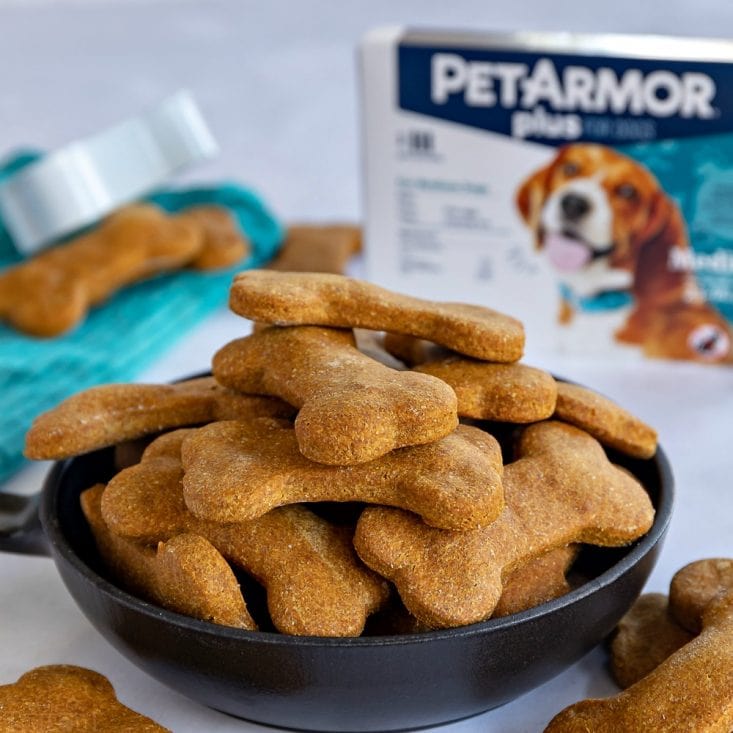 I feel confident knowing that he is being taken care of by people that love him as much as we do and knowing that he is protected against the fleas and ticks that are an inherent risk up in the mountains.
You guys! Don't stop treating your pets during the winter months! Fleas and tick can be present all year long (even where it's cold!) and can lay dormant for months before hatching. There is no reason to skip a month when PetArmor Plus is so convenient and affordable at Walmart. It can also be used for protection and treatment as well, stopping infestations in their tracks and helping prevent re-infestation.
It's Copper approved!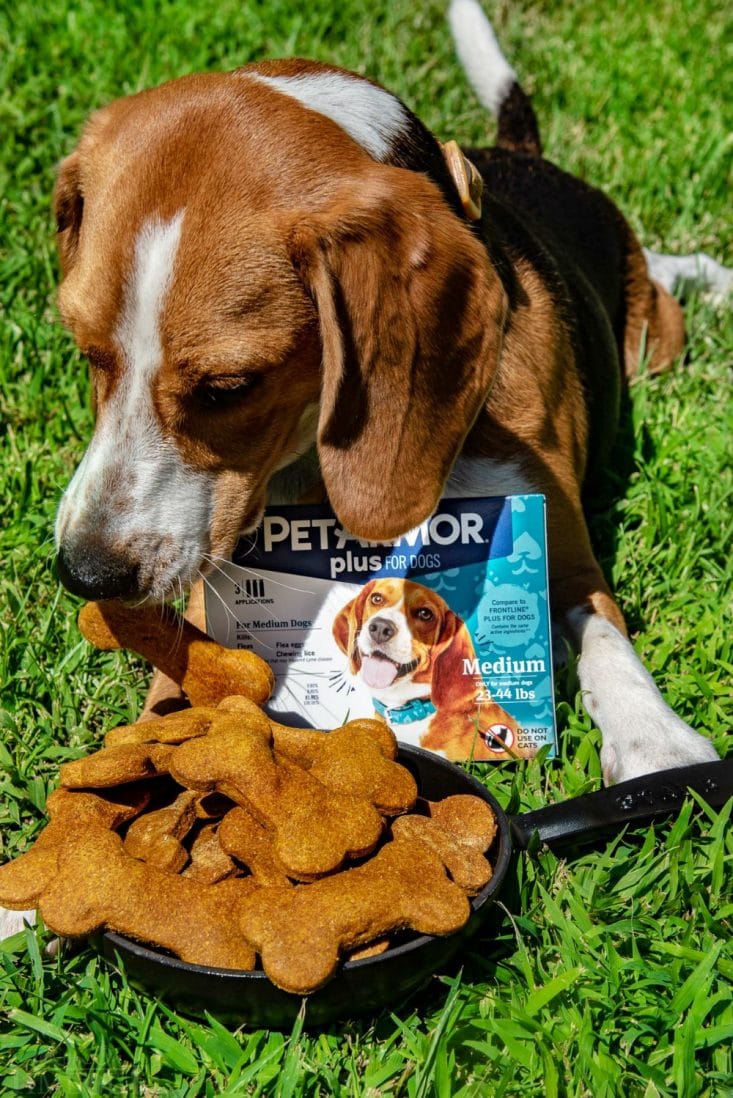 Since you're making pumpkin treats for your pup…
Pumpkin Recipes for Humans
How To Make Homemade Dog Treats
Homemade Dog Treats
These Homemade Dog Treats are made with peanut butter and pumpkin and are sure to be a hit! This easy recipe is made in one bowl with just 5 ingredients - simple and delicious!
Ingredients
1

cup

pumpkin puree

2

eggs

1/3

cup

peanut butter

natural, NO Xylitol or sugar substitutes

2

cups

whole wheat flour

all purpose can be used instead

1/2

tsp

pumpkin pie spice

or cinnamon (check your pumpkin pie spice or make your own - NO nutmeg, can be toxic to some dogs)
Instructions
Preheat oven to 350F. Line a large baking sheet with a silicone baking mat or parchment paper.

In a large bowl, combine pumpkin, eggs, and peanut butter. Stir until completely combined.

Add in flour and pumpkin pie spice (or cinnamon) - stirring just until combined.

Lightly flour a flat surface and roll out dough to one quarter inch, using flour as needed to keep dough from sticking.

Cut shapes out of dough and place on prepared baking sheet.

Bake for 20 to 40 minutes - depending on desired level of crunchiness.

Remove treats from oven and let cool on a cooling rack. Store in an airtight container for up to 1 month in the refrigerator or 6 months in the freezer.
Nutrition
Calories:
32
kcal
|
Carbohydrates:
4
g
|
Protein:
1
g
|
Fat:
1
g
|
Saturated Fat:
1
g
|
Cholesterol:
7
mg
|
Sodium:
11
mg
|
Potassium:
43
mg
|
Fiber:
1
g
|
Sugar:
1
g
|
Vitamin A:
804
IU
|
Vitamin C:
1
mg
|
Calcium:
5
mg
|
Iron:
1
mg


For all appetizer recipes, go HERE.
For all dessert recipes, go HERE.
Sign up to get emails when I post new recipes!
For even more great ideas follow me on Facebook – Pinterest – Instagram – Twitter – Bloglovin'.
Have a great day!