These Quick and Easy Carmelitas use only four ingredients! A truly decadent treat, the ooey, gooey caramel center of these amazing bars is impossible to resist!
Let's be friends! Sign up to get my new recipes in your inbox! Follow me on Facebook and Instagram too!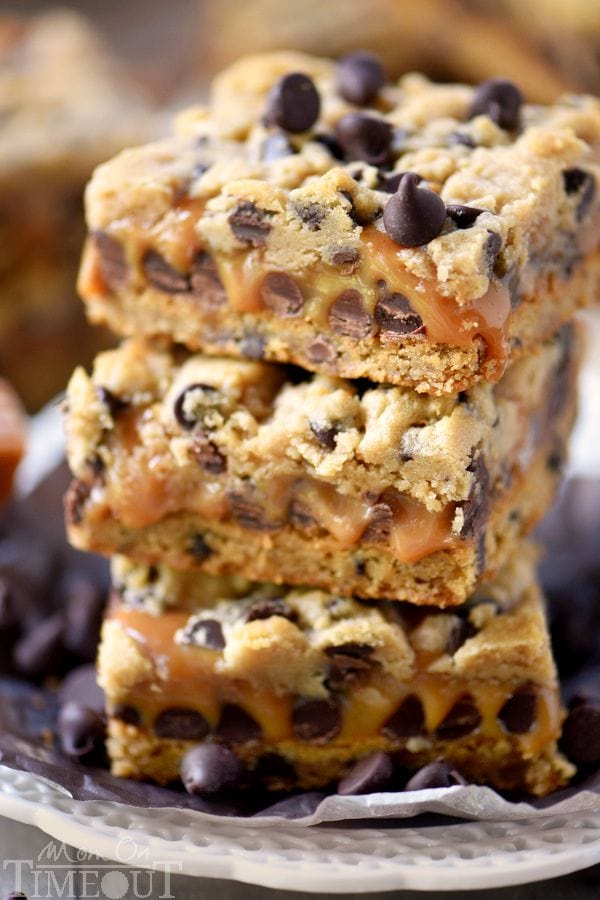 I think we should all admit that occasionally we like to make recipes that are quick and easy. Right? I mean, we're all busy people and as much as I adore making recipes from scratch, I have to admit, a good, quality shortcut now and then can surely make life a whole lot easier.
Today I'm bringing you a recipe that looks like it was made from scratch – probably because it is…almost. I cheated and used refrigerated cookie dough and no one can tell.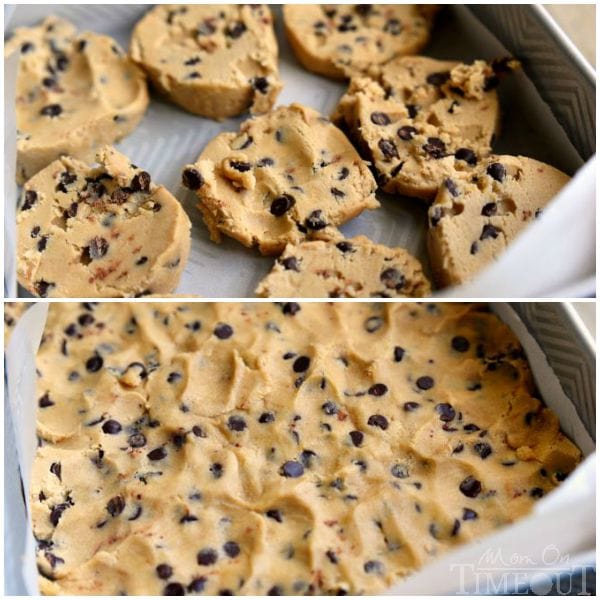 I sliced the cookie dough into rounds and placed them on the bottom of the 9-inch baking pan. Then I used my fingers to make it a nice and (almost!) even layer.
This layer gets baked for a bit and then cooled. Next I melted caramels and evaporated milk in a glass measuring cup – in the micowave. I said easy, didn't I?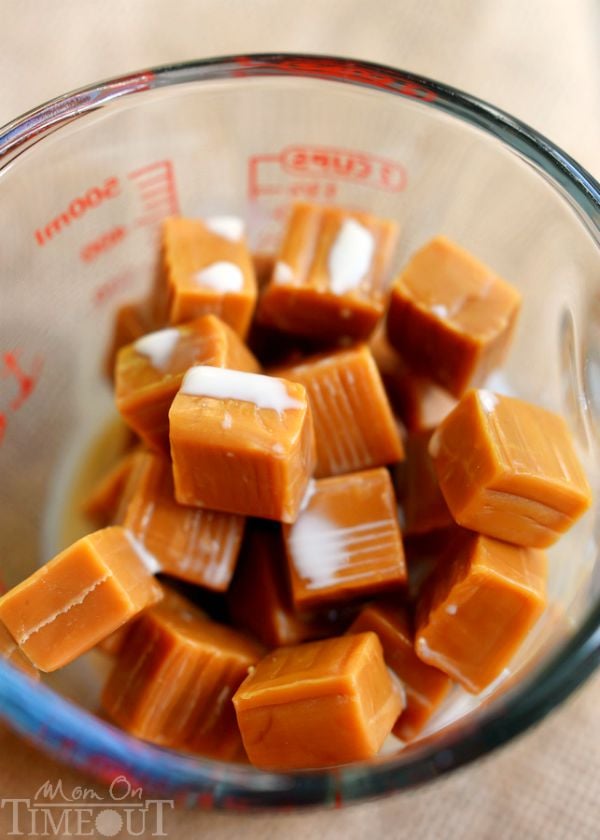 The caramel sauce gets poured over the crust that has since had chocolate chips sprinkled on top of it.  Whoops! My mouth just happened to land right under the drizzle of caramel!
The remaining cookie dough is crumbled on top of the caramel layer and then back to the oven it goes for a final few minutes before it's done.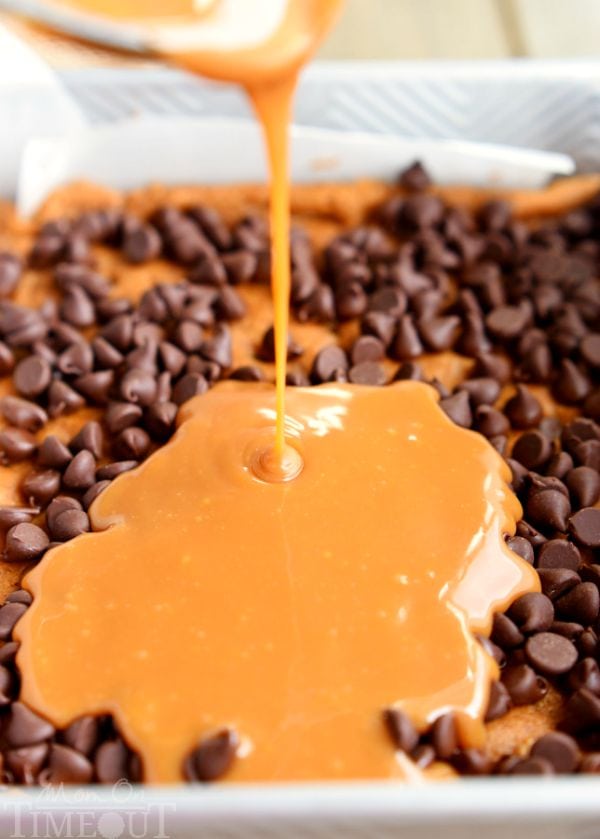 Here's the thing with Carmelitas though – they have to be refrigerated. The caramel has to set up or the bars would be a hot mess when you cut them.  You can see how even after hours in the fridge, the caramel still oozes out when you cut them. It's AH-MAZING. That's what MAKES a Carmelita a Carmelita.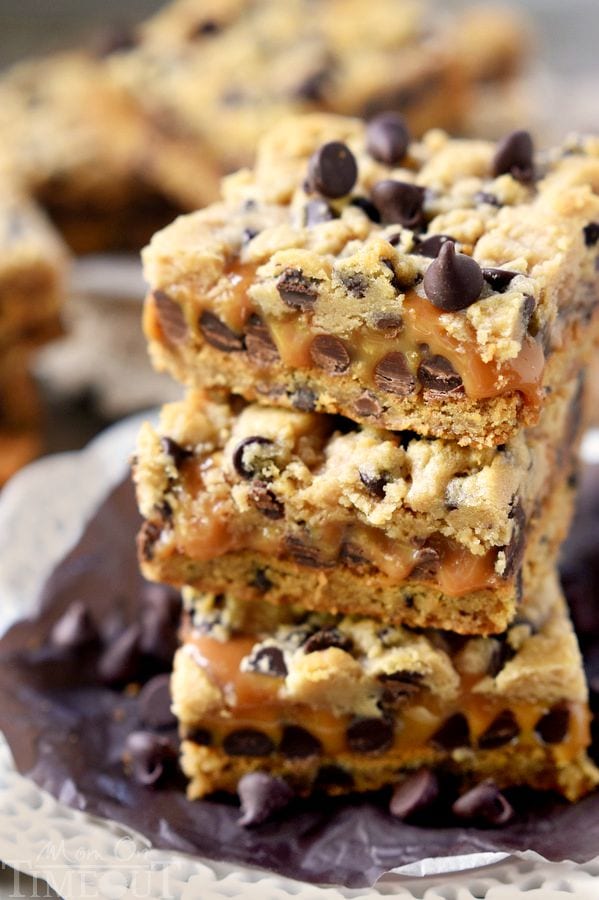 There is nothing more amazing that oozing caramel and sweet chocolate combined into rich, decadent bars like these. Come to mama.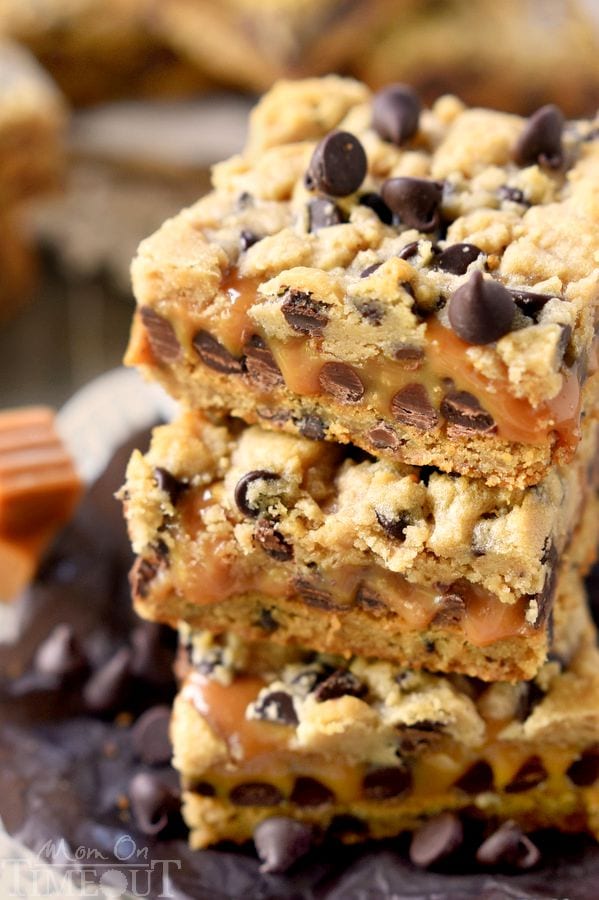 The really amazing and awesome thing about this recipe – besides for the fact that it's delicious and EASY, is that these bars don't make a huge mess like some Carmelitas can. Sure, the caramel is ooey and gooey but it doesn't drip all over the place.
It's perfect.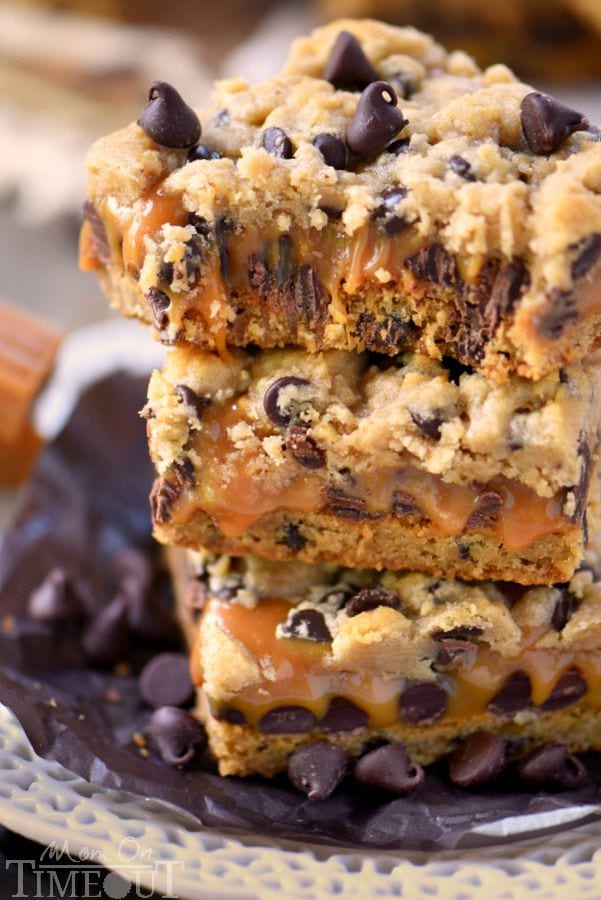 Quick and Easy Carmelitas
These Quick and Easy Carmelitas use only four ingredients! A truly decadent treat, the ooey, gooey caramel center of these amazing bars is impossible to resist! An easy dessert recipe ANYONE can make!
Author:
Trish - Mom On Timeout
Ingredients
1 30 oz roll refrigerated chocolate chip cookie dough
1 11 oz bag KRAFT caramels
¼ cup evaporated milk
1 cup semi-sweet chocolate chips
Instructions
Preheat oven to 350F. Slice a little more than half of the cookie dough into ¼" rounds and lay in a single layer on a parchment lined 9-inch square baking pan.
Use your fingers to press into a single, solid, even layer.
Bake for 20 to 25 minutes or just until golden brown. Removed from the oven and let cool slightly.
Combine unwrapped caramels and evaporated milk in a microwave-safe container and heat on high for 1 minute. Stir and heat on high in 30 second intervals until caramel is completely melted.
Sprinkle chocolate chips over the slightly cooled chocolate chip cookie crust.
Drizzle caramel on top of the chocolate chips.
Crumble the remaining cookie dough (should be less than half remaining) over the top of the caramel. It doesn't have to be perfect or even.
Return the carmelitas to the oven and bake for another 12-15 minutes or until just beginning to turn golden brown.
Let cool to room temperature and then refrigerate for at least 2 hours.
Sit out for 15 minutes before cutting and serving.

More of my favorite bars: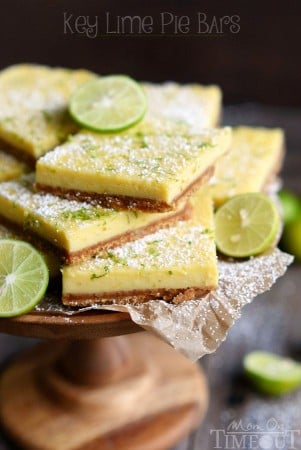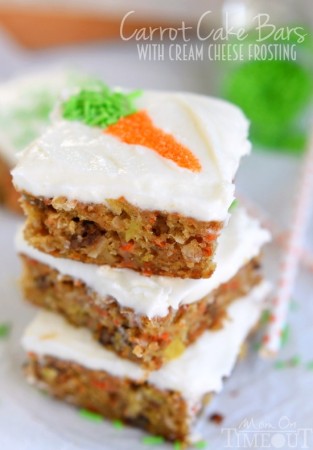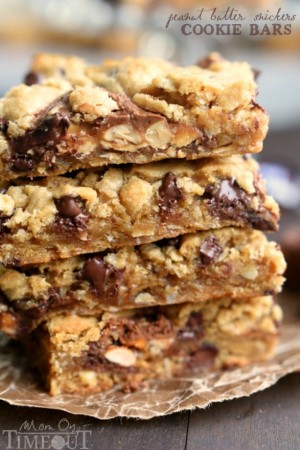 Peanut Butter Snickers Cookie Bars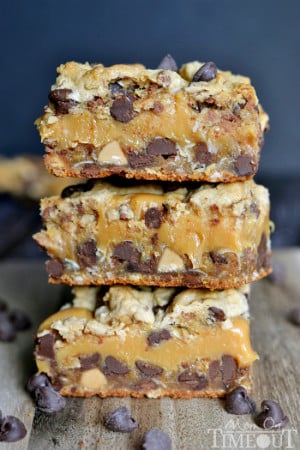 Peanut Butter Caramel Toffee Chocolate Chip Cookie Bars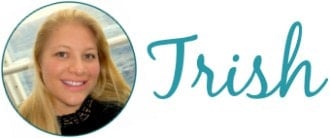 For all caramel recipes, go HERE.
For all dessert recipes, go HERE.
Sign up to get emails when I post new recipes!
For even more great ideas follow me on Facebook – Pinterest – Instagram – Twitter – Bloglovin'.
Have a great day!