This delicious Lemon Lime Jello Salad is a family-favorite recipe made with cottage cheese and pineapple! It's requested ALL the time by friends and family and is SUPER easy!
Let's be friends! Sign up to get my new recipes in your inbox! Follow me on Facebook and Instagram too!
Lemon Lime Jello Salad
I think every family has a version of this recipe for Lemon Lime Jello Salad. I've seeing so many awesome variations out there with or without nuts, with or without pineapple, with or without cottage cheese…and the list goes on and on!
I'm honestly not sure how to classify this recipe.  We frequently serve this salad right along with the main meal but have used it as a dessert on many occasions as well.  This particular recipe is referred to as Dad's Green Jello in our family because, well, it's my dad's favorite! My Nana, his mom, used to make this for him all the time and that particular duty, and pleasure, has now passed on to us.
Our family treasures recipes like this that have been passed on – particularly from our Nana! These recipes are really some of my greatest memories wrapped in a tasty little package.  It's pretty amazing that those memories are just a recipe away at all times.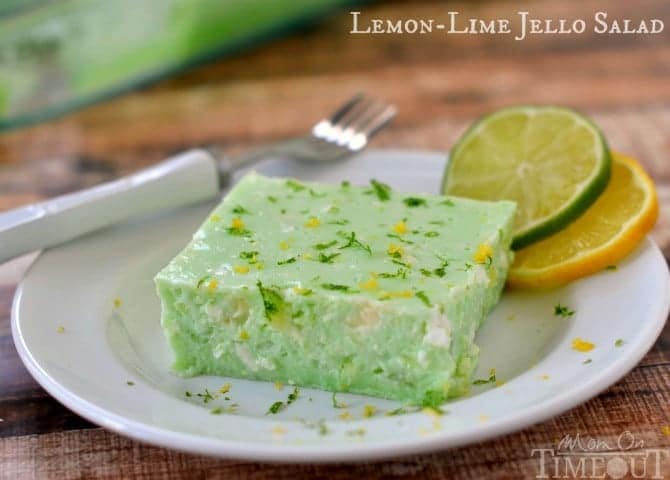 I cannot even begin to tell you how much I love this salad! I particularly love leftovers for breakfast the following day 🙂  Sooo good!  It's so sweet and creamy and it's perfect for summer time.
There is a trick to this recipe and that is using an additional packet of unflavored gelatin along with the lemon and lime jello to really get it to set up nicely. Nothing worse than a jello salad that hasn't set up properly.
At first glance, this salad appears pretty non-assuming other than that pretty green color. (Note to self –  remember to make this for the boys and refer to this as Hulk's Jello Salad – they'd love that!)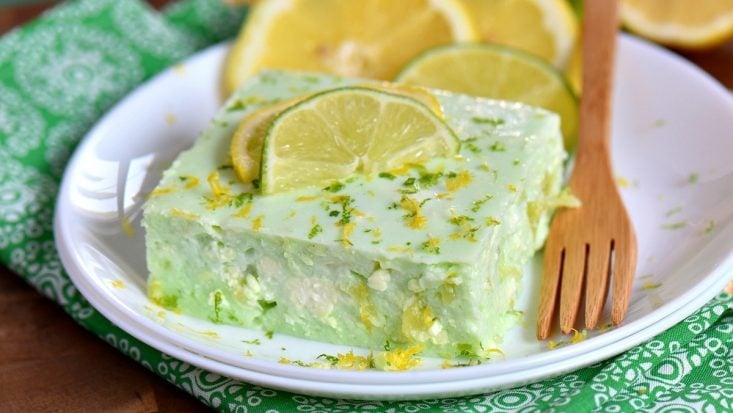 The ingredients list is something else entirely…
Cottage cheese, mayonnaise, sweetened condensed milk, pineapple and jello.  Hmm…it can take a minute to digest that information if you're not used to these types of salads – but trust me! It's amazing how those flavors and ingredients combine together to create this amazing dish!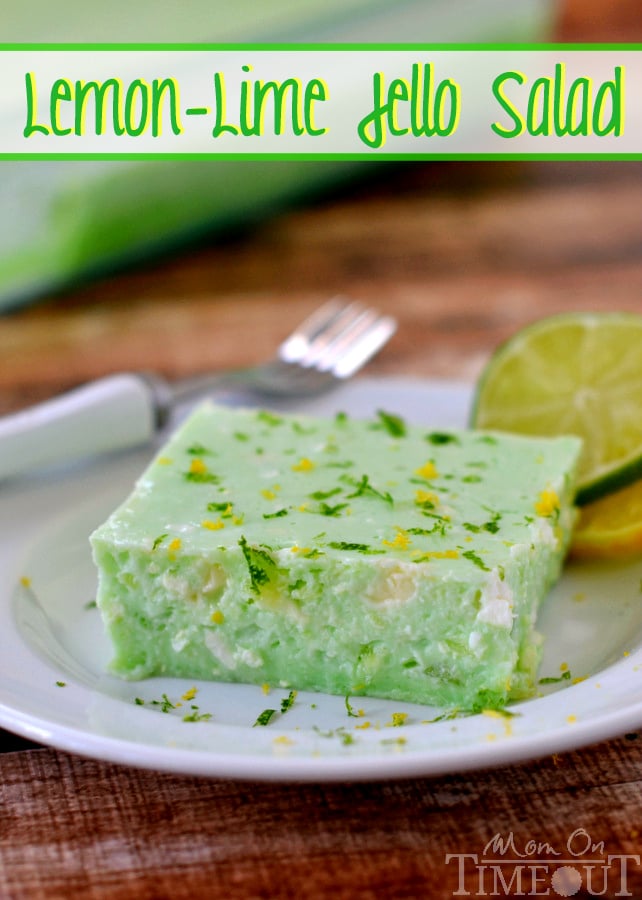 I would love for you to try this recipe with your family and I hope you'll love it as much as we do!

Lemon-Lime Jello Salad a.k.a. Dad's Green Jello
Author:
Trish - Mom On Timeout
Ingredients
1 3 oz pkg lemon JELLO
1 3 oz pkg lime JELLO
1 .25 oz packet unflavored gelatin
2 cups hot water
1 14 oz can sweetened condensed milk
1 cup crushed pineapple (not completely drained)
1 pint cottage cheese
1 cup mayonnaise
lemon and lime zest for topping (optional)
Instructions
Lightly spray a 9 x 13 baking dish.
Dissolve both boxes of JELLO and unflavored gelatin in hot water in baking dish.
Stir in sweetened condensed milk, pineapple, cottage, cheese and mayonnaise until thoroughly combined.
Chill until firm, at least 2 hours.
Sprinkle on lemon and lime zest if desired.
Cut into squares and serve cold.
More family favorites: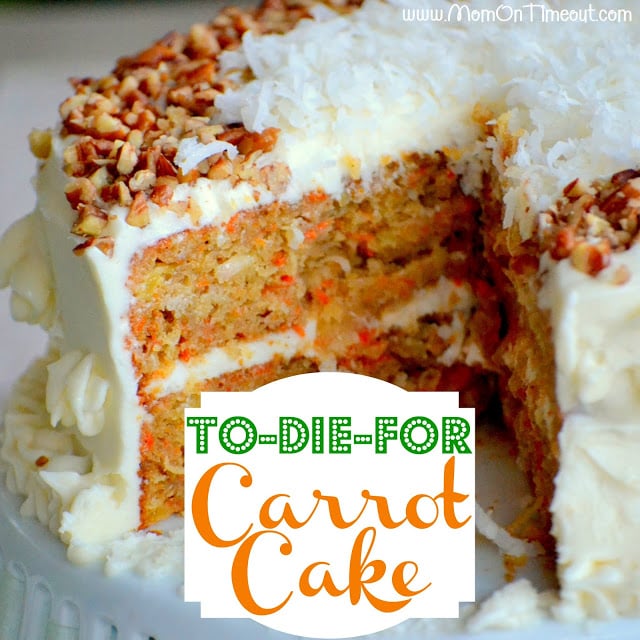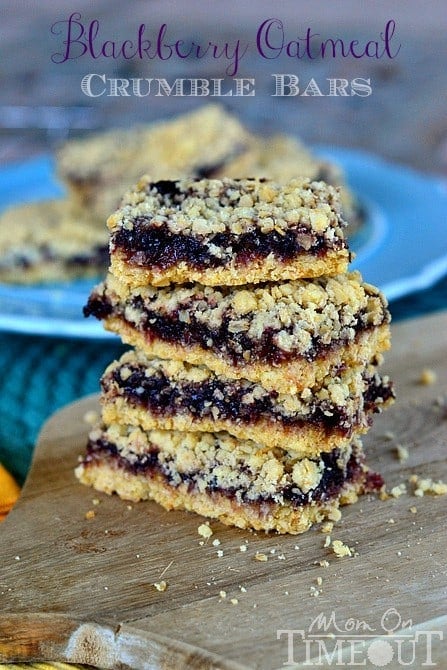 Blackberry Oatmeal Crumble Bars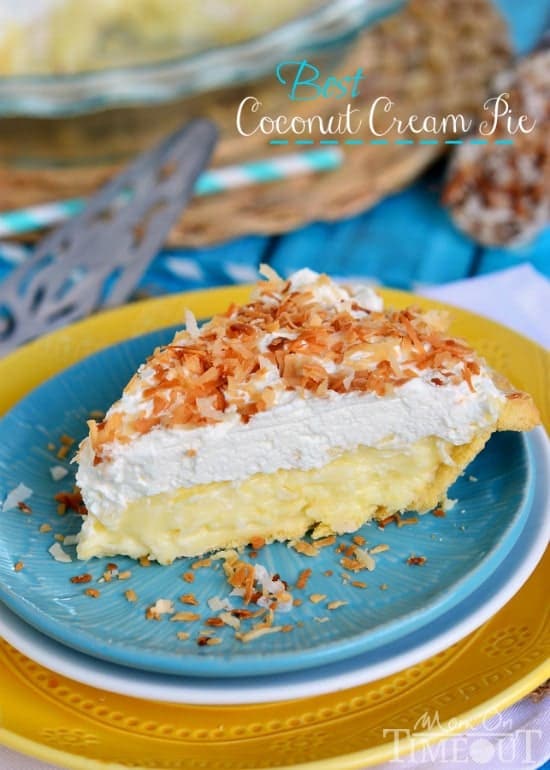 For all bars recipes, go HERE.
For all dessert recipes, go HERE.
Sign up to get emails when I post new recipes!
For even more great ideas follow me on Facebook – Pinterest – Instagram – Twitter – Bloglovin'.
Have a great day!