This easy Baked Apple Pie Dip is made with fresh apples, cream cheese, brown sugar and spices!
Topped with a pecan-graham cracker streusel, it's perfect for a party, after-school snack or easy dessert. This is one recipe I plan on making every chance I get!
Let's be friends! Sign up to get my new recipes in your inbox! Follow me on Facebook and Instagram too!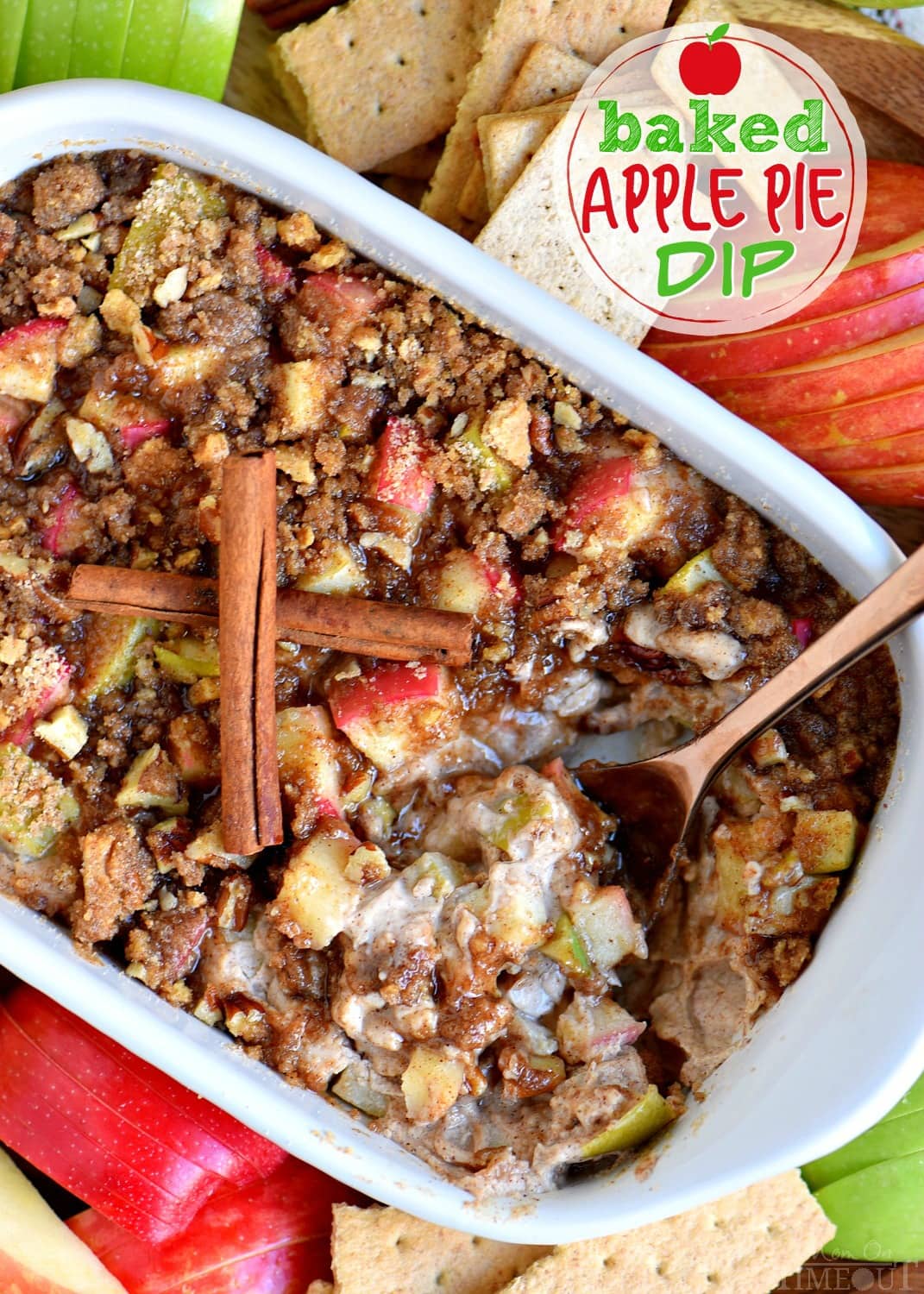 Anybody else a big fan of dips?? I seriously cannot get enough of them. Not only are they the most sought after appetizer at parties, they're by far the easiest to make. Today I'm sharing my new favorite fall dip. It could easily be used as an appetizer, dessert, or snack – your call.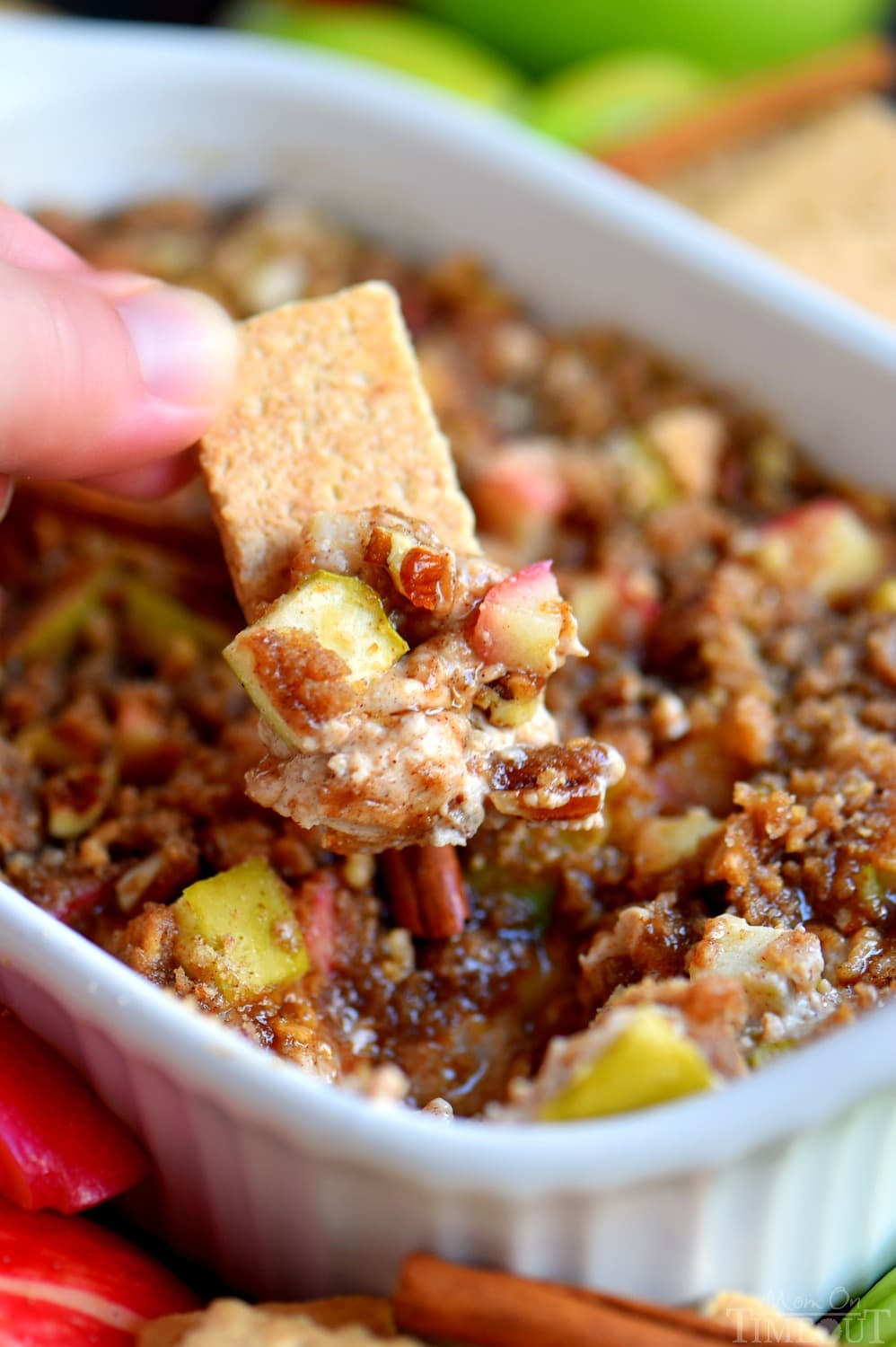 It takes about 6 minutes to pull together. Maybe 5 if you're fast 🙂 It bakes up in about 15 minutes and the aroma from the oven will have you drooling long before you pull it out to enjoy. The first bite is magical. Reece just kept repeating ohmygosh, ohmygosh as he squealed with delight. I couldn't blame him. I mean, it's like 800 times better than apple pie. PLUS…dippers 🙂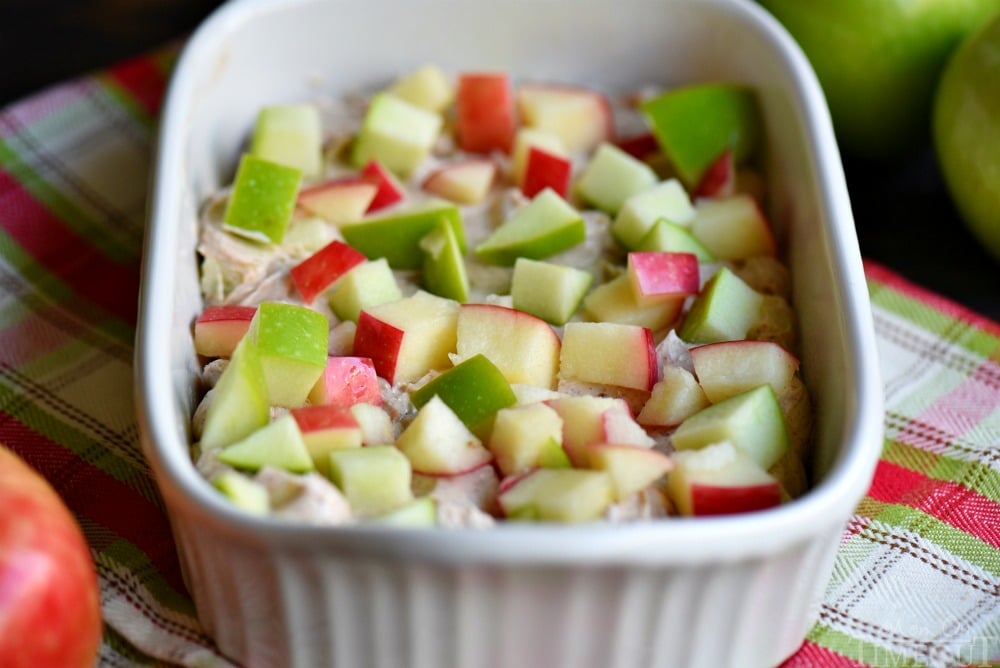 The best part? It's so easy and you probably have most, if not all, of the ingredients on hand already. The dip is LOADED with apples and spices and then topped with a pecan graham cracker crumble. Pretty irresistible.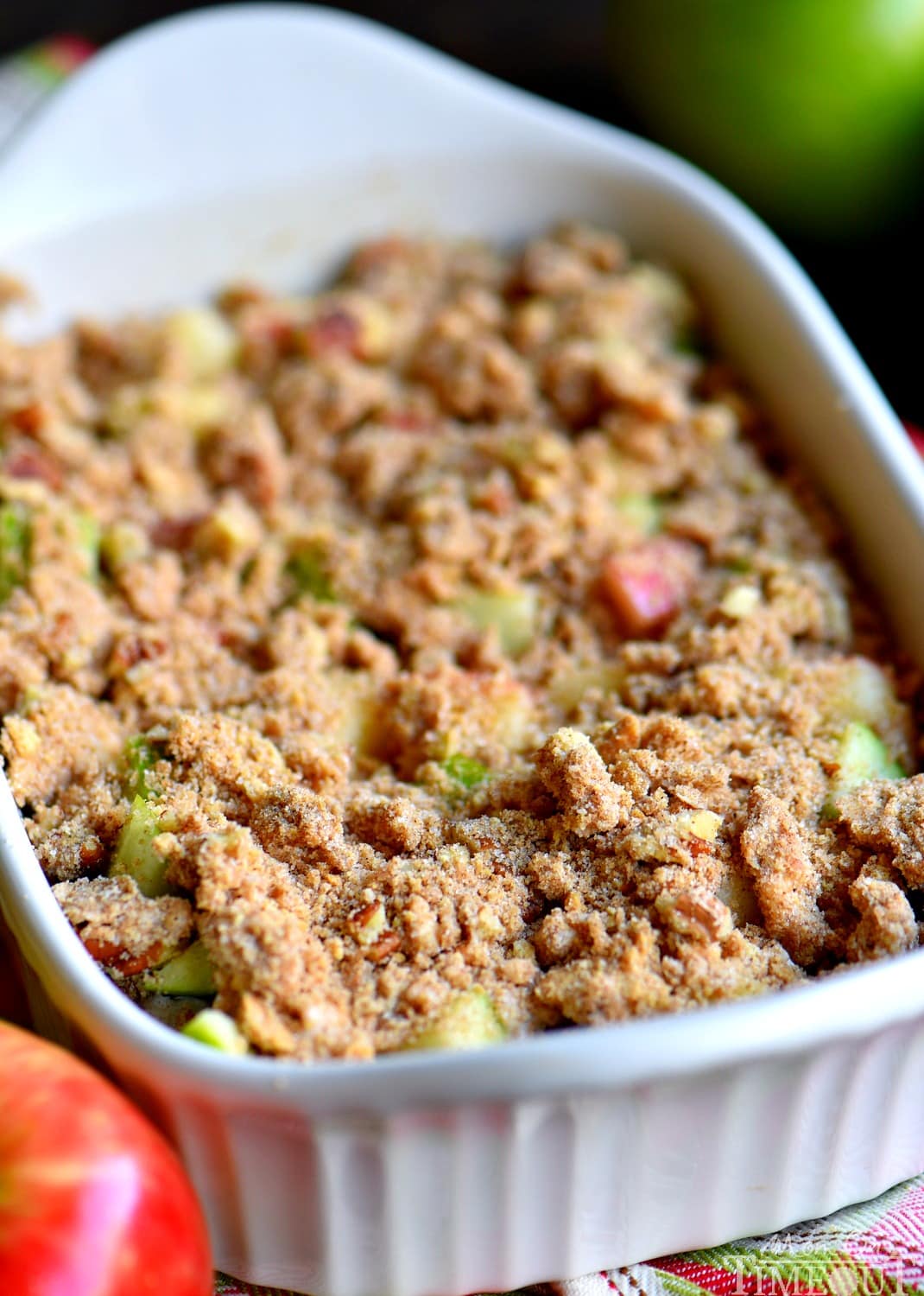 I think we all know that the best thing about dips are the dippers themselves. I laid out an assortment of fresh apple slices, HONEY MAID  Grahams, and WHEAT THINS Snacks  that I picked up at my local Raley's store.
My boys can inhale a box of WHEAT THINS Snacks at a single swim meet and HONEY MAID  Grahams are their after-school snack of choice.  With 8g of whole grain per serving and no high fructose corn syrup, they're a great way to get in the recommended 48g of whole grains a day. Paired with a yogurt, they're good to go for soccer practice later.
I love setting out an assortment of dippers with this dip. It gives everybody options!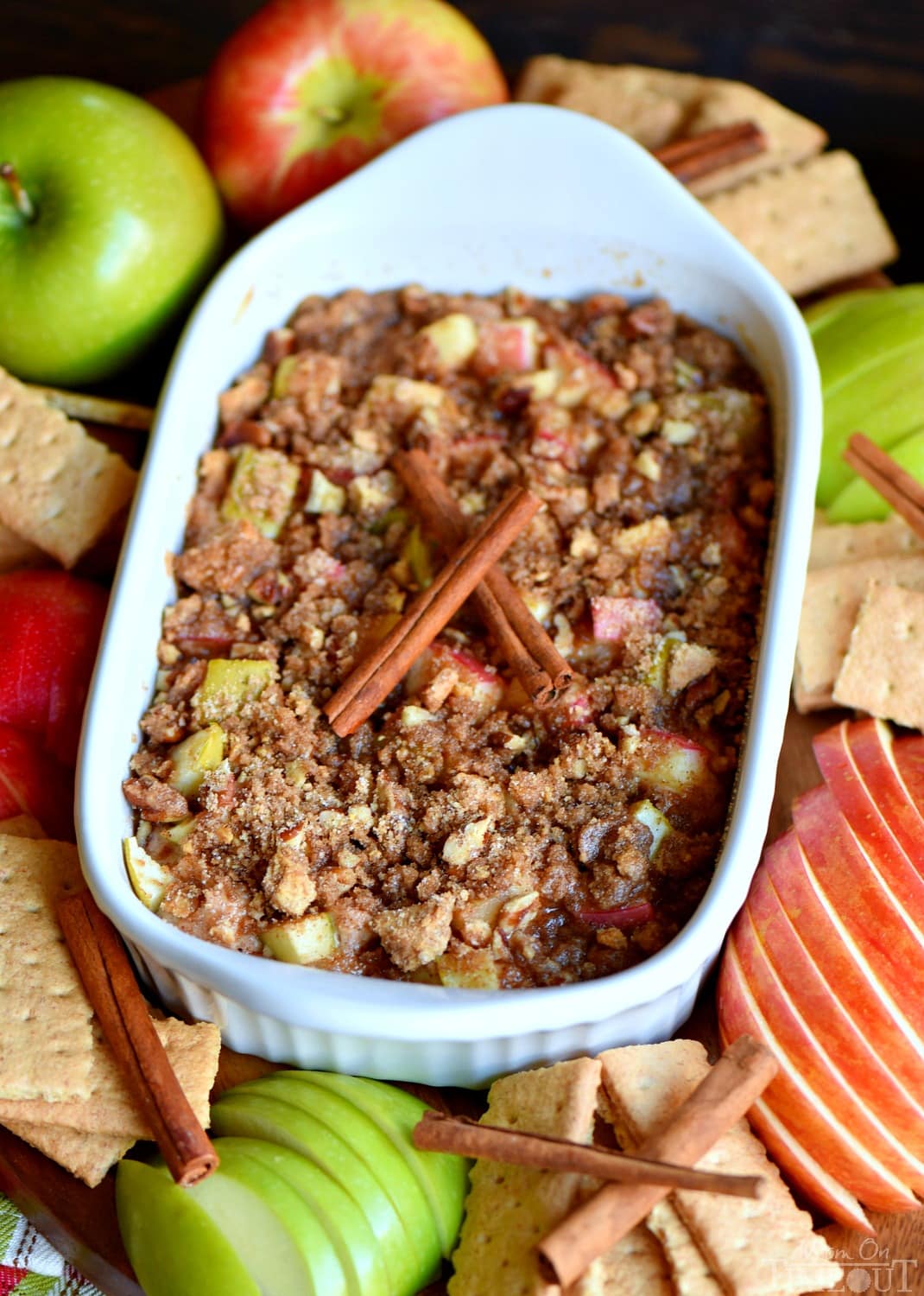 I am loving everything about this dip and I know you will too! It's bursting with fall flavor – sweet, creamy, crunch, this easy apple pie dip has it all! NABISCO and Raley's are making it easier to get the recommended 48g of whole grains with simple and tasty recipes like this one!
Make sure to follow Raley's on Pinterest for more great recipe ideas!
Baked Apple Pie Dip
This easy Baked Apple Pie Dip is loaded with apples and spices! Perfect for a party, after-school snack or easy dessert. This is one recipe I plan on making every chance I get!
Author:
Trish - Mom On Timeout
Ingredients
Pecan-Graham Streusel
2 tbsp all purpose flour
2 tbsp granulated sugar
2 tbsp brown sugar
1 tsp apple pie spice
2 tbsp cold butter, cut into small pieces
2 tbsp HONEY MAID Grahams crumbs
2 tbsp chopped pecans
Dip
8 oz light cream cheese, softened
2 tbsp. brown sugar
1 tbsp apple pie spice (make your own!)
1¼ cups chopped apples, divided
Dippers
fresh apple slices
32 HONEY MAID Grahams, broken into quarters
Instructions
Preheat oven to 350°F.
Spray a small, shallow baking dish with cooking spray and set aside.
Pecan-Graham Streusel
Combine flour, sugars, and apple pie spice in a medium bowl.
Cut in butter.
Stir in graham cracker crumbs and chopped pecans. Refrigerate streusel until you are ready for it.
Dip
In a medium bowl, beat cream cheese, brown sugar and apple pie spice into smooth and creamy.
Stir in ¾ cup chopped apples.
Spread the mixture onto the bottom of the prepared dish.
Sprinkle remaining apples on top.
Top with streusel mixture.
Bake 12 to 15 minutes or until heated through.
Serve with graham crackers and apple slices.


For all apple ideas, go HERE.
For all dessert recipes, go HERE.
Sign up to get emails when I post new recipes!
For even more great ideas follow me on Facebook – Pinterest – Instagram – Twitter – Bloglovin'.
Have a great day!
Disclosure: I was provided compensation for this post by NABISCO and Raley's, but all opinions are, as always 100% my own.