This Carrot Apple Zucchini Bread recipe is incredibly moist and flavorful! Vibrant colors from the carrot, apple, and zucchini makes this quick bread irresistible!  Sure to be a new favorite!
Let's be friends! Sign up to get my new recipes in your inbox! Follow me on Facebook and Instagram too!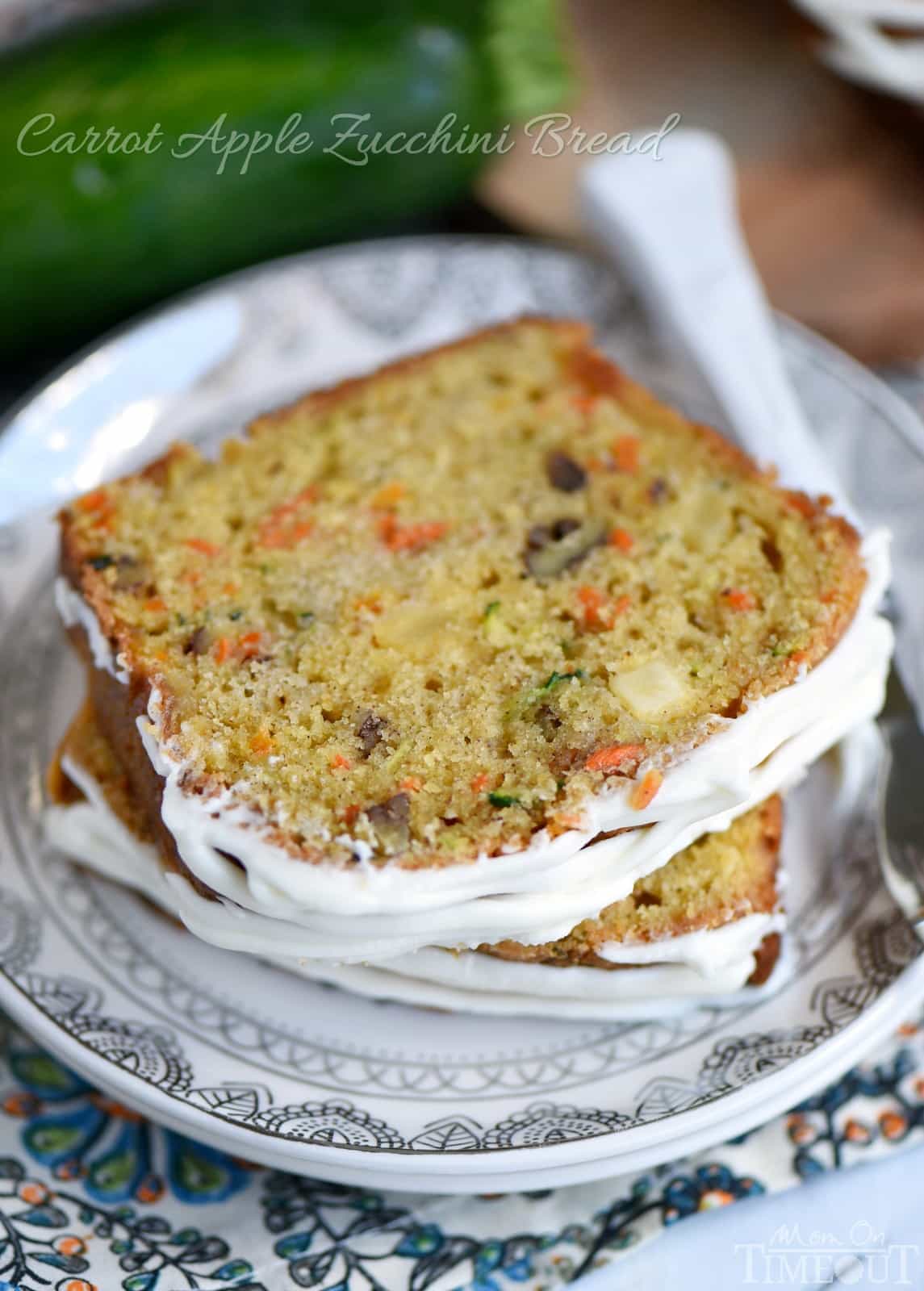 Carrot Apple Zucchini Bread
I took two loaves of this Carrot Apple Zucchini Bread to the swim meet yesterday – TWO – and there isn't a crumb left today. I had to pry the container from Bryce's little hands right before swimming the fly because he was chowing down on this bread like it was cheat day. Reece also took first place in the 25 free so I'm thinking this bread might have magical properties….
I'll admit, the bread is pretty irresistible. It's so pretty to look at and the flavor backs it up.

MY LATEST VIDEOS
During the summer months, I make several zucchini recipes a week. Have to use up those garden zucchinis somehow! We enjoy all sorts of zucchini goodness like this amazing Chocolate Zucchini Cake that only tastes indulgent and these Baked Zucchini Fries that the boys love dipping in ranch, or this super easy Lemon  Zucchini Cake that is so bright and fresh that it's impossible to resist.
But one recipe that we make ALL.THE.TIME is this Carrot Apple Zucchini Bread. It's quite possibly the best quick bread recipe ever and a personal favorite of mine. The bread gets it's moistness and incredible flavor from the carrots, apples, and zucchini. The bread is very light and airy, not dense at all.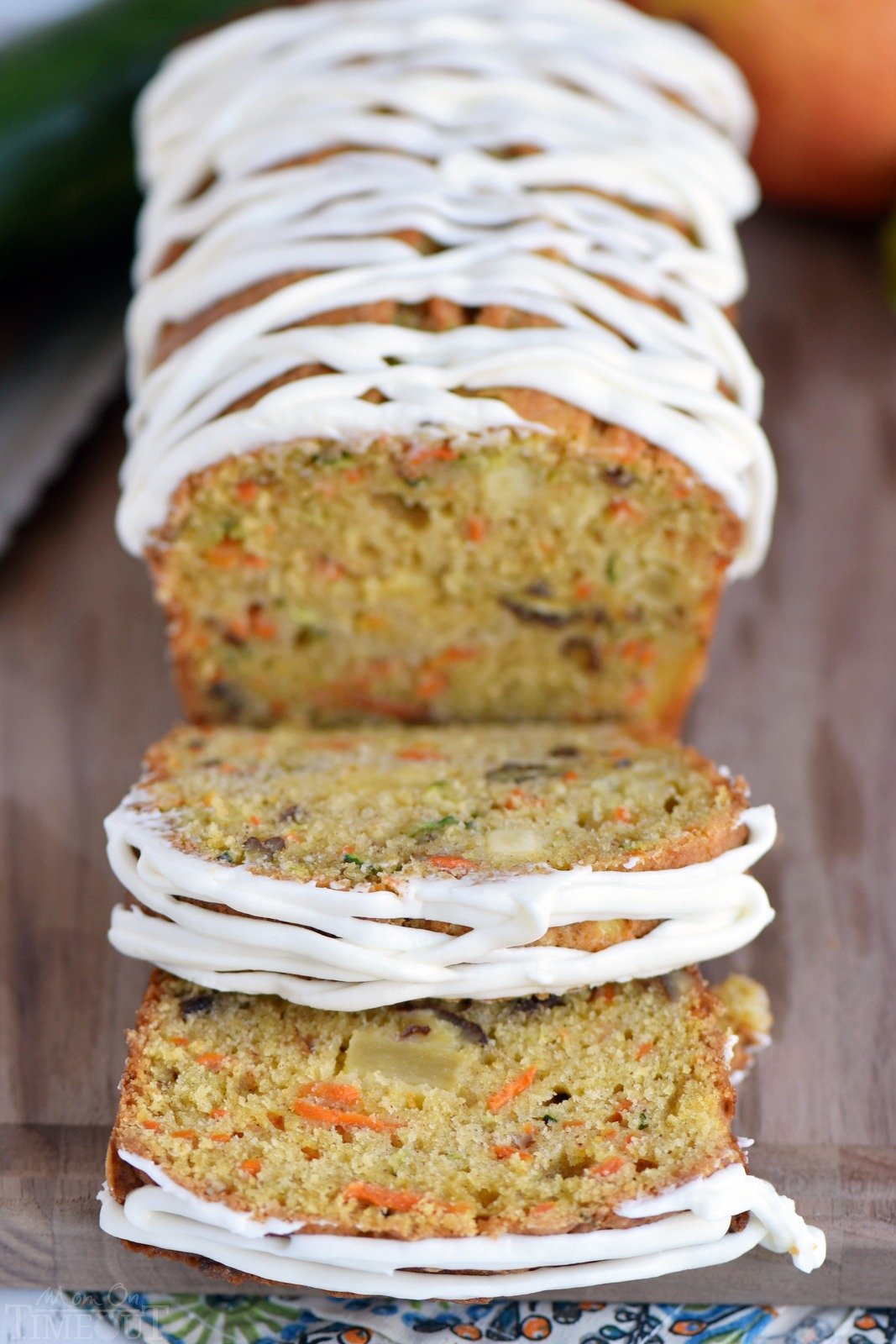 The combination of carrots, apple and zucchini is really something special. The carrots and zucchini are really interchangeable so if you'd like to use more of one than the other, no problem. You could, in fact, eliminate one entirely if you wish.
I also like to use pecans in this recipe but walnuts would be great too. I mean, just LOOK at this beautiful bowl of goodness! So bright and flavorful!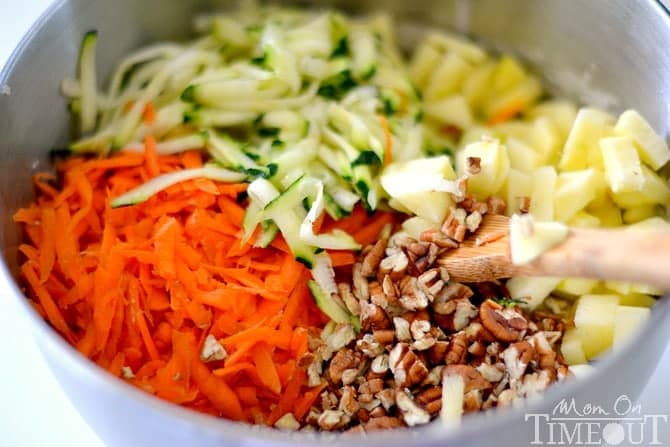 The frosting on this bread is really simple but spectacular at the same time. I have left it off many times because honestly, the bread doesn't need it. That being said, it not only makes the bread look extra special, it adds a bit of sweetness that makes it extra appealing to everybody who tries it.
What You'll Need to Make Carrot Apple Zucchini Bread
Loaf pans – I used (2) 8 x 4 inch loaf pans. This is my favorite loaf pan size because it's just the right amount for our family. I love this recipe because it actually makes TWO loaves so if I don't want to freeze the second loaf, I can just give it to a friend.
The worst thing that can happen when you bake bread is after it's done baking, you flip the pan over…. and the bread doesn't slide out. It's super important to grease and flour the loaf pans or cheat, like I do, and use a baking spray that has flour in it like this one does.
The basics: a good whisk, mixing bowls, cooling rack, and a box grater for the zucchini and carrots.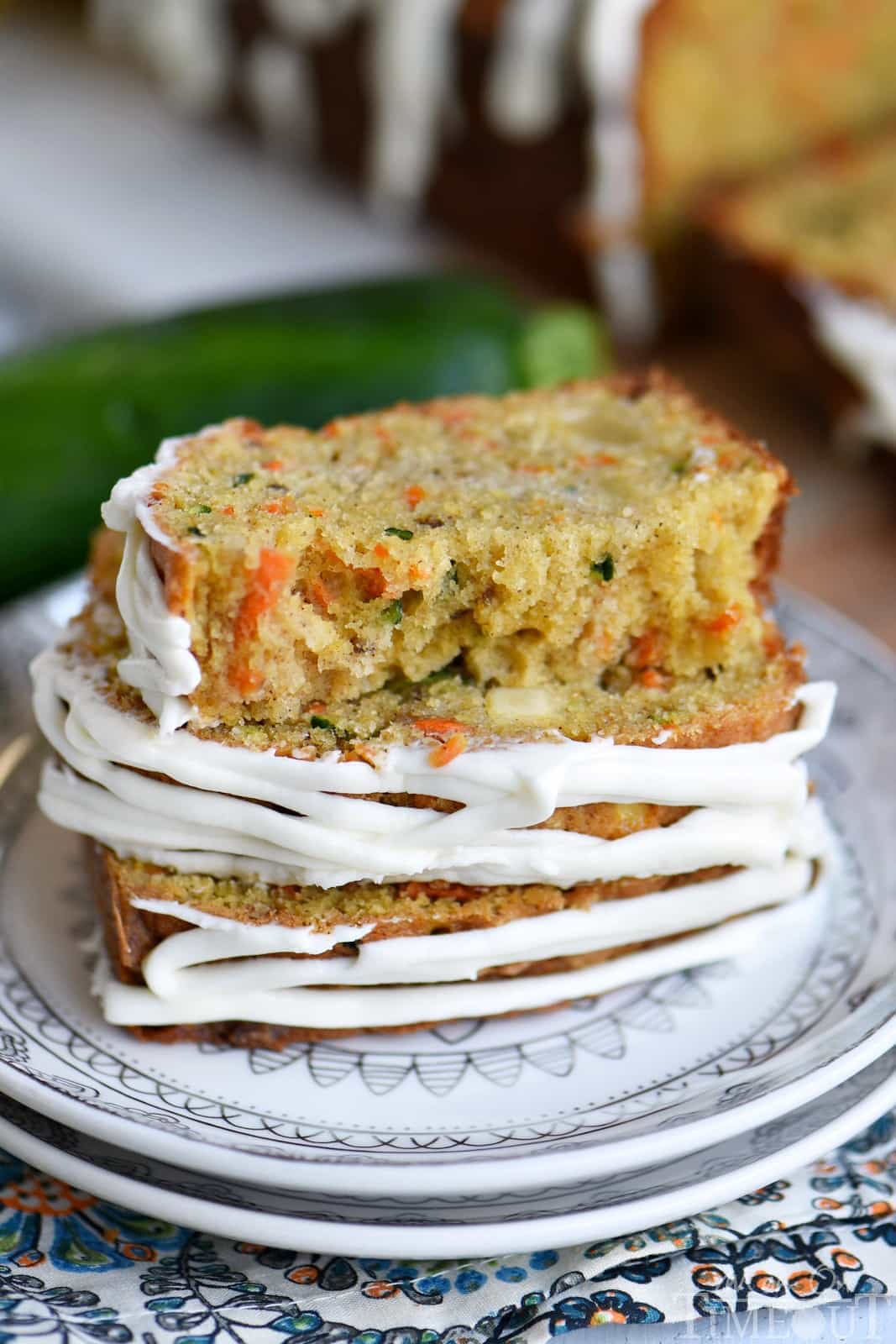 Basically what we have here is a must-make summer recipe. But don't let this recipe sit on the sidelines during the rest of the year! We enjoy it all year round! I hope you give this easy zucchini bread recipe a try and please, let me know what you think in the comments below. Enjoy!
recipe originally appeared on Mom On Timeout on July 5, 2013

Carrot Apple Zucchini Bread
This Carrot Apple Zucchini Bread recipe is incredibly moist and flavorful! Vibrant colors from the carrot, apple, and zucchini makes this quick bread irresisitble! Sure to be a new favorite!
Author:
Trish - Mom On Timeout
Ingredients
1 cup unsalted butter, melted
2 cups granulated sugar
3 eggs, room temperature
¼ cup fresh orange juice
1 tbsp vanilla extract
3¼ cups all-purpose flour
½ tsp salt
2½ tsp baking powder
¾ tsp baking soda
1 tsp cinnamon
pinch of ground cloves
pinch of ground nutmeg
2 cups shredded carrots
1 cup shredded zucchini
1 cup diced, peeled apple (Granny Smith, Fuji, whatever you have on hand)
½ cup pecans, chopped
Cream Cheese Glaze/Frosting
½ cup cream cheese, softened
¼ cup butter, softened
2 - 3 cups powdered sugar
1-3 tbsp orange juice as needed
Instructions
Preheat the oven to 350 degrees.
Grease and flour two 8x4 inch loaf pans. Line with parchment paper and set aside. (I use the baking spray with flour in it.)
Place zucchini in a large kitchen towel. Bring up the four corners and twist. Squeeze the towel to extract all the liquid from the zucchini, or as much as you can. Set aside.
In a large bowl, whisk together flour, salt, baking powder, baking soda, cinnamon, cloves, and nutmeg together. Set aside.
In a separate large bowl, whisk together the butter and sugar.
Add eggs, orange juice, and vanilla and whisk until combined.
Fold dry ingredients into wet ingredients along with the shredded carrots, shredded zucchini, apples, and pecans.
Pour into prepared pans.
Bake until golden brown, 55 to 60 minutes, or until loaves spring back when gently pressed with fingers.
Let cool completely before icing.
Cream Cheese Glaze/Frosting
Cream together cream cheese and butter with a hand mixer.
Add in 2 cups of powdered sugar and continue mixing. Drizzle in orange juice until desired consistency is achieved.
Frost bread and enjoy!
Notes
The carrots and zucchini in this recipe are interchangeable. Feel free to use less or more of each. You just want three cups total.

More zucchini goodness!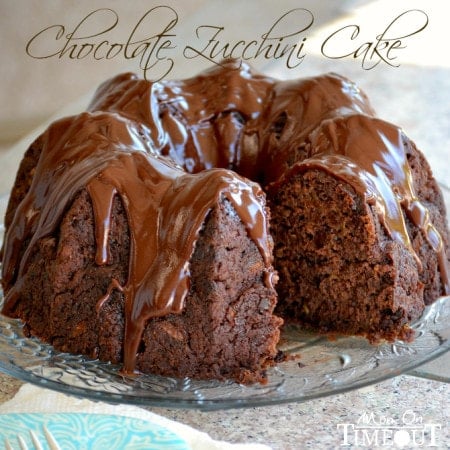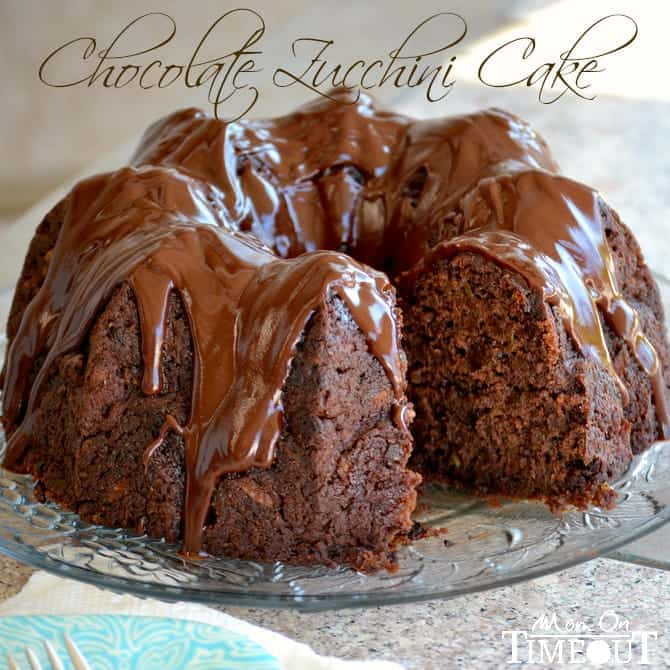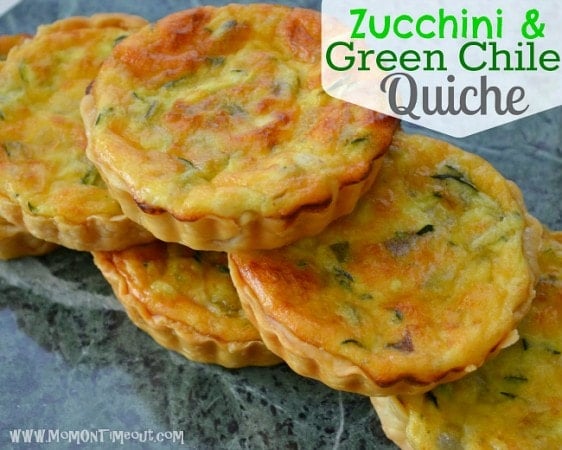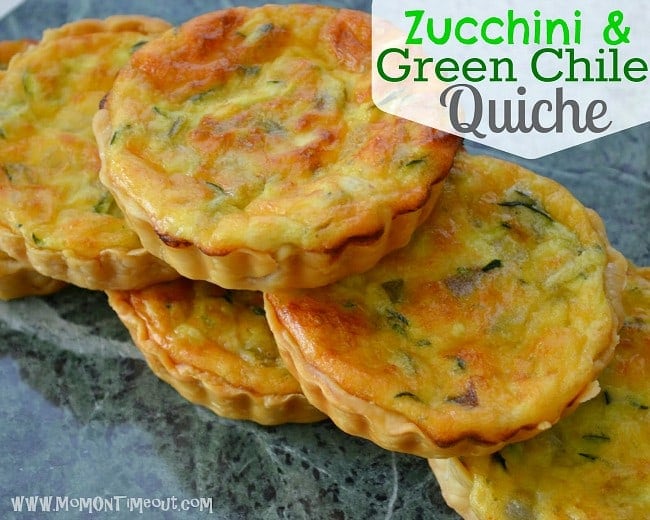 Zucchini and Green Chile Quiche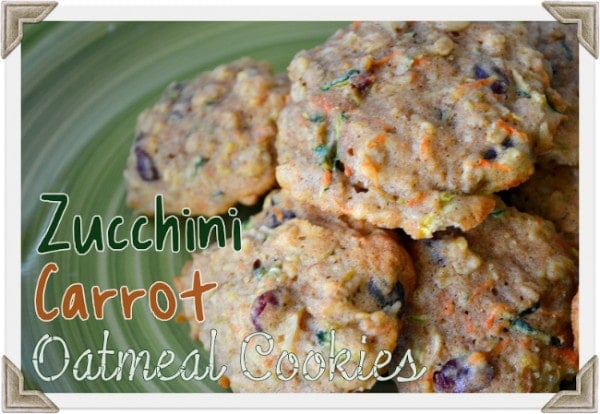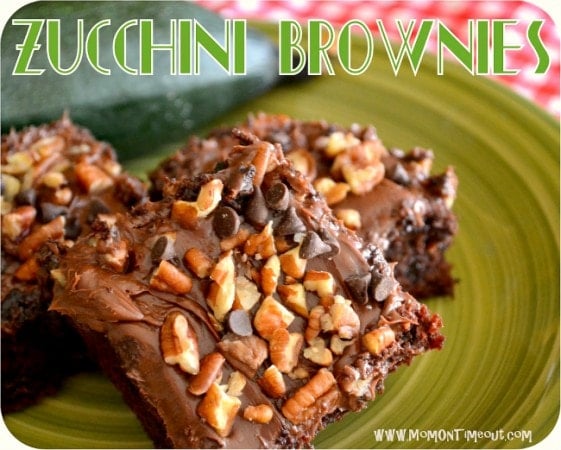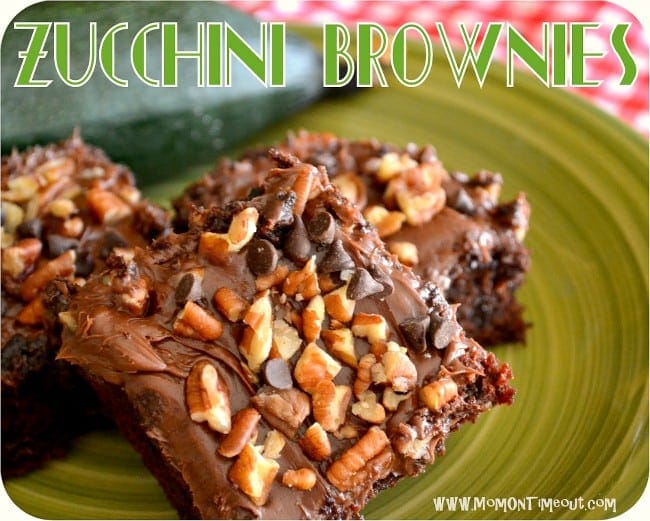 For all breakfast recipes, go HERE.
For all dessert recipes, go HERE.
Sign up to get emails when I post new recipes!
For even more great ideas follow me on Facebook – Pinterest – Instagram – Twitter – Bloglovin'.
Have a great day!