Get your sweet tooth ready for this outrageous Butterscotch Almond Toffee! Creamy, buttery, crunchy, melt in your mouth awesomeness! Make sure to try these other favorites: the BEST Divinity candy, easy Penuche recipe, and this Better Than Anything Toffee!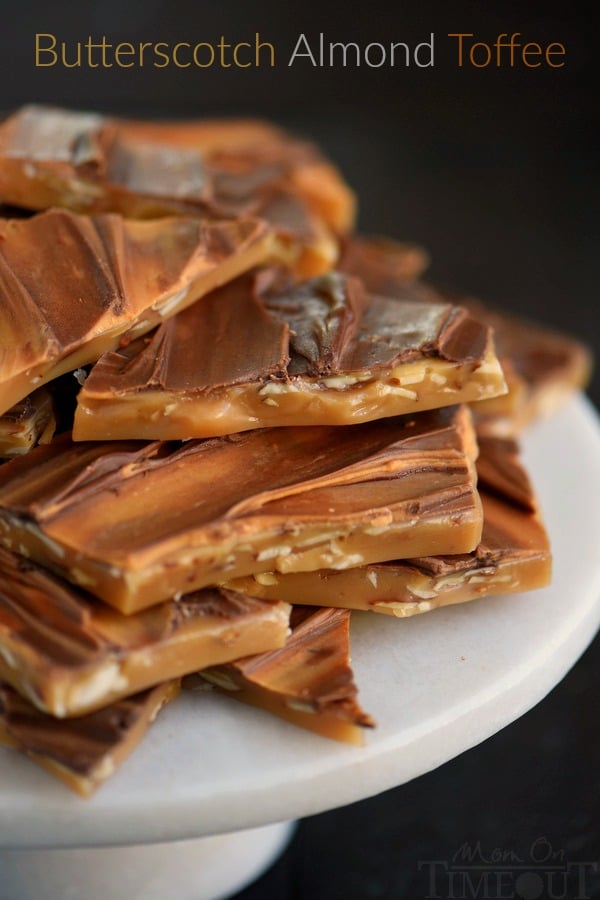 Butterscotch Almond Toffee
I don't know if any of you have looked at the calendar lately but ohmygosh we are so close to November! It's time to start planning for the holidays – gifts, food, and allthecandy!! My boys have been working on their ever-changing Christmas lists since late June so they're at least on top of things on their end. Me? Not so much. But I'm starting NOW!
I love gifting food items during the holidays. I love to think of something I made being shared among friends and family while they sit around enjoying each other's company. Kinda warms my heart, you know?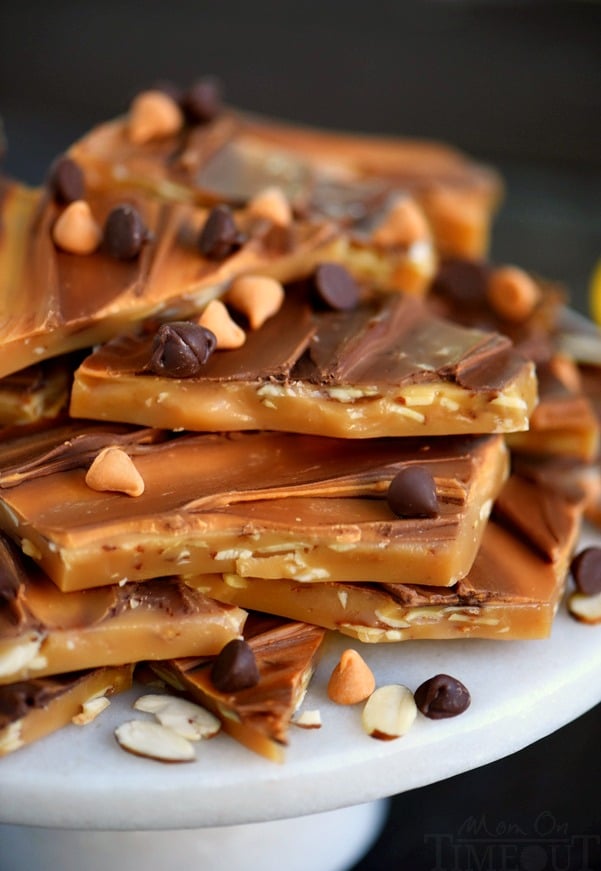 I have a lot of favorite cookies and candies that I love making during the holiday season but the one I CANNOT get enough of is toffee. Buttery, sweet, crunchy goodness. It's a treat no one can resist.
I had just bought myself a digital candy thermometer and was super eager to try it out. One thing that I love about toffee recipes is how few ingredients you need: butter, sugar, salt, vanilla, chocolate. It's one of those recipes you can make on a whim without needing to run to the store to buy special ingredients.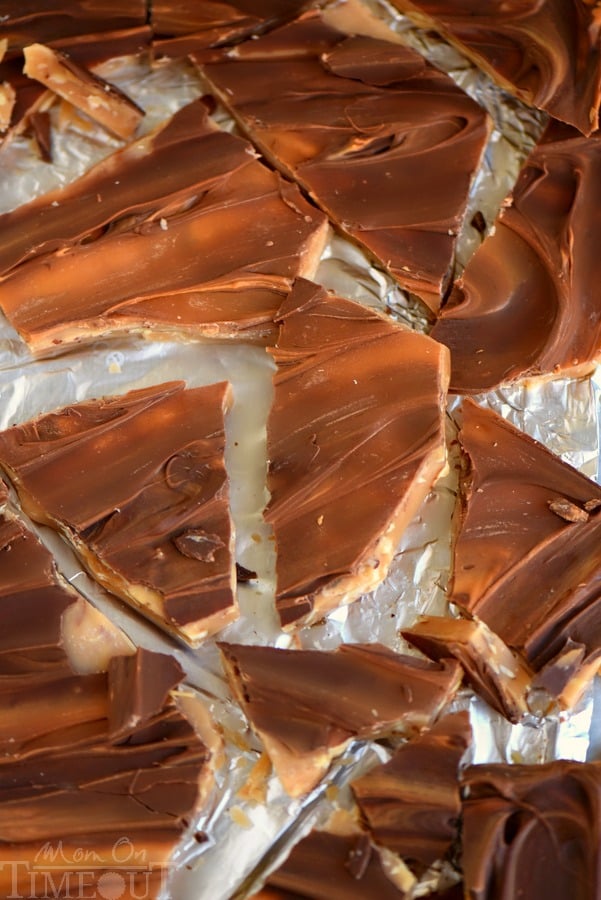 You guys! This is seriously some of the best toffee I've ever had! The butterscotch and milk chocolate combination on top of the toffee is miraculous! The toffee itself is so tasty with just the right amount of crunchiness. It just melts in your mouth!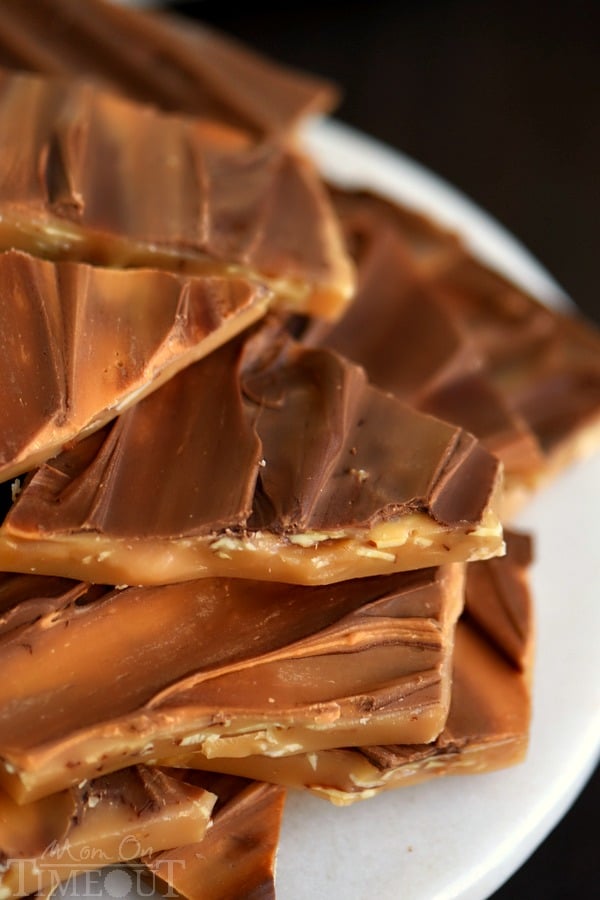 This recipe definitely passed the test and WILL be making an appearance on our holiday cookie trays this year. Sooo good!
More Holiday Favorites
How To Make Butterscotch Almond Toffee
Butterscotch Almond Toffee
Get your sweet tooth ready for this outrageous Butterscotch Almond Toffee! Creamy, buttery, crunchy, melt in your mouth awesomeness!
Ingredients
2

cups

butter

1 pound

2

cups

granulated sugar

1

tsp

salt

1

tsp

vanilla extract

3/4

cup

slivered almonds

3/4

cup

butterscotch chips

3/4

cup

milk chocolate chips

1 1/2

tsp

shortening

divided
Instructions
Line a 15x10 - inch baking pan with foil and lightly spray with cooking spray. (This is a jellyroll size pan.) Set aside.

In a heavy bottomed saucepan, combine the butter, sugar, and salt. Melt the butter over medium-high heat, stirring until the sugar is completely dissolved.

Clip a candy thermometer to the saucepan and continue cooking and stirring the mixture until it reaches 290 degrees Fahrenheit.

Stir in the vanilla extract and slivered almonds; pour toffee into the prepared pan. Top the pan to spread the toffee evenly. Place the pan on a rack to cool.

In a small bowl combine butterscotch chips and half of the shortening. Combine the milk chocolate chips and the remaining shortening in a separate bowl.

Heat on high in the microwave in 30 second intervals, stirring in between, until the chips have fully melted and are smooth.

Use an offset spatula to spread the butterscotch and chocolate on top of the cooled toffee.

Refrigerate for at least 30 minutes to set the chocolate.

Break into pieces and serve.
Nutrition
Calories:
272
kcal
|
Carbohydrates:
26
g
|
Protein:
1
g
|
Fat:
19
g
|
Saturated Fat:
11
g
|
Cholesterol:
42
mg
|
Sodium:
257
mg
|
Potassium:
28
mg
|
Fiber:
1
g
|
Sugar:
25
g
|
Vitamin A:
491
IU
|
Calcium:
20
mg
|
Iron:
1
mg