This White Chocolate Cranberry Fudge is so smooth, so creamy, so rich with the refreshing zip of cranberries!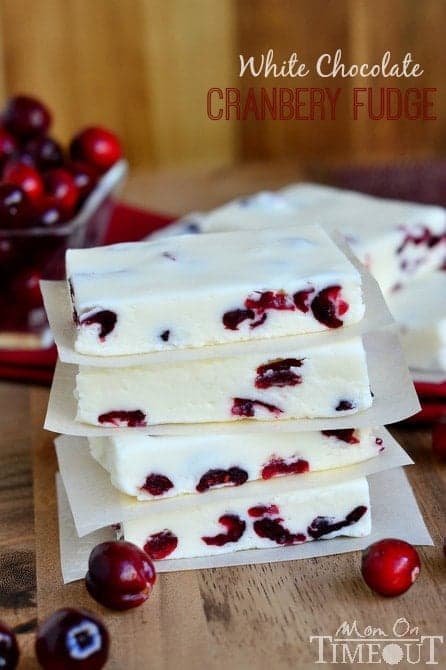 I am finally, FINALLY completely recovered from the cruise!  Woohoo!  Now I'm about to tear my house apart again for Thanksgiving…does the fun never end???  No, seriously, I am really looking forward to hosting Thanksgiving this year and kind of redeeming myself in my family's eyes after boycotting last Thanksgiving in favor of going to Disneyland.  I'm just awful :)
I've been busting out fudge left and right lately and it's kind of like my new favorite thing.  Good thing Chris's coworkers also like fudge because I swear I'm sending in a tray every day!  My latest love is this White Chocolate Cranberry Fudge.
It's pure heaven in your mouth.  The white chocolate is so smooth, so creamy, so rich and the cranberries just cut through it all perfectly with a refreshing zip.  I made life easy and just used a bag of Craisins cause that's how I roll :)
I only used 1 cup of white chocolate chips in this recipe so you get that sweet, rich taste but it's not overpowering.  Chris said this is his favorite one so far.  Well, this and the Nutter Butter Peanut Butter Fudge.  The kids agree.  I could hardly keep their little fingers out of the frame as I was shooting – despite the fact that I had a whole plate over on the counter.  Boys!
So you'll notice that this fudge is thinner.  I went with a 9×13 baking dish instead of the standard 8×8 or 9×9.  You could totally use those, of course, but I wanted a little different look for this fudge.  Something a bit more elegant :)  I love it!
I also used clear vanilla extract – not a deal-breaker – but it keeps the fudge that dreamy, creamy white and really makes those cranberries pop!

White Chocolate Cranberry Fudge
This White Chocolate Cranberry Fudge is so smooth, so creamy, so rich with the refreshing zip of cranberries!
Ingredients
2 cups sugar
¾ c sour cream (not light)
½ cup unsalted butter
½ tsp salt
1 cup white chocolate chips
1 (7 oz) jar marshmallow creme
1 tsp vanilla extract
1 (5 oz) bag dried cranberries (Craisins)
Instructions
Line a 9x13 baking dish with foil and lightly spray with cooking spray.
Combine sugar, sour cream, butter and salt in a heavy 2 qt saucepan.
Bring mixture to boil over medium heat, stirring frequently.
Continue cooking, stirring occasionally, to soft ball stage (238 degrees).
Remove from heat and stir in chocolate chips until fully melted. This will take a few minutes :)
Stir in the marshmallow creme and vanilla extract until smooth and blended.
Stir in dried cranberries until evenly distributed.
Pour into the baking dish, cool to room temperature.
Chill in refrigerator for several hours before cutting into squares,
Store in an airtight container.
What can I say?  I'm in love!!
What's your favorite fudge recipe?  Leave me a link!
More fudge we adore: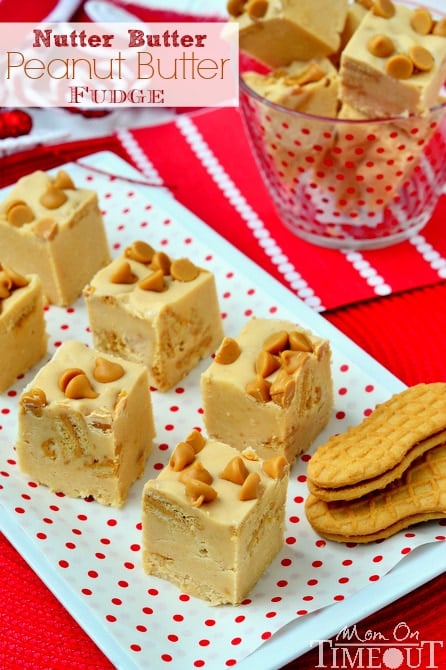 Nutter Butter Peanut Butter Fudge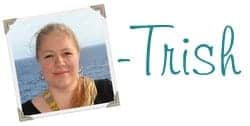 Connect with me!
 Linking up at some of these parties.