This wonderfully easy Reese's Peanut Butter Fudge takes only 5 minutes to prepare and will satisfy your deepest peanut butter cravings!
Let's be friends! Sign up to get my new recipes in your inbox! Follow me on Facebook and Instagram too!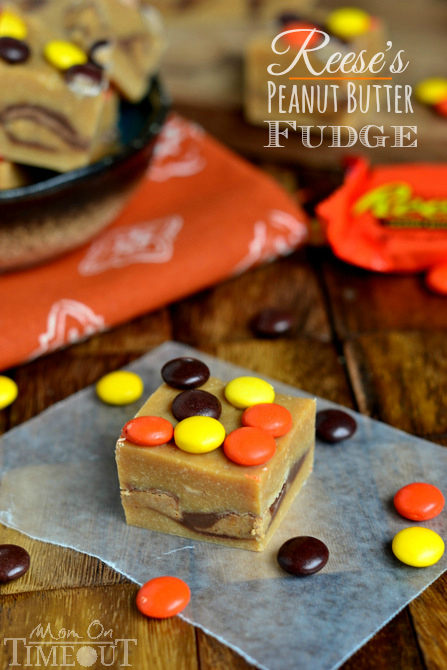 I know! I know! Two Reese's recipes back-to-back – what am I thinking?  Just that I love you 🙂  You are absolutely going to ADORE how easy this Reese's Peanut Butter Fudge is to make!  It takes all of 5 minutes and ohmygoodness!  FUDGE!
This is the first time that I've made Reese's PEANUT BUTTER Fudge.  For some reason, in the past I've always made it a chocolate fudge with Reese's in it.  A couple of weeks ago it occurred to me that I was totally, TOTALLY missing an incredible opportunity to add even more Reese's flavor by making a fudge that was made out of Reese's peanut butter chips!  Genius, right?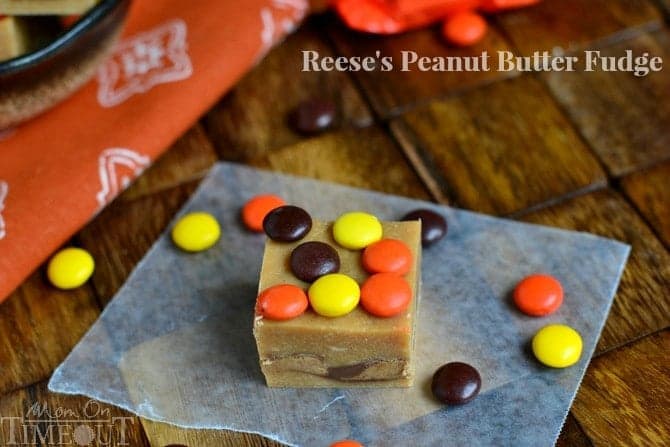 So, of course I wanted to make sure you could all make it in the five minutes you have between kids asking for a snack, moving the clothes over to the dryer, and working on your grocery shopping list.  Yes.  Times are a-busy right now 🙂
This fudge is made with a very short list of ingredients that you are really going to appreciate.  In fact, if you've been hoarding saving any leftover Reese's from Halloween – this is the perfect recipe to use them in!  Your peanut-butter loving friends and family will go crazy for this fudge – you might just want to make two batches!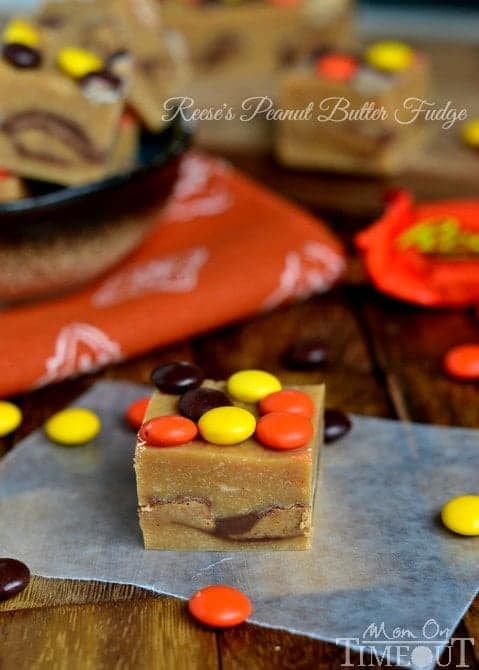 EASY Reese's Peanut Butter Fudge
Ingredients
2 (10 oz) bags Reese's Peanut Butter Chips
1 (14 oz) can sweetened condensed milk
1 tsp vanilla extract
10 Reese's Peanut Butter Cups, quartered
¼ cup Reese's Pieces for sprinkling on top
Instructions
Line an 8x8 baking dish with foil. Lightly coat with cooking spray.
Melt peanut butter chips and sweetened condensed milk in a heavy saucepan over medium low heat until fully melted.
Turn off heat and stir in vanilla.
Pour half of the mixture into the prepared dish.
Nestle the peanut butter cups into the fudge.
Spread remain half of fudge mixture over Reese's peanut butter cups.
Sprinkle Reese's Pieces on top and press into the fudge with the palm of your hand.
Let cool completely before cutting into pieces and serving.
Store in an airtight container for up to 7 days.

More fudge recipes for you!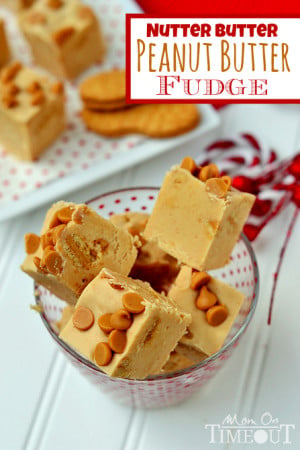 Nutter Butter Peanut Butter Fudge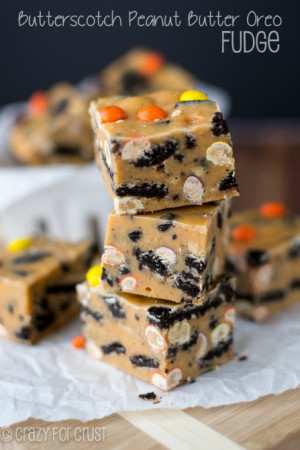 Butterscotch Peanut Butter Oreo Fudge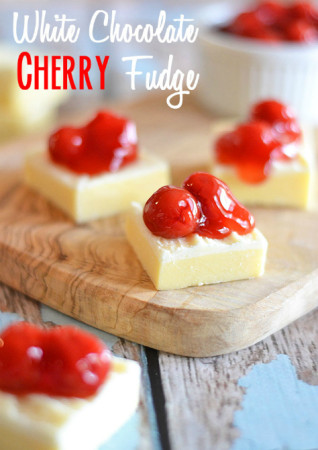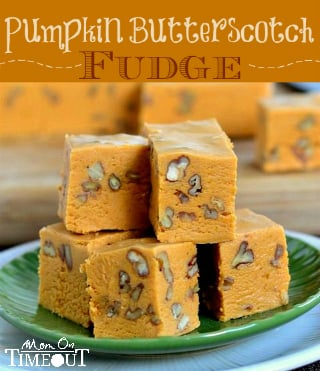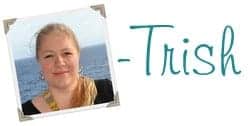 For all fudge recipes, go HERE.
For all cake recipes, go HERE.
Sign up to get emails when I post new recipes!
For even more great ideas follow me on Facebook – Pinterest – Instagram – Twitter – Bloglovin'.
Have a great day!