Calling all Reese's lovers!  Look no further for the perfect Thanksgiving treat with these completely adorable Reese's Turkeys!
Let's be friends! Sign up to get my new recipes in your inbox! Follow me on Facebook and Instagram too!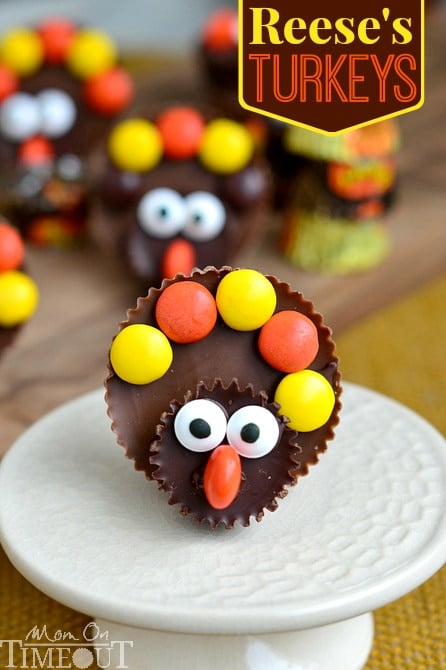 Oh it has been FAR too long since I've done a post with Reese's!  It seems that every recipe I make around here that involves Reese's gets consumed faster than I can take pictures 🙂  It's hard work being a food blogger!
I totally meant to share these cuties with you guys before I left for vacation but well, life got in the way 🙂  And laundry.  And missing shoes.  And total and complete exhaustion.  But now I'm back!  And I'm still dealing with all of that fun stuff BUT I'm much happier 🙂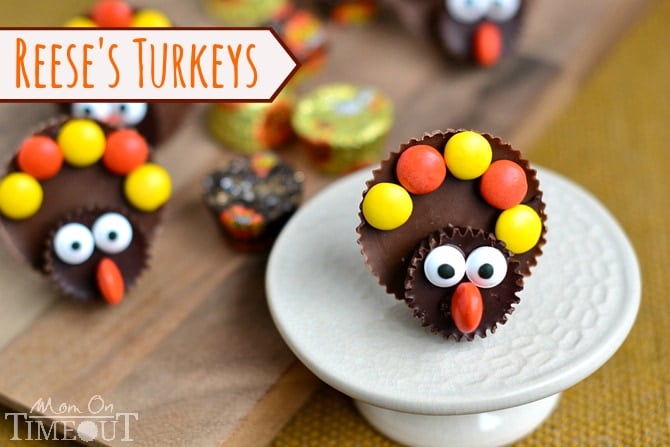 So you all know I love any and everything to do with Reese's – they're kind of like my favorite thing, EVER.  Cookies, bars, cheesecake, trifles, bread…I love it all!  Well these turkeys are one of my favorite ways to enjoy three different types of Reese's in one totally adorable treat!
You may have noticed that I used Reese's Dark Miniatures for the head of the turkey.  Two reasons for this.  One – I like the contrast in color from the head to the body.  It's subtle, but it's there.  Two – the Dark Miniatures tend to peel nicely from their wrapping without leaving little bits of chocolate behind.
Now don't get me wrong, one of my favorite things about eating a Reese's is licking the sweet remains from the wrapper.  But for these little guys, I want the candy to be completely intact and the Dark Miniatures work best for that.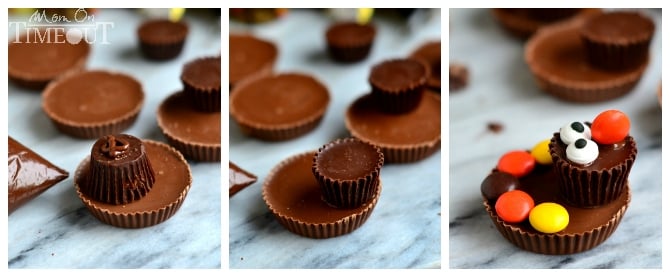 I used to make these turkeys without the candy eyes, and just used yellow Reese's Pieces for those.  And you can too!  But the turkeys DO look a little cray cray when you do that 🙂  Ever since Target started carrying these cute little candy eyes (in the baking aisle!), I've kept them in stock for all sorts of fun food ideas.
The eyes, nose, and "feathers" are all held on with a little chocolate "glue" – aka, melted chocolate.  This sweet bird is totally edible and is 99.9% Reese's – just the way I like it!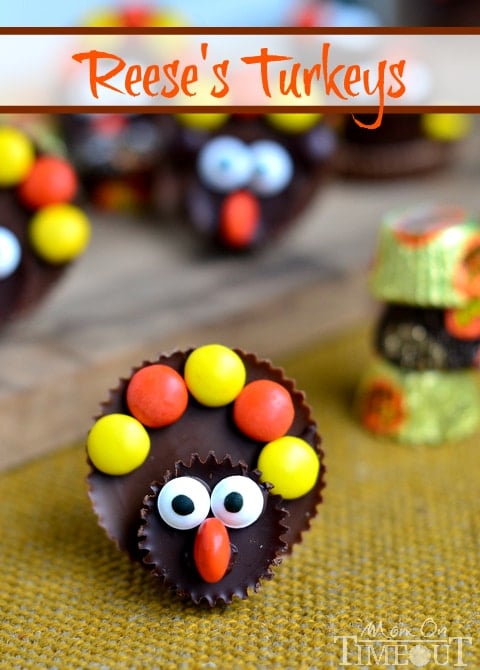 Reese's Turkeys
Ingredients
8 Reese's Peanut Butter Cups (full size)
8 Reese's Dark Peanut Butter Cups Miniatures
48 Reese's Pieces
16 candy eyes
½ c semi-sweet chocolate chips
Instructions
Unwrap all the candy and set aside.
Melt chocolate chips in microwave (15 seconds medium heat, stir, repeat) until nice and smooth.
Transfer melted chocolate to a plastic bag and cut a very small piece off the corner.
Pipe a small amount of melted chocolate onto the back of the miniatures and place on the far side of the full size cups.
Pipe a small amount of melted chocolate onto the back of the candy eyes and place on the turkey's head (the miniature).
Pipe a small amount of melted chocolate onto the side of an orange Reese's Pieces and place on the miniature for the turkey's nose.
Pipe a small amount of melted chocolate onto the back of 5 more Reese's Pieces and place at the top of the full size cup for the feathers.
Let sit until chocolate is completely firm.

More Thanksgiving fun: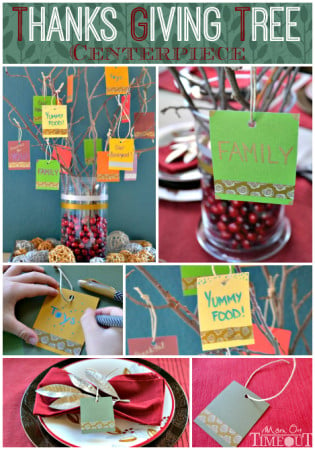 Thanks Giving Tree Centerpiece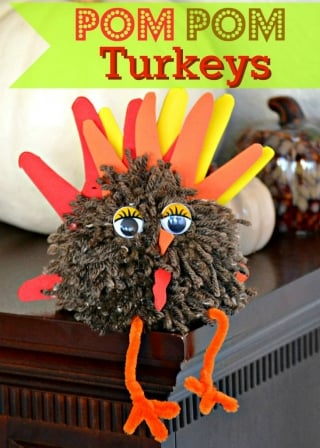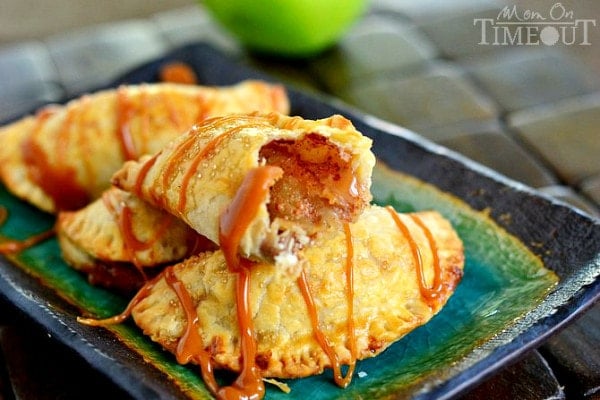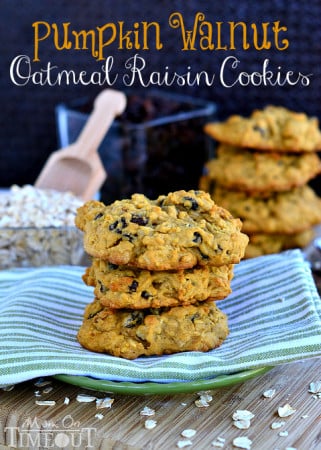 Pumpkin Walnut Oatmeal Raisin Cookies

For all Thanksgiving recipes, go HERE.
For all dessert recipes, go HERE.
Sign up to get emails when I post new recipes!
For even more great ideas follow me on Facebook – Pinterest – Instagram – Twitter – Bloglovin'.
Have a great day!