This Kielbasa, Peppers, and Potato Hash is a delicious and easy dinner recipe that takes just 20 minutes and one skillet!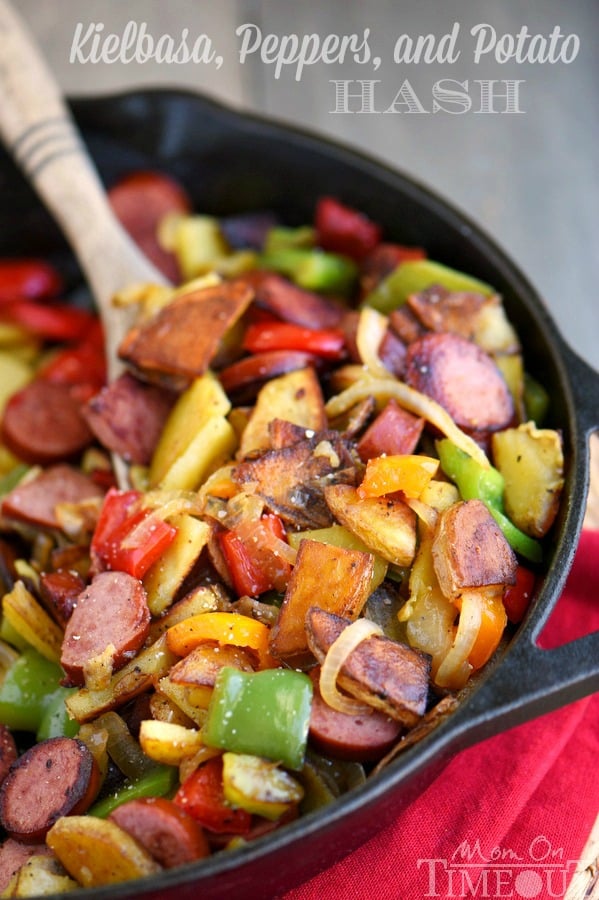 Last night was an exciting night! Bryce lost his very first tooth! There was a little bit of crying but geez was that kid excited to get a visit from the Tooth Fairy! Somehow, that made everything better 🙂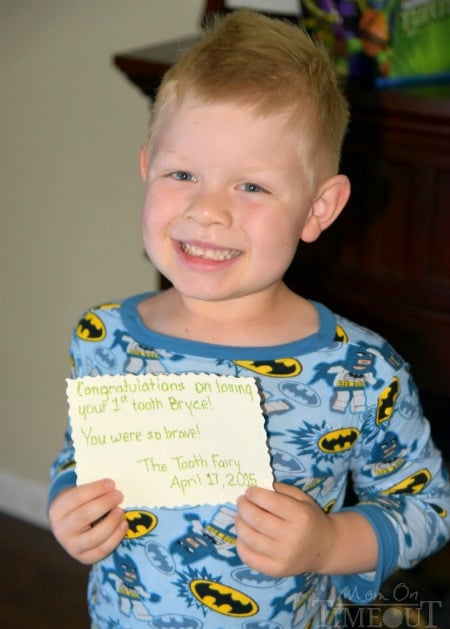 I cried a few tears myself after he went to bed. My baby…lost his first tooth! So proud of him though – such a brave little guy. I took a look at his tooth shortly after swim practice and noticed that it was just barely hanging in there. All it took was brushing his teeth and a little wiggling and voila! Now he's go this adorable little lisp…but I digress.
Let's talk about dinner. With swim practice five nights a week, dinner is, shall we say, a little less than a gourmet affair most nights. I completely rely on my slow cooker several nights a week and the other few nights it's quick meals like this Kielbasa, Peppers, and Potato Hash.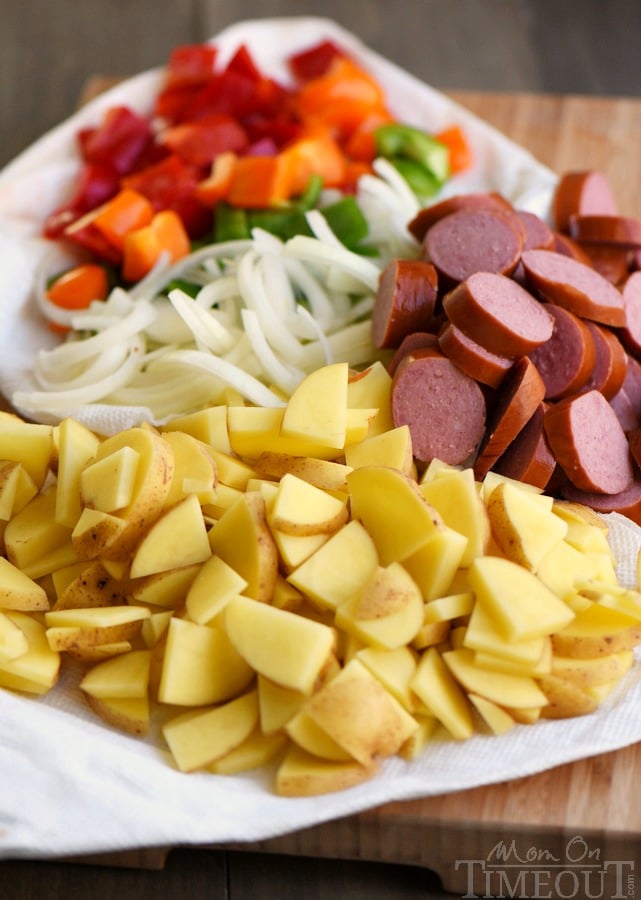 I can get this meal on the table is just about 20 minutes and it's pure comfort food. Lots of veggies and lean turkey kielbasa makes for a filling and nutritious dinner. It also just happens to be incredibly easy.
Super easy. Like, I've been making this since I was 10 years old easy. My Nana taught me this one and I used to make it for my family on busy nights. I guess I still am 🙂
One skillet. 20 minutes. Delicious. Nutritious. What more could I ask for? I make mine in my cast iron skillet but any skillet will do. If you just happen to have some of these mini cast iron skillets, um, SO fun for serving! My boys think they're totally a big deal when I do this.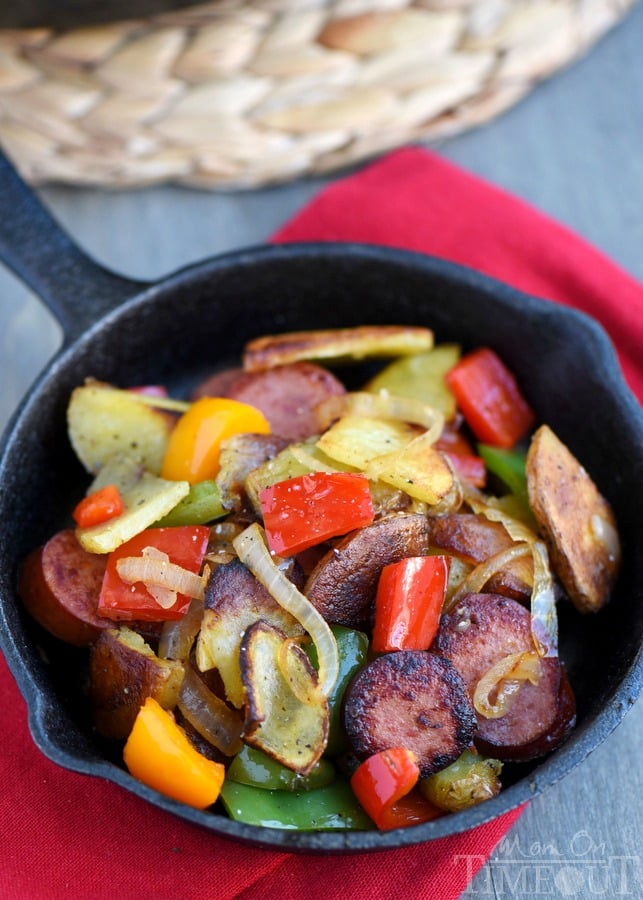 There's not many things I like more than meat and potatoes. Especially when it looks like this.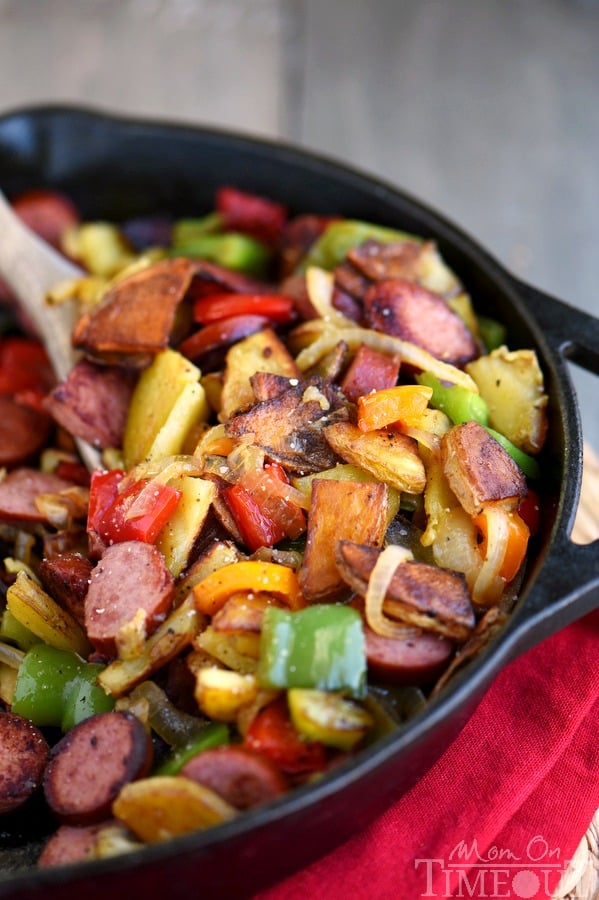 I've used beef kielbasa almost exclusively with this recipe until lately when I subbed in turkey kielbasa. I honestly didn't think this dish could get any better but the turkey kielbasa is just so darn GOOD! The boys devoured this right before swim practice and Reece asked for more when we got back home. I have a feeling that I will need to be doubling this recipe before too long the way those boys eat.
Make sure to try these Kielbasa favorites!
Kielbasa, Peppers, and Potato Hash Skillet
This Kielbasa, Peppers, and Potato Hash is a delicious and easy dinner recipe that takes just 20 minutes and one skillet!
Ingredients
2

tbsp

extra-virgin olive oil

1

tbsp

unsalted butter

1

lb

potatoes

thinly sliced into bite-sized pieces

salt and pepper to taste

14

oz

turkey kielbasa

cut into 1/4″ rounds

1

onion

thinly sliced

1

bell peppers

1 to 2, chopped
Instructions
Heat the olive oil and butter over medium-high heat in a large skillet. Add the potatoes and season with salt and pepper.

Cook until browned on one side, 6 to 7 minutes. Turn the potatoes over and cook for another 4 to 5 minutes, or until golden brown. Remove the potatoes from the skillet with a slotted spoon.

If the skillet is looking dry, add another tablespoon of olive oil.

Add the kielbasa and cook for 2 to 3 minutes on each side, until lightly browned.

Add the onions and pepper and cook, stirring frequently, until the onions are soft and translucent and the peppers and tender. Season with salt and pepper.

Stir the potatoes back in and continue cooking for another minute or two. Check seasonings and serve.
Nutrition
Calories:
330
kcal
|
Carbohydrates:
23
g
|
Protein:
18
g
|
Fat:
19
g
|
Saturated Fat:
7
g
|
Cholesterol:
60
mg
|
Sodium:
1201
mg
|
Potassium:
767
mg
|
Fiber:
5
g
|
Sugar:
6
g
|
Vitamin A:
1163
IU
|
Vitamin C:
83
mg
|
Calcium:
61
mg
|
Iron:
13
mg