Easy Funfetti Cake Mix Cookies! Perfect for birthdays, picnics, parties and more, these cookies are so easy to make and wonderfully delicious! Made with cream cheese for an extra moist and delightful cookie!
Let's be friends! Sign up to get my new recipes in your inbox! Follow me on Facebook and Instagram too!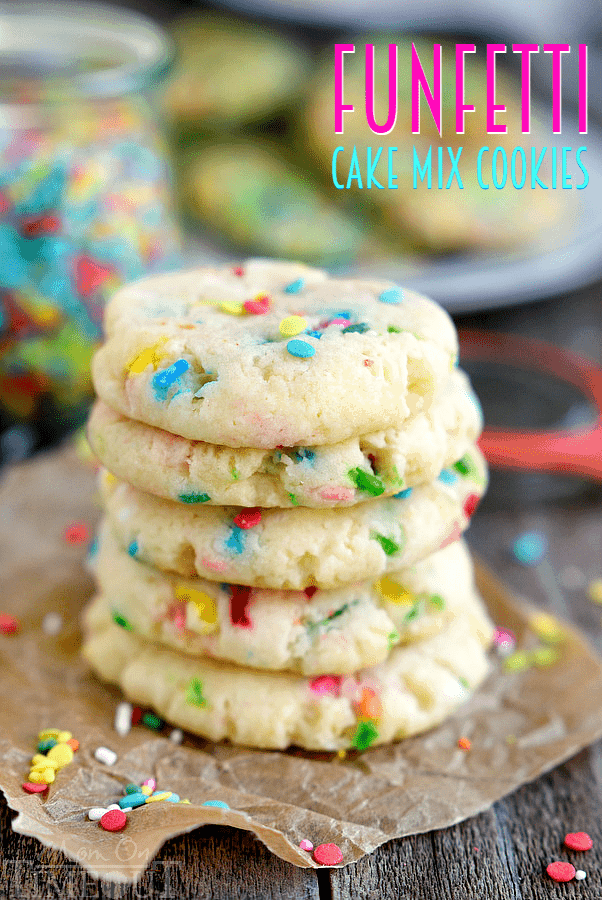 Reece celebrated his birthday a few weeks ago and as fun as it was for Reece, it was equally devastating for Bryce. I kid you not, I consoled him at least a half dozen times during the party, stemming his tears with the fact that his birthday was just a few months away.
I really don't remember this happening last year. Like, at all. Sure, I think it's hard for a little kid to watch someone else get present after present while you sit on the sidelines, but tears? Oy!
I think a lot of the tears were due to the fact that Reece was getting stuff that Bryce wants. And I'm sure it will be the same on Bryce's birthday. I guess there is a lot of pros and cons to having kids that are close to the same age and into the same stuff. Pro: they like to play together. Con: birthdays bring tears.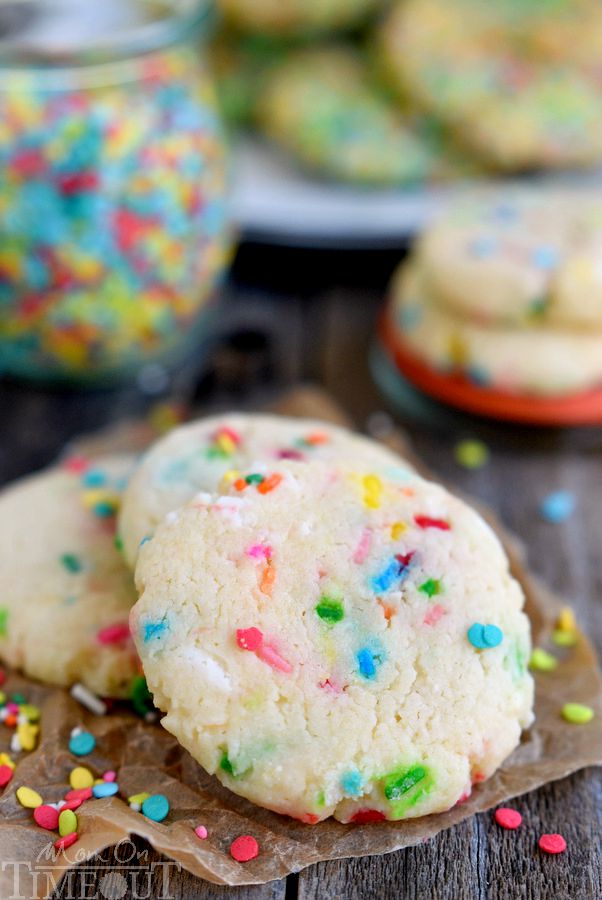 Good news is Bryce is over it now and is happily counting down the days to his birthday.  We have an official countdown taking place on the chalkboard and he is revising his wish list daily.
This week: jet boosters.
Yeah, I did a double take on that one too. Apparently he doesn't want the "really expensive ones" that go to the moon. Just a jet pack that will get him to school a few blocks away.
Mmhhmm. So I explained to him that these jet boosters are not readily available as of yet and he promptly responds, "That's fine. I'll get them when I turn 12."
So, you jet booster engineers out there, please GET ON THIS. My child is waiting.
What you don't have to wait for? These Easy Funfetti Cake Mix Cookies. Perfect for any birthday party or heck, any Monday for that matter.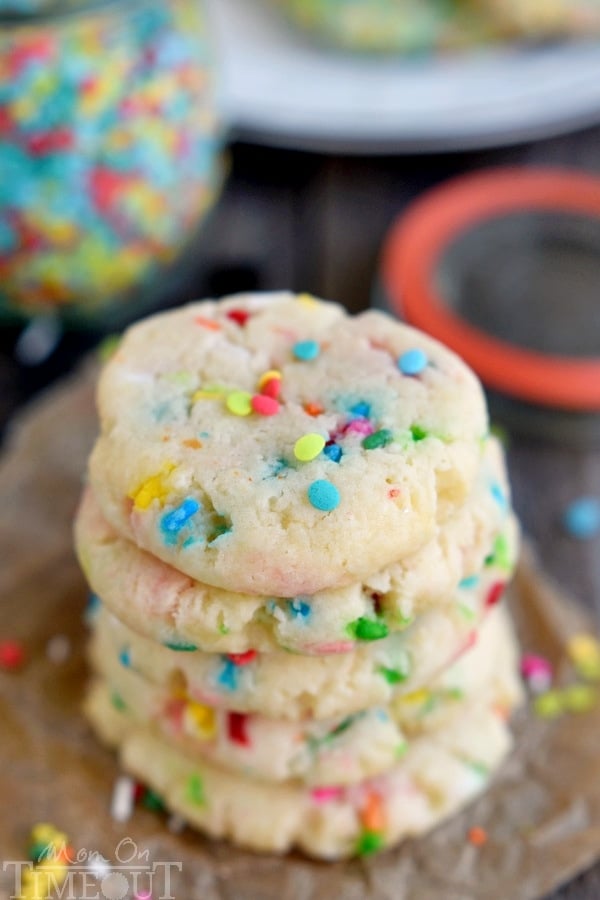 We are a cookie-loving family and it's our go-to treat most of the time. We make cookies A LOT but these cake mix cookies definitely have a place in my heart. And my tummy. And now my hips.
I made these cookies just like my Strawberry and White Chocolate Cake Mix Cookies – with cream cheese! The cream cheese ensures such a lovely, moist cookie that stays that way for DAYS.
For this batch, after the dough is removed from the refrigerator, I used a cookie scoop to scoop the dough into balls. Then I used the bottom of a measuring cup to flatten them slightly. You can see the difference in my strawberry cookies where I didn't flatten them. Do whatever you want to get either look.
These cookies are absolutely delightful and are guaranteed to bring a smile to anyone's face. Even kids who are crying because their brother is getting presents on his birthday.
Easy Funfetti Cake Mix Cookies
Easy Funfetti Cake Mix Cookies are the answer to your cravings! Perfect for birthdays, picnics, parties and more, these cookies are so easy to make and wonderfully delicious! Made with cream cheese for an extra moist and delightful cookie recipe!
Author:
Trish - Mom On Timeout
Ingredients
8 tbsp unsalted butter, melted
1 egg, room temperature
1 teaspoon vanilla extract
4 oz Neufchatel cheese (light cream cheese), room temperature
1 15.25 oz box funfetti cake mix
1 - 2 tbsp colored jimmies
Instructions
Combine butter, egg, vanilla, and cream cheese in a large mixing bowl and beat until thoroughly combined.
Add cake mix, half of the box at a time, stirring just until combined.
Stir in colored jimmies or sprinkles.
Refrigerate the cookie for at least one hour.
Preheat oven to 350 degrees.
Scoop out cookie dough and roll into balls.
Place dough balls onto a parchment lined baking sheet about 2 inches apart. Use the bottom of a measuring cup to flatten the cookie dough into a disc-shape. Or leave as a ball if you want a more rounded cookie.
Bake for 9 minutes - you don't want the cookies to brown at all!
Let the cookies cool on a baking sheet for several minutes before removing to a wire rack to cool completely.
Cookies can be stored in an airtight container for 4 to 5 days.

Time to feed the cookie monster!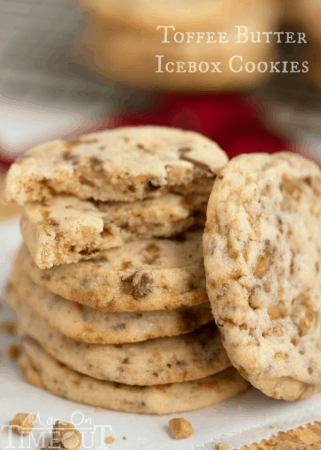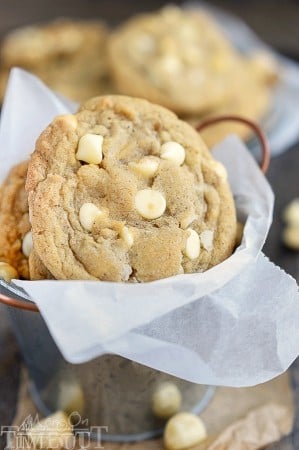 Brown Butter White Chocolate Macadamia Nut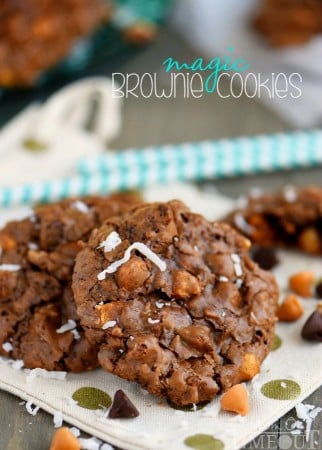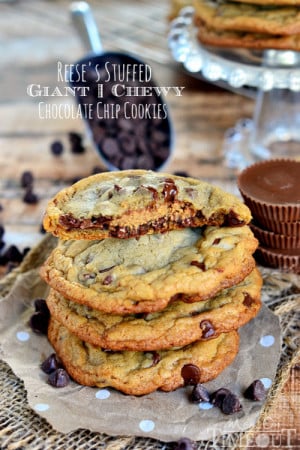 Reese's Stuffed Giant Chewy Chocolate Chip Cookies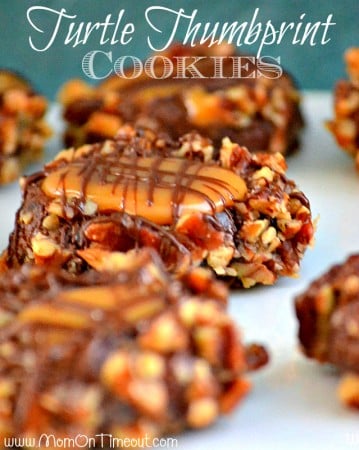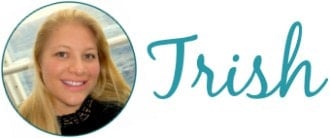 For all cookie recipes, go HERE.
For all dessert recipes, go HERE.
Sign up to get emails when I post new recipes!
For even more great ideas follow me on Facebook – Pinterest – Instagram – Twitter – Bloglovin'.
Have a great day!