Cranberry Orange Relish is the best kept Thanksgiving secret of all time! This Cranberry Relish recipe is light and bright and cuts through the heaviness of holiday meals while adding a gorgeous pop of color and flavor to every bite. I hope you give this super easy recipe a try this holiday season!
This cranberry relish recipe goes perfectly with my mashed potatoes, turkey gravy and cranberry sauce!
Cranberry Relish Recipe
This Cranberry Orange Relish recipe is the perfect complement to your holiday meal. It cuts through the heaviness of the other delicious recipes and adds a bright, tartness that really lifts the whole meal.
It's a cinch to make, we're talking about 5 minutes – or less. Because it is a fresh cranberry relish recipe, there isn't any cooking involved which means no taking up precious space on the stovetop or oven.
Cranberry Orange Relish vs Cranberry Sauce
I'm obsessed with cranberry recipes and while we make them year round, they are especially lovely during the fall and holiday season. I'm the kind of person who loves a big spread for Thanksgiving and we frequently make both my cranberry sauce and this cranberry relish because they are both amazing in their own way.
Cranberry Sauce is a cooked recipe which combines fresh cranberries, with orange juice and cinnamon and is incredibly delicious. This cranberry sauce recipe takes about 15 minutes to make. (You can also make crockpot cranberry sauce!)
Cranberry Orange Relish is a raw recipe that is made in the food processor and takes less than 5 minutes to make.
How To Enjoy This Cranberry Relish Recipe
To be honest, I eat this Cranberry Relish like it's fruit salad, it's that delicious. However, you can also use it in so many other ways.
You can eat this relish in place of cranberry sauce or just in addition to it.
It goes great with that Thanksgiving ham or turkey.
Eat it with some cheese and crackers as you would jelly or preserves. It looks really impressive on a charcuterie board.
Use it for your pulled pork sandwiches. You can mix it with the barbecue sauce and use it to slow cook your pork.
Mix this relish with some of olive oil and vinegar to make a cranberry relish vinaigrette for your salads! You know that would be unbelievably delicious!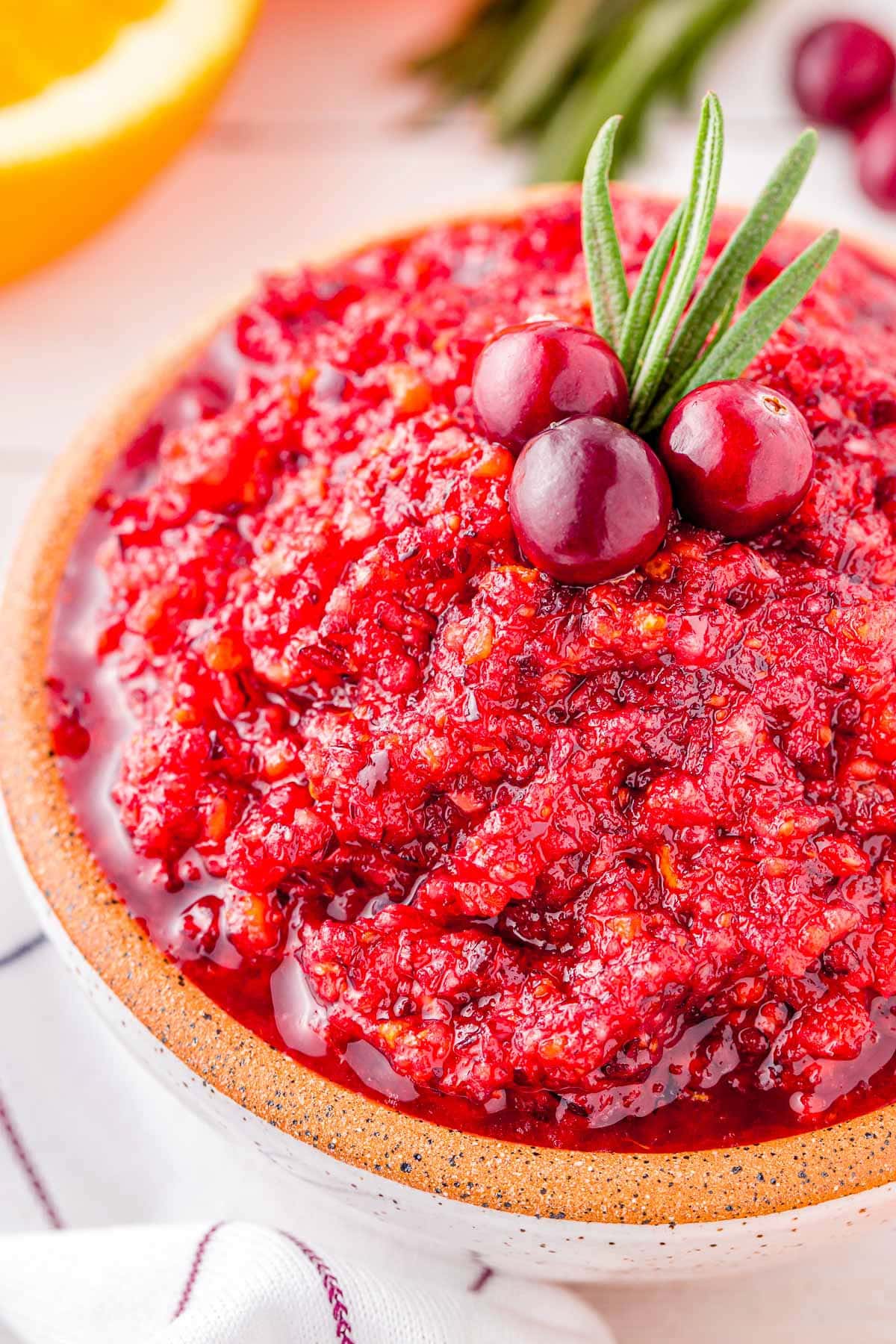 Cranberry Relish Recipe: What You'll Need
This cranberry orange relish comes together very quickly and easily. As always, you can find the full printable recipe in the recipe card at the end of this post. Let's take a quick look at what you'll need for this recipe:
orange – Make sure you keep the rind on for this recipe. If you don't have an orange, try this with a couple of mandarins or a tangerine.
Granny Smith apple – You can use any type of green apple for this recipe, though there aren't a ton of varieties with green peels. If you can't find any of these, try another tart apple like Pink Lady or Braeburn.
fresh cranberries – make sure you pick through them and get red of any soft or blemished cranberries.
white sugar and dark brown sugar – If you don't have any granulated white sugar, you can use all brown sugar, or vice versa. You can also use light brown sugar instead of dark brown sugar if that's what you have on hand.
lime zest – you can also try this recipe with lemon zest instead.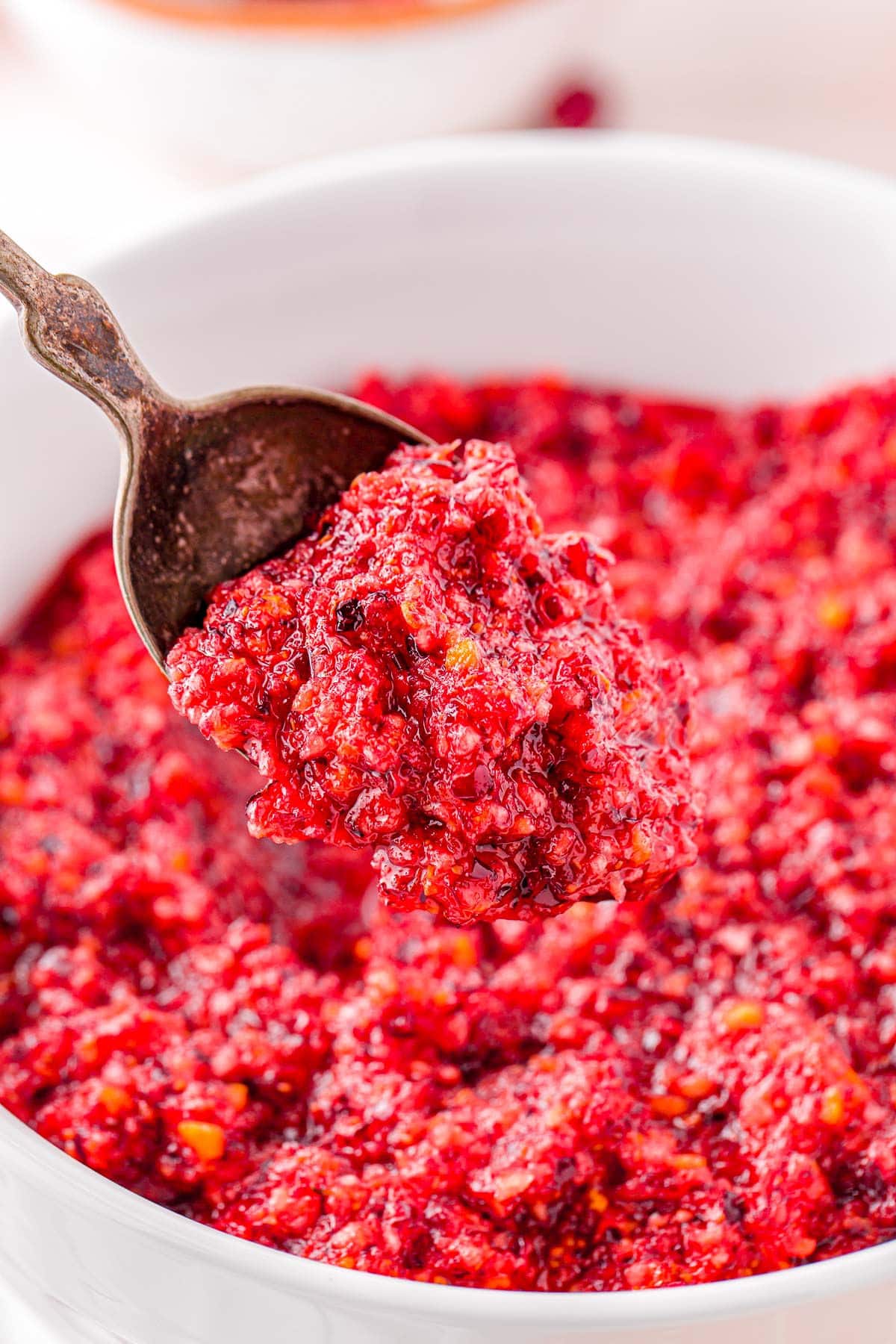 How To Make Cranberry Relish
Cut the orange into 8 even pieces, keeping the peel on.
Place the orange pieces and apple pieces into a food processor or blender. Pulse 4-5 times.
Add the fresh cranberries, sugar, and lime zest into the food processor.
Pulse the mixture about 8-10 times until it looks finely chopped.
Cover and refrigerate for an hour to overnight to allow the flavors to meld.
This cranberry orange relish is best when served cold.
Keep an eye on the relish when processing. You do not want to over process it or you'll end up with a puree. Still delicious, but not a relish 😉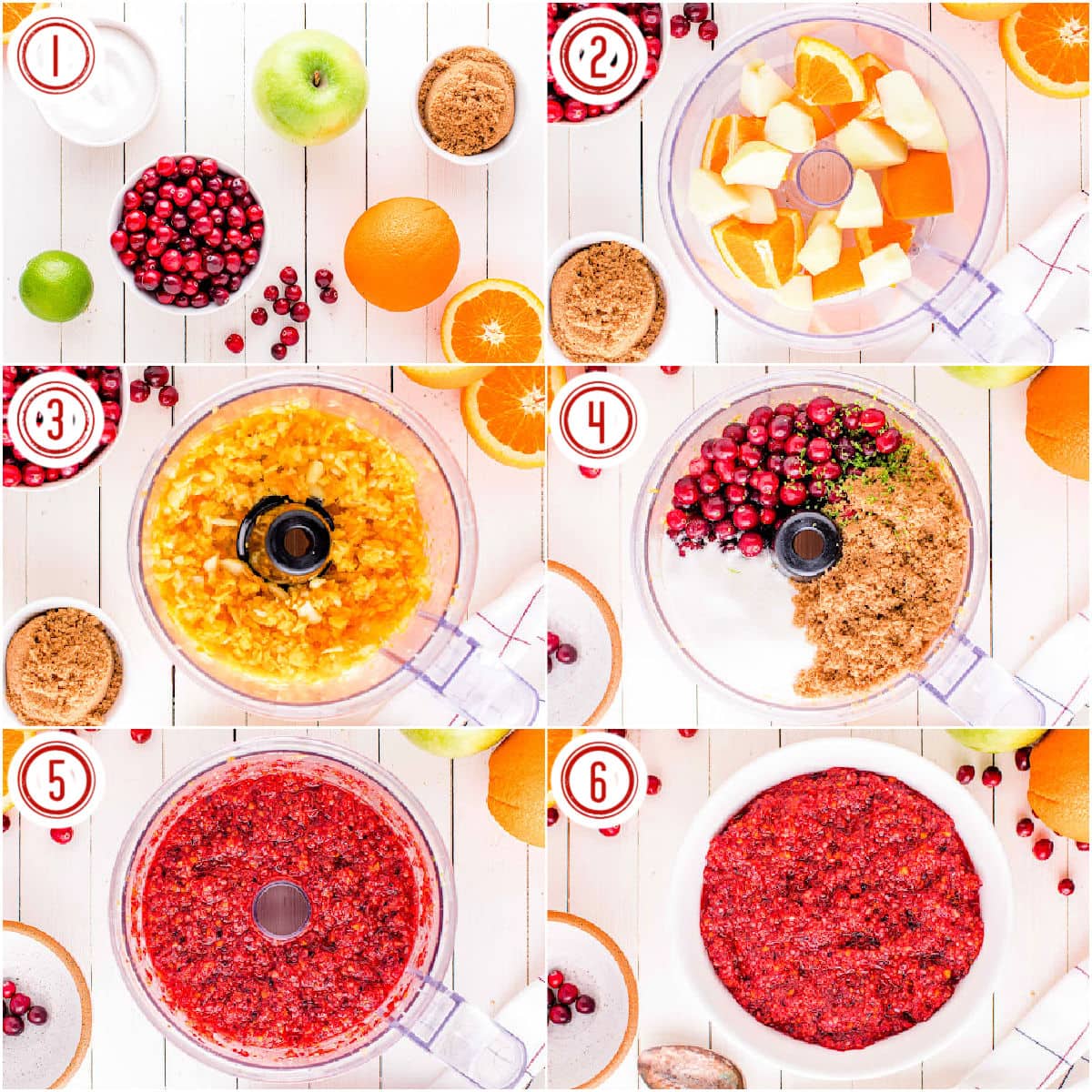 Storage Information
Wanting to make this cranberry relish recipe a few days in advance? Or maybe a month? Here is the information you need for making this relish ahead of time and also storing leftovers.
Refrigerator: You can store this in the refrigerator for up to three days in an airtight container.
Freezer: You can also freeze this relish, though you might find that the consistency "melts" a little bit and gets watery as you thaw it. Store for 2-3 months and thaw in the refrigerator.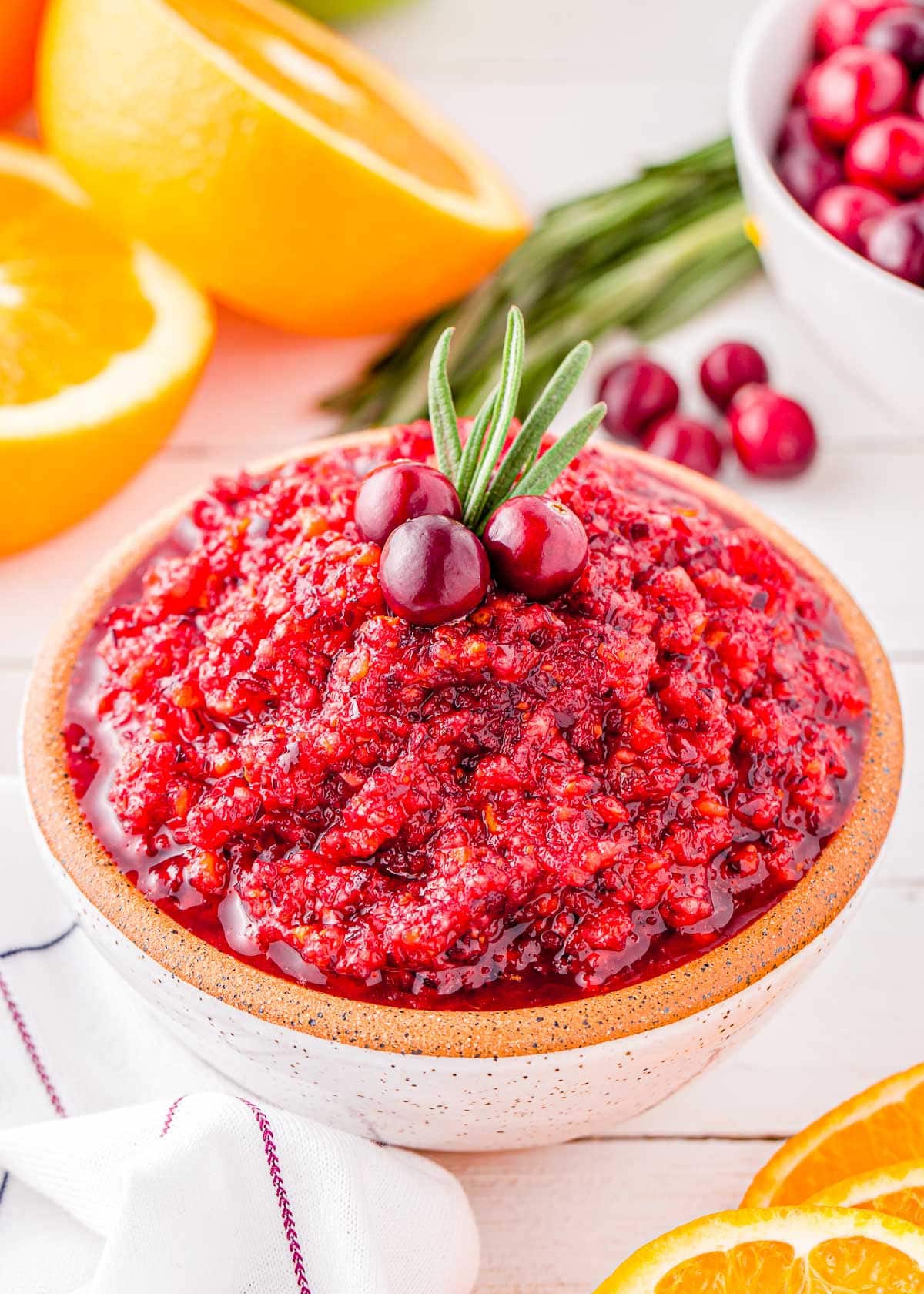 How To Make Cranberry Orange Relish
Originally published November 5. 2021.