This impressive Charcuterie Board is the essence of easy entertaining! Piled high with cured meats, cheeses, crackers, fruit, nuts and more, your guests will be wowed by this gorgeous and delicious spread. My favorite appetizer for a party! Need more party apps? Try this Spinach Artichoke Dip, Baked Bacon Cheese Dip, and these Zucchini Fries!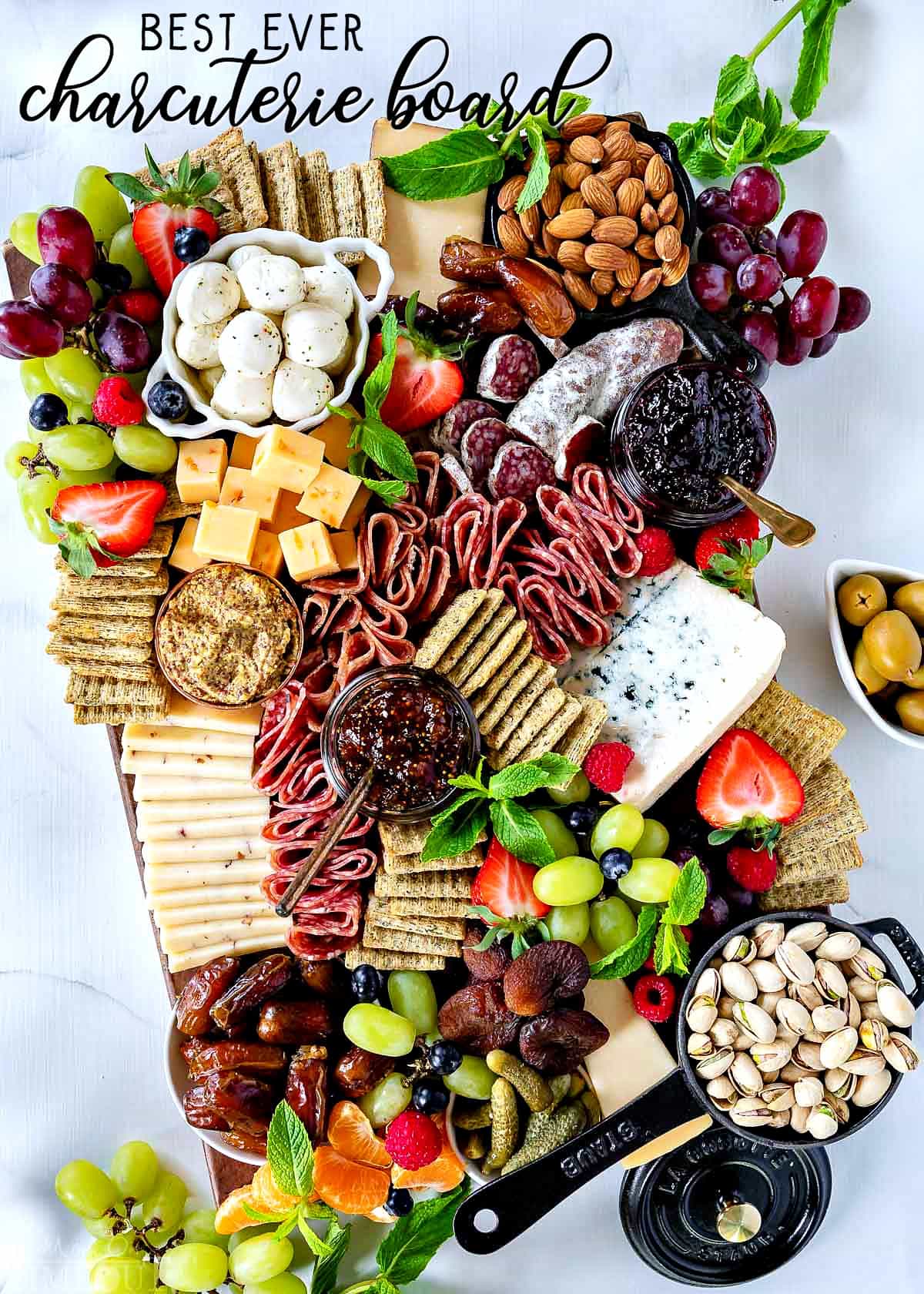 This post is sponsored by Safeway.
There is no appetizer more impressive than a charcuterie board. Loaded with a variety of cured meats, cheese, nuts, fruit, crackers, and spreads, there is something here for everyone.
What Is Charcuterie?
I first fell in love with charcuterie (pronounced [shar-koo-tuh–ree] boards a few years back when I accidentally made one for Christmas. The reaction I got to this easy to prepare appetizer was epic to say the least. Charcuterie is the art of preparing cured or smoked meats. Charcuterie boards are essentially meat's response to a cheese board, and boy are they good.
Since then, I make a point to serve them at special occasions and sometimes, just for a fun dinner.
The awesome things about charcuterie boards is that there is no end to the possible variations. Switching up a few ingredients yields something new and amazing each and every time. Everyone loves a meat and cheese board piled high with fun bites!
Use in season fruits and veggies to make it easy on yourself and add a few special touches for holidays. For example, a Christmas charcuterie board could have sprigs of thyme and cranberries scattered about. A Valentine's Day charcuterie board could have a small bowl of conversation hearts, red cinnamon gummy bears, and LOTS of chocolate.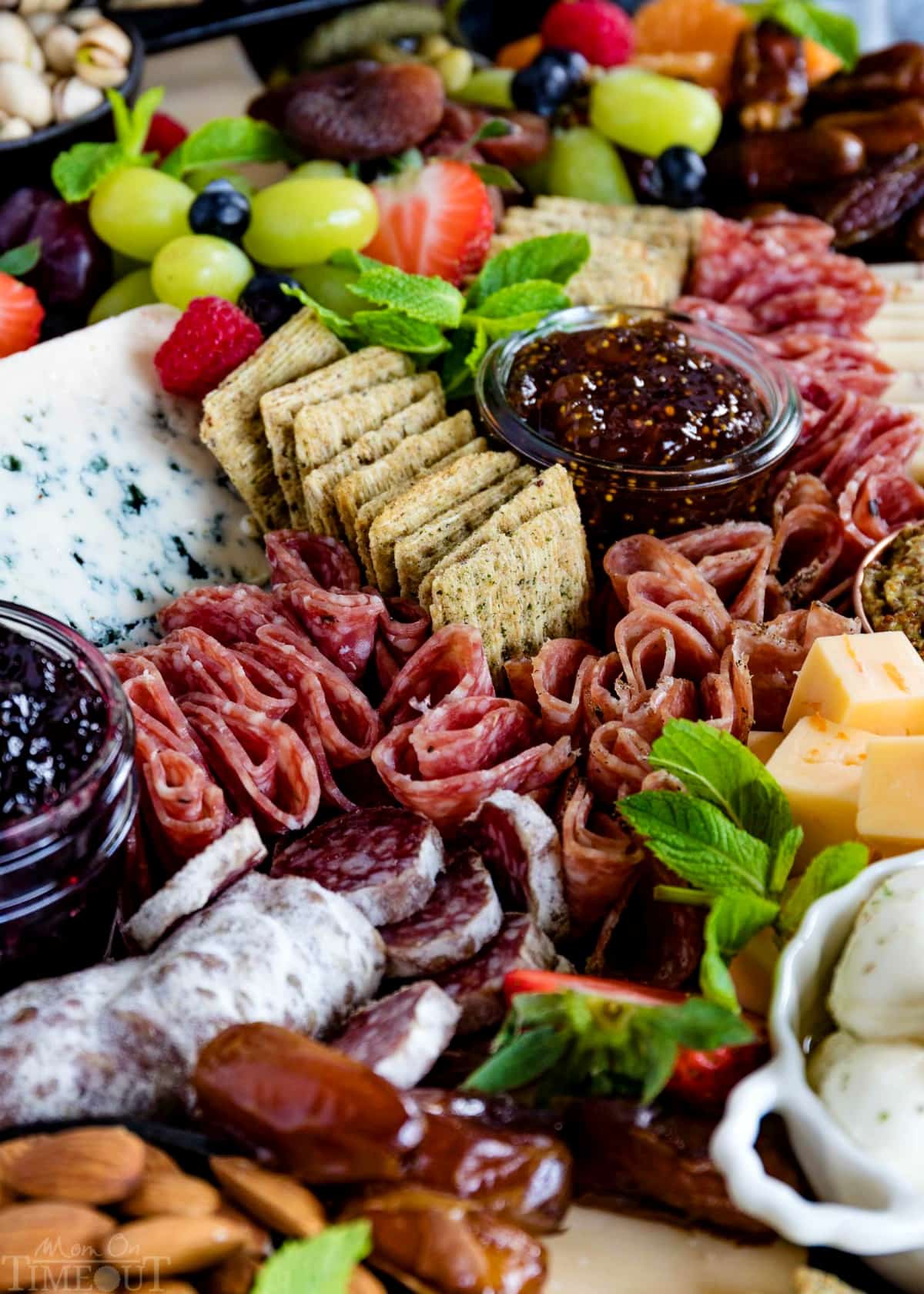 Charcuterie Boards: Where To Begin?
I like to start with the board choice. Charcuterie boards can be as big or as small as you want them to be. Charcuterie for two is super fun for date night or picnics. When I have really large events, I always create more than one board to ensure my guests have plenty at hand.
You don't need to buy a special board. Use a wood cutting board, slate board, serving tray, etc. Any flat surface you have will work. If you don't have something on hand, you can find a lot of great options here.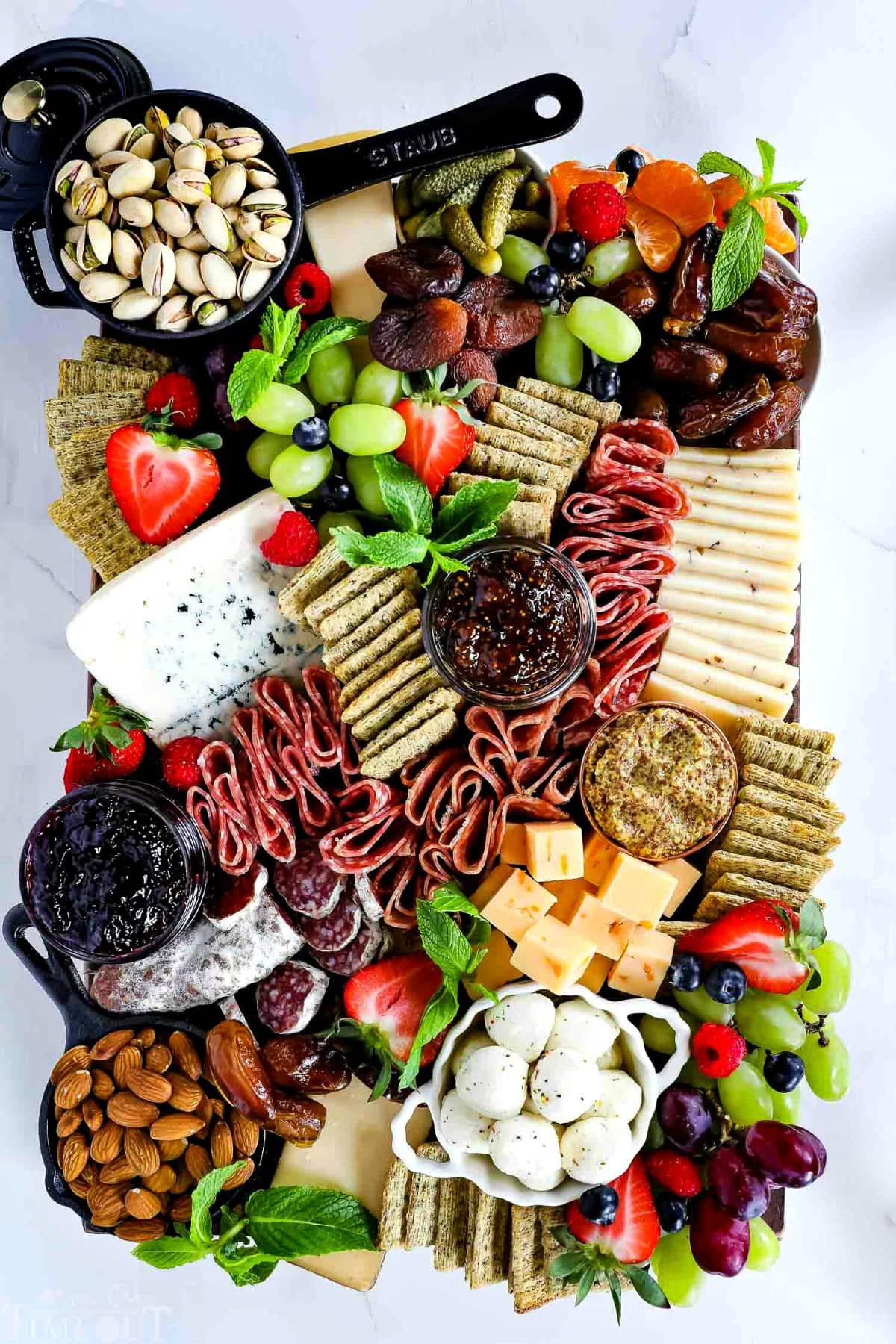 Adding Color and Texture
When you are selecting items for your board, make sure to choose some that will "pop" on your board. Bright reds (strawberries, cherries, tomatoes), bright greens (grapes, apple slices, herb garnish), etc. There are too many brown foods out there and if you're not careful, your board will look bland, not brilliant.
Make sure you're not placing too many like colors directly next to each other. This will help with presentation.
The same goes with texture. Variety is key. You want some smooth, shiny surfaces like dates. You want some rough, edgy surfaces like the Triscuit crackers pictured above. Some should look wet or moist like the jams and spreads, and others super dry, like the pistachios and almonds.
Tips for Charcuterie Board Assembly
It may seem like a no-brainer: just toss some meats, cheeses, and crackers on a board and voila! Not so my friends. While charcuterie boards are the essence of easy entertaining, it takes a little thought and strategy to build a charcuterie board that will wow your guests.
Start With Bowls.
Your charcuterie board should include a variety of jams, preserves, mustards, or dips. This could be some of my favorites like fig spread, marionberry habanero pepper jelly, pesto, coarse ground mustard, apricot jam and the list goes on. Give your guests some variety.
Bowls are also great for fresh mozzarella balls, small nuts, etc. How many bowls or containers can you spot in my picture above?
…EIGHT! Different sizes, shapes, material, and color. I like variety!
Now, obviously these items need small bowls to keep them contained. But those bowls perform double duty by acting as the ground work for your board. Solid, sturdy, they are great to lean crackers against, pile dried fruit next to, stack cheese by, etc. Place them around the board. The number and size will depend on how large your board is.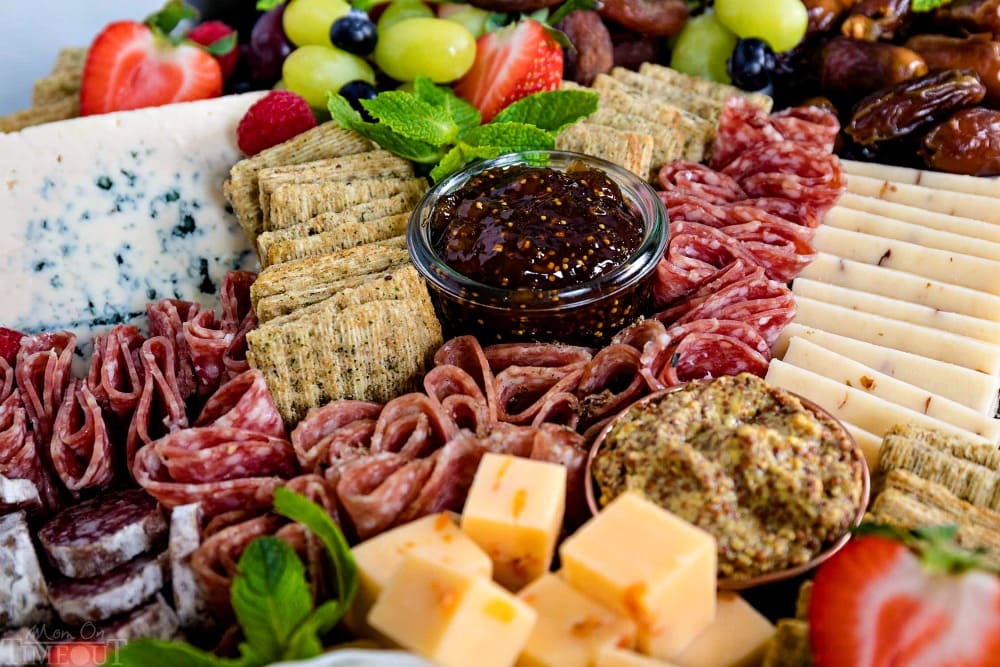 Meats and Cheese
After the bowls are in place, I like to add the meats and cheese. Some cheese can be cubed or sliced, some cheese can be added on the board as a wedge. Wedges of brie or blue cheese look really impressive and along with a set of serving knives, guests can really dig in and help themselves. Place larger items like sliced meats and blocks or slices of cheese on the board first.
Salame is a personal favorite of mine (obsessed!) and Columbus® Craft Meats has so many great varieties. All their meats, spices, and ingredients are carefully sourced to enhance the flavor of the high quality meat they start with. And you can tell just by tasting them – so good!
Any cured meat will work on a charcuterie board. I love serving a variety of Columbus® Craft Meats on my boards: Genoa Salame, Italian Dry Salame, Peppered Salame, Prosciutto… lots of variety is a good thing.
Crackers and Bread
You will want to add crackers and/or bread to your charcuterie board. Super important. This is a critical building block when you guests start to layer all the flavors. You want something sturdy and you want a couple different options – think 2 to 4.
I used several varieties of Triscuits. Great flavor, fantastic crunch, amazing for building that perfect bite. You guys. The original Triscuit has only THREE ingredients: whole grain wheat, canola oil, and sea salt.
Triscuit crackers are baked with simple, quality, wholesome ingredients, giving each cracker its distinctive texture and crunch. I'm obsessed with all their new flavors – the Garlic & Onion is my new favorite. I have three different varieties on this board. They also have a new snack line, Triscuit Wheatberry Clusters made with wholesome wheat berries and boy are they delicious! An instant favorite with my boys!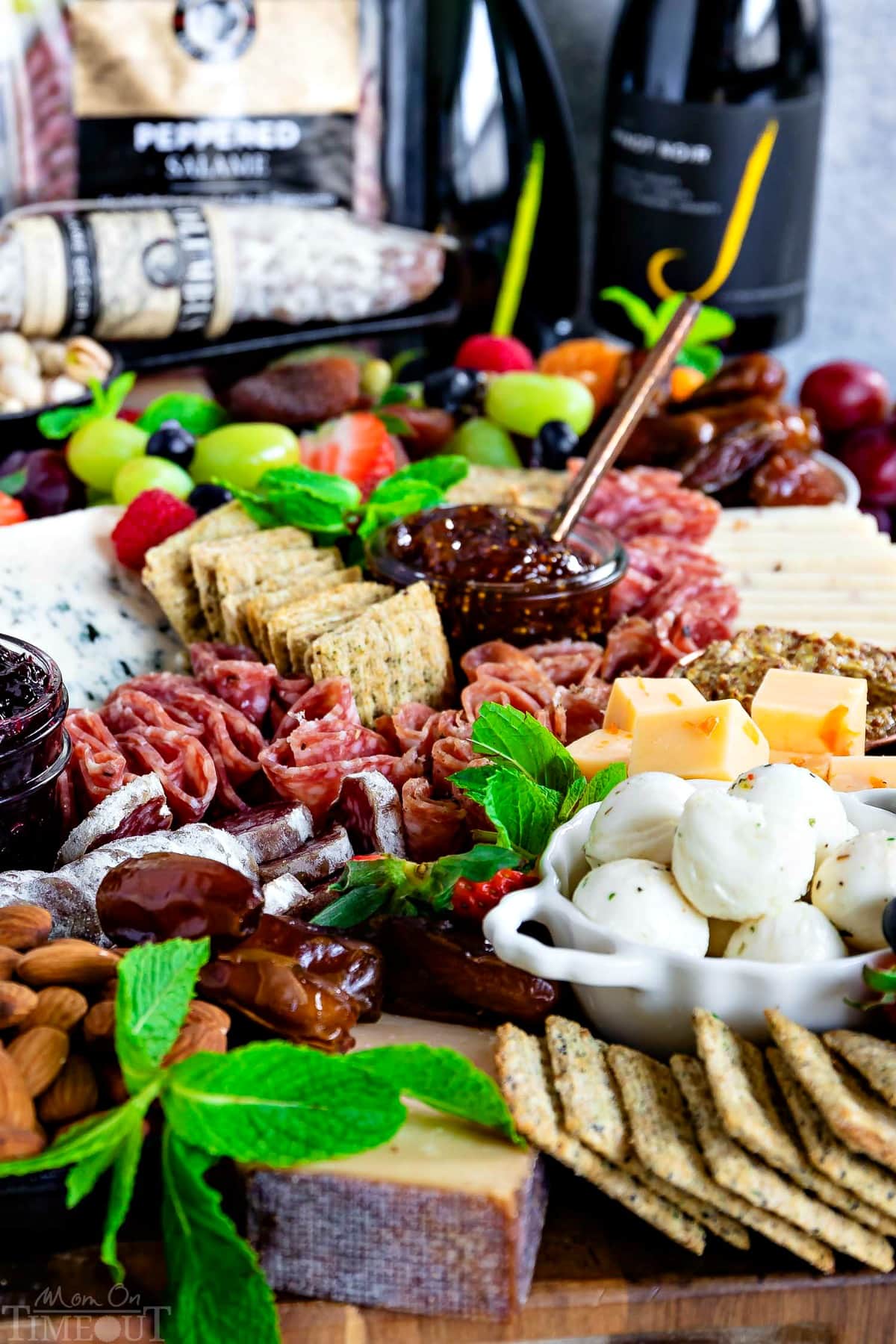 Fruit & Garnish.
Fill in gaps on your board with fresh and/or dried fruit. There is no wrong answer here. Use fruit that is in season and is easy to pick up. That's really the only rules. Grapes are an obvious choice as well as pretty much all berries. Apple slices are a nice touch and go particularly well with brie and cheddar.
Dried fruits are easy and accessible year round. I like to go with larger varieties like dates, apricots, plums, etc.
Add some fresh herbs for garnish and you're done!
4 S's: Sweet, Savory, Salty, Spicy
Charcuterie boards should generally incorporate sweet, savory, salty, and spicy items for a truly balanced experience. Here are some examples:
Sweet. Fruit (fresh and dried): grapes, strawberries, dates, blueberries, raspberries, cherries, figs, etc. Your spreads can also be sweet like the apricot jam, fig spread, jellies, etc.
Savory. The cheese and meats take charge here. I like to have at least 3 varieties of each.
Salty. Because the meats are cured, they are also salty. Cheese, nuts, and crackers are other sources of salty items.
Spicy. You don't need to go overboard here – maybe one or two items. The orange cheese you see is a habanero mango cheddar. And the dark purple jelly is a marionberry habanero pepper jelly. Just make sure you let your guests know where the heat is on your charcuterie board 🙂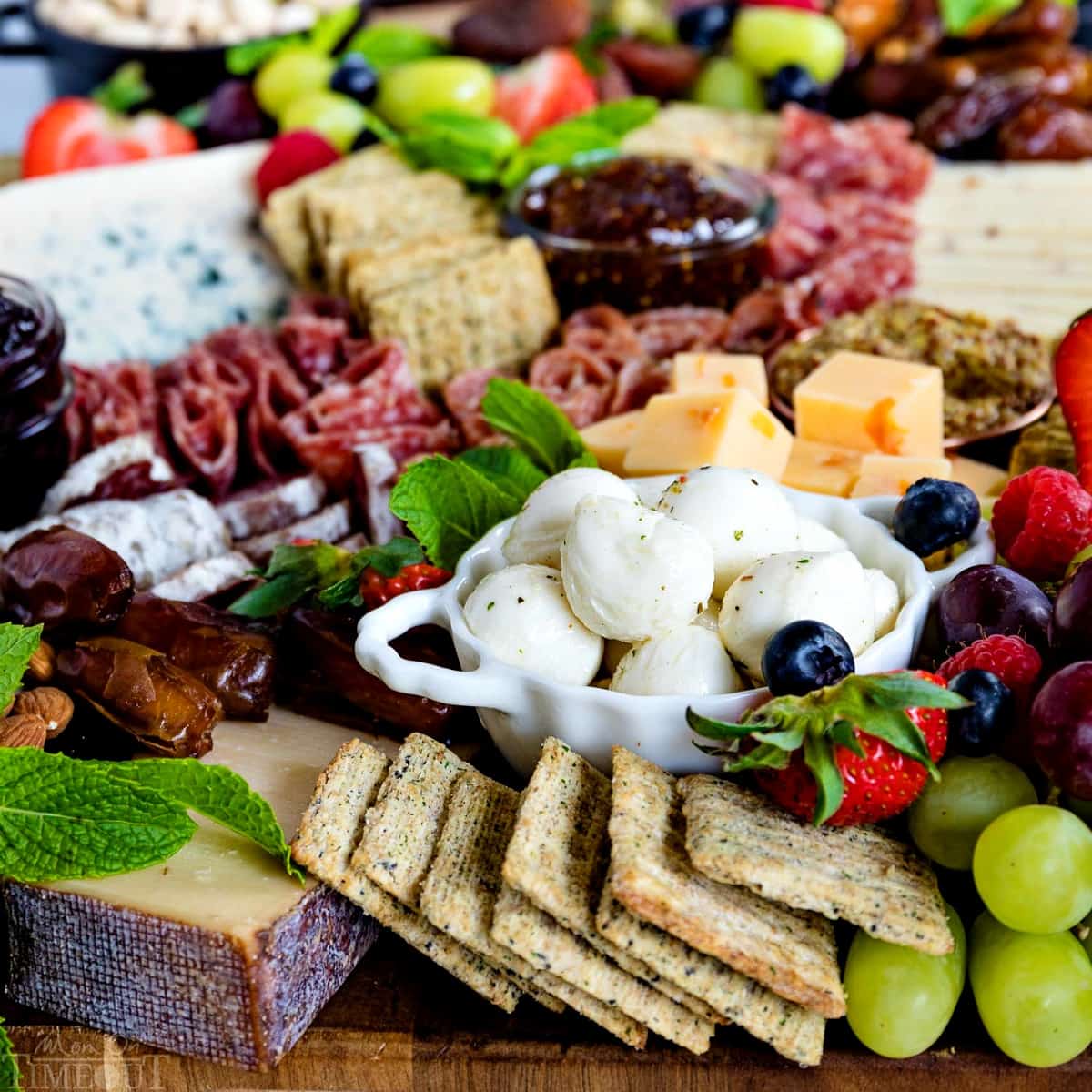 What To Serve with Charcuterie Boards
Pairing meats and cheeses with wine is always a good choice. I recently had the opportunity to visit J Vineyards & Winery for an action packed day of wine tasting and pairings. Columbus Meats and TRISCUIT were there and it was honestly amazing to see all the different ways you can eat salame and Triscuits! This was all followed by a mind-blowing meal in their Bubble Room where I enjoyed five courses of food and wine pairings prepared and hand-picked by their executive chef.
I know. My job is haaaaard you guys.
(Hate me later. Make the charcuterie board now.)
I learned a lot about wines, harvesting, production – the works. It was super fun and exciting and the wine was beyond excellent.
For a charcuterie board like this you would definitely want to offer several wine choice to your guests including this Pinot Noir.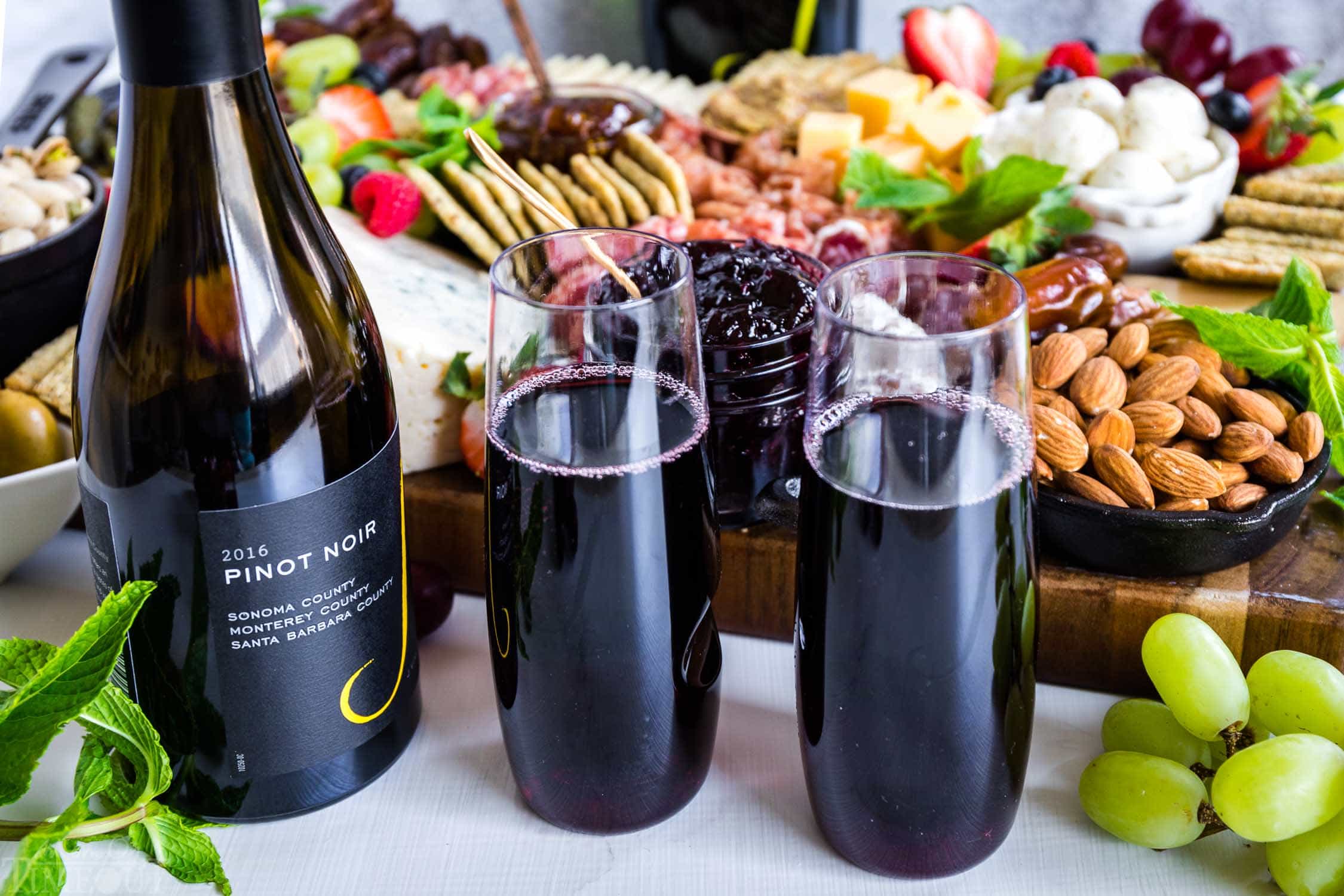 Head on over to Safeway to get $20 off + FREE delivery, with your first online order when you spend $75 or more – enter promo code SAVE20. Valid before 7/31/19.
More Great Appetizers
How To Make A Charcuterie Board
Charcuterie Board
This impressive Charcuterie Board is the essence of easy entertaining! Piled high with cured meats, cheeses, crackers, fruit, nuts and more, your guests will be wowed by this gorgeous and delicious spread. My favorite appetizer for a party!
Ingredients
Jam, Jellies, Spreads, Preserves
10

oz

spreads and or jams

fig spread, marionberry habanero pepper jelly, pesto, coarse ground mustard, apricot jam
Fresh Fruit and Crackers
16

oz

grapes

get at least two varieties

8

oz

strawberries

halved

3

oz

blueberries

3

oz

raspberries

12

oz

crackers

Triscuit recommended
Cheese and Meat
10

oz

soft cheese

fresh mozzarella, blue cheese, brie, etc.

10

oz

semi-hard cheese

sliced (Cheddar, Monterey, Gouda, Havarti, Provolone, etc.)

8

oz

cured or smoked meats

Columbus salame, Prosciutto, ham, etc.
Dried Fruits and Nuts
10

oz

dried fruits

dates, apricots, cherries, etc.

8

oz

nuts

raw almonds, pecans, pistachios, etc.

fresh herbs to garnish

mint, rosemary, basil, etc.
Pickles, Peppers, Olives Etc.
5

oz

cornichons

5

oz

stuffed olives
Instructions
Place all jams, preserves, mustards, or dips into small bowls or shallow dishes and place on the board.

Add meats and cheese, placing larger items like sliced meats and blocks or slices of cheese on the board first.

Add crackers and.or bread next, spacing them out on the board,.

Fill in gaps on your board with fresh and/or dried fruit. 

Add garnish and serve immediately or chill until ready to serve.
Notes
All measurements are approximate. You will need to scale up or down depending on the size of your board and then number of people you are serving. 
Nutrition
Calories:
609
kcal
|
Carbohydrates:
66
g
|
Protein:
14
g
|
Fat:
34
g
|
Saturated Fat:
13
g
|
Cholesterol:
51
mg
|
Sodium:
812
mg
|
Potassium:
617
mg
|
Fiber:
6
g
|
Sugar:
35
g
|
Vitamin A:
1500
IU
|
Vitamin C:
17.4
mg
|
Calcium:
283
mg
|
Iron:
3.3
mg


For all appetizer recipes, go HERE.
For all dessert recipes, go HERE.
Sign up to get emails when I post new recipes!
For even more great ideas follow me on Facebook – Pinterest – Instagram – Twitter – Bloglovin'.
Have a great day!