Take the guesswork out of gift giving this year with this amazing collection of 25 Under $25 Amazon Kitchen Gadgets! I've got stuff for EVERYONE on this list – whether they're a foodie or not! Items range from $5 to $25 with lots in between. Every single item here has excellent reviews and my personal recommendation. Check it out!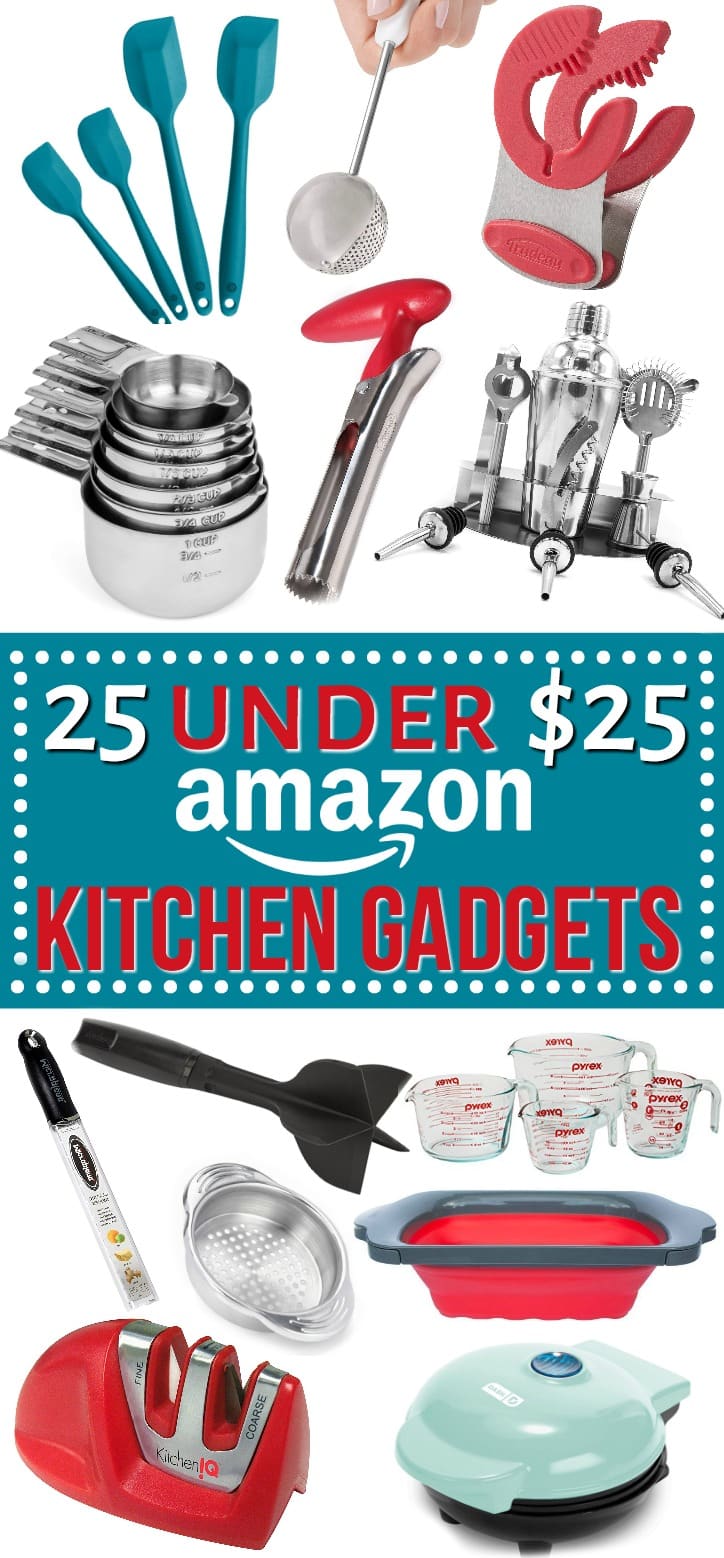 Gift giving can be stressful this time of year. Trying to find that "perfect" gift while sticking to a budget can be frustrating. Now, I realize not everyone in your life is a "foodie", a cook, or a baker. BUT, hear me out. These items are good for almost everyone. And I really mean that. Common sense kitchen gadgets that make life easier and a little more fun.
This kitchen gift guide is great for friends, moms, sisters, dads, brothers, uncles, and more! I sure hope this list is helpful to you this holiday season. Please, tell me which kitchen gadget you couldn't live without in the comments below – I'm sure I'm missing lots!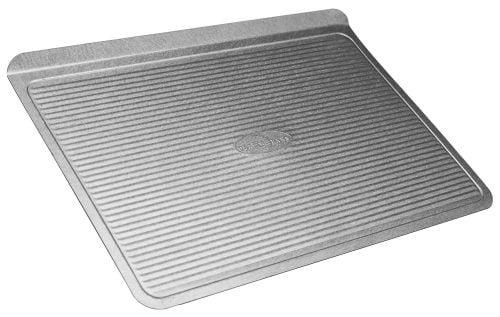 A good cookie sheet is something everyone should have in their kitchen. This commercial grade cookie sheet has a LIFETIME warranty and is made in the USA. It's the cookie sheet you'll want to use when you make my Lemon Cookies (also known as Lemon Whippersnaps) or these Cranberry Orange Shortbread Cookies.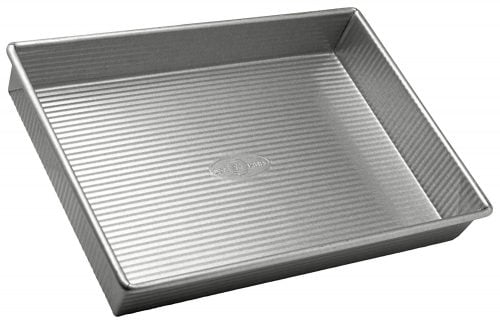 As you can probably imagine, I have bought and used a lot of 9 x 13 bake pans in my lifetime. I use them for everything from lasagna to mac and cheese to cake. I have yet to come across a more durable pan than this one. In fact, this particular product was my first introduction to the USA brand and I'm now hooked.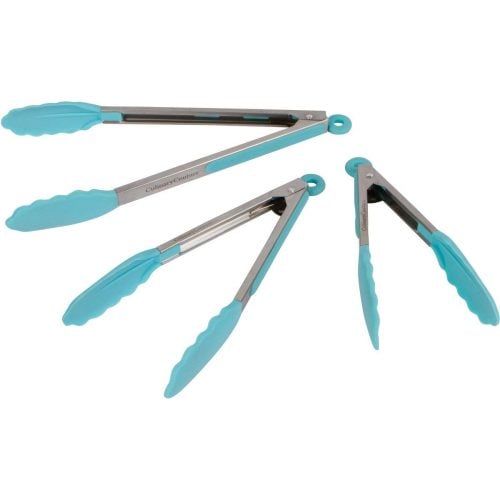 I don't know about you, but I use tongs multiple times a week. They're my go-to for salads, flipping pieces of bacon, grilling, basically – all the things. I love this set because it comes in three different sizes which, surprise!, I actually love and totally didn't know I needed. You guys will for sure find your favorite color because these handy tongs come in FOURTEEN different colors and because they're so inexpensive, I'm feeling like you could just have a rainbow of tongs in your kitchen should you so desire.
These tongs are safe up to 480°F and are 100% BPA-Free – so get cooking!
Oh man! You guys, I have told you about this dusting wand probably a dozen times before and I'll keep telling y'all until you believe me enough to get one. I love mine THAT.MUCH. This little tool is what you need for that light dusting of powdered sugar on top of a chocolate cake or the light dusting of cinnamon on top of It makes evenly flouring cutting boards and baking pans a breeze. Better yet, you pop it in your dishwasher and it's good as new. I think this tool is a must have for every baker!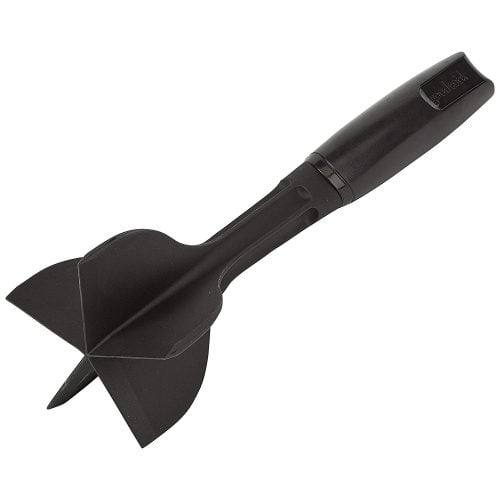 These gadgets aren't listed in any particular order but if I had to pick my favorite out of all them, this Chopper would undoubtedly be it. It looks very unassuming to be sure. I bought my brother one about 4 months ago and he raves about it every time I see him. It's perfect for all ground meats: think pasta sauce, sausage gravy, lasagna, etc. It both chops and stirs and breaks down the meat SO fast, you won't believe it. Give this one to everyone on your Christmas list this year!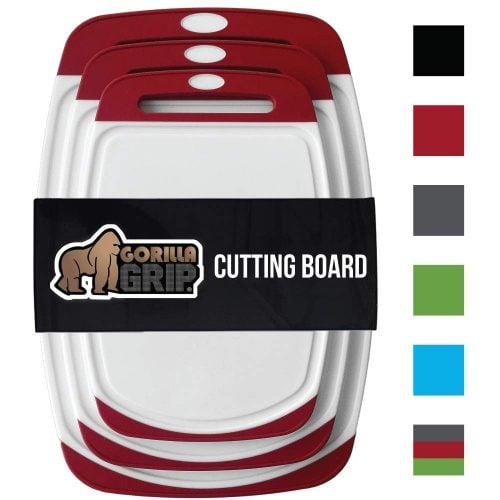 6 Colors. Amazing reviews on these cutting boards and there is good reason. Super high quality, very durable and safe! They stay in place and don't slide around when chopping. Dishwasher safe and BPA free.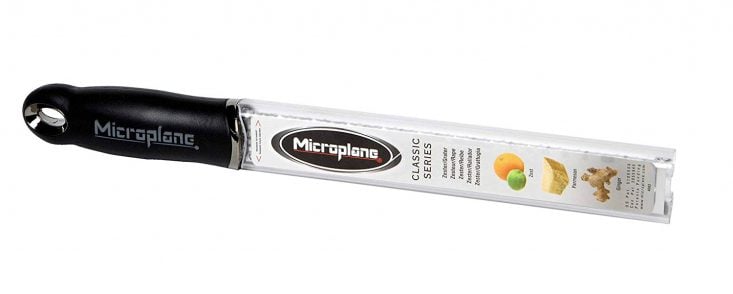 If you're not zesting, you're doing it wrong. DO NOT LOSE THE COVER. This thing is sharp. Which is, of course, why it makes it perfect for zesting. I use fruit zest A LOT in my recipes so you have probably seen this essential kitchen tool listed on my site somewhere before, most likely in this Lemon Blueberry Scones recipe or maybe this Strawberry Shortcake Roulade
I use it for zesting but also for grating Parmesan and other hard cheeses which comes in handy when we're having Slow Cooker Spaghetti Sauce for dinner. I use it nearly every day for one thing or the other and it's dishwasher safe so I love that clean up is so easy. Great stocking stuffer!
They're cute! They're fun! They're totally NECESSARY! Safe on all surfaces, no scratching, and they won't melt. LOVE! LOVE! LOVE! (Lifetime guarantee on this one!)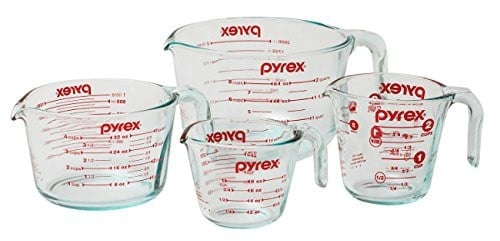 I have two sets of these. I'm not even kidding. I use them in places of bowls. They are great for measuring liquids, obviously, but also are perfect for batters too. I love the handles because when I'm stirring, it doesn't slide anywhere like a bowl can. This set comes with 4 cups, the largest being 8 cups – it's awesome! Safe for the microwave, fridge, freezer and dishwasher. They stack together nicely too!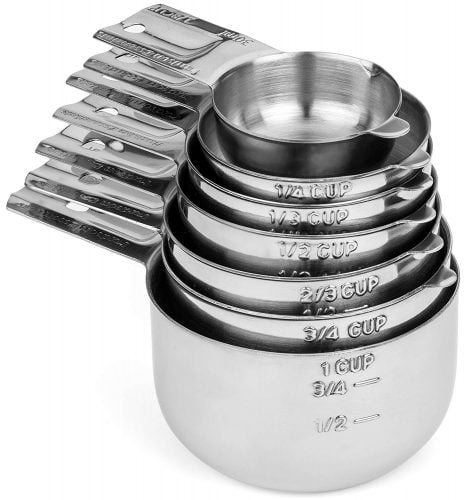 This is one of my more recent purchases. I got it a few months ago on a whim because I had never seen a 3/4 cup measuring cup before. They nest SO nicely so I can store them in my drawer and they are made of stainless steel so super sturdy.
If you want to spend an extra $5, you can get the matching measuring spoons too: FIND IT HERE.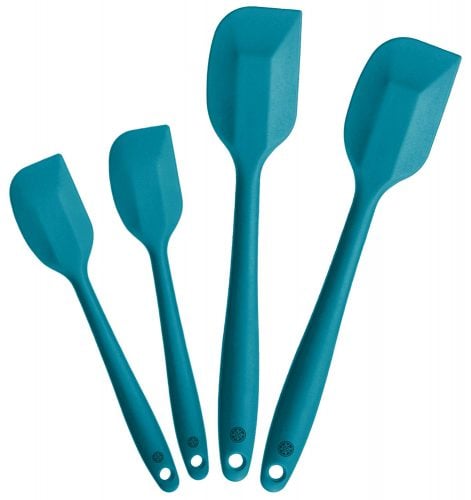 Five star reviews on this set! Comes in 3 colors and of course, the teal one is my favorite. These spatulas are great because they are SOLID. You know what I'm talking about. Often times, there is a wood handle that is inserted into a silicone head. Eventually that part falls out or gets loose. That's not good.
These spatulas are dishwasher safe, BPA free, and are safe to use on all surfaces. Buy THREE!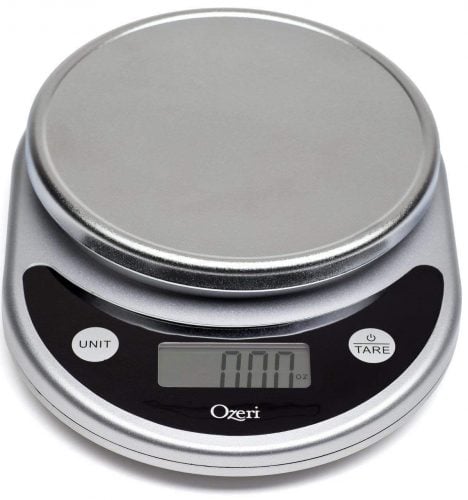 I bought this scale when I was writing my cookbook. It now comes in SEVEN different colors. I would, obviously, get the teal 🙂 I never realized how useful it was going to be until I had it in my kitchen. I used it all the time when I was doing the Whole30 and continue to find myself using it frequently when baking. It's small so I'm able to slide it into a small space and pull it out when I need it. Love this one!
Over the years I have bought many apple corer/slicers that have gone by the way side in favor of this simple apple corer. It's stainless steel, easy to use, and the handle is super comfortable. I originally bought this when I realized I needed something different than my corer/slicer for pears and other fruit and also for those occasions I didn't want my apples cut into slices. Say, like when I'm making apple pie filling, or Caramel Apple Empanadas. You're going to use this one, a lot!
Ever want to get those cupcake pans filled without a mess? Or make pancakes that are the same size? This is what you need! Anytime I'm making The BEST Fluffy Buttermilk Pancakes, which is a couple times a week, this batter dispenser is my tool of choice. Making Cherry Almond Cupcakes? You need this!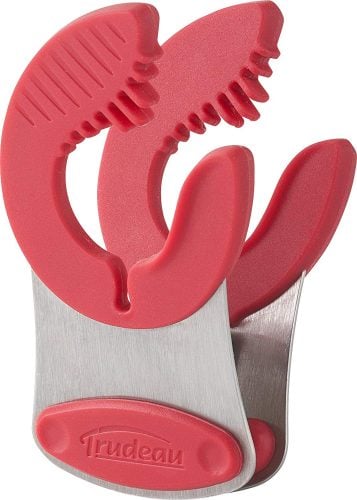 The best way to keep your counter clean is with this pot clip! I was forever placing saucing spoons on my white quartz counters – ugh! Not good at ALL! This little tool is super handy and a total countertop saver. It holds all size kitchen tools and is heat resistant. Made of silicone and stainless steel, this handy tool is dishwasher safe. Definitely perfect for anyone who cooks!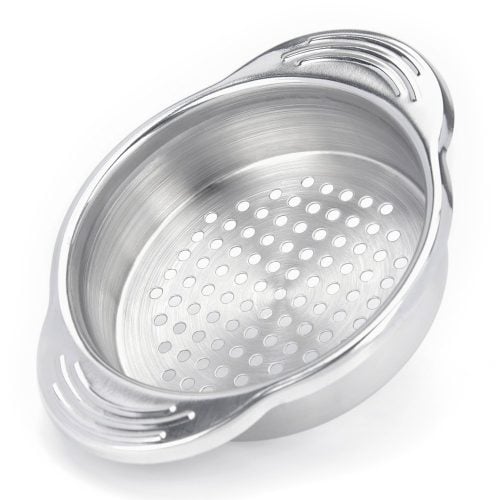 You are probably looking at this right now and thinking, what in the world?? Yep, it's a Can Colander folks and trust me, you WANT this. Great for all canned foods: tuna, fruit, beans, etc. It slips over the top of the can and all you have to do is flip it over and let the colander do the work for you. It's small enough to fit in a drawer and is dishwasher safe, so winning. This little guy is a real time save when it comes to can-intensive recipes like this Three Bean Wild Rice Salad.
Also? It comes in at UNDER $7. Yep.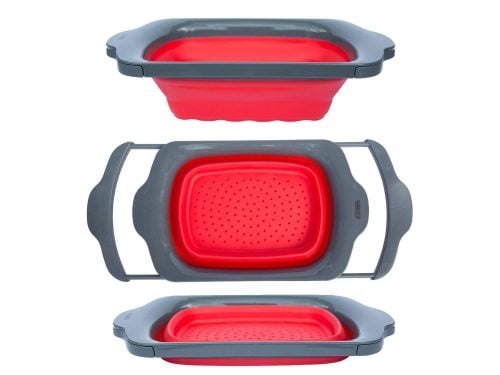 This collapsible colander is made to go over your sink but it can be used anywhere. It's a super space saver and is dishwasher safe. Great for pastas, fresh veggies and more! Comes in 4 colors.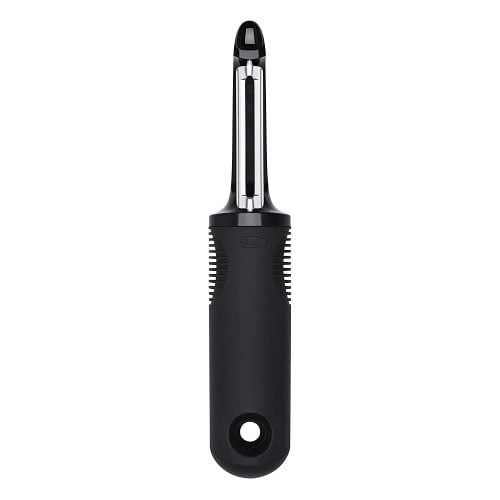 Everyone needs a good peeler in their kitchen. Dull peelers can cause you to apply more pressure which leads to slippage and ultimately, pain. I know this for a fact. 5 star reviews and it's less than $8 folks.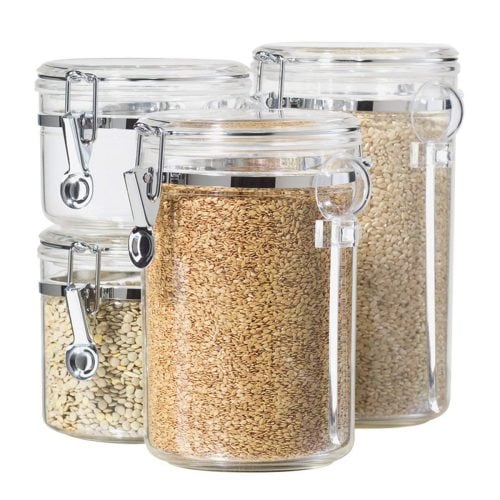 Storage should be functional. I love these canisters because they are clear so you can see what's inside and each canister comes with a spoon that is great for scooping out sugar, flour, spices, beans, and rice. Great for someone who likes to be organized – and also for someone who isn't 😉 This is a 4 piece canister set that features airtight lids so you can store anything and everything in here.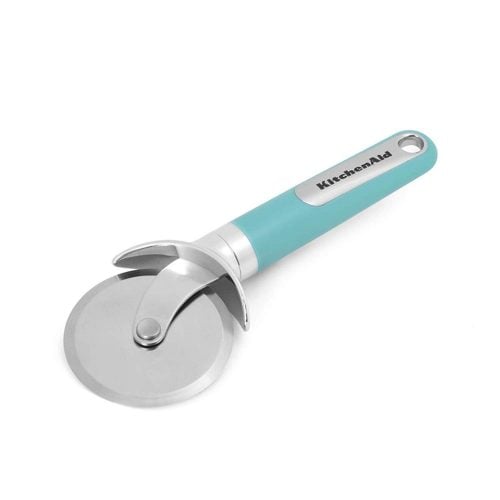 I use my pizza wheel for pie dough, cookie dough, pancakes, and of course, pizza. Cutting has never been easier and this pizza wheel looks cute while it works. Comes in 3 colors and is super comfortable to hold and use. Dishwasher safe!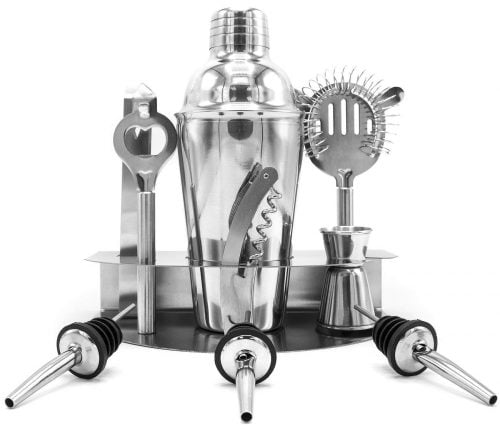 Cocktail Shaker and Mixing Set
Cocktail anyone? Having an in home cocktail bar set is essential for entertaining. This all-in-one cocktail bartender set comes with a Bottle Opener, Cocktail Shaker, Corkscrew, Ice Tongs, Measuring Jigger, Strainer, 3 Liquor Pourers, and the stand. Makes a great hostess gift!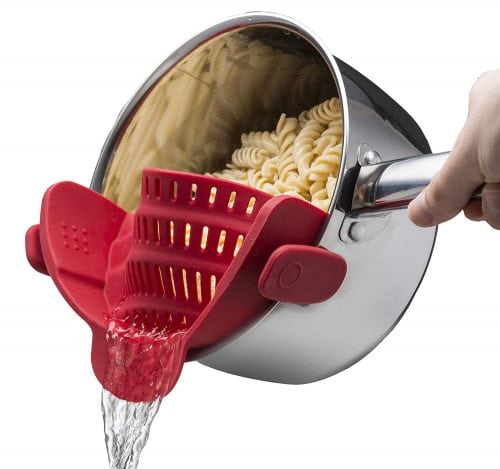 This strainer is one of my favorite kitchen tools because it's so versatile. Comes in 2 colors and makes straining painless and quick. It fits on nearly any pot, pan or bowl and is super compact so storing is a breeze.It's also dishwasher safe and BPA free.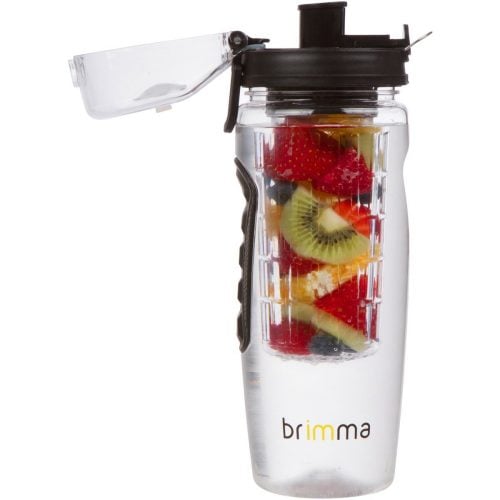 I use this water bottle almost every day. It's a great way to infuse water with flavor – think lemons, limes, oranges, berries, mint – you name it! Both leak proof AND shatter proof which is super important to people with a bad case of the dropsies, like myself 🙂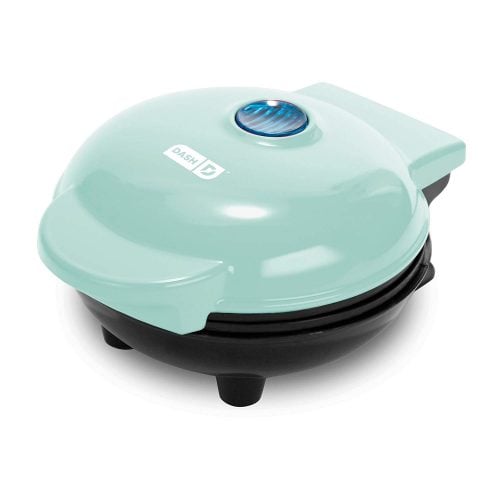 This cutie comes in 8 colors and makes paninis, waffles, pizzas, hash browns and more. It even comes with a little recipe book that will get you thinking of all sorts of ideas.
So you're thinking, but Trish, I have a big family! This mini maker is too small for us! You might be wrong. I use this little guy for all sorts of things but most often for a hot breakfast for the boys before they head off to school or for a quick after school snack. I also use it to make my lunch when I'm at home by myself.
Because it's so small, it cooks in just a few minutes so it can really pump out quite a bit in a short amount of time. Tell me what your favorite color is!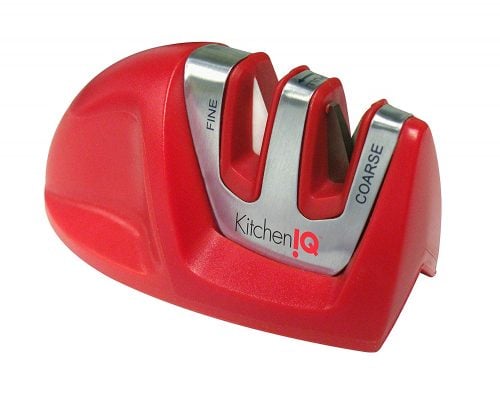 This cute knife sharpener not only looks sharp (sorry! COULD NOT RESIST), it does it's job, and it does it well. This unbelievably priced knife sharpener comes in three colors and has over 9,000 stellar reviews. As someone who uses their knives a lot, I know that a dull knife is a dangerous knife. I have the scars to prove it. A great stocking stuffer for the foodie in your life!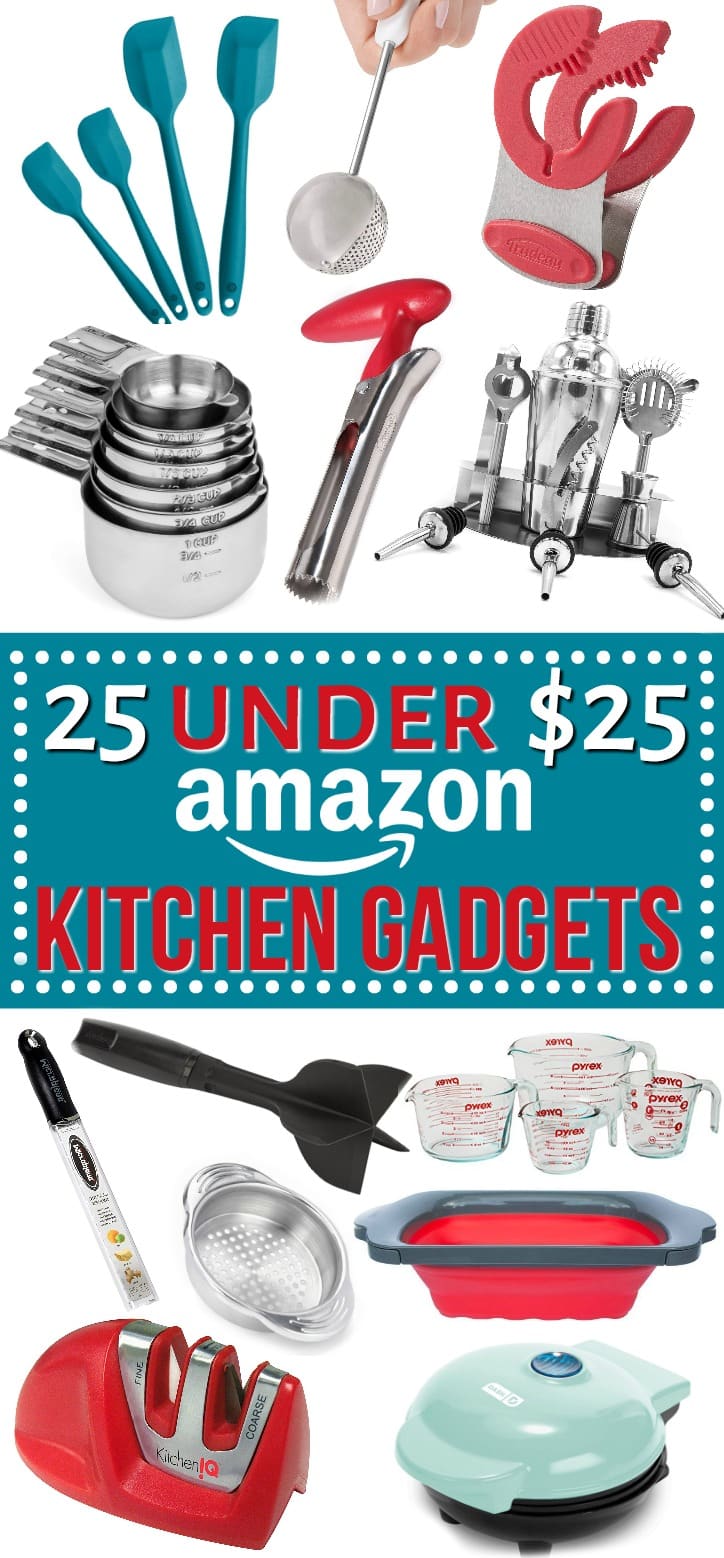 This post contains affiliate links. If you click on them and make a purchase, I make a small amount of money at no additional cost to you.  Thank you in advance for supporting Mom On Timeout.