The ten most popular recipes from Mom On Timeout in 2016! A fabulous collection of both sweet and savory! Hope you try them all!
Let's be friends! Sign up to get my new recipes in your inbox! Follow me on Facebook and Instagram too!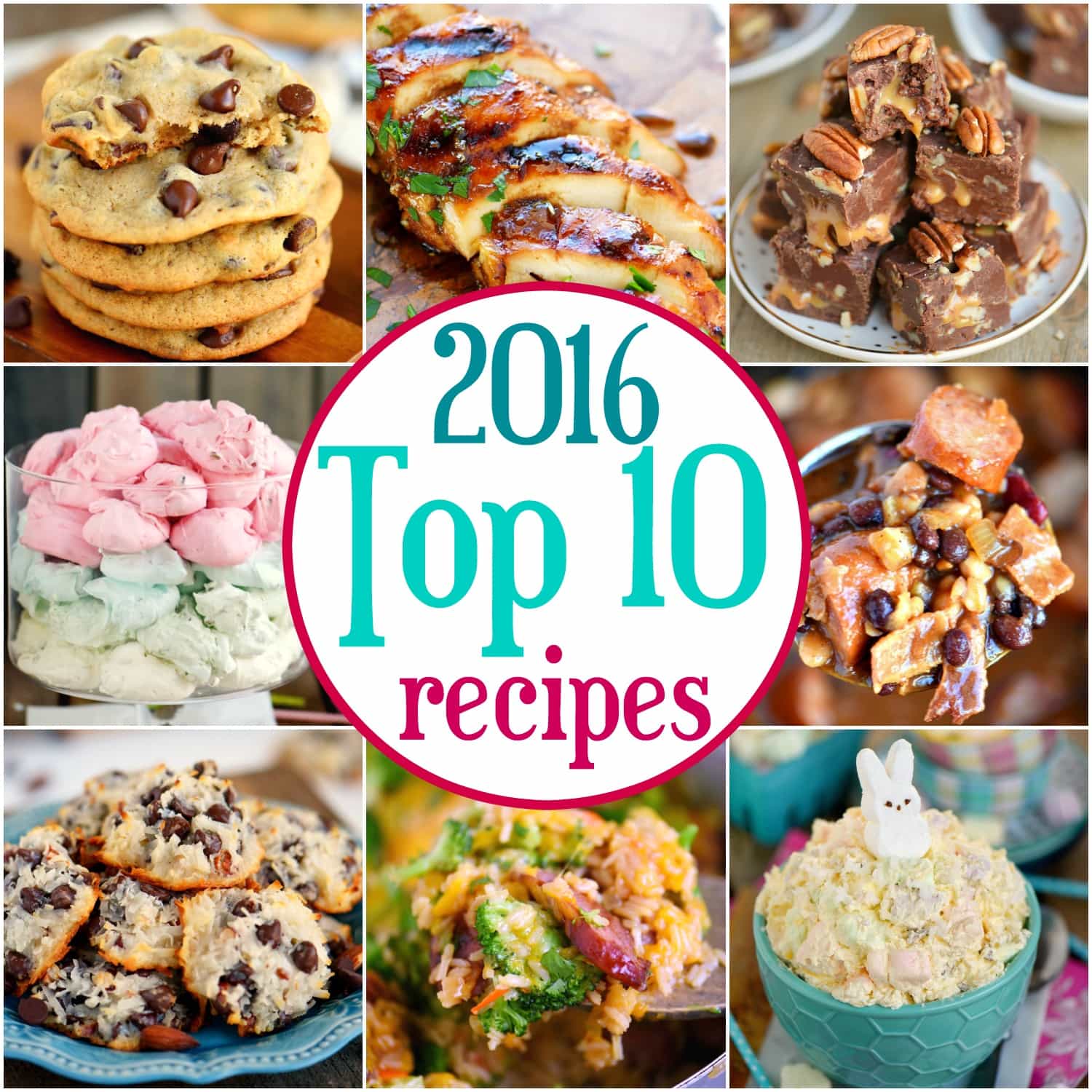 My favorite post of the year! I look forward to this post at the beginning of each year because it is so much fun to look back and see what my readers loved! It's a super simple process, I go to google and find out how many page views each recipe received and then rank them from one to ten.
There's several of my favorites that made the list this year and some that I was surprised to see didn't make it 🙂 Sometimes, I guess wrong!
If you've made any of these recipes, I'd love to know which ones you gave a try. I'd also love to know which recipe was your favorite from 2016 – whether it  made the top 10 or not! It honestly helps shape the next year and what kind of recipes I share with you all.
My most popular recipes from 2016! Some sweet, some savory – you guys have great taste!
Happy New Year!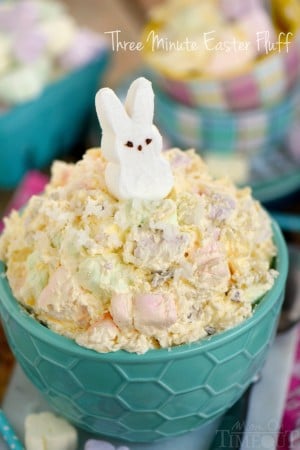 #10 This easy dump and go, one-bowl Three Minute Easter Fluff is the perfect addition to your Easter festivities – or any time of year!! A delicious dessert salad that everyone will enjoy! The pretty pastel colors make it perfect for baby showers too!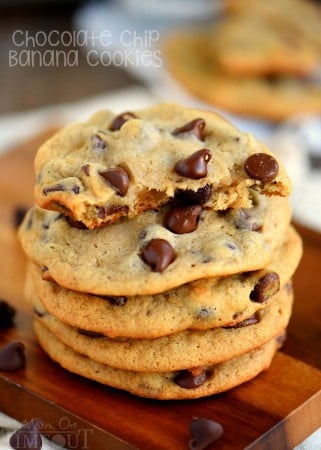 #9 Throwing out ripe bananas is a serious no-no in my book. Don't do it! Make cookies instead! These Easy Chocolate Chip Banana Cookies are sure to become a new favorite – so soft and delicious, they're impossible to resist!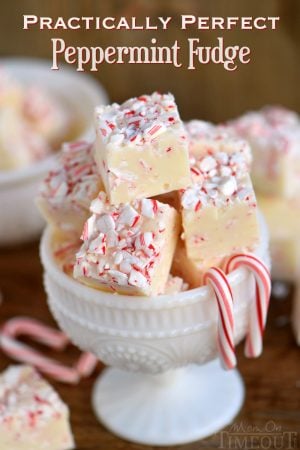 #8 Practically Perfect Peppermint Fudge! Just a handful of ingredients and five minutes are all you need to make this pretty and festive fudge!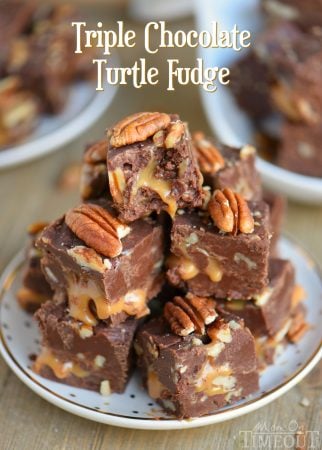 #7 This decadent Triple Chocolate Turtle Fudge features three different types of chocolate and an ooey, gooey caramel center that is hard to resist! Great for gift giving and the holidays!
#6 No Bake Snickers Crunch Bars are sure to become a new favorite! Layers of chocolate mixed with crunchy Cocoa Pebbles, irresistible nougat, and gooey caramel are impossible to resist! This recipe makes a lot so be sure to invite friends and family over to enjoy with you! Great for parties!
#5 Slow Cooker Kielbasa and Barbecue Beans is the perfect chilly day recipe! Made with three different beans, molasses, bacon, and kielbasa – it's pure comfort food!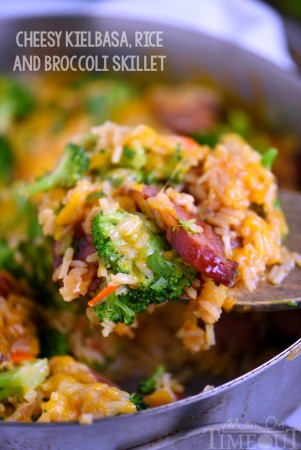 #4 Cheesy Kielbasa, Rice and Broccoli Skillet – your new favorite dinner! This easy skillet recipe comes together in a flash and is made in a single skillet for easy clean-up. Extra cheesy, and just bursting with flavor, it's a dinner recipe you'll find yourself making again and again.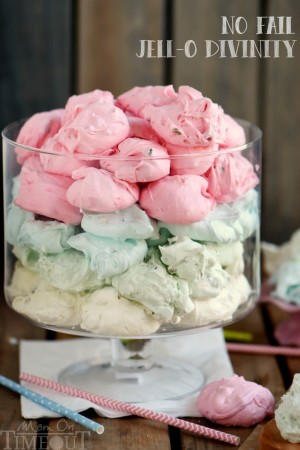 #3 This easy, No Fail Jell-O Divinity recipe is sure to delight the child in everyone! Pretty pastel candies are the essential treat for your Easter holiday! Lovely for baby showers too!
#2 Look no further for the Best Chicken Marinade recipe ever! This easy chicken marinade recipe is going to quickly become your favorite go-to marinade! This marinade produces so much flavor and keeps the chicken incredibly moist and outrageously delicious – try it today!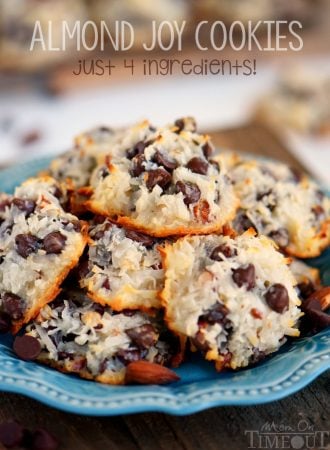 #1 If you love coconut, boy are you in for a treat today! These easy Almond Joy Cookies take just four ingredients and don't even require a mixer! No beating, no chilling, just mix 'em up and throw 'em in the oven EASY! You're going to love these ooey gooey fabulous cookies!
I hope you found a recipe here that you meant to try but forgot about… or maybe more than one 🙂 May 2017 bring us all the very best!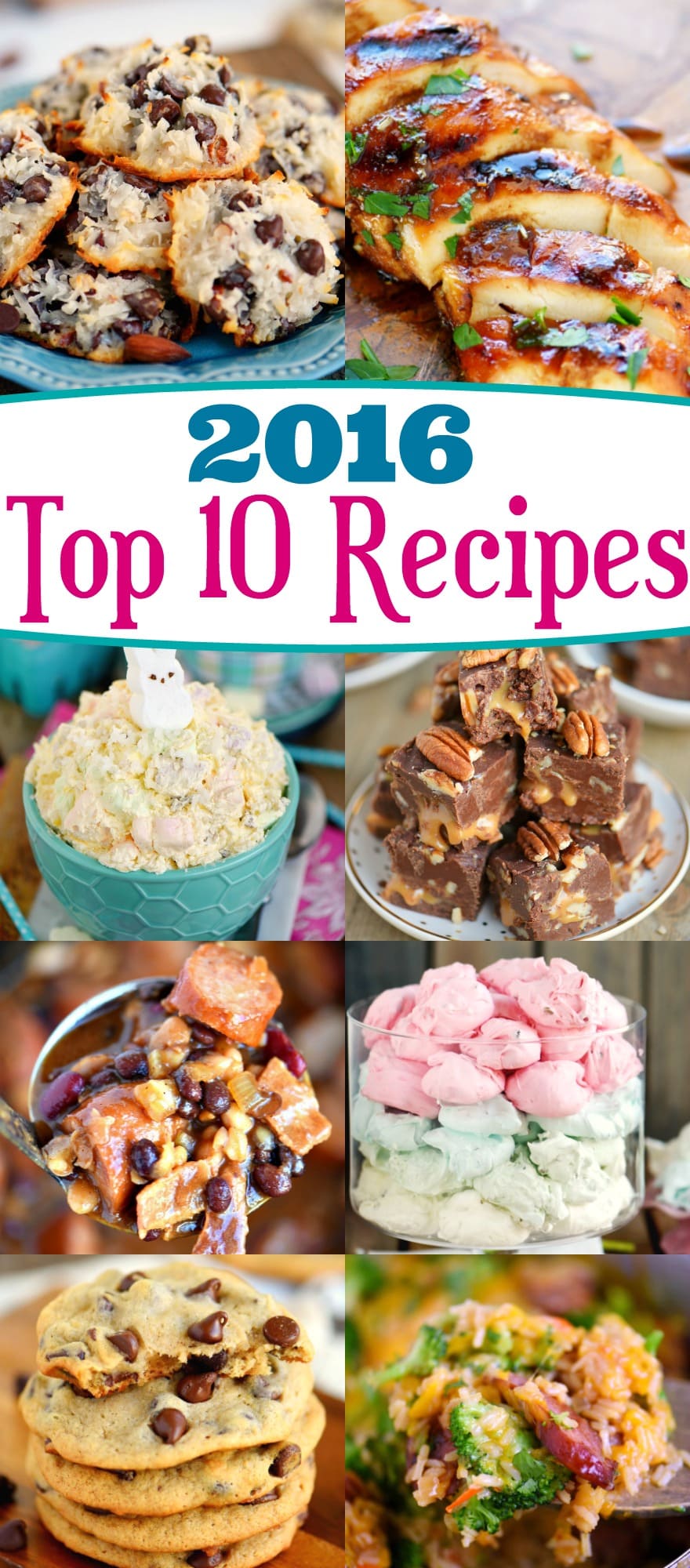 For all dinner ideas, go HERE.
For all dessert recipes, go HERE.
Sign up to get emails when I post new recipes!
For even more great ideas follow me on Facebook – Pinterest – Instagram – Twitter – Bloglovin'.
Have a great day!