This easy, No Fail Jell-O Divinity recipe is sure to delight the child in everyone! Pretty pastel candies are the essential treat for your Easter holiday! Lovely for baby showers too!
Let's be friends! Sign up to get my new recipes in your inbox! Follow me on Facebook and Instagram too!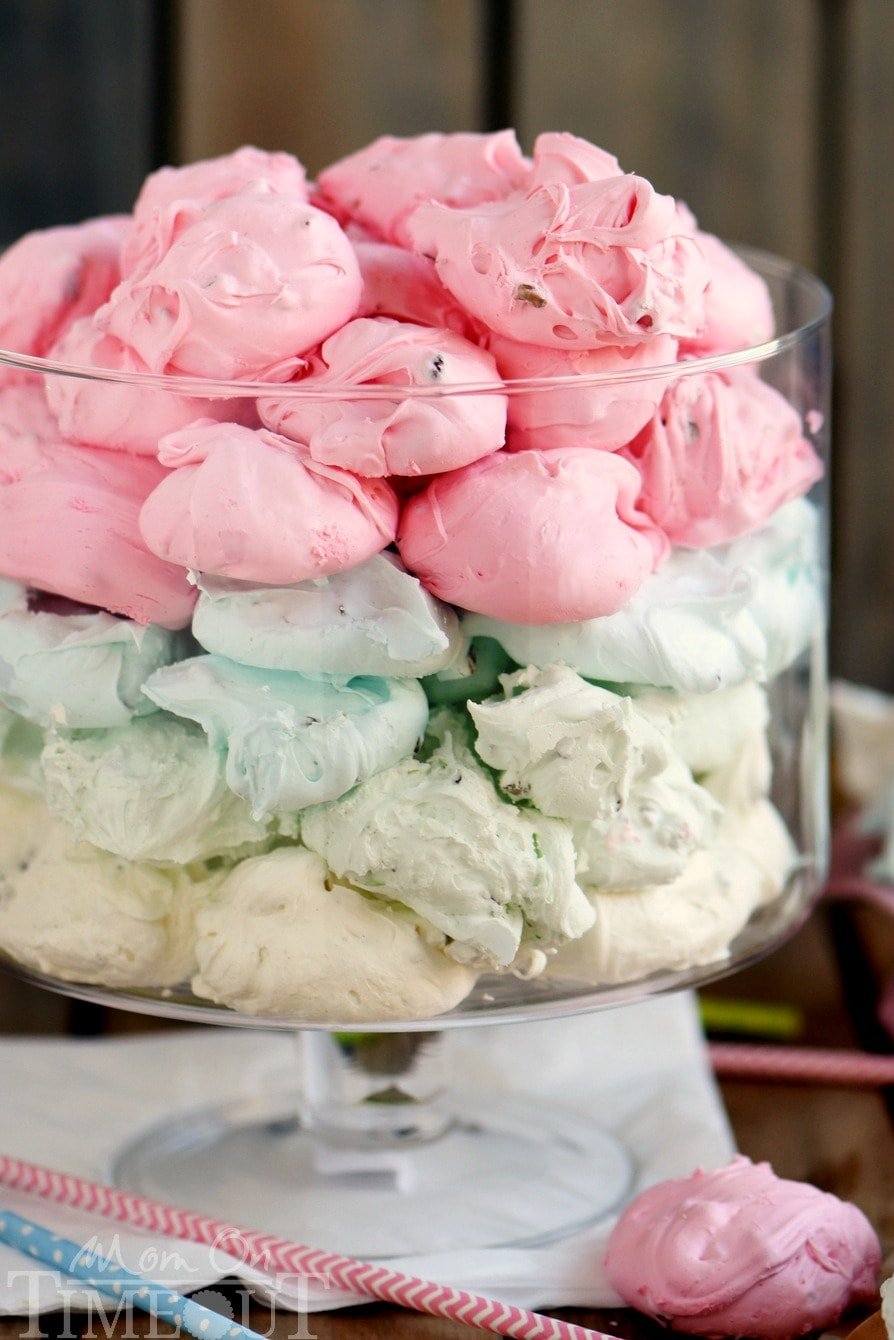 You guys are going to love me for this recipe! (And your hips are going to hate me…) After sharing my Three Minute Easter Fluff with you just a few days ago, I thought now would be a good time to share one of my favorite divinity recipes…with a twist!
Jell-O is one of my favorite tools for adding color and flavor to just about anything. This divinity is one such recipe. You are going to love all the variations that this recipe can offer and today I am sharing four that are perfect for Easter or a baby shower. All the colors are light pastels with the pink being the brightest of the bunch. I used cherry Jell-O for this batch because I ADORE all things cherry. Strawberry Jell-O yields a slightly lighter pink so if that is what you are going for, go with strawberry.
I'm kinda in LOVE with the divinity all layered in this trifle bowl – so pretty!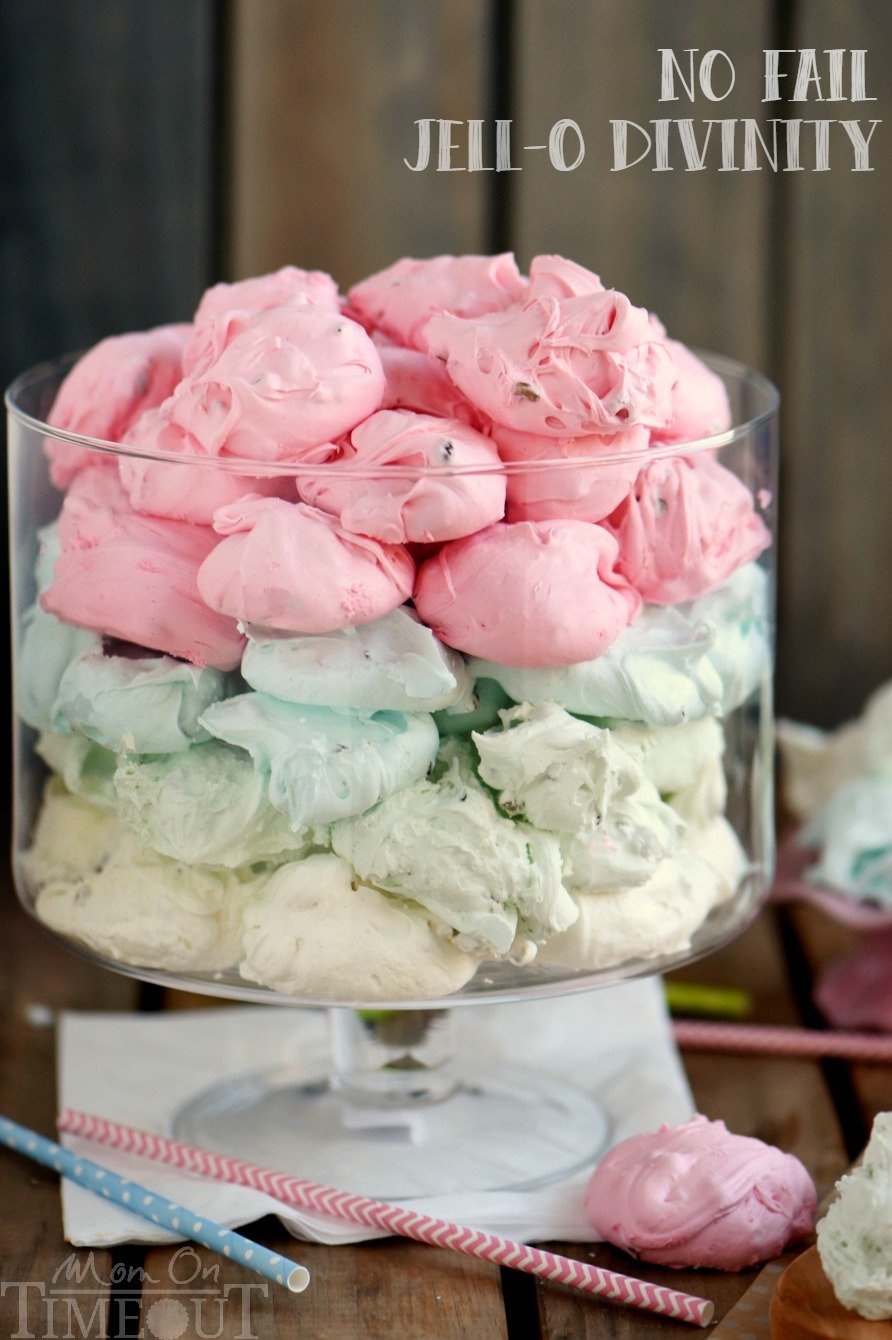 Y'all know I have Ashley's baby shower coming up next month and this divinity is something else I've added to the menu. We'll be making the pink (cherry or strawberry) and green (lime) versions for the party.
I am a big fan of divinity. Most of the time that I make, it's for my Dad because it's one of his favorites. But, it's also a really delicious addition to any get-together. This particular recipe is pretty much fool proof. The Jell-O not only adds flavor and color – but the gelatin helps the divinity set up quicker. It's all together awesome.
If you've never had divinity before, prepare to be amazed. It's a treat unlike anything else. Soft pillows of sweet flavor, they are hard to resist. Nougat-like in consistency, the center is slightly chewy and decadently soft. I make my divinity with nuts – usually pecans – but you can leave them out if you like.
One of my secrets for keeping the color so light and fresh is using clear vanilla extract. It's clear so the colors don't get muddied at all.
Divinity is candy so you are going to need a candy thermometer. Don't let that freak you out! Candy thermometers are what makes candy making SO easy. I recommend this digital candy thermometer. It's great for recipes like this divinity where you just need to let it come to a certain temperature without stirring. See! I told you this was easy!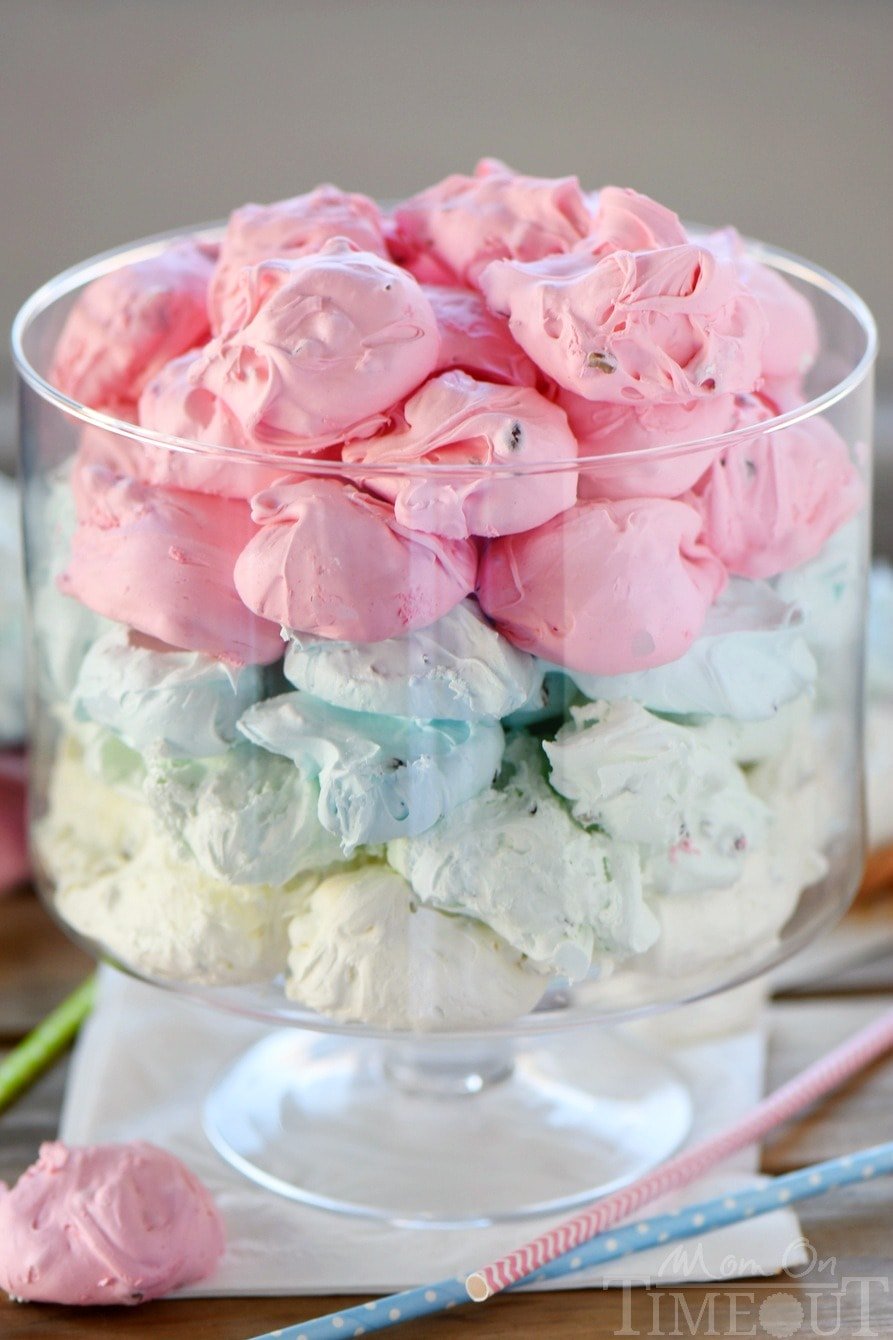 Feel free to experiment with lots of different flavors. In the picture above, the piece in the front is lime (it's a really beautiful light green!), the blue is berry blue, the pink is cherry and what appears to be white but is really a soft yellow is lemon. I was shocked that the lemon was my favorite – especially with how much I love cherry, but it is really delicious in this candy recipe.
Please give this No Fail Jell-O Divinity recipe a try! I'm sure it will become a new family favorite!
No Fail Jell-O Divinity
This easy, No Fail Jell-O Divinity recipe is sure to delight the child in everyone! Pretty pastel candies are the essential treat for your Easter holiday! Lovely for baby showers too!
Ingredients
3

cups

granulated sugar

3/4

cup

light corn syrup

3/4

cup

water

1/8

tsp

salt

2

egg whites

room temperature

3

tbsp

Jello powder

flavor of your choice

1

tsp

vanilla extract or other flavor

I use clear vanilla extract

1

cup

chopped nuts

optional (I almost always use pecans)
Instructions
Line 2 large baking sheets with waxed paper. Butter two large spoons and set aside.

In a 3 quart saucepan, bring the sugar, corn syrup, water, and salt to a boil, stirring frequently to dissolve the sugar.

Once at a boil, stop stirring and cook to 250F - hard ball stage. To do this, clip a candy thermometer to the side of the pot. This

candy thermometer

will beep when the correct temperature is reached. No fail 🙂

While the mixture is coming up to temperature, whisk egg whites on high speed in a

heavy duty mixer

until very stiff peaks form.

Whisk in the Jell-O until well blended.

Once the syrup has reached 250F, remove from heat.

Turn the mixer to medium-high and carefully and slowly pour the syrup into the egg white and Jell-O mixture. Like, so slowly, that this should take a good 2 minutes to pour it all in.

Add the vanilla extract.

Now it's time to let the mixer go to work. Continue beating until the mixture loses it's shine and holds it's shape when dropped from a spoon. You'll notice that it starts to look more and more sticky. This takes between 4 and 6 minutes usually.

It's absolutely okay to stop the mixer and test the mixture. If you drop the candy and it looks like a puddle on your waxed paper, continue beating for another minute or two and try again. When it holds it shape you are good to go.

At this time, mix in the nuts.

Spoon out a heaping teaspoon or tablespoon of the mixture out a time and use the other spoon to scrape the candy off the spoon. MAKE SURE that your spoons are buttered or the candy will stick. You do NOT need to butter them more than once.

Once all the candies have been dropped, let cool on the waxed paper.

Let the candies set out for at least 4 hours, preferable overnight before storing in an airtight container. These candies also do quite well sitting out in the open - no stickiness 🙂
Nutrition
Calories:
108
kcal
|
Carbohydrates:
23
g
|
Fat:
2
g
|
Sodium:
18
mg
|
Potassium:
17
mg
|
Sugar:
22
g
|
Vitamin C:
0.1
mg
|
Calcium:
4
mg
|
Iron:
0.1
mg

More recipes perfect for Easter!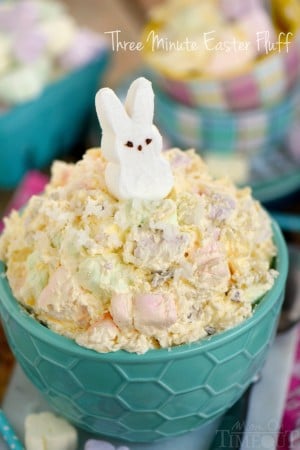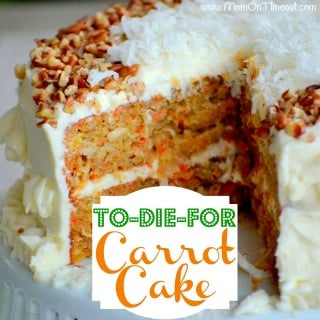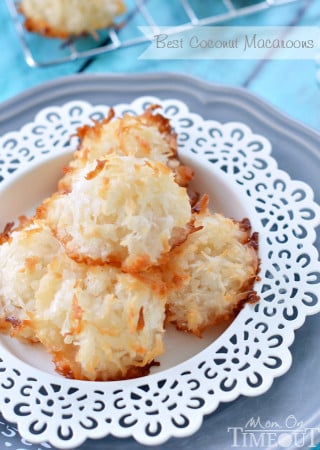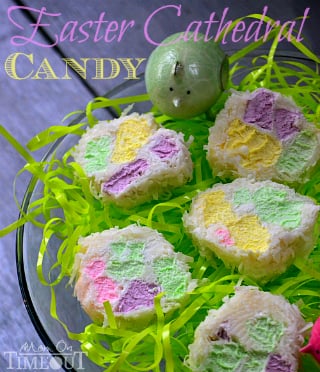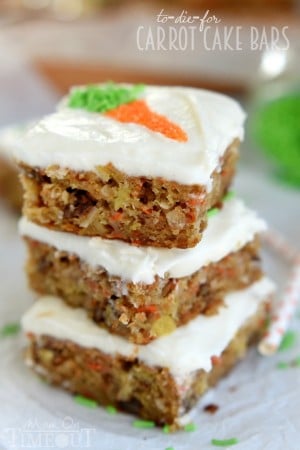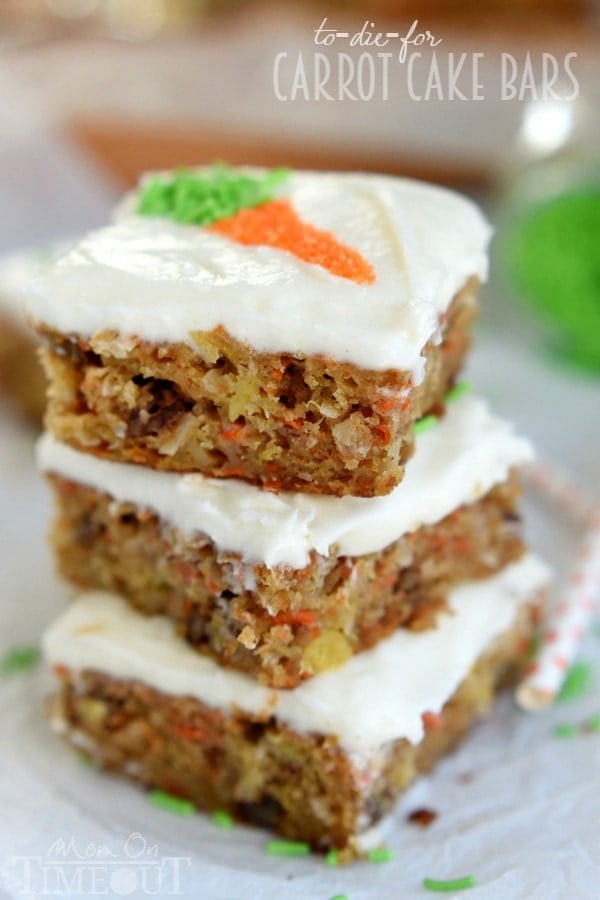 Carrot Cake Bars with Cream Cheese Frosting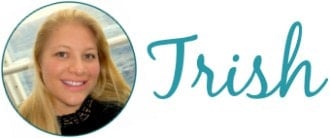 For all Easter ideas, go HERE.
For all dessert recipes, go HERE.
Sign up to get emails when I post new recipes!
For even more great ideas follow me on Facebook – Pinterest – Instagram – Twitter – Bloglovin'.
Have a great day!