This decadent Triple Chocolate Turtle Fudge features three different types of chocolate and an ooey, gooey caramel center that is hard to resist! Great for gift giving and the holidays!
Let's be friends! Sign up to get my new recipes in your inbox! Follow me on Facebook and Instagram too!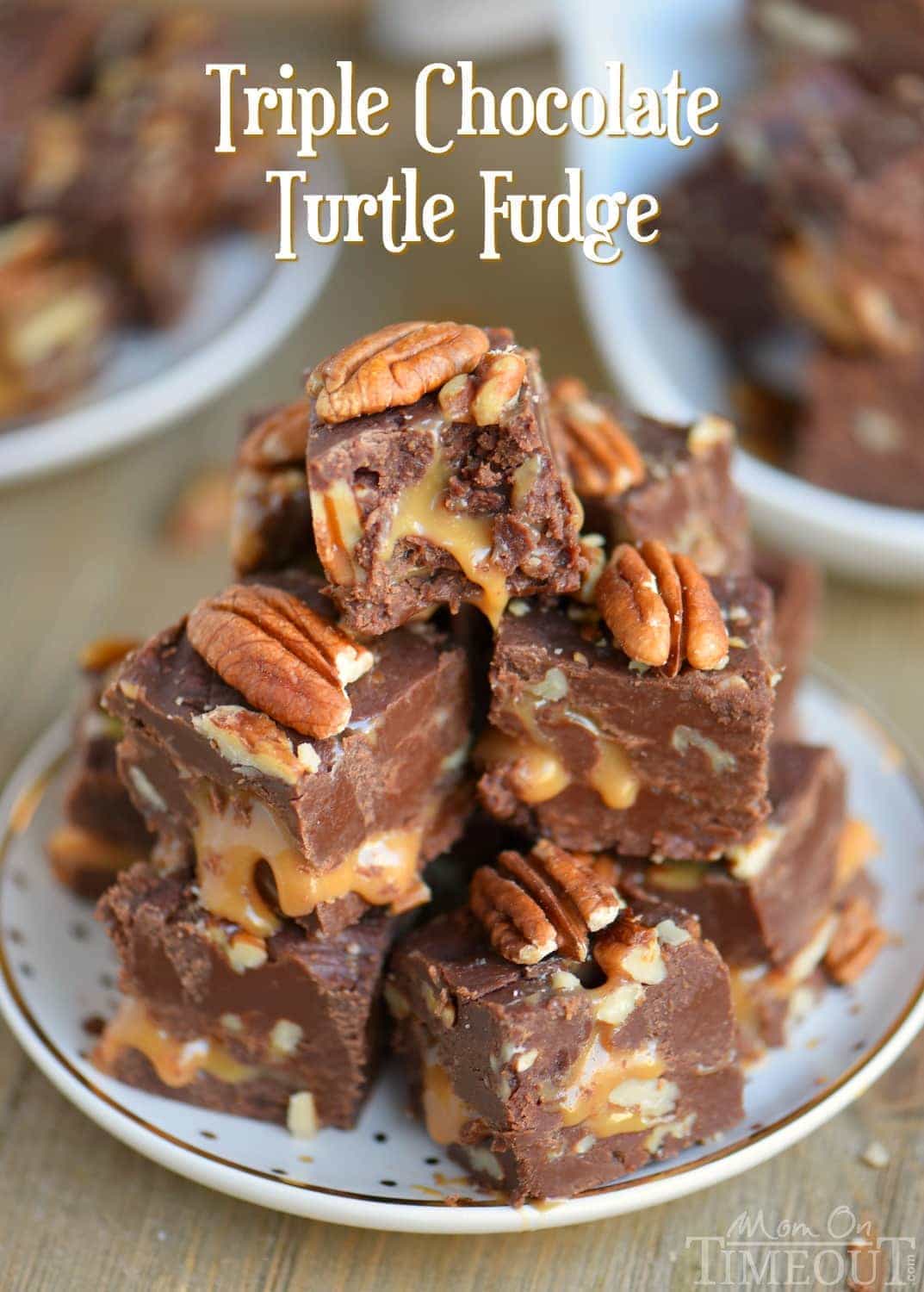 There is nothing I look forward to more than the holiday season! It's truly the most magical time of year: decorations, spending time with the kids and making treat after treat after treat! My favorite thing to make and share with friends and family during this special season is fudge. It's so easy to make and I haven't met a person yet who doesn't love fudge.
Today I'm sharing this amazing Triple Chocolate Turtle Fudge recipe – so decadent, so rich, so wonderfully scrumptious, you're going to want to share it with everyone you know.
One of the things I love about this fudge recipe is that it's a cooked fudge but does not require a candy thermometer. It's impossible to mess up and tastes like the fudge you buy in candy stores. Maybe better.
It starts with Challenge Butter. Made with 100% real cream, it's my butter of choice. Sugar, evaporated milk, and three different types of chocolate: semi-sweet chocolate, bittersweet chocolate, and milk chocolate (in the form of Hershey's chocolate bars). Did your mouth just start watering? I know mine did! It's super fast and every time I make it I get requests for the recipe.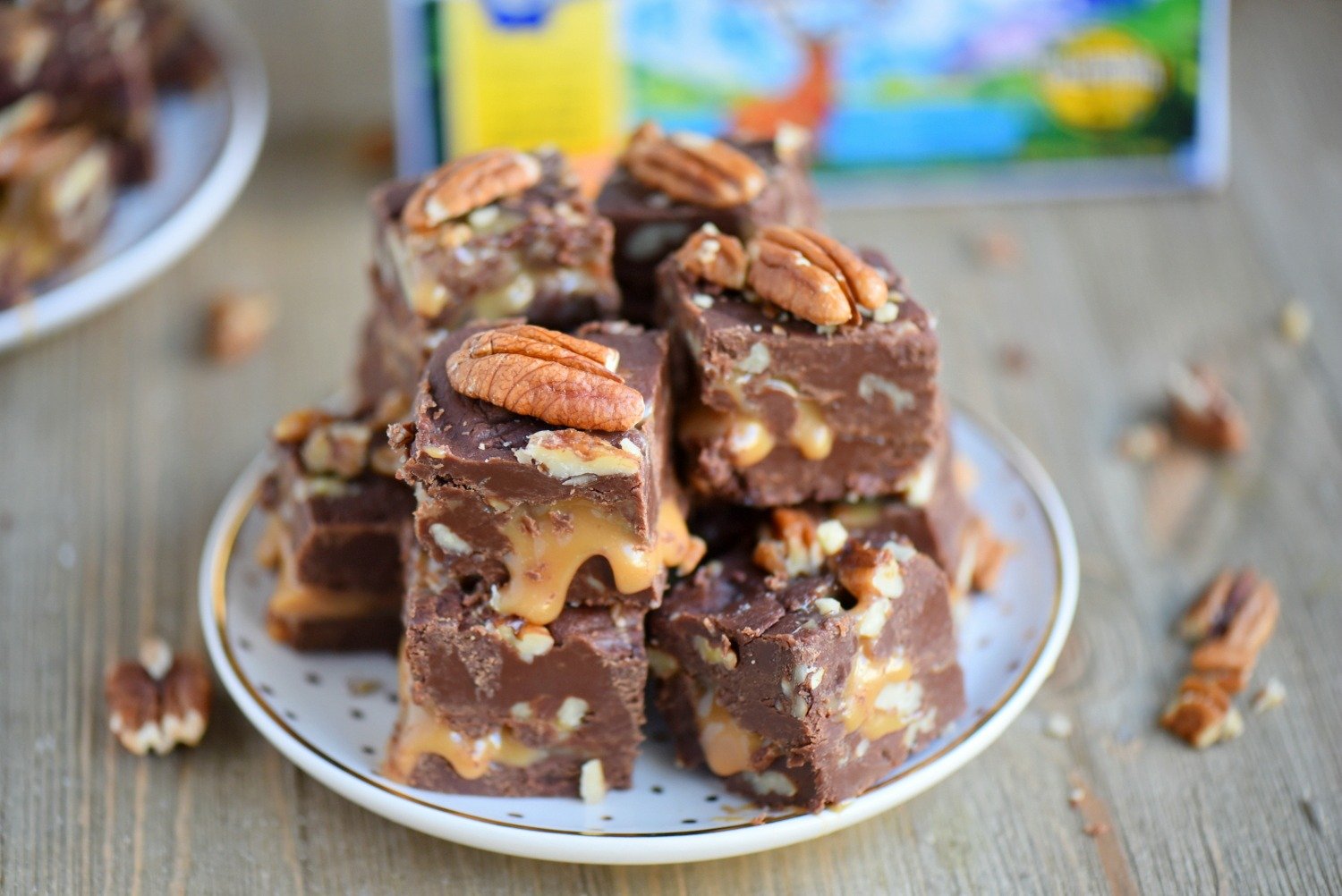 There's a lot to love about this fudge but that ooey, gooey caramel layer is my favorite. The picture above shows the fudge at room temperature. If you chill the fudge, the caramel will be completely set up, which can be a good thing for cutting into pieces.
The three different types of chocolate make this fudge seriously impossible to resist.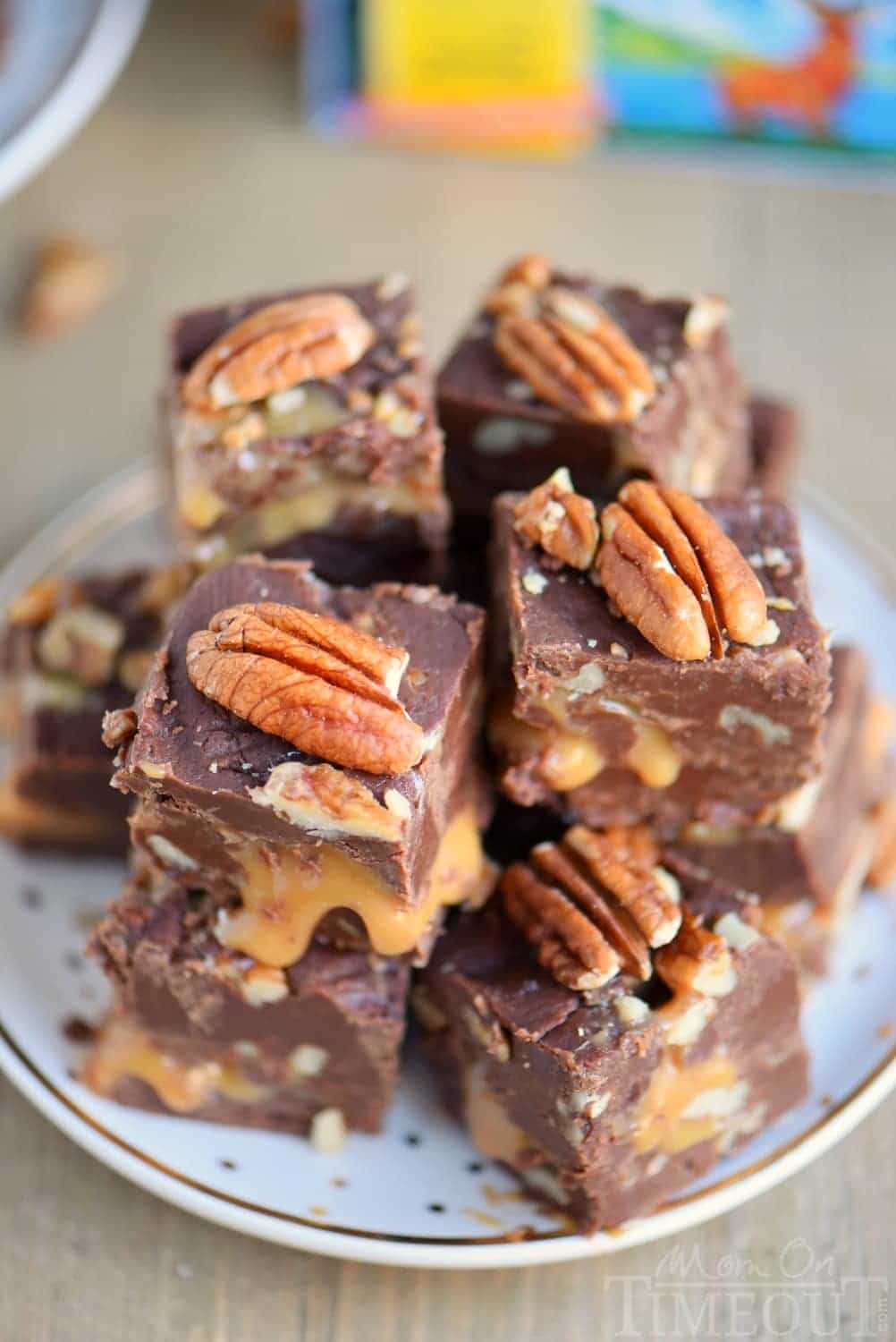 I do hope you give this fudge a try! Happy holidays!
Triple Chocolate Turtle Fudge
This decadent Triple Chocolate Turtle Fudge features three different types of chocolate and an ooey, gooey caramel center that is hard to resist! Great for gift giving and the holidays!
Author:
Trish - Mom On Timeout
Ingredients
⅔ cup Challenge Unsalted Butter
3 cups granulated sugar
⅔ cup evaporated milk
1 cup bittersweet chocolate chips (60% cacao)
1 ½ cups semi-sweet chocolate chips
3 (1.55oz)Hershey's candy bars
7 ounce jar marshmallow creme
1 teaspoon vanilla extract
1 cup coarsely chopped pecans
1 (11oz) bag caramels, unwrapped
3 tbsp evaporated milk
Instructions
Spray a 9-inch baking dish with cooking spray. Line with parchment paper and set aside.
Combine caramels and three tablespoons of evaporated milk in a microwave safe bowl. Heat in 30 second increments, stirring in between, until caramel is melted and smooth. Keep warm and set aside.
Combine butter, sugar, and evaporated milk in a heavy bottomed saucepan.
Bring to a boil over medium heat, stirring frequently.
Once at a full boil, continue boiling for 5 minutes, stirring continuously and scraping down sides of pan.
Remove from heat and stir in chocolate. (I use a whisk to get out all the lumps.)
Stir in marshmallow creme and vanilla extract.
Fold in pecans.
Pour half of the fudge into the prepared baking dish.
Spoon the caramel over the top, carefully spreading.
Spoon the remaining half of the fudge on top of the caramel and smooth out the top with an offset spatula.
Let cool to room temperature and then refrigerate for at least two hours.
Cut into small squares and serve.

More fudge to try this year!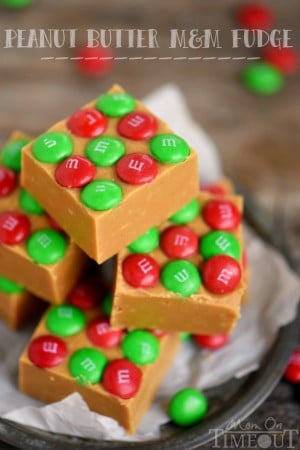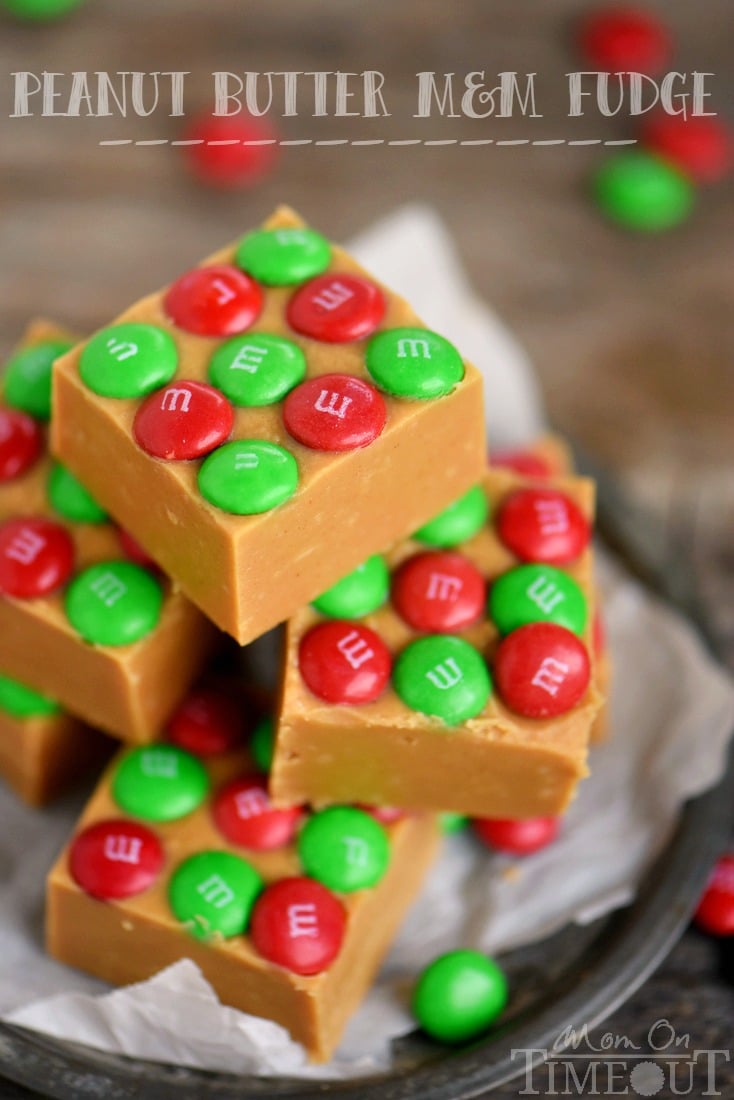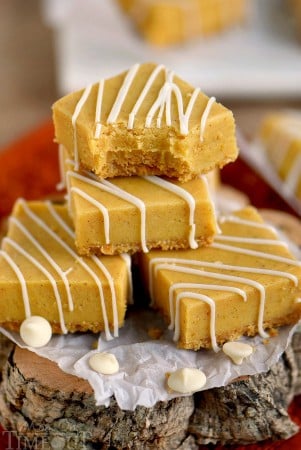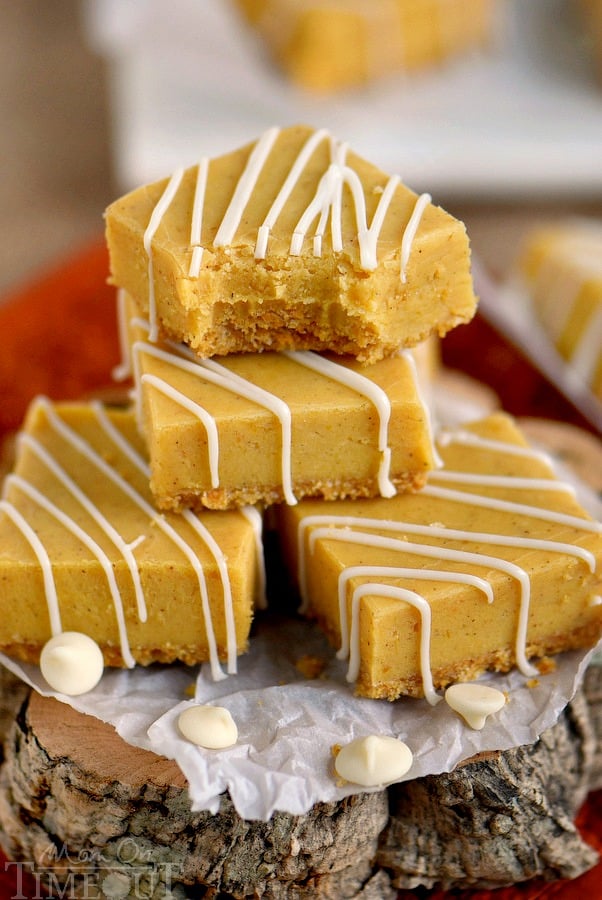 White Chocolate Pumpkin Pie Spice Fudge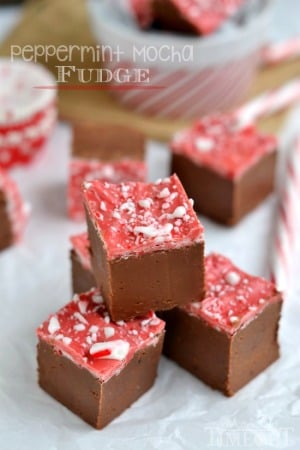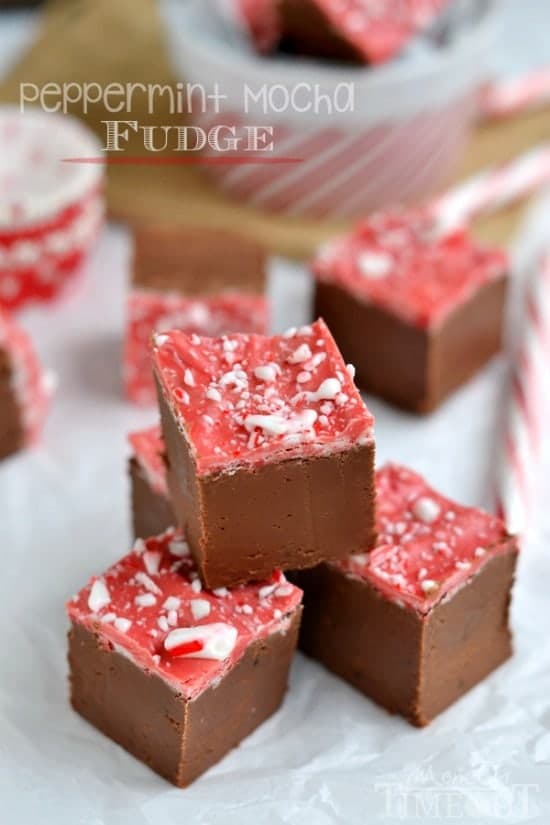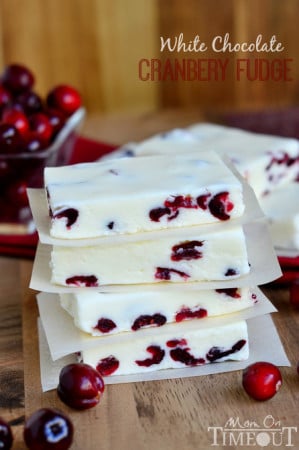 White Chocolate Cranberry Fudge

For all fudge recipes, go HERE.
For all dessert recipes, go HERE.
Sign up to get emails when I post new recipes!
For even more great ideas follow me on Facebook – Pinterest – Instagram – Twitter – Bloglovin'.
Have a great day!
Disclosure: I was compensated for this post by Challenge Butter.  All opinions are, as always, 100% my own. Thank you to my readers for supporting the brands that make Mom On Timeout possible!