This Balsamic Honey Grilled Steak Salad and Vinaigrette will satisfy even the heartiest of appetites!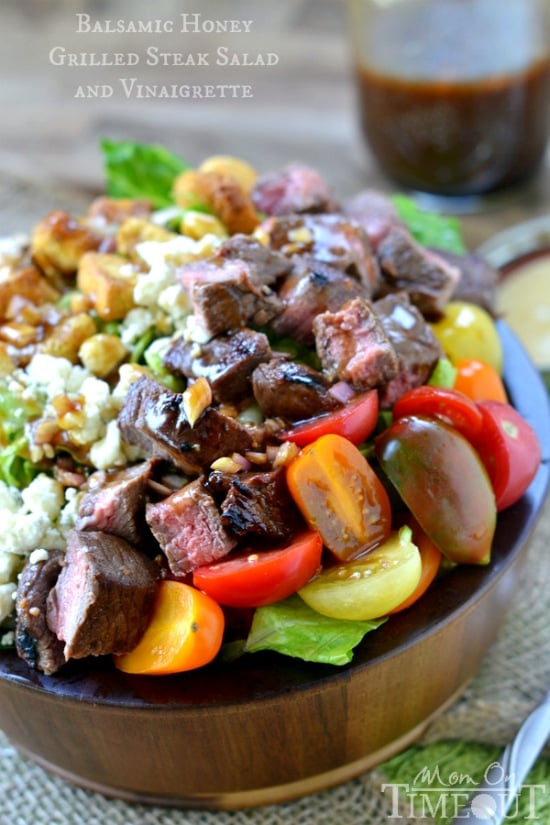 It is officially grilling season!  We grilled twice this past week and have some serious plans for this coming weekend.  Not to mention…Memorial Day weekend is almost here!
Seriously, where did Spring go??  Here in Sacramento, we not only skipped Spring but we are deep into summer with temperatures reaching 100 degrees this week.
Ouch.
At least the kids get to cool off nightly at swim practice 🙂  I have to admit, I'm more than a little jealous when I see them jump into the pool each night 😉
So, you all know that I LOVE to grill. It's one of my favorite ways to cook and I'll give you a hint as to why…less dishes. #lazymommy
I am also seriously into salads.  Like, I love them and eat them every day.  But, I'm not into wimpy salads. No. They need some protein – like grilled steak or chicken. In fact, one of my favorite ways to use leftovers from the grill is in a salad.
Pluuuuss, even my husband and boys will chow down on a salad when it's got this gorgeous grilled steak on it! This Balsamic Honey Grilled Steak Salad and Vinaigrette is a recipe the ENTIRE family loves.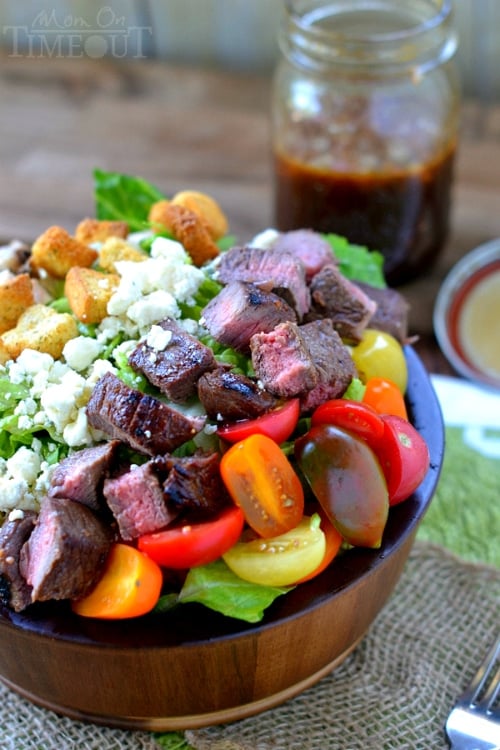 When you've got a gorgeous steak salad like this…you need to top it with something amazing. Something like this Honey Balsamic Vinaigrette.
The marinade for the steak mirrors a lot of the flavors found in the vinaigrette making it a perfect match. I make up the marinade and vinaigrette at the same time because almost all of the ingredients are the same.
Since you're making the vinaigrette ahead of time, the oil will separate – just give it a little shake-shake and you're good to go!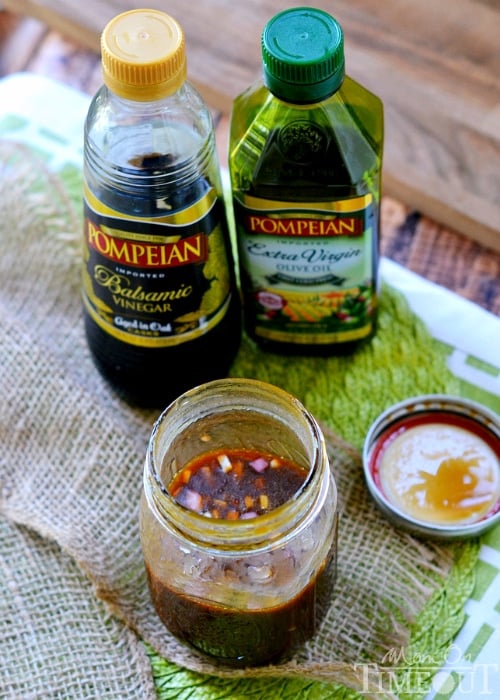 Balsamic Honey Grilled Steak Salad and Vinaigrette
Ingredients
1 - 1.5 pounds steak (ribeye, sirloin, T-bone, etc.)
Marinade
¼ cup balsamic vinegar
¼ cup Worcestershire sauce
¼ cup low-sodium soy sauce
1 Tbls honey
1 shallot, thinly sliced
1 Tbls Dijon mustard
2 cloves garlic, minced
fresh ground pepper to taste
Vinaigrette
⅓ cup balsamic vinegar
1 Tbls shallot, minced
2 cloves garlic, minced
1 Tbls low-sodium soy sauce
2 Tbls honey
2 tsp dijon mustard
⅔ cup extra virgin olive oil
Salad
romaine lettuce
tomatoes (cherry, pear)
blue cheese crumbles
croutons
Instructions
Marinade
Whisk marinade ingredients together in a small bowl.
Pour over steak and marinate for at least 30 minutes and up to 4 hours. The thicker your steak is the longer you will need to marinate it.
Vinaigrette
Combine all ingredients in a glass jar. Secure lid and shake vigorously for several minutes.
Heat grill to high heat. Lightly brush grill grates with oil.
Remove steak from marinade and discard marinade
Grill for 3-5 minutes on each side or until desired doneness is reached. Let rest for 15 minutes.
Assemble salad ingredients.
Cut steak into bite-sized pieces and add to salad.
Dress with vinaigrette and serve immediately.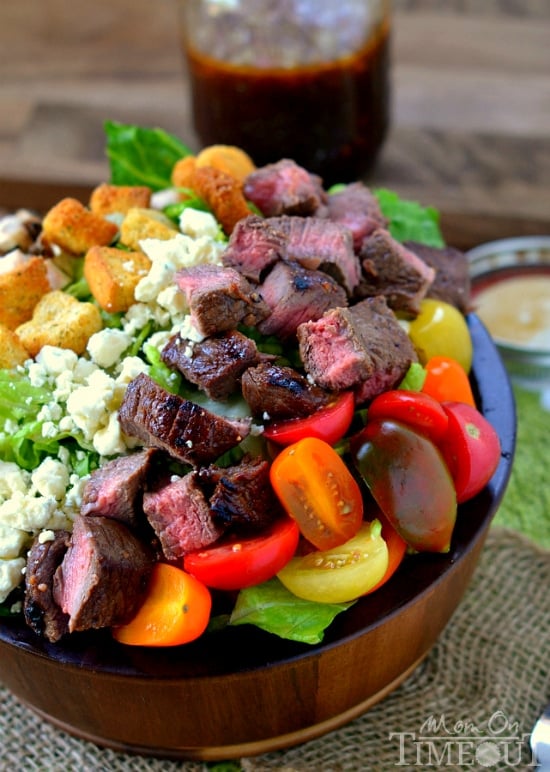 For all appetizer recipes, go HERE.
For all dinner recipes, go HERE.
Sign up to get emails when I post new recipes!
For even more great ideas follow me on Facebook – Pinterest – Instagram – Twitter – Bloglovin'.
Have a great day!