The BEST Divinity Candy I've ever had! This wonderful candy recipe is the perfect addition to any celebration but is especially loved during the holiday season. This snow white confection is fantastically sweet, chewy and wonderfully decadent – a truly divine treat to share with friends and family. Love homemade candy? Make sure to try these Homemade Gumdrops, 5 Minute Fantasy Bars, and Chocolate Pretzel Peanut Butter Balls!
Divinity Candy
Every Christmas season, I spend a large chunk of my time preparing all manner of holiday cookies, fudge, and treats. There is one candy that I make every year, without exception: divinity.
Through the years, I have made so many candies that are family favorites. Whether it's my Nana's Chocolate Covered Peanut Butter Crunch Balls, my Aunt Renee's Martha Washington Candies or one of my personal favorites, these Buttermilk Pecan Pralines, these treats represent tradition in our family.
Divinity is one of those special candies that I make almost exclusively during the holiday season. Sometimes I'll make up a batch for Easter or some other special occasion but this candy really represents Christmas to me in my heart.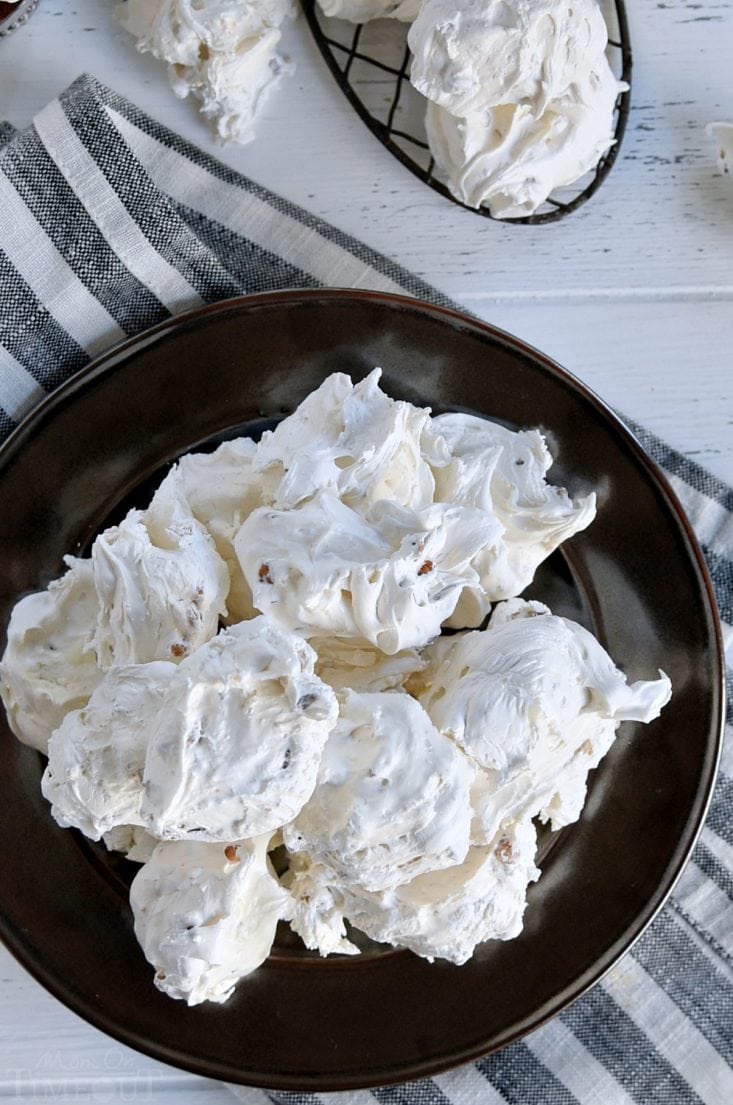 It's not the easiest candy in the world to make. Well, I shouldn't say that. It's not hard per se, but it does take time. Your mixer will take on the brunt of the work and I do highly recommend a heavy duty stand mixer for this recipe. I have never successfully made divinity with a hand mixer, but that's not to say it can't be done. It would just have to be really strong to do so.
What Is Divinity Made Out Of?
Divinity is made out of egg whites and sugar for the most part. I like to add chopped pecans to mine but I know some people prefer walnuts. Here is what you will need to make divinity:
egg whites
sugar
water
corn syrup
salt
pecans
vanilla extract
This divinity recipe is unique in that the syrup is made in the microwave. You start off be beating egg whites to stiff peaks – this is how all divinity starts. But instead of heating the syrup on the stove top, the ingredients are brought to hard ball stage in the microwave.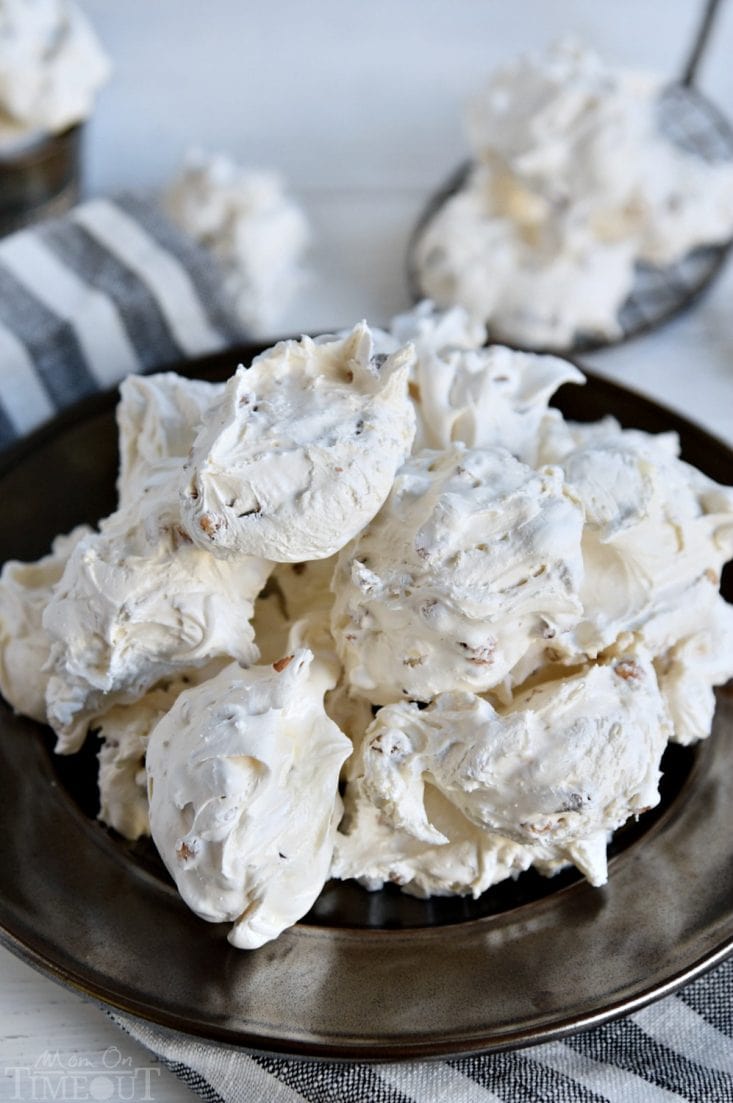 I love this for many reasons including the fact that I can heat up the syrup in a vessel that makes it easier to pour. I used a large glass bowl in the video below, but please, don't do that. Use a large Pyrex glass measuring cup (I use this set here). This syrup is 260F when it's poured into the beaten egg whites and trust me, that is hot. Make sure to use a good candy thermometer when making divinity or any candy. A few degrees off can mean the difference between failure and success. I use this candy thermometer and check it for accuracy before each use.
You want something with a handle and a pour spout to make this easy and more importantly, safe.
Once the hot syrup has been poured into the egg whites, you're going to let your heavy duty stand mixer take over. The candy neats to be beaten on high speed for about 15 to 20 minutes. You're looking for the candy to lose it's gloss and hold it's shape when dropped onto wax paper.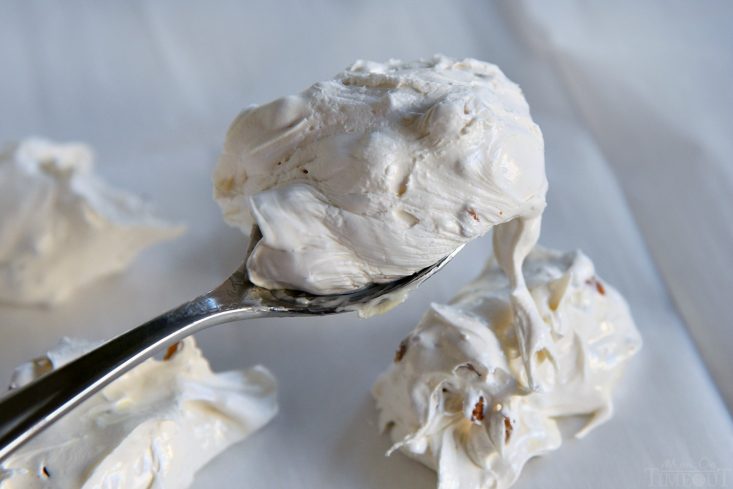 I usually test it once at 15 minutes and there every minute or so after until the candy is ready to go. You don't want to over beat the candy. This results in brittle candy that is crumbly – not what you want. True divinity has a pillowy soft, chewy center that is in a word, divine.
How to Make the Best Divinity
Test your candy thermometer before using. To do this, bring water to a boil. Insert your thermometer. It should read 212F. Make adjustments as needed.
Do not over beat the divinity. Once you are getting close to the end, you can check your divinity by dropping a spoonful onto the wax paper. If it holds it's shape it's ready. If it slowly turns into a puddle, you're not there yet.
Be prepared. I have the very first instruction listed as preparing the baking sheet with wax paper and buttering the teaspoons. This is for a very important reason. You have to work quickly towards the end and if you are not ready to drop the candy onto the wax paper, it will set up too quickly in the bowl. Now you don't need to be a speed demon, but it should be done as quickly as you can.
Don't be a control freak. This is hard for me but the nature of divinity is wild and chaotic. That is why it is so beautiful. No two pieces are the same. Love the irregularities and non-uniformity of this candy – it's appealing and lovely.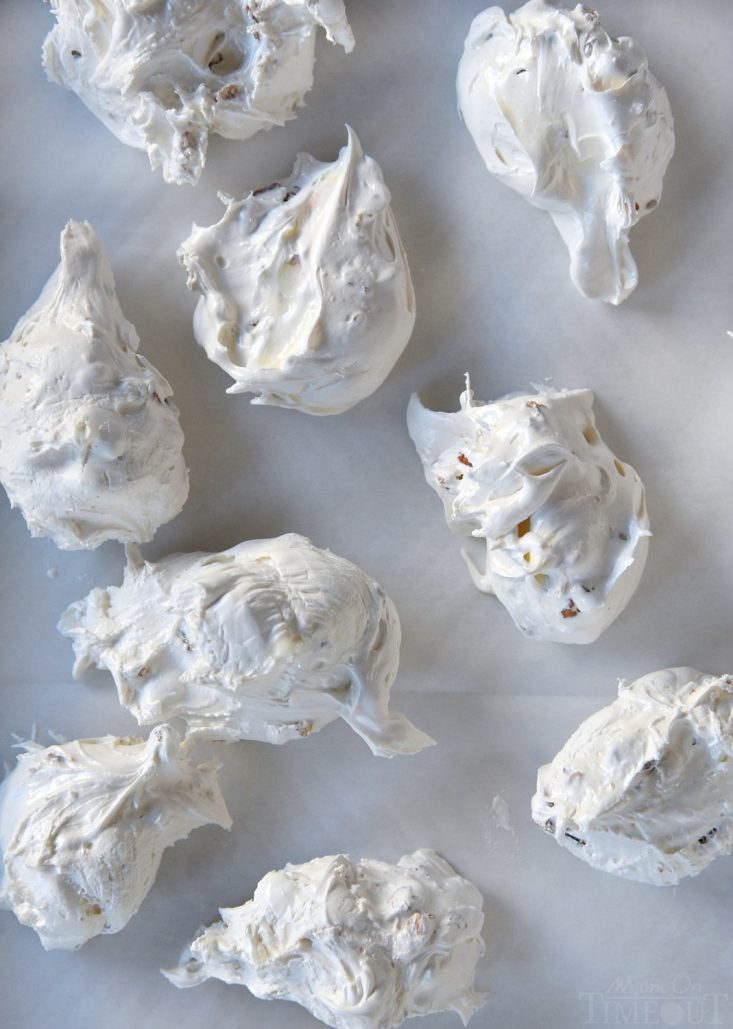 Make sure to try these other favorites:
And make sure to check out my 25 Amazon Kitchen Gadgets Under $25 list!
How To Make Divinity
Microwave Divinity Candy
The BEST Divinity Candy I've ever had! This wonderful candy recipe is the perfect addition to any celebration but is especially loved during the holiday season. This snow white confection is fantastically sweet, chewy and wonderfully decadent - a truly divine treat to share with friends and family.
Ingredients
2

egg whites

room temperature

2 1/2

cups

granulated sugar

1/2

cup

water

1/2

cup

light corn syrup

1/8

tsp

salt

1/2

cup

finely chopped pecans

optional

1 1/2

tsp

vanilla extract
Instructions
Line a large baking sheet with wax paper and set aside. Butter two teaspoons and set aside.

Let egg whites come to room temperature for 30 minutes.

In a large microwave safe glass measuring cup, combine sugar, water, corn syrup and salt.

Heat for 4 minutes on high heat and stir.

Continue cooking syrup in 2 minute increments, stirring in between until syrup has reached the hard ball stage of 260F. Once syrup has reached 250F, reduce cooking increments to 1 minute each, stirring and checking temperature in between.

When the syrup is nearly done (with about 4 minutes remaining or when the syrup is between 240F and 250F), start beating the egg whites on medium speed until they are at stiff peaks. (Note: When the beater is lifted up, the egg white peaks should stand straight up and they should not slide around in the bowl when the bowl is moved from side to side.)

Increase mixer speed to high and slowly and gradually pour in the hot syrup being extremely careful.

Continue beating the candy mixture for 15 to 20 minutes or until the candy loses it's gloss and holds it's shape. You can text your candy by taking a spoonful of the mixture and dropping it onto the wax paper.

Once your candy has reached this point, quickly stir in the pecans and vanilla extract.

Use the buttered teaspoons to scoop out rounded teaspoons of the candy and drop onto the prepared wax paper lined baking sheet. Repeat until all candy has been scooped out.

Let the divinity stand at room temperature until dry to the touch, usually overnight is perfect.

Store divinity in an airtight container.
Notes
Times based on an 1100W microwave.
Nutrition
Calories:
94
kcal
|
Carbohydrates:
21
g
|
Fat:
1
g
|
Sodium:
16
mg
|
Potassium:
10
mg
|
Sugar:
21
g
|
Calcium:
2
mg
|
Iron:
0.1
mg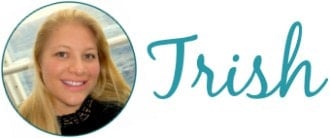 For all Christmas recipes, go HERE.
For all dessert recipes, go HERE.
Sign up to get emails when I post new recipes!
For even more great ideas follow me on Facebook – Pinterest – Instagram – Twitter – Bloglovin'.
Have a great day!