This simple and sweet Strawberry Coconut Smoothie makes a delicious and satisfying breakfast or snack since it's made with Greek yogurt!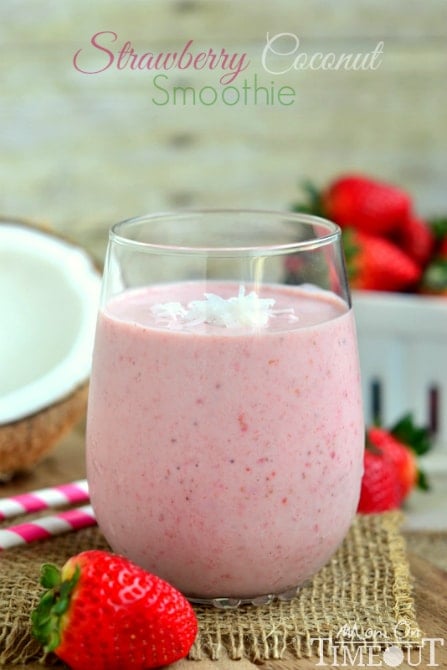 So the boys are back in school today. It's kind of sad but also kind of a relief as well. I don't think I realized how much I got done in the three hours Bryce was gone every day until, well, he wasn't. Those boys require a lot of attention!
It wasn't until yesterday when they realized that – Uh-oh! School starts tomorrow! – that the panic set in. I honestly kind of thought they would be happy to get back to school, BUT, apparently they've got used to sleeping in and hanging out in their PJs all day. Who can blame them?
I was feeling especially sorry for Bryce this morning when he refused to get in the car, refused to get out of the car, refused to get in line at school. Yeah. He just wasn't feeling the whole school thing today. So, this afternoon I made up one of Bryce's favorite smoothies for him as an after-school snack. Yes, sure he leaves immediately after lunch, jumps in the car and we head home. But somehow, without fail, that boy is ALWAYS hungry by the time we get home! You know 10 whole minutes after he just finished his lunch 🙂
This Strawberry Coconut Smoothie is a great smoothie whether you're making it up for breakfast or as a snack. And you know me, I like to use Greek yogurt so there's some protein in there with all the fruity goodness. It's my secret weapon when it comes to snacks that keep my boys full for more than 5 minutes. It can be yours too!
For myself, I like to use plain, nonfat Greek yogurt, but for the boys I'll usually use vanilla. They don't really care about the calories… I'll also throw in a scoop of protein powder for myself, ESPECIALLY if this is for breakfast.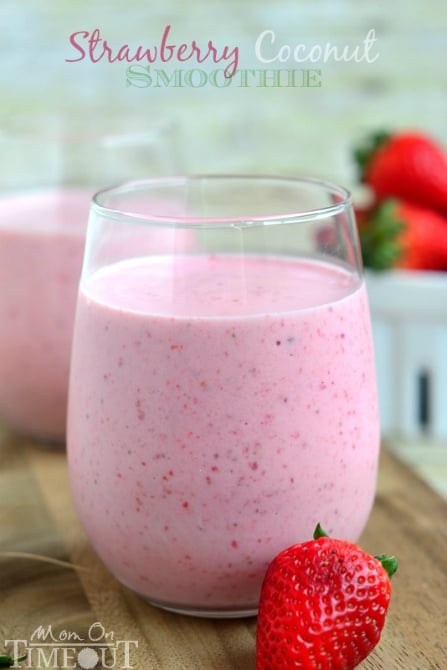 This smoothie blends up so smooth and creamy and it has the most incredible combination of flavors! Kind of instantly transports you to summer 🙂  It's kind of fun to use a fresh coconut. The coconut milk tastes INCREDIBLE and then it's just ridiculously fun to eat the coconut afterwards. Kind of makes me feel like I could totally win Survivor too…should that day ever come 😉
Strawberry Coconut Smoothie
This simple and sweet Strawberry Coconut Smoothie makes a delicious and satisfying breakfast or snack since it's made with Greek yogurt!
Ingredients
1

cup

frozen sliced strawberries

1/2

cup

coconut milk

fresh, canned, whatever you have

1/2

cup

Greek yogurt

1/2

banana

1

scoop

protein powder

optional
Instructions
Throw all ingredients into blender and blend until smooth.
Nutrition
Calories:
380
kcal
|
Carbohydrates:
31
g
|
Protein:
14
g
|
Fat:
25
g
|
Saturated Fat:
22
g
|
Cholesterol:
5
mg
|
Sodium:
53
mg
|
Potassium:
821
mg
|
Fiber:
4
g
|
Sugar:
18
g
|
Vitamin C:
91
mg
|
Calcium:
153
mg
|
Iron:
4
mg
 More fabulous breakfast ideas: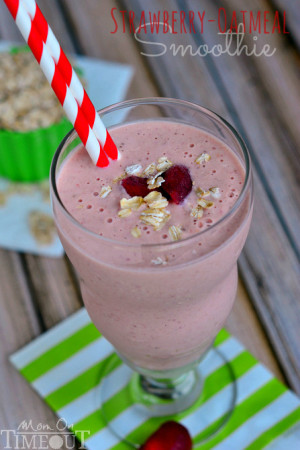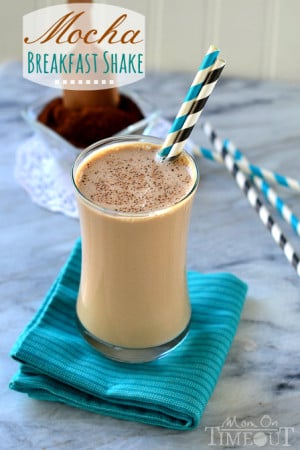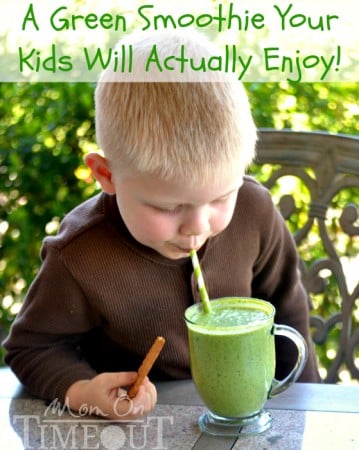 Two Green Smoothie Recipe Your Kids Will Enjoy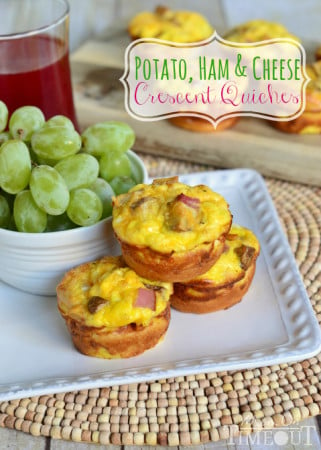 Potato, Ham & Cheese Crescent Quiches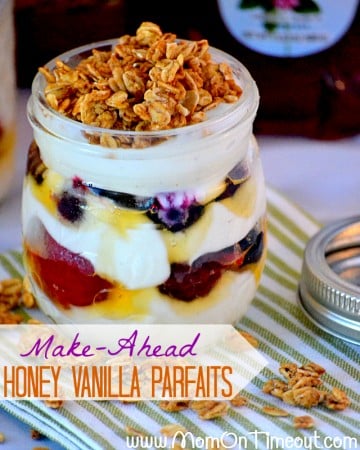 Make Ahead Honey Vanilla Parfaits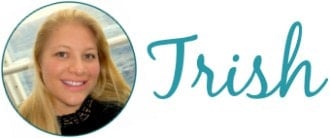 For all breakfast recipes, go HERE.
For all dessert recipes, go HERE.
Sign up to get emails when I post new recipes!
For even more great ideas follow me on Facebook – Pinterest – Instagram – Twitter – Bloglovin'.
Have a great day!