Blackberry Oatmeal Crumble Bars are made with only four ingredients and are out-of-this-world amazing!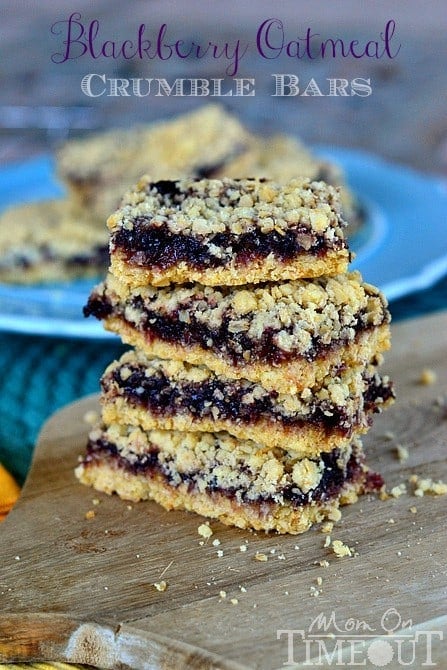 A couple of weeks ago my Dad and brother came over to install a ceiling fan in our patio.  Summers are crazy hot here in Sacramento and this fan is going to make the patio a much more comfortable place to hang out.  I asked my Dad if he had any requests for snacks or treats while he was working and he said, "Oh anything would be fine" which I understood as, "You better make me something good!"
It dawned on me that I hadn't made any of my mom's oatmeal crumble bars in a long while and I knew they would be perfect to snack on during the day.  I grew up on these bars.  I started making them when I was about 8 years old and haven't stopped since. They are SO, SO, SO easy and you are not going to believe how yummy they are!   The crumble portion of the bars is made with yellow cake mix, oatmeal, and butter.  That's it.  And it's divine.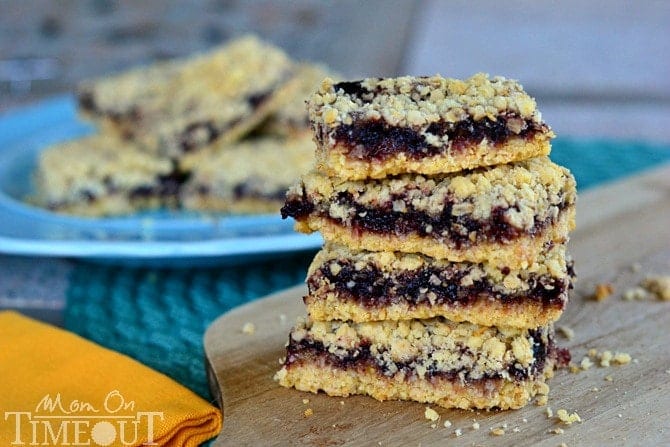 I love recipes like this that are so easy and taste like a million bucks. This crumble bars recipe is a great recipe to have your kids help out with.  There are no eggs involved and the steps are so simple there's really no way to mess it up.  I will forewarn you that the crumble mixture is completely and totally addicting.  The only way I can keep from snacking on it is because I know it tastes even better after they're done 🙂
Speaking of after the bars are baked…now is a good time to enjoy the bars. We do – with a spoon!  Straight from the oven the bars are just heavenly. If you think of it – spoon some into a bowl and top it with a scoop of vanilla ice cream.  Then you can come back and thank me.  It's incredible!  I'm slightly embarrassed to say that close to half of the 9 x 13 baking dish was eating via spoon.  The good news?  We still had half to cut into bars the following day!
Blackberry Oatmeal Crumble Bars
Ingredients
1 package yellow cake mix
2½ cups quick-cooking oats
¾ cups butter, melted
1 cup blackberry preserves or jam
1 Tbls water (optional)
Instructions
Preheat oven to 375 degrees.
Line a 9 x 13 baking dish with parchment paper or grease with cooking spray.
Mix cake mix and oats in a large bowl.
Add melted butter, stir until crumbly.
Press down half the crumbs onto the bottom of the pan.
Combine preserves and water, spread over crumbs. If preserves are already easy to spread, you don't need to add the water.
Spread remaining crumbs over preserves and press down firmly.
Bake for 18 to 23 minutes or until very lightly golden brown.
Eat warm or cool, cut into bars, and serve.
I love the variety of bars that can be made with this recipe and I'm excited to share more of them soon!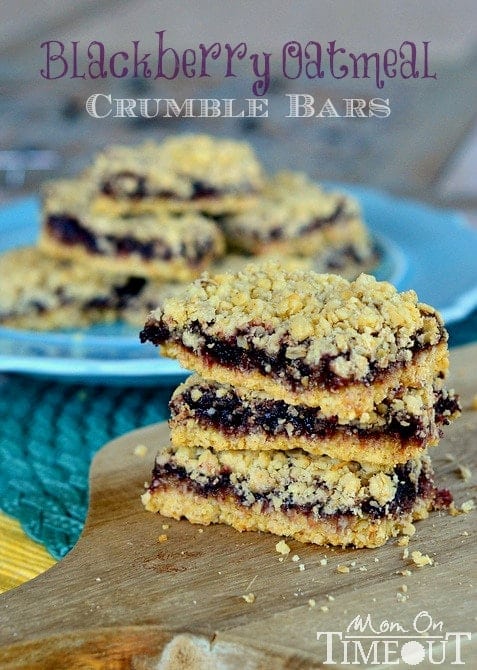 More of our favorite bar recipes: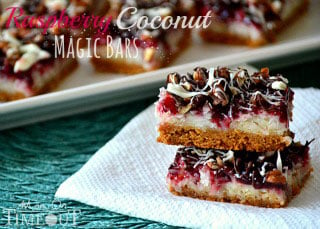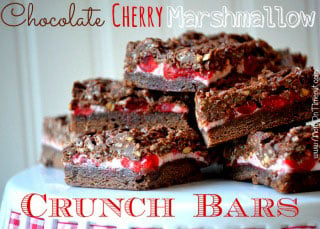 Chocolate Cherry Marshmallow Crunch Bars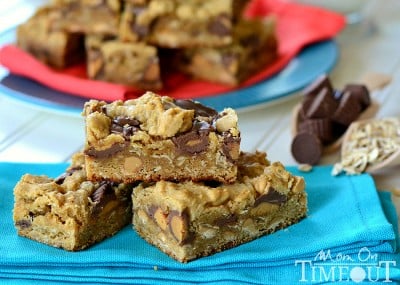 Reese's Peanut Butter Oatmeal Cookie Bars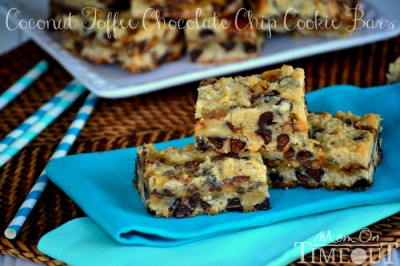 Coconut Toffee Chocolate Chip Cookie Bars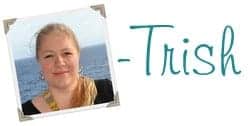 Connect with me!