The BEST Fluff recipes for all occasions! Every fluff flavor imaginable from Pina Colada Fluff, Reese's Peanut Butter Fluff, to everyone's favorite Ambrosia Salad. Fluff recipes are simple, delicious, and take just minutes to prepare making them perfect for every occasion. We serve them at parties, BBQs, potlucks, holidays and more!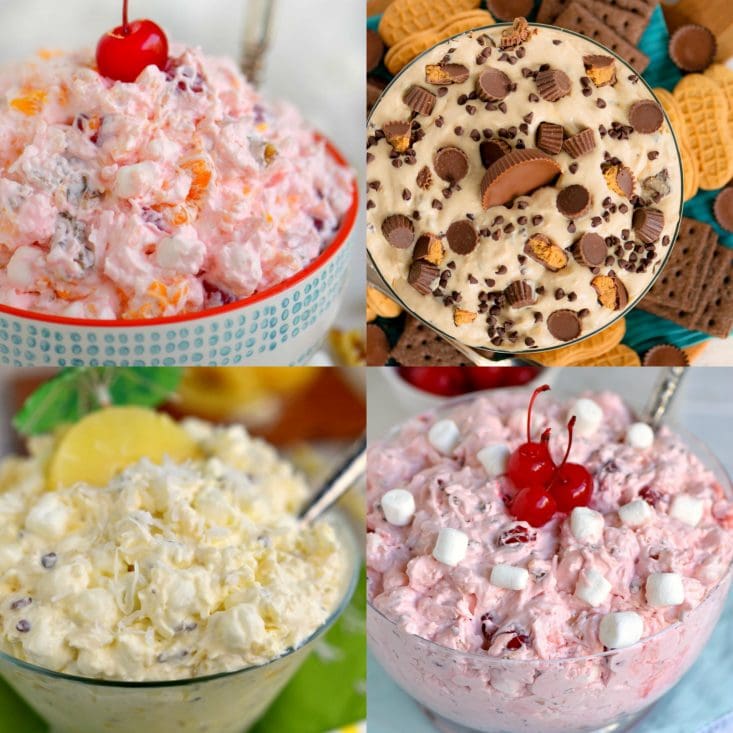 Fluff Recipes
I realize that I have developed quite a reputation for fluff recipes. I will admit that they are one of my VERY favorite desserts to make – so easy to prepare and everyone just loves them! Over the years, I have come up with some pretty amazing flavors for fluff recipes that have quickly become some of my most popular one bowl desserts.
Fluff desserts are perfect for any and all occasions. They serve up beautifully at buffets and potlucks, make a lovely addition to parties of all kinds, and are so easy, that sometimes I just make them for a mid-week dessert.
Today, I've gathered all of my fluff recipes into one location so you can easily see which one you'd like to make next. I know you're going to fall in love with this easy dessert, just like I have.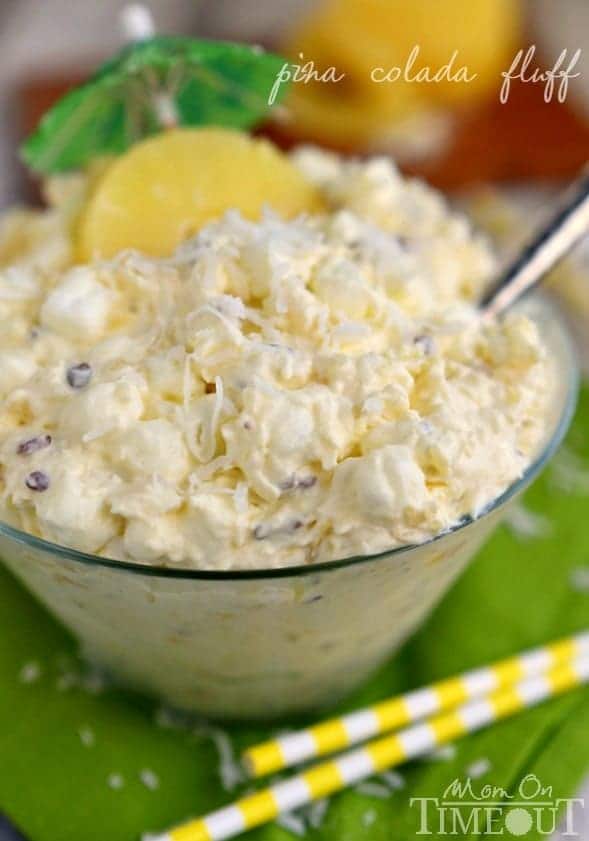 I have always love pina colada flavored desserts. That combination of pineapple and coconut is just so fantastic that I knew it would be spectacular as a fluff.
I made this pina colada fluff with crushed pineapple, coconut, vanilla pudding mix, marshmallows, pecans (totally optional) and a bit of rum extract to give it that true pina colada flavor. Sooo delicious!
This dessert salad would be perfect for your next get together, potluck or picnic.
Ambrosia Salad. Nectar of the gods, am I right? This delightful fluff combines a number of fruits along with maraschino cherries that when mixed together, give this delightful pink color to the salad. I used white marshmallows for this version but the multi-colored marshmallows also make for a fun presentation.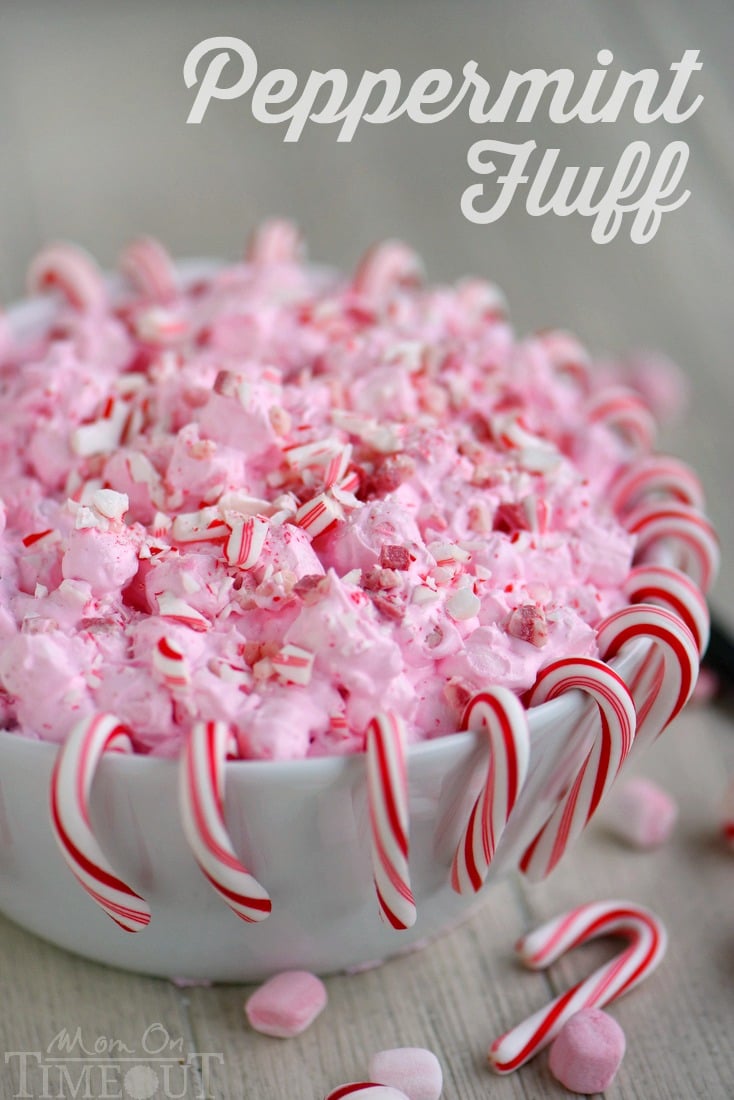 This is one fluff that I find makes a splash at Christmas. With all of the busyness surrounding the holidays, it's nice to know I have this two minute dessert in my back pocket. Yep, two minutes you guys! Super easy and a great one to double or triple for a crowd.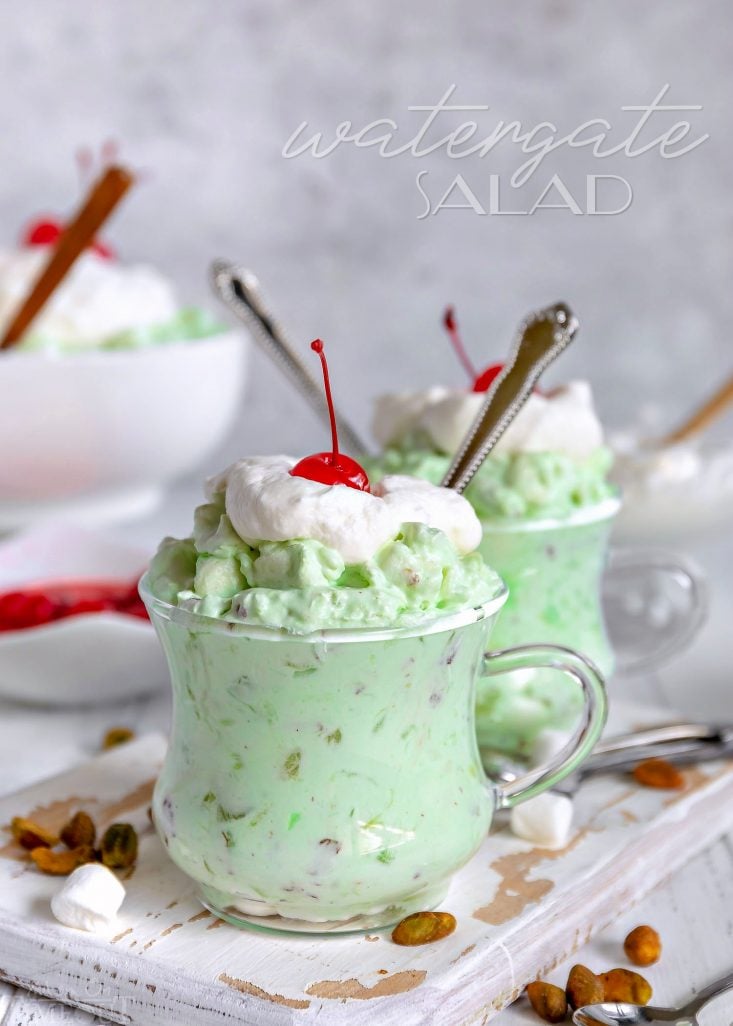 I'm guessing this salad looks pretty familiar to some of you and hopefully brings back some good memories too! The best part of this recipe is that it uses ingredients that you probably already have on hand in your pantry. It's super quick to make and stays good for days so it's the perfect recipe to make in advance.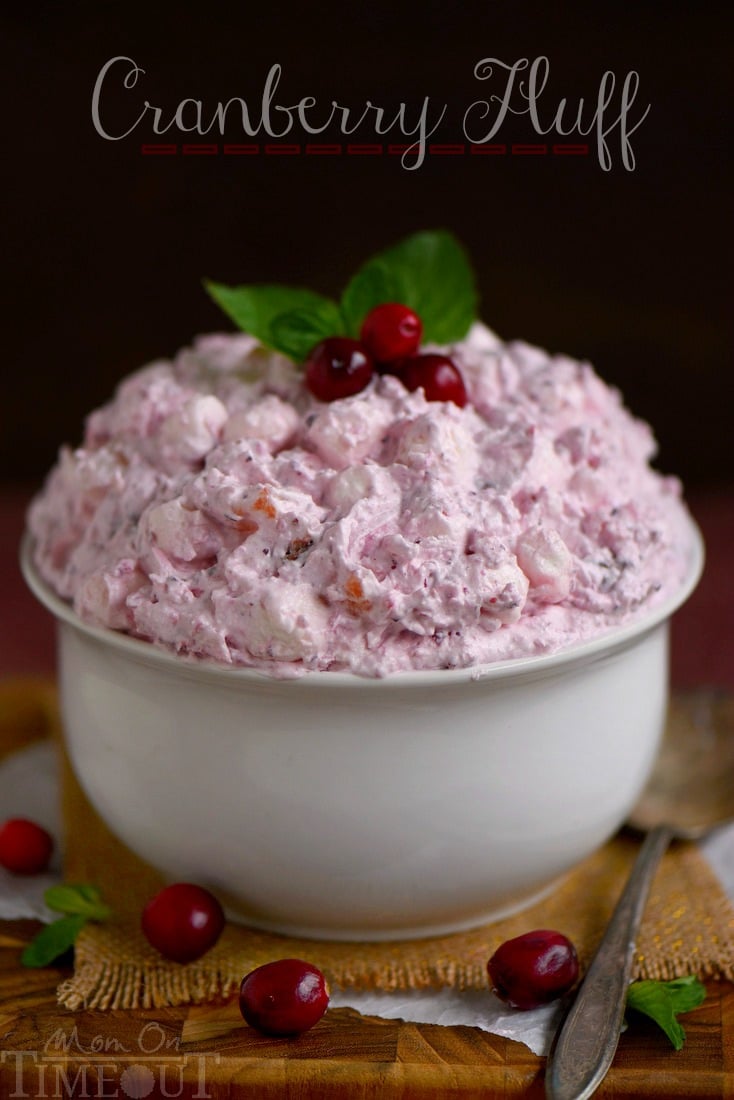 The fluff recipe that your holiday table has been missing. This Easy Cranberry Fluff is an amazing dessert salad made with cranberries, pineapples, coconut and marshmallows. It's absolutely gorgeous and will be a lovely addition to your holiday menu this year.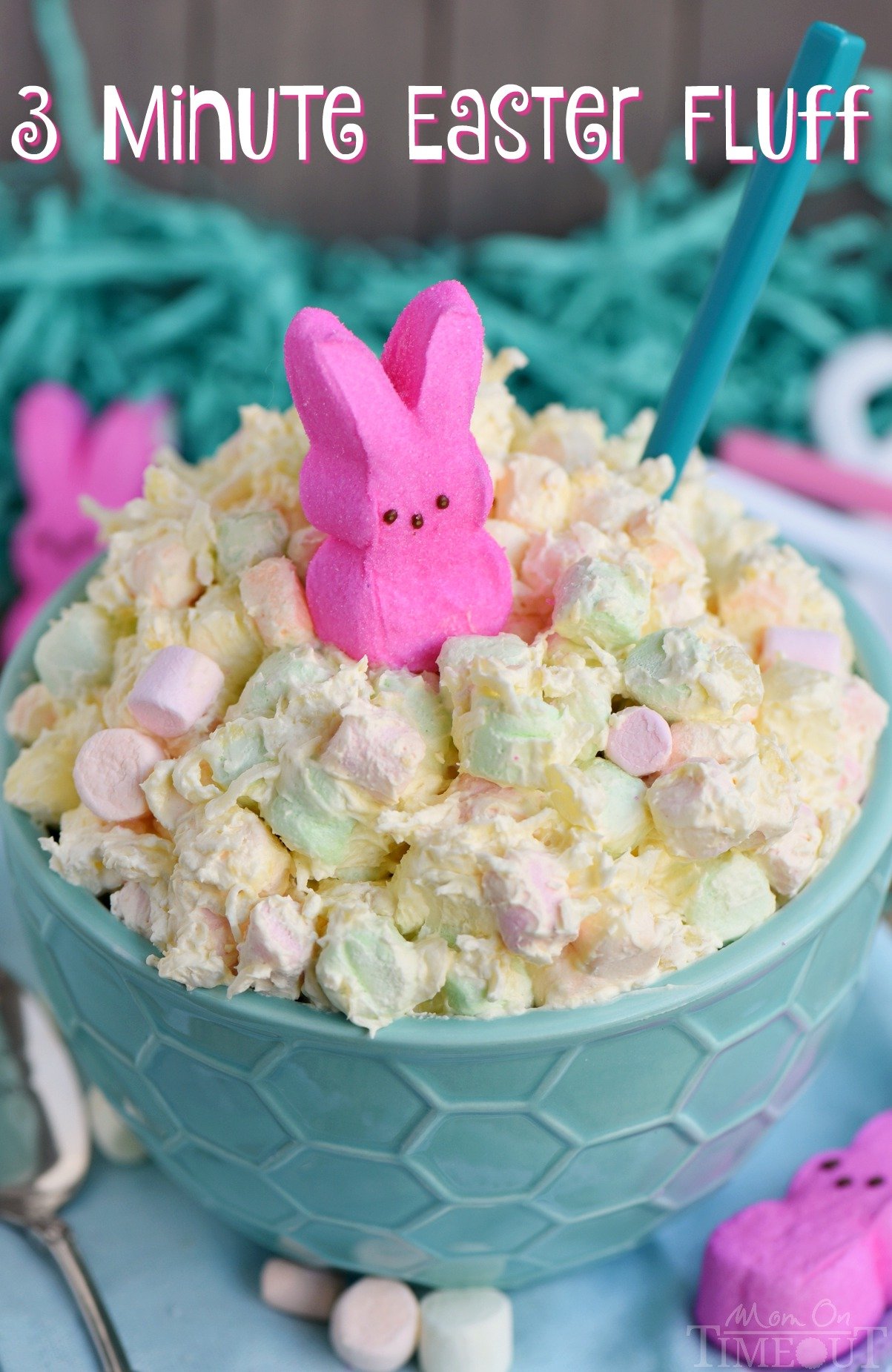 This easy dump and go, one-bowl Three Minute Easter Fluff is the perfect addition to your Easter celebration! A fun dessert salad that everyone will enjoy! The pretty pastel colors make it perfect for baby showers too!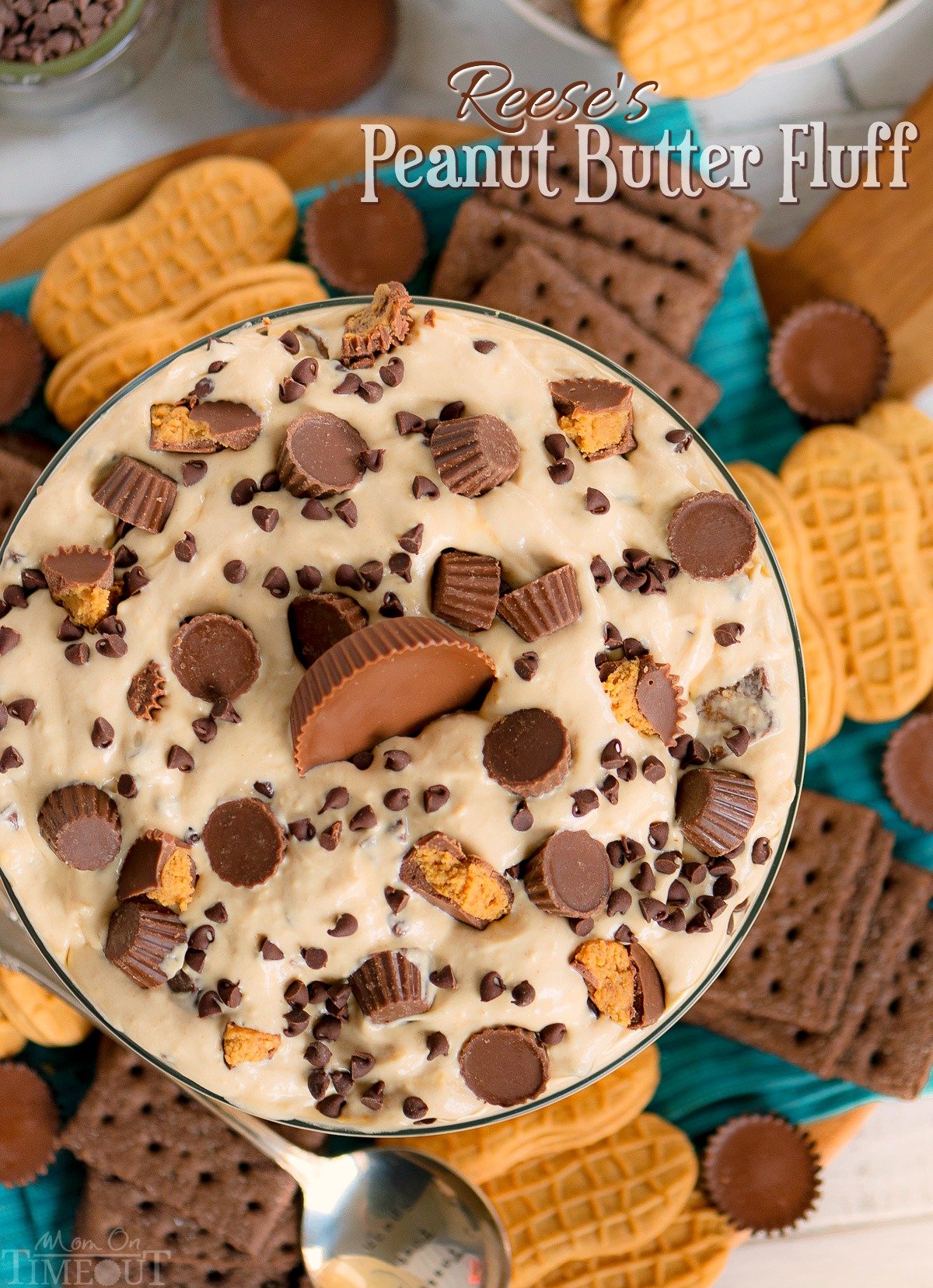 You guys know how much I love Reese's and that love is captured in this amazing Reese's Peanut Butter Fluff. It can really double as a dip or dessert that can be made in just 5 minutes. Serve with some fresh fruit or go all in with chocolate graham crackers and peanut butter cookies as dippers. You can't go wrong either way. This fluff recipe is perfect for the peanut butter lover in your life.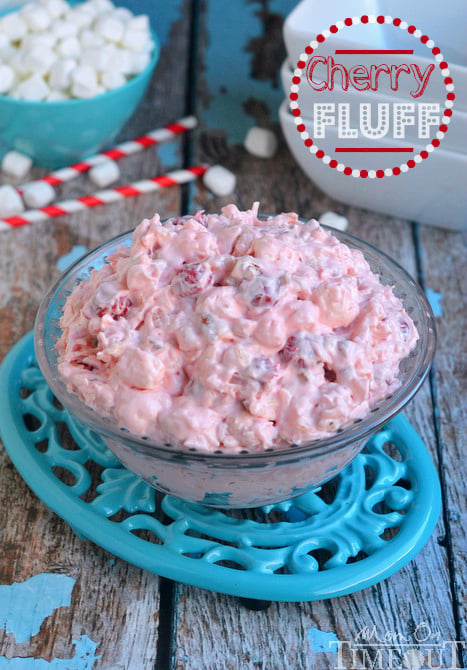 Cherry Fluff dessert salad is one of my favorite cherry recipes! A can of this, a can of that, throw in some marshmallows, a handful of coconut, stir it up and voila. You've got a dessert that is totally gorgeous, fun, and will definitely satisfy your sweet tooth.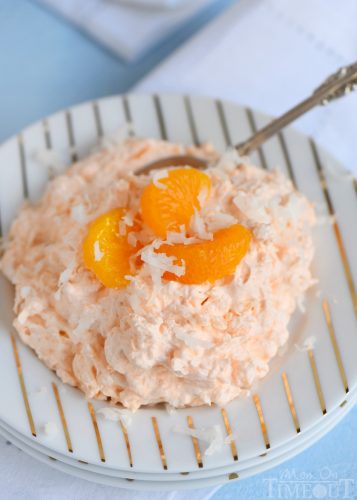 The refreshing flavors of orange, pineapple and coconut pair beautifully in this easy to make, one-bowl Tropical Orange Jello Salad! Great for parties, BBQs and picnics!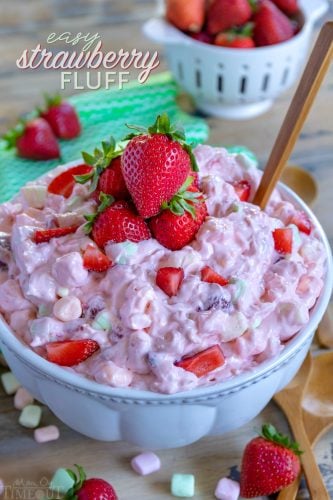 This easy Strawberry Fluff is a delicious dump and go dessert salad that is perfect for any and all occasions! Sweet and fluffy and bursting with strawberry flavor!
I sure hope you found one (or more!) fluff recipes that you plan on giving a try soon! Leave me a comment below with your favorite!


For all cookie recipes, go HERE.
For all dessert recipes, go HERE.
Sign up to get emails when I post new recipes!
For even more great ideas follow me on Facebook – Pinterest – Instagram – Twitter – Bloglovin'.
Have a great day!