This easy Ice Cream Cake is the perfect summer dessert! Loads of ice cream sits atop a fudgy brownie bottom and is piled high with hot fudge, salted caramel and whipping cream – so good! 
Sponsored post by Mirum. All opinions are my own.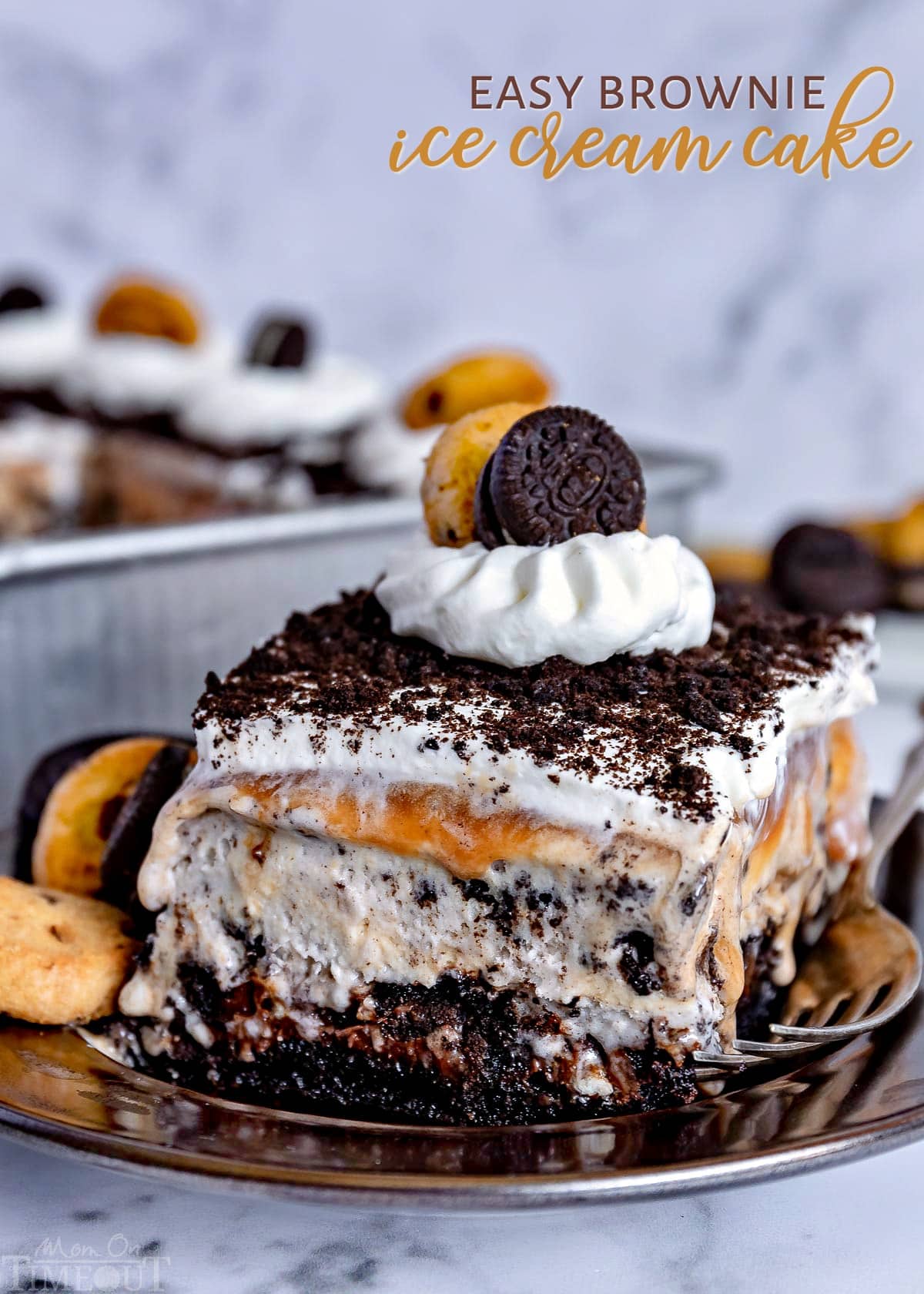 Reece turned 13 this past week and it was most definitely bittersweet. So few summers left!
We've been kicking butt and taking names so far this summer and we have A LOT more planned. We are crossing off summer bucket list items at every turn and making the most out of each and every day.
I want to soak in every second of every minute of every day this summer. These kids are just growing up way too fast for my liking!
Last week we spent some time at Disneyland checking out Galaxy's Edge and eating allthethings. We were there during my husband's birthday (June is a BUSY month y'all) and had fun celebrating with Mickey 🙂
We're heading to Minnesota this week and are going to catch a Twins game, which my boys are both excited about.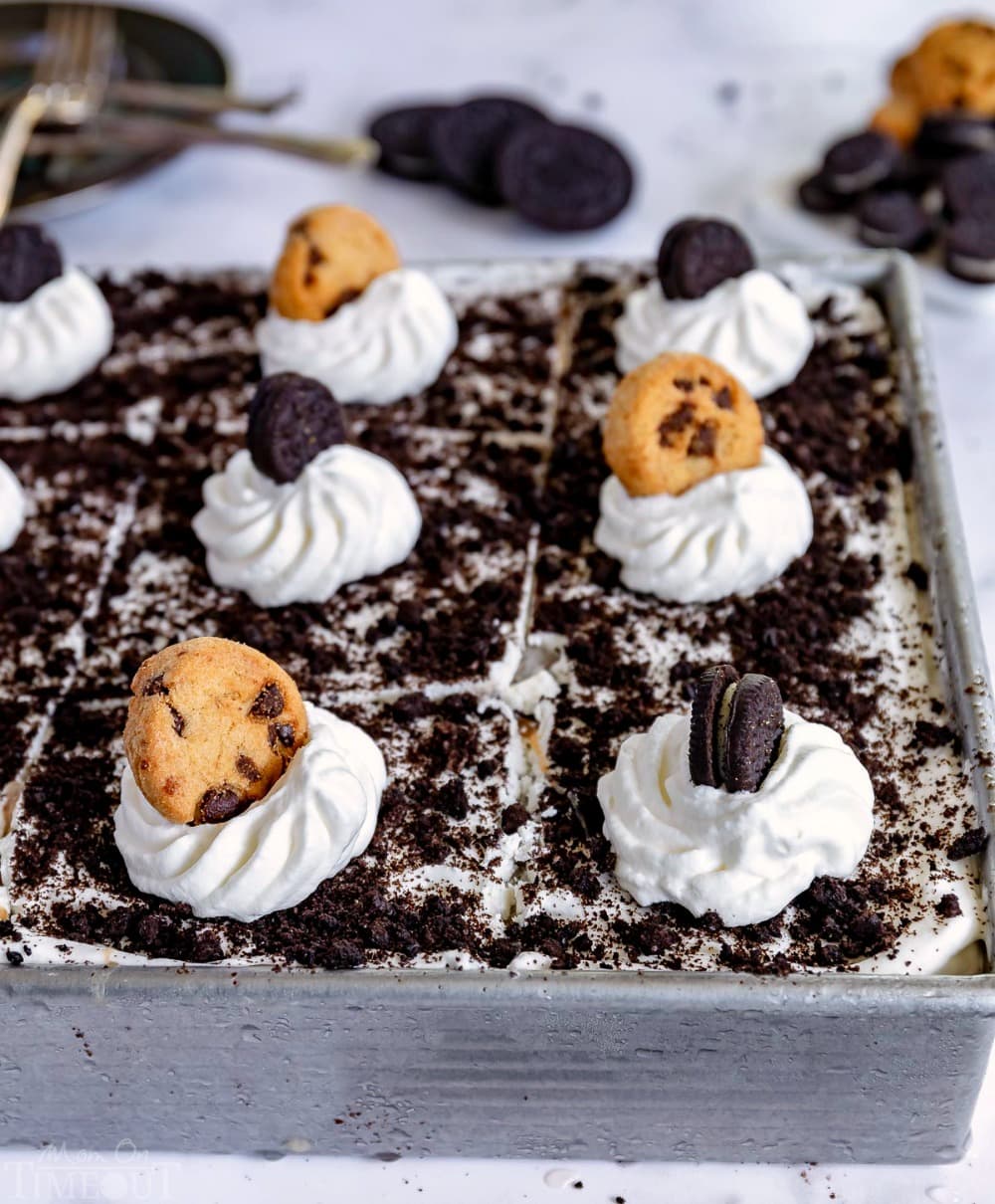 Summer Time = Ice Cream Time
When we got back, we started planning Reece's birthday. We had the family over this past weekend and did our annual ice cream bar. I ordered three fruit tarts from Safeway and LOTS of ice cream. It was AWESOME.
We always buy a ton of ice cream for our ice cream parties, and since Safeway has such a great deal going on right now, I'm pretty sure I stocked up for the whole summer… ?
For the hubby…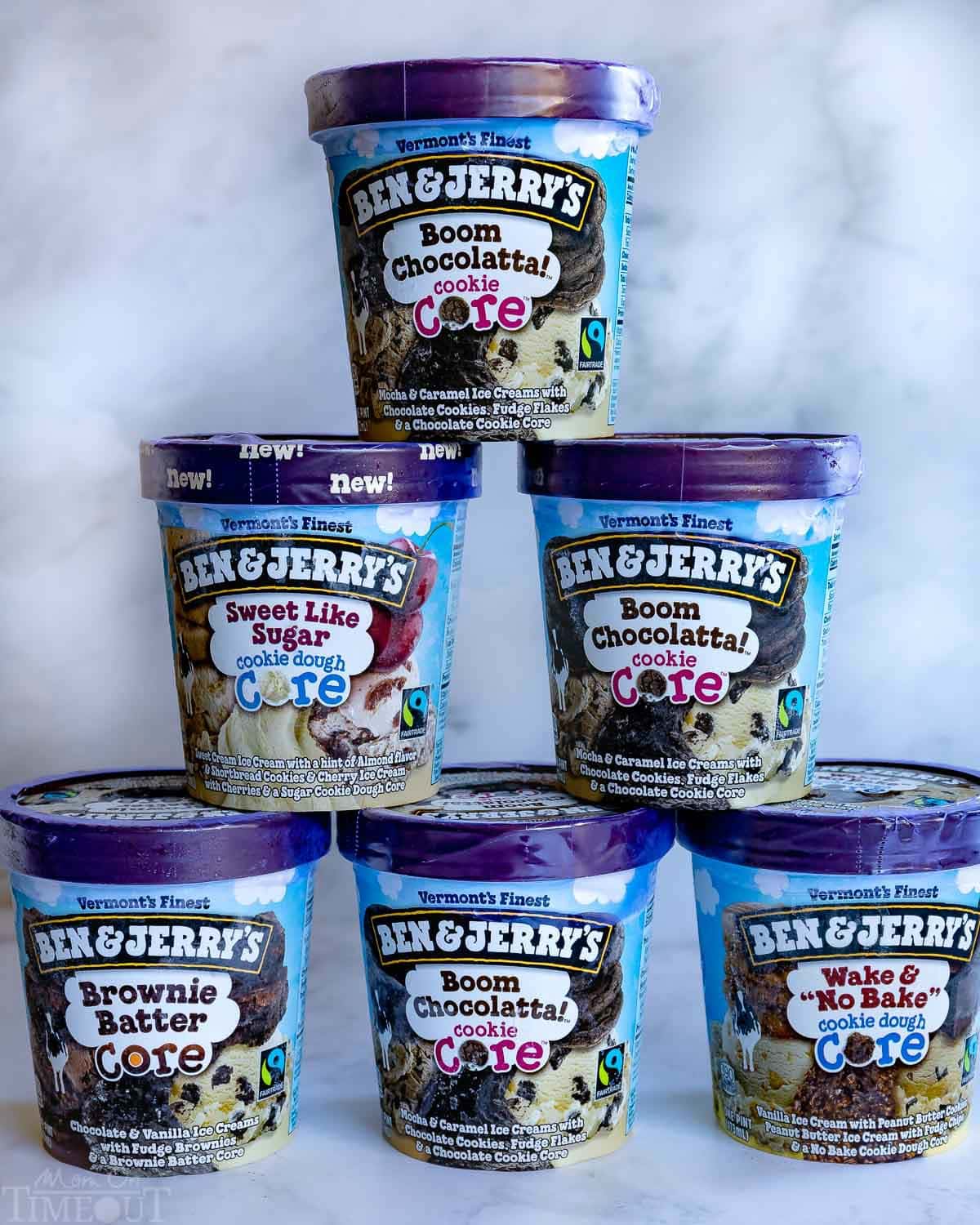 And some, of course, for Mommy…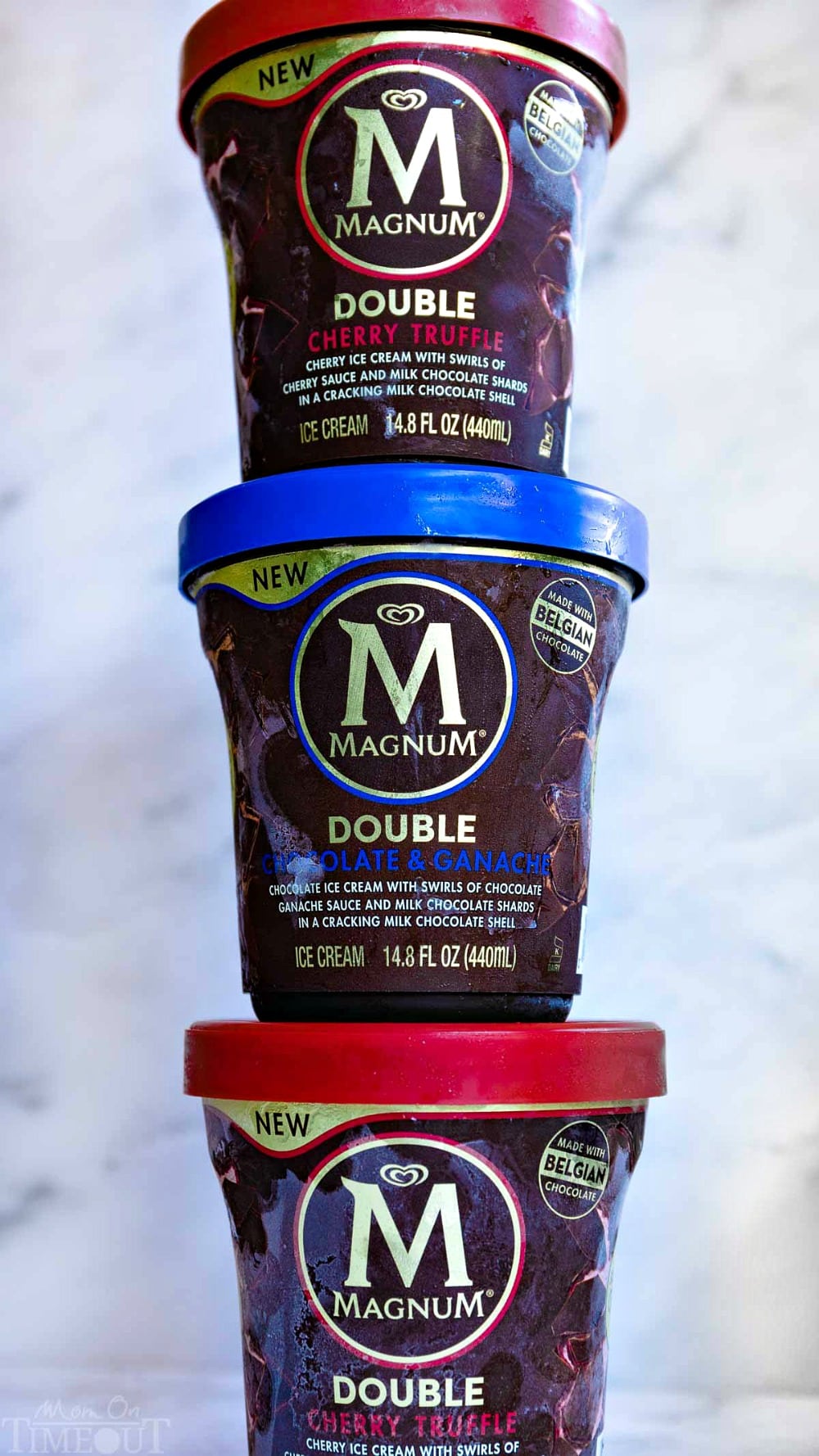 And then for the kids…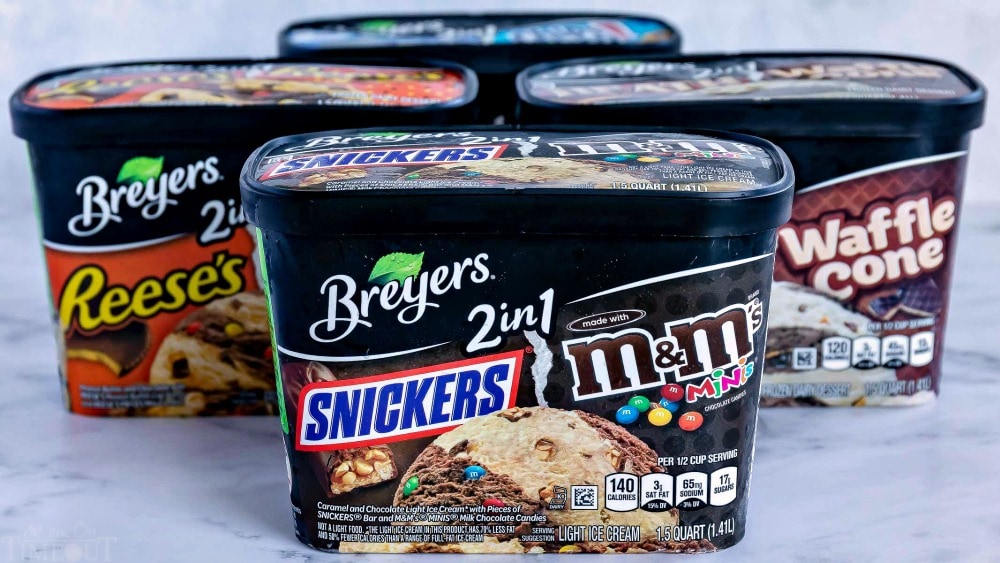 Where To Buy Ice Cream
I'm excited to be taking advantage of the Albertsons Ice Cream Rewards program this summer because you guys, summer = ice cream, and we go through a TON.
They have a ton of promotions going on right now that you need to get in on!
Earn a $5 reward when you spend $20 on Unilever ice cream brands:
Breyers 2-in-1's
Ben & Jerry's Cookie Core
Magnum Mini's/Double Tubs
Head on over to icecreamrewards.com to enter the sweepstakes and find lots of rewards opportunities
The first 1,000 sweepstakes entries win free ice cream awarded as a $5 gift card to their participating Albertsons/Safeway store
You could be one of 21 weekly winners of a year's supply of ice cream from your local Albertsons Companies store by entering the sweepstakes at
icecreamrewards.com! (Awarded as a $250 gift card to their participating Albertsons Companies store)
BUY, SNAP, CHOOSE :
BUY $20 OF Unilever ice cream products in one or multiple transactions: When you spend $20 on participating Unilever ice cream brands, you'll receive a $5 reward (choice of Fandango movie gift card or Virtual Visa card)
SNAP A photo of your receipt(s): Take a photo of your receipt and upload it to IceCreamRewards.com to receive your $5 reward
CHOOSE Your $5 in rewards after uploading your receipt
Win!
Birthday Ice Cream Cake
Reece is having his friend party this week – going to the water slides – and then back to the house for ICE CREAM CAKE! When I asked him what kind of cake he wanted, it did not surprise me that he wanted an Oreo ice cream cake.
We had an Oreo ice cream cake last year that knocked our socks off, so I wanted to recreate that, but better.
And because two is ALWAYS better than one…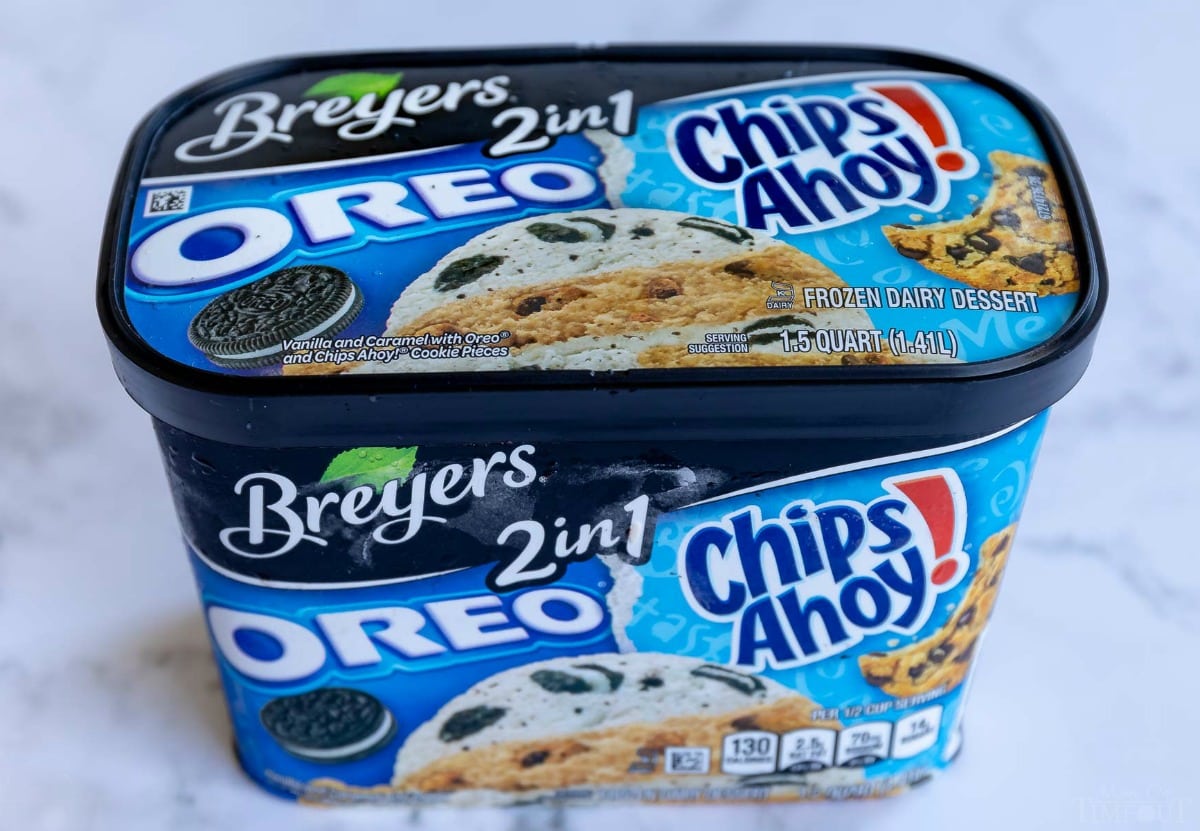 Amiright?? Two cookie favorites in one ice cream? Yes, please!
This is how to make an ice cream birthday cake!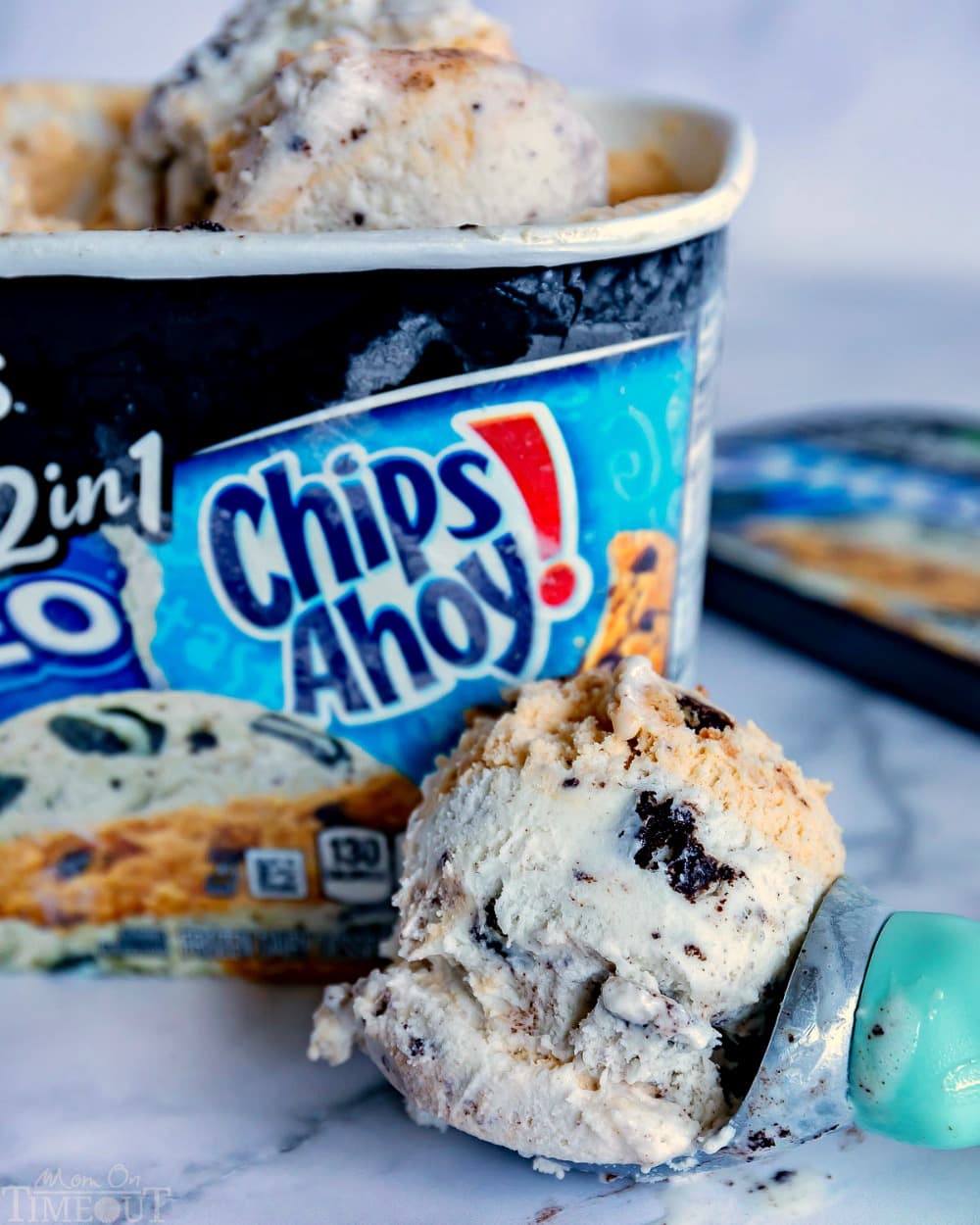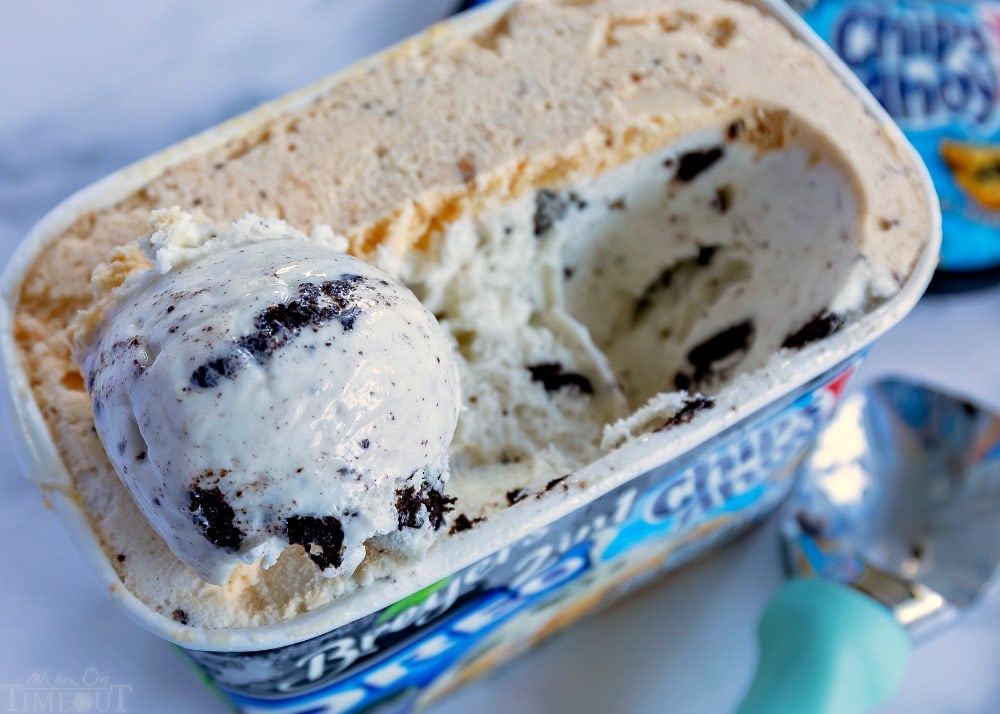 Easy ice cream cake recipes are a summer staple, and this one is going to blow you away with its amazing flavor!
First…
Does Ice Cream Cake Have Cake In It?
The answer really depends on YOU. Either way is fine! I like ice cream cake any way I can get it. Ice cream cake can be made with just layers of ice cream and toppings, OR it can have a layer of cake or brownie as well.
I'll just say this: I never say no to ice cream cake – no matter how it's made ❤️
Let's Talk Layers
This ice cream cake has a total of six layers:
brownie bottom – can be made with a boxed mix or homemade
crushed OREOs + hot fudge topping – can use store bought hot fudge topping or make your own
ice cream – I used Breyers 2-in-1 Oreo and Chips Ahoy, but you could use another flavor if you prefer
salted caramel sauce (can be omitted if you prefer) – store bought or make your own

(for something a little different, try my

Buttermilk Bourbon Caramel Sauce

)

whipped cream topping – I used fresh whipped cream but you can also use frozen whipped topping
Oreo cookie crumbs enough said. You can also use additional whipped cream and mini cookies to decorate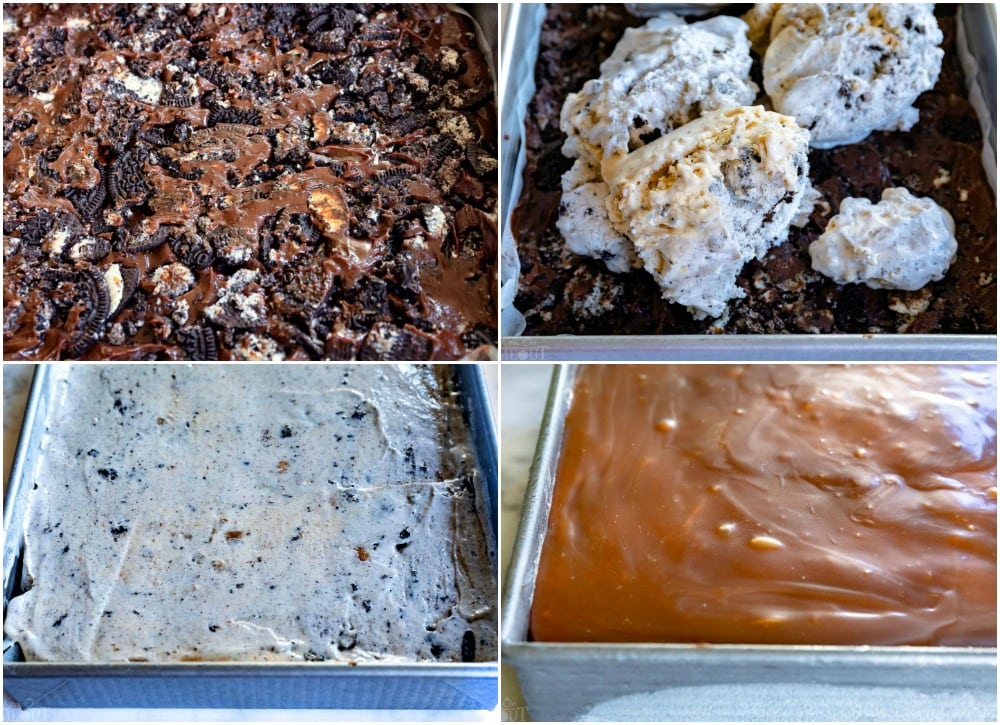 How To Make an Ice Cream Cake Without Cake
If you prefer to leave out the cake portion of this recipe (in this case, brownies), you can easily substitute in another layer of ice cream. Just choose a complementary flavor. You can also just omit that layer entirely.
Easy Ice Cream Cake
An ice cream cake is really more about assembling store bought ingredients than doing any real serious hands on stuff, which makes it great for busy summers.
Instead of cake, we did a brownie bottom because, hello, a brownie ice cream cake recipe is what dreams are made of. It's fudgy, rich and the perfect complement to all the toppings about to piled on it. Think brownie sundae…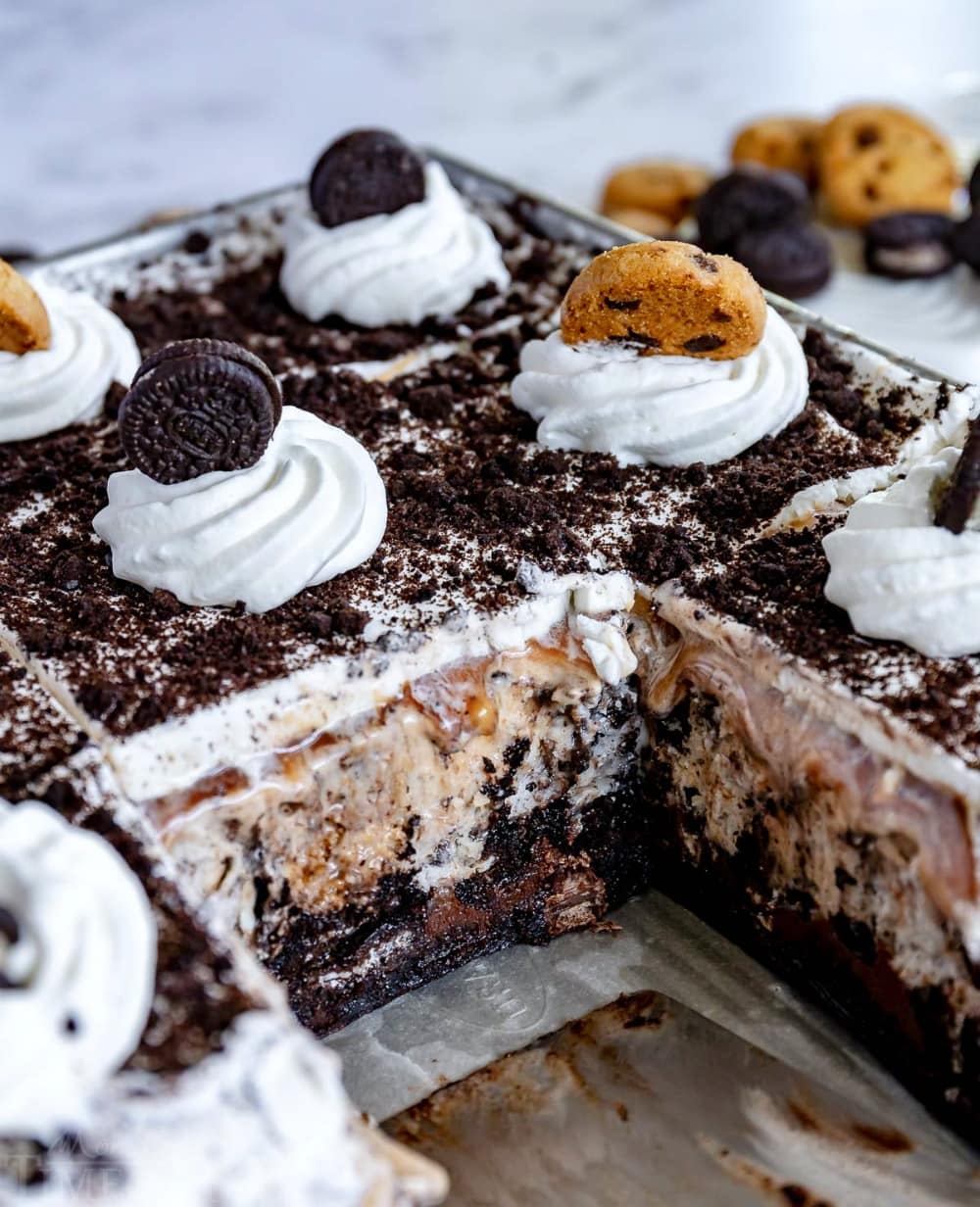 How Do You Make a Homemade Ice Cream Cake?
You do have to think ahead of time because you will need to freeze each individual layer for the best results. Here is what the basic time frame looks like:
Day 1:
Bake brownies and let cool. Pop in freezer for 30 minutes.
Combine hot fudge and crushed Oreos, and spread over the top of the brownies. Freeze for 1 hour.
Spread slightly softened ice cream on top of hot fudge/Oreo layer, and freeze for AT LEAST 6 hours, preferably overnight. You want it really firm.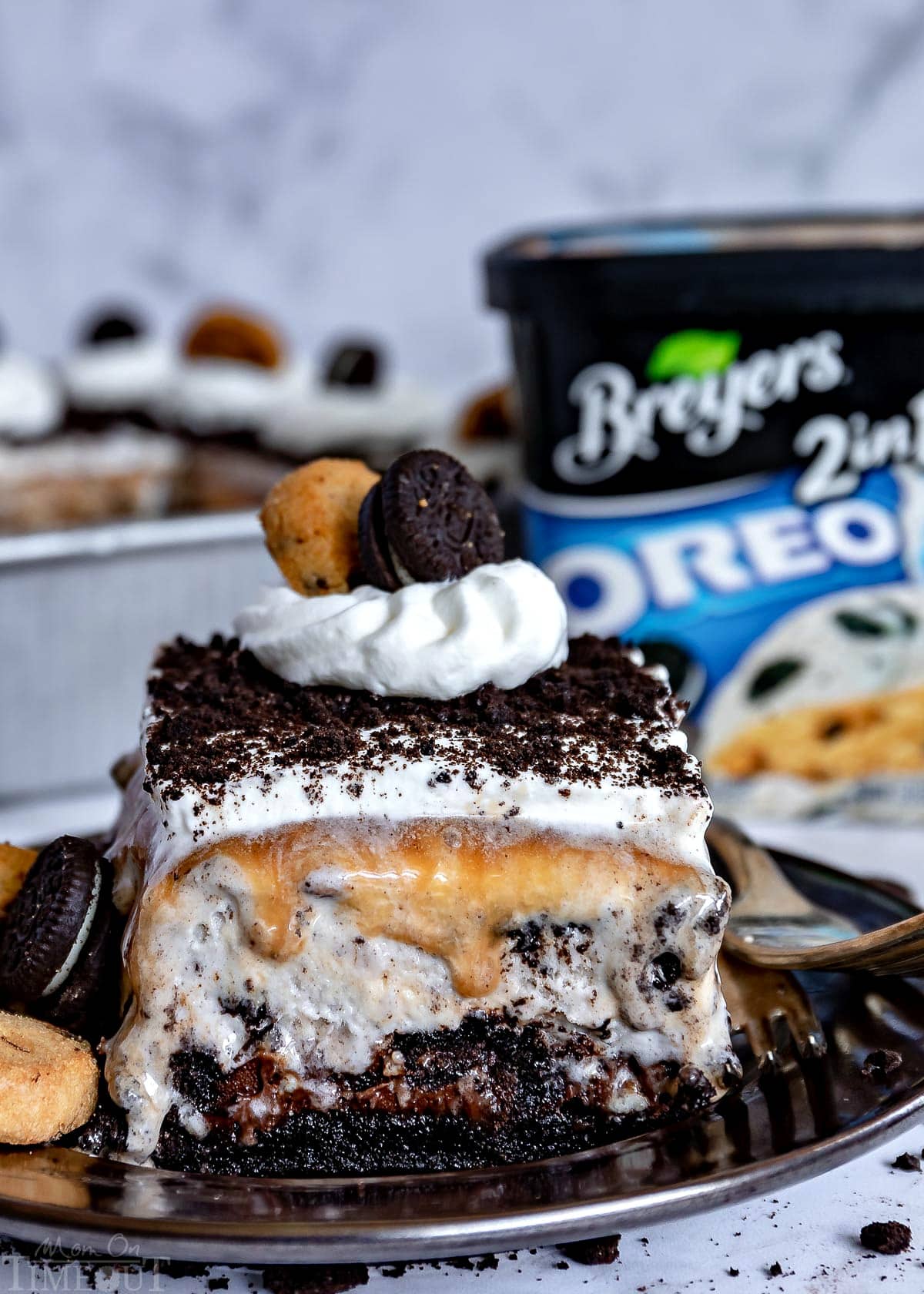 Day 2 (serving day!):
Spread salted caramel over the top of the frozen ice cream layer. Freeze for at least 30 minutes.
Prepare whipped cream. Spread over the top of the salted caramel layer when ready to serve. Decorate with cookies, salted caramel and hot fudge drizzles if you'd like. You can pop that back in the fridge for about 30 minutes if you'd like the whipped cream to firm up. It doesn't take long!
Devour!
This cake may sound like a lot of work, but all in all, it's about 20 minutes if you're going the store bought route.
I did make my own hot fudge sauce and salted caramel sauce. You could also make homemade brownies if you're into that sort of thing (<< be into that sort of thing.)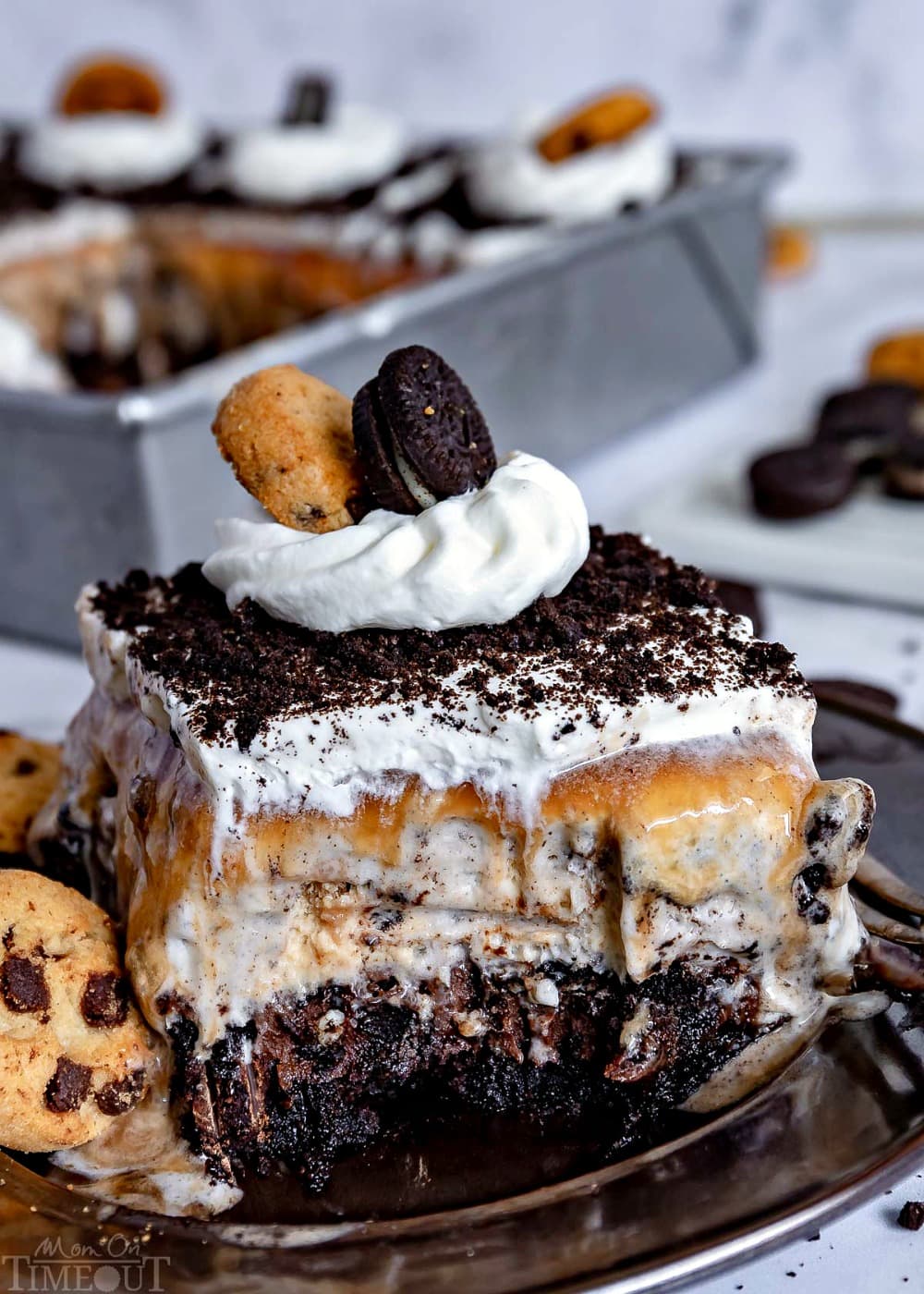 More Must Make Summer Desserts
How To Make Ice Cream Cake
Easy Ice Cream Cake
This easy Ice Cream Cake is the perfect summer dessert! Loads of ice cream sits atop a fudgy brownie bottom and is piled high with hot fudge, salted caramel and whipping cream - so good!
Ingredients
20

oz

boxed brownie mix

prepared as directed

15

Oreos

roughly chopped

13

oz

hot fudge topping

room temperature or warmed slightly if needed

3

quarts

ice cream

slightly softened (should be spreadable)

12

oz

salted caramel sauce

room temperature or warmed slightly if needed

1

pint

heavy whipping cream

1/4

cup

powdered sugar

1

tsp

vanilla extract
Instructions
Prepare brownie mix as directed and bake in a 9 x 13 pan for 19-22 minutes or until edges appear done and center isn't quite set. Let cool completely and then freeze for 30 minutes.

Spread hot fudge topping on top of the brownies and top with chopped Oreos. Use an offset spatula to really press the cookies into the hot fudge topping. Smooth out the top and freeze for at least 30 minutes.

Spread ice cream over the hot fudge layer. Smooth out the top with an offset spatula. Cover with plastic wrap and freeze for at least six hours, preferably over night.

Top ice cream with caramel sauce. Smooth with an offset spatula.
Whipped Cream
Using a stand mixer or hand mixer, beat heavy whipping cream, powdered sugar, and vanilla extract until stiff peaks form.

Spread on top of caramel and smooth with an offset spatula. Freeze for at least 2 hours.

When ready to serve, top with Oreo cookie crumbs, additional whipped cream, and mini cookies.
Notes
Store in your freezer, tightly wrapped or in an airtight container for up to 3 weeks. Allow about 10 minutes at room temperature before cutting.
Nutrition
Calories:
699
kcal
|
Carbohydrates:
106
g
|
Protein:
10
g
|
Fat:
28
g
|
Saturated Fat:
11
g
|
Cholesterol:
63
mg
|
Sodium:
439
mg
|
Potassium:
267
mg
|
Fiber:
1
g
|
Sugar:
53
g
|
Vitamin A:
720
IU
|
Vitamin C:
0.2
mg
|
Calcium:
149
mg
|
Iron:
2.1
mg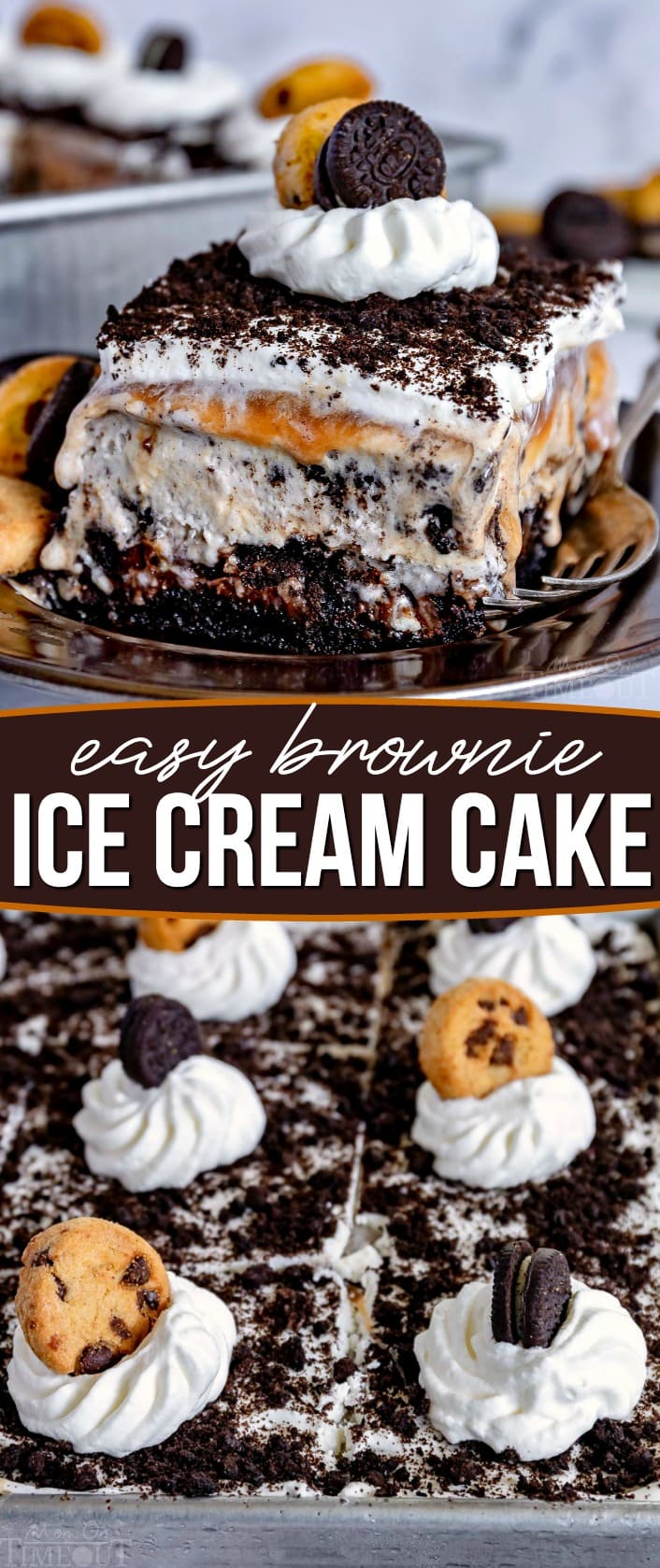 For all appetizer recipes, go HERE.
For all dessert recipes, go HERE.
Sign up to get emails when I post new recipes!
For even more great ideas follow me on Facebook – Pinterest – Instagram – Twitter – Bloglovin'.
Have a great day!