An Ice Cream Sandwich is the perfect summer treat! I make mine with brownie cookies (brookies), caramel, fudge, and an assortment of delicious ice cream! You can't go wrong! Need to cool down? Try this Easy Ice Cream Cake!
This is a sponsored conversation written by me on behalf of Albertsons Companies. The opinions and text are all mine.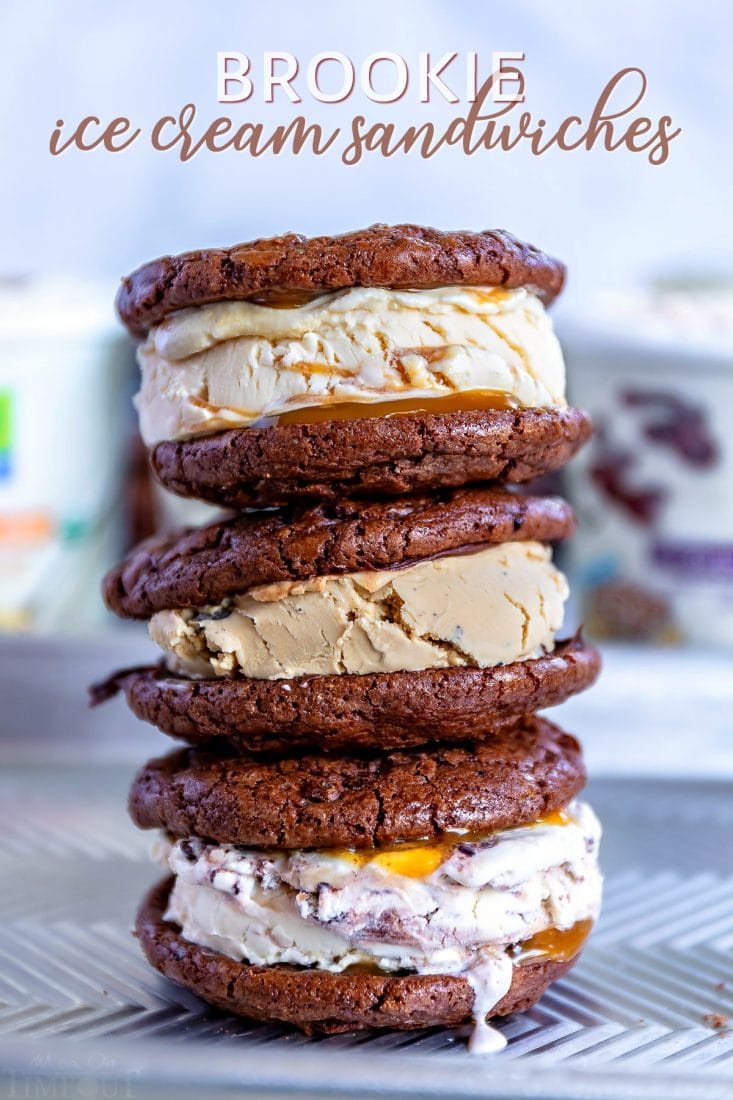 Ice Cream Sandwiches
Last week another parent came up to me at swim practice and was practically in tears as she told me we only have THREE weeks of summer left.
Hoooooww???
Why is it that summer flies by faster than any other season? It seems like just as I start to get into a rhythm of work and play, summer is over and it's back to mostly work.
I got home, sat down and made a list of everything I want to do with the boys before school starts. Not quite sure how we're going to fit 794 activities into 21 days but gosh darnit, I'm gonna give it a go.
We took a look at our newly revised summer's end bucket list and quickly got to work.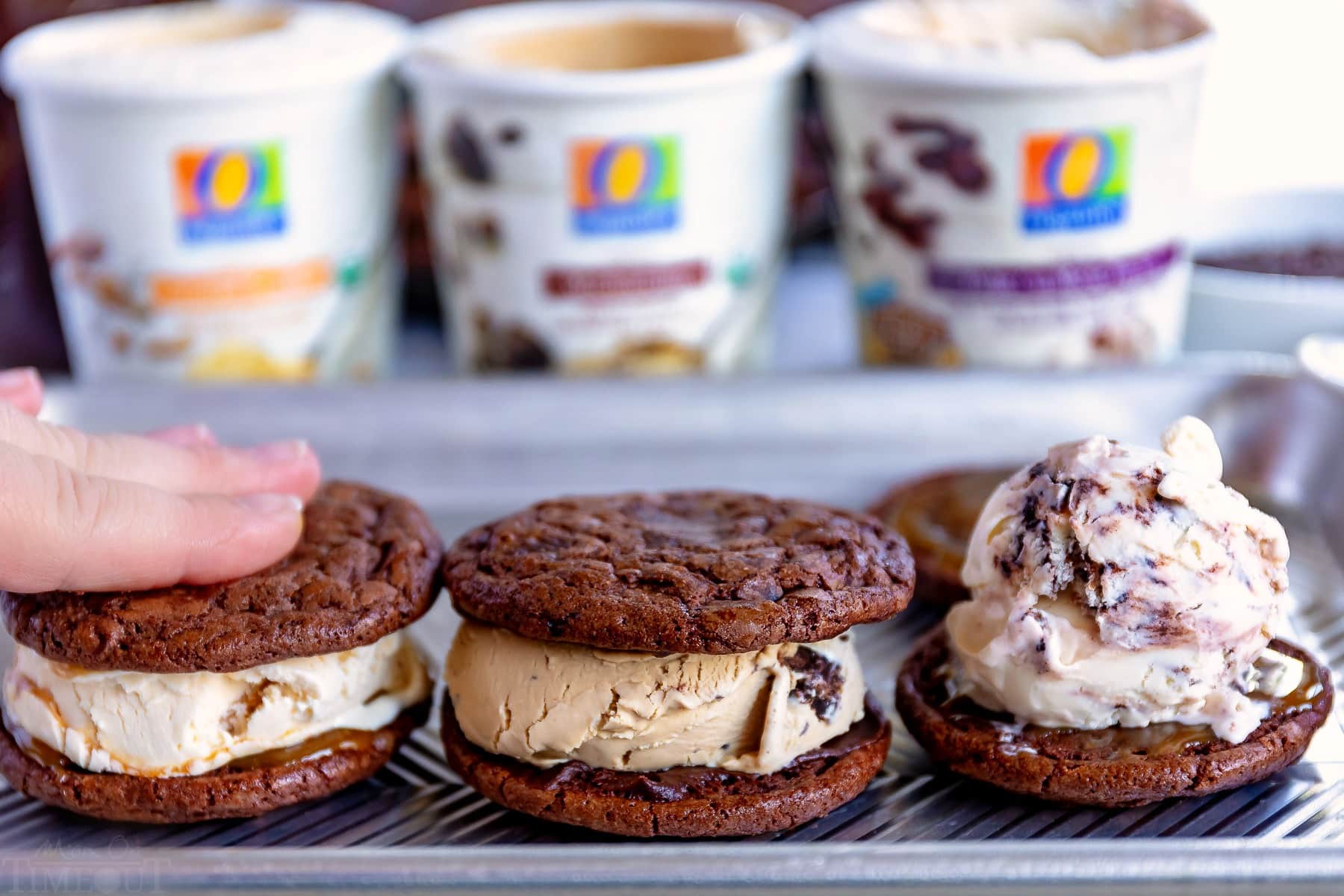 Ice Cream Sandwiches were high up on the list and I knew the boys would have more fun eating them than doing practically anything else on the list.
I had a lot of ideas for the different types of cookies we could use to make the sandwiches. Chocolate chip cookies would be amazing – they always are! Then I thought about doing a peanut butter cookies with a layer of hot fudge sandwiched with the ice cream – pretty sure that one is happening next week. Clearly, you can't wrong with any ice cream sandwich recipe.
But the idea that won out was Brookie Ice Cream Sandwiches. Don't know what a brookie is? Neither did my husband.
A brookie is simply a cross between a brownie and a cookie. Brownie + Cookie = Brookie.
I knew they would be perfect for ice cream sandwiches because they are so soft and chewy, that even when frozen, I wouldn't have to worry about a trip to the dentist.
Also, when I thought about the different types of ice cream the boys would want, the Brookies go with every single one.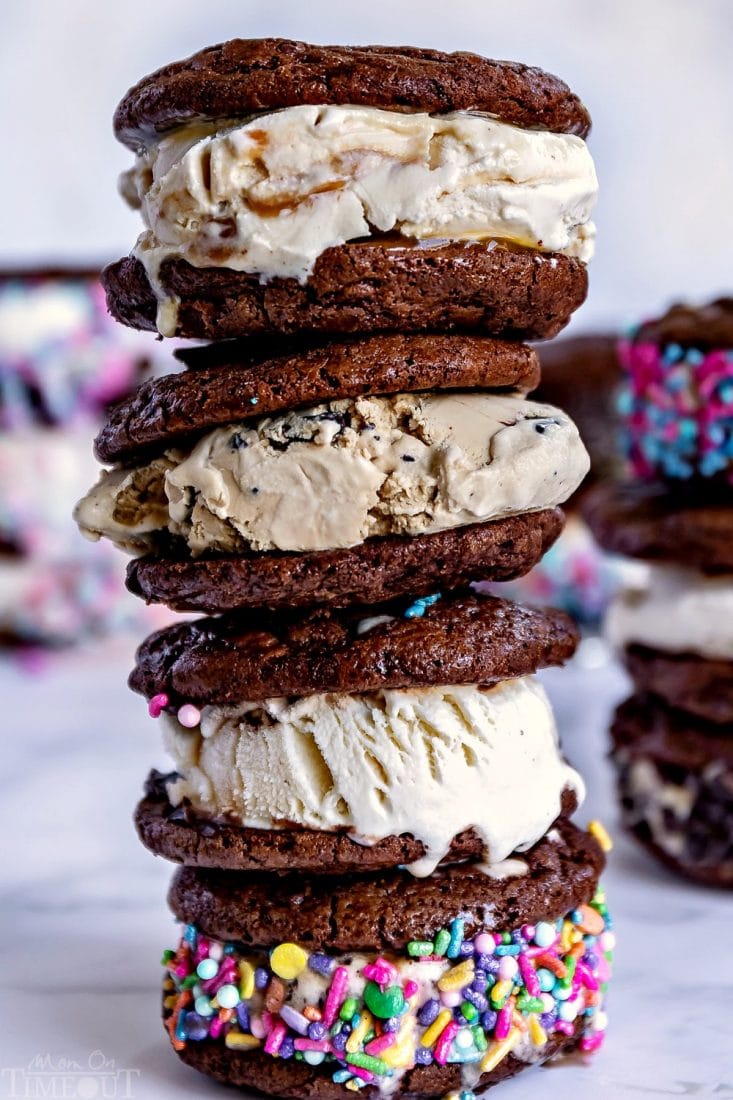 Ice Cream Sandwich Options
Think of these combinations:
Brookie + Salted Caramel Ice Cream + Caramel Sauce
Brownie Cookie + Mint Chocolate Chip Ice Cream + Hot Fudge Topping
Brookie + Moose Fudge Tracks Ice + Hot Fudge Topping
Brownie Cookie + Vanilla Ice Cream + Salted Caramel Sauce
Brookie + Mochaccino Ice Cream + Salted Caramel Sauce
Preeetty sure you can see where I'm going with this…
I loaded up the kids and headed to Safeway to pick up ALL THE FLAVORS of O Organics® ice cream.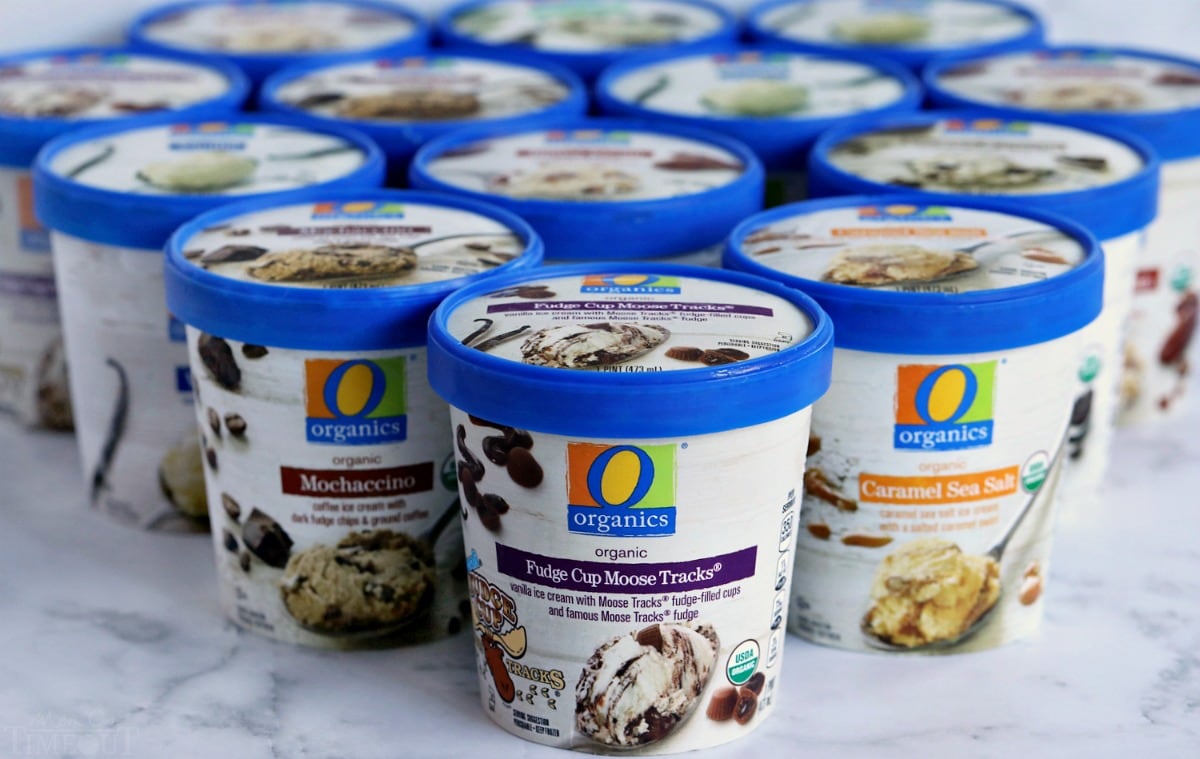 Those three there in the front – Fudge Cup Moose Tracks, Caramel Sea Salt, and Mochaccino – are gonna change your life. You're welcome.
The boys went for the Cookies and Cream and Mint Chip but you guys…. the Fudge Cup Moose Tracks? Um, daaaaang.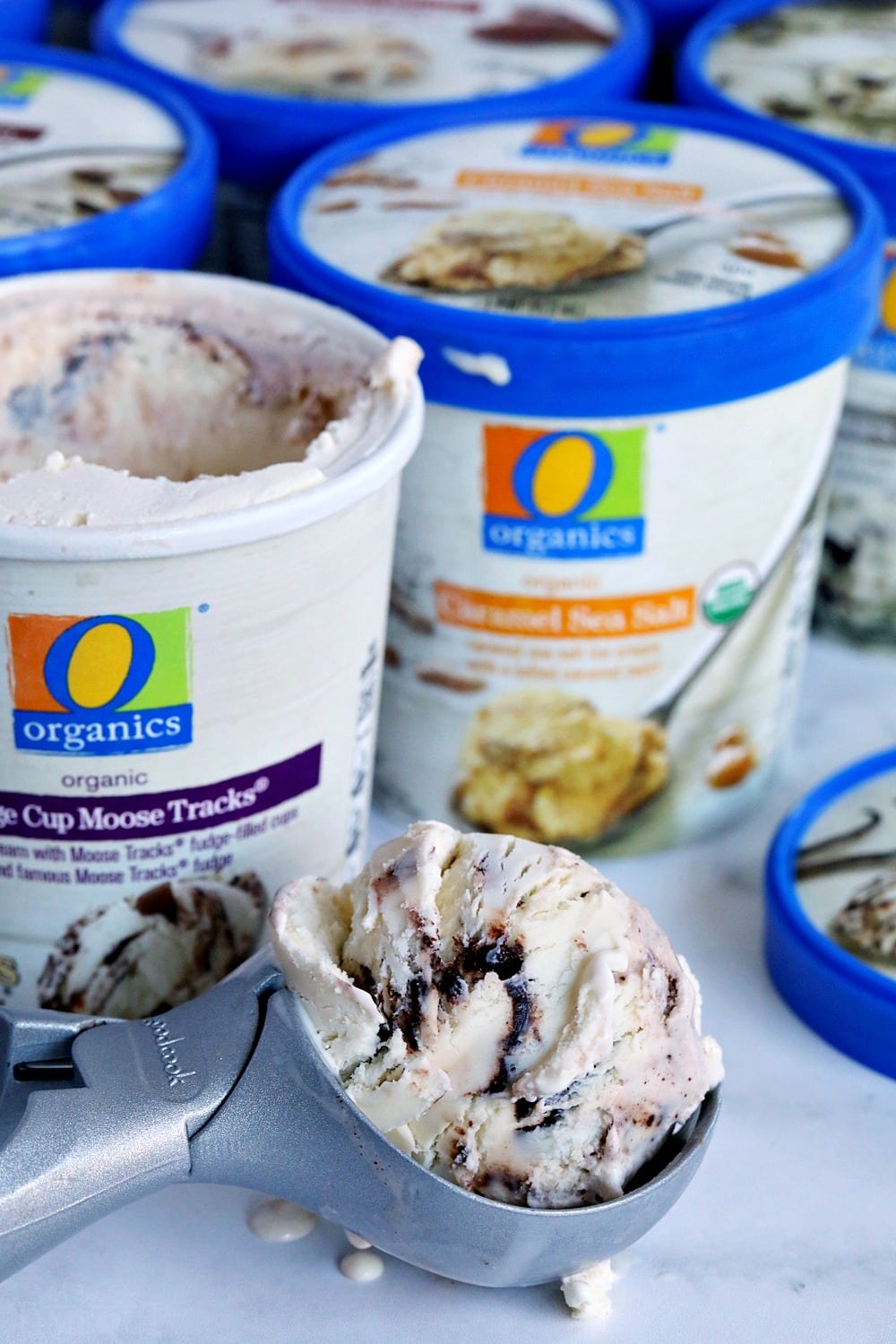 O Organics ice cream products are a must-have for summer. High quality, premium ingredients, amazing flavors, USDA-certified organic, great for kids and available exclusively at Safeway and other Albertsons stores.
I shopped O Organics® at my local Safeway, but you can find these exclusive products at all Albertsons Companies family of stores, including Albertsons, Safeway, ACME Markets, Jewel-Osco, Vons, Pavilions, Randalls, Tom Thumb, Shaw's, Star Market, United Supermarkets and Carrs/Safeway.
Right now you can save $1.00 with your purchase of participating O Organics and Open Nature ice cream products with the Promo code: ICECREAM
(Offer Details: Add 1 participating item to cart and enter Promo Code: ICECREAM at checkout. Limit 1 code per transaction. Order must be delivered by 8/06/19.)
Ice Cream Sandwich Methodology 101
When it comes to ice cream sandwiches there are four different methods that work. Let's talk about them for a minute and then YOU decide which works best for you.
If you are using pints (which we are for these sandwiches) you can unroll the packaging and simply slice the ice cream to your desired width. Match it up to the best fitting cookies or brookies and sandwich it in between, pressing together slightly.
Another option is to soften ice cream and spread about a half inch thick in a jelly roll pan or other pan with sides. Place it back in the freezer and let harden. Once the ice cream is fully frozen again, remove and use biscuit or circle cutters to cut out the ice cream. Pick a cutter that is just about the same size as the cookie.
The old scoop and smush. This is the EASIEST method and works for all types of ice cream regardless of container size. Let ice cream soften every so slightly and then scoop directly onto the cookie. Gently press the top cookie on top of the scoop of ice cream  being careful not to squish the ice cream past the edge of the cookie. I love this ice cream scoop!
If you are a perfectionist, you might consider this method: line a measuring cup that is roughly the diameter of your cookies with plastic wrap. Scoop in some ice cream. Pull the plastic wrap over the top and remove from the measuring cup. Place the disc in the freezer until you are ready to assemble. Nice perfect ice cream discs every time!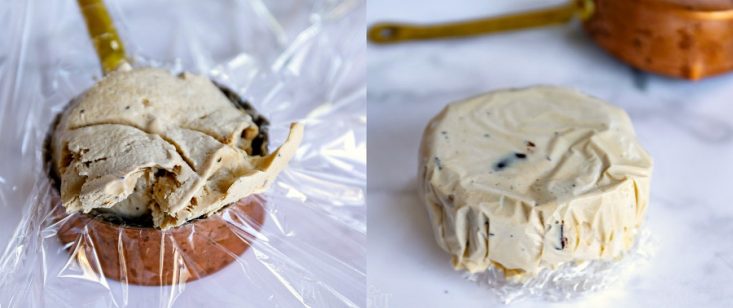 Assembly Time
Now you've got all the information you need to assemble a cookie ice cream sandwich! Let's do this!
Match up the cookies by size. They will all be super close in size – if you did a good job scooping and rolling – but I find it's worth the extra minute to find the perfect "match".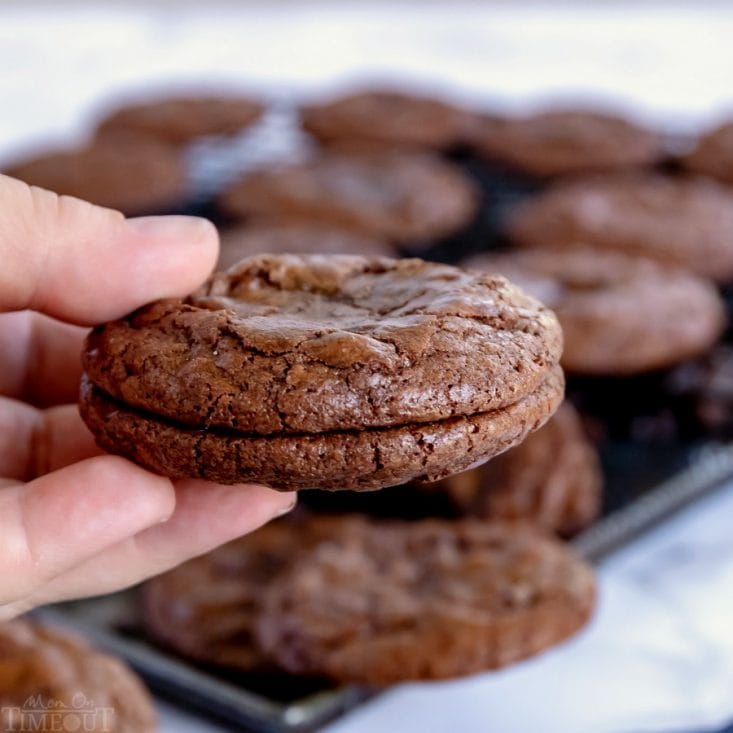 Freeze the cookies or brookies – this gives you a solid base on which to build your sandwich. Ten to fifteen minutes will do the trick.
If you are using caramel sauce or hot fudge sauce, add less than a teaspoon to the bottom of each cookie.
Gently spread the sauce around, scraping off any excess. Too much and the ice cream will just slip around.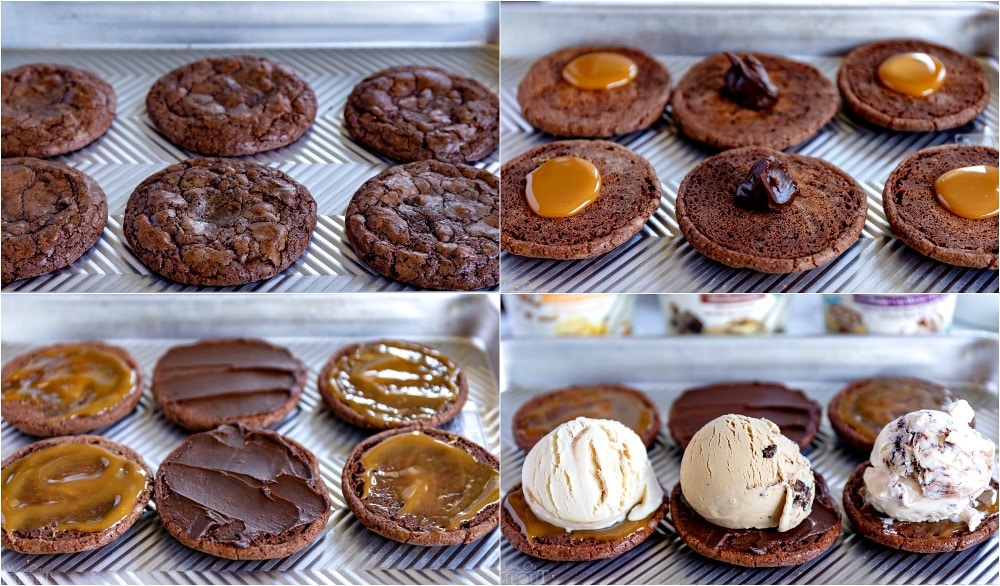 Top with a scoop of ice cream and gently press the second cookie on top. If the ice cream is too hard, don't force it or you'll break your cookie. Just using an offset spatula or spoon to press the ice cream down and then add the cookie on top.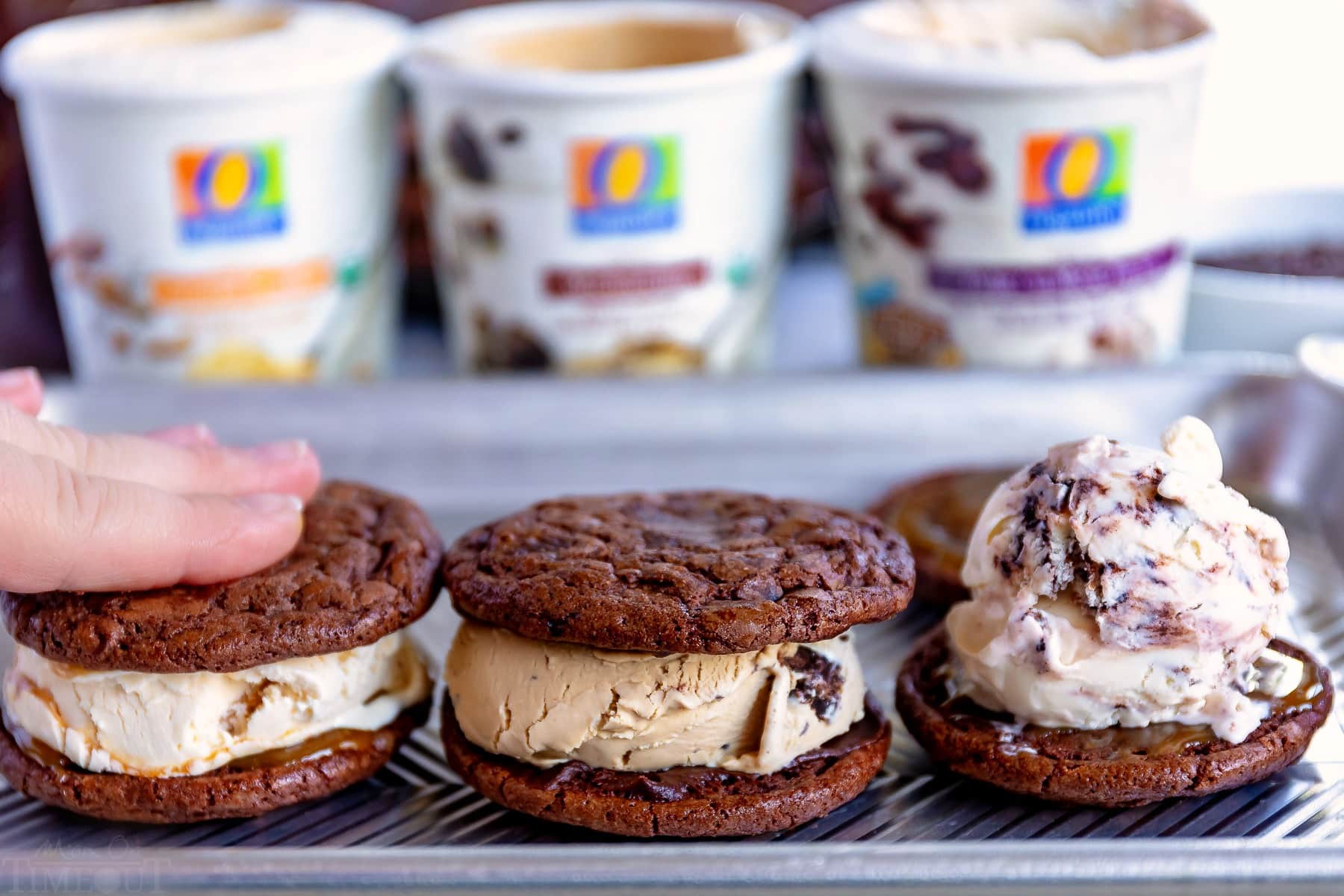 You can stop here or roll in sprinkles if you want.
Pop in the freezer for 30 minutes to harden before wrapping in plastic wrap and placing in a freezer safe container OR enjoy immediately (<< THIS)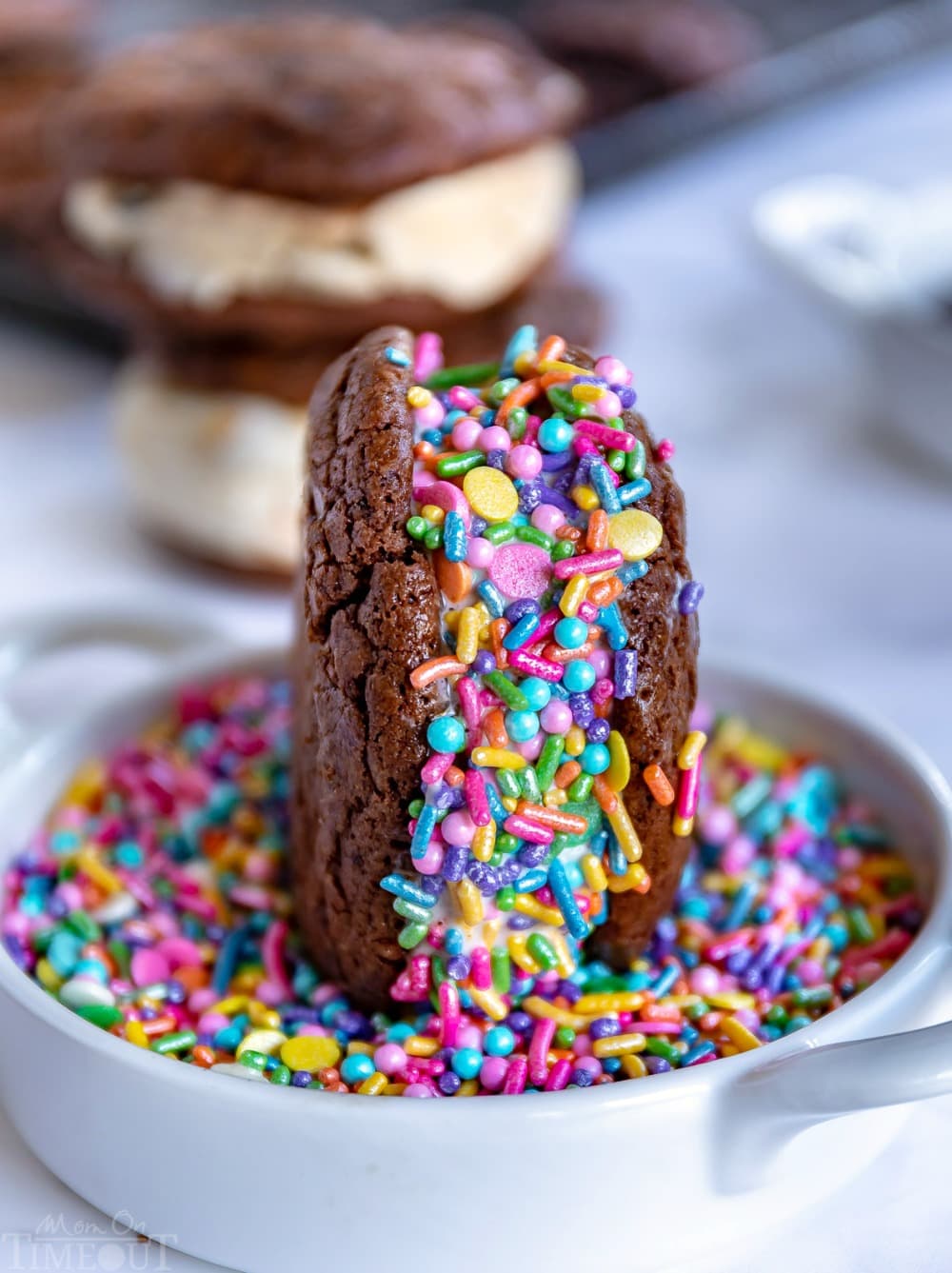 Tips & Tricks
Freeze the cookies or brookies before adding the ice cream. The cookies will harden to the point that assembly won't cause any cookie breakage which can be an honest to goodness reason for real tears.
Prepare a freezer safe container and space in the freezer so that as you assemble the ice cream sandwiches, you have a place to transfer them to – immediately. That is, unless you are eating them as you assemble. << Also a good idea.
Give the cookies a good 30 minutes in the freezer, following assembly, to "flash" freeze before wrapping for storage.
Have an assortment of sprinkles, jimmies, and mini chocolate chips on hand to roll the ice cream cookies sandwiches in, if you want.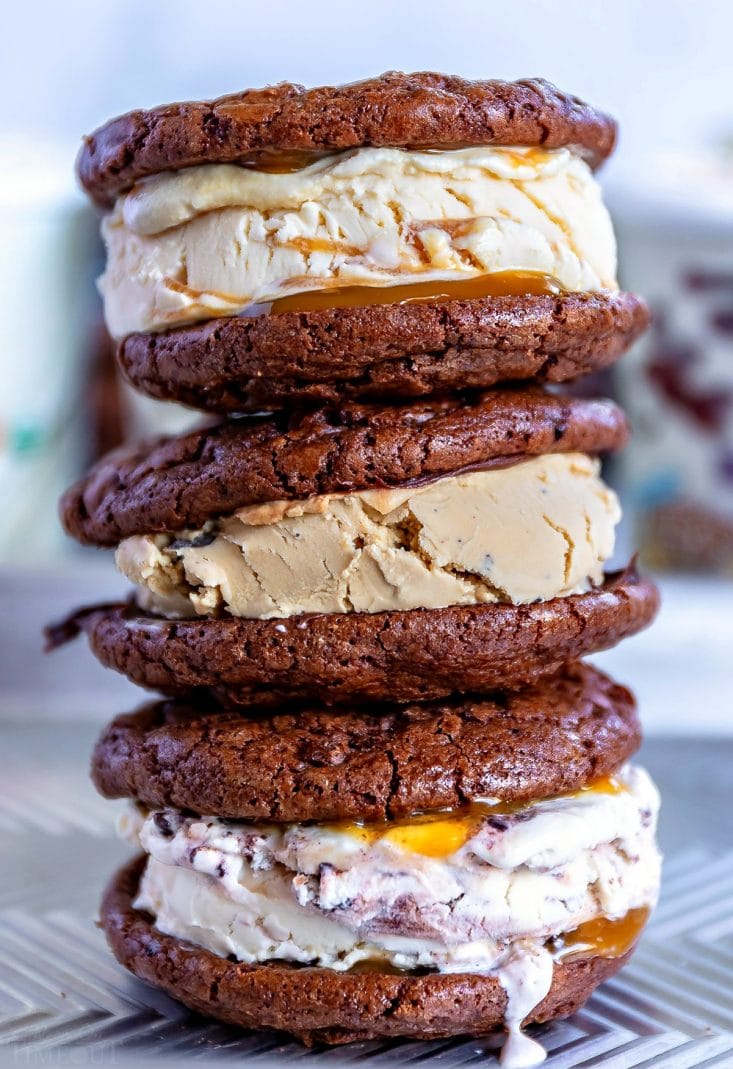 I just know you're going to love making your own personalized ice cream sandwich.
The only question is… which flavor should you try first?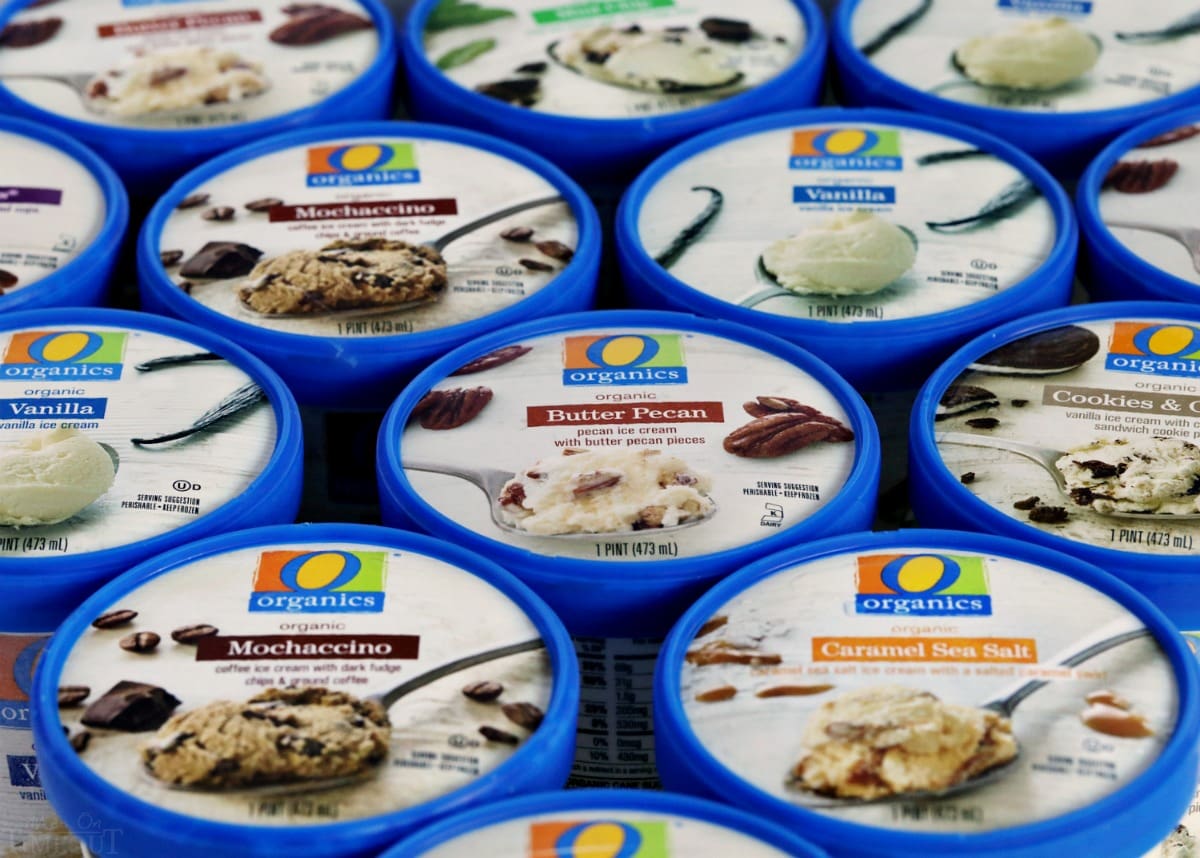 More Summer Time Treats
How To Make an Ice Cream Sandwich
The BEST Ice Cream Sandwich
An Ice Cream Sandwich is the perfect summer treat! I make mine with brownie cookies, caramel, fudge, and an assortment of delicious ice cream! You can't go wrong!
Ingredients
Brookies
10

oz

semi-sweet chocolate chips

6

tbsp

unsalted butter

1

tsp

instant espresso powder

2

eggs

room temperature

¾

cup

granulated sugar

1

tbsp

vanilla extract

6

tbsp

all-purpose flour

2

tbsp

corn starch

2

tbsp

unsweetened cocoa powder

½

tsp

salt

1/2

tsp

baking powder

1/2

cup

mini chocolate chips
Ice Cream Sandwich Assembly
3

pints

ice cream

flavors of your choice

1/2

cup

caramel sauce

1/2

cup

hot fudge sauce

sprinkles, mini chocolate chips, coconut, etc. for rolling in

optional
Instructions
Brookies
Line a baking sheet with parchment paper or a silicone baking mat and set aside.

Combine chocolate chips and butter in a microwave safe container. Heat on high for 30 seconds, stir. Heat for another 15 seconds and stir again. Let the mixture sit for 1 to 2 minutes and then stir until smooth.

Stir in the espresso powder. Let the chocolate mixture cool for 15 to 20 minutes. The mixture should be thick.

Beat the eggs, sugar, and vanilla extract together at medium-high speed for 3 minutes.

Turn the mixer to low and slowly add in the cooled chocolate mixture, mixing just until combined.

Sift the flour, corn starch, cocoa powder, salt, and baking powder together in a small bowl. Stir the flour mixture into the chocolate mixture just until combined.

Stir in the mini chocolate chips. Cover and chill for at least 45 minutes.

Preheat the oven to 350F.

Scoop cookie dough with a cookie scoop and form into balls by rolling in your hand. This will ensure a uniform shape for all cookies.

Place on prepared baking sheet and bake for 12 to 14 minutes.

Let cookies cool on baking sheet for 5 minutes before transferring to a wire cooling rack.

Store in an airtight container for up to a 5 days.
Ice Cream Sandwich Assembly
Match cookies up by size. Place on a baking sheet and freeze for at least 10 minutes and up to 30 minutes.

Removed cookies from freezer and gently spread one teaspoon of caramel sauce or hot fudge topping on the bottom of each cookie.

Scoop out ice cream and place on top of the cookie. Gently push the other cookie on top of the ice cream until it spreads to the outer edge of the cookies.

Roll in sprinkles, mini chocolate chips, coconut, etc. if desired.

Eat immediately or place in the freezer to firm up. Give it about 30 minutes in the freezer and then remove and wrap in plastic wrap to serve later. Good for up to 3 weeks.
Nutrition
Calories:
493
kcal
|
Carbohydrates:
70
g
|
Protein:
7
g
|
Fat:
22
g
|
Saturated Fat:
10
g
|
Cholesterol:
53
mg
|
Sodium:
259
mg
|
Potassium:
274
mg
|
Fiber:
2
g
|
Sugar:
40
g
|
Vitamin A:
412
IU
|
Calcium:
109
mg
|
Iron:
2
mg


For all appetizer recipes, go HERE.
For all dessert recipes, go HERE.
Sign up to get emails when I post new recipes!
For even more great ideas follow me on Facebook – Pinterest – Instagram – Twitter – Bloglovin'.
Have a great day!