Monster Cookie Dough Ice Cream is sure to become a new family favorite! Made with eggless, edible cookie dough, this ice cream is made without a machine!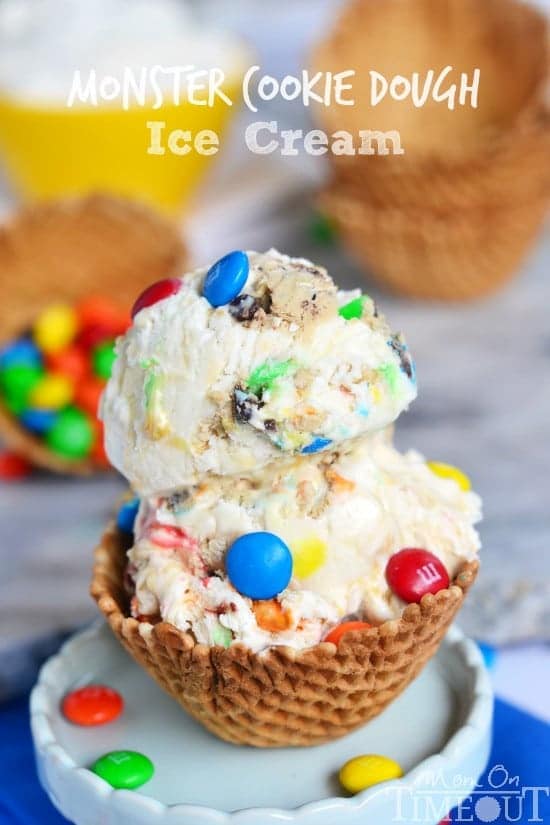 Cookie dough week just wouldn't be complete without ice cream.  Cookie dough ice cream is one of the boy's favorite flavors and I have to admit, mine too.  There's just one thing better than cookie dough ice cream however, Monster Cookie Dough Ice Cream.  And better yet – you don't even need an ice cream machine for this recipe!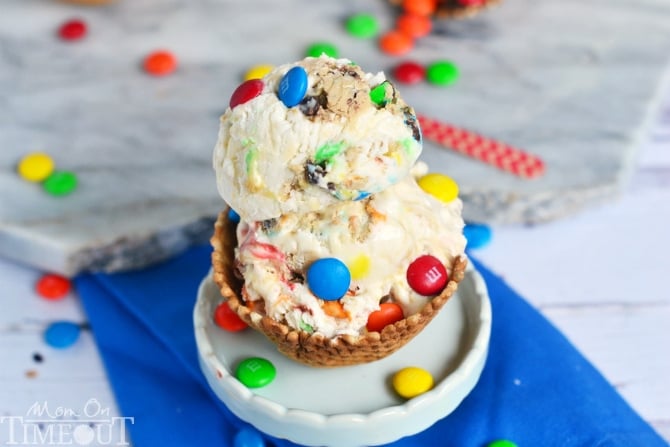 The trick to really excellent cookie dough ice cream is flash freezing the little cookie dough nuggets. It IS an extra step – but totally worth it.  Freezing for 30 minutes or so will keep the cookie dough intact when added to the heavy cream mixture.  I used a melon scoop to create my cookie dough balls but a teaspoon or your fingers would work just fine.
I'm sure I don't need to tell you how much the boys loved this ice cream.  It was pure torture having to wait for it to set up over night.  The good part? This cookie dough is made without eggs and is totally edible.  Scored some major mom points right there.  I served the ice cream in these adorable waffle cups and sprinkled on even more M&Ms for my chocolate-loving family.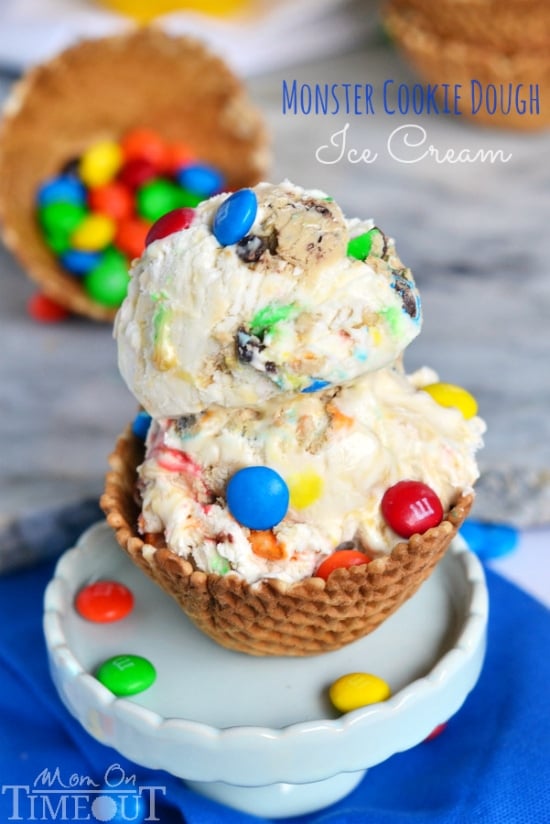 I used about two-thirds of the cookie dough in the ice cream. You can use it all if you want lots of cookie dough in there or you can just put the remaining amount in the fridge and enjoy at your leisure.
This ice cream is PERFECT as is but I say everything is better with a little drizzle of caramel…
I mean, who wouldn't want to just DIG IN to this right now??
I do realize that many of you are still coping with cooler weather but I think this ice cream can truly be enjoyed year round, so give it a try!
Well the cookie dough love doesn't stop here my friends! Make sure to check out all the other bloggers participating in Cookie Dough Week. All kinds of awesome being created!

Oatmeal Chocolate Chip Cookie Dough Parfait from White Lights on Wednesday
Peanut Butter Cookie Dough Brownie Layer Cake from Life, Love and Sugar
Cheesecake Cookie Dough Parfaits from Lemon Tree Dwelling
Peanut Butter Cookie Dough Cheesecake Pie from Crazy for Crust
Cookie Dough Oreos from Something Swanky
Chocolate Chip Cookie Dough Scotcharoos from The Gunny Sack
Snickerdoodle Cookie Dough Truffles from Back For Seconds
Double Chocolate Mint Cookie Dough Dip from Kitchen Meets Girl
Monster Cookie Dough Ice Cream from Mom On Timeout
Cookie Dough Tiramisu Grandbaby Cakes
Cookie Dough Doughnuts from The Domestic Rebel
Fried Dulce de Leche Cookie Dough from Simply Gloria
Espresso Chip Cookie Dough Ice Cream from Beyond Frosting
No bake peanut butter and chocolate bars from Roxana's Home Baking
Chocolate Chip Cookie Dough Mocha Cupcakes from Lemons for Lulu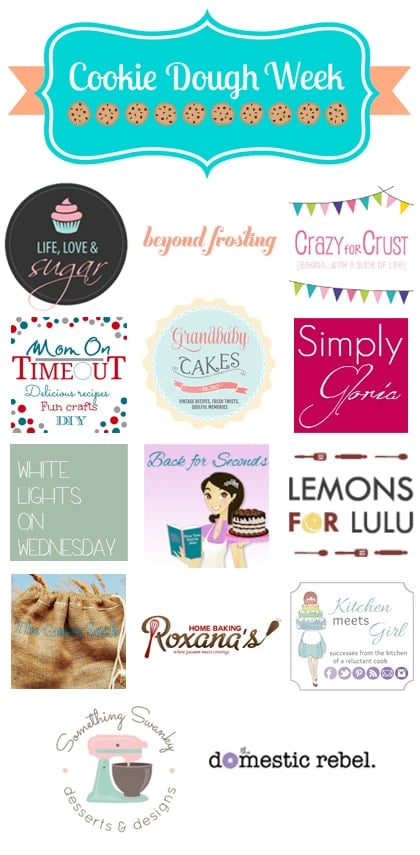 Monster Cookie Dough Ice Cream – No Machine Needed!
Monster Cookie Dough Ice Cream is sure to become a new family favorite! Made with eggless, edible cookie dough, this ice cream is made without a machine!
Ingredients
Edible Monster Cookie Dough
½ cup butter, softened
¼ cup peanut butter
½ cup brown sugar
¼ cup granulated sugar
1 tsp vanilla
2 Tbls milk
½ tsp salt
½ cup oats
1 cup flour
½ cup mini chocolate chip
1 cup M&Ms
Ice Cream
1 pint heavy whipping cream
1 can sweetened condensed milk
1 tsp vanilla
Instructions
Edible Monster Cookie Dough
Cream butter and peanut butter together.
Beat in sugars until creamy.
Beat in vanilla, milk and salt.
Beat in oats.
Stir in flour until thoroughly combined.
Stir in mini chocolate chips and M&Ms.
Scoop teaspoon size balls of cookie dough and transfer to a waxed paper lined baking sheet. (You do not need to use all the cookie dough BUT you can if you want.)
Place in freezer for approximately 30 minutes.
Meanwhile...
Ice Cream
Whip heavy whipping cream and vanilla until peaks form.
Fold in sweetened condensed milk.
Pour ⅓ of whipping cream mixture into a freezer-safe container that has a lid.
Sprinkle ⅓ of the cookie dough balls on top.
Repeat twice more and then gently run a knife through the ice cream mixture so that the cookie dough is evenly distributed.
Place lid on container and freeze for at least four hours or until it reaches ice cream consistency.
Serve and enjoy!
Place lid on container and freeze until it reaches ice cream consistency.

More ice cream magic: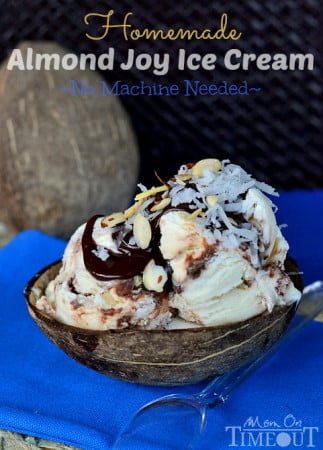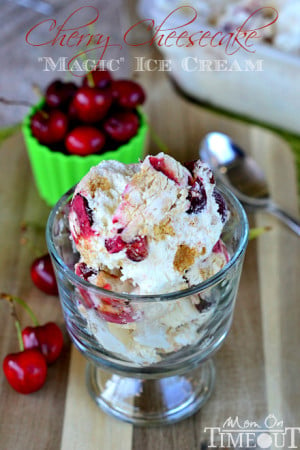 Cherry Cheesecake Magic Ice Cream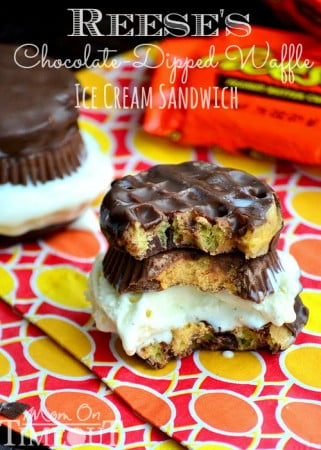 Reese's Chocolate Dipped Waffle Ice Cream Sandwich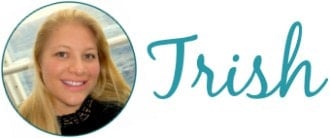 Connect with me!
 Linking up at some of these parties.